Mueller examining Ukrainians spotted at hotel
Welcome to 1100 Pennsylvania, a newsletter devoted to President Donald Trump's Trump International Hotel Washington, D.C. (and his other companies). President Trump, of course, still owns his businesses and can profit from them.
If you like what you see, tell someone—and support this work by paying for a subscription. If you've been forwarded this newsletter, subscribe for yourself at zacheverson.substack.com. Tips or feedback? Contact me, Zach Everson, securely via email at 1100Pennsylvania@protonmail.com or on Signal at 202.804.2744.
Mueller looking at Ukrainians who visited Trump's D.C. hotel around his inauguration
From "Prosecutors examining Ukrainians who flocked to Trump inaugural" by Kenneth P. Vogel, Scott Shane, Mark Mazzetti, and Iuliia Mendel for The New York Times:
Serhiy Kivalov, a Ukrainian lawmaker known for pro-Russian initiatives…was one of at least a dozen Ukrainian political and business figures who made their way to Washington for the [Trump] inauguration…

They attended meetings and orchestrated encounters at Trump International Hotel with influential Republican members of Congress and close allies of President Trump…

Evidence of the Ukrainians' presence eventually prompted interest from the special counsel, Robert S. Mueller III, as he investigated Russian interference in the 2016 election, and has spawned a number of related inquiries by federal prosecutors.
One of the Ukrainians being examined is politician and businessman Vitaliy Khomutynnik. Here's a photo of him posing with Rep. Kevin McCarthy (R–CA) in what appears to be the Trump Hotel D.C.'s Franklin Study, which Khomutynnik posted on Facebook and the Times later found.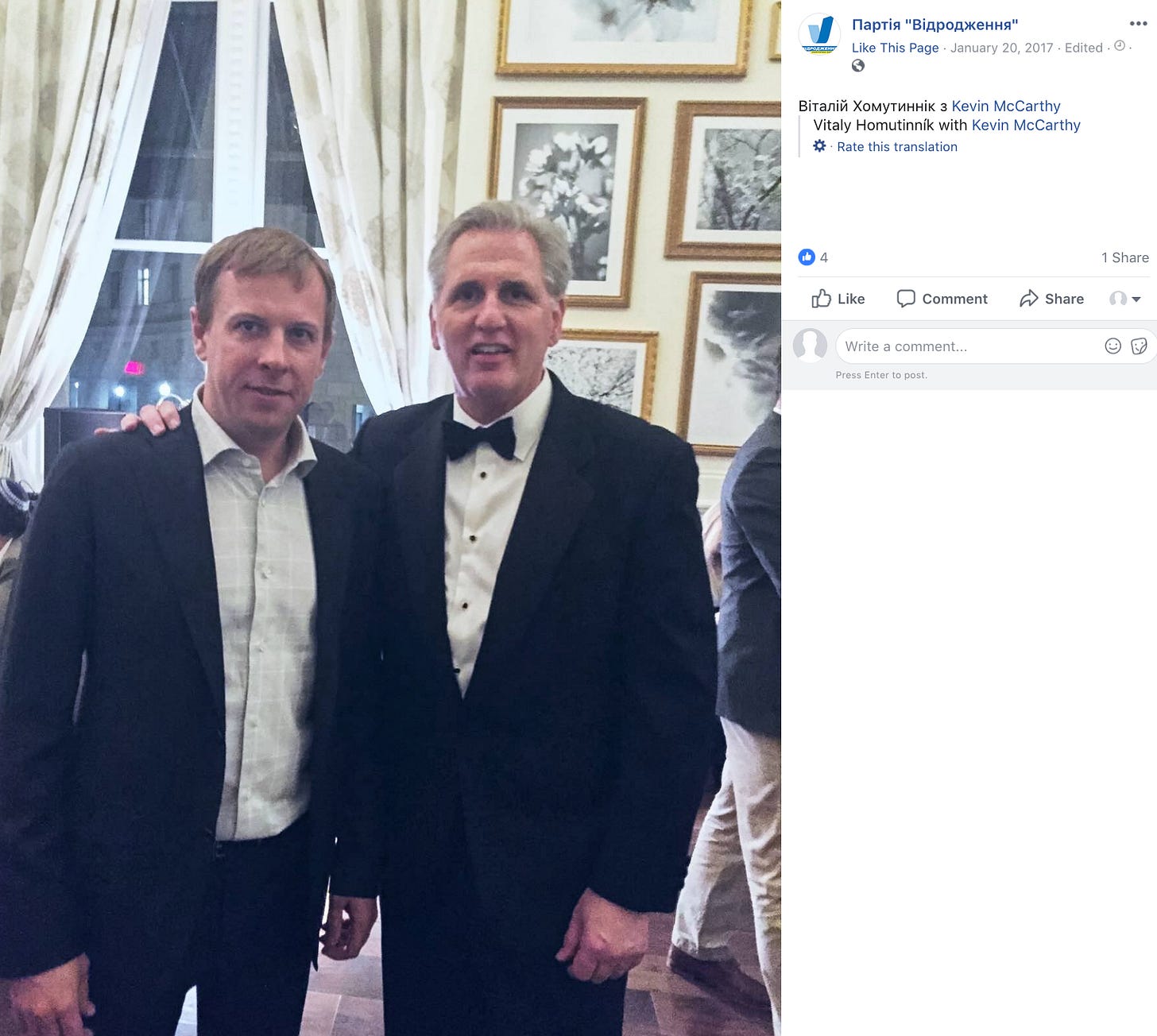 Cork files initial documents in its appeal
Yesterday lawyers for Cork filed a statement of issues with the D.C. circuit court of appeals in the wine bar's unfair competition lawsuit against the Trump Hotel D.C. and President Trump. In November, district court judge Richard J. Leon dismissed the case writing, "Cork has failed to state a claim for unfair competition under D.C. law."
The next steps, which don't yet have a timeline, include a briefing schedule being set and both sides filing appellate briefs.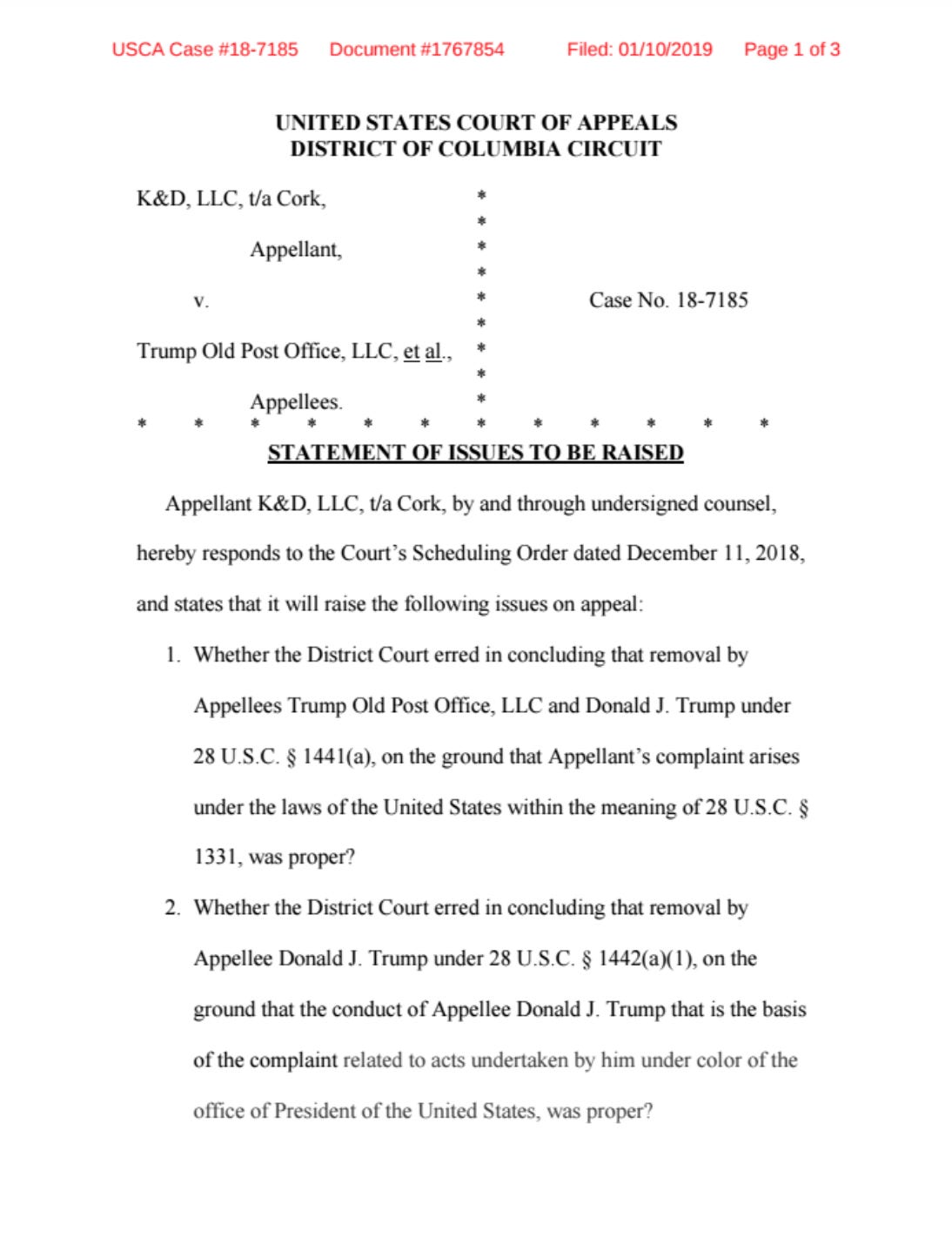 Two yuge condo sales help Trump Tower Chicago have a record year
From "Trump condo prices hit a new high in 2018" by Dennis Rodkin for Crain's Chicago:
Sales in the Chicago River-side tower averaged $930 per square foot, according to Gail Lissner, managing director of Integra Realty Resources in Chicago. The figure is "a record level for the building," said Lissner, who has been tracking the downtown housing market since 1975.

From 2014 through 2016, Lissner tabulated year-end averages of more than $800 a foot for Trump sales, but for 2017 she reported a drop to $747 a foot.

The 2018 year-end average for the 20 condos sold in the building was "heavily influenced" by two penthouse sales early in the year, Lissner said. The $9.4 million sale of an 87th-floor unit worked out to $1,393 a foot, and a unit on 88 went for $7.7 million, or $1,410 a foot.

Yet Lissner emphasized that it's a fair year-over-year comparison with those two included, because in past years her figures have also had big-ticket sales.
Those two units' buyers are not identified.
Christian CEOs retreating at D.C. hotel
In June 2020, the CXP–CEO Experience is holding a $999 per person, one-day Christian CEO Group Retreat at the president's D.C. hotel. Attendees will learn how to apply Biblical principles to growing their Christian businesses.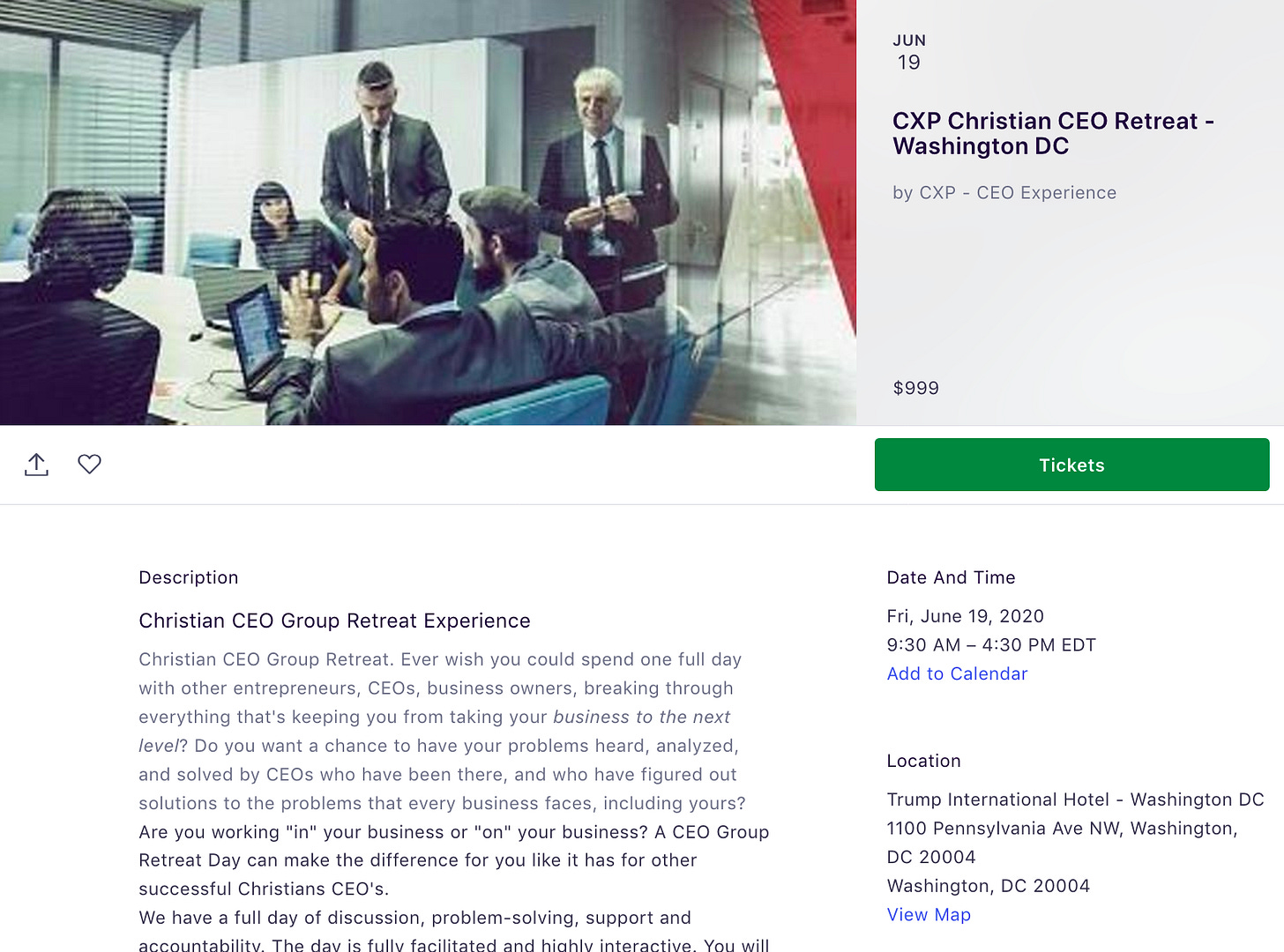 Seminar for ethical life-insurance salespeople scheduled for Las Vegas hotel
"Producers' Planet is for Life Insurance agents/producers who want to be part of a group that has good ethics, strong morals and a desire to help as many people as possible."
It's at the Trump Hotel Las Vegas this June. Tickets are $75 to $597.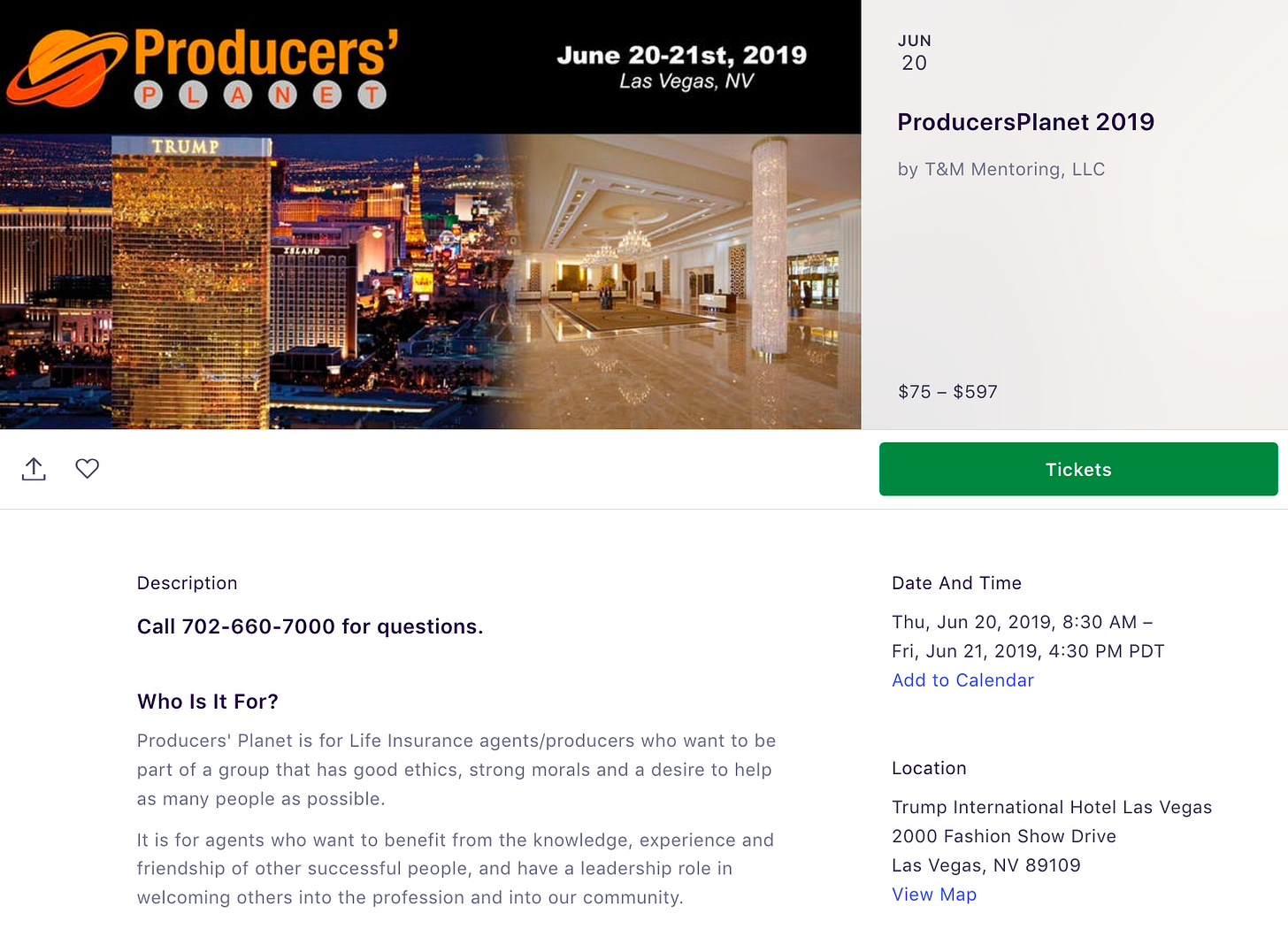 D.C. hotel advertises 'afternoon tea' as 'high tea,' which are actually quite different
Clients often confuse the Trump hotel's "afternoon tea" for "high tea" thinking that in this context, "high" means "fancy." It doesn't. Turns out the hotel's dining page makes the same mistake, with the phrase "high tea" linking to its "afternoon tea" page—which describes an experience that is afternoon tea rather and high tea.
To quote, again, from Tea Time Magazine (because apparently this is a hill to die on):
High tea is not a fancy tea, as many people assume. Delectable scones, tea sandwiches, and cakes are the hallmark of an afternoon tea, which is served in midafternoon. A high tea, however, includes much more substantive fare, such as meat, fish, and egg dishes, as well as breads and desserts, and is offered in the early evening. Think of it as a light supper served with tea.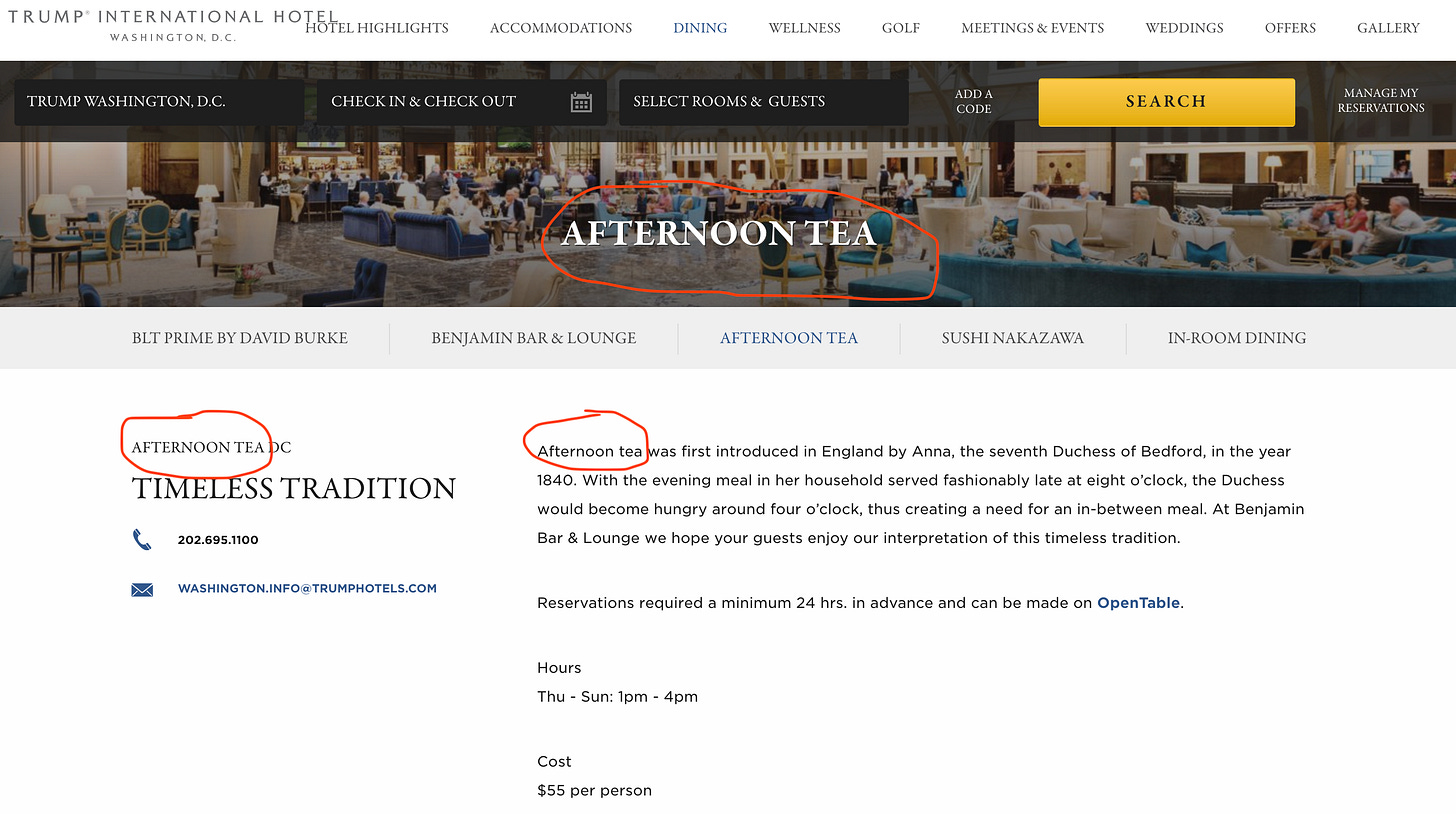 Noteworthy sightings
A field director at the Koch brothers-funded advocacy group Americans for Prosperity, Lauren Ledlow, struck a pose.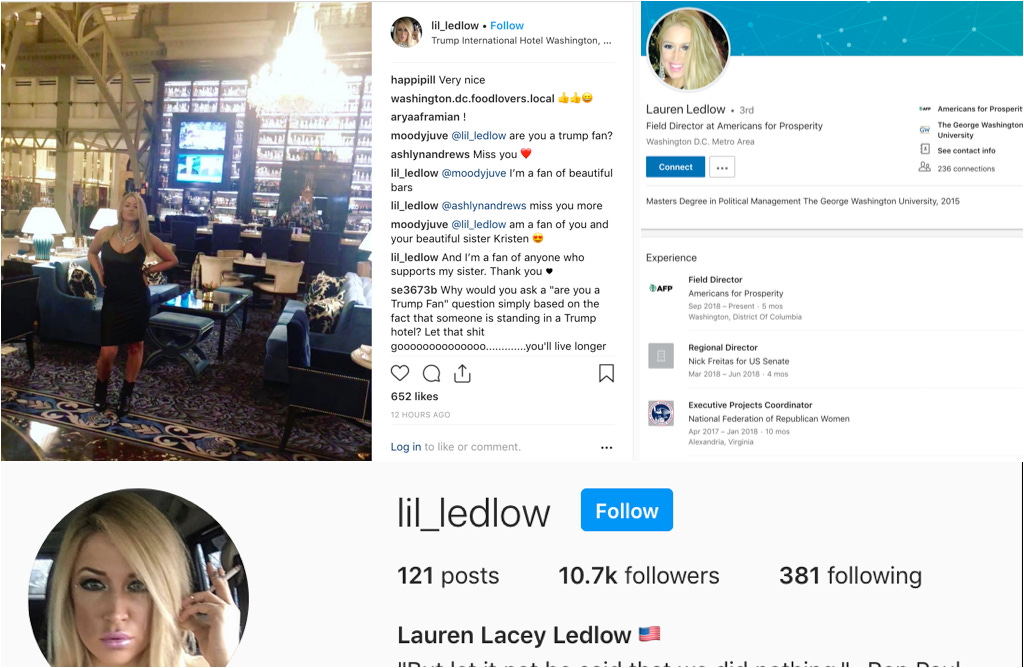 The president and other supporters of the Recon and Sniper Foundation, a nonprofit supporting veterans, unfurled their flag in a hotel owned by the commander-in-chief who also oversees the Department of Veterans Affairs.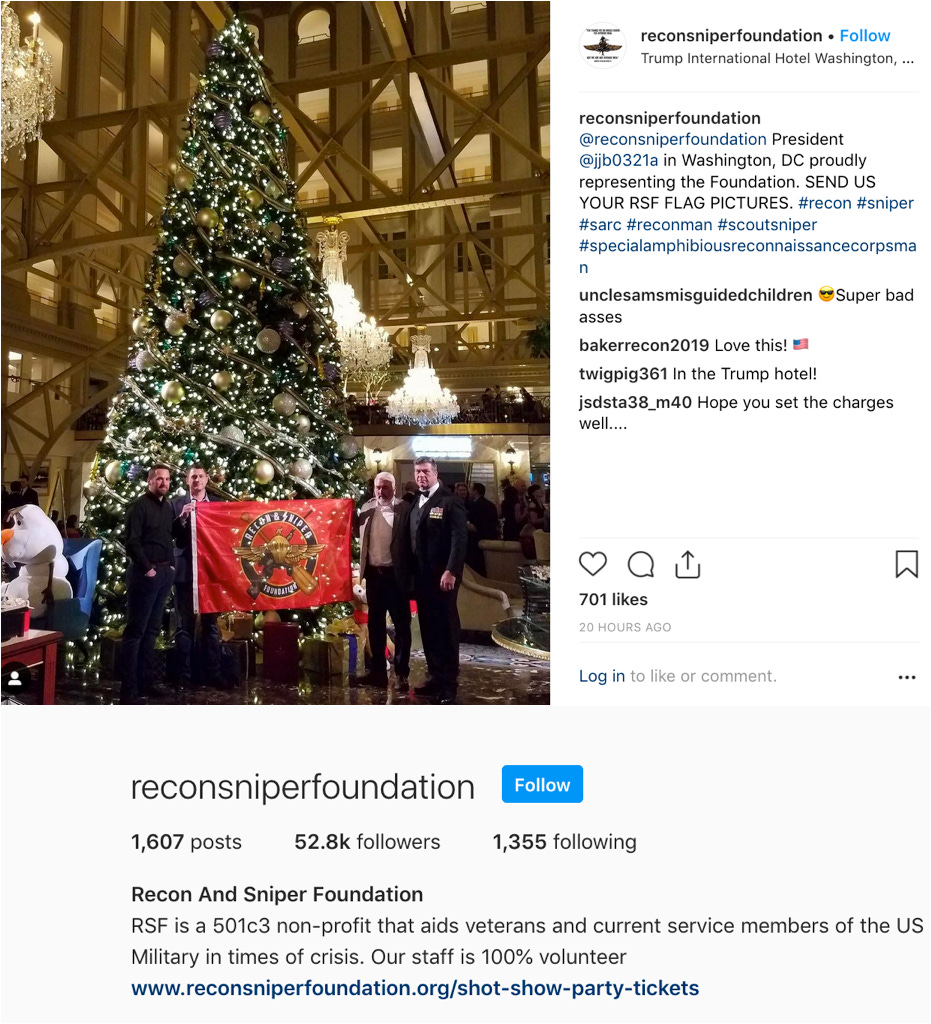 Legal cases, current status (latest change, Jan. 11, 2018)
D.C. and MD attorneys general's emoluments lawsuit (district court docket, appellate court docket)—

Official capacity—On Dec. 20, the 4th U.S. Circuit Court of Appeals ruled it would hear the president's appeal of district court rulings that allowed the case to proceed to discovery, and the appellate court halted discovery in the case. Oral augments on the appeal are tentatively scheduled for March 19–21, although on Dec. 26 the briefing schedule was suspended until further notice after Trump's DoJ attorneys asked for a stay because of the federal government shutdown. (Discovery had started Dec. 3 and was scheduled to run through Aug. 2, 2019, with the AGs already having issued 38 subpoenas, including to the Trump Organization; the U.S. Departments of Agriculture, Commerce, Defense, and Treasury and the GSA; and the state of Maine.)

Individual capacity—On Dec. 14, Trump's personal attorneys appealed the denial of their motion to dismiss the case, also to the 4th U.S. Circuit Court of Appeals. On Dec. 19, the AGs replied to Trump's motion for a stay pending that appeal by voluntarily dismissing the claims against Trump in his "individual capacity to allow the claims against President Trump in his official capacity to move forward expeditiously." (The AGs only brought suit against Trump in his individual capacity after the judge suggested they do so.) Trump's personal attorneys, on Dec. 21, opposed the motion to dismiss at the district level, saying the appeals court now has jurisdiction and accusing the AGs of "gamesmanship."

196 Democratic senators and representatives' emoluments lawsuit—On Sept. 28 judge Emmet G. Sullivan ruled that the legislators have standing to sue. Trump's Justice Department attorneys filed an interlocutory appeal on Oct. 22.

CREW et. al's emoluments lawsuit—In February, CREW appealed its suit being dismissed for lack of standing to the 2nd U.S. Circuit Court of Appeals. Oral arguments on that motion were held on Oct. 30.

UPDATE Cork's unfair competition lawsuit—Judge Richard J. Leon dismissed the case on Nov. 26, writing "Cork has failed to state a claim for unfair competition under D.C. law." On Dec. 10, Cork's attorneys filed a notice of appeal and on Jan. 10 they submitted a statement of issues to be raised.

Employees' class-action suit alleging racial discrimination—A status hearing on arbitration is scheduled for Jan. 25, 2019.
Health inspections, current status (latest change, Aug. 10, 2018)
❌Hotel: five violations on May 7, 2018; two were corrected on site

❌BLT Prime and Benjamin Bar: nine violations on Aug. 10, 2018

❌Sushi Nakazawa: two violations on Aug. 10, 2018

✔️Banquet kitchen: no violations on Aug. 10, 2018

❌Pastry kitchen: two violations on Aug. 10, 2018

✔️Gift shop: no violations on May 7, 2018

❌Employee kitchen and in-room dining: five violations on Aug. 10, 2018; two were corrected on site
Other Trump Organization news
"Donald Trump sold an estimated $35 million worth of real estate while serving in the White House last year…More than half of that $35 million came from a single deal, in which Trump and business partners offloaded a federally subsidized housing complex in Brooklyn, New York for about $900 million…The deal required approval from officials inside the Department of Housing & Urban Development, which rolls up to Donald Trump." By Dan Alexander for Forbes.

"Michael D. Cohen, President Trump's former personal lawyer who implicated him in a scheme to pay hush money to two women claiming to have had affairs with him, said on Thursday that he had agreed to testify before a House committee next month and give 'a full and credible account' of his work for Mr. Trump." By Maggie Haberman and Nicholas Fandos for The New York Times.

The website for Trump's would-be building in Uruguay is still offline per David Fahrenthold of The Washington Post.

The money-losing Trump Aberdeen golf course is not making it easy for guests to book reservations today.
One thing that has nothing to do with Trump's businesses (I think, tough to tell sometimes!)
Former U.N. ambassador Nikki Haley on Jan. 1, 2019: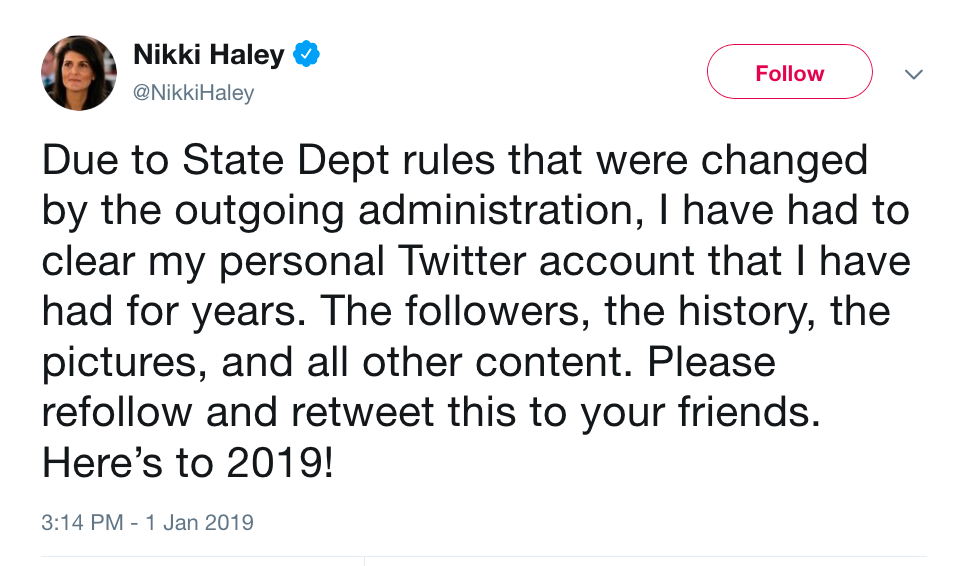 An explanation per James Rainey for NBC News:
A former State Department official during the Obama administration said on twitter that restrictions were placed on social media use to try to assure that ambassadors and other officials didn't attempt to build their social media followings at the expense of U.S. objectives.
Haley, however, kept the Instagram account that she used for official purposes: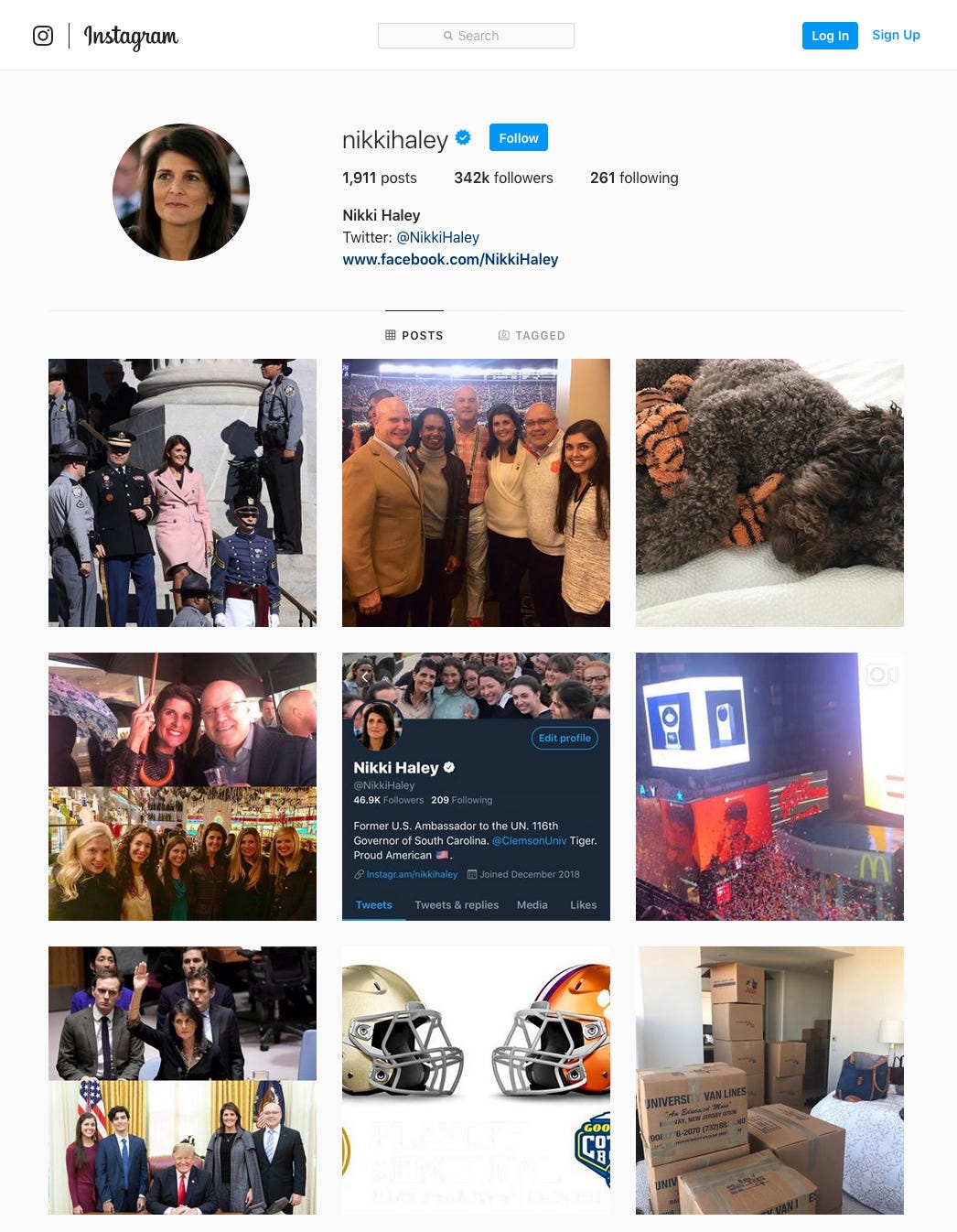 Thanks for reading. If you like what you saw, tell someone—and support this work by paying for a subscription. If you've been forwarded this newsletter, subscribe for yourself at zacheverson.substack.com. Tips or feedback? Contact me, Zach Everson, securely via email at 1100Pennsylvania@protonmail.com or on Signal at 202.804.2744.