Museum of the Bible returns
President's D.C. hotel hosts Women of Legacy conference
The Museum of the Bible returned to the Trump Hotel D.C. yesterday according to social media posts from three attendees. Museum co-founder Jackie Green was among the speakers at the opening day of the Women of Legacy conference, which runs April 3–5 (it's not immediately clear how much of it takes place at the hotel).
A representative from the museum did not immediately reply to an inquiry seeking to verify its involvement in the conference and asking why it booked the president's hotel rather than just hosting the gathering at its own event space a mile away.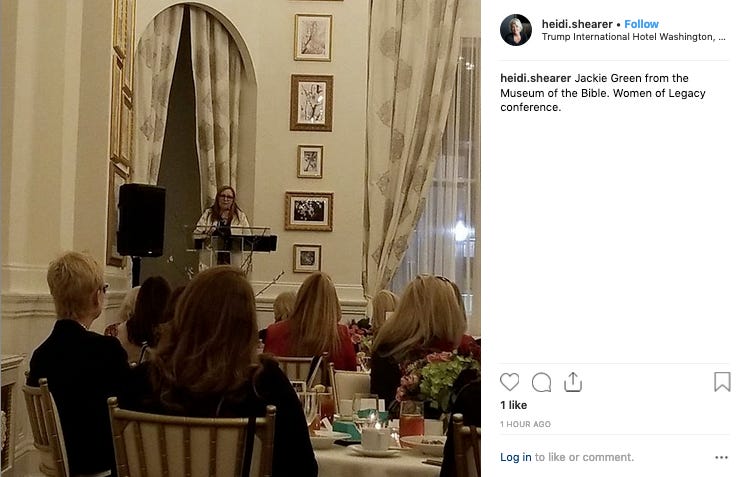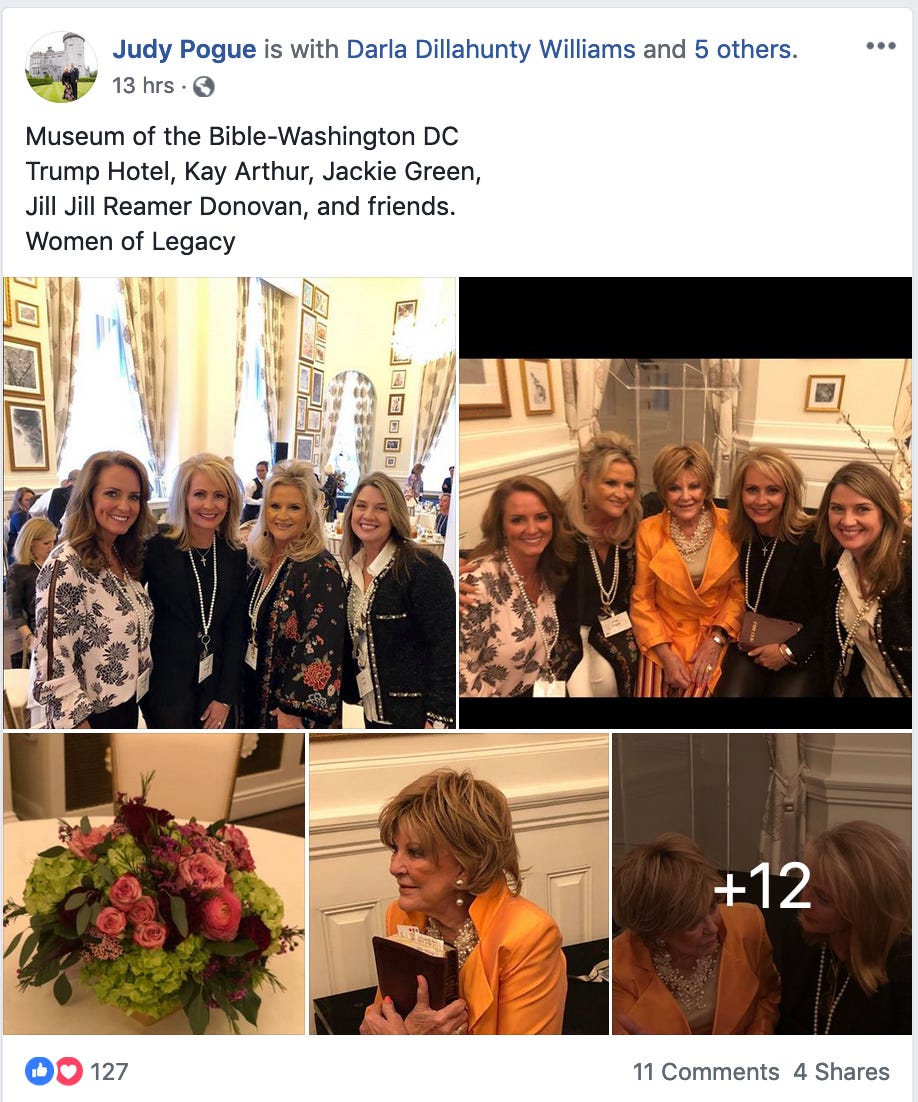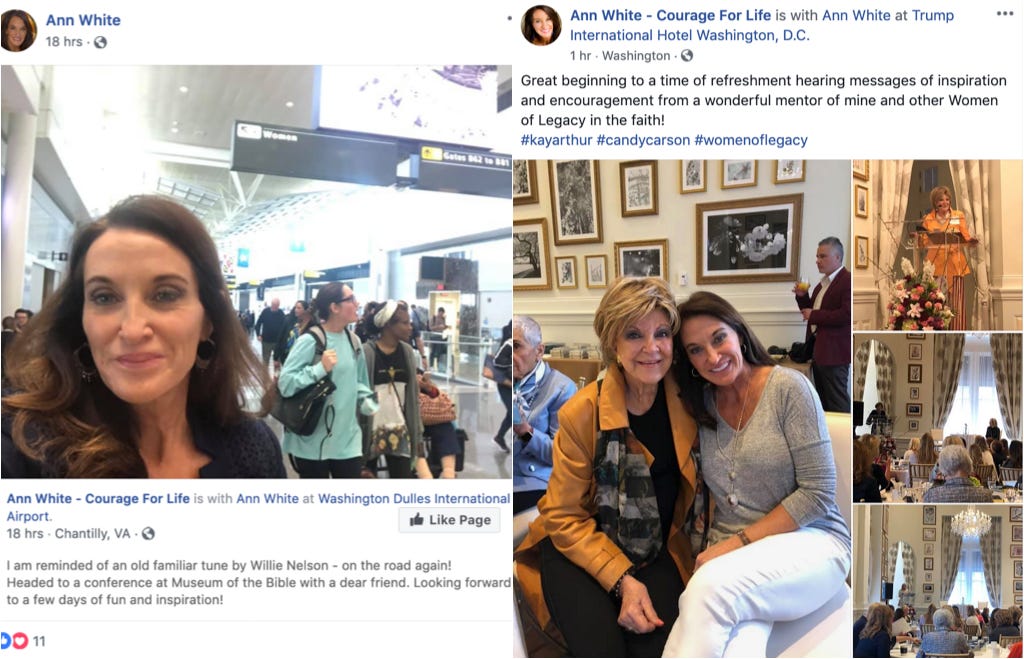 At least one attendee also booked a room at the Trump Hotel D.C. She used her Instagram account to promote the president's business as the "fanciest hotel & robe where I've had my quiet time w Jesus!"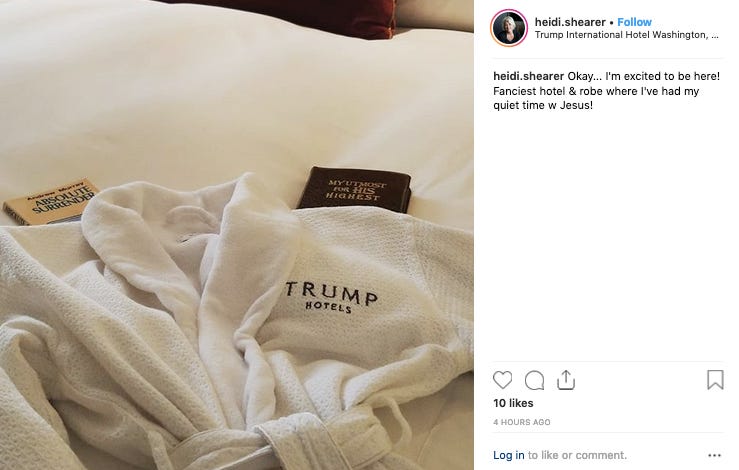 Additionally, God's plan was found in an inspirational quote on a hotel card containing the next day's weather forecast.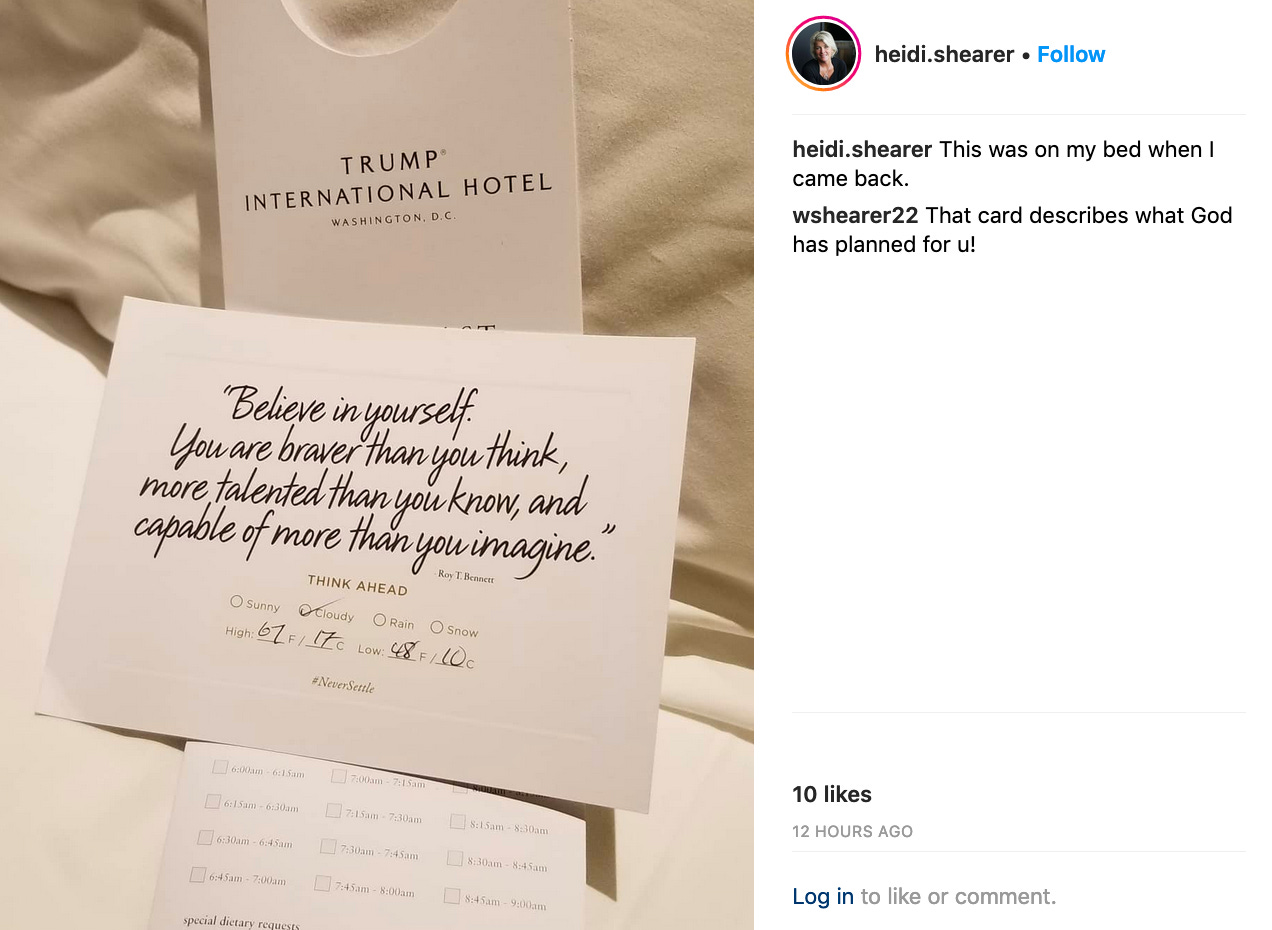 Reportedly, the Museum of the Bible plans to host a Women of Legacy Summit and Reunion at the Trump Hotel D.C. in September too.
Previously the Museum of the Bible hosted its $2,500 per person black-tie opening gala and most of a $5,000 per person benefit at President Trump's D.C. hotel. And last December it directed a charismatic Christian conference there after deciding at the last minute the gathering was too controversial for the museum.
"We have a religious niche," hotel managing director Mickael Damelincourt once said in a interview with Hotels magazine.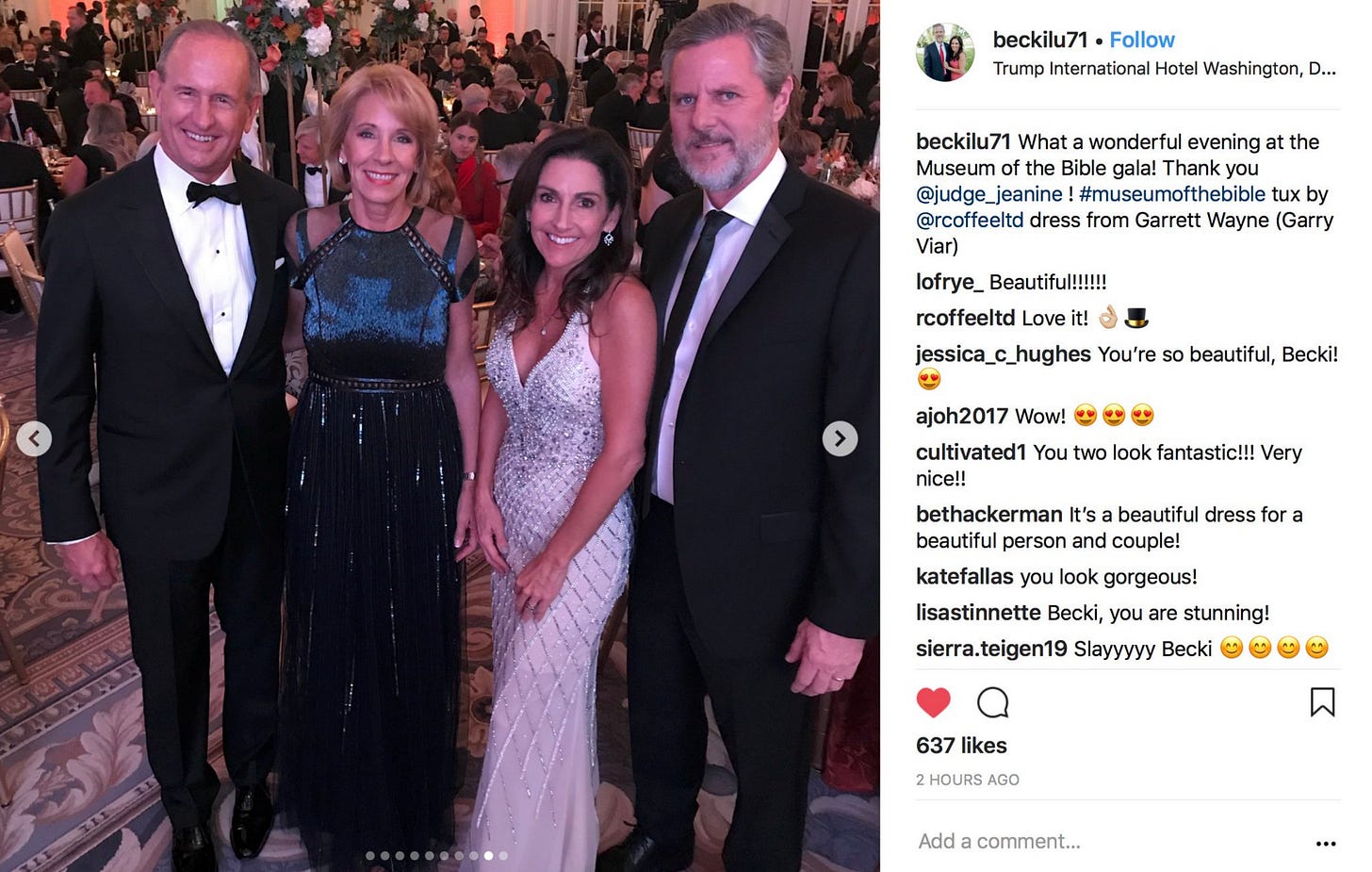 ---
Within days of Mar-a-Lago hosting a Navy SEAL benefit, President Trump and Eric support SEAL charged with murder
Two days before Mar-a-Lago hosted a benefit for the Navy SEAL community, President Trump tweeted that a Navy SEAL charged with murder, Eddie Gallagheer, "will soon be moved to less restrictive confinement."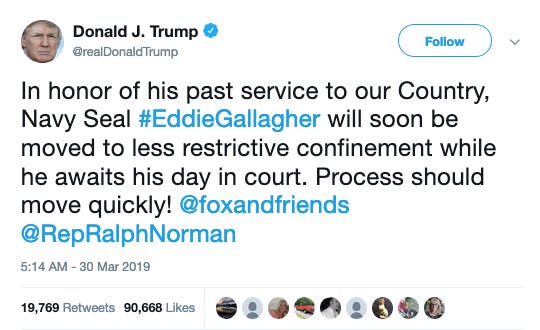 And two days after the tribute for the Navy SEALs Foundation, Eric Trump came to Gallagher's defense. [H/T Ilya Marritz of WNYC and Trump, Inc.]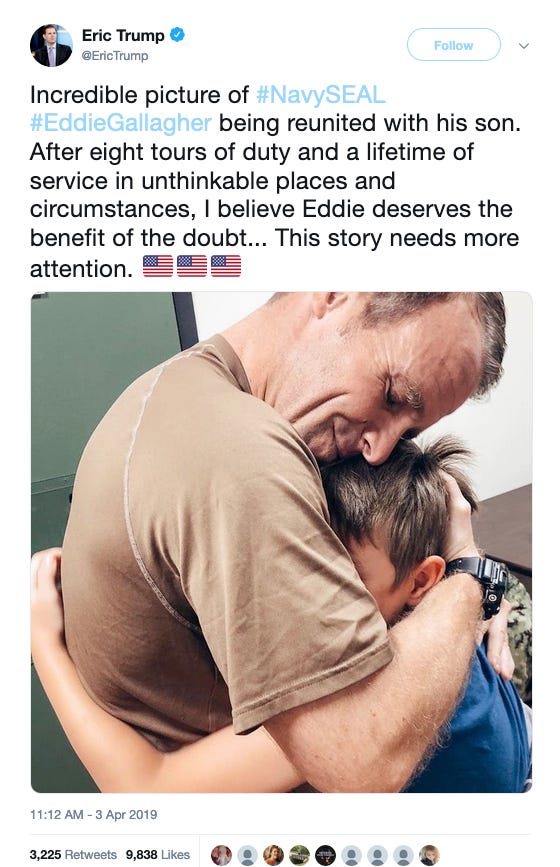 ---
Support this reporting, become a 1100 Pennsylvania member
Reporting on the Trump Hotel D.C. and the president's other businesses takes time. But it's making an impact—and you can help. If you're not an 1100 Pennsylvania member, please become one and help us continue to report on who's spending money at the president's hotel—and what they might be getting in return. Memberships are this newsletter's sole source of income. Select the red "Subscribe now" button and become a member by paying just $5 a month or $50 a year. Thank you.
---
House committee chair asks IRS for Trump's personal and business tax returns
From "Trump's tax returns requested by House panel chair" by Richard Rubin for The Wall Street Journal:
The chairman of the House tax-writing committee formally requested President Trump's tax returns on Wednesday, kicking off what could be a bruising legal fight between Congress and the Trump administration.

In a letter to the Internal Revenue Service, Rep. Richard Neal (D., Mass.) asked for six years of Mr. Trump's personal returns and some of his business returns, invoking a federal law that allows the chairman of the House Ways and Means Committee to seek any person's tax information.
Among the business returns Neal requested: that for the Donald J. Trump Revocable Trust, which holds the president's 76.725 percent ownership stake in the Trump Old Post Office LLC.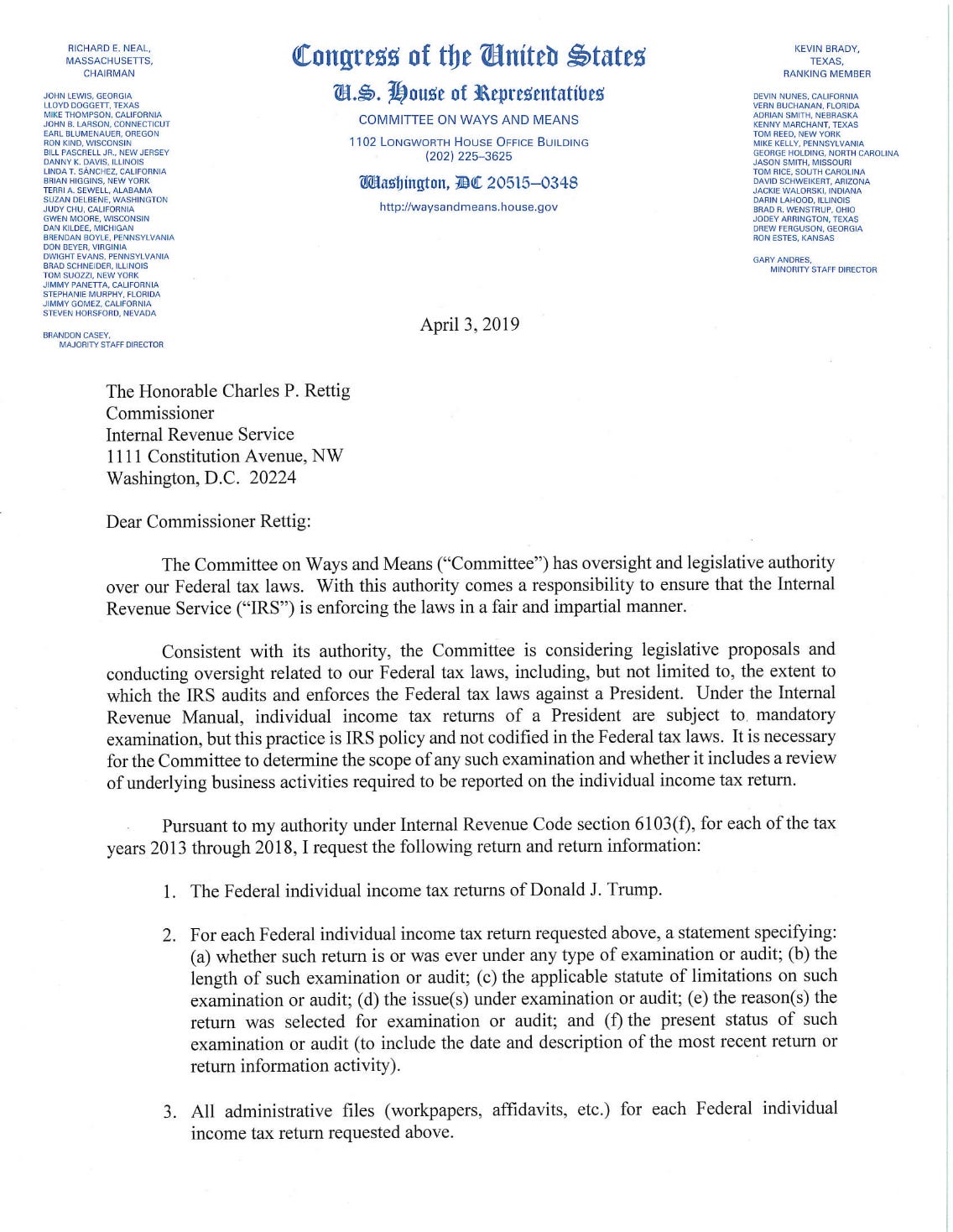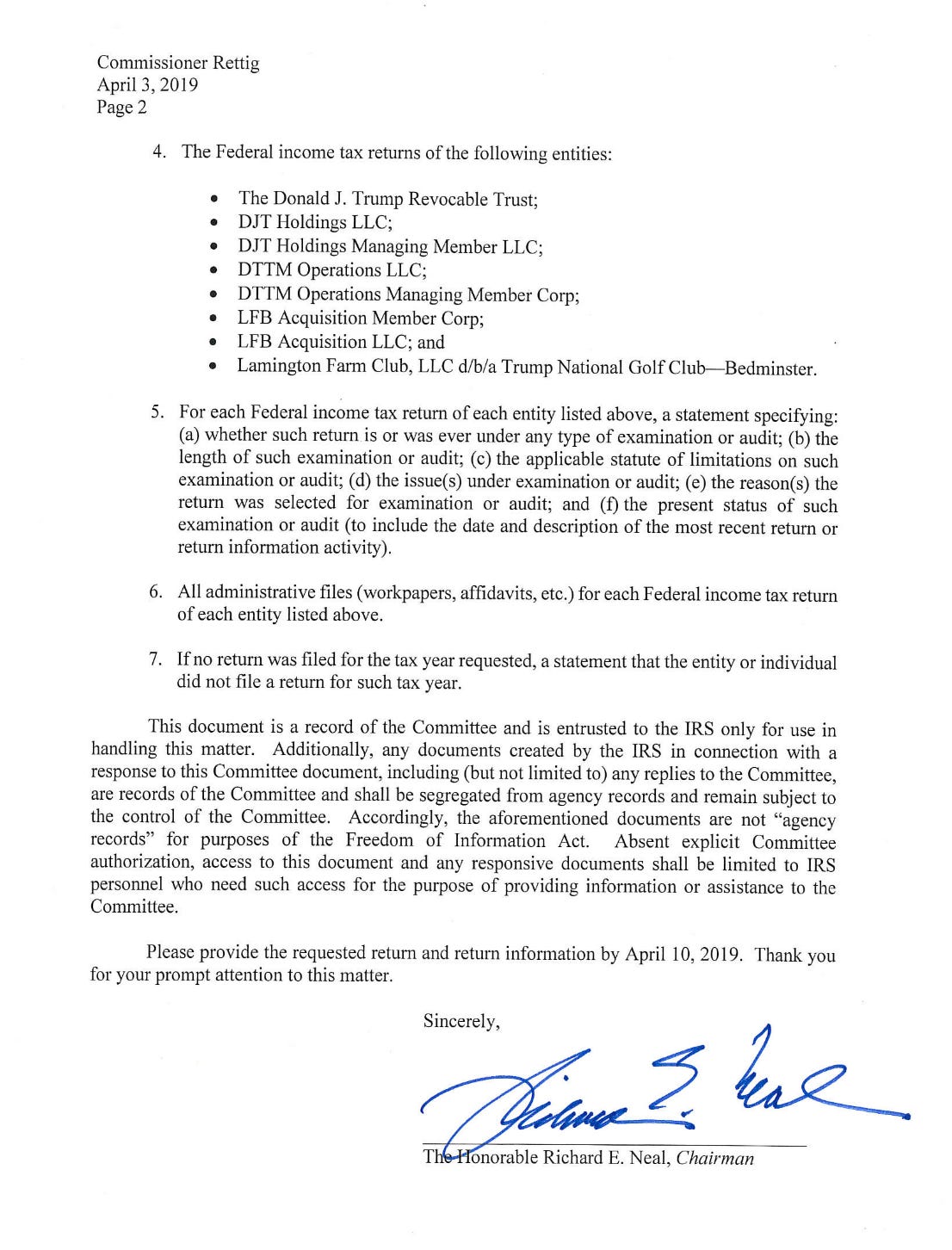 ---
Mar-a-Lago security-lapse roundup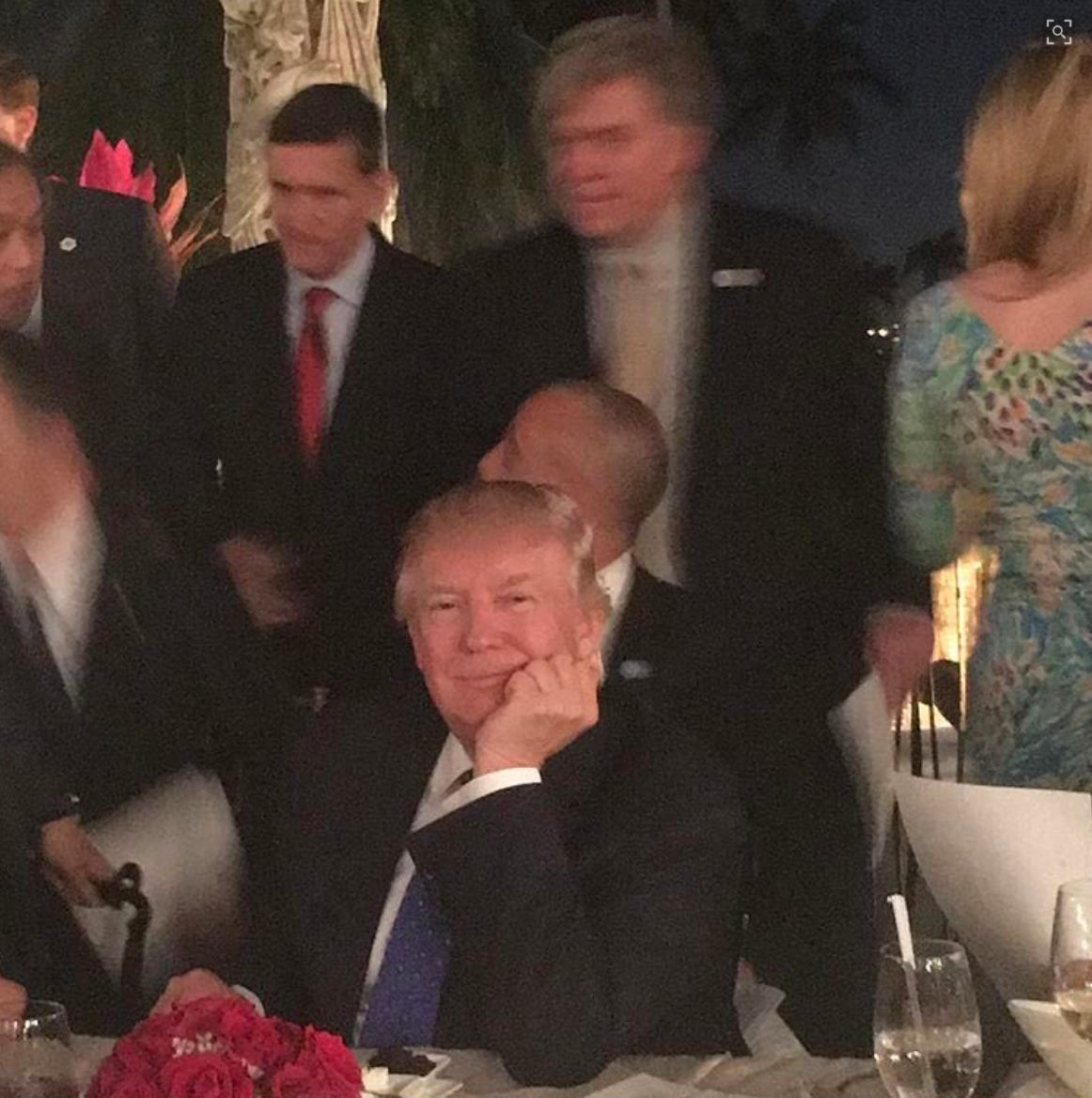 ---
Campaign expenditures
The campaign for Rep. Samuel Graves (R–MO) spent $3,729.60 at the Trump Hotel D.C. for meals and catering on March 26, 2019. His campaign now has spent a total of $3,835 at the president's D.C. hotel.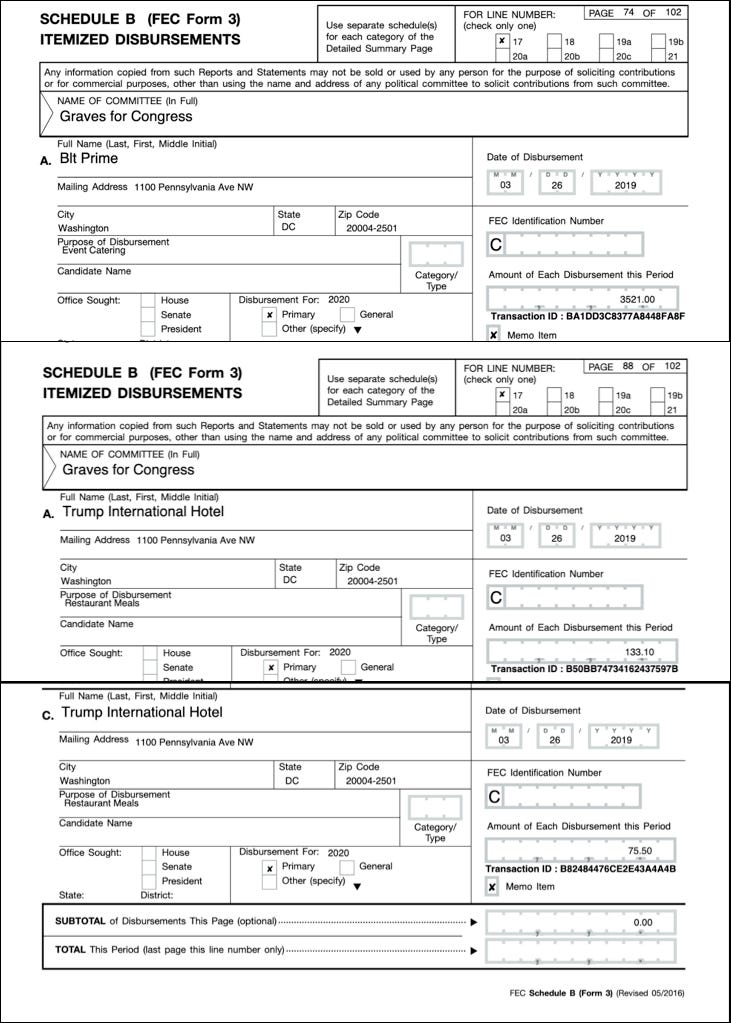 ---
Notable sightings
Rudy Giuliani was back at his client's hotel.
Also spotted, again, Fox News pundit and Trump campaign advisor, Harlan Hill.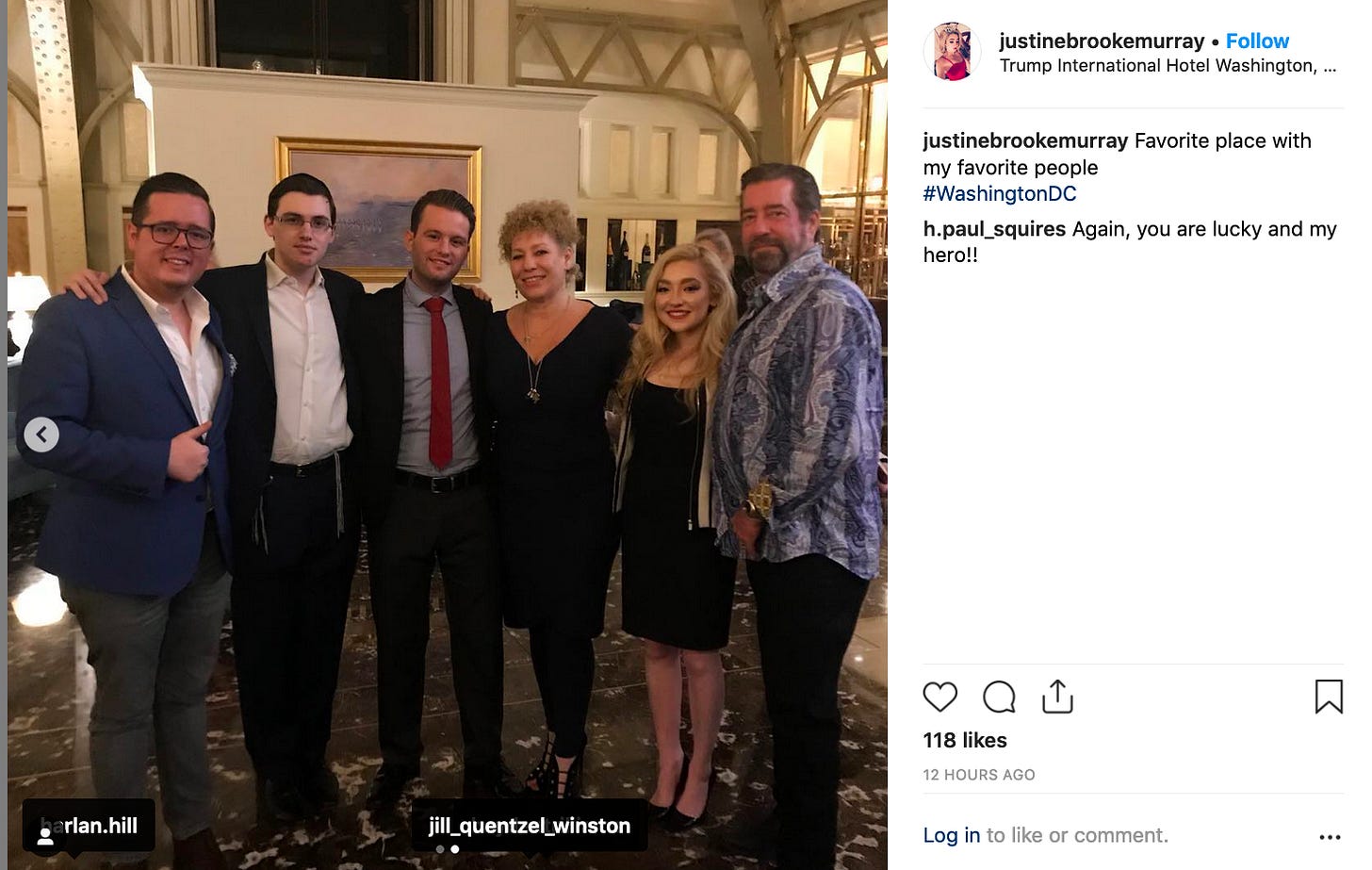 Boston Bruins great Bobby Orr was among the celebs at the Joe Namath Foundation's fundraiser at Trump National Jupiter earlier this week.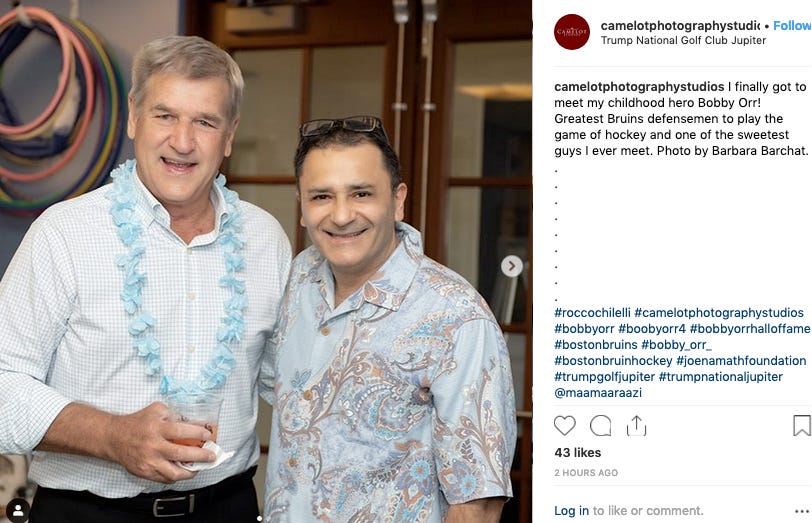 Blaze TV's Eric Bolling held a caption contest from the D.C. hotel's bar, near where he once held his SOTU after-show.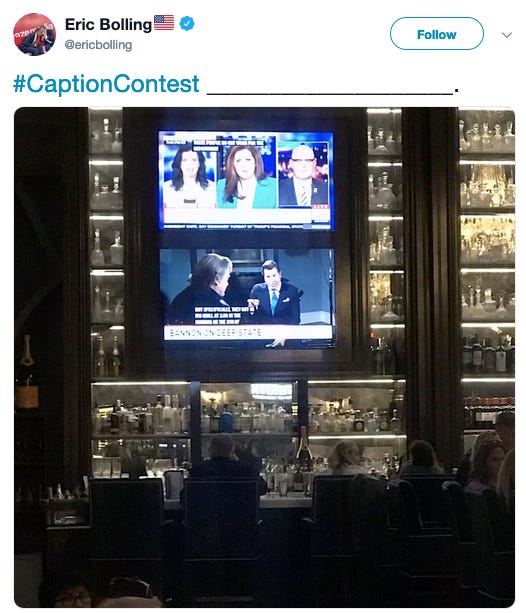 The president and CEO of lobbying firm c6 Strategies, Dana Hudson, had great times at the U.S. president's hotel with a business-development director for defense contractor General Dynamics Ordnance and Tactical Systems, Michael Iacobucci, and a proposal manager at General Dymanics, Claire Feagley.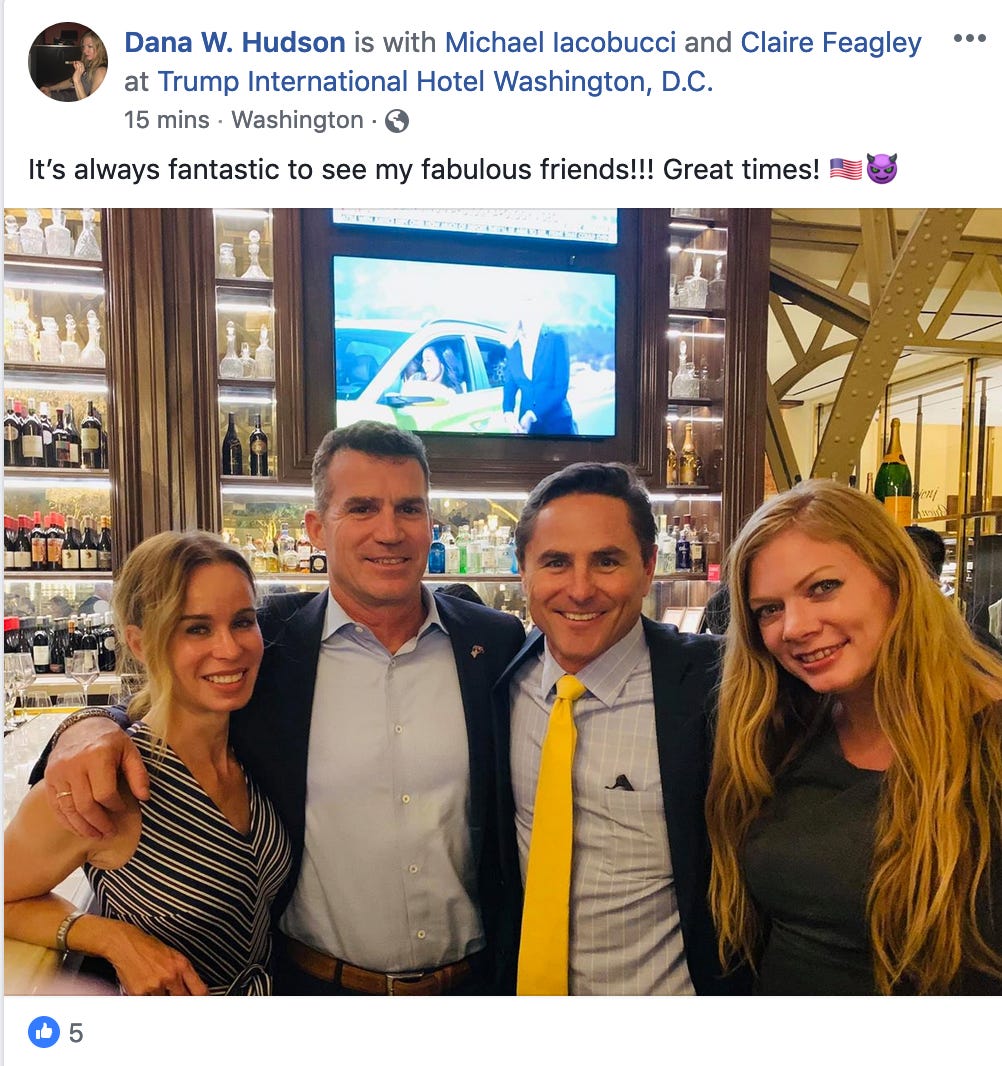 ---
Other Trump Organization news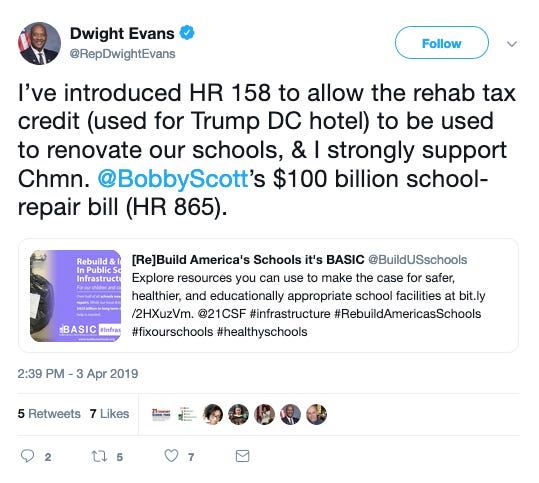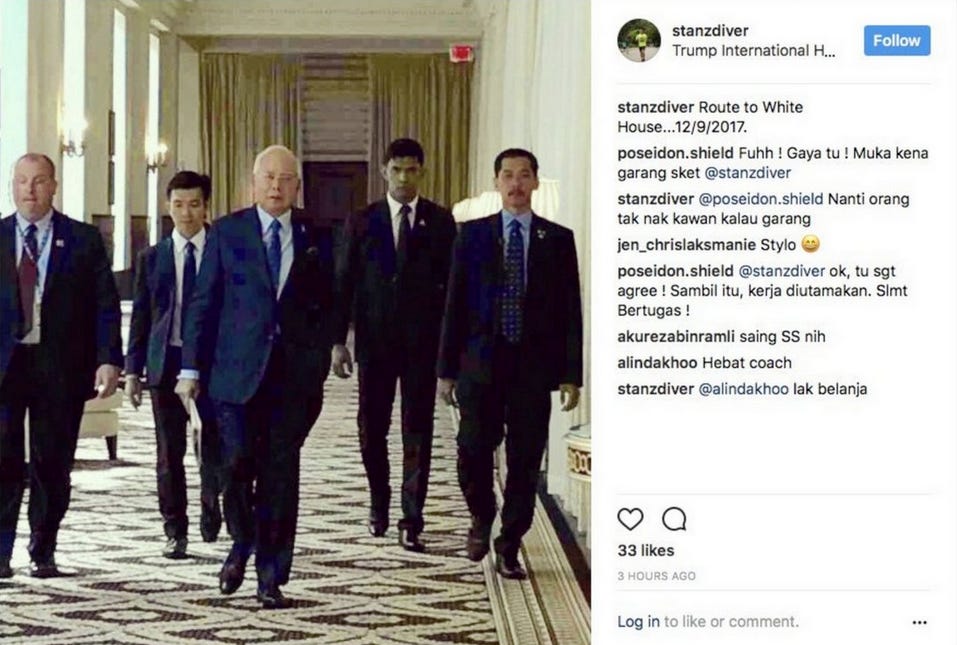 ---
House investigations, current status (latest changes, April 4, 2019)
---
Legal cases, current status (latest change, March 20, 2019)
D.C. and MD attorneys general's emoluments lawsuit (district court docket, appellate court docket)—

Official capacity—On Dec. 20, 2018, the 4th U.S. Circuit Court of Appeals ruled it would hear the president's appeal of district court rulings that allowed the case to proceed to discovery, and the appellate court halted discovery in the case. Discovery had started Dec. 3 and was scheduled to run through Aug. 2, 2019, with the AGs having subpoenaed the Trump Organization, including its Scottish golf courses; the U.S. Departments of Agriculture, Commerce, Defense, and Treasury and the GSA; and the state of Maine. Oral arguments on the appeal occurred on March 19; by all accounts the three-judge panel (all Republican appointees, including one who was a selection of President Trump's) were skeptical of the AGs' case. D.C. AG Karl Racine pledged to take the case to the U.S. Supreme Court if necessary.

Individual capacity—On Dec. 14, Trump's personal attorneys appealed the denial of their motion to dismiss the case, also to the 4th U.S. Circuit Court of Appeals. On Dec. 19, the AGs replied to Trump's motion for a stay pending that appeal by voluntarily dismissing the claims against Trump in his "individual capacity to allow the claims against President Trump in his official capacity to move forward expeditiously." (The AGs only brought suit against Trump in his individual capacity after the judge suggested they do so.) Trump's personal attorneys, on Dec. 21, opposed the motion to dismiss at the district level, saying the appeals court now has jurisdiction and accusing the AGs of "gamesmanship."

Democratic senators and representatives' emoluments lawsuit—On Sept. 28, Judge Emmet G. Sullivan ruled that the legislators have standing to sue. Trump's Justice Department attorneys filed an interlocutory appeal on Oct. 22. On Jan. 30, 2019, the plaintiffs' filed a notice of supplemental authority, notifying the court of the GSA inspector general's report that criticized GSA for failing to consider if the Trump Hotel D.C.'s lease was in compliance with the Constitution after Trump became president. Two days later, the president's attorneys argued that the IG's conclusion was not inconsistent with Trump's argument, but that the judge should ignore that report anyway because the IG has no expertise in interpreting or applying the foreign emoluments clause.

CREW et. al's emoluments lawsuit—In February 2018, CREW appealed its suit being dismissed for lack of standing to the 2nd U.S. Circuit Court of Appeals. Oral arguments on that motion were held on Oct. 30.

Cork's unfair competition lawsuit—Judge Richard J. Leon dismissed the case on Nov. 26, 2018, writing "Cork has failed to state a claim for unfair competition under D.C. law." On Dec. 10, Cork's attorneys filed a notice of appeal and on Jan. 10, 2019 they submitted a statement of issues to be raised. A briefing schedule was set on March 5 with Cork's brief due on April 15, the president's brief due on May 15, and Cork's reply to the president's brief due on June 5.

Employees' class-action suit alleging racial discrimination—Two of the three plaintiffs did not appear at a status hearing on Jan. 25, 2019; their cases were moved to arbitration. Via email, their attorney, A.J. Dhali, said his clients did not appear at the hearing because their case already had been moved to arbitration last year. The next status hearing is scheduled for Oct. 4.
---
Health inspections, current status (latest change, Aug. 10, 2018)
❌Hotel: five violations on May 7, 2018; two were corrected on site

❌BLT Prime and Benjamin Bar: nine violations on Aug. 10, 2018

❌Sushi Nakazawa: two violations on Aug. 10, 2018

✔️Banquet kitchen: no violations on Aug. 10, 2018

❌Pastry kitchen: two violations on Aug. 10, 2018

✔️Gift shop: no violations on May 7, 2018

❌Employee kitchen and in-room dining: five violations on Aug. 10, 2018; two were corrected on site
---
Is the Trump Organization selling merchandise that depicts the White House? (latest change, March 21, 2019)
Yes.
---
One thing that (probably) has nothing to do with Trump's businesses
"Hacker Eva Galperin has a plan to eradicate stalkerware" by Andy Greenberg for Wired
---
Thanks for reading. If you like what you see, tell someone—and support this work by becoming a paying member ($5/month or $50/year). If you've been forwarded this newsletter, subscribe for yourself at zacheverson.substack.com. Questions? Read our FAQ/manifesto. Tips or feedback? Contact me, Zach Everson, securely via email at 1100Pennsylvania@protonmail.com or on Signal at 202.804.2744.