Discover more from 1100 Pennsylvania
"The undisputed expert on the D.C. Trump Hotel" – David Fahrenthold of the Washington Post
Over 3,000 subscribers
New investigations, same old story?
House Judiciary and Oversight committees launch inquiries on G7 invite to Doral, Pence's stay at Doonbeg. Don't expect anything to change.
This morning the House Judiciary and Oversight committees announced they were investigating President Trump's suggestion that his struggling Doral resort host a 2020 G7 summit, as well as Vice President Pence's out-of-the-way stay at Trump Doonbeg.
Yesterday, the Judiciary committee sent a letter to the White House counsel asking for information about the G7 summit; the Oversight committee wrote to the White House, vice president, Secret Service, and Trump Organization, seeking details about Pence's decision to bunk at Doonbeg. The committees set deadlines of Sept. 19.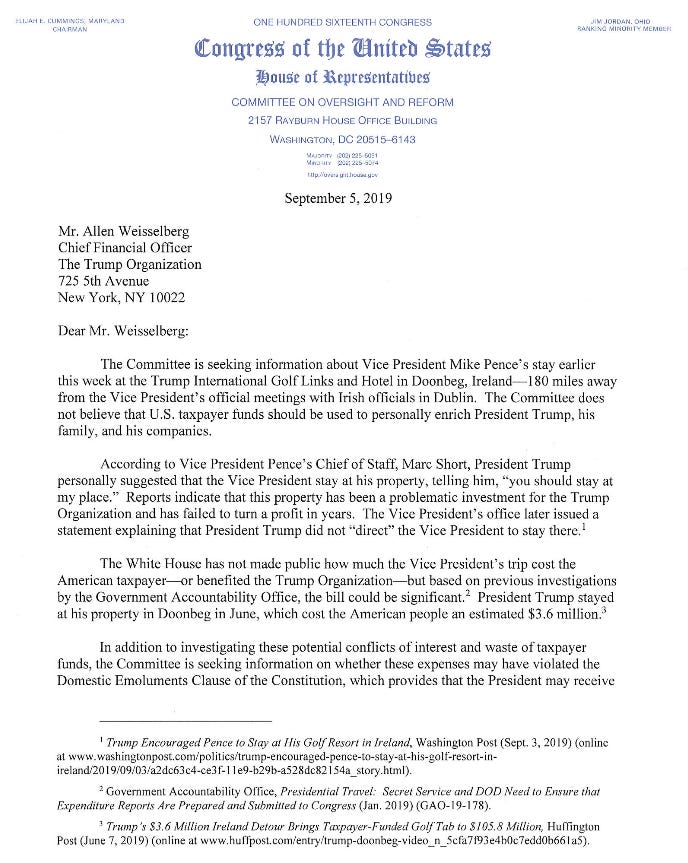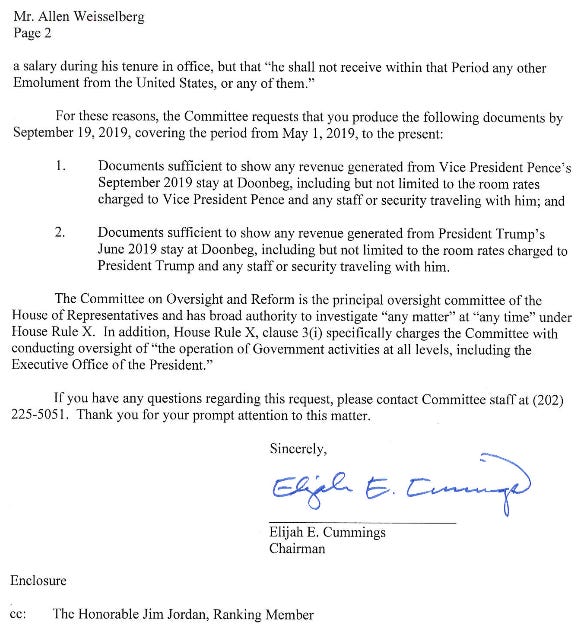 Based on the other ongoing House investigations, Don't expect their letters to yield much or change anything.
Both committees are among at least seven House panels already looking into aspects of the president's finances. The Democrats have controlled the House since January, but over the past eight months, their inquiries have shared little information with the public about Trump's businesses and done nothing to curtail him from continuing to profit from them.
In 2017 and 2018, Trump reported more than $81 million in revenue—just from his D.C. hotel. And while we won't know how much he made since the Democrats took over the House until his 2019 financial disclosure becomes public (around May 2020), anecdotally, business there appears as strong as ever.
House investigations into Trump's finances seem unlikely to yield information that would cause him to divest (or even be less blatant about his profiteering) or that House leadership would use any finding to pursue impeachment. Democrats, however, could make use of their findings in the 2020 campaign. Also it's their duty to "support and defend the Constitution of the United States."
But yet—
Also, the emoluments suits seem unlikely to stop Trump from profiting off his businesses while president. As Jeffrey Toobin wrote for The New Yorker yesterday in "Trump's plan to host the G-7 revives the issue of emoluments":
Since practically the day that Trump took office, his political opponents have taken to the courts to protest what they characterize as his violations of the emoluments clauses. The cases have generally gone poorly for the President's adversaries, although none has been definitively resolved.
The Trump Hotel D.C.'s soft opening was three years ago next week and Trump was elected two months later. Yet with 501 days remaining in Trump's term, neither the courts nor legislature appear able to address the president's innkeeper side hustle.
---
GOP candidate for U.S. Senate advertised that he's a regular at Trump Hotel D.C.'s lobbyist happy hours
The campaign for Victor Williams, a Republican running for U.S. Senate in Virginia, advertised that he visits the Trump Hotel D.C. "at least once a month for Trump First Tuesdays." As 1100 Pennsylvania readers know, that event was launched as a "business networking happy hour for government relations professionals [lobbyists] and friends."
Williams campaign page also plugged the president's business, calling it "a remarkable, world-class hotel."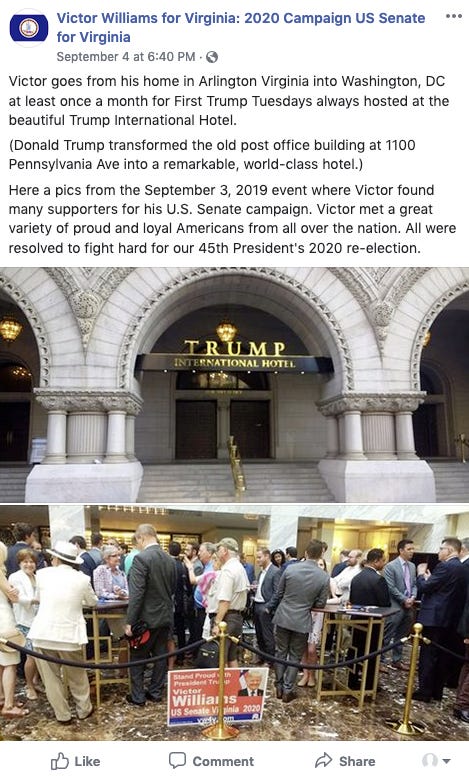 ---
Foreign policy advisor for Sweden's parliament enjoyed drinks at U.S. president's business
A foreign policy advisor for Sweeden's national legislature (the Sveriges riksdag), Andreas E. Palmlöv, caught up at the hotel over drinks with the president and founder of the Black Conservative Federation who's also a political strategist, Diante Johnson.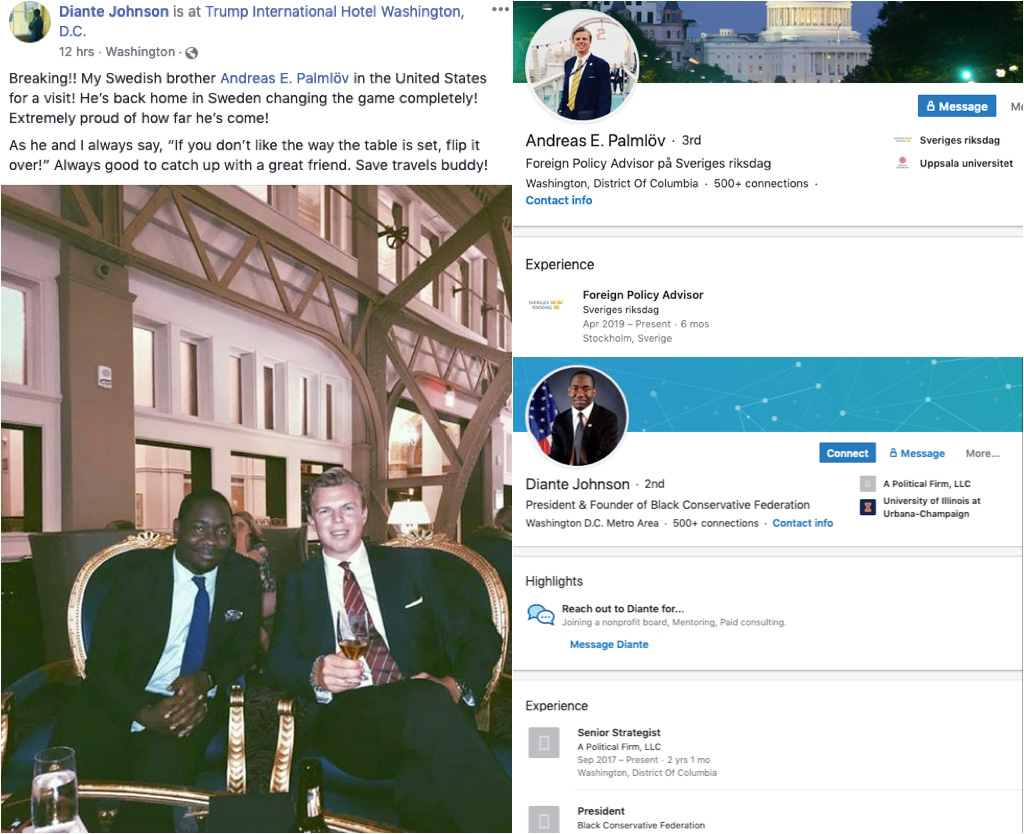 ---
Programming note
Your correspondent is slated to discuss the new House investigations on MSNBC's "The Beat with Ari Melber" around 6 p.m. EDT tonight.
---
Correction
Due to sloppy writing, a headline in yesterday's 1100 Pennsylvania referred to "Republican judges." The correct phrase should have been "Republican-appointed judges." The headline has been revised in the web version of the newsletter.
---
Other notable sightings
A glimpse of the foreign officials, government employees, politicians, lobbyists, and the like who patronize or appear at Trump businesses. Most people shown here have reasons to want to influence the Trump administration, rely on its good graces for their livelihoods, or should be providing oversight. Additionally, high-profile guests serve as draws for paying customers.
Fox & Friends co-host Pete Hegseth got married at Trump Colts Neck a few weeks back to Fox Nation producer Jennifer Rauchet. Sean Hannity attended.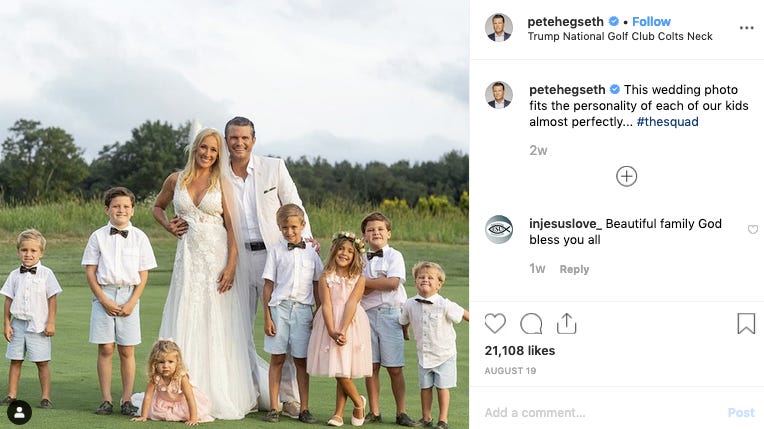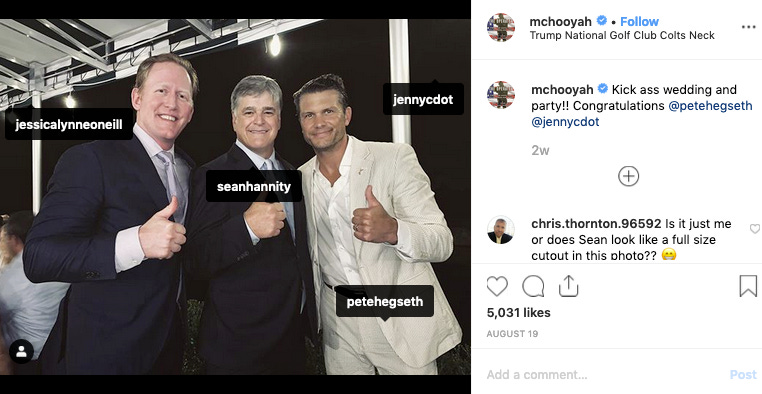 Lyndsey Medsker, a public affairs expert who "works hand-in-hand with government relations teams," praised what Trump's done with the Old Post Office.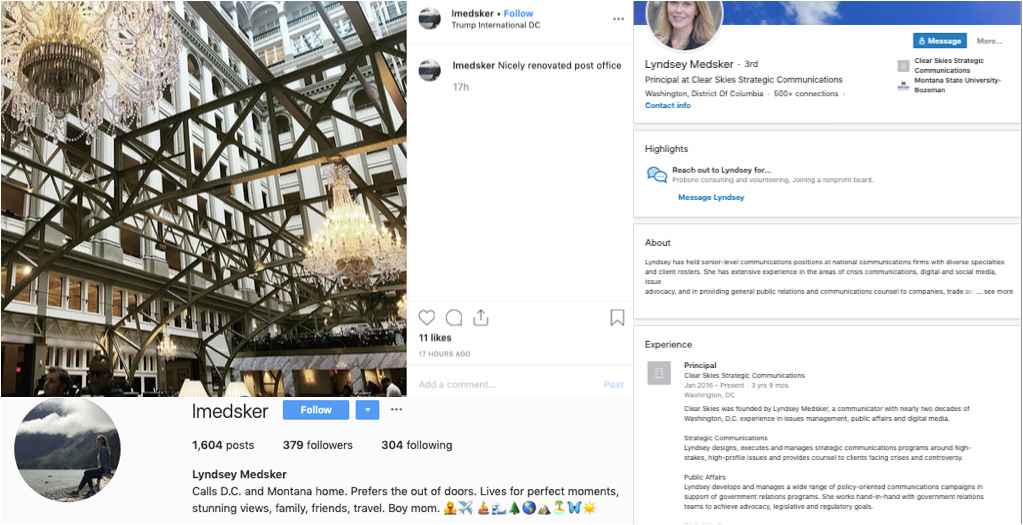 "Praying together and working, city-by-city, to protect life, marriage, and America's Biblical Foundation in a loving and Christ-like way," Preserve Liberty announced its launch with a photo from the Trump Hotel D.C.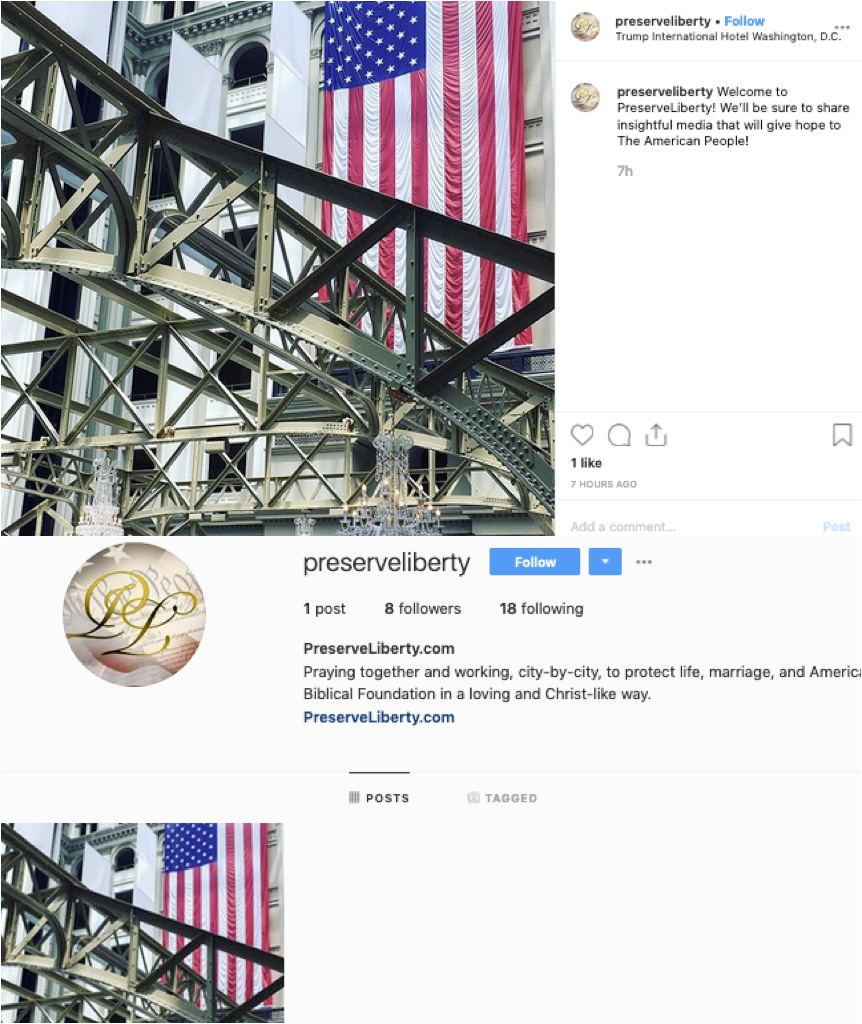 A state government employee in Georgia, Lavin Gartland Briggs of the Department of Behavioral Health and Developmental Disabilities, posed in the hotel lobby.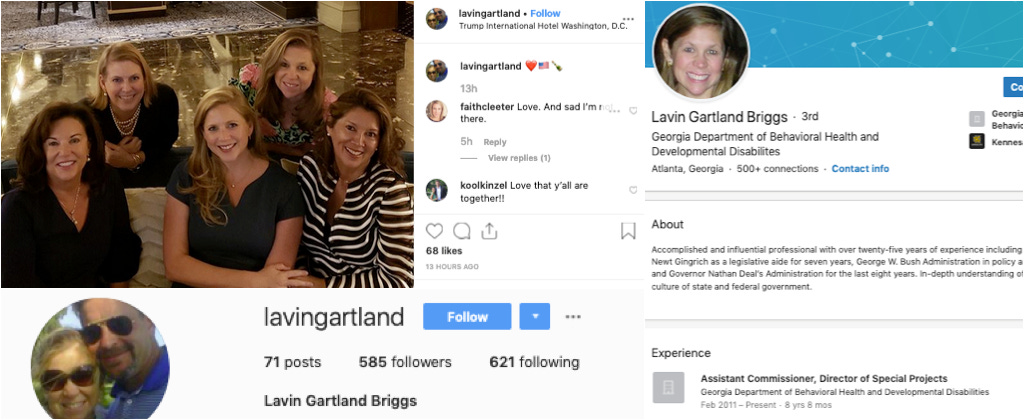 ---
Other Trump Organization news
---
Fact sheets
Each issue of 1100 Pennsylvania will continue to report on new updates in the House investigations, lawsuits, and health inspections regarding the Trump Hotel D.C. For a rundown of the earlier developments in each one, as well as reference sheets for some of 1100 Pennsylvania's previous reporting, please see these paid-subscriber-only fact sheets.
---
Thanks for reading! If you like what you've read, tell someone. If you've been forwarded this newsletter, subscribe at 1100pennsylvania.substack.com. Questions? Read our FAQ. Tips or feedback? Contact Zach Everson at 1100Pennsylvania@protonmail.com (it'll be encrypted if you also use a ProtonMail account, which is free) or via Signal (secure), SMS, or mobile at 202.804.2744.