Discover more from 1100 Pennsylvania
"The undisputed expert on the D.C. Trump Hotel" – David Fahrenthold of the Washington Post
Over 3,000 subscribers
New year, same story at Mar-a-Lago celebration
President Trump turned the calendar with a 17-day stay at Mar-a-Lago and 16 visits to his Palm Beach golf course
President Donald Trump spent Dec. 20 2019 to Jan. 5, 2020 at his Mar-a-Lago resort. Almost every trip he took off its grounds was to his Palm Beach golf course, which he visited 16 times (per Factba.se). For recaps of the people he mingled with and the assassination he ordered, check out—
Dec. 30's 1100 Pennsylvania covered most Mar-a-Lago sightings from the first 10 days of the president's vacation (Mike Pompeo! Laura Loomer! Eddie Gallagher!) Here's a rudown of who appeared at the resort over the last stretch of Trump's stay.
House Minority Leader Kevin McCarthy (R–CA) used his visit to promote one of the president's business. Again. Since Trump was elected president, McCarthy's campaign, leadership PAC, and joint fundraising committees have spent a combined $245,884.44 at Trump properties.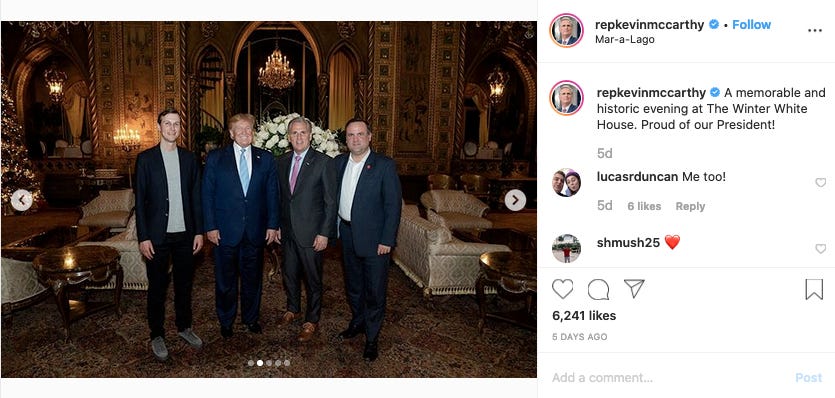 HUD Secretary Ben Carson, who serves at the pleasure of the president, mingled with Trump's customers.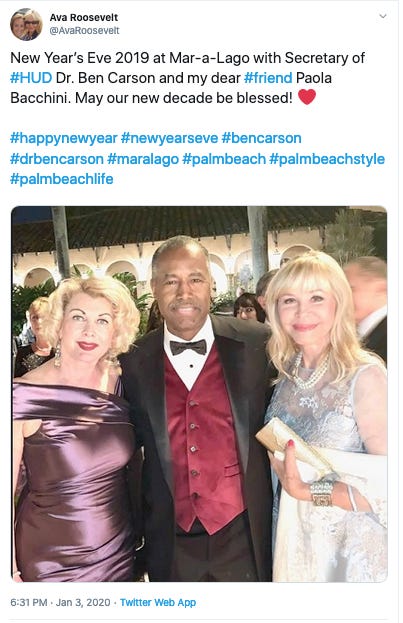 One of the president's attorney, Rudy Giuliani, mingled (including with billionaire heiress and Manhattan GOP chair Andrea Catsimatidis) and entertained Trump's customers by singing over Frank Sinatra. (Because of a formatting constraint, select the link to watch the video.)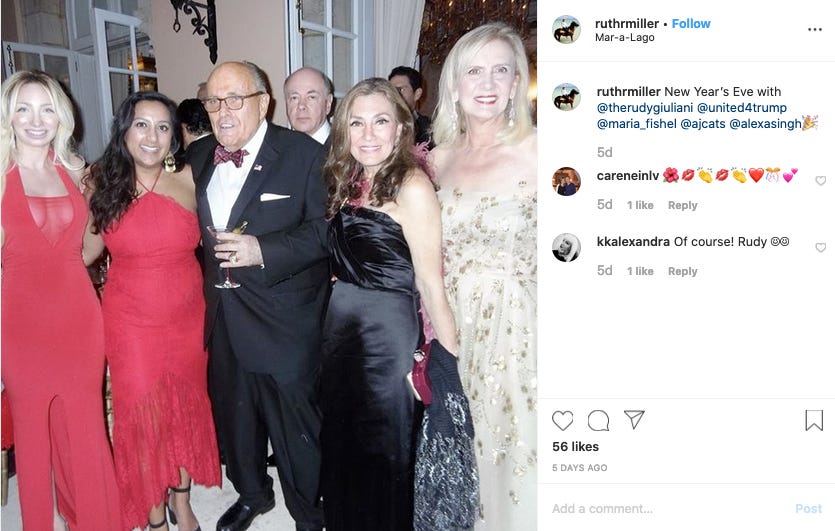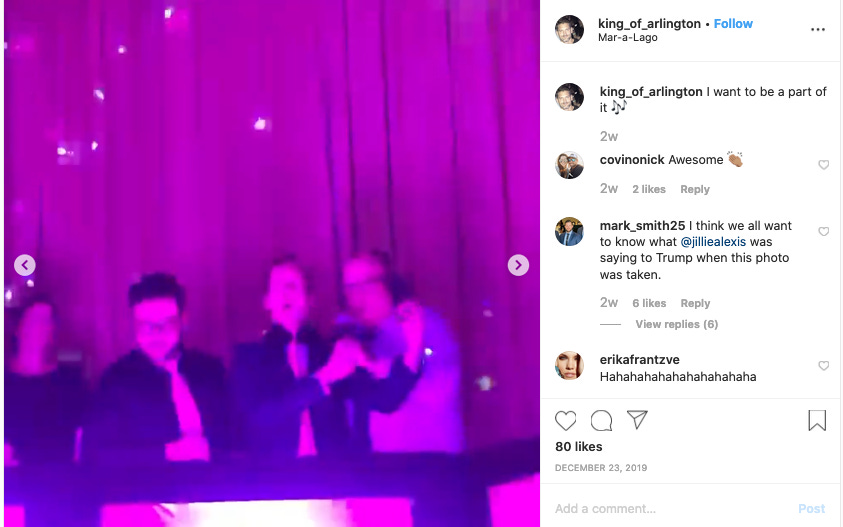 The Commonwealth of Dominica's ambassador to the United Nations, Paolo Zampolli, rang in the new year at Mar-a-Lago. He was there in 2019 too. No need to worry about the man who introduced Donald and Melania when she worked for his modeling agency spending Dominica's funds on his ticket and possibly putting Trump in breach of the Constitution's foreign emoluments clause. When 1100 Pennsylvania inquired about the source of Zampolli's ticket last year, the diplomat said he was a guest of the president's. (Al Jazeera English's documentary "Diplomats for Sale" reports on Zampolli's government work at the 43:21 mark.)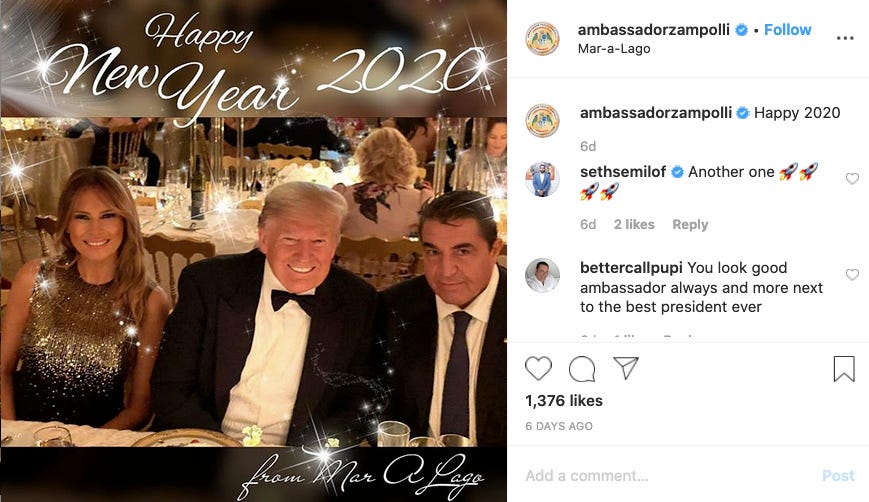 Zampolli's wife, Amanda Ungaro-Zampolli, also attended. She's Grenada's ambassador to the United Nations.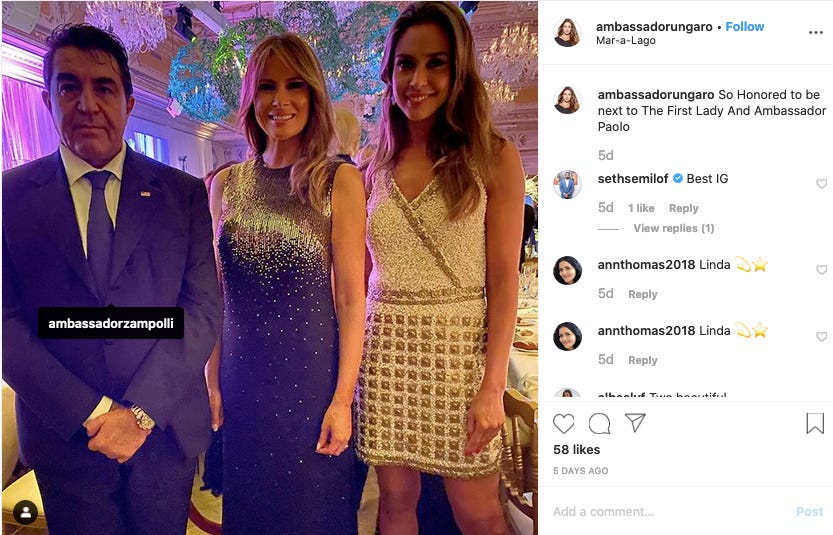 Hussain Sajwani, the chairman of DAMAC, the president's business partner at Trump Dubai, and real estate developer Robbie Antonio, the son of Jose E.B. Antonio, who's Trump's business partner in the Philippines and that country's trade envoy to the United States, got chummy at Mar-a-Lago on New Year's Eve, reported Marcus Baram of Fast Company.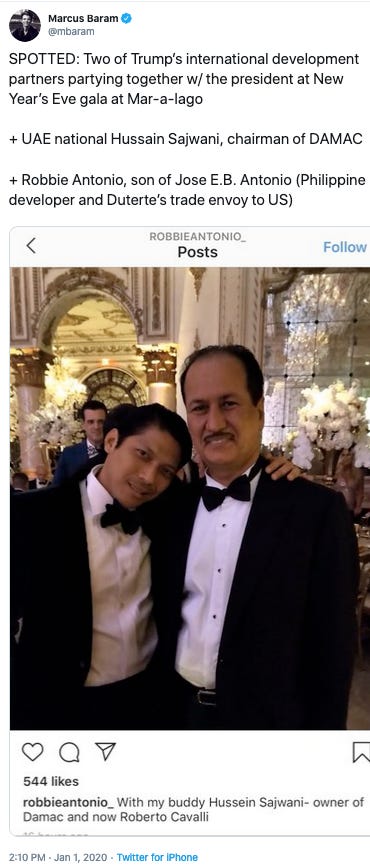 Antonio the Younger also landed photos with a bunch of Trumps (the pic in the bottom right was from last year, also at Mar-a-Lago).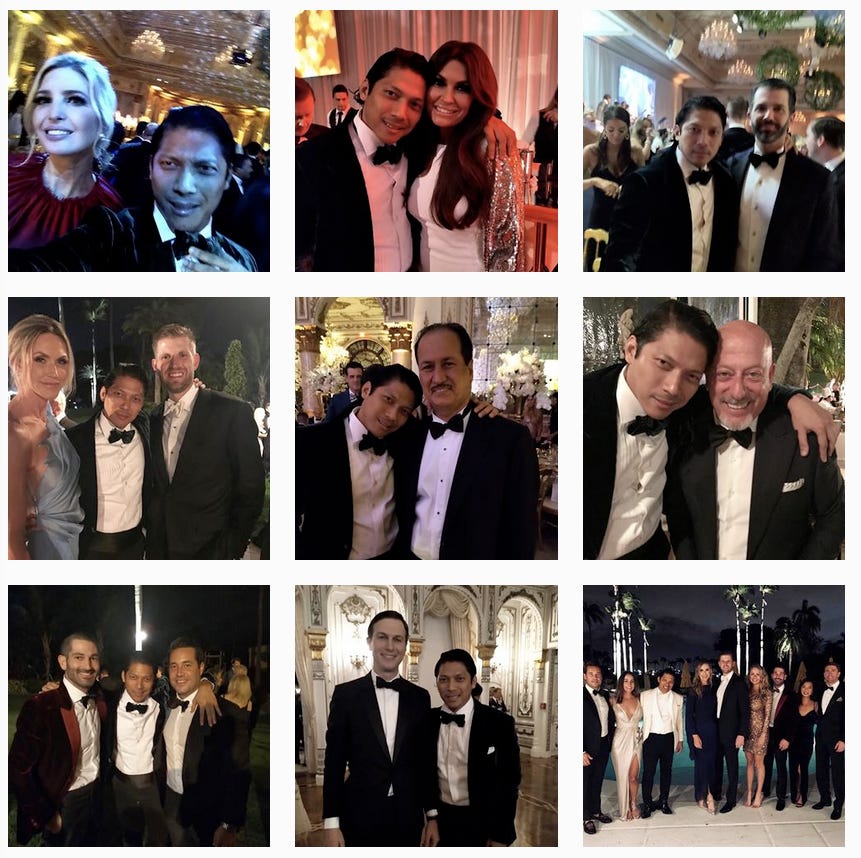 Fox Business's Lou Dobbs sent holiday wishes from the president's business, which he promoted using his show's Instagram account.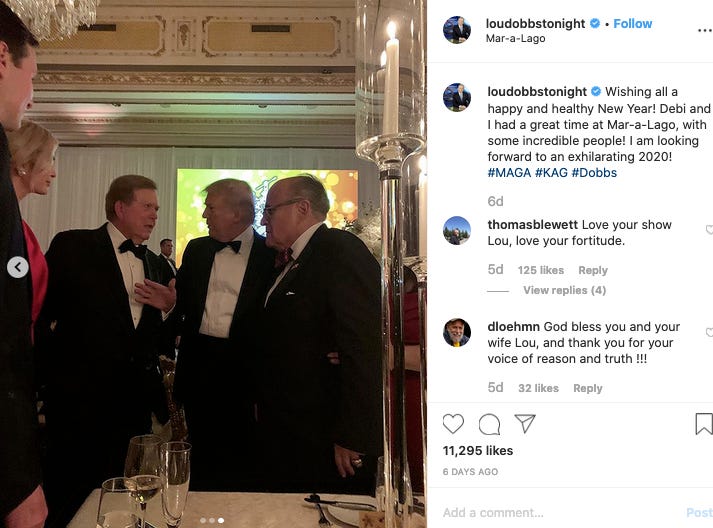 Rudy Giuliani's spokesperson, Christianné Allen, who has an interesting backstory, celebrated Christmas and winning with the president at Mar-a-Lago.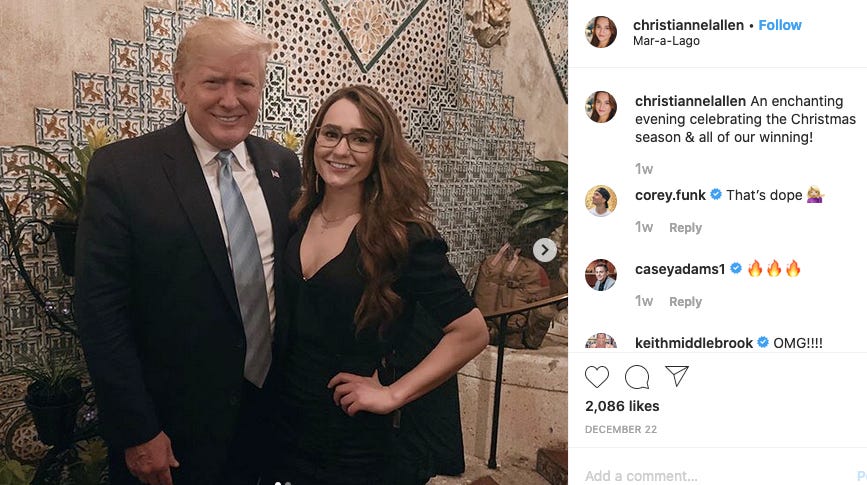 John Willding, a partner at lobbying firm Barnes & Thornburg and the organizer of Trump First Tuesdays—a monthly business networking happy hour for lobbyists at the Trump Hotel D.C.—apparently dined near the president at Trunmp Palm Beach. And it appears Trump Palm Beach sells Trump campaign hats.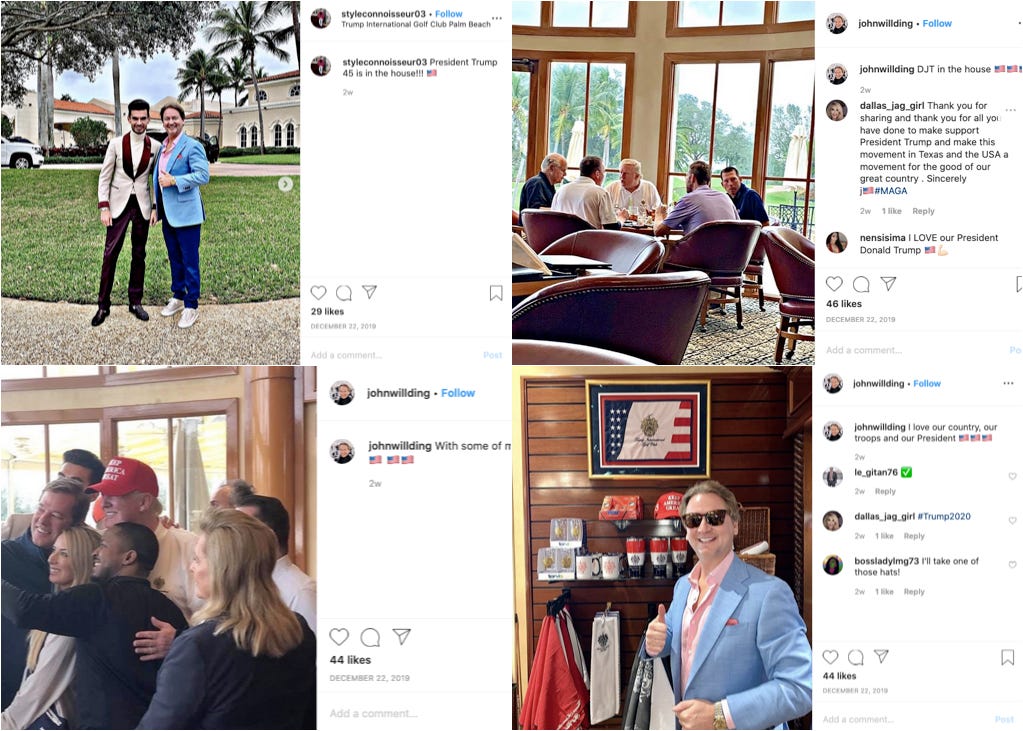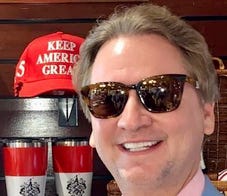 The president, wearing a campaign hat his club apparently sells, posed with his course's customers.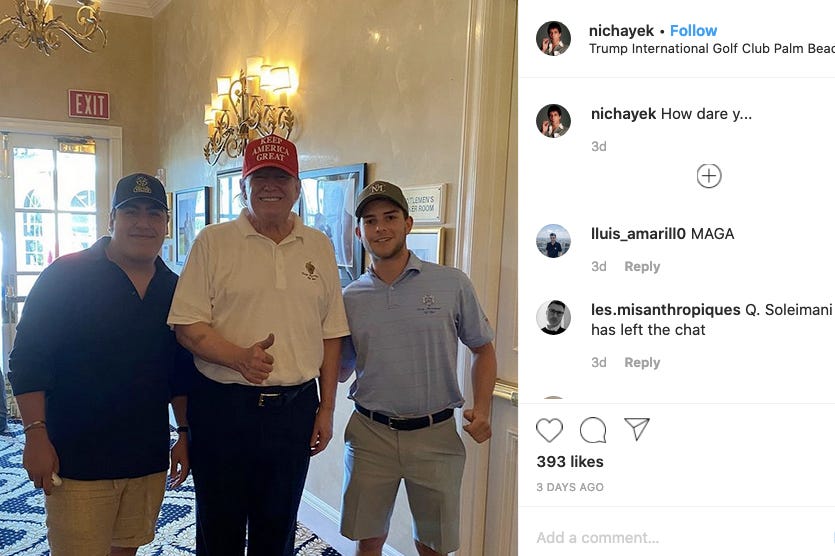 Donald Trump Jr., a businessman walled off from his father's administration, waived his club's dress code to allow Kid Rock to wear a shirt attacking a Democratic Congressman who's investigating the president.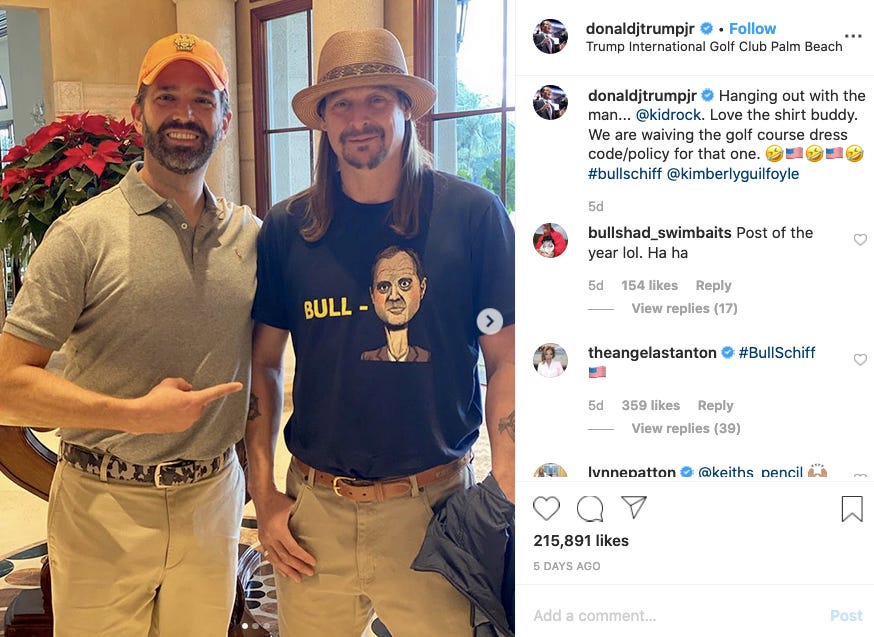 The president golfed at Palm Beach with former Rep. Trey Gowdy (R–SC), reported The Hill.
Loyal Trump customer and Turning Point USA founder Charlie Kirk posed with the president. Just two weeks earlier, Kirk's group hosted a $2,500 per person gala at Mar-a-Lago.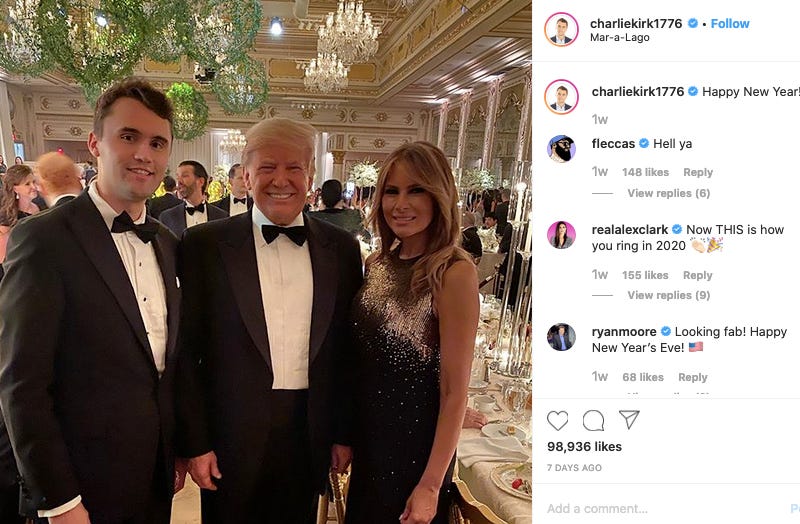 Robert Kiger, a Mar-a-Lago regular who serves in Trump's motorcade drive team, received a gift from the White House at the president's club.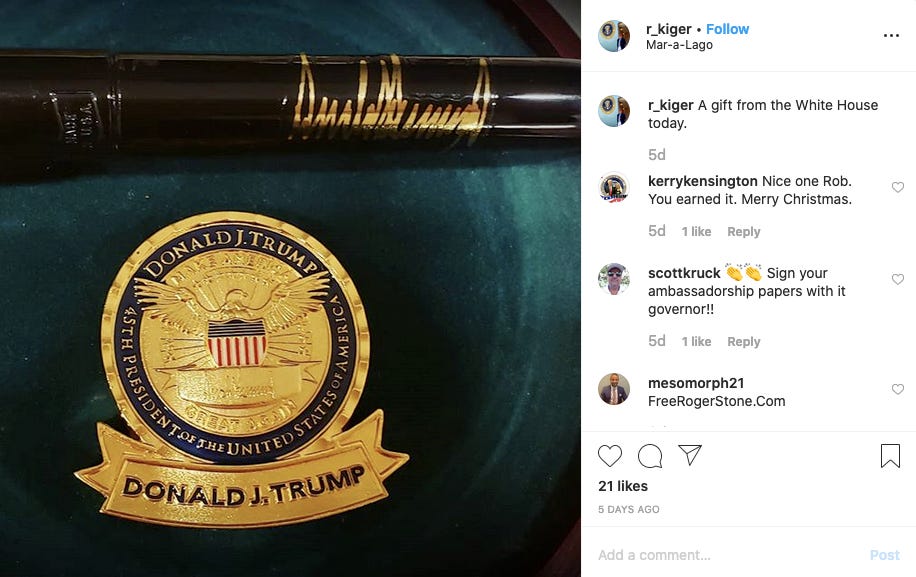 U.S. Navy captain Mark "Soho" Sohaney, the commanding officer of Naval Air Station Key West, posed with the commander-in-chief in the background at the latter's for-profit business.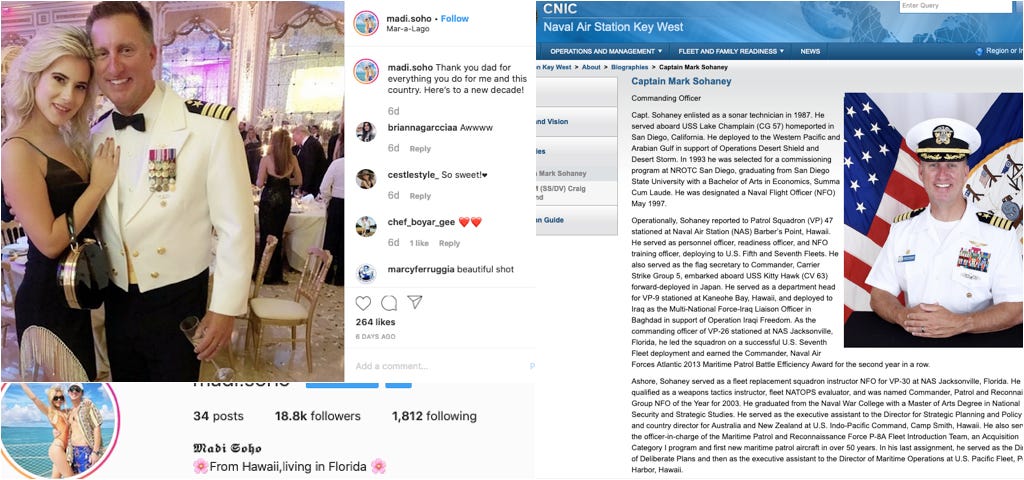 Sugar Ray's Mark McGrath performed. (Because of a formatting constratint, select the link to watch the video. Or don't.)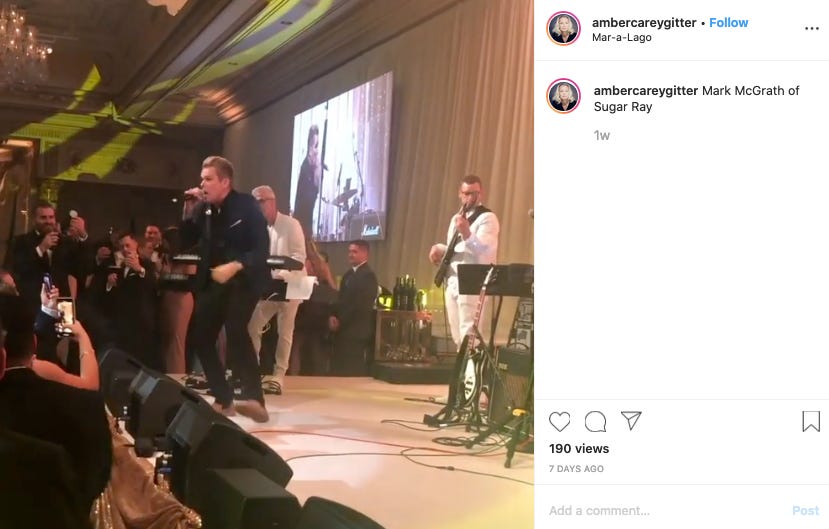 White House advisors Jared Kushner (l) and Ivanka Trump (r) sent their best from her dad/ boss's club.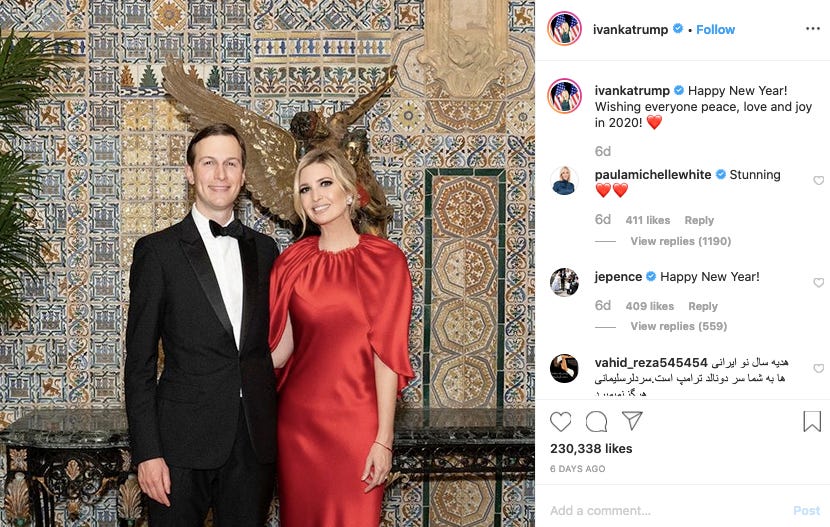 Trump Org EVP Eric Trump sent birthday wishes to Trump campaign manager Brad Parscale, who was celebrating at a Trump Org property while the head of the Trump administration looked on.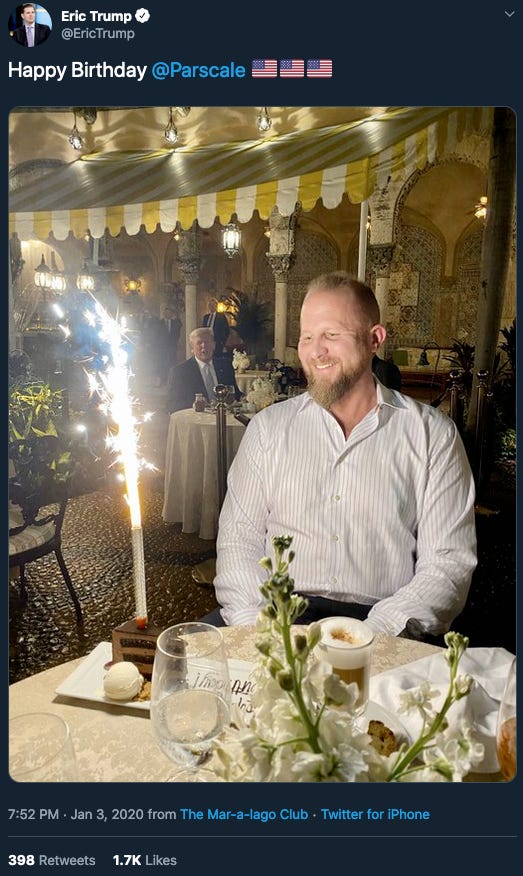 Washington Capitals captain Alex Ovechkin presented the president with a sweater at Mar-a-Lago.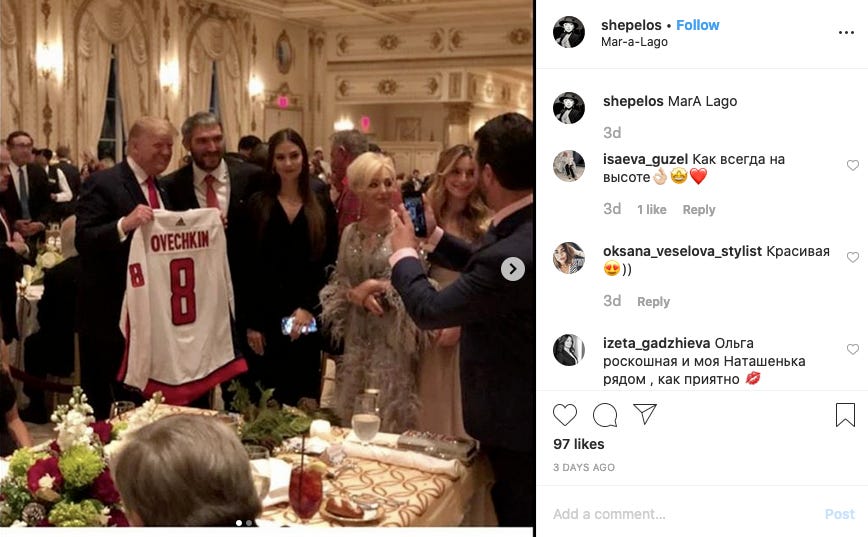 White House principal deputy press secretary Hogan Gidley posed at one of his boss's properties with Fox News's Gina Loudon and Trump campaign senior advisor Katrina Pierson .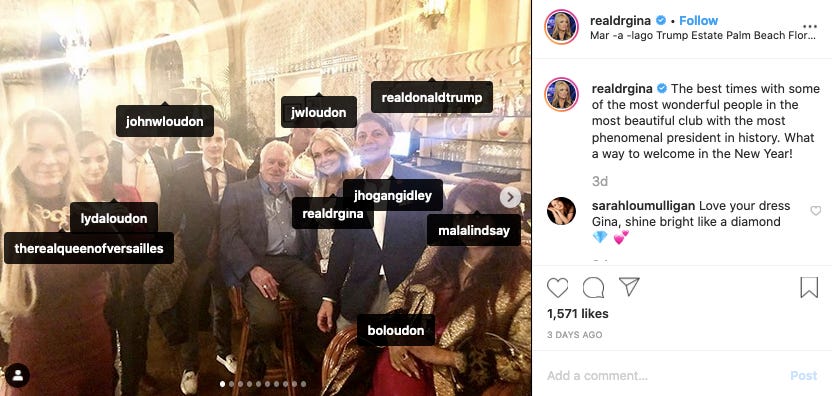 The My Pillow Guy, Mike Lindell, a major GOP donor and Trump property regular, spent time at Mar-a-Lago with Sen. Lindsey Graham (R–SC).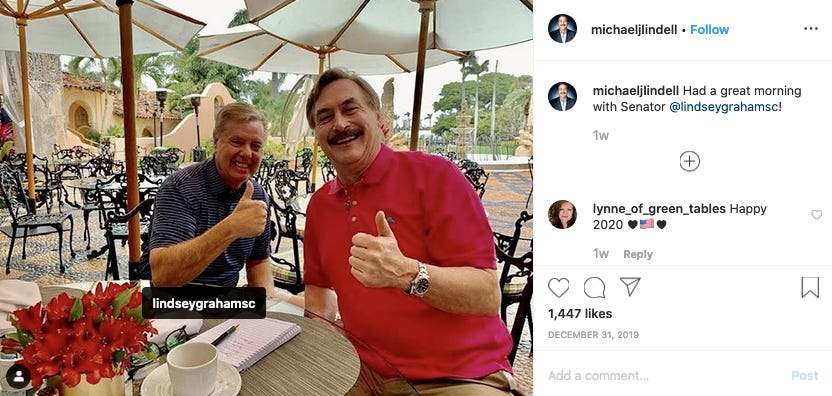 President Trump took the stage to speak to his customers on New Year's Eve,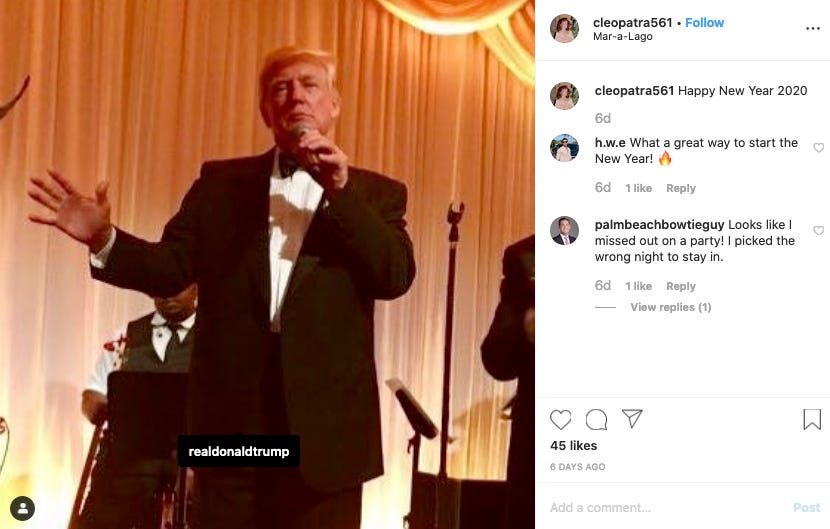 ---
Georgia Gov. Kemp did not use state funds at Trump Hotel D.C., spokesperson says
Georgia Gov. Brian Kemp (R) did not spend state funds at the president's D.C. hotel when he dined there two weeks ago, according to his spokesperson. If Georgia taxpayer money was paid out at the Trump Hotel D.C., it could be a violation of the Constitution's domestic emoluments clause.
The spokesperson said Kemp was accompanied by a security officer on a taxpayer-funded per diem, as is standard protocol. It's not clear if he or she spent any money at the president's hotel. But if that did happen, it appears funds from Georgia's state coffers would have flowed indirectly to the president's pocket. The governor's office's lightning-fast response to an open records request 1100 Pennsylvania filed last week provided no additional insight.
After 1100 Pennsylvania first reported on Kemp's visit to the president's business last week, Gabriel Rubin of The Wall Street Journal and Jim Galloway and Greg Bluestein of The Atlanta Journal-Constitution picked up the story. When the latter two contacted Kemp's office, the response they received from his spokesperson was a bit more blunt than the reply this newsletter got: "The governor bought the damn burger himself."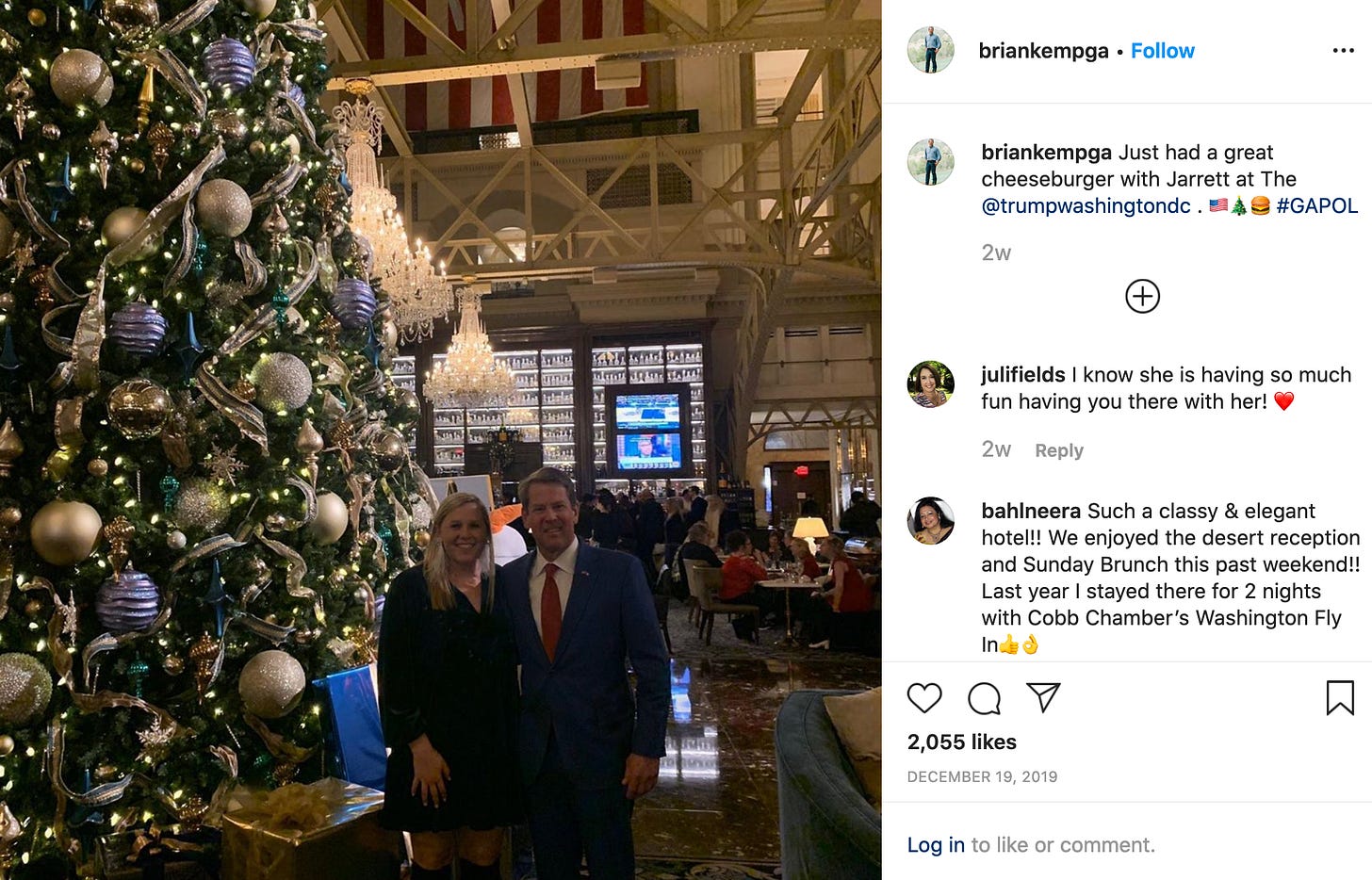 ---
Resolve to stay informed and support reporting on who's paying President Trump
For more than a year, 1100 Pennsylvania has provided in-depth reporting on who's paying Donald Trump and what they may want from the president in return. The facts published in this newsletter have reached a far greater audience than just its subscribers: The New York Times, The New Yorker, MSNBC, and The Washington Post are among the U.S. media oultets to have cited 1100 Pennsylvania's reporting, as have government watchdogs like Citizens for Responsibility and Ethics in Washington and Public Citizen.
Paid subscriptions are this publication's sole source of revenue—no ads, no grants, no payments from George Soros (unless he's a subscriber). Support this reporting and help ensure it continues. Just $5 a month or $50 a year.
---
With Loeffler sworn in, now 57 percent of GOP senators have supported president's D.C. hotel
Monday, Kelly Loeffler (R–GA) was sworn in as the nation's newest senator. She was spotted at the Trump Hotel D.C. two weeks earlier, so now 30 of 53 current Republican senators have helped Trump profit from his D.C. hotel since his election.
Loeffler replaces Johnny Isakson (R) who retired. Isakson was among the minority of GOP Senators not to have appeared at the Trump Hotel D.C. or spent campaign funds there.
Joe Manchin (D–WV) is the sole Democratic senator spotted at the hotel.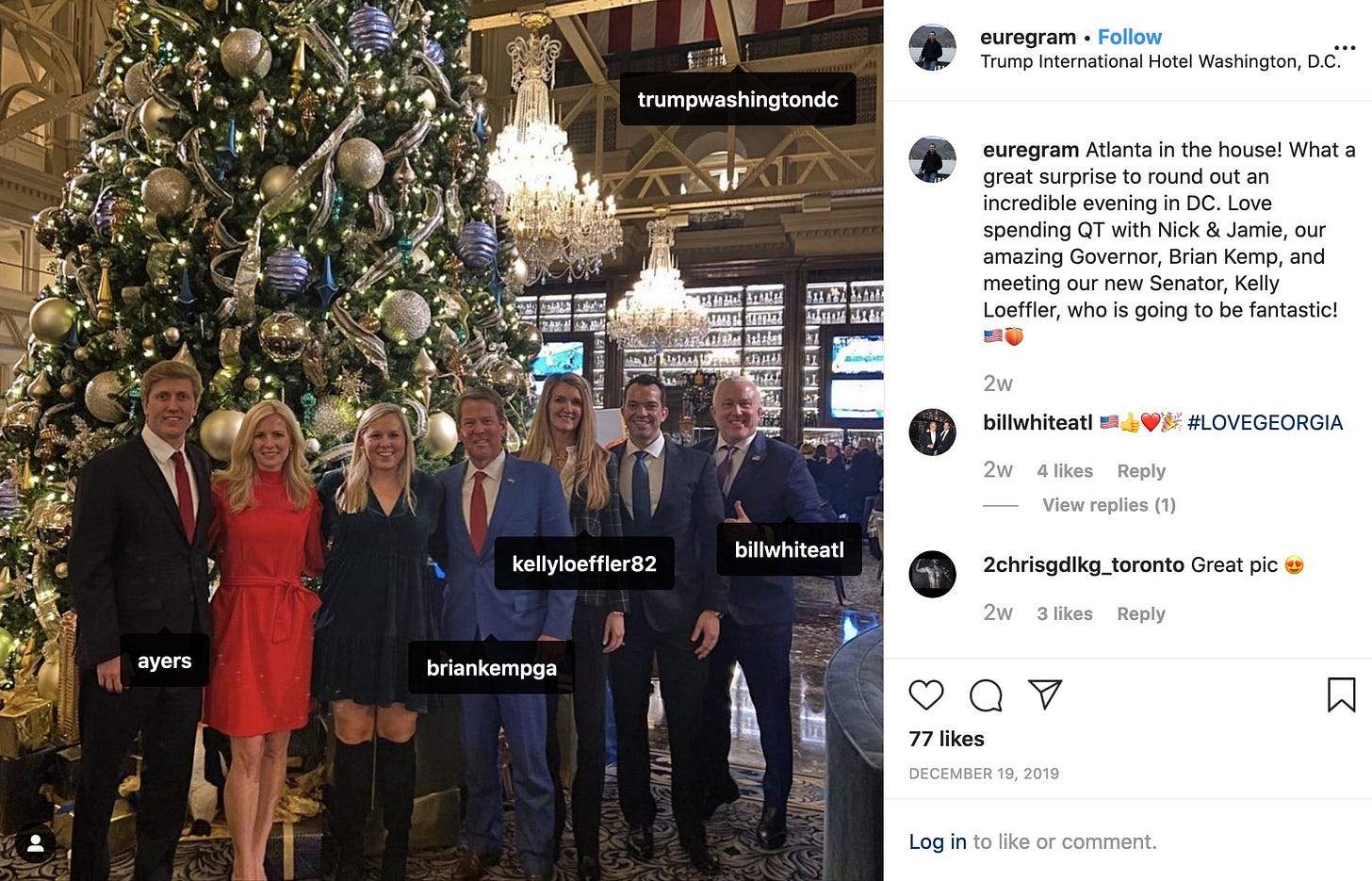 ---
Other Trump Organization news
---
Reference section
Links to rundowns of developments in the House's investigations and lawsuits, reference sheets for some of 1100 Pennsylvania's previous reporting, and articles that provide the background on why all of this matters. The date published or last updated is in parentheses.
Trackers
Notable hotel customers
Summaries
25 unimpeachable examples of Trump profiting from his hotel: Foreign governments, Trump administration, GOP lawmakers, industry all have called on the Trump Hotel D.C. since its owner became president (Sept. 27, 2019)

"Power tripping in the swamp: How Trump's D.C. hotel swallowed Washington
The MAGA social scene is a movable feast, but its dark heart resides within the Old Post Office Building, where the Trump Org operates under a mercenary charter" by your correspondent for Vanity Fair (October 2019)

"Inside the world's most controversial hotel: The hotel that was expected to take its place among the crown jewels of D.C.'s travel scene has become a magnet for protestors, a West Wing Annex, and—possibly—the center of a constitutional crisis." by your correspondent for Condé Nast Traveler (May 2018)
Upcoming key dates
Sept. 23—House Judiciary Committee hearing "Presidential corruption: Emoluments and profiting off the presidency" (postponed, not yet rescheduled)

Nov. 4—House Transportation Committee chair's subpoena deadline seeking documents related to hotel's lease (response came a week late and was deemed insufficient)

Jan. 22, 2020—Initial filings due in House Ways and Means Committee's appeal of decision requiring it to notify Trump if it seeks his New York state tax returns.

Jan. 24, 2020—Status hearing with D.C. Superior Court in former hotel employees' lawsuit alleging racial discrimination

Jan. 25, 2020—Diamond and Silk's "Say yes to LIFE Pro-Life brunch" to benefit their nonprofit, S.I.S.T.A.S. (Stepping into Self Truth Awareness and Success)

March 2020—Supreme Court hears Trump's appeal of earlier rulings requiring his financial institutions to comply with subpoenas from House Financial Services, Intelligence, and Oversight Committees and the New York district attorney's office

June 2020—Supreme Court decision due on Trump's appeal of earlier rulings requiring his financial institutions to comply with subpoenas from House Financial Services, Intelligence, and Oversight
---
Thanks for reading! If you like what you've read, tell someone. If you've been forwarded this newsletter, subscribe at 1100pennsylvania.substack.com. Questions? Read our FAQ. Tips or feedback? Contact Zach Everson at 1100Pennsylvania@protonmail.com (it'll be encrypted if you also use a ProtonMail account, which is free) or via Signal (secure), SMS, or mobile at 202.804.2744.