Discover more from 1100 Pennsylvania
"The undisputed expert on the D.C. Trump Hotel" – David Fahrenthold of the Washington Post
Over 3,000 subscribers
One Taiwanese party official just visited five Trump properties
A party boss for Taiwan's main opposition party, favored by China, blazed The Trump Grand Tour
A top official for Taiwan's main opposition party appears to have stayed at the U.S. president's D.C. hotel and visited four other Trump properties in the last few weeks, according to his Facebook posts.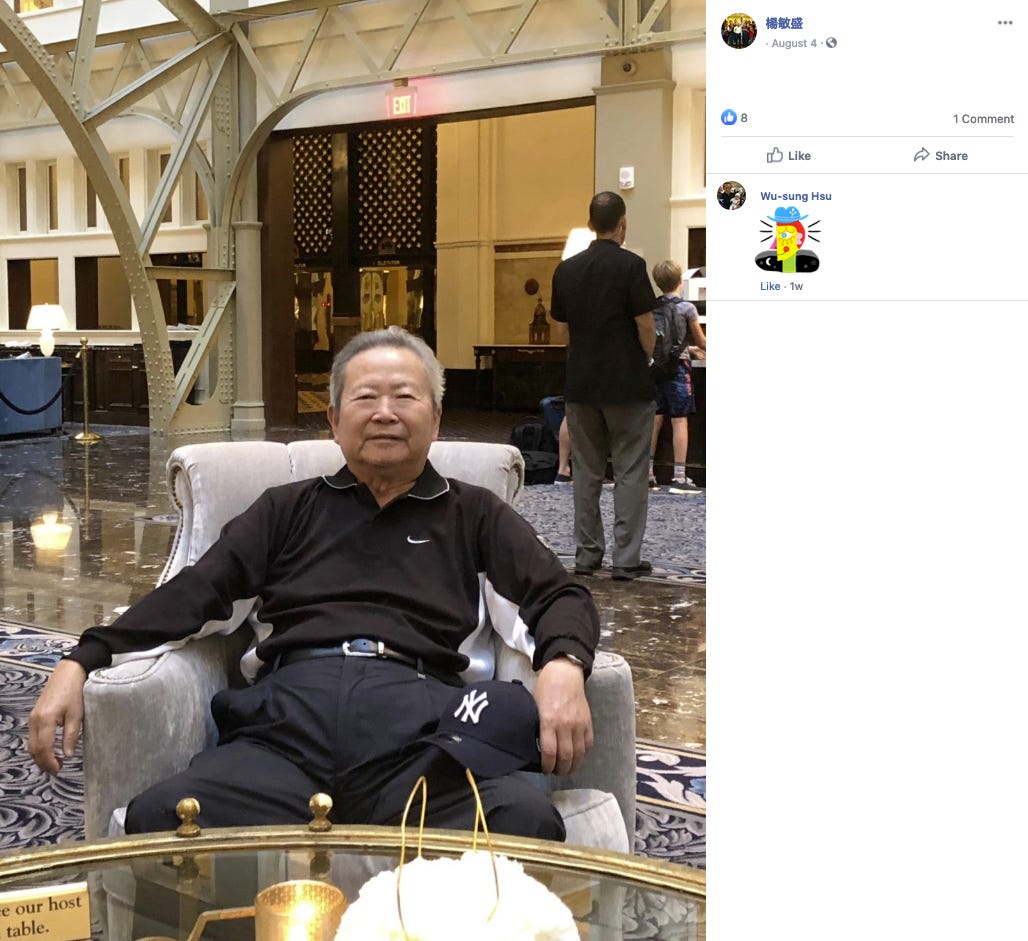 Yang Minsheng, the Kuomintang party's chair for Taoyuan City, Taiwan's fifth largest metropolis with more than 2.1 million residents, posted photos on his personal Facebook profile and professional page from at least five different Trump properties between July 23 and Aug. 6.
According an Aug. 8 article on Taiwan by The Economist, "The biggest opposition party, Kuomintang (KMT), supports friendlier ties with the mainland and made big gains in regional elections last November. China's leaders would like it to vanquish the DPP in next year's polls."
Yang's Facebook posts came up in a search for pictures posted at the Trump Hotel D.C. in the past month. Googling his name turned up several news articles mentioning him, including the one pictured here, by a Taiwanese daily newspaper, China Times. Via Google Translate, that piece identified Yang's role in the party (confirmed by several other media accounts) and included a photo, which enabled verification that he was the person at the Trump properties.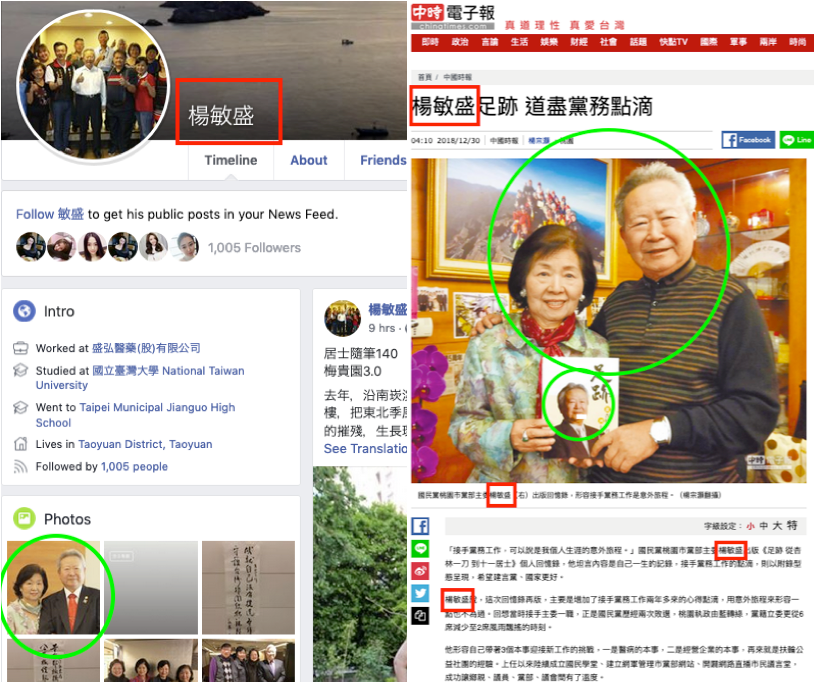 Yang's patronage of the U.S. president's businesses puts him on par with Japanese Prime Minister Shinzo Abe who's also visited at least five different Trump properties since their owner became U.S. president.
Here's the breakdown of the Trump businesses Yang visited and dates he posted the photos (as well as info on some Trump swag he picked up):
And, because why the hell not, Yang sported an American flag-themed Trump polo in photos posted July 23 and Aug. 6.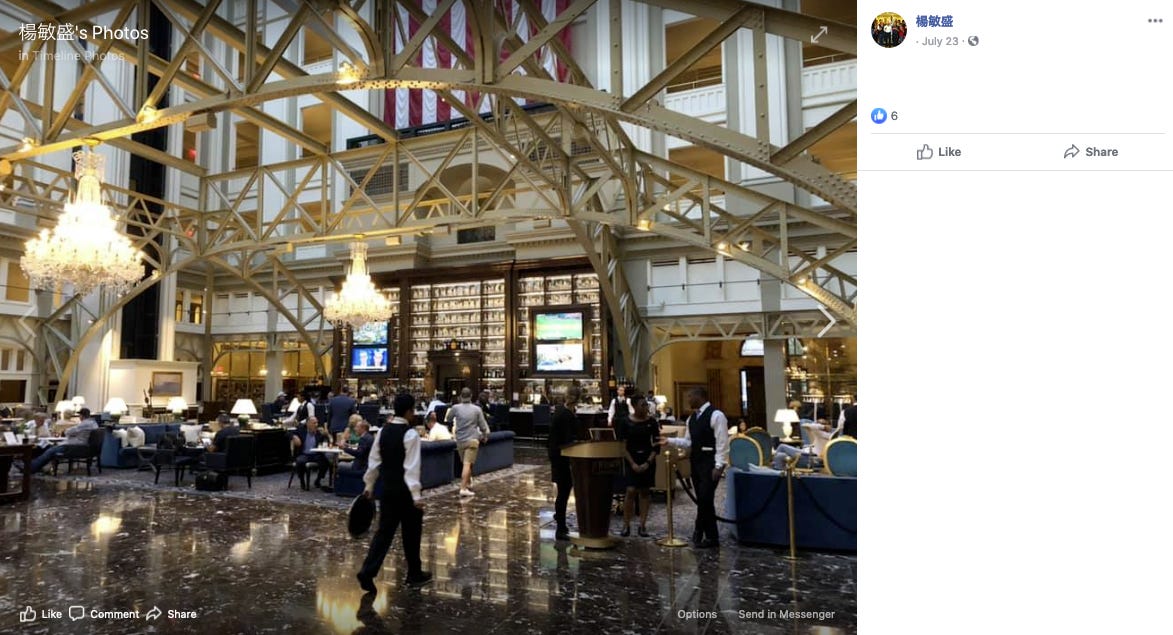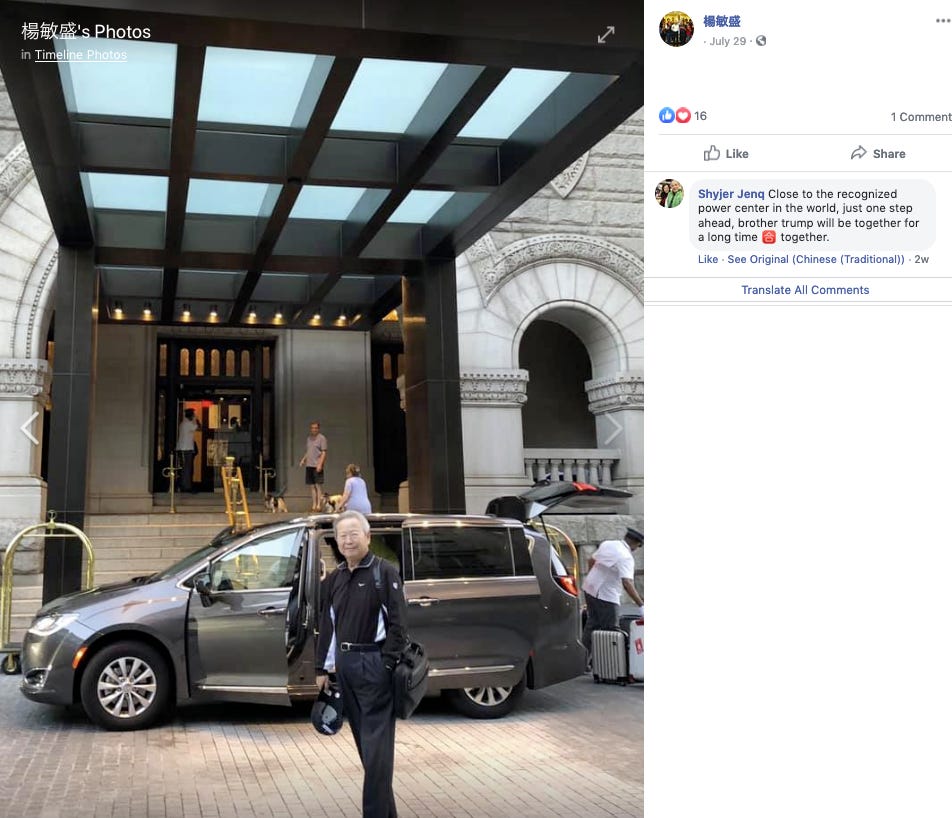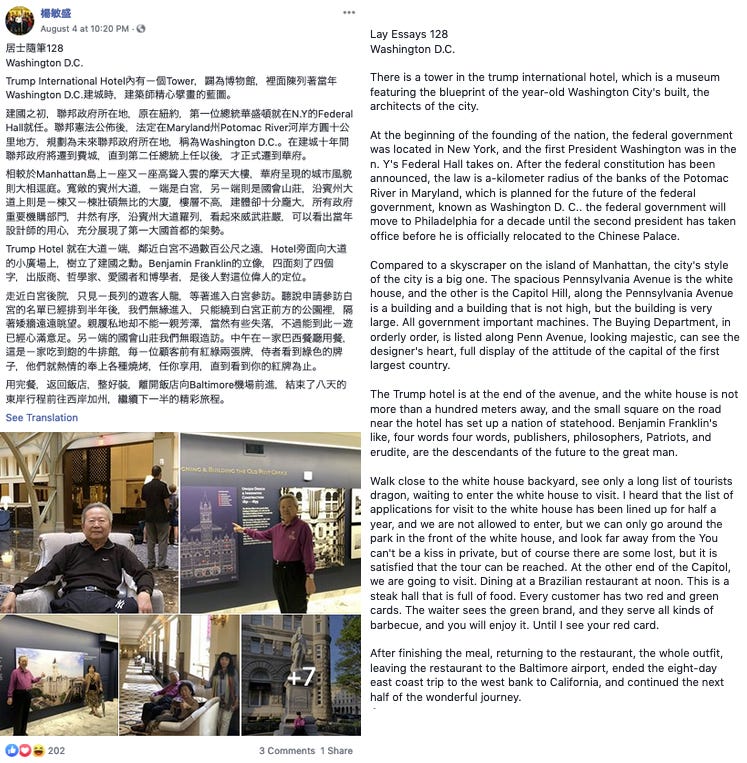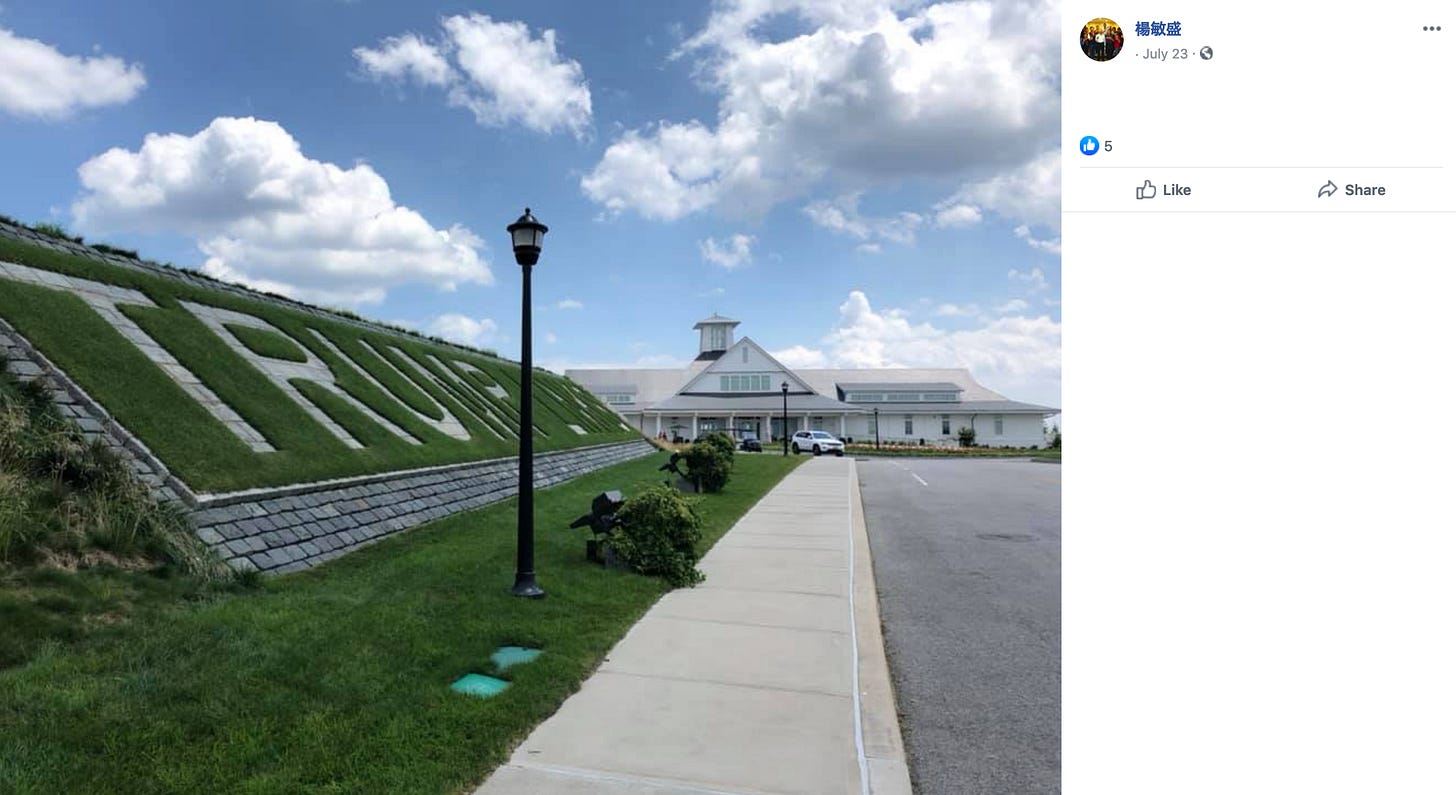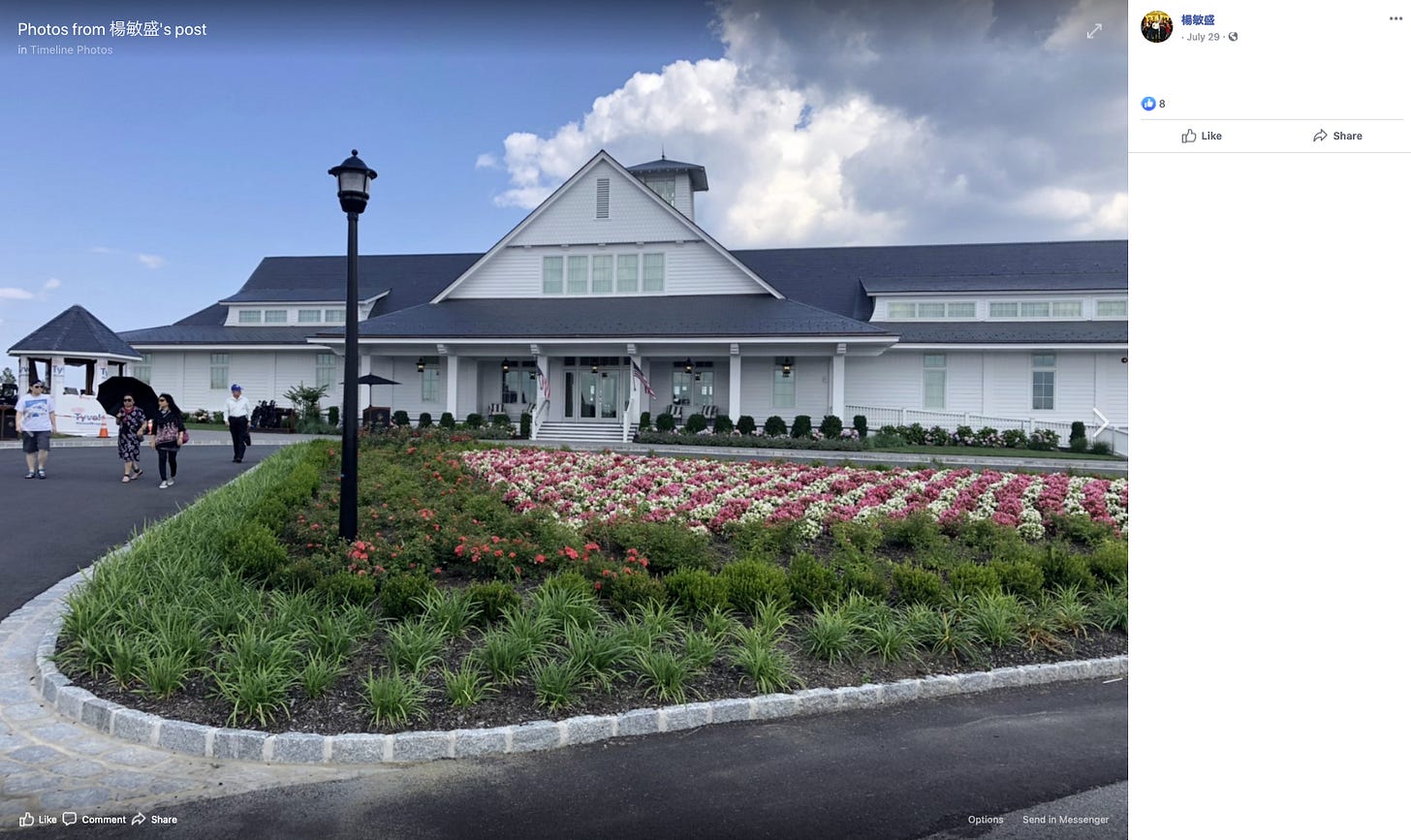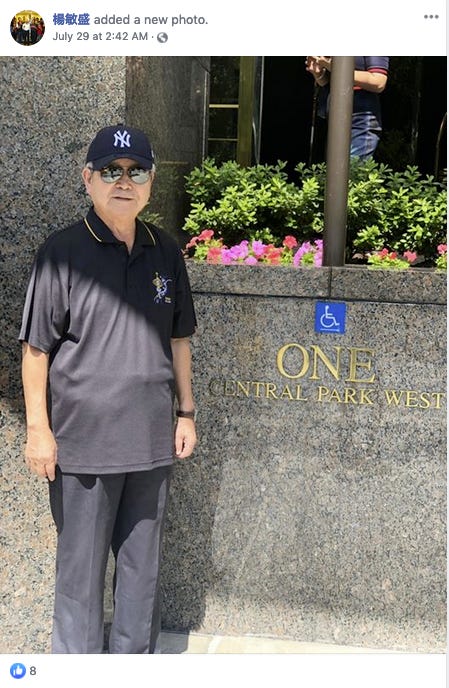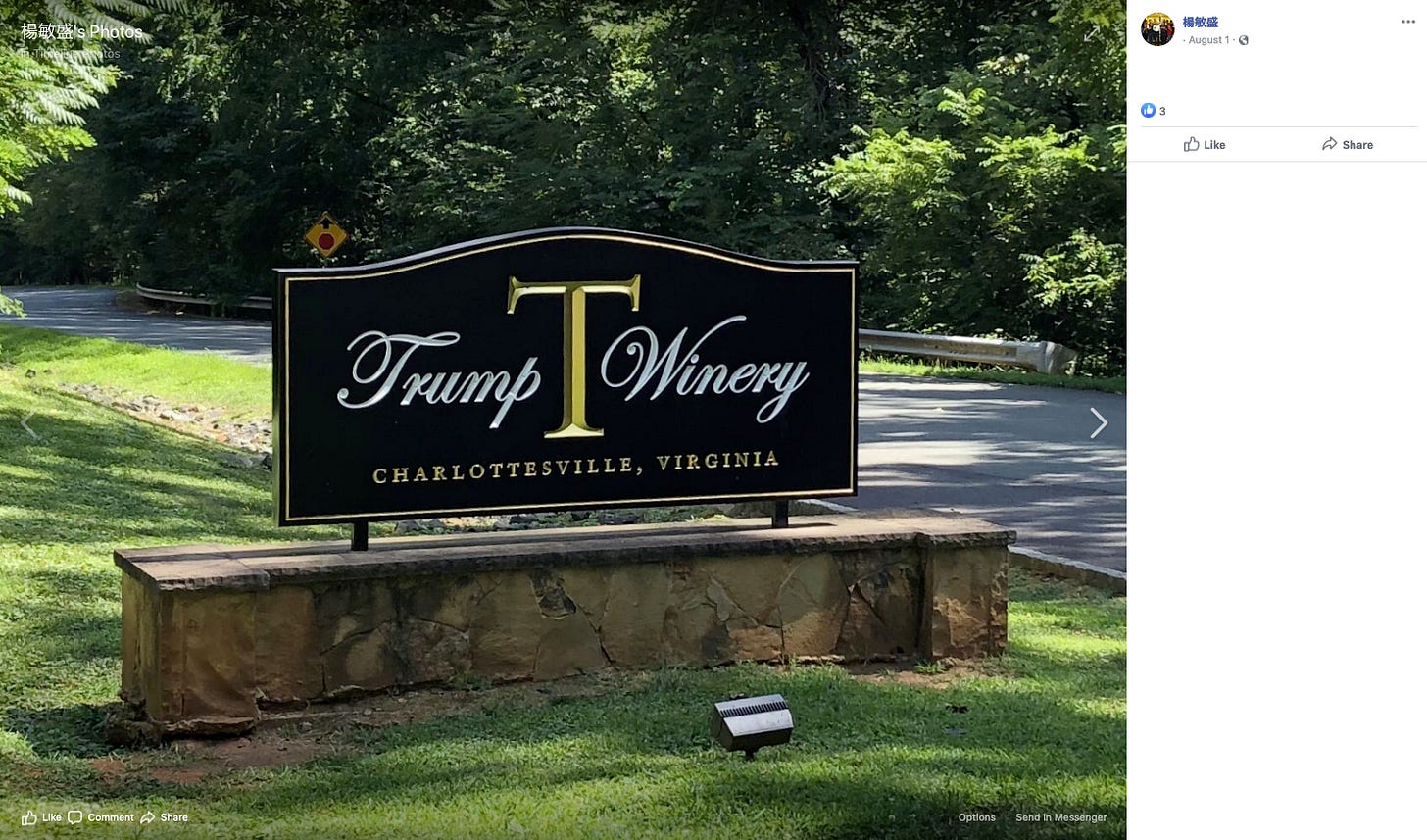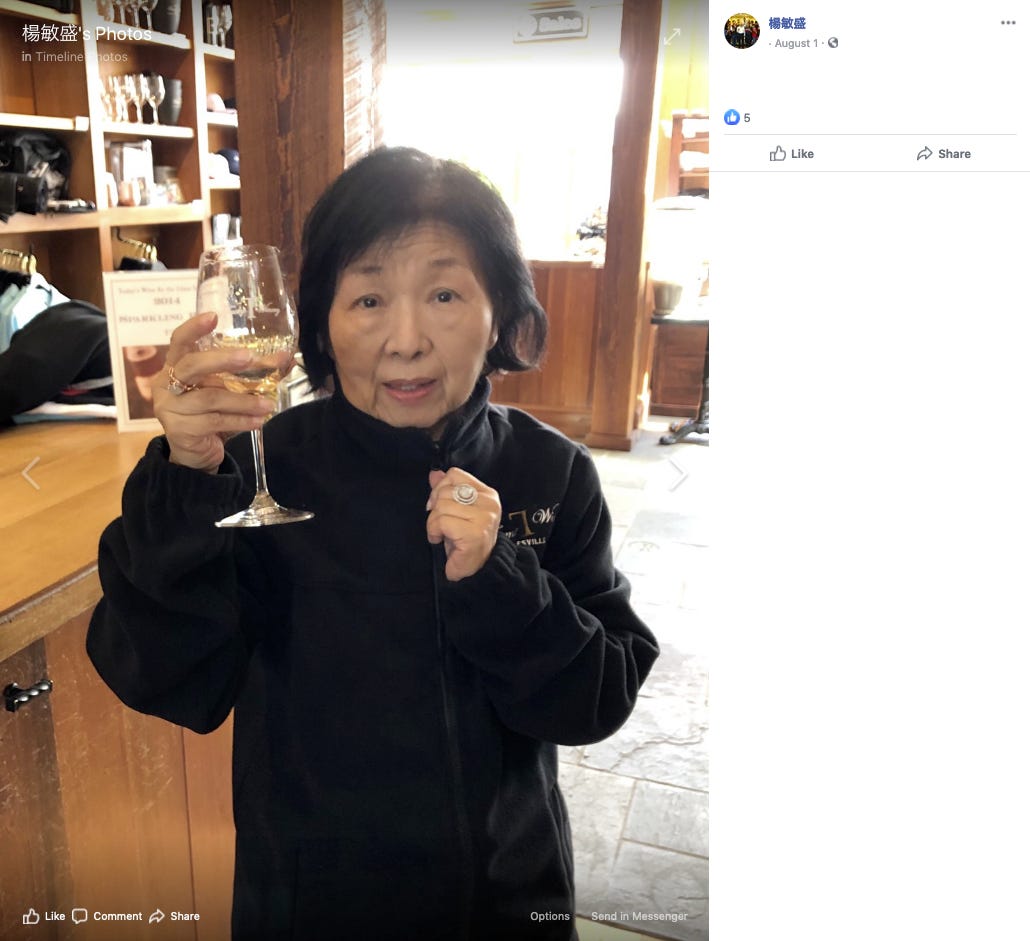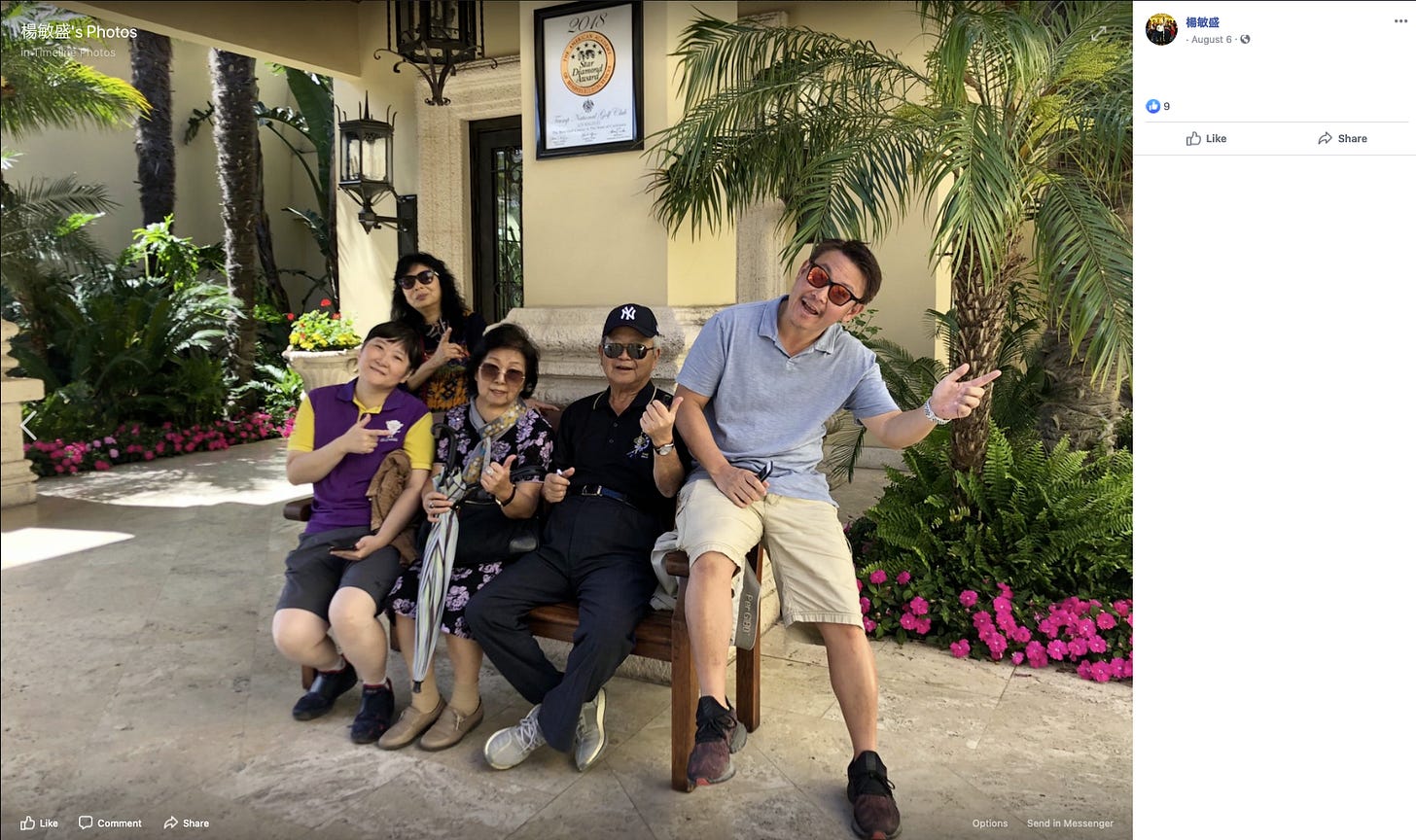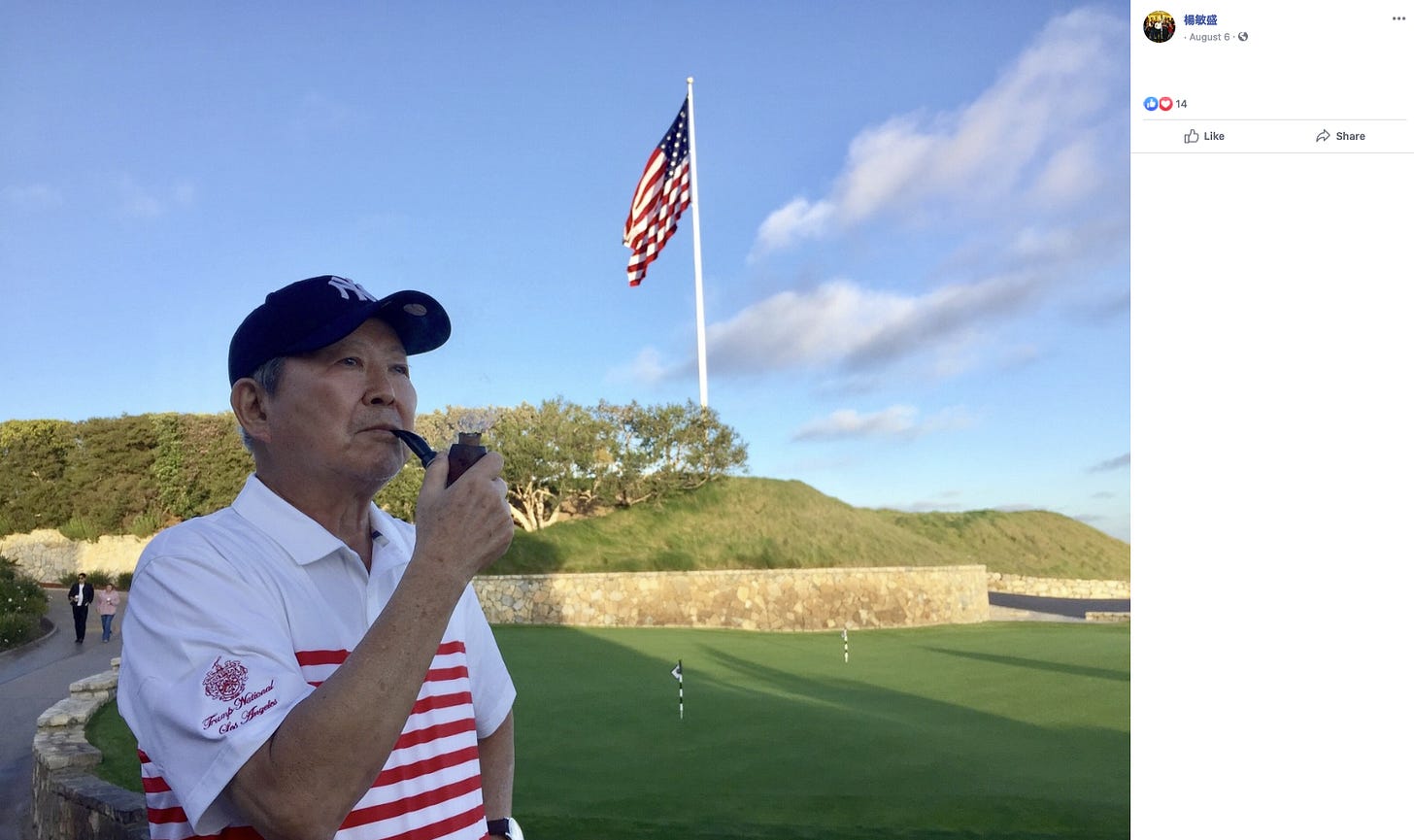 ---
Notable sightings
A glimpse of the foreign officials, government employees, politicians, lobbyists, and the like who patronize or appear at Trump businesses. Most people shown here have reasons to want to influence the Trump administration, rely on its good graces for their livelihoods, or should be providing oversight. Additionally, high-profile guests serve as draws for paying customers.
"It's never a vacation, it's working," the president said a few weeks ago about his plans for his week-long August visit to his Bedminster club. Yesterday he golfed with PGA pro John Daly and posed for photo with Rutgers golfer Christopher Gotterup (his university shared the post).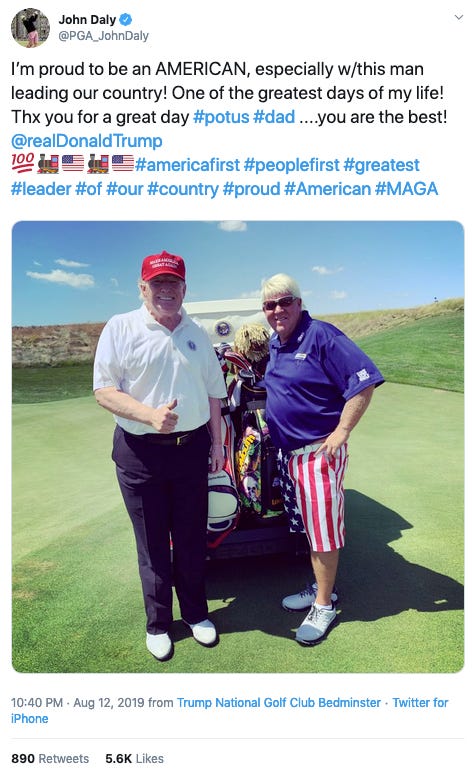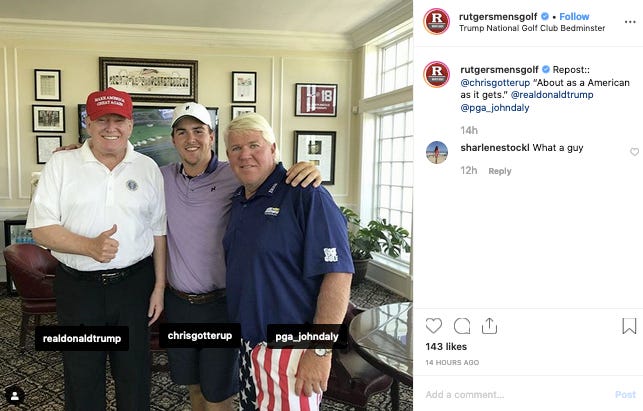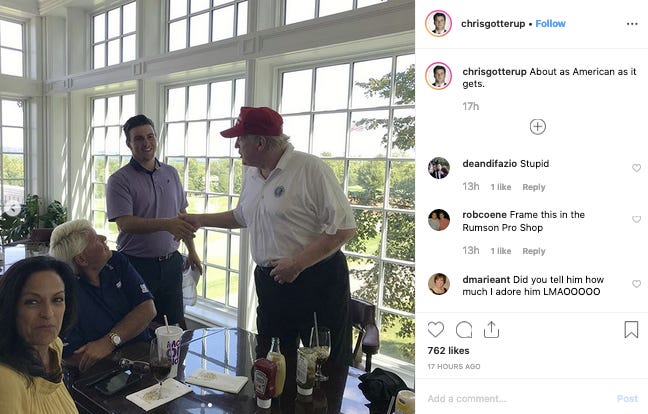 Rep. Devin Nunes (R–CA) posed with an Instagramer Greg Aselbekian who claims to be a U.S. Marine.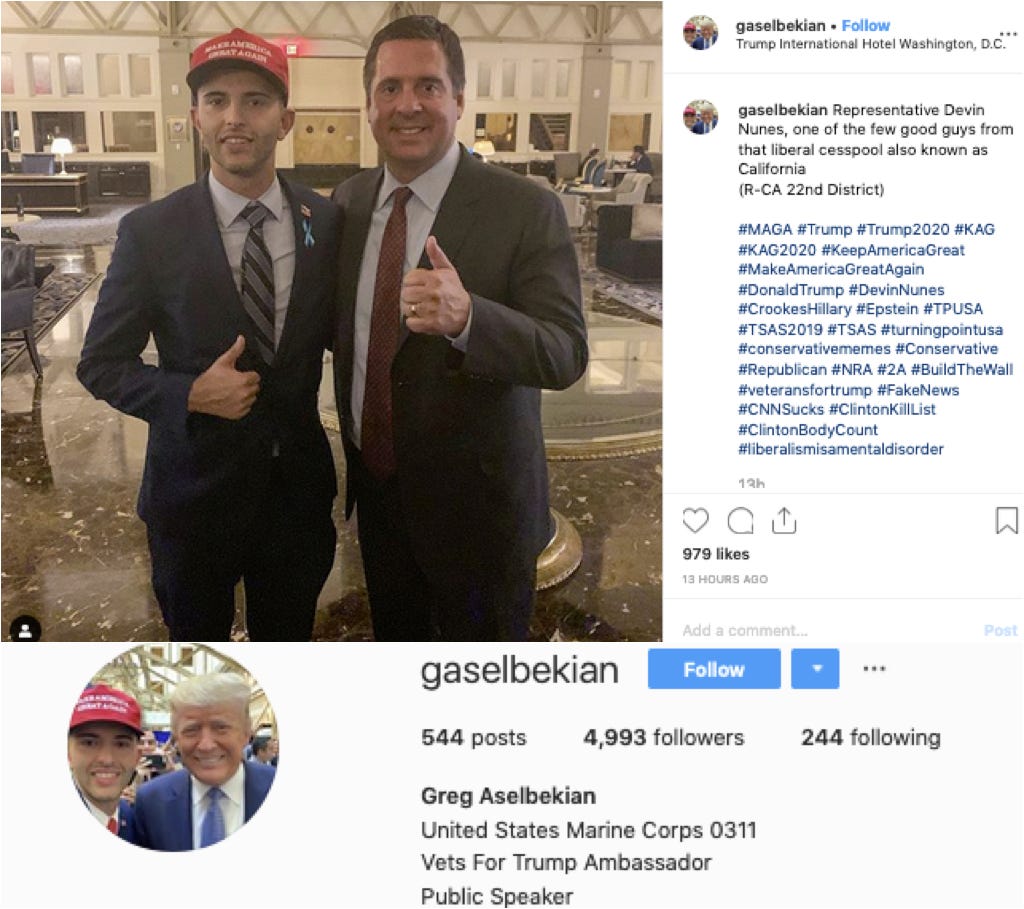 ---
Other Trump Organization news
---
Fact sheets
Each issue of 1100 Pennsylvania will continue to report on new updates in the House investigations, lawsuits, and health inspections regarding the Trump Hotel D.C. For a rundown of the earlier developments in each one, as well as reference sheets for some of 1100 Pennsylvania's previous reporting, please see these paid-subscriber-only fact sheets.
---
Thanks for reading! If you like what you've read, tell someone. If you've been forwarded this newsletter, subscribe at 1100pennsylvania.substack.com. Questions? Read our FAQ. Tips or feedback? Contact Zach Everson securely at 1100Pennsylvania@protonmail.com or via Signal/SMS/mobile at 202.804.2744.