Discover more from 1100 Pennsylvania
"The undisputed expert on the D.C. Trump Hotel" – David Fahrenthold of the Washington Post
Over 3,000 subscribers
Pakistani government minister, Trump's D.C. hotel
Minister of maritime affairs attended meetings on trade and investment at U.S. president's D.C. hotel
Pakistan's federal minister for maritime affairs, Ali Haider Zaidi, attended meetings at the Trump Hotel D.C. last week, according to social-media posts. He was in town as part of the country's delegation accompanying prime minister Imran Khan to meet with President Donald J. Trump at the White House. Zaidi reportedly was at the hotel for discussions on trade and investment.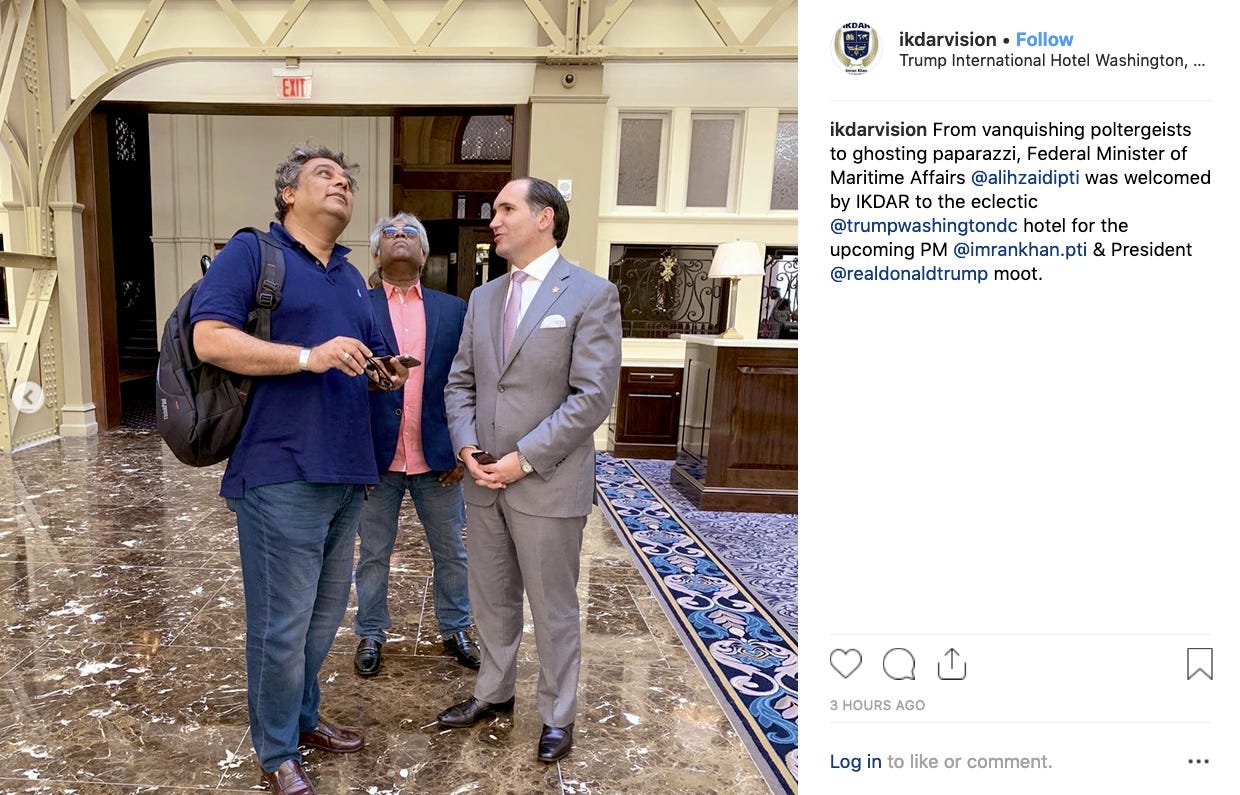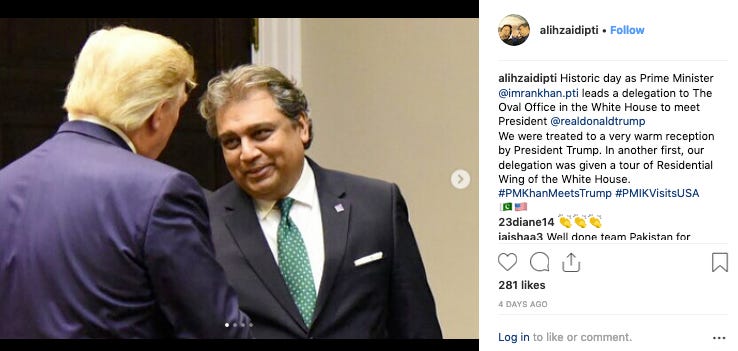 Also at the Trump Hotel D.C. was Pakistan's ambassador-at-large for foreign investment (an honorary position), Ali Jehangir Siddiqui. He previously had been the country's ambassador to the United States.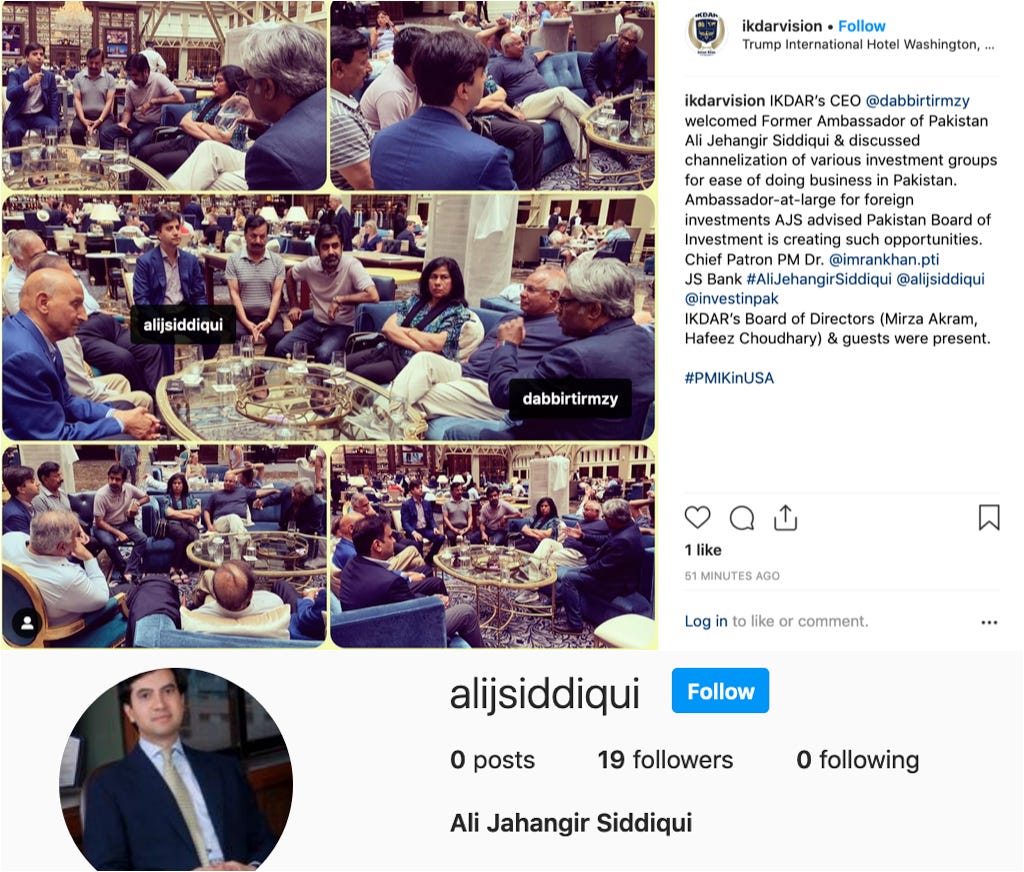 Headed by Zaidi, Pakistan's ministry of maritime affairs is tasked with facilitating the country's ports and shipping industry, which are vital to trade. And, according to Trump's remarks as he welcomed Khan, trade was one of the main topics on their agenda. "We have many things to discuss: military and terrorism and trade," Trump said. "And I think we're going to spend a lot of time talking about trade because we do very little trade with Pakistan compared to what we could be doing and should be doing when our countries really get along perfectly."
Four social-media accounts apparently associated with Pakistan's prime minister promoted Zaidi,'s hotel visit and, by extension, the U.S. president's business. Those Instagram and Twitter accounts claim belonging to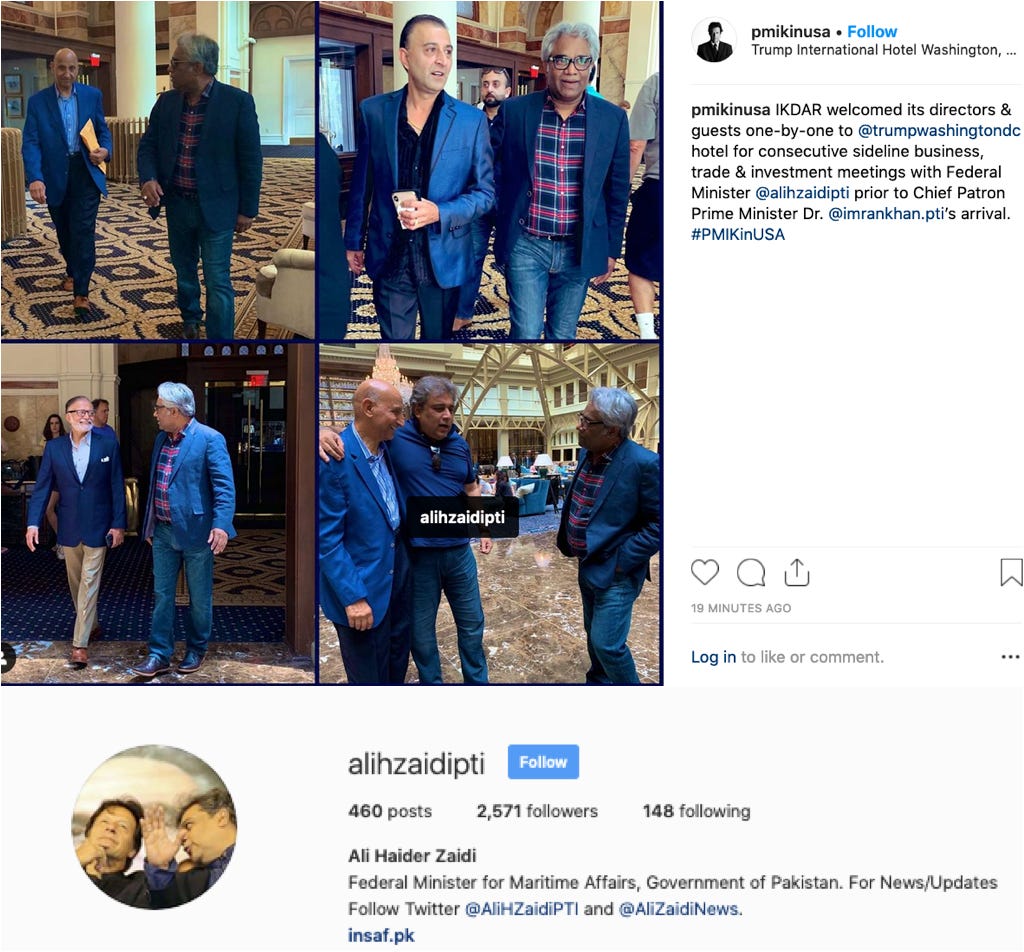 While IKDAR shared a photo taken inside a room at the hotel, Zaidi and Siddiqui were only shown in the lobby.
Also attending meetings at the Trump Hotel D.C., according to the captions, were
(While one caption refers to a foreign minister being present, no photos of Mehmood Qureshi at the hotel have surfaced.)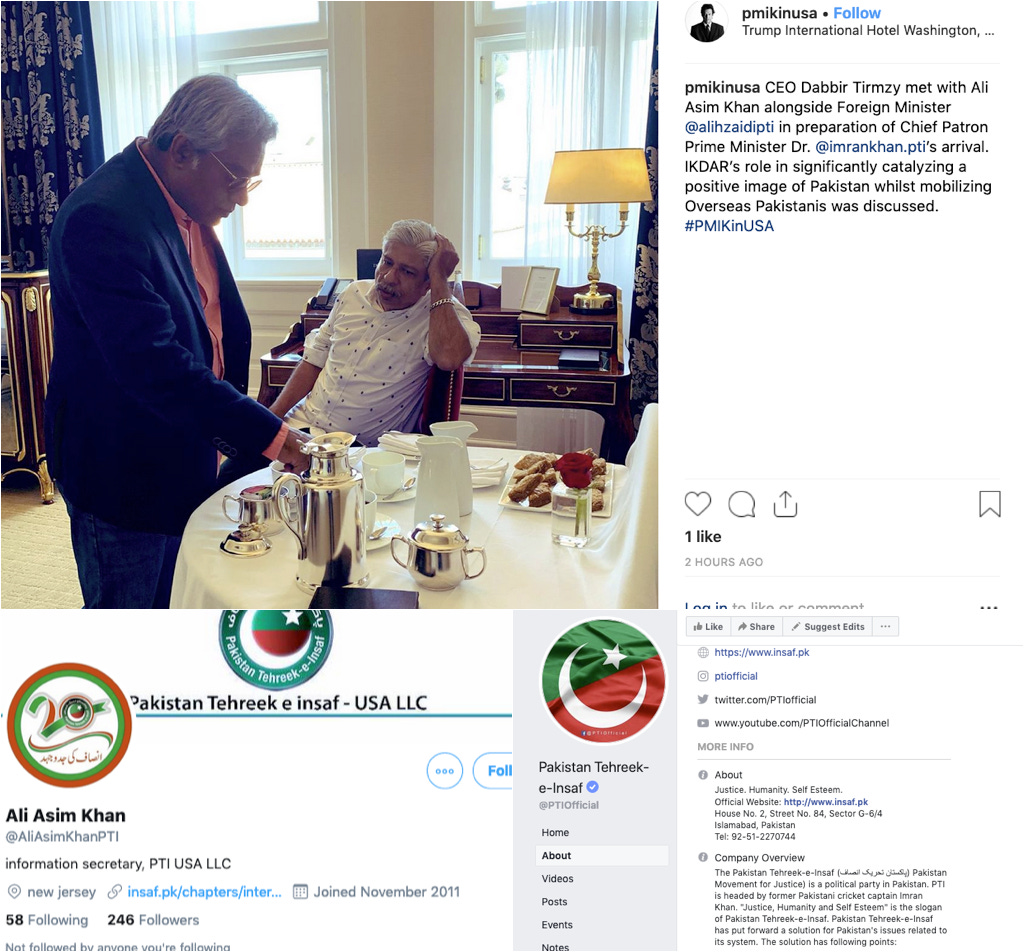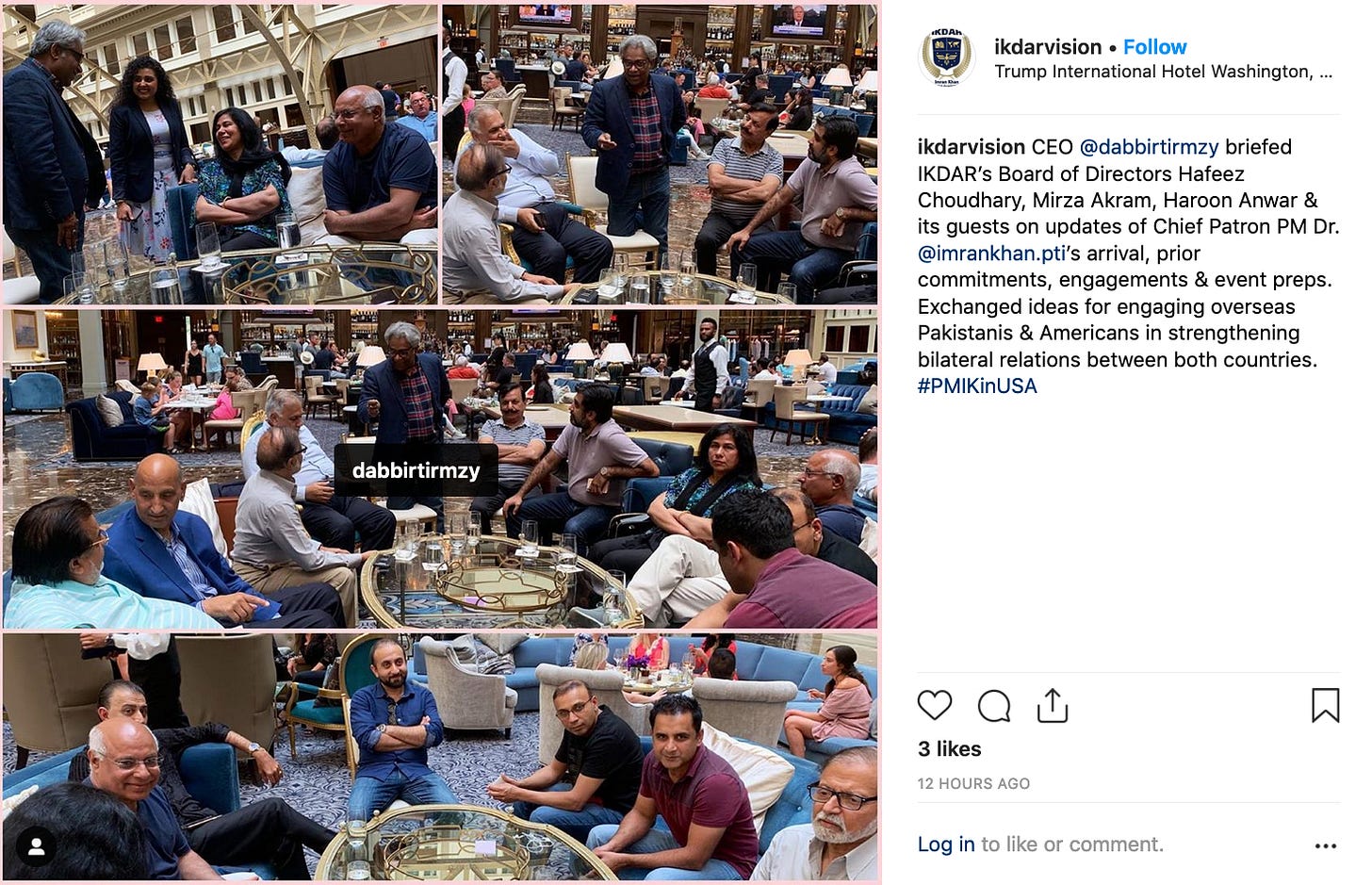 Zaidi's visit—and those of any other Pakistani government officials—to President Trump's D.C. hotel could violate the U.S. Constitution's foreign emoluments clause. Article I, Sec. 9 reads "no Person holding any Office of Profit or Trust under them, shall, without the Consent of the Congress, accept of any present, Emolument, Office, or Title, of any kind whatever, from any King, Prince, or foreign State." President Trump still owns and profits from his businesses.
Pakistan's embassy in D.C. and IKDAR have not replied to an inquiry asking if the Pakistani government paid for any expenses Zaidi incurred at the Trump Hotel D.C., as well as if any other government officials accompanied him.
Currently 200 Democratic members of Congress, the attorneys general of Maryland and D.C., and government watchdog Citizens for Responsibility and Ethics in Washington are suing Trump, alleging his business interests violate the foreign emoluments clause of the Constitution.
Over the last two years, the Trump Organization has donated more than $340,000 to the U.S. Treasury, which it claims represents its profits from foreign governments. But the president's company has not explained how it calculated that figure or provided any proof that the amount was independently audited.
Trump Org EVP Eric Trump told The Daily Mail in 2018, "Foreign government business is not business we want nor business we seek. In fact, to be blunt, we choose to avoid it wherever possible." But it doesn't seem like that message has been grasped at the Trump Hotel D.C.—Mickael Damelincourt, its managing director, is the man chatting with Pakistan's federal minister for maritime affairs in the first photo.
---
Titus calls for impeachment inquiry, says her Transportation subcommittee's investigation will be revitalized come September
This morning Rep. Dina Titus (D–NV) called for the House to begin an impeachment inquiry, citing Trump's ownership of his hotels.
Titus also said the panel she chairs, the Transportation and Infrastructure subcommittee on Economic Development, Public Buildings, and Emergency Management, would recharge its investigation into foreign payments made at Trump Hotels when Congress returns to D.C. after its summer recess. Her panel conducts oversight over public buildings, including the Old Post Office, which houses the Trump Hotel D.C.
Here's the part of Titus's statement that refers to the president's businesses:
But after his election, Donald Trump refused to divest from his businesses despite obvious conflicts of interest. So now he's profiting from foreign government officials who are trying to curry favor by staying at his hotels. Even though the emoluments clause of the Constitution prevents the president from accepting foreign payments. In the Constitution, those payments are called emoluments. But today you can just call them brides, that's what they are. Either way it's unethical and illegal. The subcommittee I lead is going to recharge its investigations into those foreign payments when Congress returns to Washington in September.
For a rundown of the subcommittee's investigation (and those of other panels looking into aspects of the president's businesses for that matter), check out 1100 Pennsylvania's new paid-subscriber only House investigations fact sheet.
---
Two Trump properties, one weekend
In a 14–hour stretch over Friday and Saturday, President Trump visited both his D.C. hotel and Sterling, Virginia golf course. He returned to Sterling on Sunday as well.
Trump and Melania had a private dinner at the hotel on Friday per White House spokesperson Judd Deer. According to Politico Playbook, afterwards Trump spoke with the following people (descriptions via 1100 Pennsylvania):
Sara Cook of CBS News shared videos of Trump entering and departing his business.
And while Trump said he'd rather be at the White House, he announced that he'd soon visit his Bedminster, N.J. course for a week. "It's never a vacation, it's working," Trump said.
---
New campaign expenditures
Discover which campaigns and committees reported spending money at the D.C. hotel owned by the head of the executive branch and, almost always, the spender's party.
The campaign for Rep. Mike Bost (R–IL) spent $492.50 for event catering on June 19, 2019. It was Bost's campaign's first reported expenditure at the Trump Hotel D.C.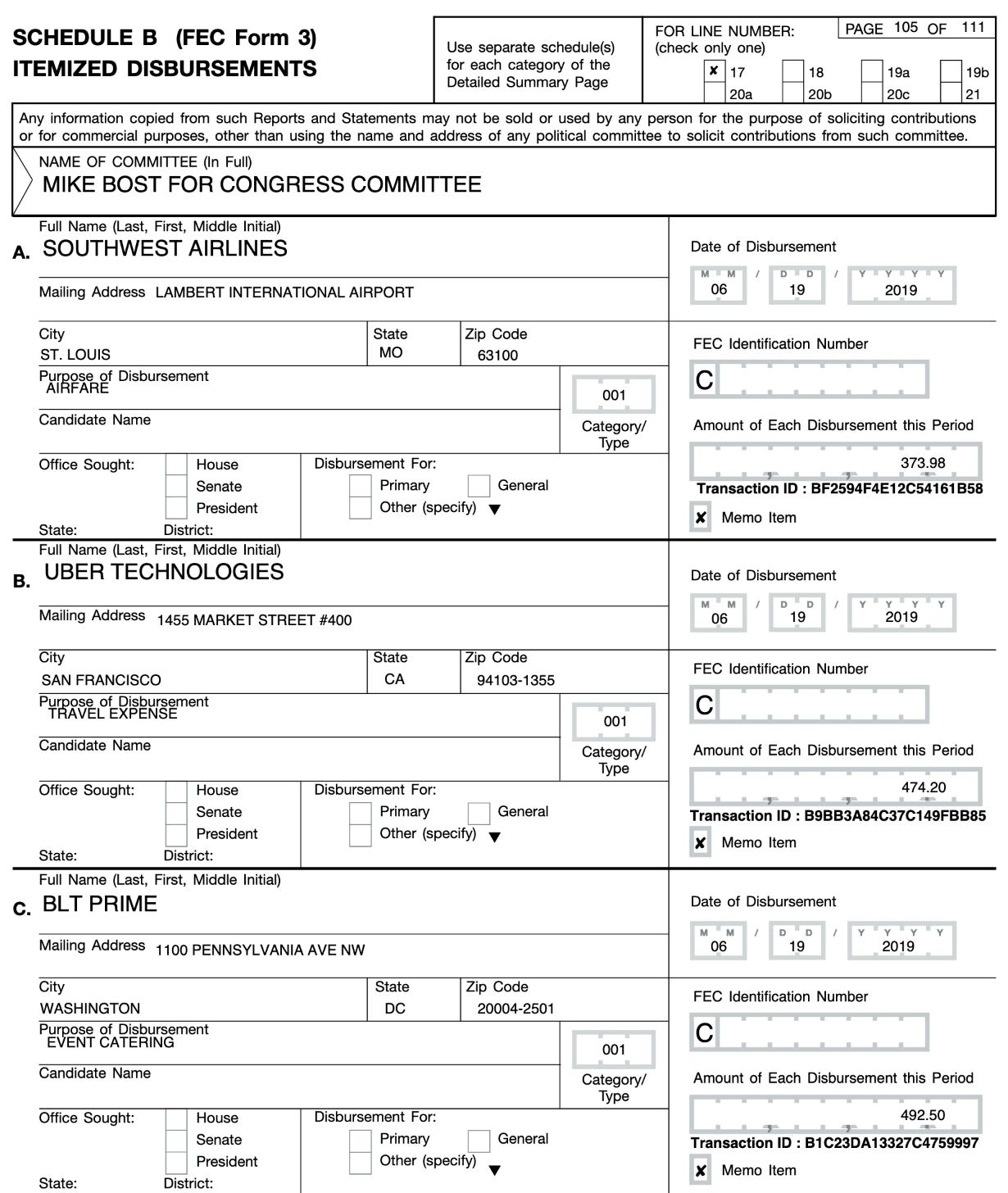 The campaign for Rep. Bruce Westerman (R–AR) spent $384.40 on travel and food in May 2019. The charges were Westerman's campaign's first reported expenditures at the Trump Hotel D.C.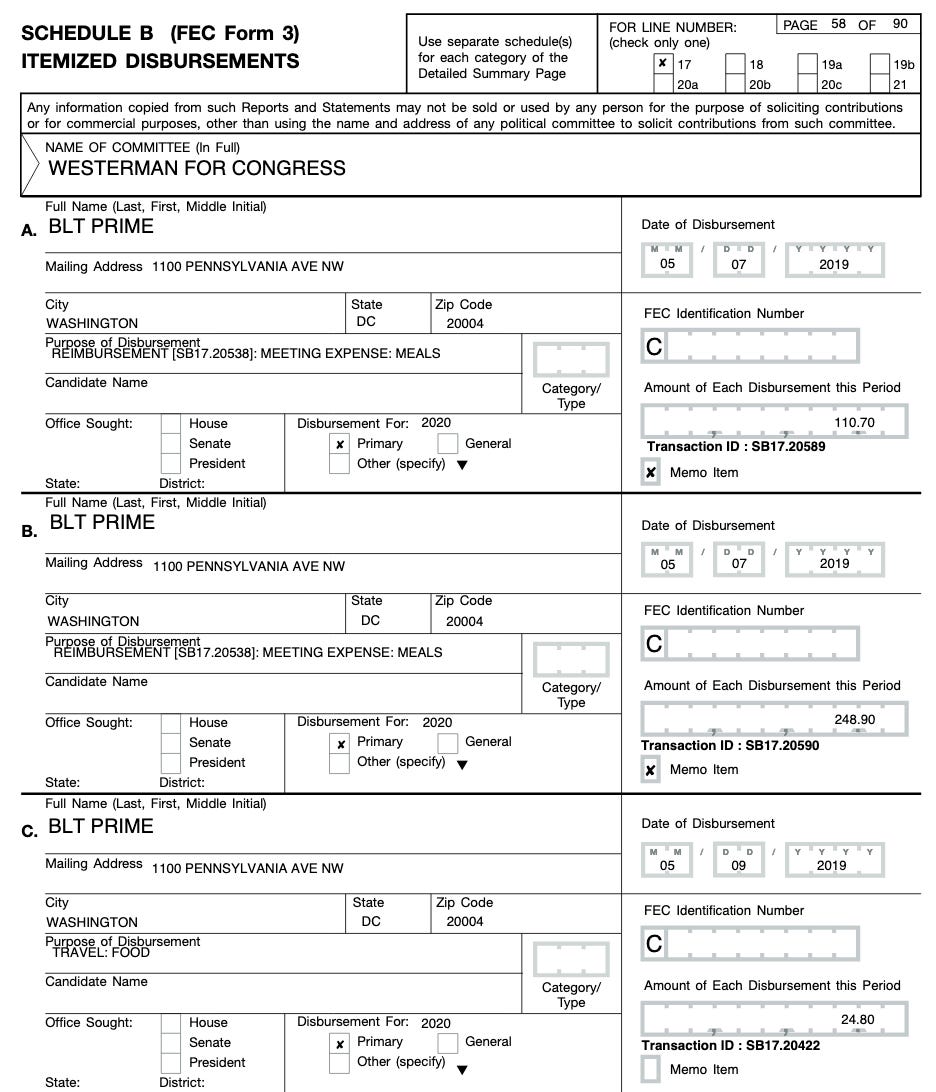 The campaign for Rep. Sean Duffy (R–WI) spent $3,600 for travel on May 22, 2019, bringing its total there to $4,382.20.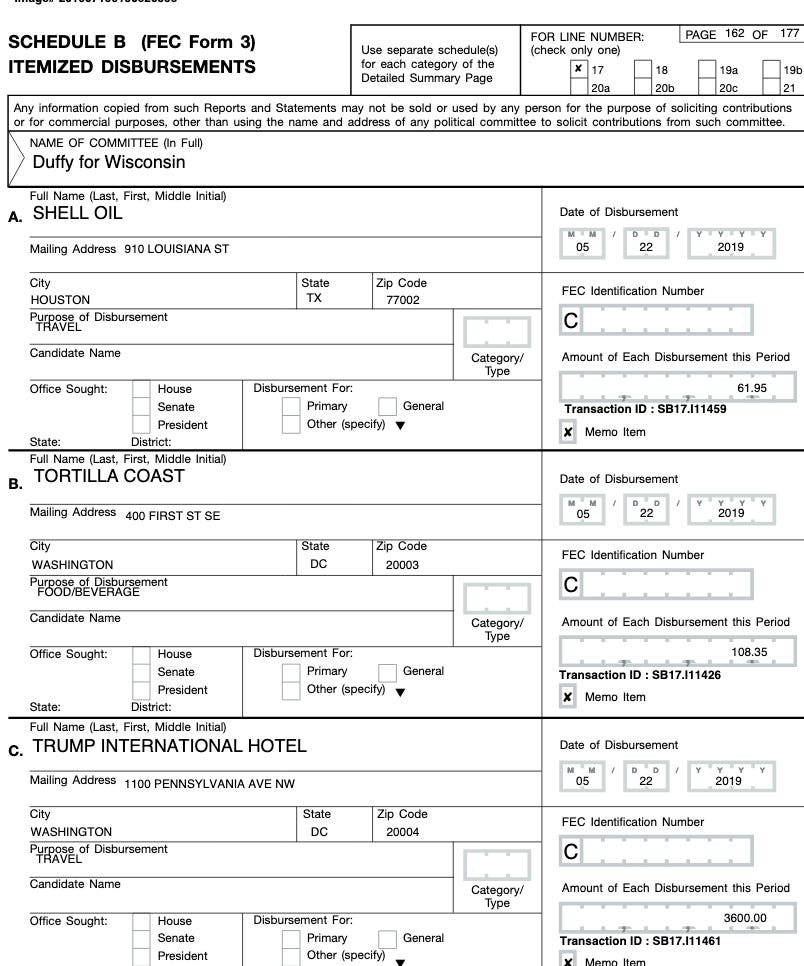 The campaign for Rep. Tom Rice (R–SC) spent $3,020 for catering on May 6, 2019, bringing its total there to $8,050.70.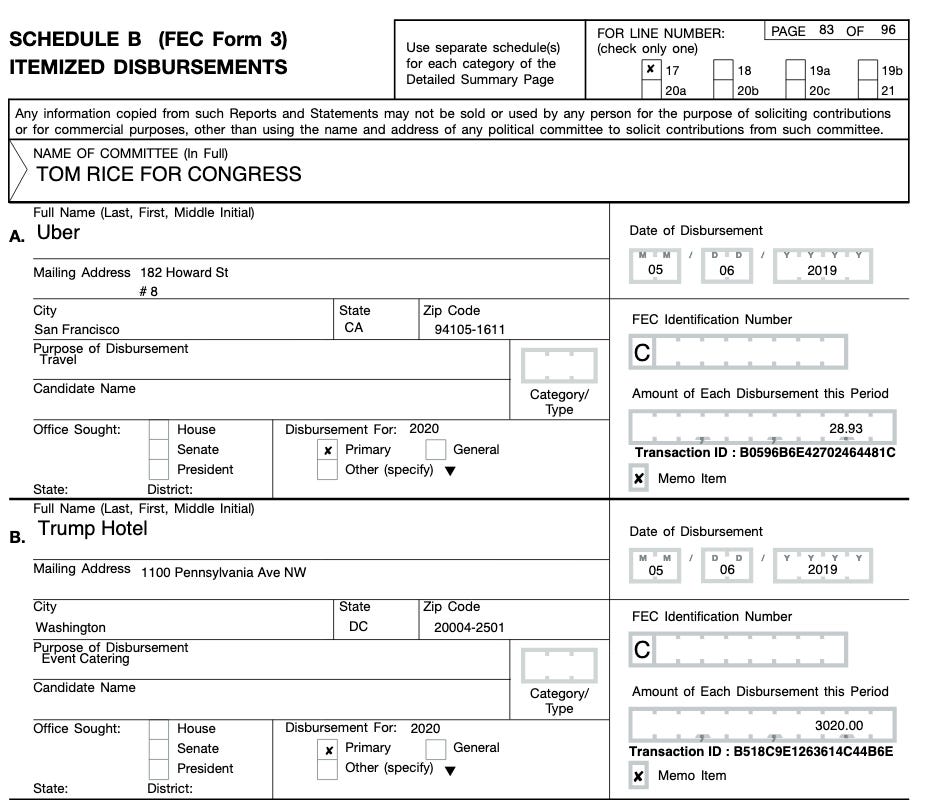 The campaign for Rep. Jim Banks (R–IN) spent $411 for catering on June 3, 2019, bringing its total reported spending there to $611.40.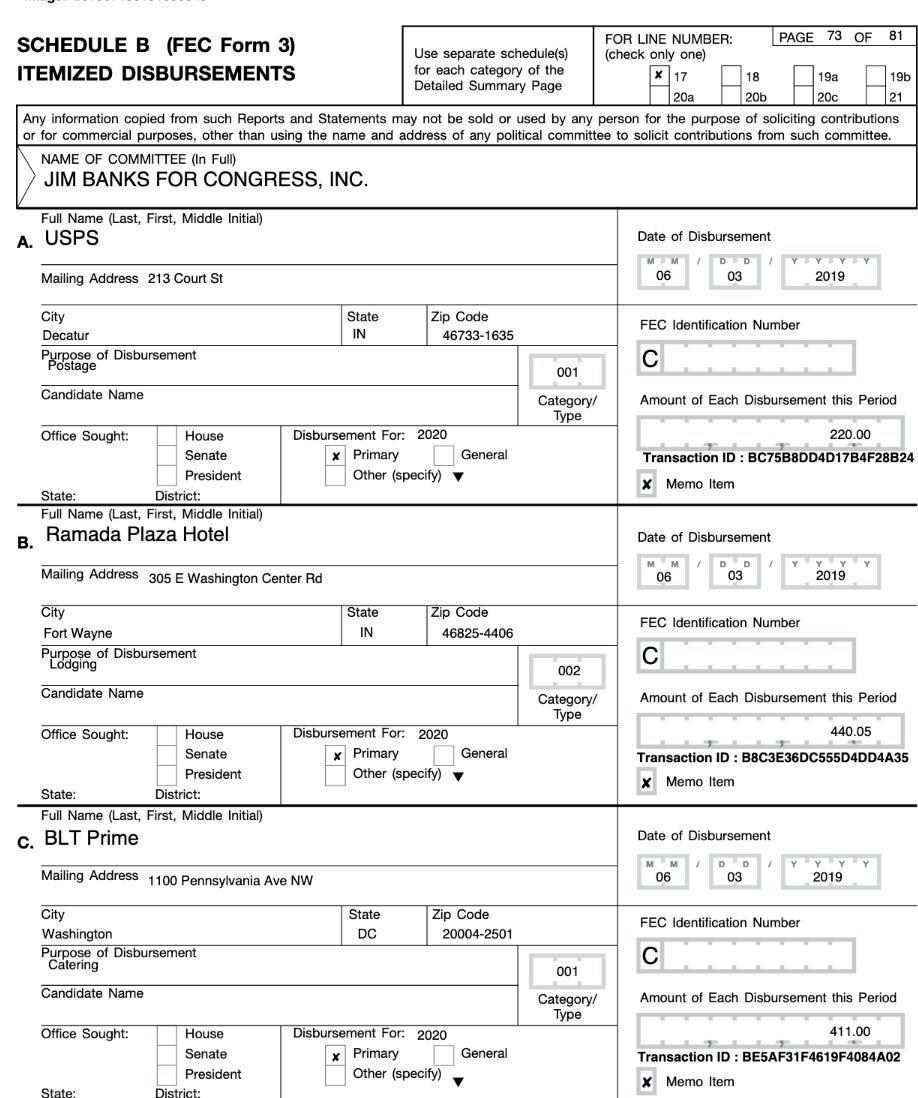 The campaign for Rep. Brian Fitzpatrick (R–PA) spent $163.75 for a meal expense on April 1, 2019, bringing its total there to $1229.55.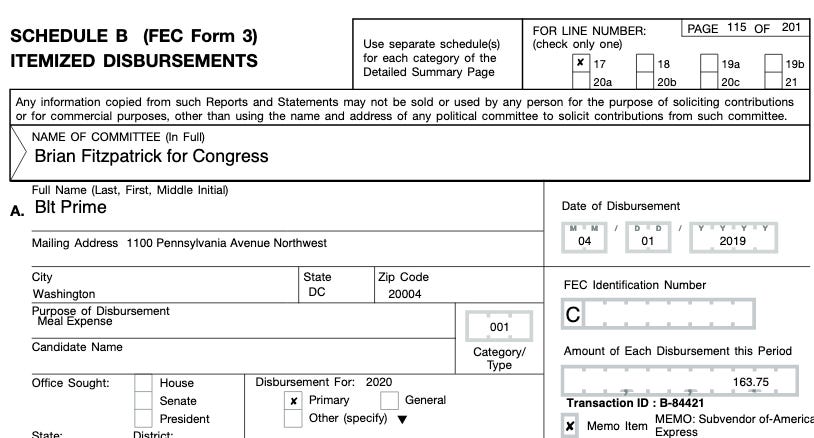 The campaign for Rep. William Timmons (R–SC) spent $119 for catering on April 17, 2019, bringing its total there to $4,056.70.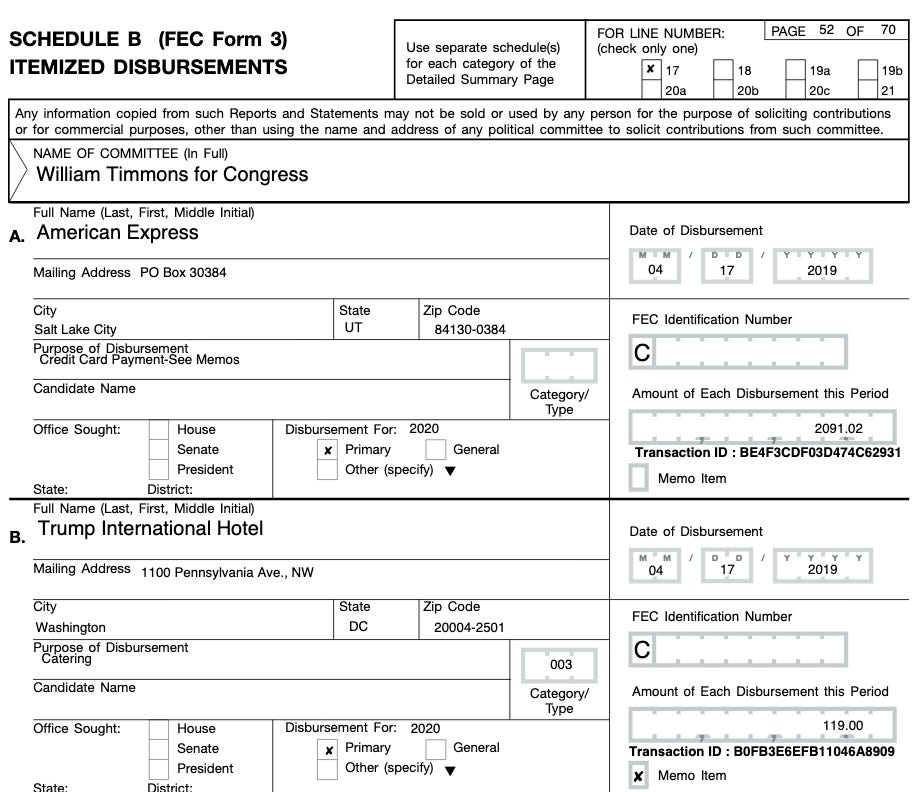 The campaign for Rep. Kenny Marchant (R–TX) spent $106 for a fundraiser meal expense on June 4, 2019, bringing its total reported spending there to $480.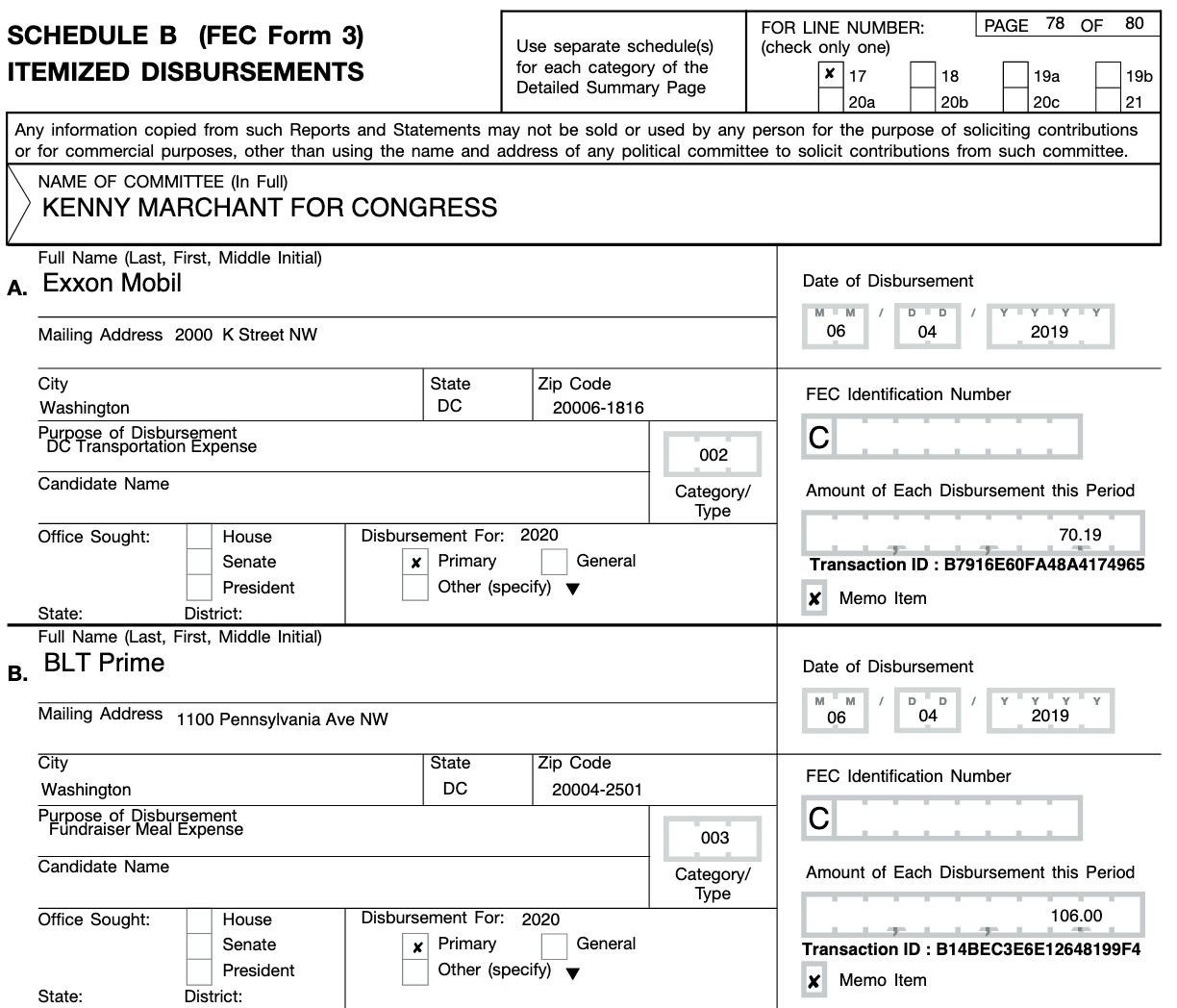 The campaign for Rep. Alex Mooney (R–WV) spent $79.10 for food and beverage on June 13, 2019, bringing its total reported spending there to $958.80.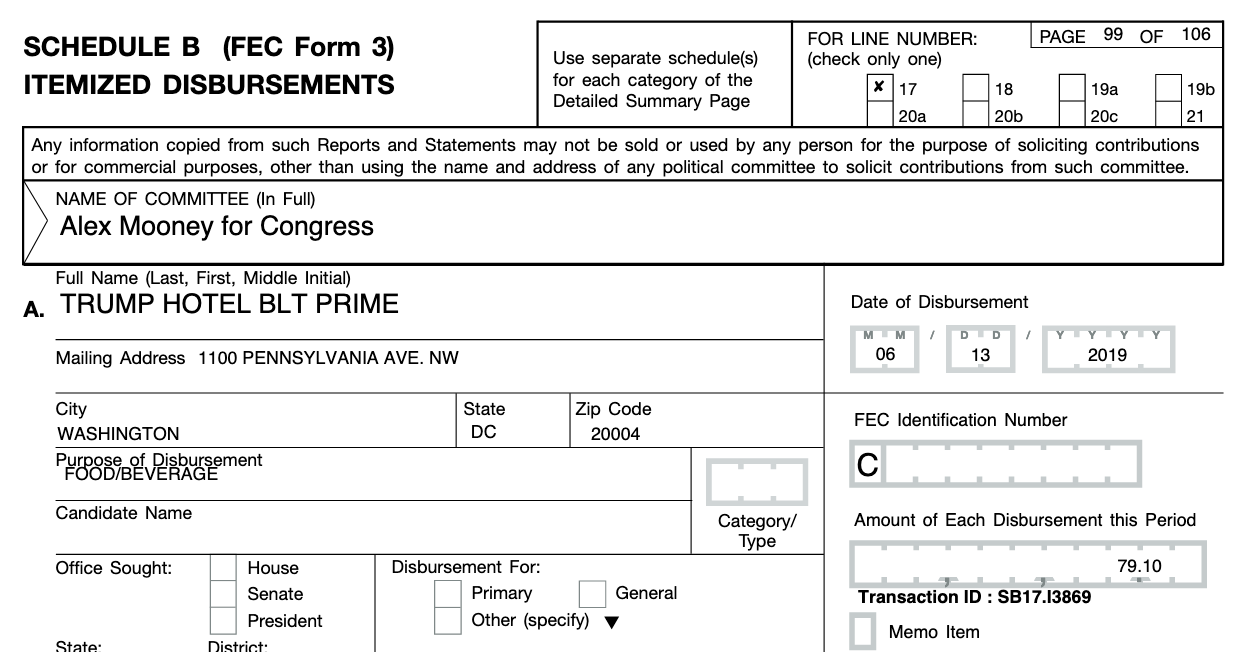 ---
Notable sightings
A glimpse of the foreign officials, government employees, politicians, lobbyists, and the like who patronize or appear at Trump businesses. Most people shown here have reasons to want to influence the Trump administration, rely on its good graces for their livelihoods, or should be providing oversight. Additionally, high-profile guests serve as draws for paying customers.
A Trump supporter was surprised to run into Sen. Marco Rubio (R–FL).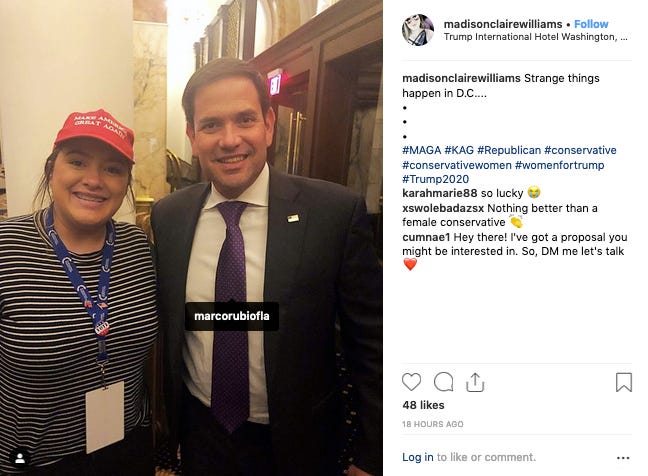 Rep. Mark Meadows (R–NC) was back at the hotel owned by the head of the executive branch and Meadows's party. Meadows, the ranking member on the House Oversight panel's subcommittee on government operations, is one of the hotel's biggest supporters in Congress.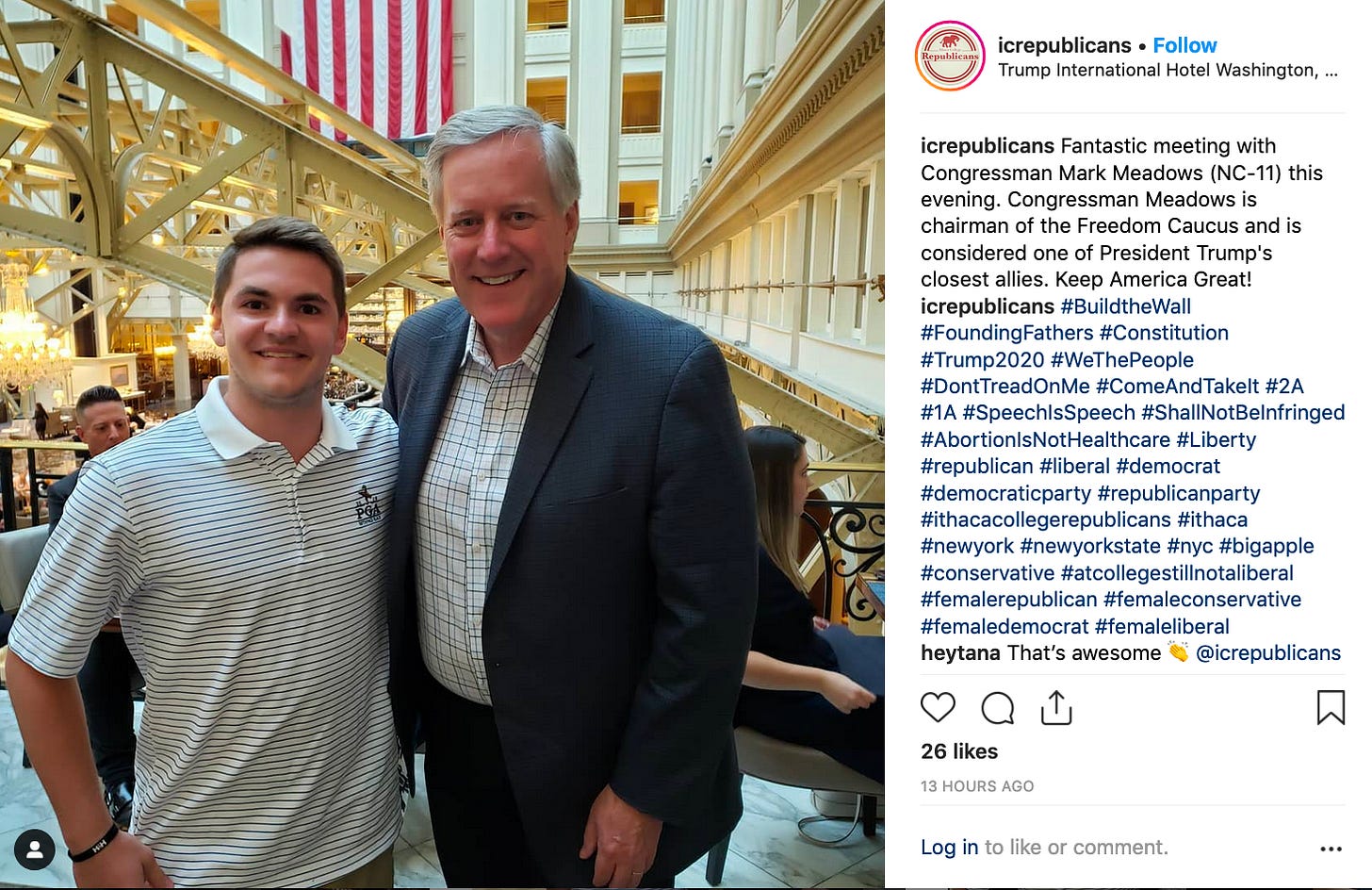 Longtime Trump advisor Roger Stone reportedly gave an interview to Lebanese journalist Maria Maaloof from the Trump Hotel D.C. Maaloof said their conversation occurred the day after a U.S. district court judge barred Stone from using social media.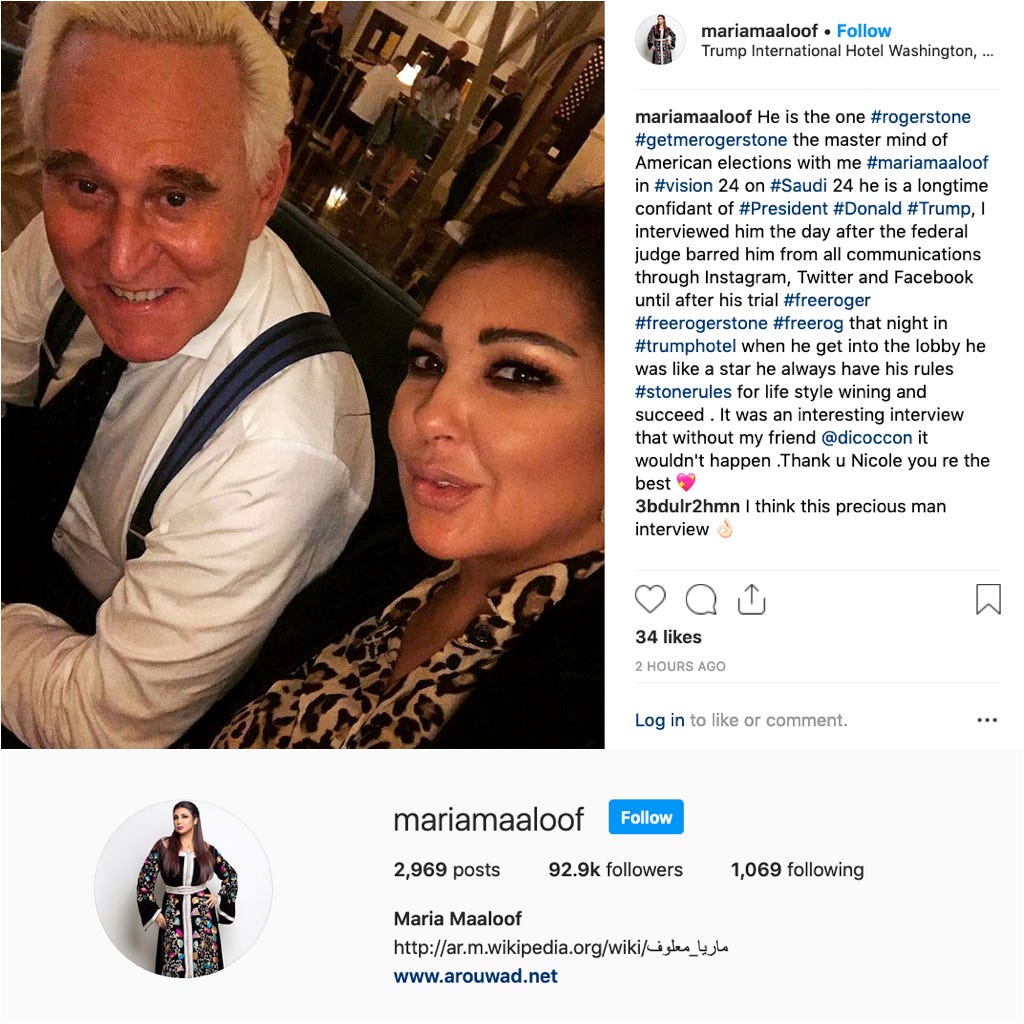 On the second anniversary of his officially becoming White House communications director, Anthony Scaramucci celebrated his independence day at his former employer's business (photo via Amanda Aronczyk of WNYC's The Stakes).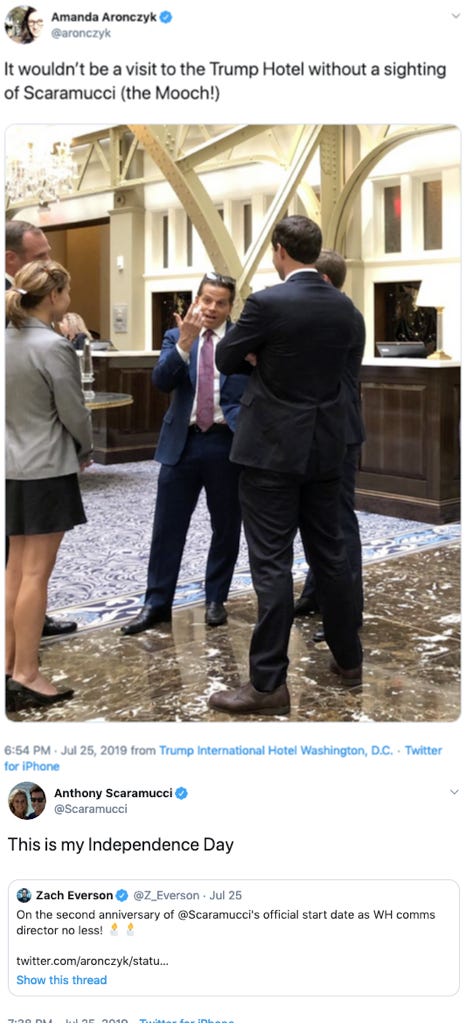 A retired first commanding officer of SEAL Team Six, Richard Marcinko, was at the D.C. hotel owned by commander-in-chief who also oversees the Department of Veterans Affairs.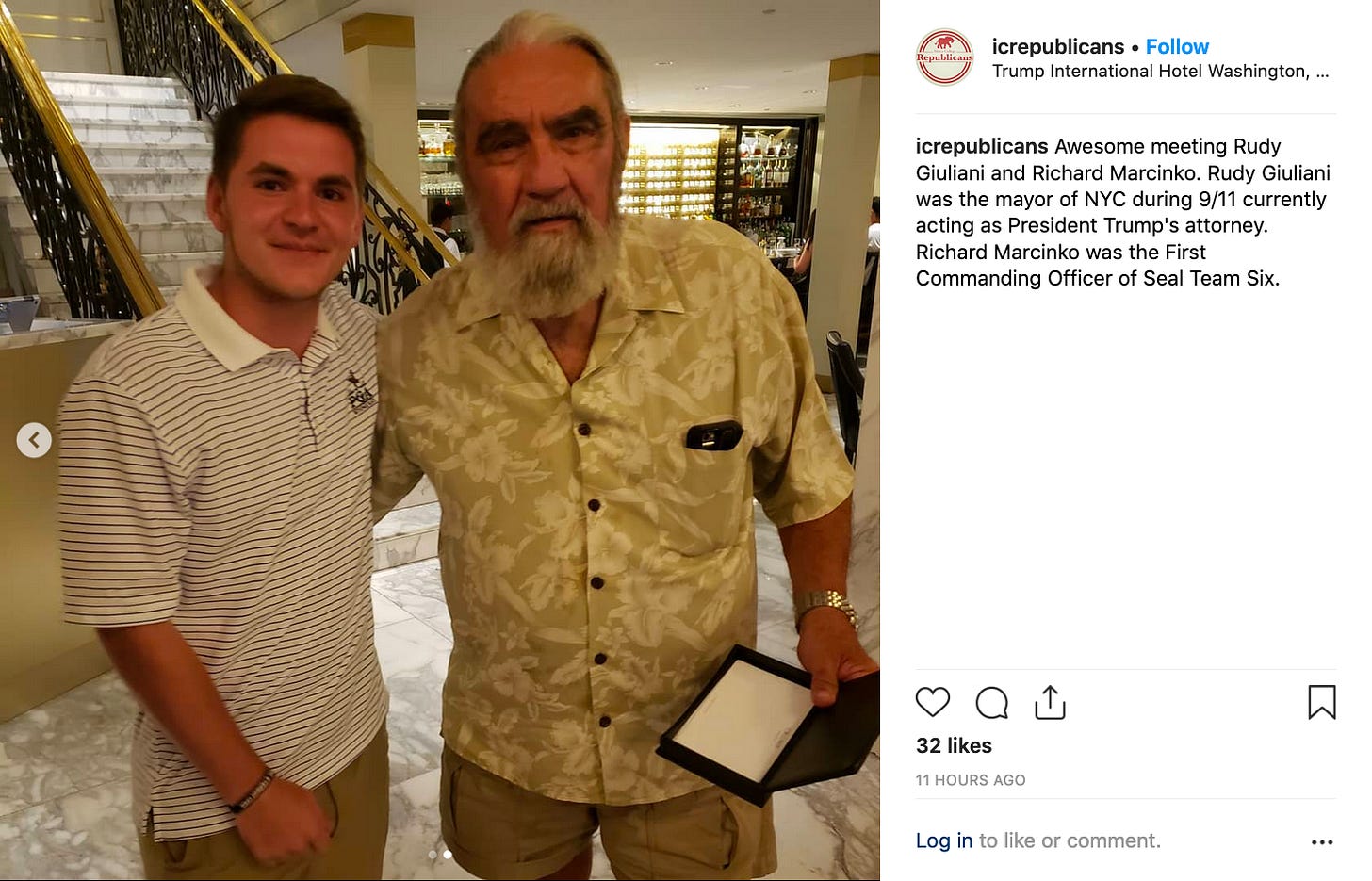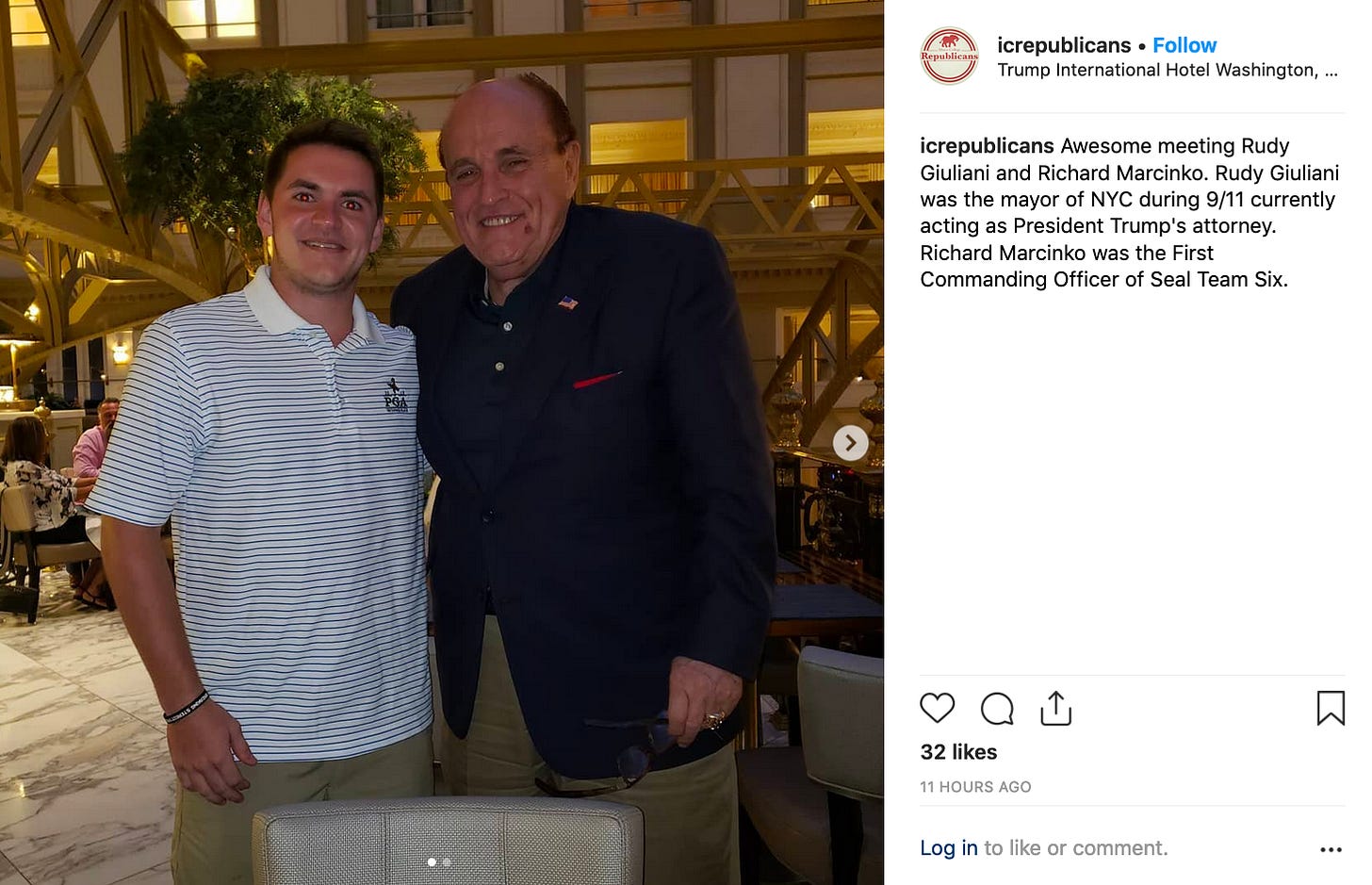 The Trump Hotel D.C. photobombed President Trump's video welcoming his new Secretary of Defense, Mark Esper.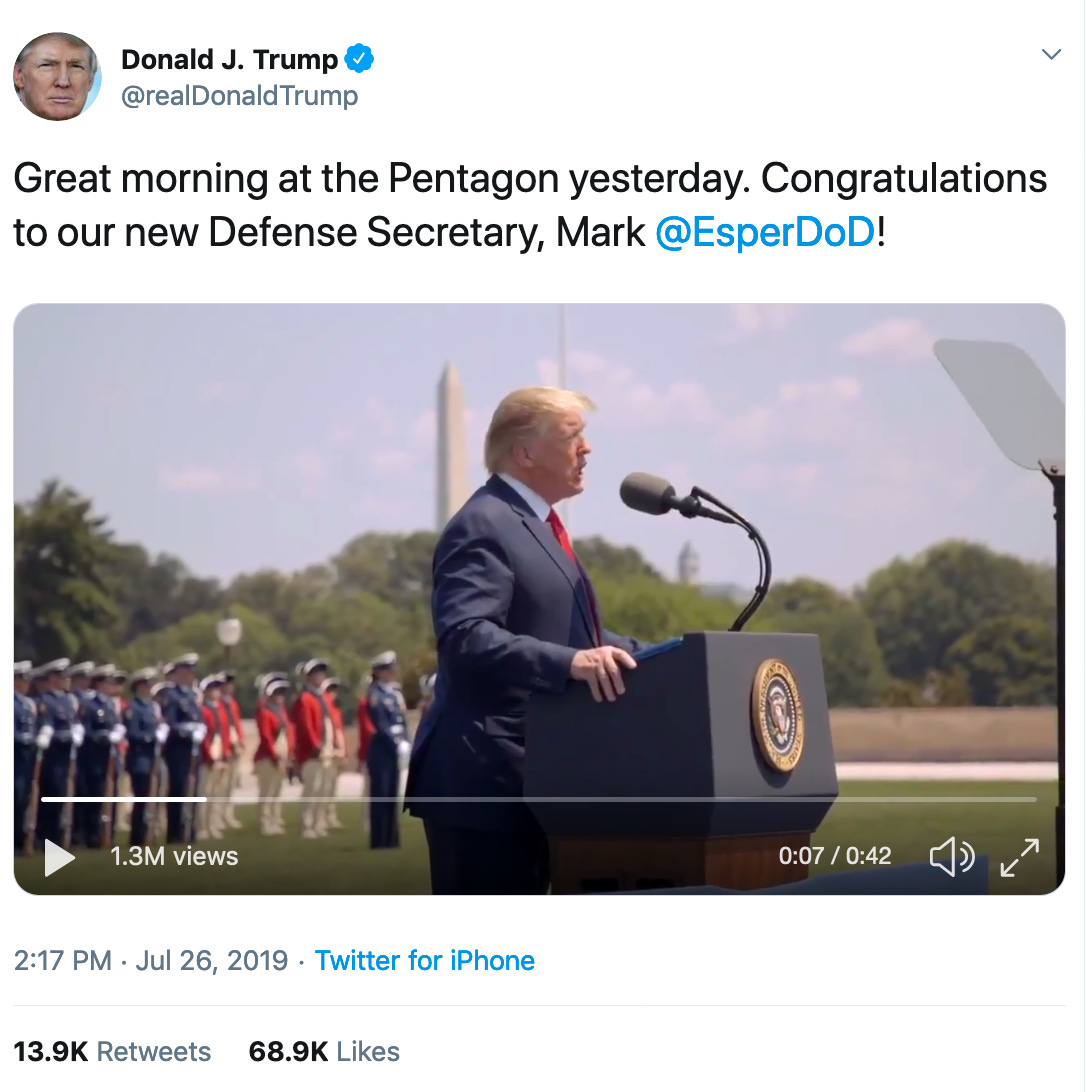 ---
Other Trump Organization news
---
NEW Fact sheets
Each issue of 1100 Pennsylvania will continue to report on new updates in the House investigations, lawsuits, and health inspections regarding the Trump Hotel D.C. For a rundown of the earlier developments in each one, as well as reference sheets for some of 1100 Pennsylvania's previous reporting, please see these paid-subscriber-only fact sheets.
---
Thanks for reading! If you like what you've read, tell someone. If you've been forwarded this newsletter, subscribe at zacheverson.substack.com. Questions? Read our FAQ/manifesto. Tips or feedback? Contact Zach Everson securely at 1100Pennsylvania@protonmail.com or via Signal/SMS/mobile at 202.804.2744.