Discover more from 1100 Pennsylvania
"The undisputed expert on the D.C. Trump Hotel" – David Fahrenthold of the Washington Post
Over 3,000 subscribers
Parnas, Fruman, and the president's D.C. hotel
Indicted Soviet-born associates of Giuliani were loyal Trump Hotels customers, allegedly major donors to super PAC that's spent more than $500,000 at Trump Hotel D.C.
From "2 Giuliani associates tied to Ukraine scandal arrested on campaign finance charges" by Eileen Sullivan, Adam Goldman and William K. Rashbaum for The New York Times:
Two associates of the president's private lawyer, Rudolph W. Giuliani, who helped fund efforts to investigate one of President Trump's political rivals, were charged in a separate case with violating campaign finance laws, according to court documents.

The two men, Lev Parnas and Igor Fruman, believed to be important witnesses in the House's impeachment inquiry of Mr. Trump, were arrested on campaign finance charges.
The indictment relates in part to a $325,000 donation an energy company, of which the Soviet-born Parnas and Fruman are executives, made to the Trump campaign's "one approved outside non-campaign group," super PAC America First Action.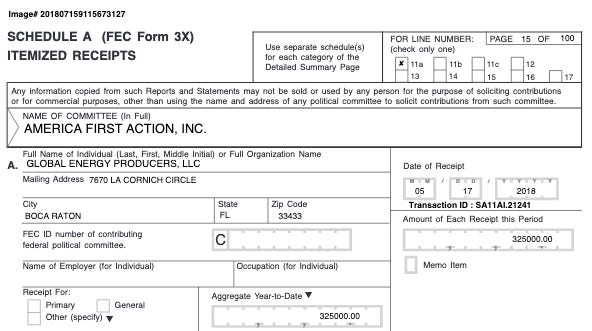 The Trump Hotel D.C. connections:
America First Action has spent more than $505,000 at the Trump Hotel D.C. So President Trump has profited from a super PAC that allegedly has received illegal campaign donations from Soviet-born associates of Rudy Giuliani.

Two good Trump Hotels customers might be tied up for a while. In addition to the now iconic shot of Giuliani and Parnas at Rudy's usual table in BLT Prime, Parnas and Fruman spent almost $20,000 at Trump's hotels in New York and D.C., reported Michael Sallah and Emma Loop for BuzzFeed News yesterday. And Parnas and Fruman reportedly lunched at the Trump Hotel D.C. with Giuliani before the duo tried to skip town, according to Rebecca Ballhaus of The Wall Street Journal.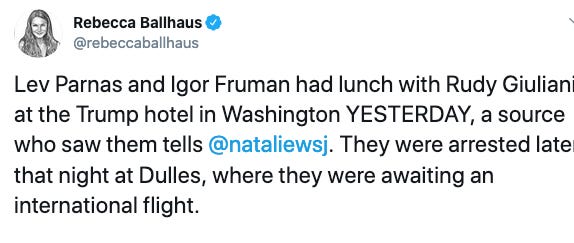 ---
Florida's governor to join Trump supporters and customers at Trump Doral
This afternoon, the American Priority Conference, happening now at Trump Doral, announced Florida Gov. Ron DeSantis (R) has joined its lineup. It's a return speaking engagement at the U.S. president's business for Florida's governor; DeSantis addressed the Dade County Police Benevolent Association's awards gala at Doral in May.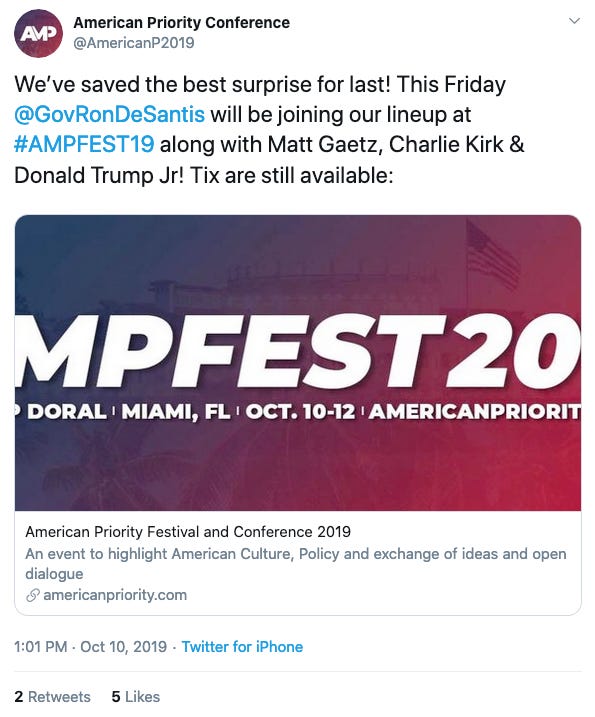 According to its website, at the event "American Priority is going to continue our efforts to support Free Speech and Free Association while also highlighting American Culture."
As 1100 Pennsylvania first reported, former White House spokesperson Sarah Huckabee Sanders is one of the conference's headliners. Trump Org EVP Donald Trump Jr., who is walled off from his father's administration, and Rep. Matt Gaetz (R–FL) are among the other top-billed attractions.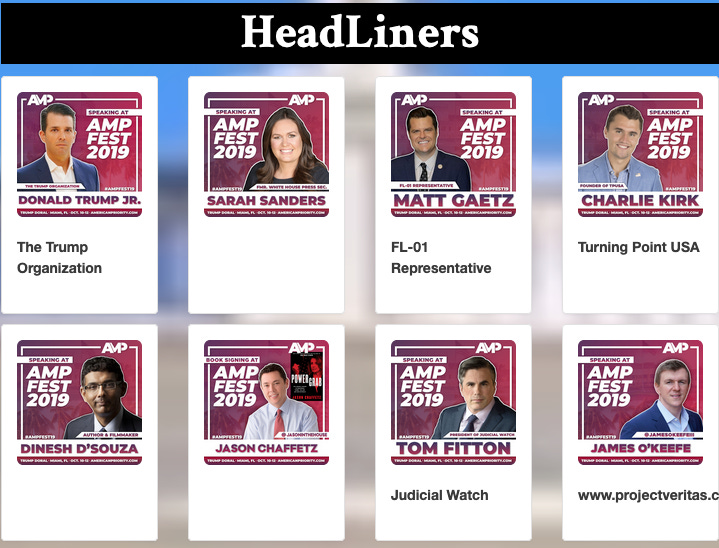 Admission to the event runs from $250 to $2,500, with rooms at Doral starting at an additional $199 per night. Sponsorship opportunities begin at $1,000. As the tweet advertising DeSantis's appearance makes clear, tickets are still available.
DeSantis and Sanders's appearance at this event—alongside Laura Loomer, Jack Posobiec, and George Papadopoulos—comes at a time when Doral could use the business. "Trump's prized Doral resort is in steep decline, according to company documents, showing his business problems are mounting" reported David A. Fahrenthold and Jonathan O'Connell of The Washington Post in May.
---
President to profit off prophets, again
A group of self-proclaimed prophets has scheduled a four-day "experience with God" at the Trump Hotel D.C. around New Year's 2020.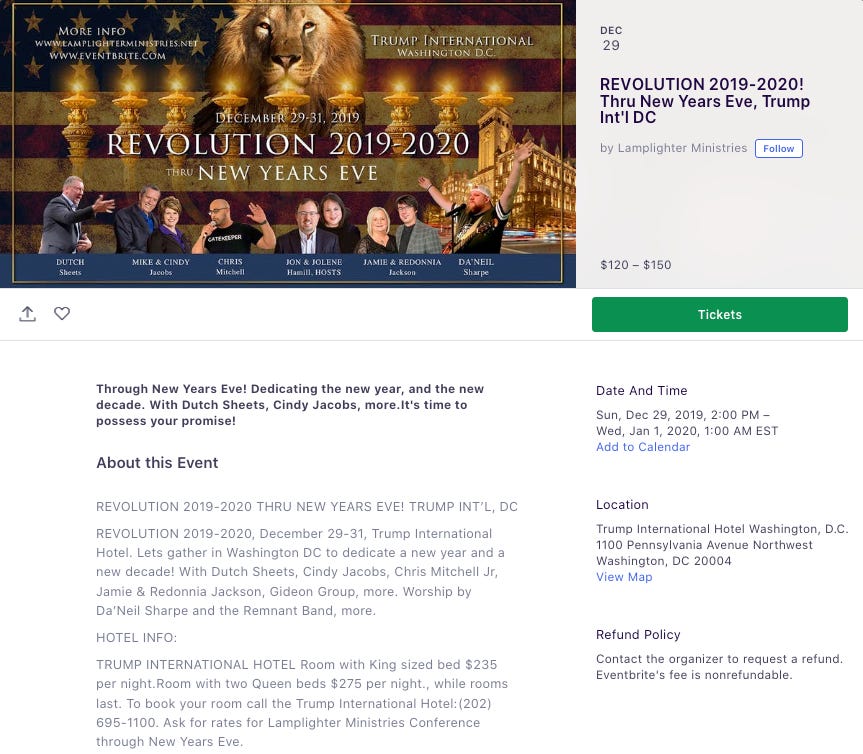 Tickets for worshipers cost $120 to $150, with rooms in the group's room block running an affordable $235 to $275.
It's a return visit to the Trump Hotel D.C. for many of these ministers. As 1100 Pennsylvania previously reported, in July Cindy Jacobs packed 500 people—including Kenya's second lady, Rachel Ruto—into President Trump's presidential ballroom. Of that event, Jacbos wrote, "The glory of the Lord was released over Wash. DC from the Trump Hotel."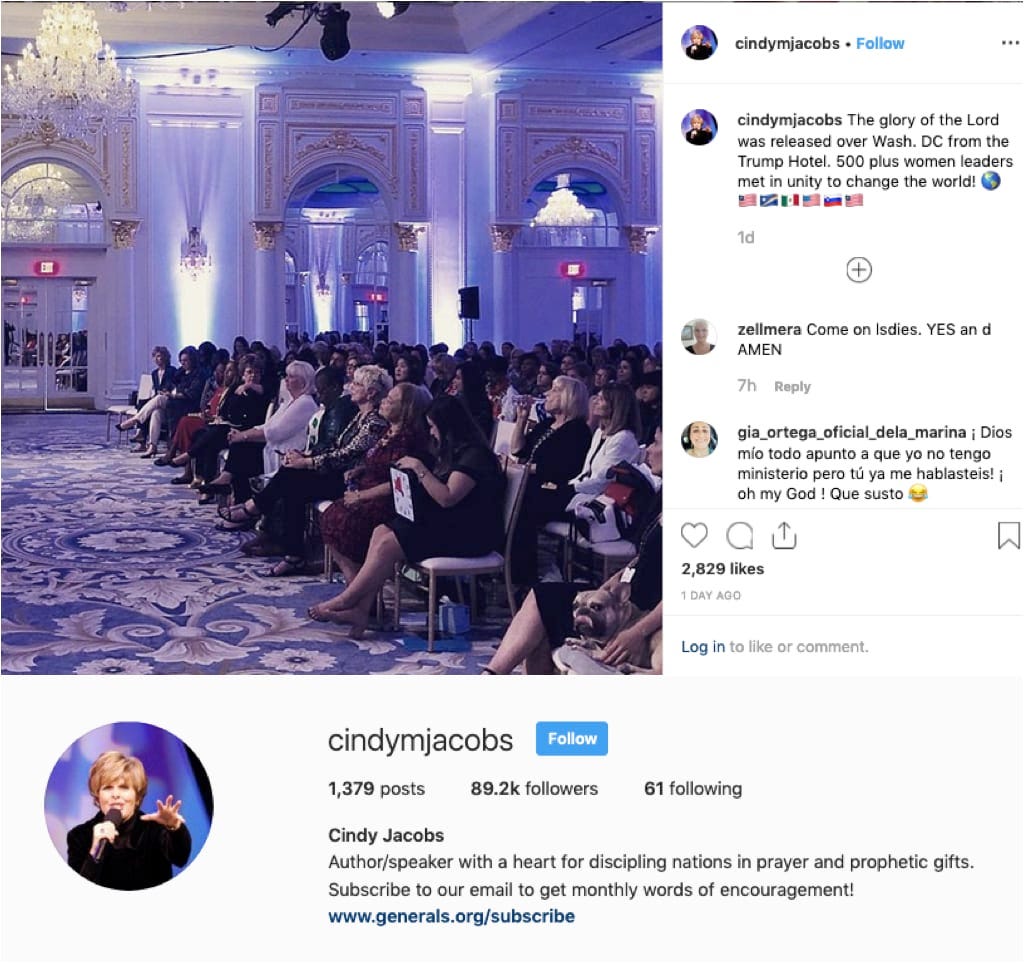 And in February 2018, Dutch Sheets Ministries ("apostolic, prophetic and teaching ministry") sold out The Turnaround: An Appeal To Heaven National Gathering at the Trump Hotel D.C. During this event, customers at the Trump Hotel D.C. prayed for the removal (in the name of Jesus) of Supreme Court justices and some members of the Senate Judiciary Committee.
The Eventbrite page for the upcoming event lists Jon Hamill as one of its hosts. Here's a description of Hamill at the Revolution 2018 conference (which, yes, also was at the Trump Hotel D.C.) from "At Trump's hotel, spiritual warriors pray for the president Trump" by Jack Jenkins for Religions News service:
But last Friday afternoon (Dec. 7), one of the hotel's many glimmering ballrooms was transformed into a sanctuary, where dozens of worshippers held their hands aloft and spoke in tongues as Jon Hamill, co-founder of Washington, D.C.-based Lamplighter Ministries, led the group in prayer.

Hamill—whom supporters describe as a prophet—closed his eyes tightly and shouted above the chattering: "In Jesus' name, we declare the Deep State will not prevail!"
---
Notable sightings
A glimpse of the foreign officials, government employees, politicians, lobbyists, and the like who patronize or appear at Trump businesses. Most people shown here have reasons to want to influence the Trump administration, rely on its good graces for their livelihoods, or should be providing oversight. Additionally, high-profile guests serve as draws for paying customers.
While dining at the president's D.C. hotel with important Congressmen, a lobbyist for the American Farm Bureau Federation, Cody Lyon, claimed he had a very cool chat with the president's attorney.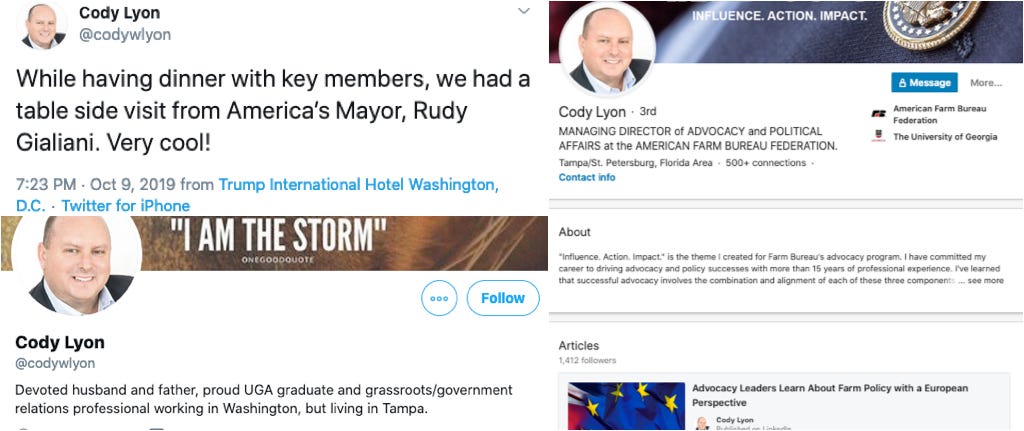 A GOP candidate for a U.S. House seat in California, Omar Navarro, returned to a Trump property.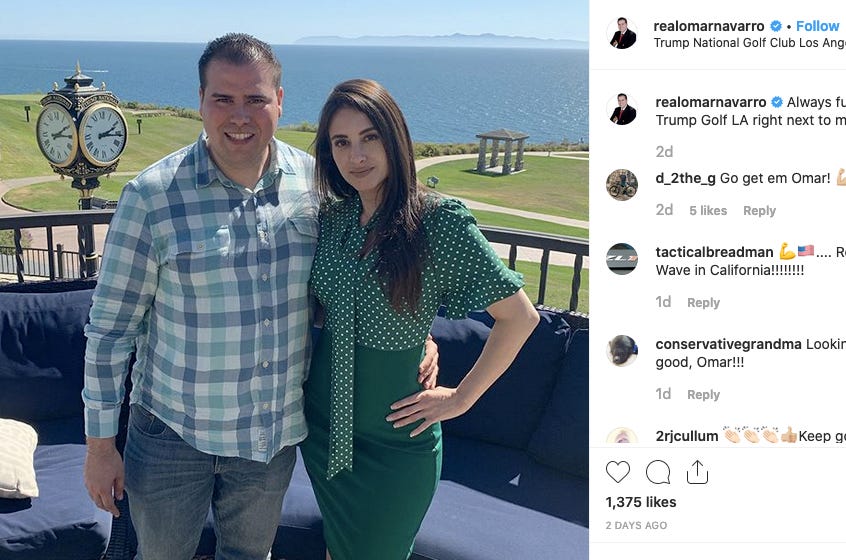 Pro–Trump activist Candace Owens's new groom thanked Trump Winery for hosting their wedding. Trump Org EVP Eric Trump shared his love.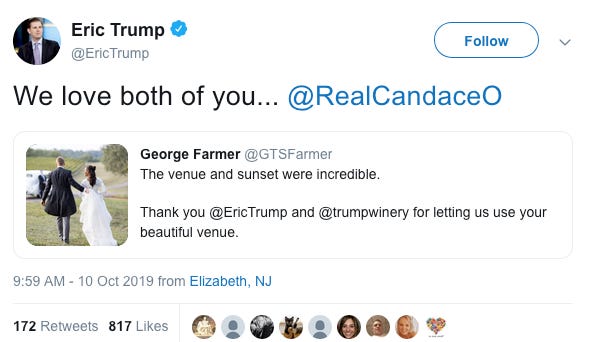 Actor Sylvester Stallone posed at Trump Bedminster with some of the president's employees.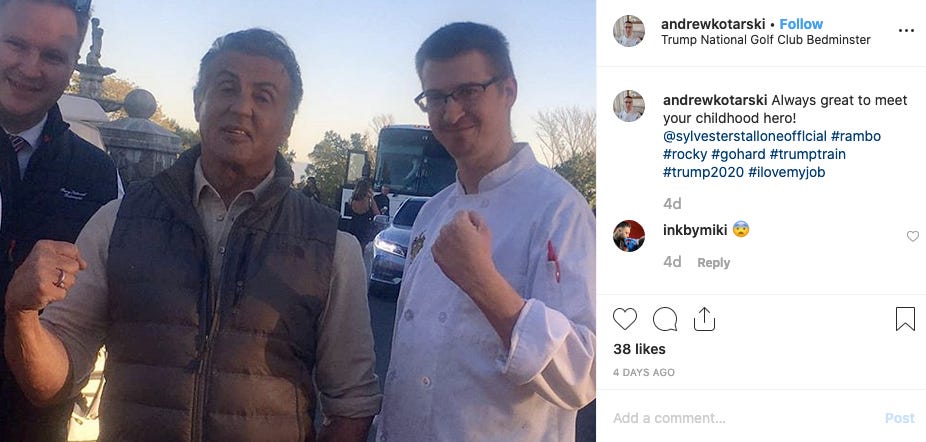 Jonathan Cain, formerly of Journey and currently married to Trump's prosperity-gospel-preaching pastor Paula White-Cain, was at Trump Las Vegas.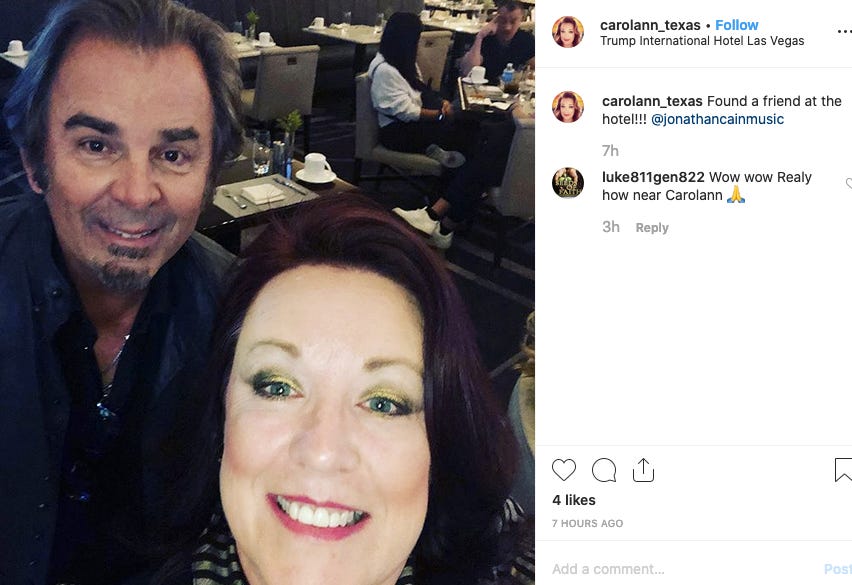 Miss World, Ukraine, Anna Zaia, attended a "power leaders luncheon" at Trump Bedminster earlier this month.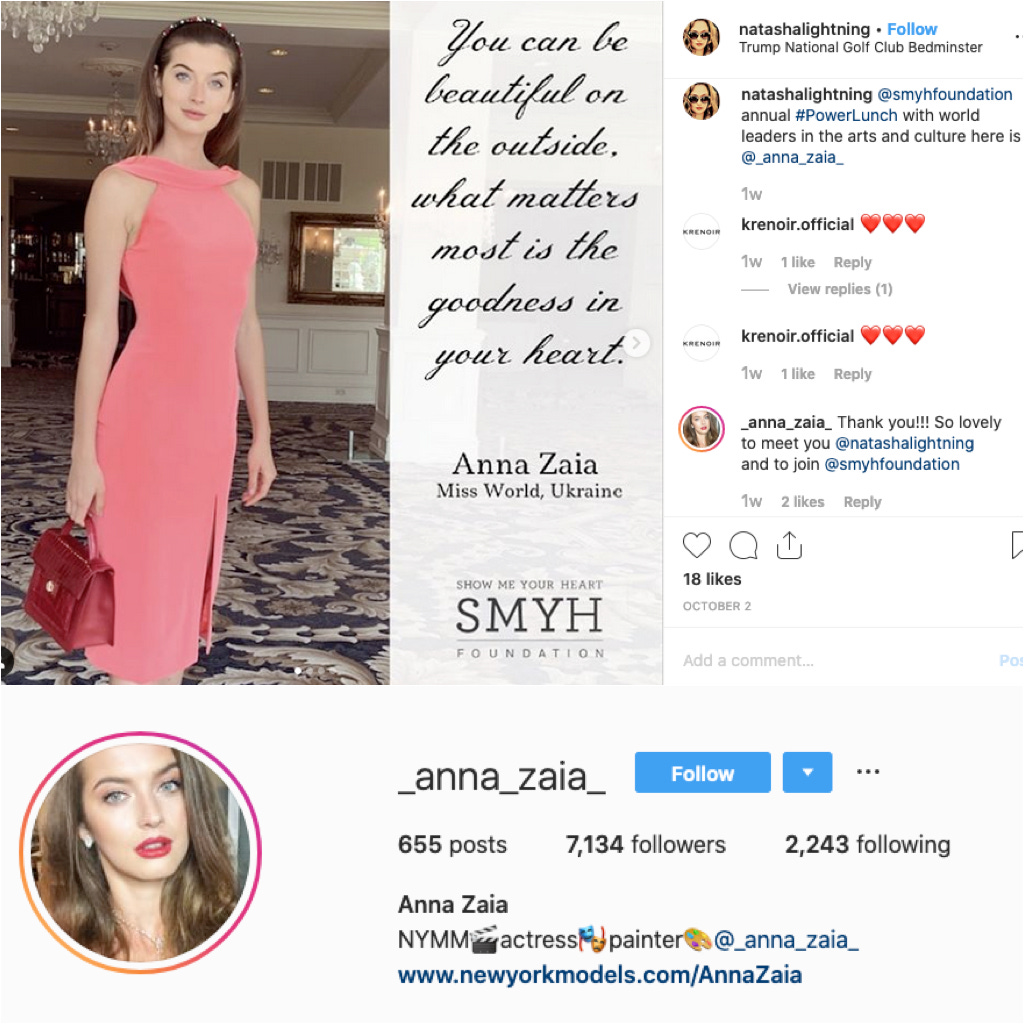 Fox News pundit, political consultant, and Trump campaign advisor Harlan Hill was back at the Trump Hotel D.C. with Raheem Kassam, a former associate of Nigel Farage's and Steve Bannon's.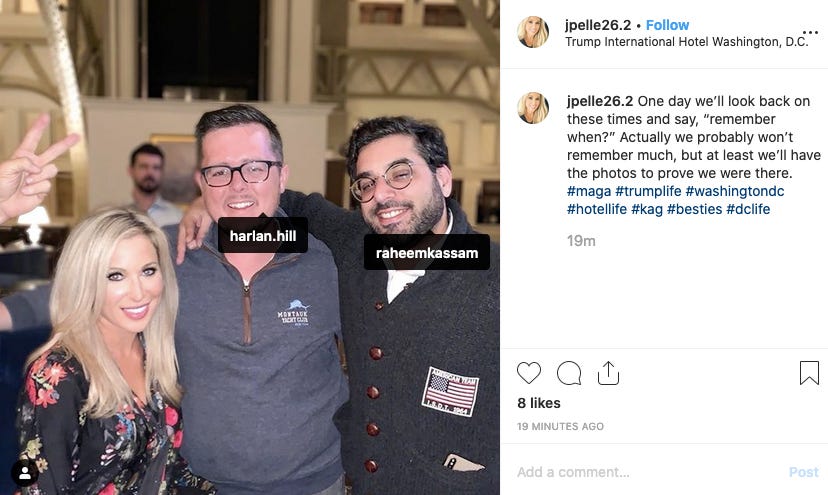 ---
Other Trump Organization news
---
Reference section
Links to rundowns of developments in the House's investigations and lawsuits, reference sheets for some of 1100 Pennsylvania's previous reporting, and a couple of articles that provide the background on why all of this matters.
---
Thanks for reading! If you like what you've read, tell someone. If you've been forwarded this newsletter, subscribe at 1100pennsylvania.substack.com. Questions? Read our FAQ. Tips or feedback? Contact Zach Everson at 1100Pennsylvania@protonmail.com (it'll be encrypted if you also use a ProtonMail account, which is free) or via Signal (secure), SMS, or mobile at 202.804.2744.