Discover more from 1100 Pennsylvania
"The undisputed expert on the D.C. Trump Hotel" – David Fahrenthold of the Washington Post
Over 3,000 subscribers
Pence and McConnell headlined, Trump profited
President's D.C. hotel has received more than 10 percent of the spending from the GOP candidate for Kentucky secretary of state's campaign
In September, Vice President Mike Pence and Senate Majority Leader Mitch McConnell (R–KY) co-headlined a fundraiser at the Trump Hotel D.C. for the Republican nominee for secretary of state in Kentucky, Michael G. Adams. The candidate's campaign paid the president's hotel almost $5,000 to host the event—which is more than 10 percent of the campaign's total spending to date.
Secretary of Transportation Elaine Chao and Sen. Rand Paul (R–KY) also attended the event at the Trump Hotel D.C.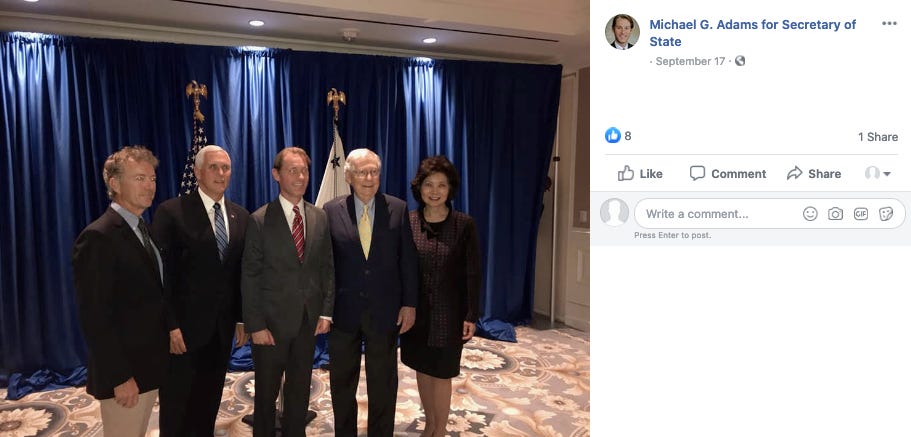 The evening cost the Adams campaign $4,972.45 according to reports it filed with the Kentucky Registry of Election Finance: a $4,250 deposit on Sept. 10 and $722.45 for event expenses on Sept. 25. Adams campaign has reported spending a total of $46,860.71 through its most-recent report (dated Oct. 21)—meaning the Trump Hotel D.C. received 10.6 percent of the disbursements to date from the GOP candidate for secretary of state in Kentucky.


Adams's campaign Facebook and Twitter accounts also plugged the president's business.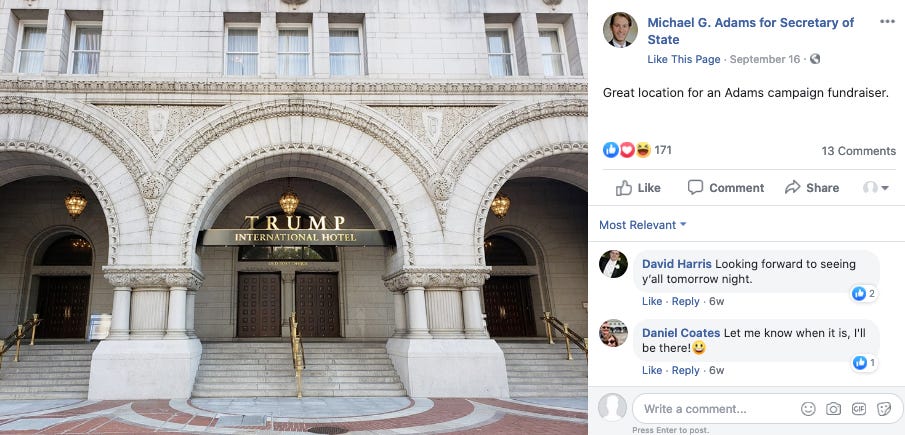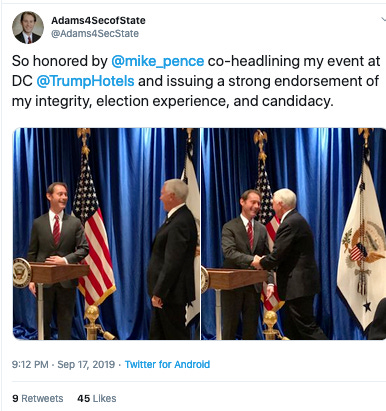 President Trump will get a chance to reciprocate the love tonight, when he holds a MAGA rally in Lexington, Kentucky.
"RCN interviews KY secretary of state candidates" by The River City News, published yesterday, explains how Adams landed such a star-studded fundraiser:
Adams is VP Pence's election law attorney, helped when he ran for Gov. and VP, helped Pence set up a PAC to support other GOP candidates across the country. Pence held a fundraiser for Adams at the Trump Hotel in DC. Has represented multiple politicians, and issue groups across the nation. Has a 25-year relationship with McConnell.
---
Pro-Israel PAC months late in reporting how much it spent at Mar-a-Lago
The American Pro-Israel PAC—which seems to benefit Mar-a-Lago far more than the Jewish state—missed the deadline to file its 2019 mid-year report, according to a letter the Federal Election Commission sent the PAC's treasurer in August.
The report still does not appear on the FEC's website. The PAC's treasurer, Jeanne Sullivan, has not replied to a request for comment.
APIP spent more than $38,000 at Mar-a-Lago 2018, but without its mid-year 2019 report, it's not clear how much it paid the president's Palm Beach resort to host a night of unity and peace on March 16, 2019. Paula White–Cain, President Trump's pastor who recently joined the White House in an official capacity, co-hosted that event.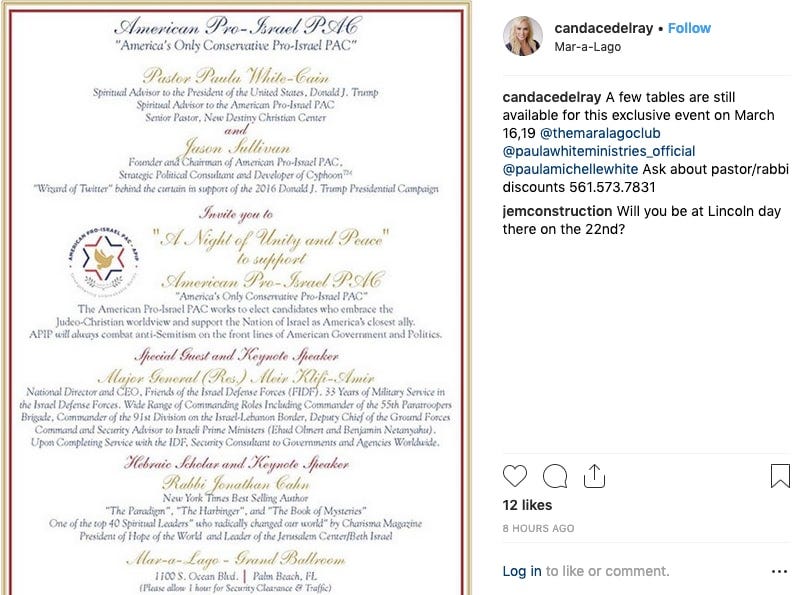 According to its website, APIP, "works to elect candidates who embrace the Judeo-Christian worldview and support the Nation of Israel as America's closest ally."
As of late September, APIP still owed money to two Palm Beach-area vendors who'd worked at the group's events, reported Christine Stapleton of The Palm Beach Daily News. APIP is currently selling tickets for a night of celebration, love, and unity in New York on Dec. 11. Tickets range from $199 to $75,000 for its King David sponsorship. The venue is not specified.
As 1100 Pennsylvania reported this March:
From its founding in September 2018 through the end of that year, APIP spent $38,871.77 at Mar-a-Lago, according to Federal Election Commission records. In total, last year it raised $237,660 and spent $173,825.43—meaning 16 percent of APIP's income and 22 percent of its total disbursements went to Mar-a-Lago. It gave no money to campaigns or other PACs, although it did pay three of its board members a total of $45,000.
---
Trump EVP: Cheese nights are the secret to the president's D.C. hotel's success
Trump Hotels EVP Kathleen Flores recently told an industry group that the U.S. president's Pennsylvania Avenue hotel has been successful by targeting locals with its dessert, wings, and cheese nights.
(She did not specify if by "locals" she meant permanent residents of the D.C. area or just those who reside there when Congress is in session.)
From "Hotel owners look to bring in local restaurateurs to boost revenue" by Jon Baniter for Bisnow Washington, D.C.:
The hotel, a redevelopment of the Old Post Office Building, features a BLT Prime by David Burke, Sushi Nakazawa, Benjamin Bar & Lounge and a Starbucks, all of which Flores said have been successful.

"Most of what we do maximizes guests experiences and revenues from locals," Flores said. "The lobby programming is robust, and there is something going on in the lobby every afternoon and every night."
Flores's comments came at Bisnow's hotel leadership investment and management summit in D.C. last Wednesday.
---
Other campaign expenditures
The Republican National Committee spent $6,049 for a venue rental and catering on Sept. 27 at the D.C. hotel owned by the head of the party. The RNC now has spent a total of $558,852.60 at the Trump Hotel D.C.
The National Republican Congressional Committee spent $2,500 for a facility rental and catering on Sept. 18, 2019 at the D.C. hotel owned by the head of the party. The NRCC now has spent a total of $59,129.90 at the Trump Hotel D.C.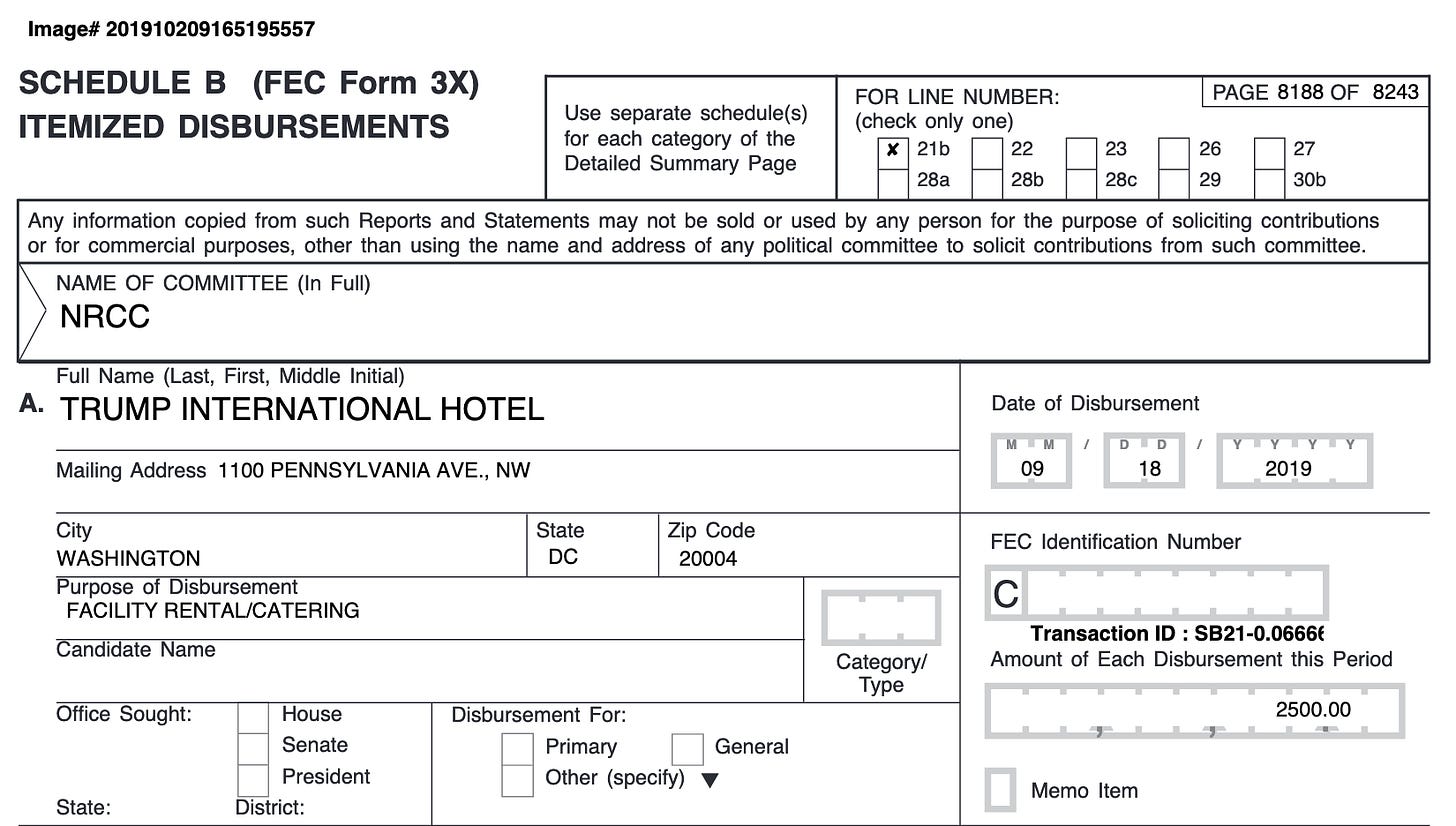 ---
Notable sightings
A glimpse of the foreign officials, government employees, politicians, lobbyists, and the like who patronize or appear at Trump businesses. Most people shown here have reasons to want to influence the Trump administration, rely on its good graces for their livelihoods, or should be providing oversight. Additionally, high-profile guests serve as draws for paying customers.
In D.C. to call on the Food and Drug Administration, Patty Post, the CEO of a healthcare startup met conservative auteur Dinesh D'Souza in the Trump Hotel D.C.'s lobby.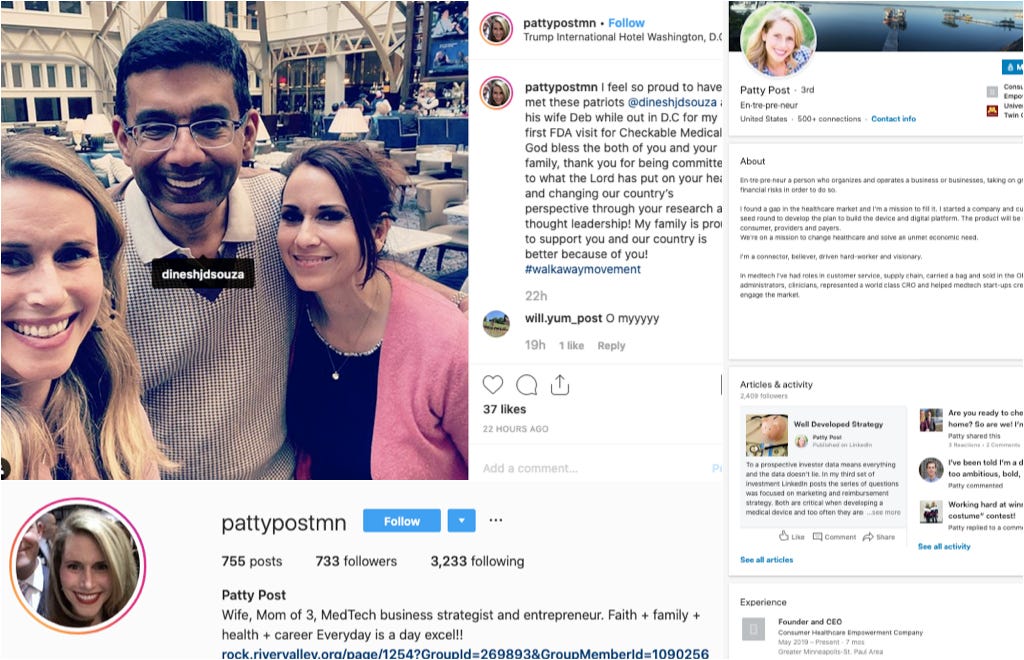 "Platoon Sergeant at United States Marine Corps (Active TS Clearance)" George Pawlik hung out with his aunt and uncle at the commander-in-chief's D.C. hotel.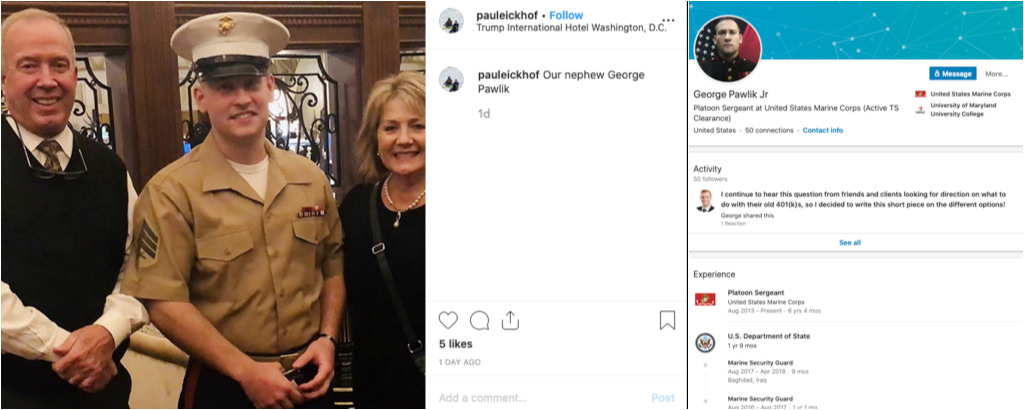 The multicultural outreach coordinator for Sen. Rick Scott (R–FL), Gary Berrios, was all smiles in the D.C. hotel owned by the head of the executive branch.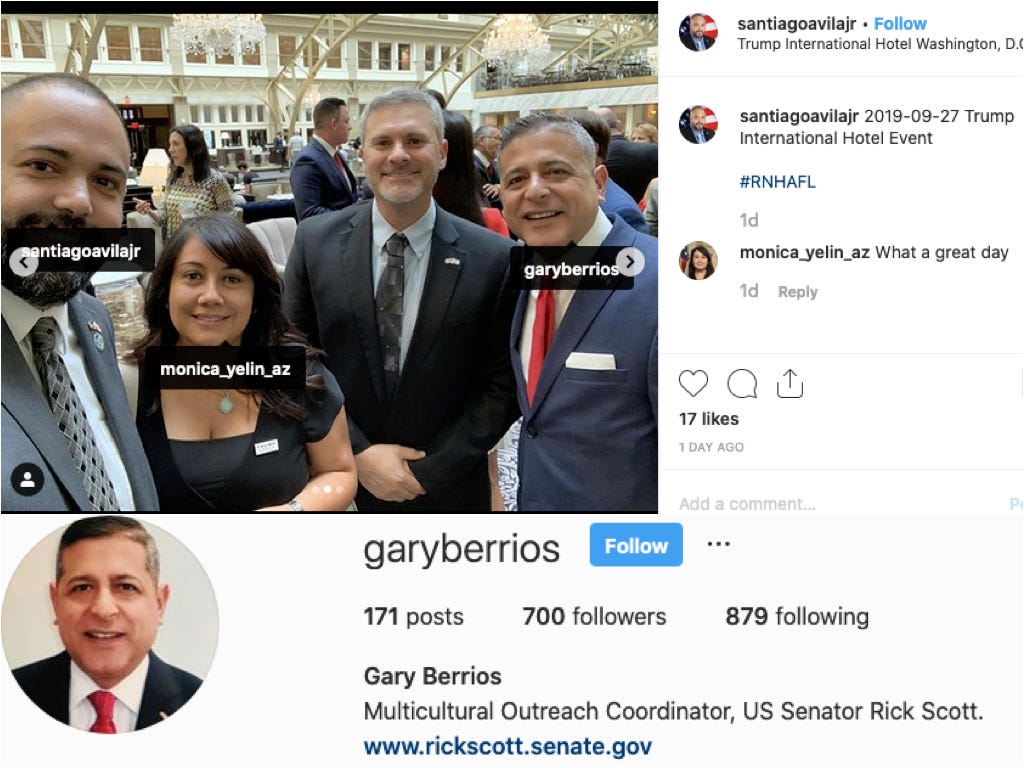 A photo of evangelicals laying hands on President Trump at the White House went viral over the weekend (official White House photo by Joyce Boghosian). At least two of the pastors touching the president, Jentzen Franklin and Guillermo Maldonado, were spotted at the president's D.C. hotel around that time.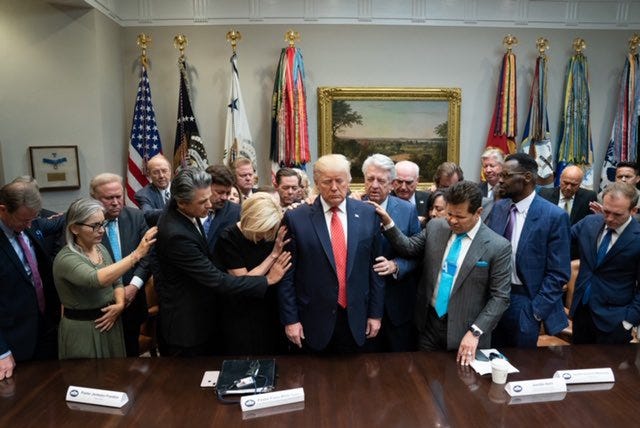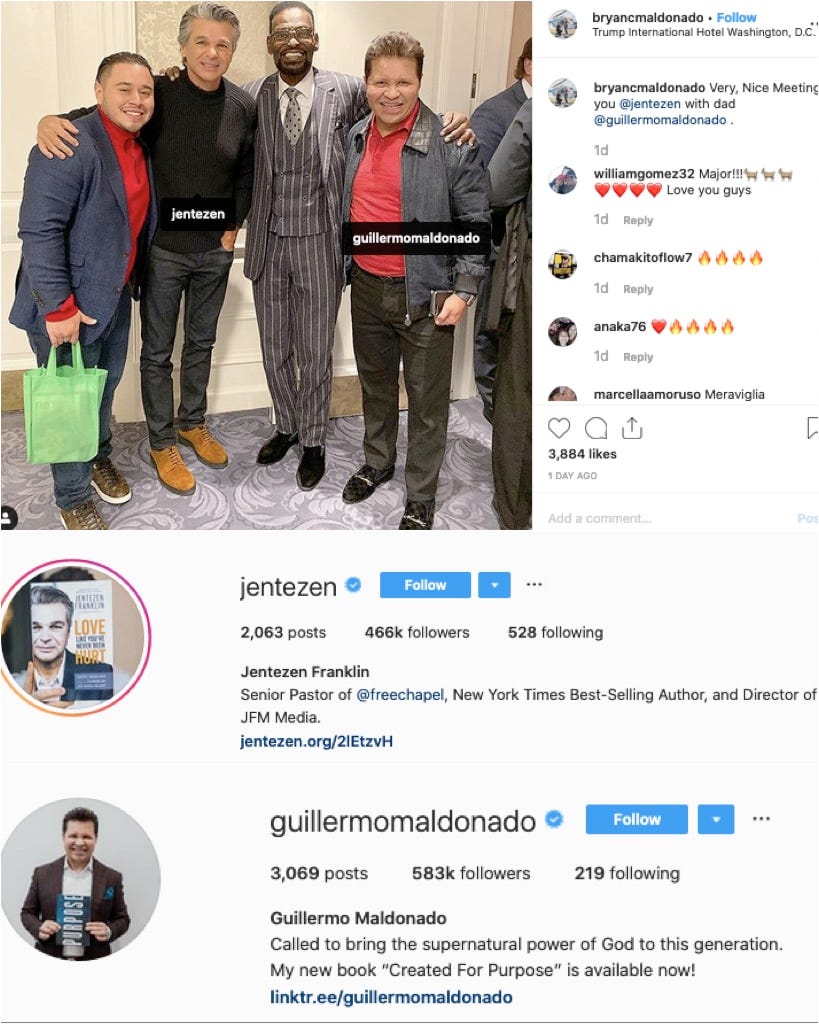 ---
Other Trump Organization news
---
Reference section
Links to rundowns of developments in the House's investigations and lawsuits, reference sheets for some of 1100 Pennsylvania's previous reporting, and articles that provide the background on why all of this matters. The date published or last updated is in parentheses.
Trackers
Notable hotel customers
Summaries
Upcoming key dates
Sept. 23 (postponed, not yet rescheduled)—House Judiciary Committee hearing "Presidential corruption: Emoluments and profiting off the presidency"

Nov. 4—House Transportation Committee's deadline for subpoena to GSA seeking documents related to hotel's lease

Nov. 6—Oral arguments before D.C. District Court in the House Ways and Means Committee's lawsuit vs. the IRS seeking Trump's tax returns

Nov. 22—Oral arguments before D.C. Circuit Court of Appeals in Cork wine bar's unfair competition suit

Dec. 9—Oral arguments before D.C. Circuit Court of Appeals in Democratic lawmakers emoluments suit

Dec. 12—Oral arguments before full 4th Circuit Court of Appeals in D.C. and Maryland attorneys general's emoluments suit

Jan. 23—Status hearing with D.C. Superior Court in former hotel employees hearing alleging racial discrimination
---
Thanks for reading! If you like what you've read, tell someone. If you've been forwarded this newsletter, subscribe at 1100pennsylvania.substack.com. Questions? Read our FAQ. Tips or feedback? Contact Zach Everson at 1100Pennsylvania@protonmail.com (it'll be encrypted if you also use a ProtonMail account, which is free) or via Signal (secure), SMS, or mobile at 202.804.2744.