Discover more from 1100 Pennsylvania
"The undisputed expert on the D.C. Trump Hotel" – David Fahrenthold of the Washington Post
Over 3,000 subscribers
Pence was lobbied in Trump's lobby
Lobbyist for pro-Armenian political group chats up Pence in Trump Hotel's lobby
Last night the head lobbyist for a pro-Armenian political organization promoted his group's causes during a conversation with Vice President Mike Pence in the lobby of the Trump Hotel D.C.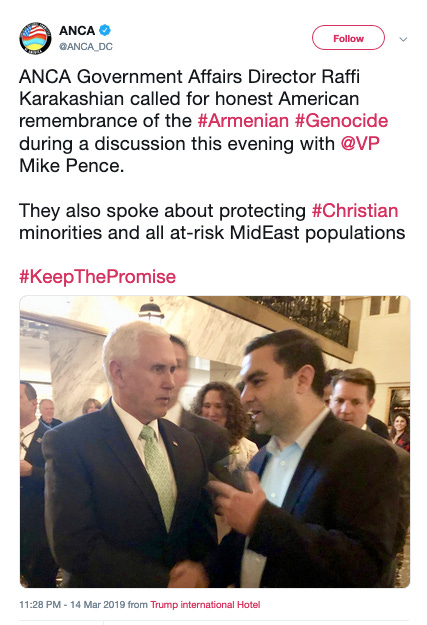 The Armenian National Committee of America (ANCA) claims to be "the largest and most influential Armenian American grassroots political organization." While it appears Pence was in the process of entering or leaving an event at the hotel when the conversation occurred, it apparently lasted long enough for ANCA's government affairs director, Raffi Karakashian, to bring up both America's need to better to remember the Armenian genocide and protecting Christians and other at-risk populations in the Middle East.
Last night marks the second time in two months the president or vice president has engaged in foreign-policy discussions in the Trump Hotel D.C.'s lobby. This January, President Trump told Ilham Ehmed of the Syrian Democratic Council, the political wing of the Kurdish fighters in Syria, "Don't worry, I love the Kurds."
A spokesperson for the vice president did not immediately respond to a request to confirm the ANCA's account of the conversation and share what brought the vice president to his boss's hotel in the first place. (Pence's Great America Committee PAC has spent at least $160,605.60 at the Trump Hotel D.C.)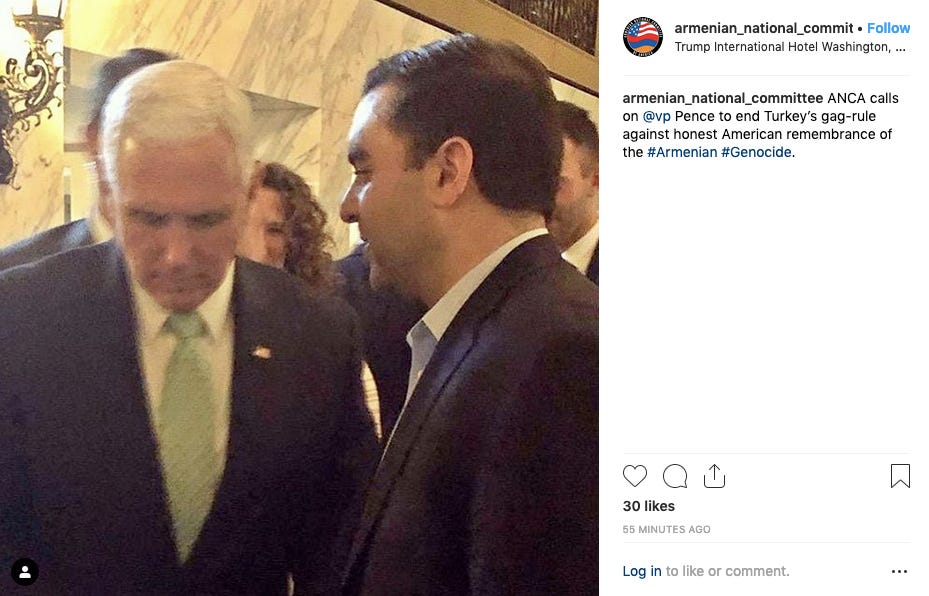 Executive director: Clean energy fly-in picked Trump Hotel D.C. because it got a great rate (which it did)
Wednesday's 1100 Pennsylvania reported that Citizens for Responsible Energy Solutions' D.C. fly-in held a reception at the Trump Hotel D.C., with Rep. David Rouzer (R–NC) stopping by.
Turns out the group was staying there too—though not out of political motivations, but simply because the rate it received was the lowest of the three it solicited, according to CRES's executive director.
"We're a nonprofit group, so staying at a luxury hotel is not necessarily the plan," said Heather Reams, who heads the group with a mission to "engage Republican policymakers and the public about commonsense, conservative solutions to address our nation's need for reliable energy."
A broker accessible via CRES's American Express account solicited bids on behalf of the group from the Liaison Capitol Hill, Hyatt Place Washington D.C./National Mall, and the Trump Hotel D.C. According to Reams, the Trump Hotel D.C. came back with the cheapest rate: $339 a night, $10 less than the Hyatt. It also required the group spend less money at its planned reception than what the other hotels mandated (the Liaison and Hyatt Place are nice enough but decidedly downmarket from "the "#onlyfivestarhoteldowntownDC").
"They [the hotels] didn't know it would be a Republican organization or anything," Reams said. "It was through a broker."
In addition to Rouzer, Reams said she thinks some other members of Congress mingled in the lobby with fly-in attendees, many of whom had preexisting relationships with the lawmakers. She also said administration staffers from EPA and the Department of Energy came by to meet people interested in clean energy from other parts of the country.
"This was our first fly-in," Reams said. "It certainly helped having a nice hotel for people to stay. For people around the country, knowing a Trump Hotel is attractive. But really, totally price driven."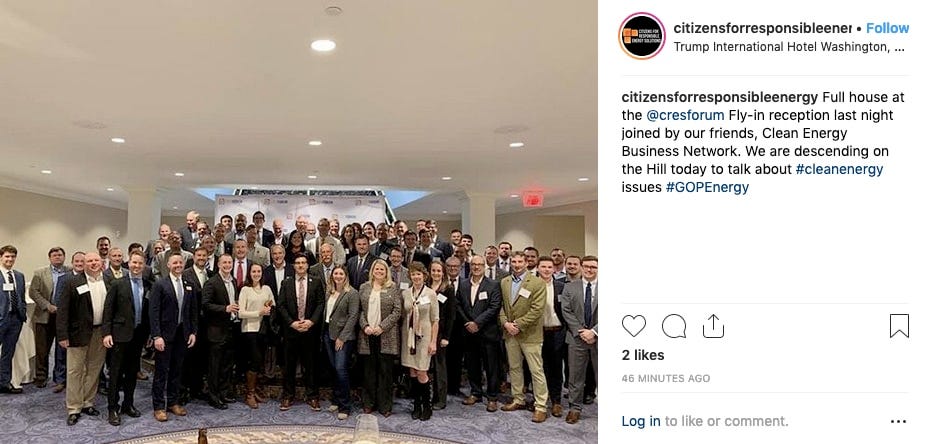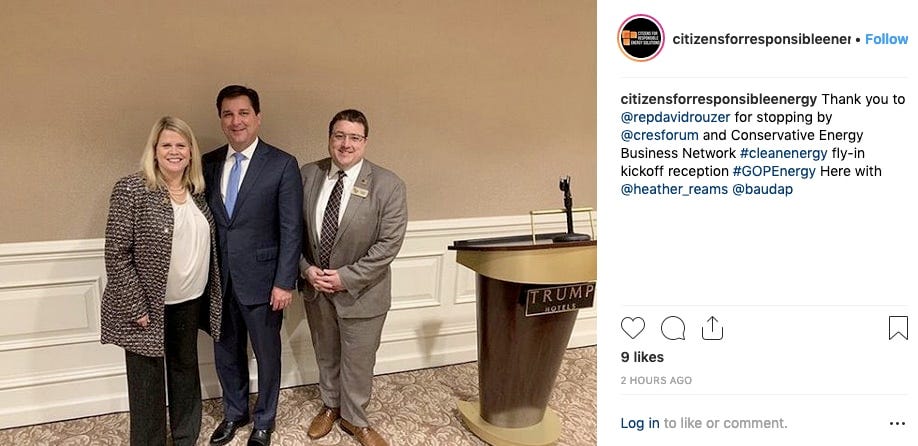 Other noteworthy sightings
The deputy chief of staff at the Peace Corps, Matt McKinney, returned to the Trump Hotel D.C., this time with more friends.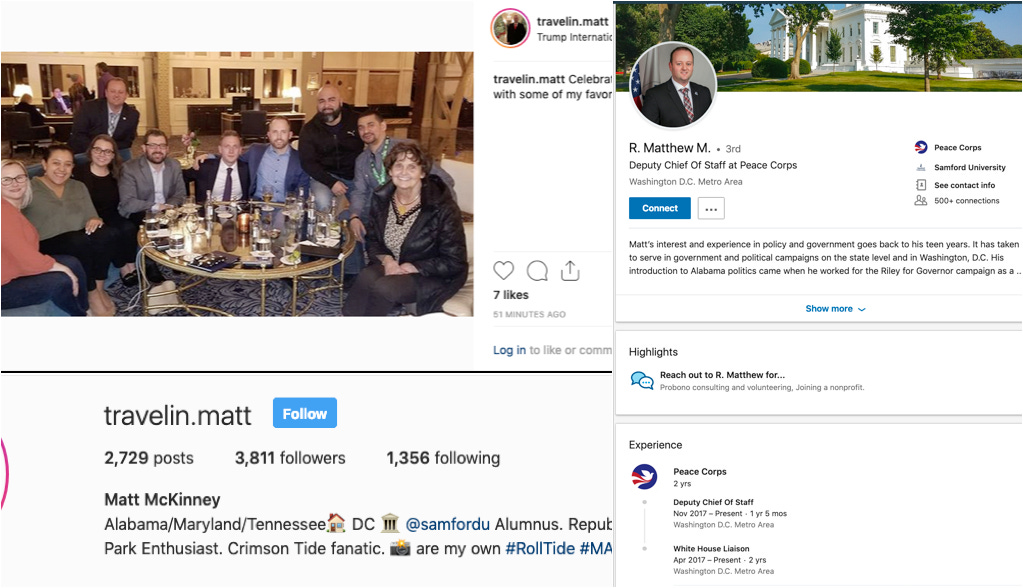 Another picture from the special event with President Trump at Mar-a-Lago this past weekend surfaced. It includes
major GOP donor, Fox News advertiser, and Trump business regular, Mike "The My Pillow Guy" Lindell (left)

policy advisor for the pro-Trump nonprofit America First Policies and Trump business regular, Martha Boneta (center)

the president of the pro-Trump Middle Eastern Women's Coalition and Trump business regular, Rabia Kazan (right)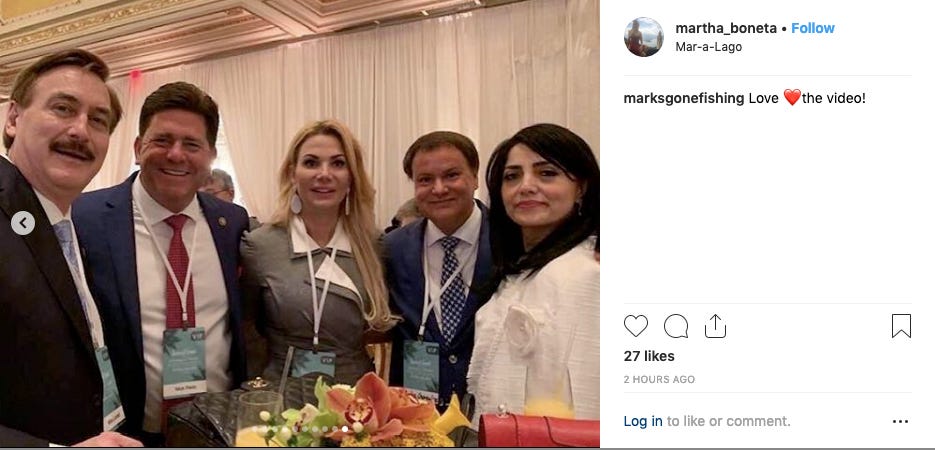 The president of lobbying firm the Da Vinci Group, Mark Smith, a Trump Hotel D.C. regular, was back and ran into another lobbyist. It was Jeff Morehouse of ClearPath, whose "mission is to develop and advance conservative policies that accelerate clean energy innovation."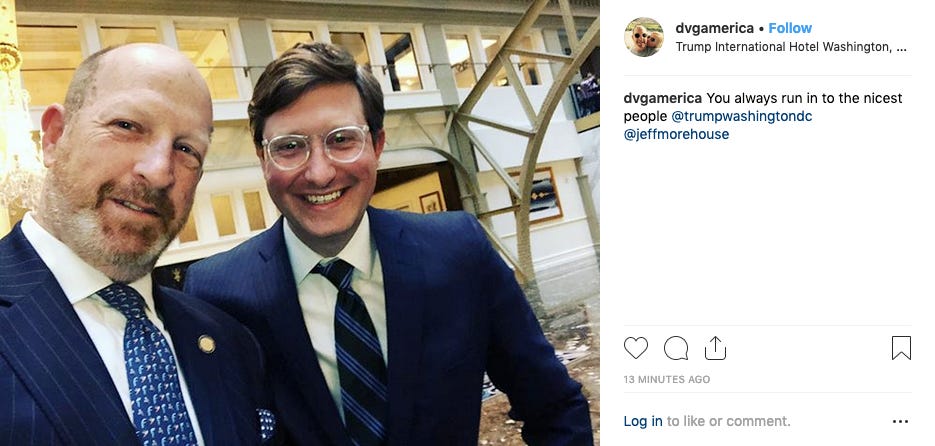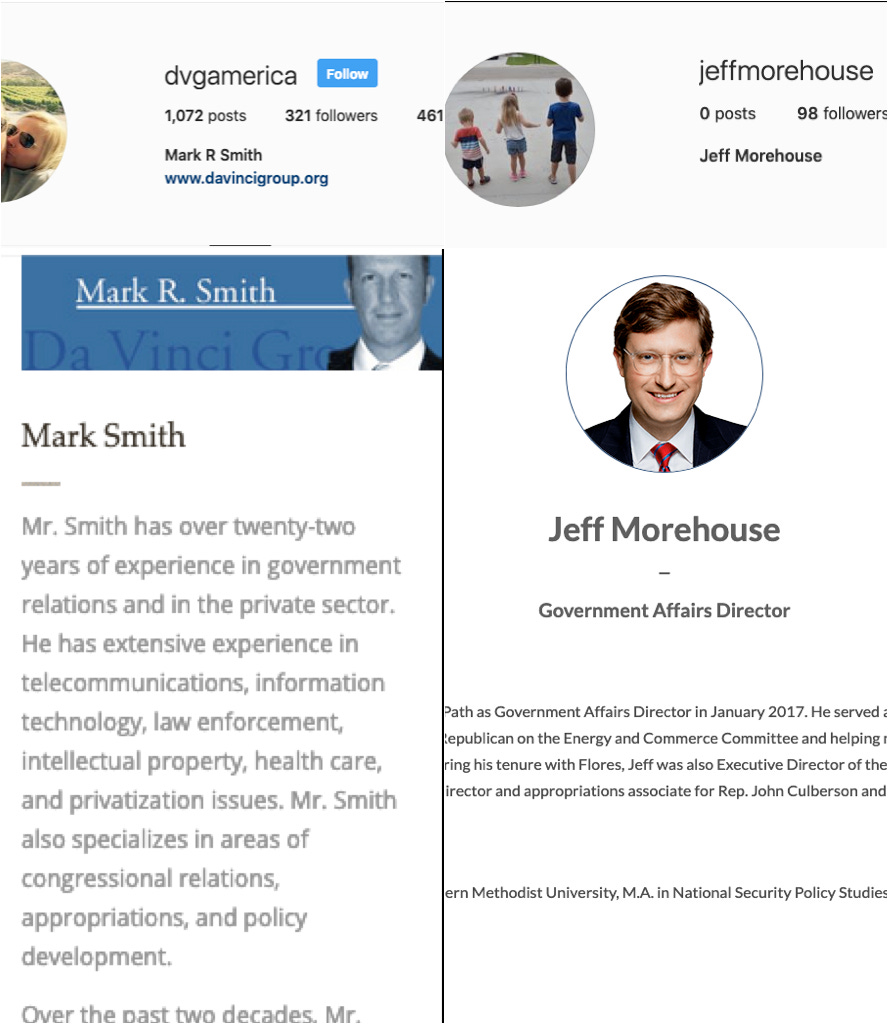 Other Trump Organization news
House investigations, current status (latest changes, March 15, 2019)
Legal cases, current status (latest change, March 6, 2019)
D.C. and MD attorneys general's emoluments lawsuit (district court docket, appellate court docket)—

Official capacity—On Dec. 20, 2018, the 4th U.S. Circuit Court of Appeals ruled it would hear the president's appeal of district court rulings that allowed the case to proceed to discovery, and the appellate court halted discovery in the case. Discovery had started Dec. 3 and was scheduled to run through Aug. 2, 2019, with the AGs having subpoenaed the Trump Organization, including its Scottish golf courses; the U.S. Departments of Agriculture, Commerce, Defense, and Treasury and the GSA; and the state of Maine. Oral arguments on the appeal are scheduled for March 19. The AGs filed their brief opposing the president's appeal on Feb. 6, stating, "The President is not entitled to an order requiring the district court to certify for interlocutory review its denial of his motion to dismiss. No court has ever issued such relief." Trump's DOJ attorneys replied on Feb. 21: "Plaintiffs fundamentally err, substantively and procedurally."

Individual capacity—On Dec. 14, Trump's personal attorneys appealed the denial of their motion to dismiss the case, also to the 4th U.S. Circuit Court of Appeals. On Dec. 19, the AGs replied to Trump's motion for a stay pending that appeal by voluntarily dismissing the claims against Trump in his "individual capacity to allow the claims against President Trump in his official capacity to move forward expeditiously." (The AGs only brought suit against Trump in his individual capacity after the judge suggested they do so.) Trump's personal attorneys, on Dec. 21, opposed the motion to dismiss at the district level, saying the appeals court now has jurisdiction and accusing the AGs of "gamesmanship."

196 Democratic senators and representatives' emoluments lawsuit—On Sept. 28, Judge Emmet G. Sullivan ruled that the legislators have standing to sue. Trump's Justice Department attorneys filed an interlocutory appeal on Oct. 22. On Jan. 30, 2019, the plaintiffs' filed a notice of supplemental authority, notifying the court of the GSA inspector general's report that criticized GSA for failing to consider if the Trump Hotel D.C.'s lease was in compliance with the Constitution after Donald Trump became president. Two days later, the president's attorneys argued that the IG's conclusion was not inconsistent with Trump's argument, but that the judge should ignore that report anyway because the IG has no expertise in interpreting or applying the foreign emoluments clause.

CREW et. al's emoluments lawsuit—In February 2018, CREW appealed its suit being dismissed for lack of standing to the 2nd U.S. Circuit Court of Appeals. Oral arguments on that motion were held on Oct. 30.

Cork's unfair competition lawsuit—Judge Richard J. Leon dismissed the case on Nov. 26, 2018, writing "Cork has failed to state a claim for unfair competition under D.C. law." On Dec. 10, Cork's attorneys filed a notice of appeal and on Jan. 10, 2019 they submitted a statement of issues to be raised. A briefing schedule was set on March 5 with Cork's brief due on April 15, the president's brief due on May 15, and Cork's reply to the president's brief due on June 5.

Employees' class-action suit alleging racial discrimination—Two of the three plaintiffs did not appear at a status hearing on Jan. 25, 2019; their cases were moved to arbitration. Via email, their attorney, A.J. Dhali, said his clients did not appear at the hearing because their case already had been moved to arbitration last year. The next status hearing is scheduled for Oct. 4.
Health inspections, current status (latest change, Aug. 10, 2018)
❌Hotel: five violations on May 7, 2018; two were corrected on site

❌BLT Prime and Benjamin Bar: nine violations on Aug. 10, 2018

❌Sushi Nakazawa: two violations on Aug. 10, 2018

✔️Banquet kitchen: no violations on Aug. 10, 2018

❌Pastry kitchen: two violations on Aug. 10, 2018

✔️Gift shop: no violations on May 7, 2018

❌Employee kitchen and in-room dining: five violations on Aug. 10, 2018; two were corrected on site
One thing that has nothing to do with Trump's businesses (I think, tough to tell sometimes!)
An observation from Drew Harwell of The Washington Post: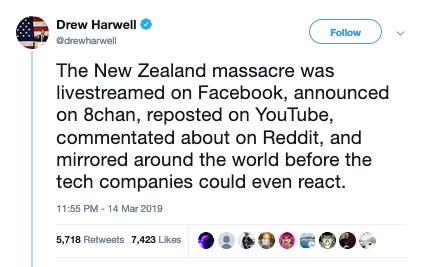 Thanks for reading. If you like what you see, tell someone—and support this work by becoming a paying member ($5/month or $50/year). If you've been forwarded this newsletter, subscribe for yourself at zacheverson.substack.com. Questions? Read our FAQ/manifesto. Tips or feedback? Contact me, Zach Everson, securely via email at 1100Pennsylvania@protonmail.com or on Signal at 202.804.2744.