Discover more from 1100 Pennsylvania
"The undisputed expert on the D.C. Trump Hotel" – David Fahrenthold of the Washington Post
Over 3,000 subscribers
Pompeo lobbied on behalf of foreign minority group: Trend alert
Lobbyist claimed he championed Pakistani minority group to United States' top diplomat
On Friday at the Trump Hotel D.C., a lobbyist advocated on behalf of a Pakistani minority group to Secretary of State Mike Pompeo, according to the lobbyist's tweet. Pompeo now joins President Trump and Vice President Pence in having been lobbied on behalf of a foreign interest at the U.S. president's D.C. hotel.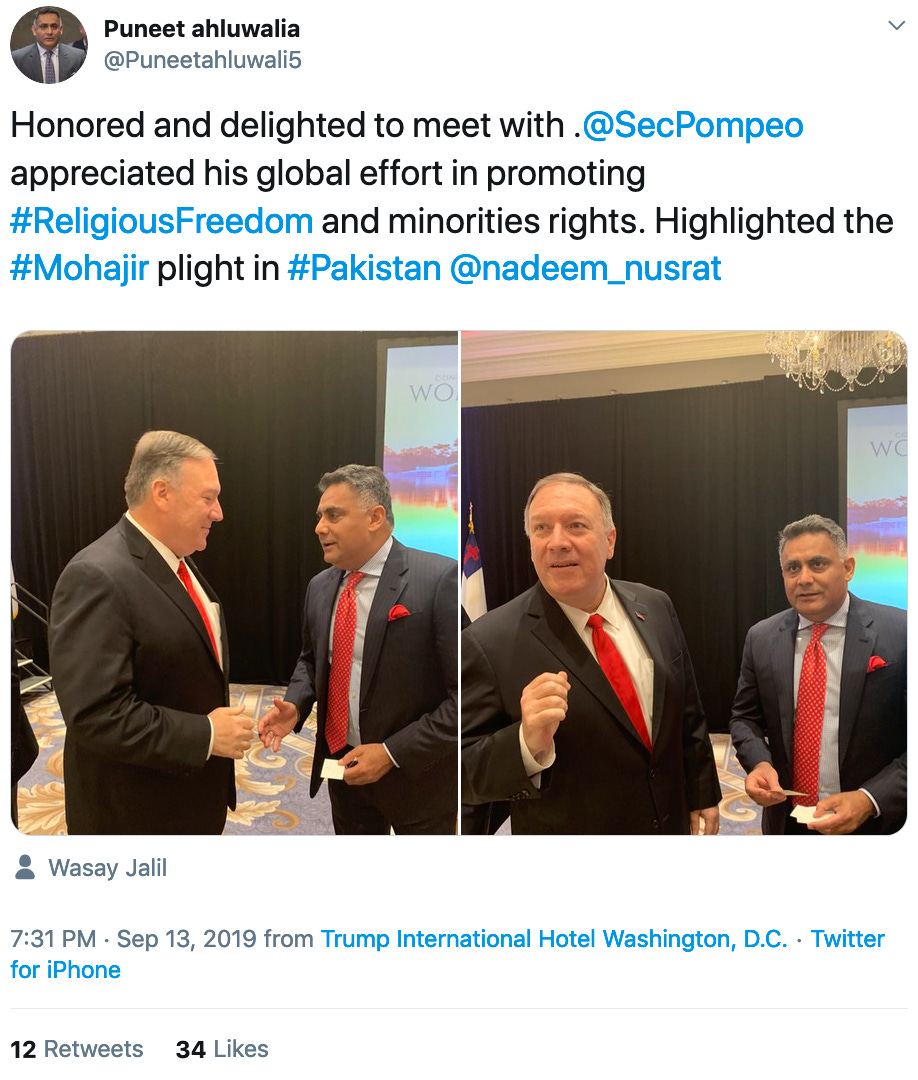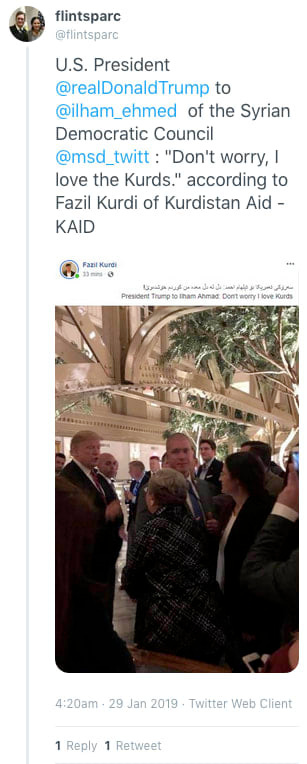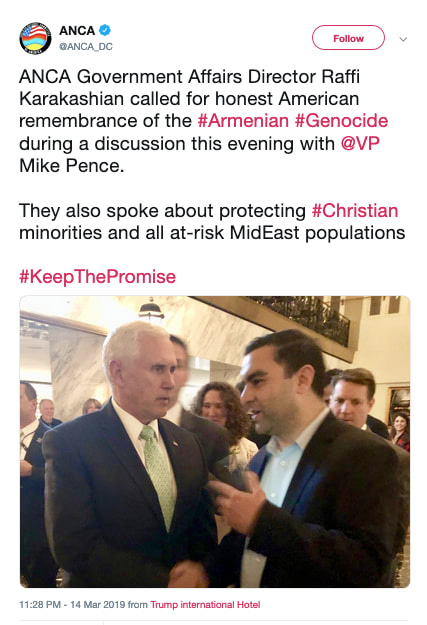 Pompeo was at his boss's D.C. hotel for the Concerned Women of America's 40th anniversary gala, where he was the lunchtime speaker. Puneet Ahluwalia—a consultant with the The Livingston Group lobbying firm, the managing partner of New World Strategies, and a district representative of the Virginia Republican State Central Committee—tweeted that he brought up with Pompeo the Mohajirs (also spelled Muhajir), a community of Urdu-speaking Muslims who migrated from India to Pakistan during partition and reportedly face persecution. Ahluwalia appears to have gained access to the United States' top diplomat by attending a luncheon thrown by a paying client of the president's business.
According to Ahluwalia's Linkedin profile, he "leads business development domestically and internationally" for The Livingston Group "work[s] with international companies seeking to enter U.S. markets," and has performed work on behalf of India's Prime Minister Narendra Modi. Ahluwalia also headed the fundraising subcommittee for a Trump inaugural ball with ties to China and a Saipan casino where "thousands of dollars in donations flowed to an undisclosed source," Lulu Ramadan of The Palm Beach Post reported in April.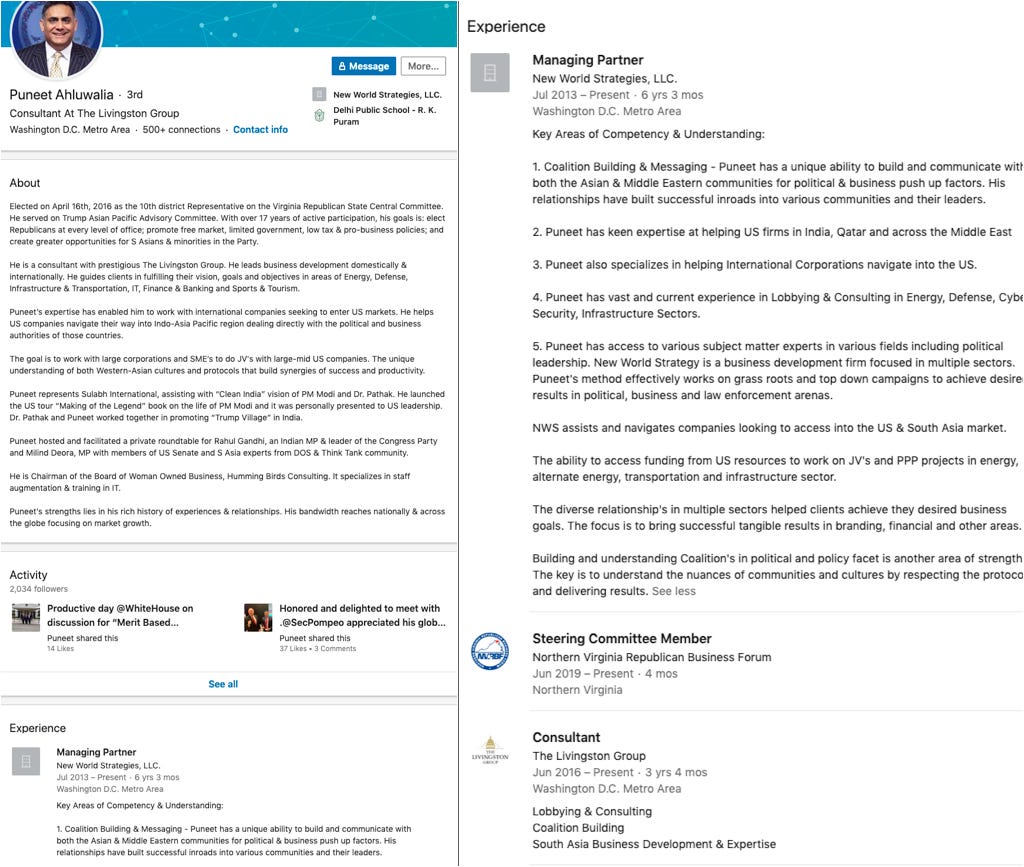 Later on Friday, Ahluwalia tweeted a photo of himself apparently exiting the White House, saying he was there to discuss U.S. immigration policy.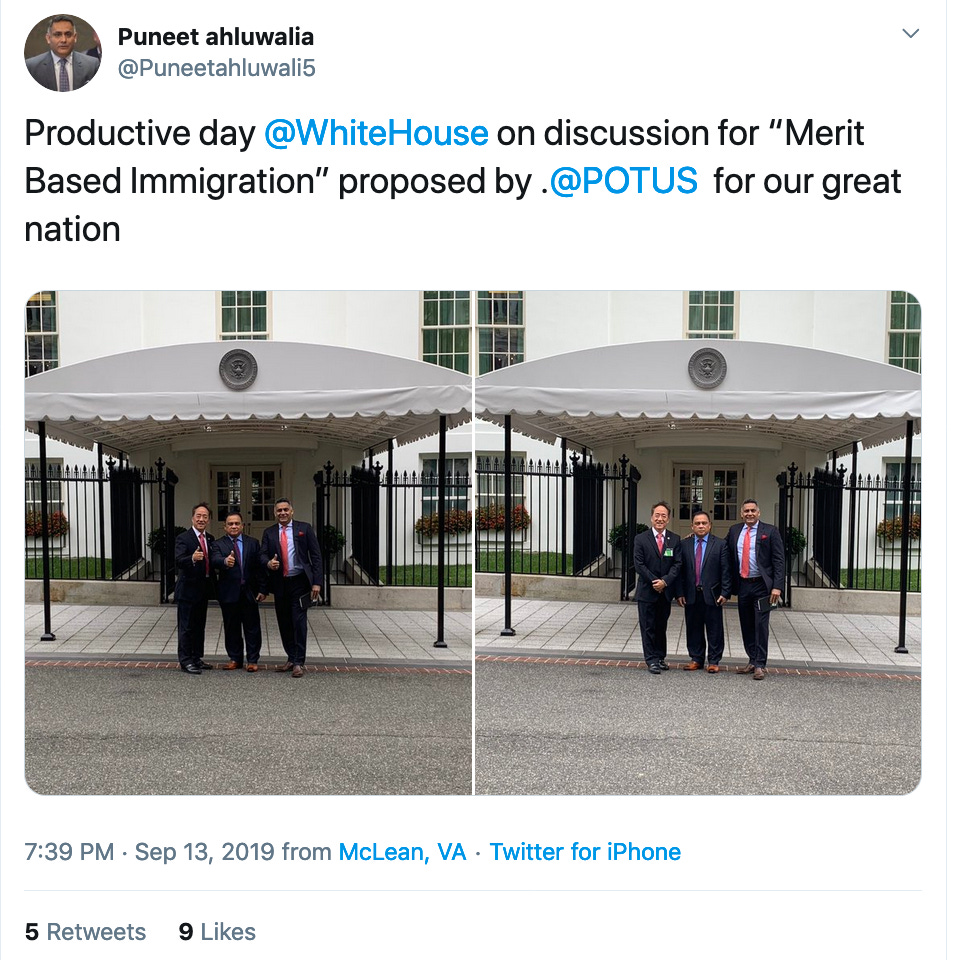 ---
Trump campaign–Trump Org synergy reaches the race track
Bob Benza, the stock car-driving father of Trump Org EVP Eric Trump executive assistant Kimberly Benza, competed in a Keep America Great-themed Camaro this weekend. Benza raced at the NHRA Countdown to the Championship at Mohnton, Penn's Maple Grove Raceway.
Eric Trump, who is walled off from his father's administration, tweeted how proud he was of his assistant's father.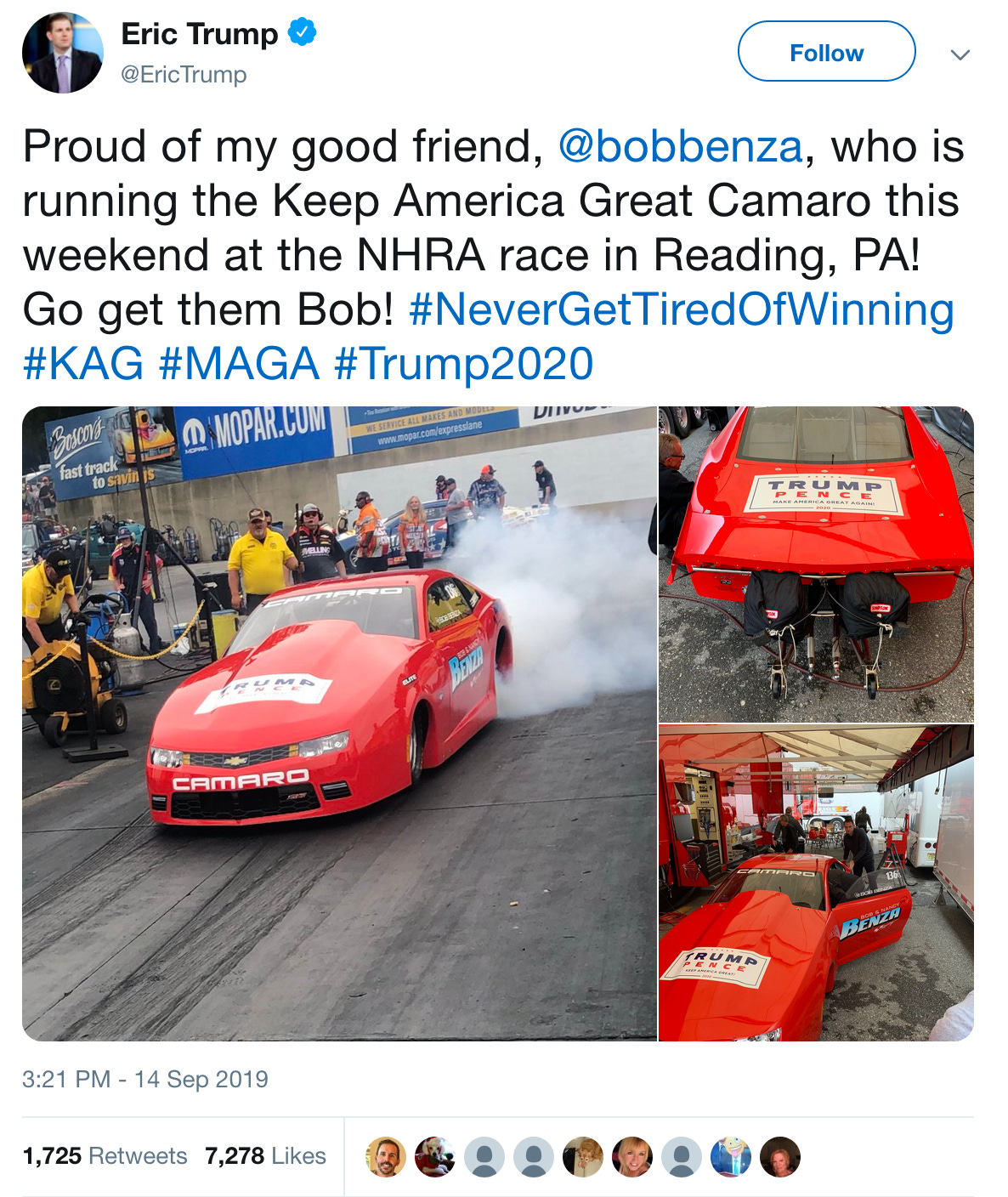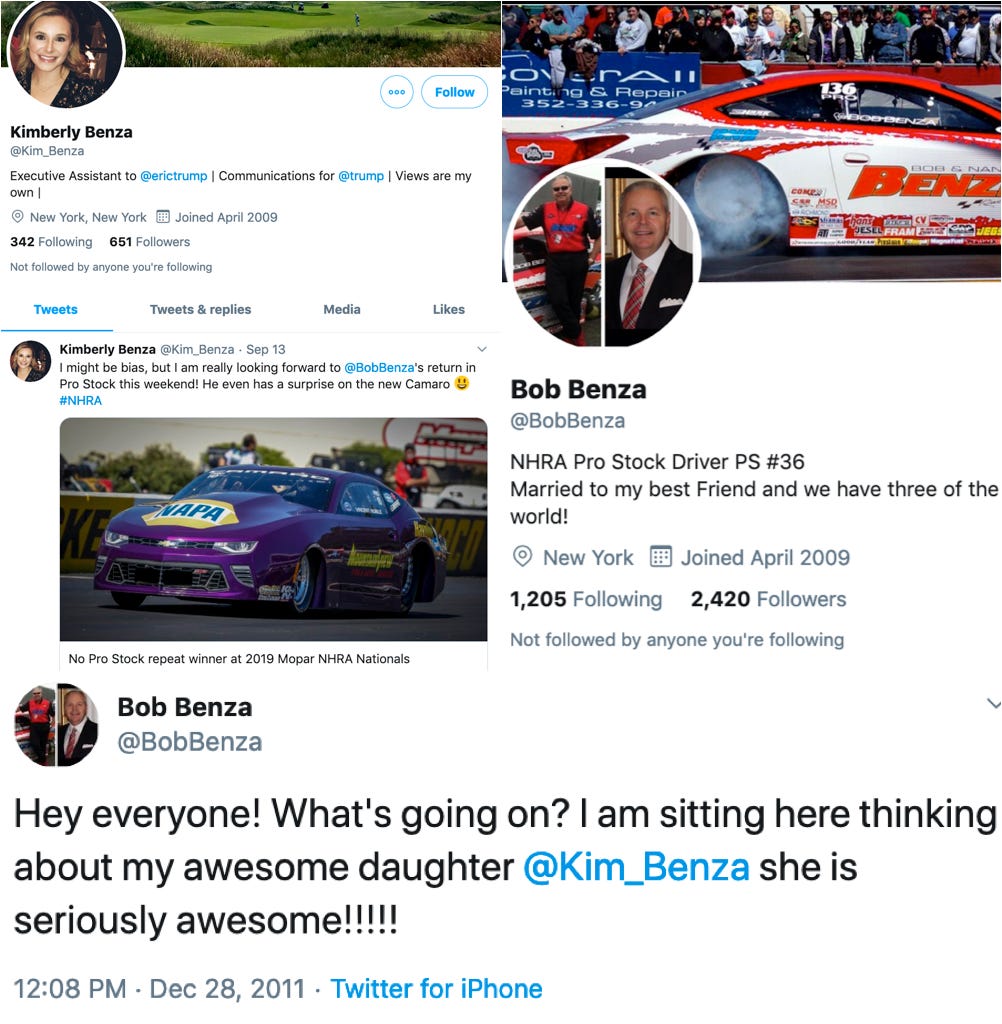 ---
Notable sightings
A glimpse of the foreign officials, government employees, politicians, lobbyists, and the like who patronize or appear at Trump businesses. Most people shown here have reasons to want to influence the Trump administration, rely on its good graces for their livelihoods, or should be providing oversight. Additionally, high-profile guests serve as draws for paying customers.
Matt Lohr, the Department of Agriculture Natural Resources Conservation Service chief and a political appointee, promoted the president's hotel on Facebook and Instagram.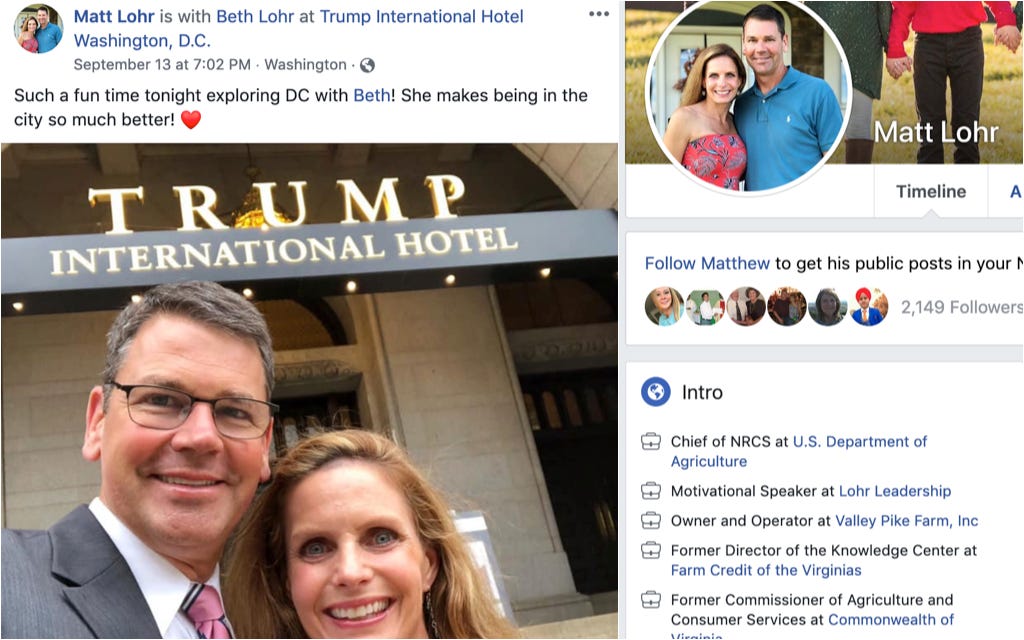 A special assistant to the president and deputy press secretary, Judd Deere, got the better of the Sunday scaries at his boss's D.C. hotel.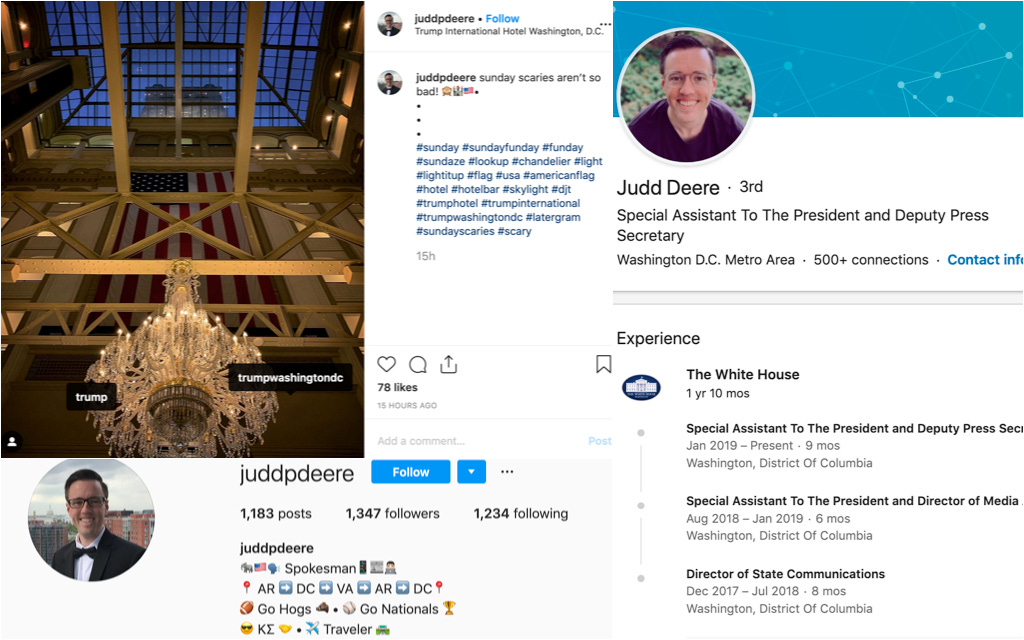 Rocky Stafford, a USAR unit administrator with the Department of Defense, stayed at the commander-in-chief's D.C. hotel.
William Stowell, a candidate for sheriff in Botetourt County, Virginia, relished the movement for freedom in a hotel room owned by the U.S. president.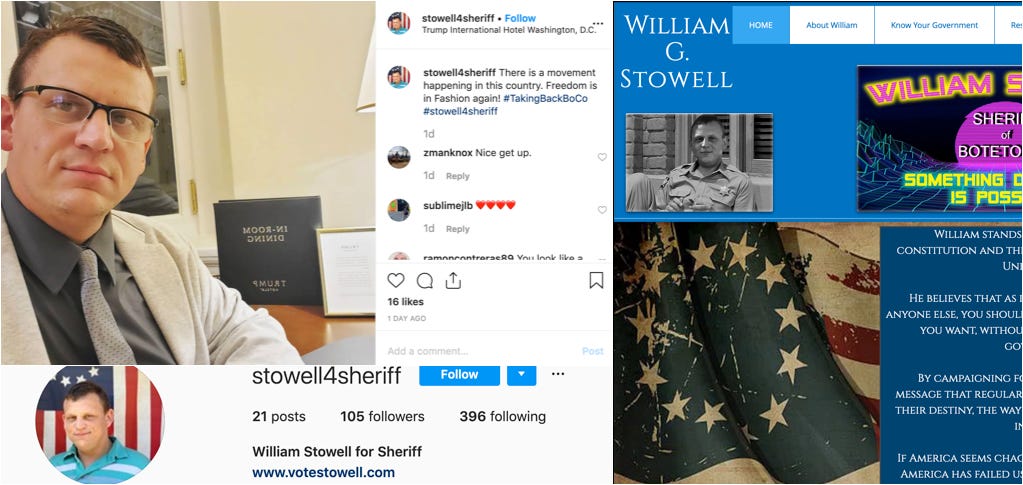 Right-wing provocateur Jacob Wahl mingled.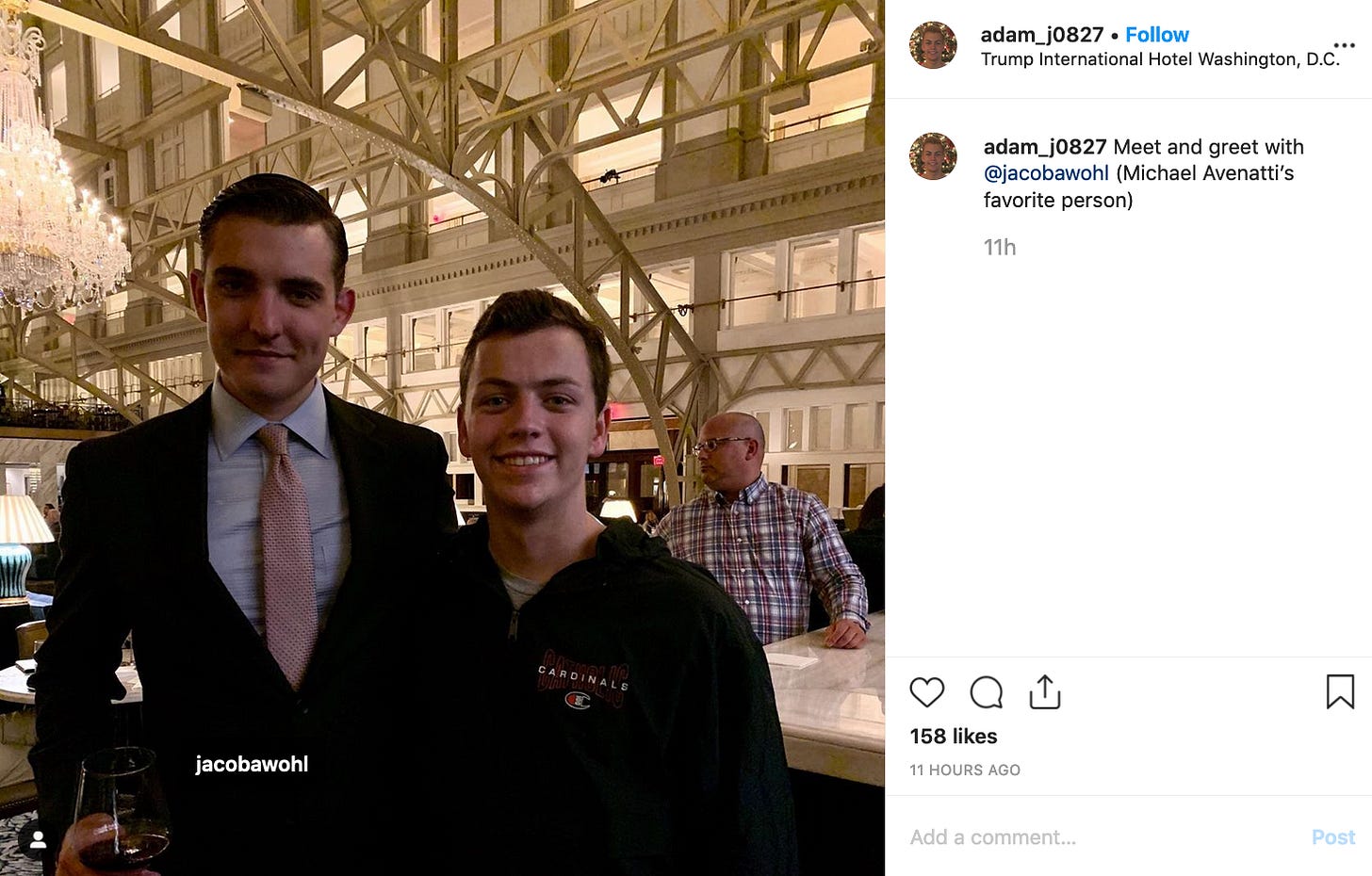 Tory L. Lucas, a law professor at Jerry Falwell Jr.'s Liberty University, wants the world to know he loves BLT Prime.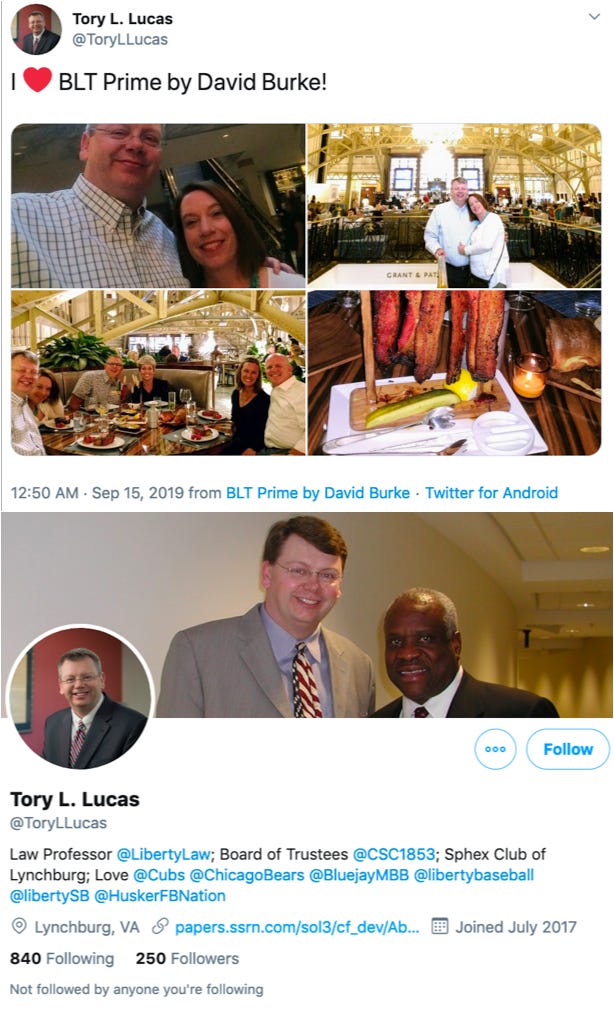 D.C. Mayor Muriel Bowser (D) led a rally for D.C. statehood in front of the president's hotel.
---
Other Trump Organization news
---
Fact sheets
Each issue of 1100 Pennsylvania reports on new updates in the House investigations, lawsuits, and health inspections regarding the Trump Hotel D.C. For a rundown of the earlier developments in each one, as well as reference sheets for some of 1100 Pennsylvania's previous reporting, please see these paid-subscriber-only fact sheets.
---
Thanks for reading! If you like what you've read, tell someone. If you've been forwarded this newsletter, subscribe at 1100pennsylvania.substack.com. Questions? Read our FAQ. Tips or feedback? Contact Zach Everson at 1100Pennsylvania@protonmail.com (it'll be encrypted if you also use a ProtonMail account, which is free) or via Signal (secure), SMS, or mobile at 202.804.2744.