Discover more from 1100 Pennsylvania
"The undisputed expert on the D.C. Trump Hotel" – David Fahrenthold of the Washington Post
Over 3,000 subscribers
Pray for Trump on Good Friday at Trump's hotel
U.S. president's hotel to host annual prayer breakfast for U.S. president
The Trump Hotel D.C. will host a Good Friday prayer breakfast to "pray for the office of the presidency and the nation." The suggested donation for the event, which is sponsored by Presidential Inaugural Prayer Breakfast, Inc., is $100.
This group also held a prayer breakfast at the Trump Hotel D.C. around Trump's inauguration in 2017—but only after it sued Trump's inaugural committee, which had tried to bounce it from the hotel.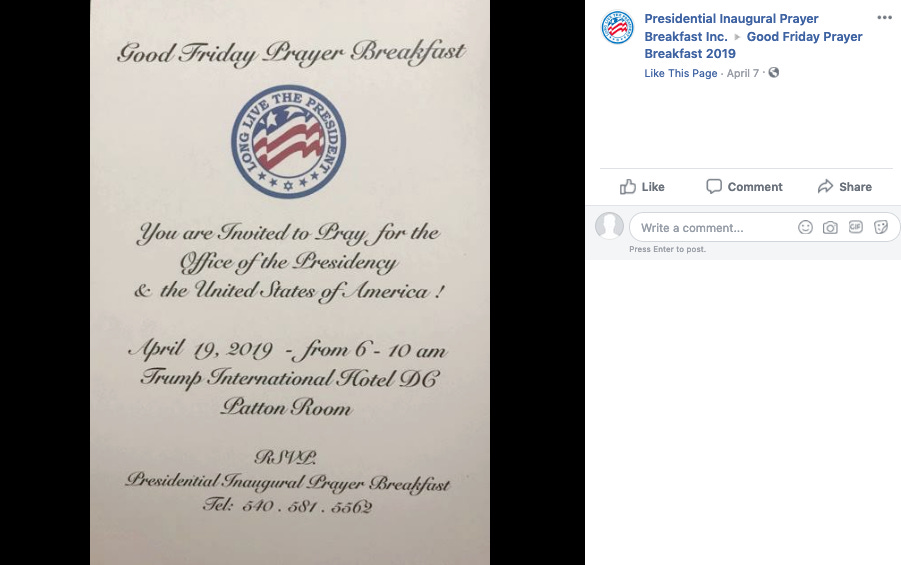 Chancey Crandall, a Palm Beach-based cardiologist whose medical advice is featured on Newsmax, is among the speakers. (He donated $1,000 to Trump's campaign in 2016.)
According to the prayer breakfast's Eventbrite page:
The Presidential Inaugural Prayer Breakfast was formed by Dr. Ruth Ward Heflin, while in Jerusalem in 1992. She was impressed of the Lord to host an Inaugural Prayer Breakfast on Inauguration morning 1993, to pray for the Office of the Presidency, an outpouring of the Spiritual Awakening in America from Sea to Shinning Sea and for the Peace of Jerusalem.  
Presidential Inaugural Prayer Breakfast Inc.'s Facebook page also shows pictures of Mar-a-Lago, although it's not clear what connection, if any, the president's private club has to the breakfast (or to Christianity in general).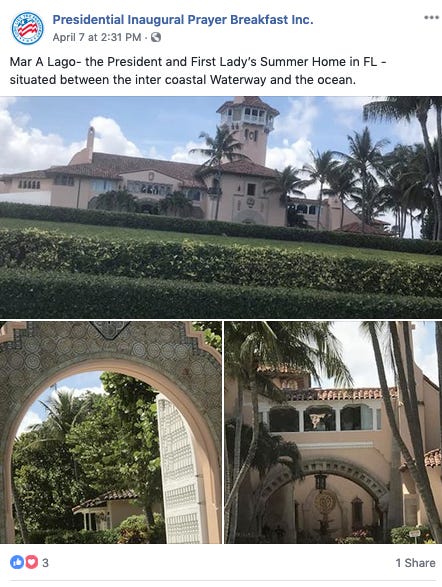 ---
Jim Jordan headlined PAC fundraiser at Trump Hotel and Tower Chicago yesterday
Rep. Jim Jordan (R–OH) was back at a Trump property yesterday, headlining a fundraiser for Family–PAC Federal at the Trump Hotel and Tower in Chicago.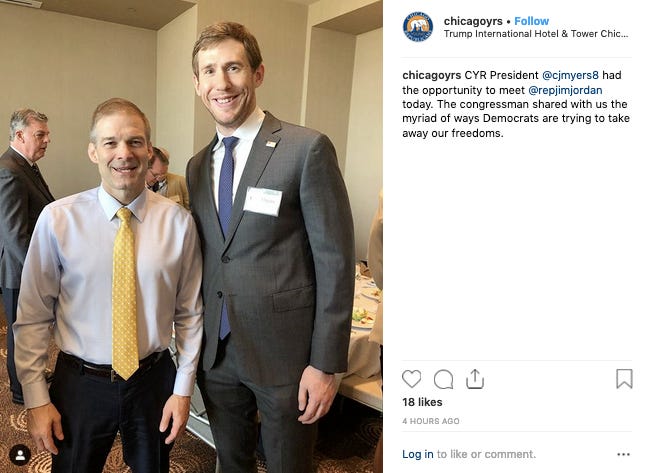 A recap of how Jordan, the ranking member of the House Oversight committee, has helped the president's businesses:
(In March, the pro-Trump nonprofit America First Policies announced it was launching TV ads in support of Jordan.)
Tickets to yesterday's fundraiser ranged from $150 for an individual to $2,500, with funds being used to cover the expenses for food and the hotel, according to Jon Zahm who promoted the event on Twitter.
Family–PAC Federal already had spent at least $5,774.42 at Trump properties, per its FEC filings.
According to the president of the Chicago Young Republicans, Chris Myers, who attended the fundraiser, Jordan shared "the myriad of ways Democrats are trying to take away our freedoms." Myers, by the way, is also a U.S. Navy reserve officer, meaning his participation at an event in a Trump property likely kicked some money up the chain of command.
---
Support this reporting, become a 1100 Pennsylvania member
Reporting on the Trump Hotel D.C. and the president's other businesses takes time. But it's making an impact—and you can help. If you're not an 1100 Pennsylvania member, please become one and help us continue to report on who's spending money at the president's hotel—and what they might be getting in return. Memberships are this newsletter's sole source of revenue. Select the red "Subscribe now" button and become a member by paying just $5 a month or $50 a year. Thank you.
---
Law professor: DOJ now interprets foreign emoluments clause to exempt Trump's hotels
From "Trump hotels exempted from ban on foreign payments under new stance" by Peter Stobe for The Guardian:
The Department of Justice has adopted a narrow interpretation of a law meant to bar foreign interests from corrupting federal officials, giving Saudi Arabia, China and other countries leeway to curry favor with Donald Trump via deals with his hotels, condos, trademarks and golf courses, legal and national security experts say…

[Washington University Law professor Kathleen] Clark's article notes that in more than 50 legal opinions over some 150 years justice department lawyers have interpreted the [foreign emoluments] clause in a way that barred any foreign payments or gifts except for ones Congress approved. But filings by the department since June 2017 reveal a new interpretation that "…would permit the president—and all federal officials—to accept unlimited amounts of money from foreign governments, as long as the money comes through commercial transactions with an entity owned by the federal official," the professor writes.
---
Notable sighting
Howard Hakes, the chairman of the American International Automobile Dealers Association ("we advocate in D.C. for America's international nameplate auto dealers"), had drinks at the Trump Hotel D.C.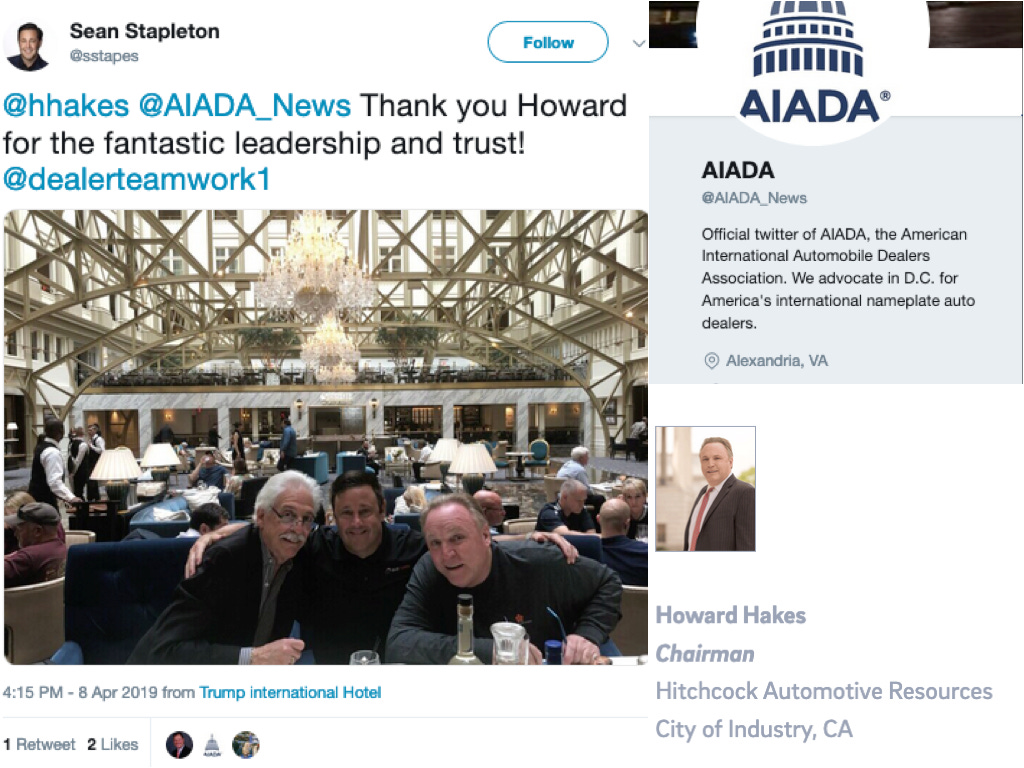 ---
Other Trump Organization news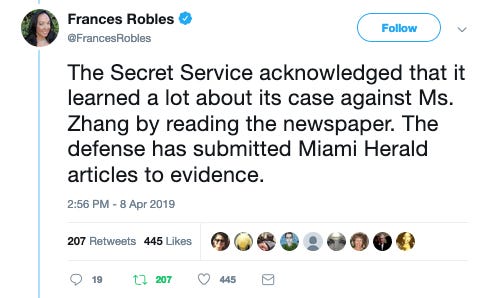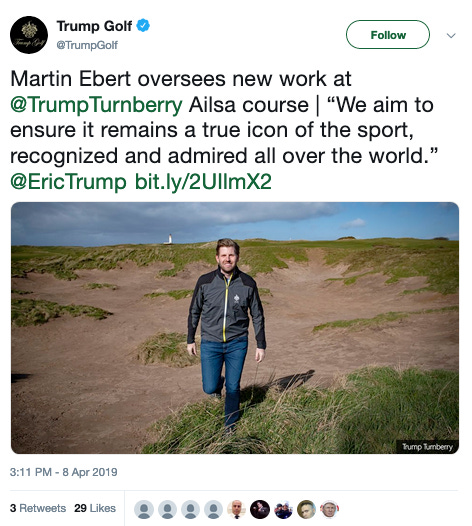 ---
House investigations, current status (latest changes, April 5, 2019)
---
Legal cases, current status (latest change, March 20, 2019)
D.C. and MD attorneys general's emoluments lawsuit (district court docket, appellate court docket)—

Official capacity—On Dec. 20, 2018, the 4th U.S. Circuit Court of Appeals ruled it would hear the president's appeal of district court rulings that allowed the case to proceed to discovery, and the appellate court halted discovery in the case. Discovery had started Dec. 3 and was scheduled to run through Aug. 2, 2019, with the AGs having subpoenaed the Trump Organization, including its Scottish golf courses; the U.S. Departments of Agriculture, Commerce, Defense, and Treasury and the GSA; and the state of Maine. Oral arguments on the appeal occurred on March 19; by all accounts the three-judge panel (all Republican appointees, including one who was a selection of President Trump's) were skeptical of the AGs' case. D.C. AG Karl Racine pledged to take the case to the U.S. Supreme Court if necessary.

Individual capacity—On Dec. 14, Trump's personal attorneys appealed the denial of their motion to dismiss the case, also to the 4th U.S. Circuit Court of Appeals. On Dec. 19, the AGs replied to Trump's motion for a stay pending that appeal by voluntarily dismissing the claims against Trump in his "individual capacity to allow the claims against President Trump in his official capacity to move forward expeditiously." (The AGs only brought suit against Trump in his individual capacity after the judge suggested they do so.) Trump's personal attorneys, on Dec. 21, opposed the motion to dismiss at the district level, saying the appeals court now has jurisdiction and accusing the AGs of "gamesmanship."

Democratic senators and representatives' emoluments lawsuit—On Sept. 28, Judge Emmet G. Sullivan ruled that the legislators have standing to sue. Trump's Justice Department attorneys filed an interlocutory appeal on Oct. 22. On Jan. 30, 2019, the plaintiffs' filed a notice of supplemental authority, notifying the court of the GSA inspector general's report that criticized GSA for failing to consider if the Trump Hotel D.C.'s lease was in compliance with the Constitution after Trump became president. Two days later, the president's attorneys argued that the IG's conclusion was not inconsistent with Trump's argument, but that the judge should ignore that report anyway because the IG has no expertise in interpreting or applying the foreign emoluments clause.

CREW et. al's emoluments lawsuit—In February 2018, CREW appealed its suit being dismissed for lack of standing to the 2nd U.S. Circuit Court of Appeals. Oral arguments on that motion were held on Oct. 30.

Cork's unfair competition lawsuit—Judge Richard J. Leon dismissed the case on Nov. 26, 2018, writing "Cork has failed to state a claim for unfair competition under D.C. law." On Dec. 10, Cork's attorneys filed a notice of appeal and on Jan. 10, 2019 they submitted a statement of issues to be raised. A briefing schedule was set on March 5 with Cork's brief due on April 15, the president's brief due on May 15, and Cork's reply to the president's brief due on June 5.

Employees' class-action suit alleging racial discrimination—Two of the three plaintiffs did not appear at a status hearing on Jan. 25, 2019; their cases were moved to arbitration. Via email, their attorney, A.J. Dhali, said his clients did not appear at the hearing because their case already had been moved to arbitration last year. The next status hearing is scheduled for Oct. 4.
---
Health inspections, current status (latest change, Aug. 10, 2018)
❌Hotel: five violations on May 7, 2018; two were corrected on site

❌BLT Prime and Benjamin Bar: nine violations on Aug. 10, 2018

❌Sushi Nakazawa: two violations on Aug. 10, 2018

✔️Banquet kitchen: no violations on Aug. 10, 2018

❌Pastry kitchen: two violations on Aug. 10, 2018

✔️Gift shop: no violations on May 7, 2018

❌Employee kitchen and in-room dining: five violations on Aug. 10, 2018; two were corrected on site
---
Is the Trump Organization selling merchandise that depicts the White House? (latest change, March 21, 2019)
Yes.
---
One thing that (probably) has nothing to do with Trump's businesses
Longform podcast #337: Casey Newton
---
Thanks for reading. If you like what you see, tell someone—and support this work by becoming a paying member ($5/month or $50/year). If you've been forwarded this newsletter, subscribe for yourself at zacheverson.substack.com. Questions? Read our FAQ/manifesto. Tips or feedback? Contact me, Zach Everson, securely via email at 1100Pennsylvania@protonmail.com or on Signal at 202.804.2744.