Discover more from 1100 Pennsylvania
"The undisputed expert on the D.C. Trump Hotel" – David Fahrenthold of the Washington Post
Over 3,000 subscribers
President Trump fêted Trump officials at their Trump hotel wedding
Stephen Miller and Katie Waldman were at least the fifth and six political appointees to celebrate their wedding at their patron's hotel
Sunday night two Trump officials celebrating their wedding in the Trump Hotel D.C.'s presidential ballroom enjoyed well wishes from President Trump himself.
Special assistant to the president Stephen Miller and Vice President Mike Pence's press secretary Katie Rose Waldman became at least the fifth and six Trump appointees to hold their wedding reception at their boss's hotel.
By hosting this event, the president's business likely received tens of thousands of dollars through two people who serve at his pleasure.
And the president's appearance at his D.C. hotel marked the third different Trump property he visited in a 27-hour span, having spent the weekend at Mar-a-Lago and golfed at his Palm Beach club on Saturday. It was Trump's second visit to his D.C. hotel in a five-day stretch.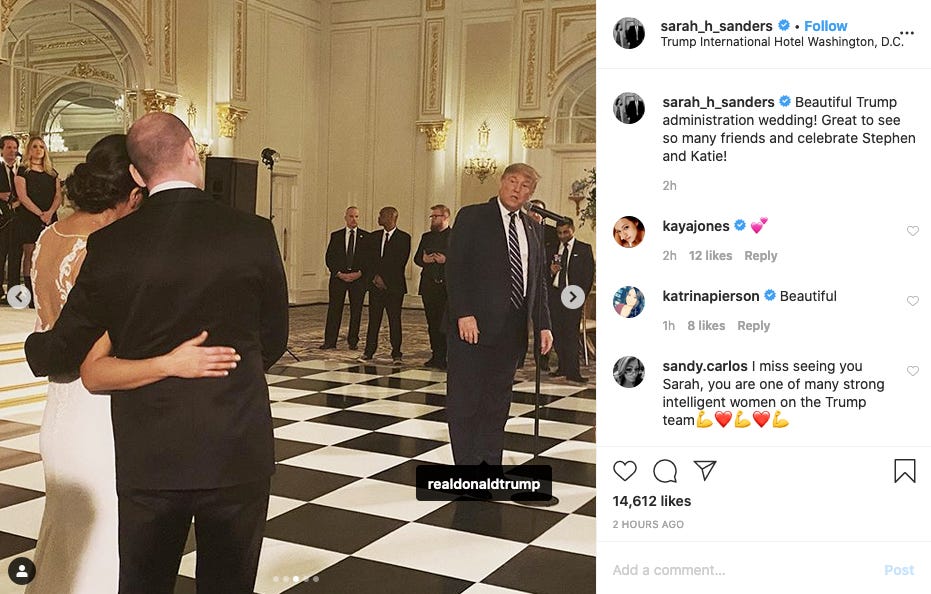 The other Trump staffers known to have gotten married at the Trump Hotel D.C. include then-assistant to the president Omarosa Manigault Newman, White House policy advisor Emily Newman, and special assistant to the vice president Zach Bauer and senior policy advisor at the Federal Housing Finance Agency Meghan Patenaude (the last two were to each other).
While 1100 Pennsylvania was able to estimate that the president's hotel took in at least $35,000 for Bauer and Patenaude celebration, sufficient information isn't available (yet) to do likewise for the Miller–Waldman union. (The hotel's executive chef posted a photo on Instagram showing some aspect of the wedding setup, but it's no longer publicly available.)
U.S. Trade Representative Robert Lighthizer was one of the wedding guests, per Monday's Politico Playbook. He hadn't been spotted previously at his boss's D.C. hotel. So now, 26 of the 33 different officials who have served in President Trump's cabinet have visited the Trump Hotel D.C., according to 1100 Pennsylvania's analysis.
Politico also reported that senior advisor to the president Jared Kushner was the witness for Miller and Waldman's nuptials. In August 2018, Kushner's wife, White House advisor and minority hotel owner Ivanka Trump, called Miller's signature policy of separating children from their parents along the U.S.–Mexico border, a "low point" of her time in the White House. There are no reports of Ivanka having attended the wedding.
Another government official, senior advisor to the United States ambassador to Israel, officiated the wedding per The New York Times.
For details on the Miller and Waldman's wedding preparations, check out "Young, Conservative and Working for Trump? The Dating Pool Is Small" by Katie Rogers for The New York Times.
Based on social media posts (thank you for being so forthcoming about this "Trump administration wedding" former White Houses spokesperson Sarah Huckabee Sanders!), other notable attendees included former hotel residents Treasury Secretary Steve Mnuchin and his wife Louise Linton; House Minority Leader Kevin McCarthy (R–CA), who was also making at least his second visit to the hotel in a five-day stretch; acting chief of staff Mick Mulvaney; counselor to the president Kellyanne Conway; communications director Stephanie Grisham; deputy communications director Jessica Ditto; principal deputy press secretary Hogan Gidley; director of social media Dan Scavino; special advisor Pam Bondi; vice president Mike Pence's chief of staff, Marc Short; former chief of staff Reince Priebus; and Trump 2020 campaign advisor Mercedes Schlapp.
Additionally, Politico Playbook spotted Vice President Mike Pence and Karen Pence, Sen. Steve Daines (R-MT), Rep. Mark Meadows (R-NC), and Acting Homeland Security Secretary Chad Wolf.
And apparently a photo with the president in his hotel at the wedding of two of his administration officials allowed at least one friend of the bride's family to "Cross a few more things off the bucket list."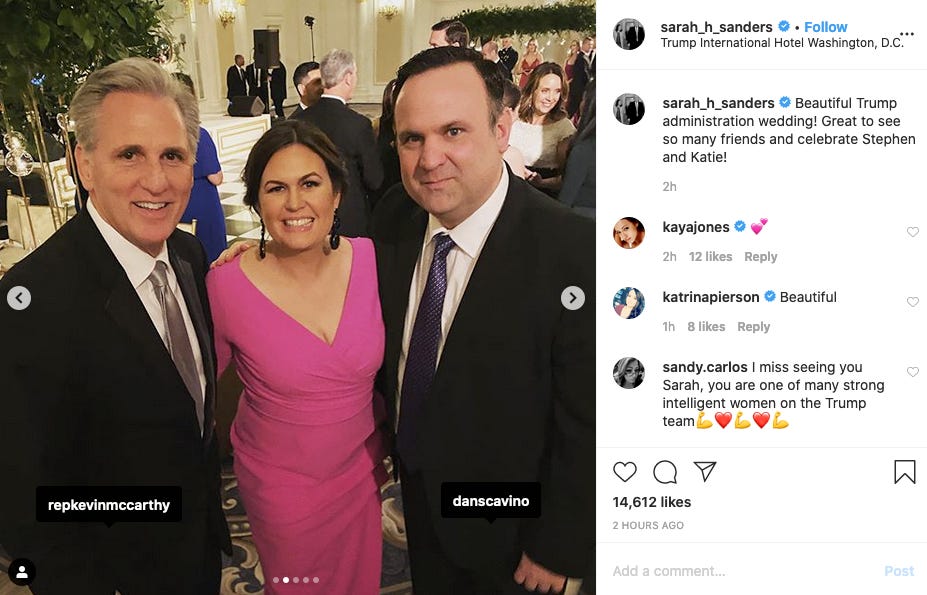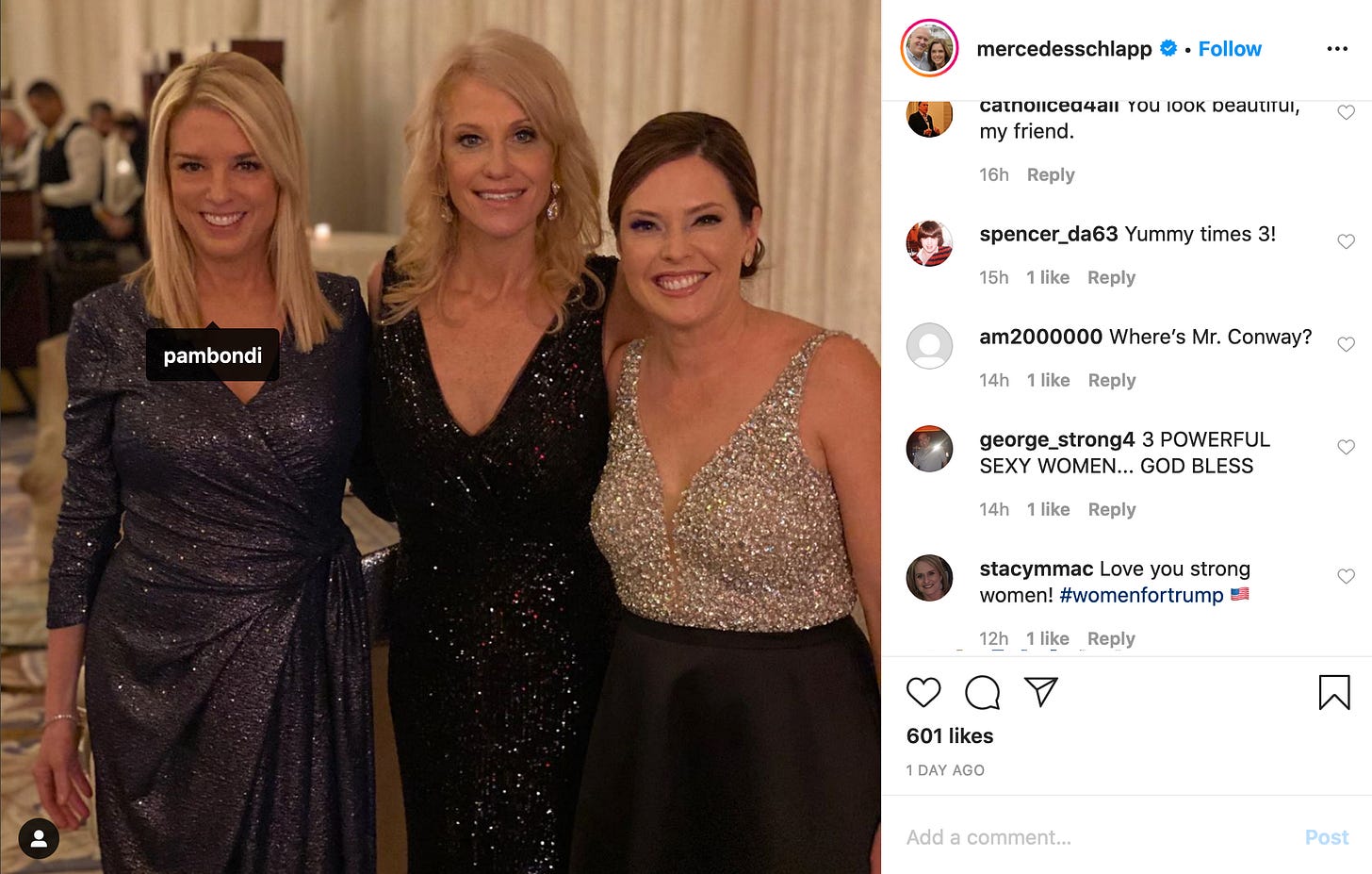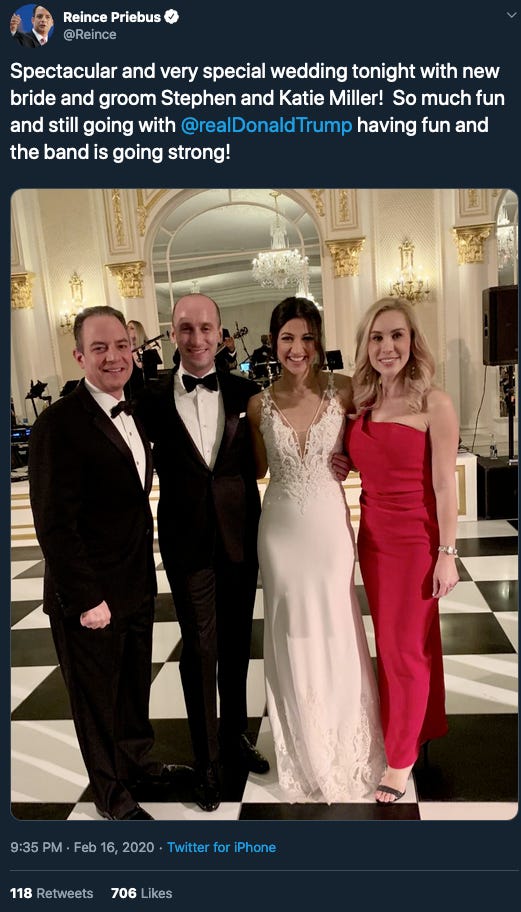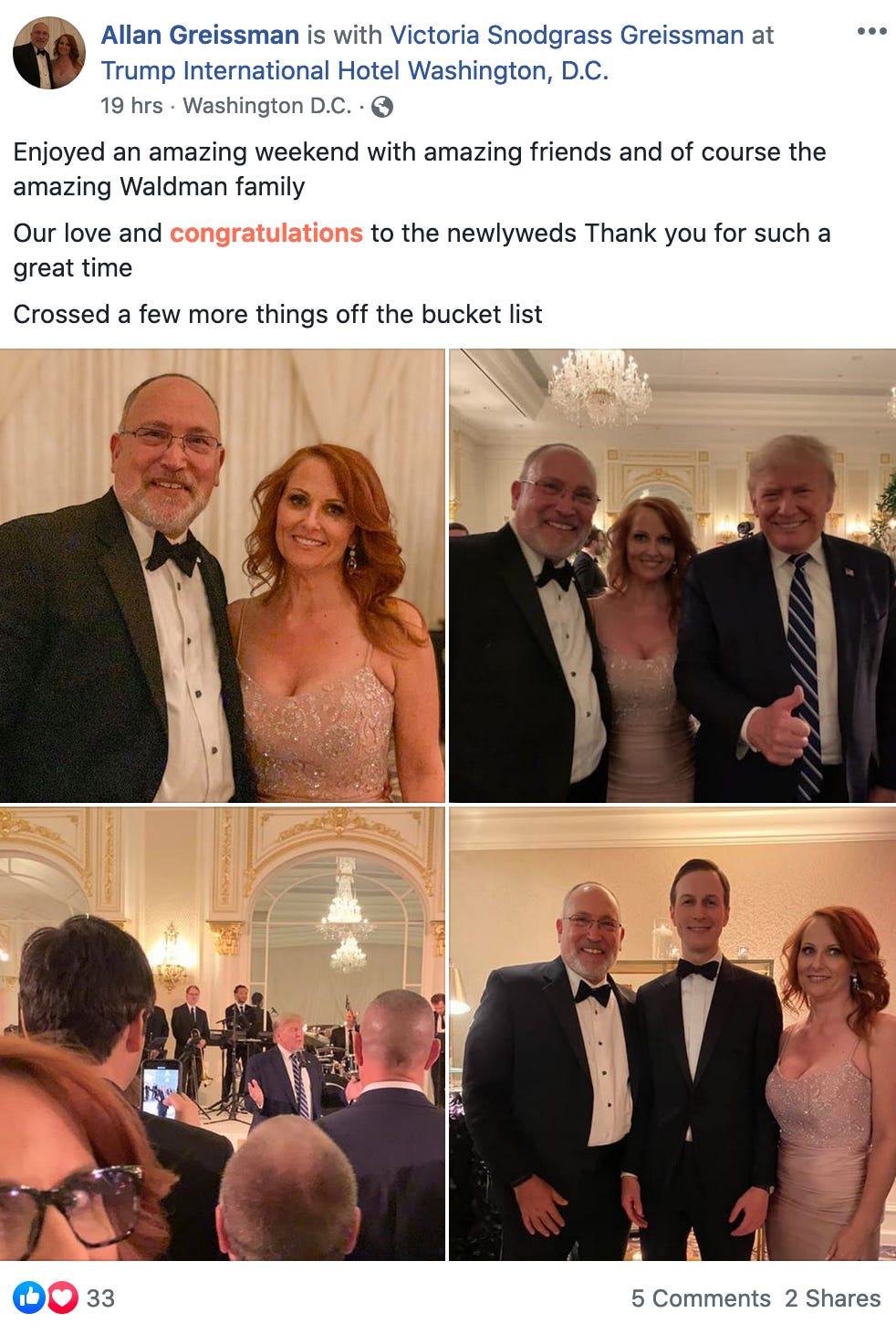 ---
Trump's unannounced visit with evangelical customers appeared pre-planned, per eyewitness
On Wednesday, as 1100 Pennsylvania first reported, President Trump addressed and prayed with a group of evangelical customers at his D.C. hotel in an appearance that was not on his schedule.
Rather than being a spur-of-the-moment swing by, however, the president's visit—which did not appear on his official schedule—with this women's group appeared to have been arranged in advance according to a person in the hotel that evening.
Per this eyewitness, upon entering the hotel, the president veered towards his hotel's presidential ballroom. But women entering a function room—on the other side of the building—were being screened by members of the Secret Service.
"This was the only area [where] the Secret Service were waiting other than the ballroom side," the person said.
This observer also saw agents sweep this room and guard its front door.
This eyewitness departed the hotel, however, before the president entered this function room. Trump's appearance there was first revealed by photos and videos on Instagram. While that post is no longer available, the picture of the president addressing this group—from behind a Trump Hotels-branded lectern—follows while video of these customers laying hands on the president is viewable on Twitter.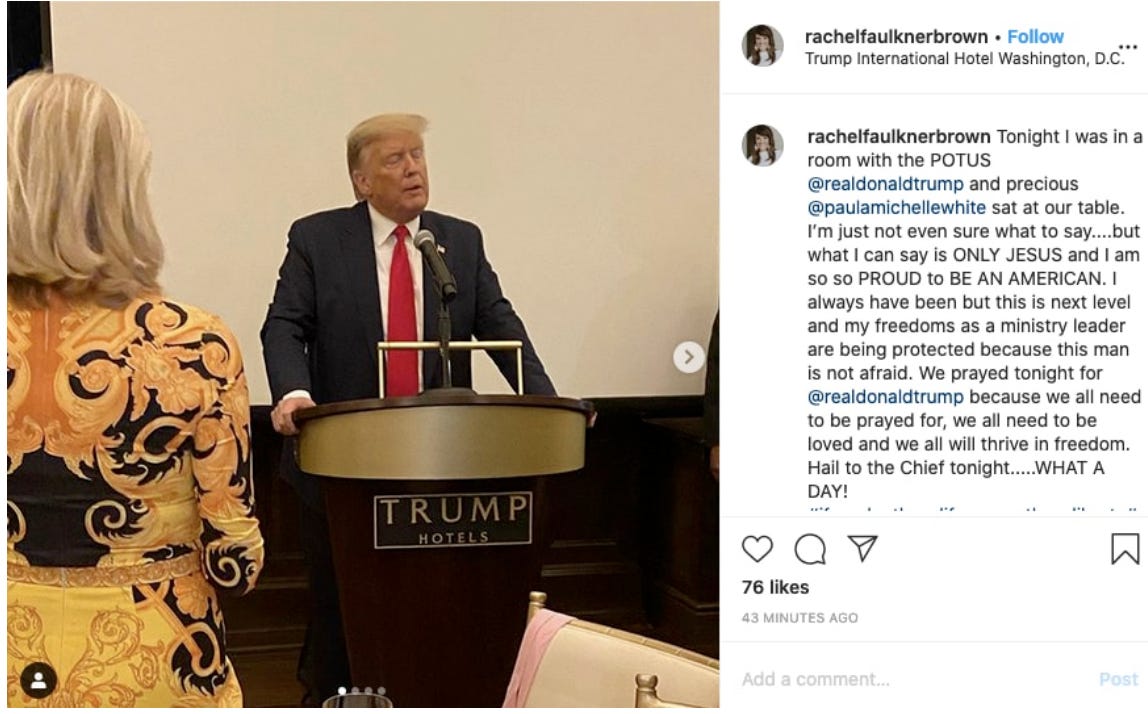 ---
1100 Pennsylvania's reporting reaches millions. Subscribe and ensure it continues.
Your correspondent recently appeared on MSNBC's "All In with Chris Hayes" to share 1100 Pennsylvania's reporting on the Trump Hotel D.C. with a prime time audience. Additionally, 1100 Pennsylvania's reporting recently was cited by The Atlanta Journal Constitution, The Daily Beast, The Daily Mail, The Hartford Courant, Inside Edition, NBC News, The New York Times, The Palm Beach Post, Stern, The Wall Street Journal, The Washington Examiner, The Washington Post, Washingtonian, and Yahoo News.
Thanks to 1100 Pennsylvania's paid subscribers who support in-depth reporting on who's paying Donald Trump and what they may want from the president, helping bring this information to a much wider audience. Paid subscriptions are this publication's sole source of revenue—no ads, no grants. Support this reporting and ensure it continues. Just $5 a month or $50 a year.
---
President's businesses celebrated Presidents' Day, violating Trump Org pledge
At least three of President Trump's brands commemorated Presidents' Day yesterday, flouting a Trump Organization's pre-inauguration promise.
Trump Org attorney Sherri Dillon at a Trump Tower press conference on Jan. 11, 2017 [bold added]:
[Donald Trump] has also directed that no communications of the Trump Organization, including social media accounts, will reference or be tied to President-elect Trump's role as president of the United States or the office of the presidency.
On Saturday, Trump Winery advertised a President's Day Sale (sticking with President's Trump's use of the singular possessive). Trump Palm Beach skipped the apostrophe altogether, while Trump Hotels picked its D.C. property to showcase.
---
Other notable sightings
A glimpse of the foreign officials, government employees, politicians, lobbyists, and the like who patronize or appear at Trump businesses. Most people shown here have reasons to want to influence the Trump administration, rely on its good graces for their livelihoods, or should be providing oversight. Additionally, high-profile guests serve as draws for paying customers.
Mar-a-Lago patrons enjoyed an upfront view of the First Couple apparently dancing.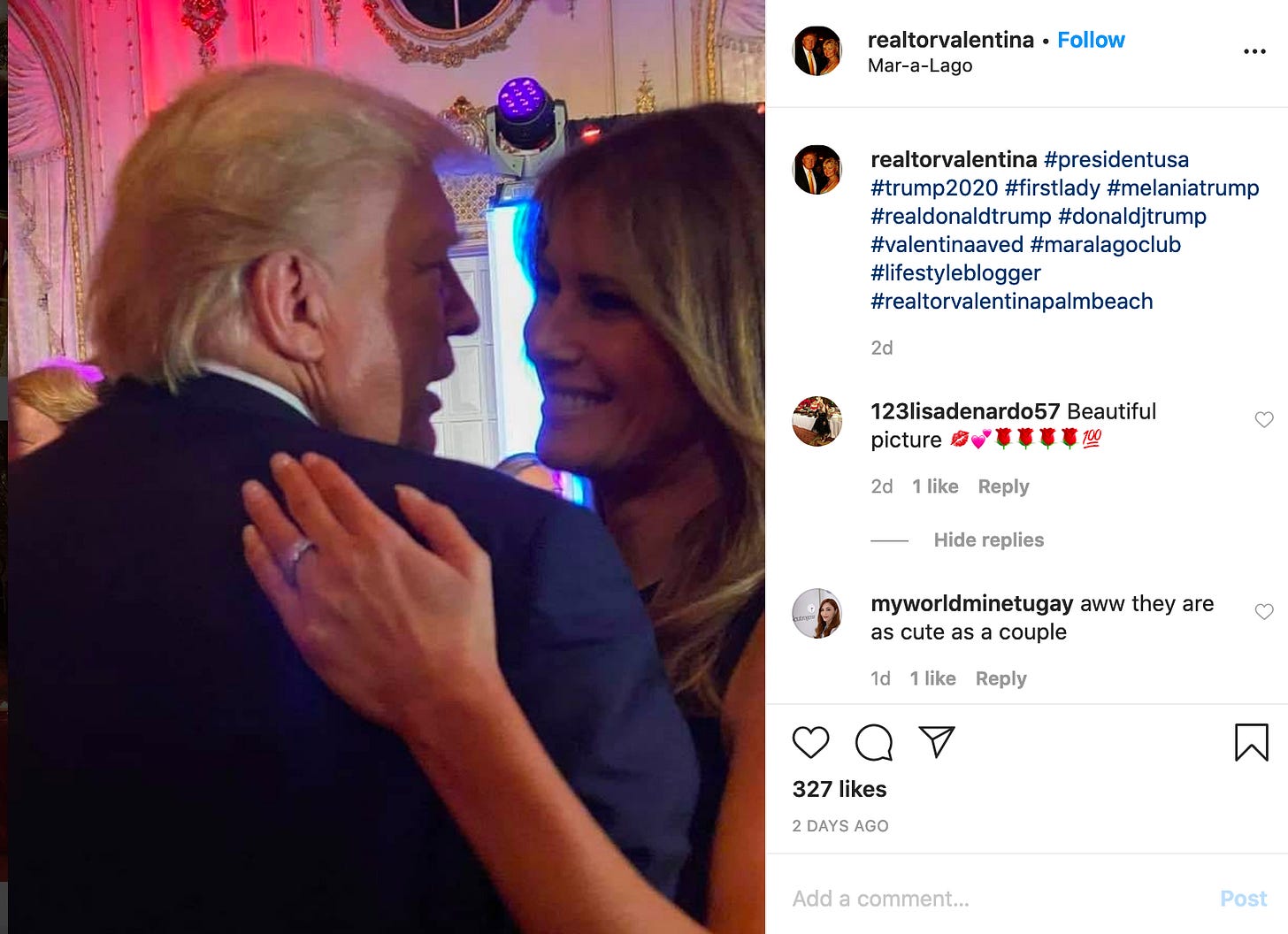 A Florida bounce-house provider marketed itself with a photo of the president posing behind its sign at his Palm Beach golf course.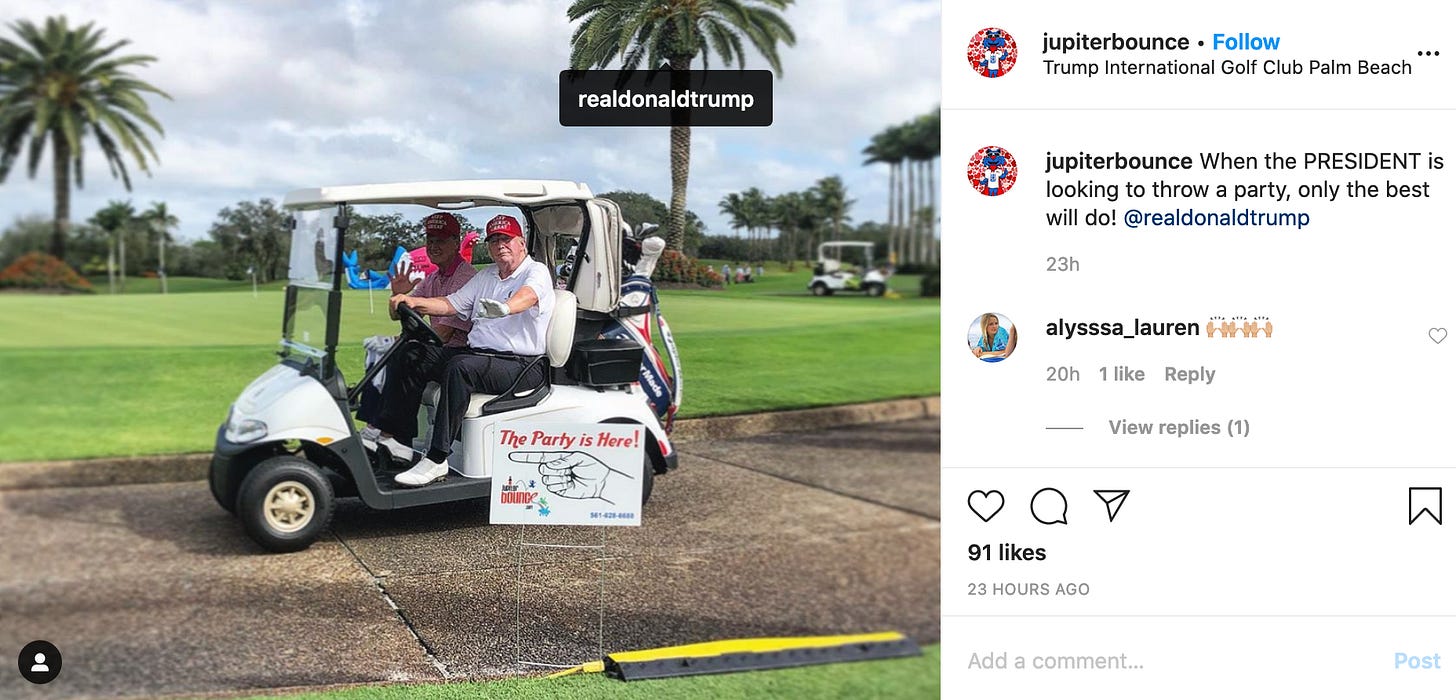 ---
Other Trump Organization news
---
Reference section
Links to rundowns of developments in the House's investigations and lawsuits, reference sheets for some of 1100 Pennsylvania's previous reporting, and articles that provide the background on why all of this matters. The date published or last updated is in parentheses.
Trackers
Notable hotel customers
Summaries
25 unimpeachable examples of Trump profiting from his hotel: Foreign governments, Trump administration, GOP lawmakers, industry all have called on the Trump Hotel D.C. since its owner became president (Sept. 27, 2019)

"Power tripping in the swamp: How Trump's D.C. hotel swallowed Washington
The MAGA social scene is a movable feast, but its dark heart resides within the Old Post Office Building, where the Trump Org operates under a mercenary charter" by your correspondent for Vanity Fair (October 2019)

"Inside the world's most controversial hotel: The hotel that was expected to take its place among the crown jewels of D.C.'s travel scene has become a magnet for protestors, a West Wing Annex, and—possibly—the center of a constitutional crisis." by your correspondent for Condé Nast Traveler (May 2018)
Upcoming key dates
Sept. 23, 2019—House Judiciary Committee hearing "Presidential corruption: Emoluments and profiting off the presidency" (postponed, not yet rescheduled)

Jan. 23, 2020—Trump Organization's deadline to bid for the lease rights to its D.C. hotel.

Feb. 21, 2020—Deadline for the General Services Administration to respond to questions about the possible sale of the hotel's lease from House Committee on Transportation and Infrastructure Chair Peter DeFazio (D–OR) and Subcommittee on Economic Development, Public Buildings, and Emergency Management Chair Dina Titus (D–NV)

March 3, 2020—Status hearing with D.C. Superior Court in former hotel employees' lawsuit alleging racial discrimination

March 31, 2020—Supreme Court hears Trump's appeal of earlier rulings requiring his financial institutions to comply with subpoenas from House Financial Services, Intelligence, and Oversight Committees and the New York district attorney's office

April 6, 2020—Deadline for parties to exchange witness lists in lawsuit alleging a shard of glass from a sabered bottle of champagne left a gash in a customer's chin

June 2020—Supreme Court decision due on Trump's appeal of earlier rulings requiring his financial institutions to comply with subpoenas from House Financial Services, Intelligence, and Oversight
---
Thanks for reading! If you like what you've read, tell someone. If you've been forwarded this newsletter, subscribe at 1100pennsylvania.substack.com. Questions? Read our FAQ. Tips or feedback? Contact Zach Everson at 1100Pennsylvania@protonmail.com (it'll be encrypted if you also use a ProtonMail account, which is free) or via Signal (secure), SMS, or mobile at 202.804.2744.