Discover more from 1100 Pennsylvania
"The undisputed expert on the D.C. Trump Hotel" – David Fahrenthold of the Washington Post
Over 3,000 subscribers
President's hotel eligible for $37,000 grant from D.C.'s official convention authority
Trump Hotel D.C. qualifies for COVID-19 relief from taxpayer-supported authority
The Trump Hotel D.C. is eligible for a grant of almost $38,000 from the city's convention and sports authority, Events D.C., as part of an $18 million COVID-19 tourism relief package announced in April and finalized last Friday. Most of Event D.C.'s funding comes from tax revenue.
Representatives from the Trump Organization have not responded to an inquiry asking if the hotel has or plans to apply for this grant.
From "Here are the details on Events D.C.'s grant program for hotels" by Rebecca Cooper of Washington Business Journal:
The relief will come in the form of a one-time grant. Each applicant is eligible to receive up to $144 per room…the 263-room Trump International Hotel up to $37,872…

At least 80% of the funding must be used for employee salaries and benefits, and the remainder can be used for operating costs that include security, elevator maintenance and supplies. The grant money cannot be used for rent or mortgage payments, and grantees will be required to submit receipts or documentation to show how the funding was spent. 
About 60 percent of Events D.C.'s funding is from tax revenue, according to a financial report it published in 2018. That money comes via a 4.5 percent tax on hotel rooms and a "1 percent tax on on restaurant meals, alcoholic beverages consumed on the premises, and automobile rental or leasing charges." The grant funds were pulled from Events D.C.'s reserves for disaster relief, reported Marissa J. Lang for The Washington Post. But it wasn't clear to 1100 Pennsylvania if that pool was built up from from tax receipts or other sources (which include "an IRS subsidy, lease income, a District transfer to Destination DC, and interest income," according to the aforementioned report).
Spokespeople for Events D.C. have not replied to an inquiry asking if taxpayer funds are supporting the grants, if the Trump Organization has applied for a grant, and if a list of grantees will be made public.
Applications are due on May 15, but grants are approved on a first-come, first-served basis according to Events D.C.
---
Trump plugged Turnberry on Twitter, showing he may be breaking pledge to 'isolate himself' from his businesses
Sunday morning, Donald Trump promoted one of his businesses on Twitter despite a promise that he'd separate himself from his company after his inauguration. It was at least the ninth time he's plugged one of his properties with a tweet while president, according to 1100 Pennsylvania's tally.
Trump was sharing news that Golf World Top 100 named a course at his money-losing, bailout-seeking Turnberry club the best in the United Kingdom and Ireland for 2020.
The tweet—again—brazenly breaks a pre-inauguration promise Trump made via Trump Organization attorney, Sheri Dillon [bold added]:
President-elect Trump wants there to be no doubt in the minds of the American public that he is completely isolating himself from his business interests. He instructed us to take all steps realistically possible to make it clear that he is not exploiting the office of the presidency for his personal benefit. He also sought the guidance of individuals who are familiar with and have worked extensively in the fields of government ethics and constitutional law
Also, by, "haven't played golf in a long time," the president means he's gone almost two months without visiting one of his courses.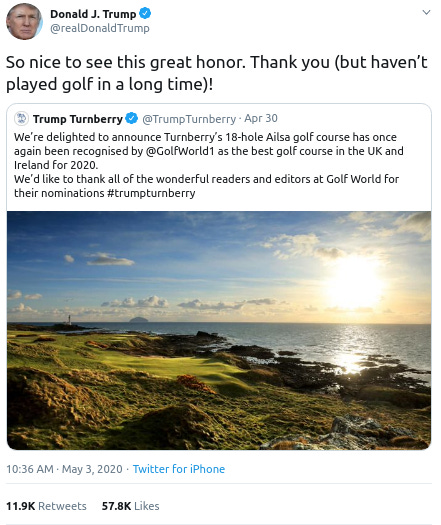 ---
1100 Pennsylvania's reporting reaches millions. Subscribe and ensure it continues.
Recently your correspondent appeared on Inside Edition to share 1100 Pennsylvania's reporting on the Trump Hotel D.C. Additionally, 1100 Pennsylvania has been cited by The Associated Press, The Atlanta Journal Constitution, Business Insider, Capital (French), The Daily Beast, The Daily Mail, The Guardian, The Hartford Courant, MSNBC, Ireland's Newstalk radio, NBC News, The New York Times, The Palm Beach Post, ProPublica and WNYC's Trump,Inc., Stern (German), The Wall Street Journal, The Washington Examiner, The Washington Post, Washingtonian, and Yahoo News.
Thanks to 1100 Pennsylvania's paid subscribers who support in-depth reporting on who's paying Donald Trump and what they may want from the president, helping bring this information to a much wider audience. Paid subscriptions are this publication's sole source of revenue—no ads, no grants. Support this reporting and ensure it continues. Just $5 a month or $50 a year.
---
Campaign expenditures
Trump Victory, the Trump campaign and Republican National Committee's joint fundraising committee, spent $163.60 on Feb. 27 for meals at its namesake's D.C. hotel. Trump Victory now has reported disbursing a total of $253,775.45 at the Trump Hotel D.C. And its total for all Trump properties is now $1,677,177.96. So while Donald Trump is donating his entire $400,000 annual presidential salary back to the government, his business has taken in more revenue from just one committee than what he'll be gifting over his entire term.

The National Republican Senatorial Committee spent $3,404.64 on March 16 for food and beverages at the head of the party's D.C. hotel. The NRSC now has reported disbursing a total of $32,322.73 at the Trump Hotel D.C.

---
Notable sightings
A glimpse of the foreign officials, government employees, politicians, lobbyists, and the like who patronize or appear at Trump businesses. (Or a lot of empty seats!) Most people shown here have reasons to want to influence the Trump administration, rely on its good graces for their livelihoods, or should be providing oversight. Additionally, high-profile guests serve as draws for paying customers.
Conservative pundit Paris Dennard—whom CNN suspended after The Washington Post reported he'd been fired from a previous job for alleged sexual harassment (Dennard has said the accusations are false)—plugged the Republican president's hotel on Twitter. Again.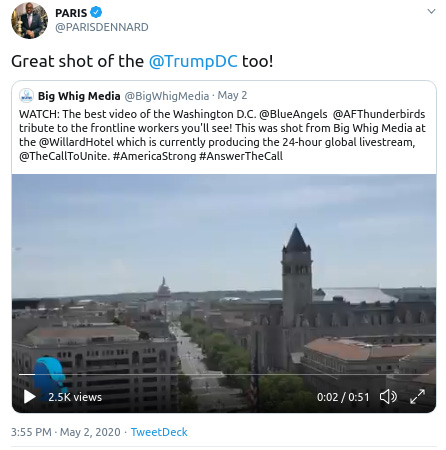 On Sunday, Turning Point USA northwest regional director Richard Armande Mills shared a throwback photo of himself in a tux at the Trump Hotel D.C.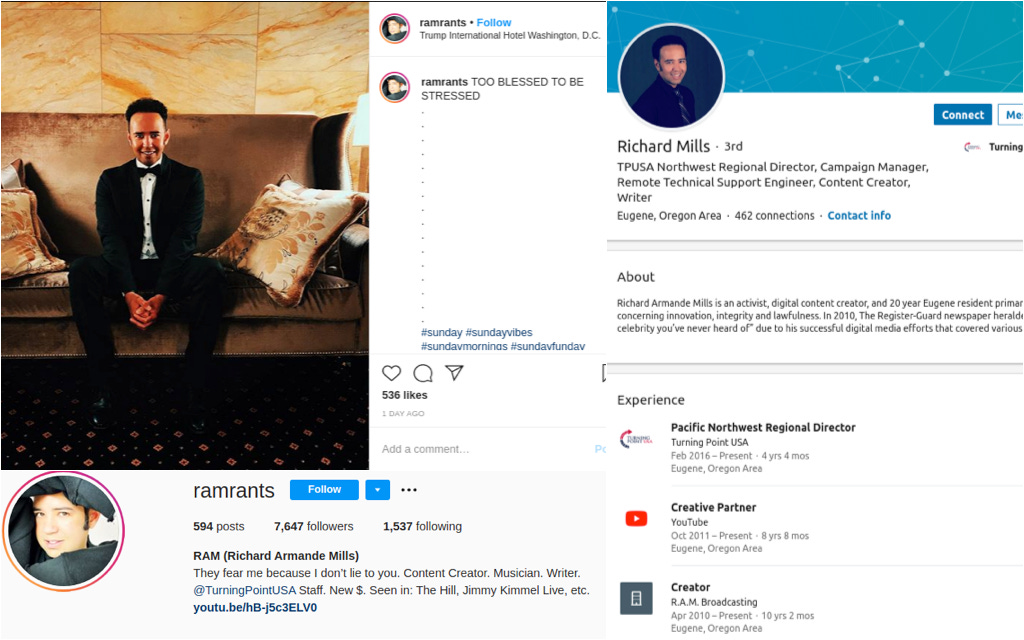 It's well known COVID-19 can't be caught or spread on Mother's Day at the Trump Hotel D.C.
---
Other Trump Organization news
---
Reference section
Links to rundowns of developments in the House's investigations and lawsuits, reference sheets for some of 1100 Pennsylvania's previous reporting, and articles that provide the background on why all of this matters. The date published or last updated is in parentheses.
Trackers
Notable hotel customers
Summaries
25 unimpeachable examples of Trump profiting from his hotel: Foreign governments, Trump administration, GOP lawmakers, industry all have called on the Trump Hotel D.C. since its owner became president (Sept. 27, 2019)

"Power tripping in the swamp: How Trump's D.C. hotel swallowed Washington
The MAGA social scene is a movable feast, but its dark heart resides within the Old Post Office Building, where the Trump Org operates under a mercenary charter" by your correspondent for Vanity Fair (October 2019)

"Inside the world's most controversial hotel: The hotel that was expected to take its place among the crown jewels of D.C.'s travel scene has become a magnet for protestors, a West Wing Annex, and—possibly—the center of a constitutional crisis." by your correspondent for Condé Nast Traveler (May 2018)
Upcoming key dates
Sept. 23, 2019—House Judiciary Committee hearing "Presidential corruption: Emoluments and profiting off the presidency" (postponed, not yet rescheduled)

May 12, 2020—Via telephone conference, the Supreme Court hears Trump's appeal of earlier rulings requiring his financial institutions to comply with subpoenas from House Financial Services, Intelligence, and Oversight Committees and the New York district attorney's office

May 29, 2020—Status hearing before D.C. Superior Court in former hotel employees' lawsuit alleging racial discrimination

June 2020—Before postponement of oral arguments due to a coronavirus-related closure, Supreme Court decision due on Trump's appeal of earlier rulings requiring his financial institutions to comply with subpoenas from House Financial Services, Intelligence, and Oversight

Aug. 10, 2020—Scheduling conference before D.C. Superior Court in D.C. attorney general's lawsuit alleging improperly spent nonprofit funds by the Trump Hotel D.C. and Trump's inaugural committee

Oct. 29, 2020—Mediation session in at least a one-time Trump appointee in the Commerce Department's lawsuit against the Trump Hotel D.C., alleging a shard of glass from a sabered bottle of champagne left a gash in her chin
---
Thanks for reading! If you like what you've read, tell someone. If you've been forwarded this newsletter, subscribe at 1100pennsylvania.substack.com. Questions? Read our FAQ. Tips or feedback? Contact Zach Everson at 1100Pennsylvania@protonmail.com (it'll be encrypted if you also use a ProtonMail account, which is free) or via Signal (secure), SMS, or mobile at 202.804.2744.