Discover more from 1100 Pennsylvania
"The undisputed expert on the D.C. Trump Hotel" – David Fahrenthold of the Washington Post
Over 3,000 subscribers
Proud Boys standing by at Trump Hotel D.C.: Photos from the archives
'America's Living Room' enables hate group members, white nationalists to pay the president and mingle with some of his top advisors
"Proud Boys — stand back and stand by."
– President Donald J. Trump, Sept. 29, 2020
In an undated photo taken in the Trump Hotel D.C.'s lobby, then-White House spokesperson Sarah Huckabee Sanders smiled with Enrique Tarrio, the Proud Boys international chair.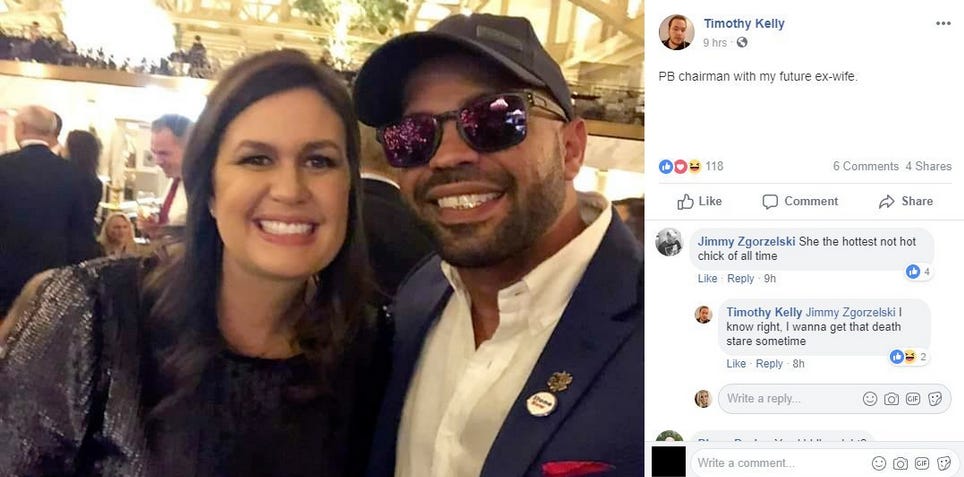 In June 2019, then-White House counselor Kellyanne Conway stood shoulder to shoulder in her boss's D.C. hotel with Proud Boy Tyler Ziolkowski. His t-shirt reads "Pinochet did nothing wrong."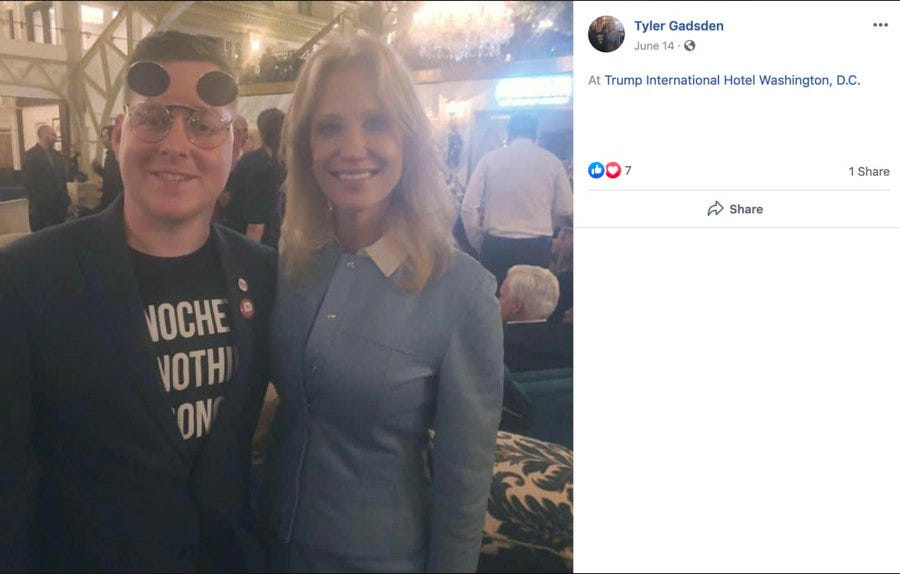 "Gotta love the ProudBoys. Thanks for keeping us safe from the crazies!" — Former GOP primary candidate for a U.S. House seat in California DeAnna Lorraine, Oct. 30, 2018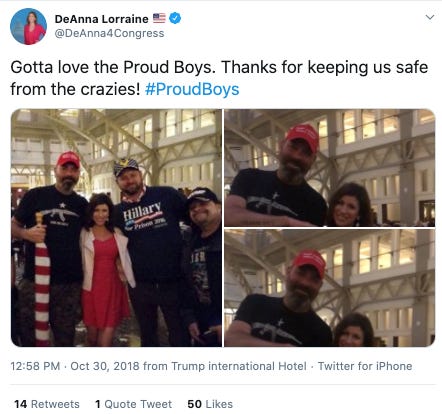 Founder of the Florida chapter of the Proud Boys Ziolkowski (who's also used the name Tyler Whyte) dined at the Trump Hotel D.C.'s steakhouse sometime before Aug. 24, 2018.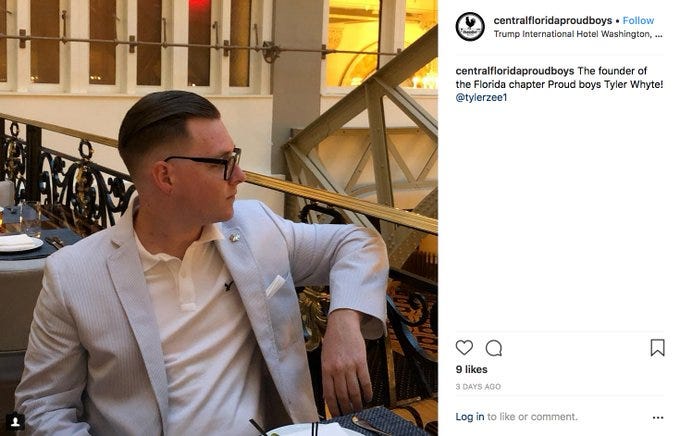 In the summer of 2019, Proud Boy Luke Rohlfing posed with one-time GOP primary candidate for U.S. Congress in Pennsylvania Bobby Jeffries (he withdrew before the election).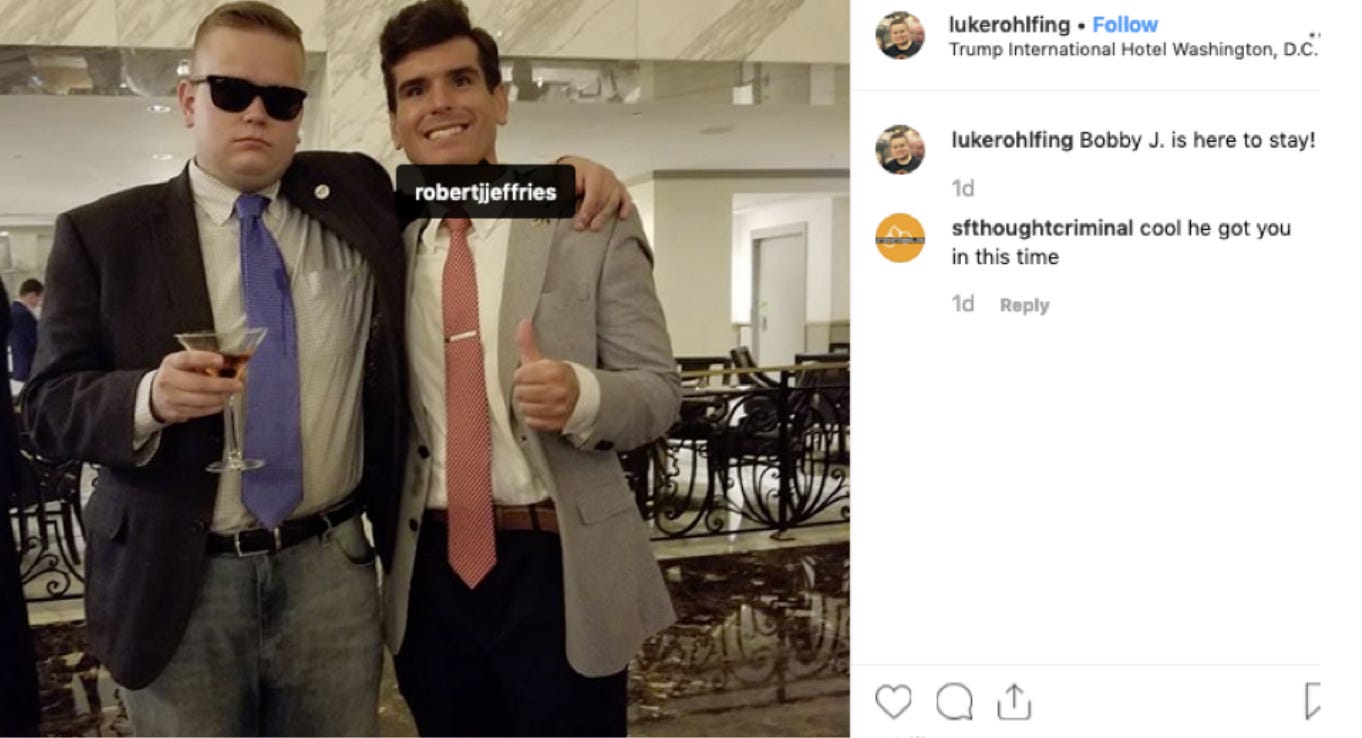 Rohlfing also tried to stick it to Mother Jones from the Benjamin Bar in the summer of 2019.
---
Support this reporting: Share it
By sharing 1100 Pennsylvania with your readers, social-media followers, co-workers, and friends, you can help this essential reporting reach a larger audience. Thanks!
---
Notable other sightings of hate-group leaders and white nationalists
In May 2019, Attorney General William Barr posed in the hotel's steakhouse with Brigitte Gabriel. She's the founder and chair of ACT! for America. The Southern Poverty Law Center designates that organization as a hate group: "ACT for America is listed as an anti-Muslim hate group because it pushes wild anti-Muslim conspiracy theories, denigrates American Muslims and deliberately conflates mainstream and radical Islam."
In 2019, Mar-a-Lago cancelled ACT! for America's planned gala at the resort, but only after the event drew negative media coverage.
The Trump Org has had no qualms profiting off Gabriel on many other occassions, as 1100 Pennsylvania reported last October. Tuesday night, Gabriel was back at the Trump Hotel D.C. for a debate watch party. "What a great evening it's going to be!," she said, before adding that she'd be visiting the White House on Wednesday [due to a formatting constraint, select the link to watch the video].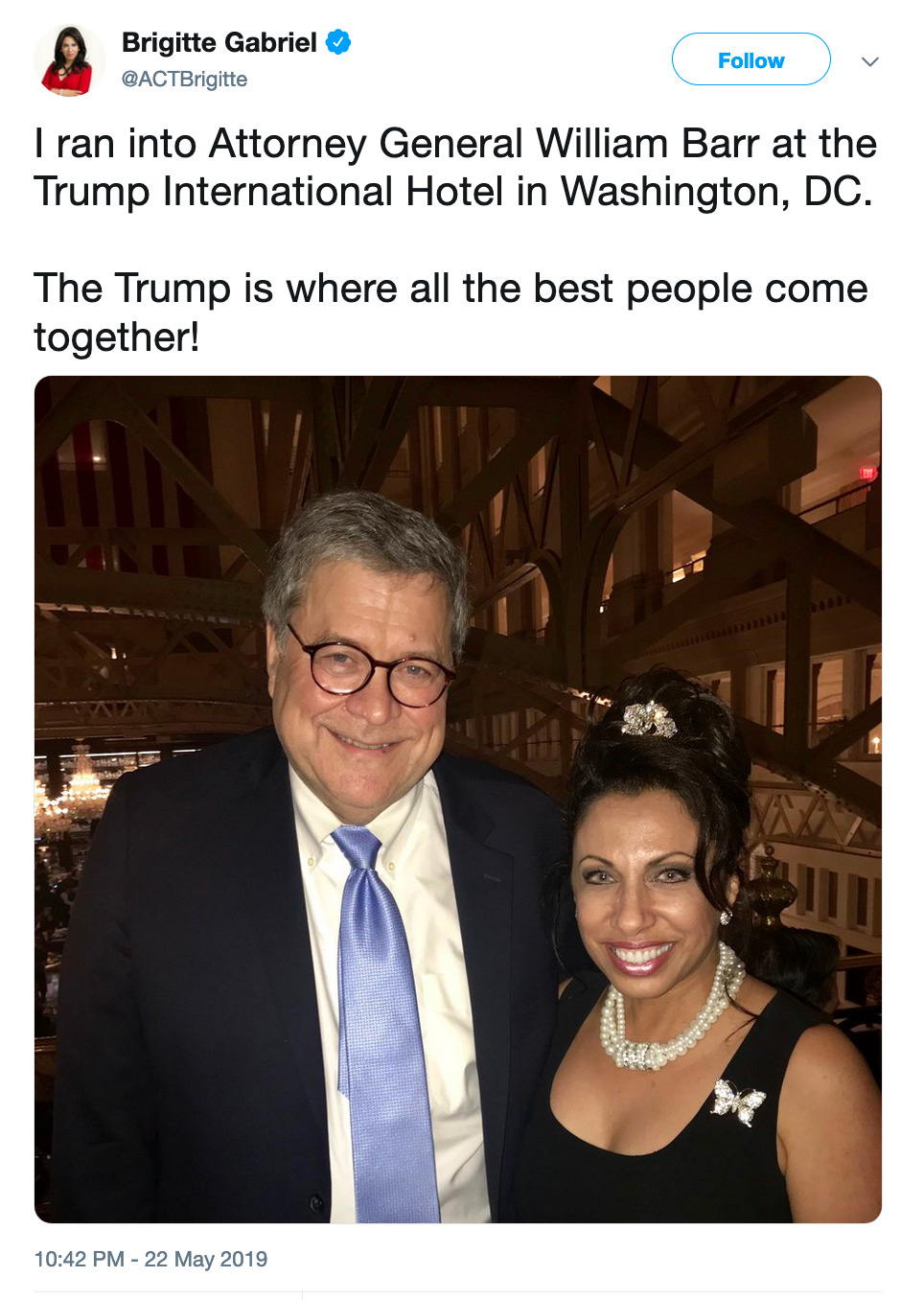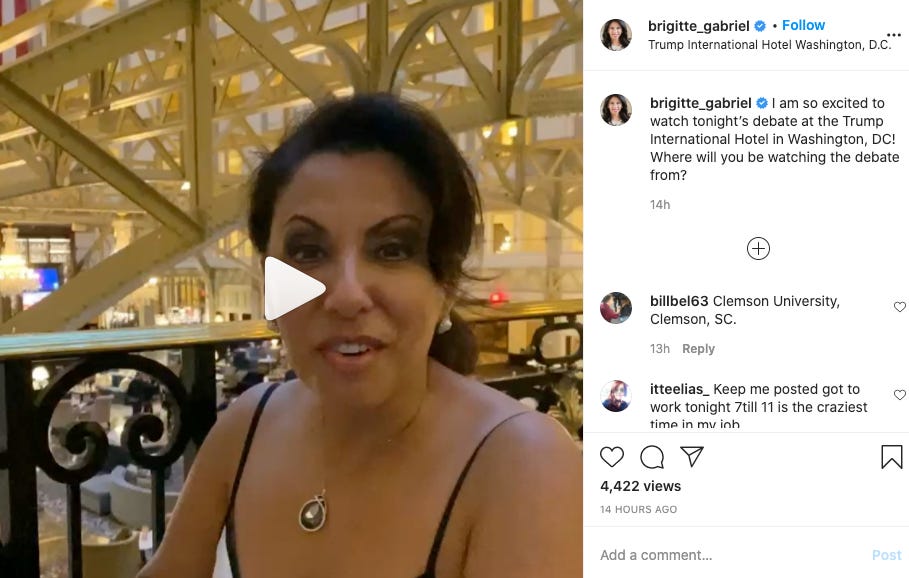 From "Trump Hotel at night: Lobbyists, cabinet members, $60 steaks" by Katie Rogers for The New York Times on Aug. 25, 2017:
Among those who spotted the pair was Evan McClaren, a white nationalist who was at the hotel with Richard B. Spencer, another white nationalist.

"Place to be," Mr. McClaren wrote on Twitter of the sighting.

Mr. McClaren declined to answer phone calls or emails asking about his trip to the hotel. He said he was too busy planning a rally in Charlottesville, Va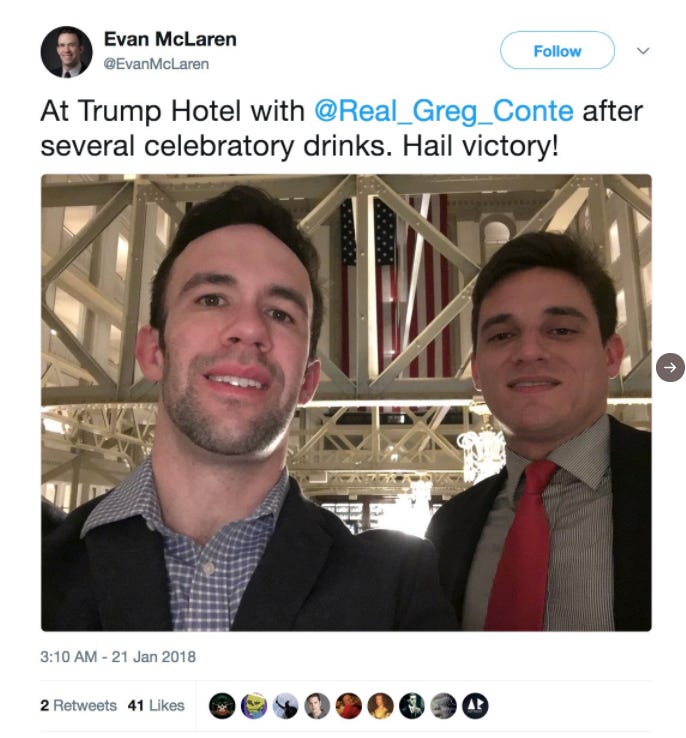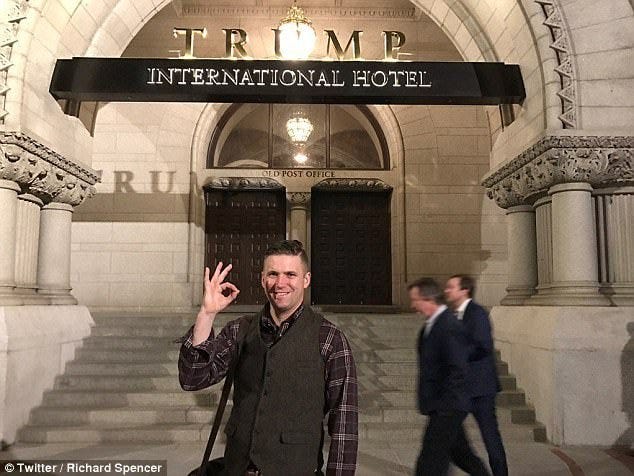 ---
Reference section
Links to rundowns of developments in the House's investigations and lawsuits, reference sheets for some of 1100 Pennsylvania's previous reporting, and articles that provide the background on why all of this matters. The date published or last updated is in parentheses.
Trackers
Notable hotel customers
Summaries
"Stay to play: Inside the sordid history of Trump's D.C. hotel—And why the president's prized property could be headed for a reckoning" by your correspondent for Mother Jones (September 2020)

"Power tripping in the swamp: How Trump's D.C. hotel swallowed Washington
The MAGA social scene is a movable feast, but its dark heart resides within the Old Post Office Building, where the Trump Org operates under a mercenary charter" by your correspondent for Vanity Fair (October 2019)

"Inside the world's most controversial hotel: The hotel that was expected to take its place among the crown jewels of D.C.'s travel scene has become a magnet for protestors, a West Wing Annex, and—possibly—the center of a constitutional crisis." by your correspondent for Condé Nast Traveler (May 2018)
Upcoming key dates
Sept. 23, 2019—House Judiciary Committee hearing "Presidential corruption: Emoluments and profiting off the presidency" (postponed, not yet rescheduled)

Sept. 14, 2020—Discovery scheduled to end in a one-time Trump appointee's lawsuit against the Trump Hotel D.C., alleging glass from a sabered bottle of champagne left a gash in her chin.

Oct. 15, 2020—Deadline for State Department to start turning over documents related to its spending at Trump properties in response to a lawsuit filed by The Washington Post.

Dec. 9, 2020—Deadline for exchanging witness lists in the D.C. attorney general's lawsuit alleging improperly spent nonprofit funds by the Trump Hotel D.C. and Trump's inaugural committee.
---
Thanks for reading! If you like what you've read, tell someone.
If you've been forwarded this newsletter, subscribe at 1100pennsylvania.substack.com to support independent journalists dedicated to who's paying the president.
If you're a paid subscriber and would like to post a comment—or if you would like to view comments from paid subscribers—click the comment button.
Questions? Read our FAQ. Tips or feedback? Contact Zach Everson at 1100Pennsylvania@protonmail.com (it'll be encrypted if you also use a ProtonMail account, which is free) or via Signal (secure), SMS, or mobile at 202.804.2744.