Rand Paul to be honored at Trump's hotel
Trump political who resigned after making 'anti-Muslim comments' involved in organizing this 'black tie affair'
Frontiers of Freedom's Reagan gala dinner will honor Sen. Rand Paul (R–KY) at the Trump Hotel D.C. on June 11.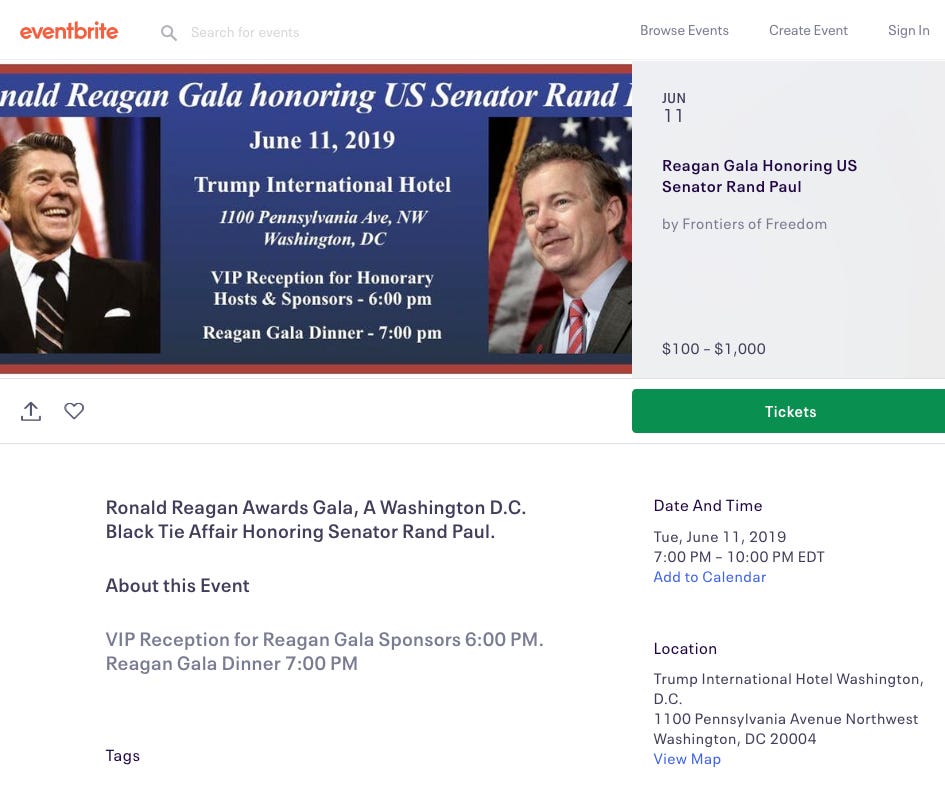 "Donors love that location, and when you're raising money it makes sense to hold events where the donors like to be," said Kelsey Cooper, a spokesperson for Paul when asked in 2018 about the senator's campaign spending money at the Trump Hotel D.C. (as reported by Ben Wieder and Anita Kumar for McClatchy).
The event's host, Frontiers of Freedom is a think tank, "standing for individual freedom, peace by strength, limited government, free markets, and traditional American values."
Tickets for adults are $275 and $1,000 (the higher-priced option comes with a VIP reception invite and photo opportunity). Reserved tables for 10 range from $5,000 to $10,000. Students and young conservatives can dine for $100, but they won't get any wine.
According to her Facebook posts, Ximena Barreto is working on the event for Frontiers of Freedom. She's a former Trump political appointee in the Department of Health and Human Services who resigned after CNN and Media Matters reported she'd "spread conspiracies and made anti-Muslim comments."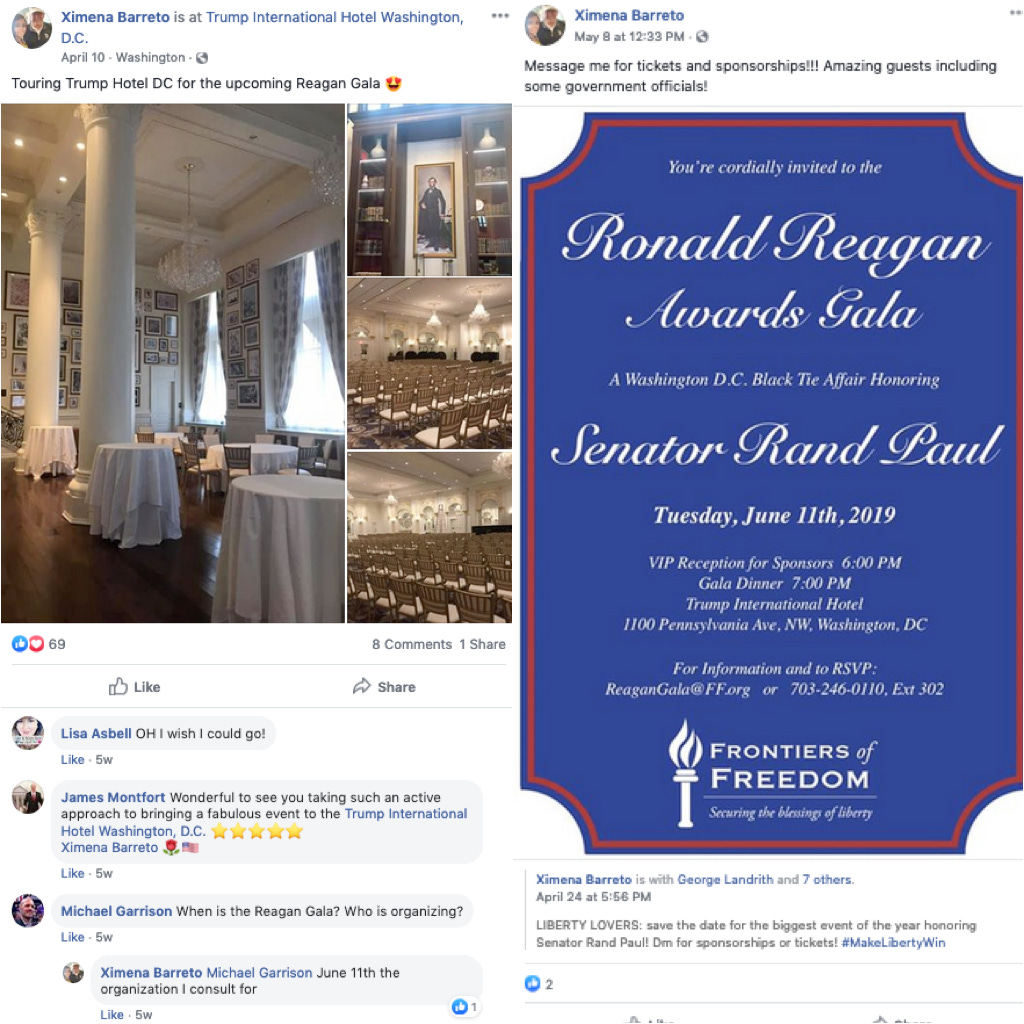 Barreto, a Trump Hotel D.C. regular, also said she chatted with the president a couple of weeks ago, apparently at his Sterling, Virginia golf course. While they reportedly discussed her resignation, she didn't mention if she also told the president about the business she was helping bring to his hotel.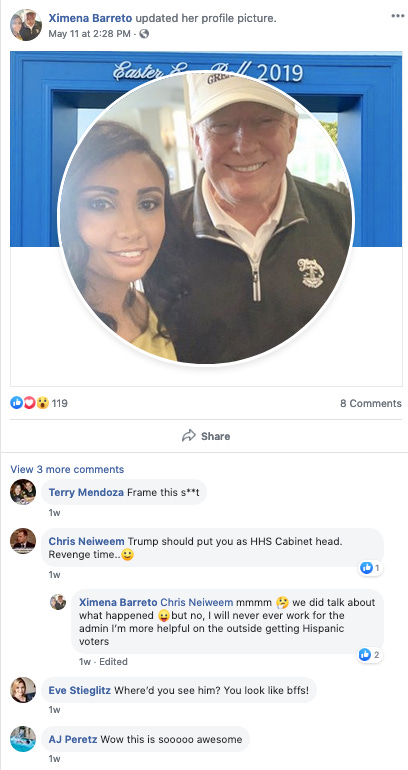 ---
Monday, judge ruled House can get Trump's financial records; Tuesday, Trump appealed
From "Trump appeals ruling clearing House to receive his financial records" by Josh Gerstein for Politico:
Trump's attorneys on Tuesday filed a brief notice appealing Washington-based U.S. District Judge Amit Mehta's Monday decision rejecting the president's demand for a preliminary injunction that would block his longtime accounting firm Mazars USA from handing over records subpoenaed by the House Oversight and Reform Committee.

The appeal will head to the U.S. Court of Appeals for the D.C. Circuit, but Trump will need urgent relief from that court since Mehta refused the president's request for a stay. As a result, without a further order from a higher court, the accountants could be compelled to turn over the records as early as next week.
In a statement after Mehta's decision, House Oversight chair Rep. Elijah Cummings (D–MD) said, "Today's decision is a resounding victory for the rule of law and our Constitutional system of checks and balances."
Read Meha's decision and Trump's appeal.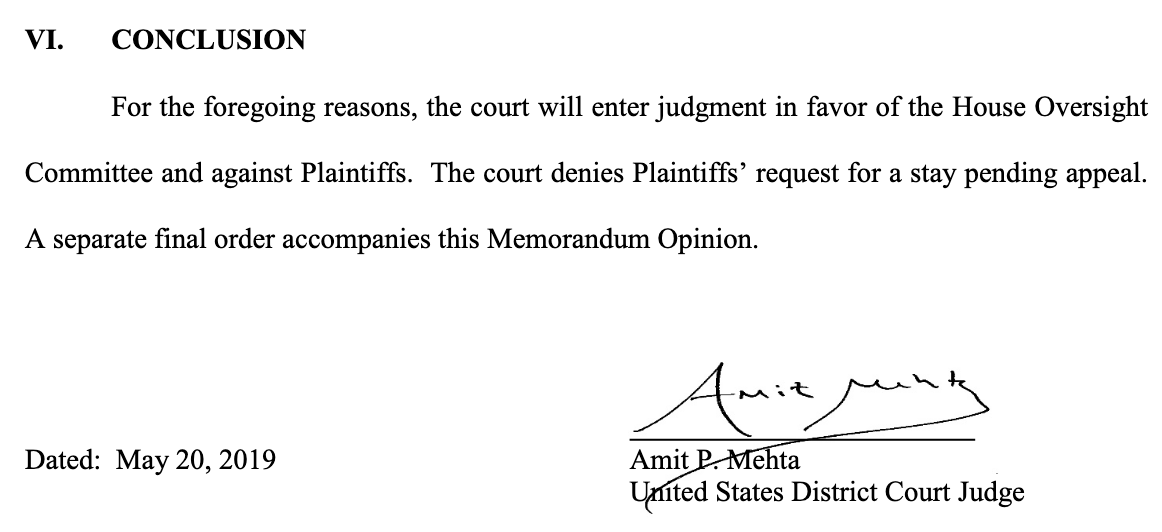 ---
WalkAway gala steps into a Trump profit center
A movement encouraging Democrats to leave their party behind, WalkAway celebrated its first anniversary at the Trump Hotel D.C. on Friday and Saturday nights.
Tickets started at $250. All rooms in the event's block were booked, per its web page. The WalkAway campaign was founded by Brandon Straka, a gay former Democrat.
Based on social-media posts, many attendees are Trump Hotel D.C. regulars who basically had to walk away from their usual spots by the bar and head to the ballroom. Those folks included
America's answer to Umberto Eco, Jacob Wohl

pro-Trump speaker David Harris Jr.

Blaze TV's White House correspondent, Jon Miller

political consultant, Fox News pundit, and Trump campaign advisory board member Harlan Hill

former advisor to Nigel Farage and Steve Bannon, Raheem Kassan

pro-Trump pastor Mark Burns, who plugged the hotel's bacon (it was his second different Trump property in four days, having attended an American Pro-Israel PAC party at Mar-a-Lago last Tuesday)

the RNC's director of digital operations, Alex Sarp, and SMS marketing manager, Quinnlan Ayres

Senate Republican Conference digital strategist Ruben Verastig

One American News Network's White House correspondent, Chanel Rio, videographer Bonnie Breuner

the founder of Constitutional Millennials, president at D.C. Digital, and former intern and spokesperson for the Trump campaign, Christianne' L. Allen,

Breitbart filmmaker Matthew Perdie

founder and president of the Second Amendment Institute, Tyler Yzaguirre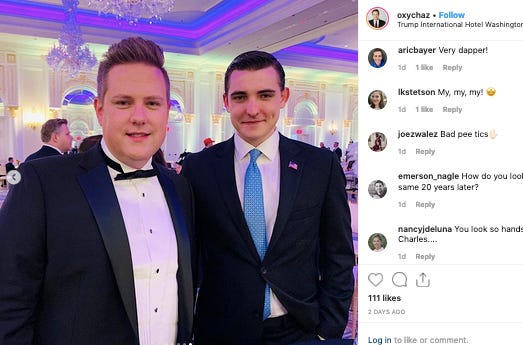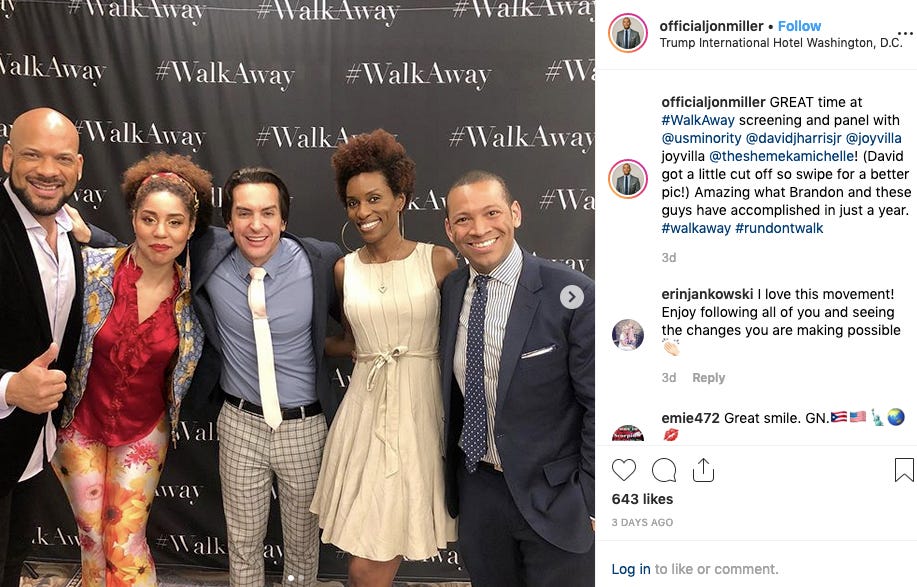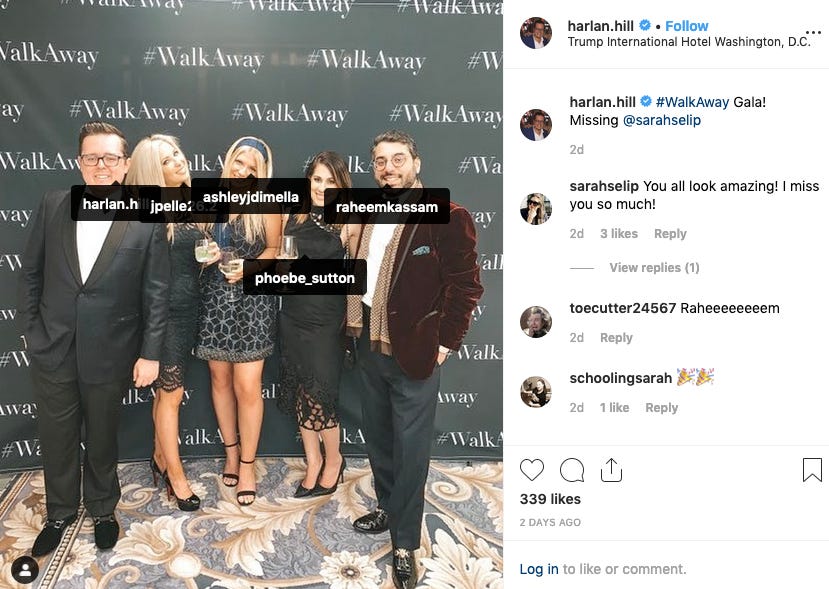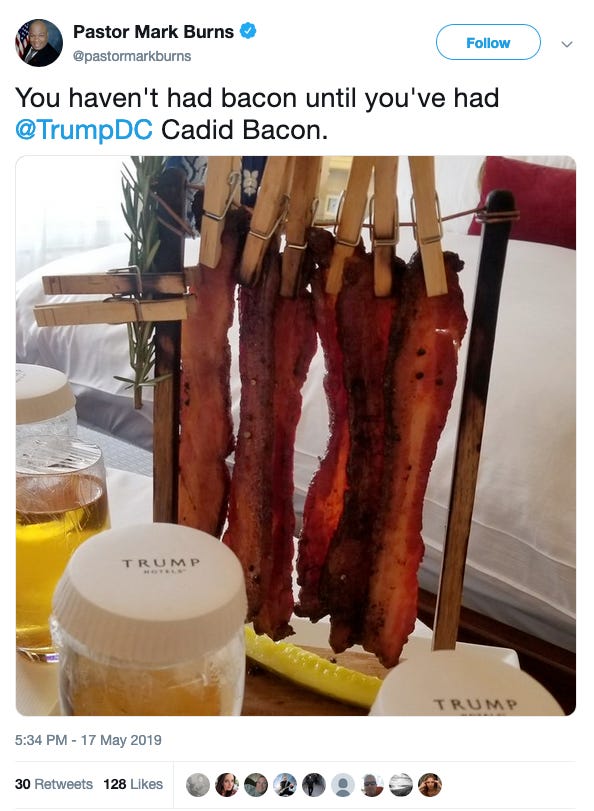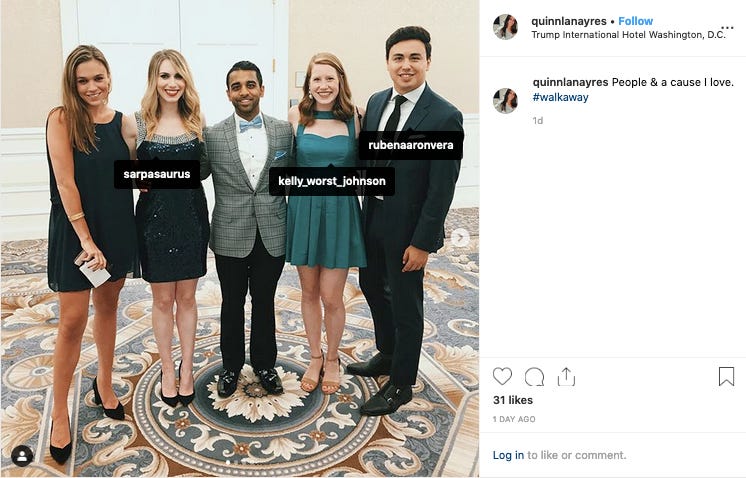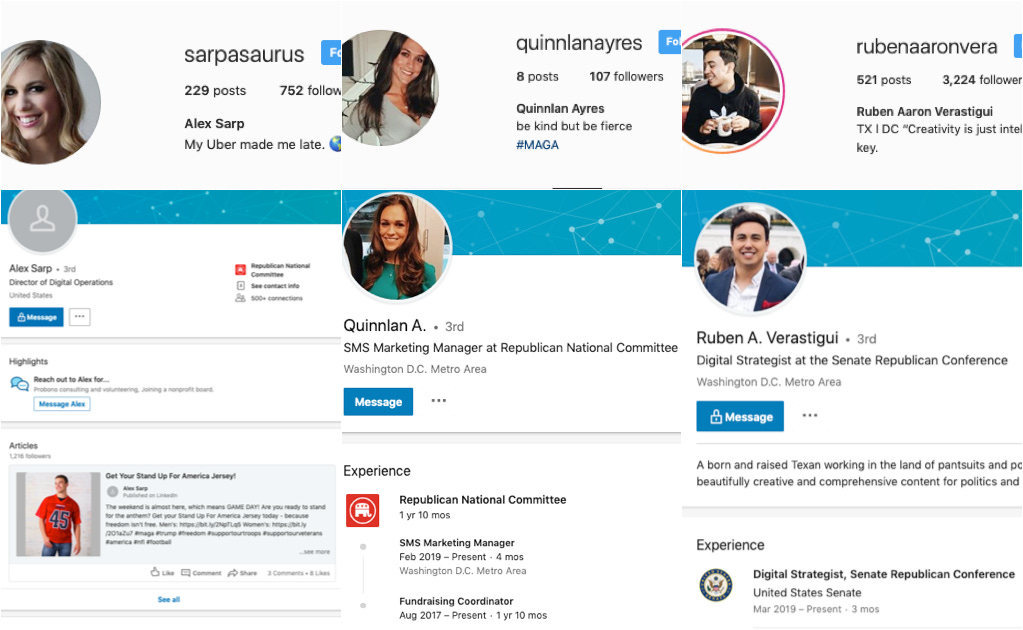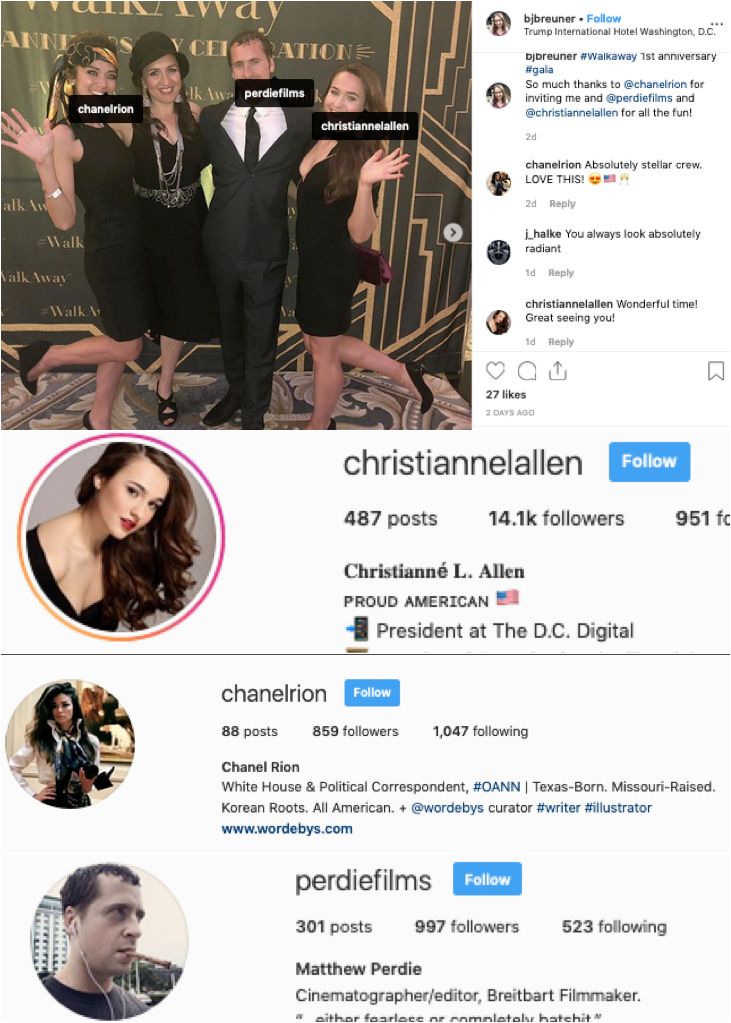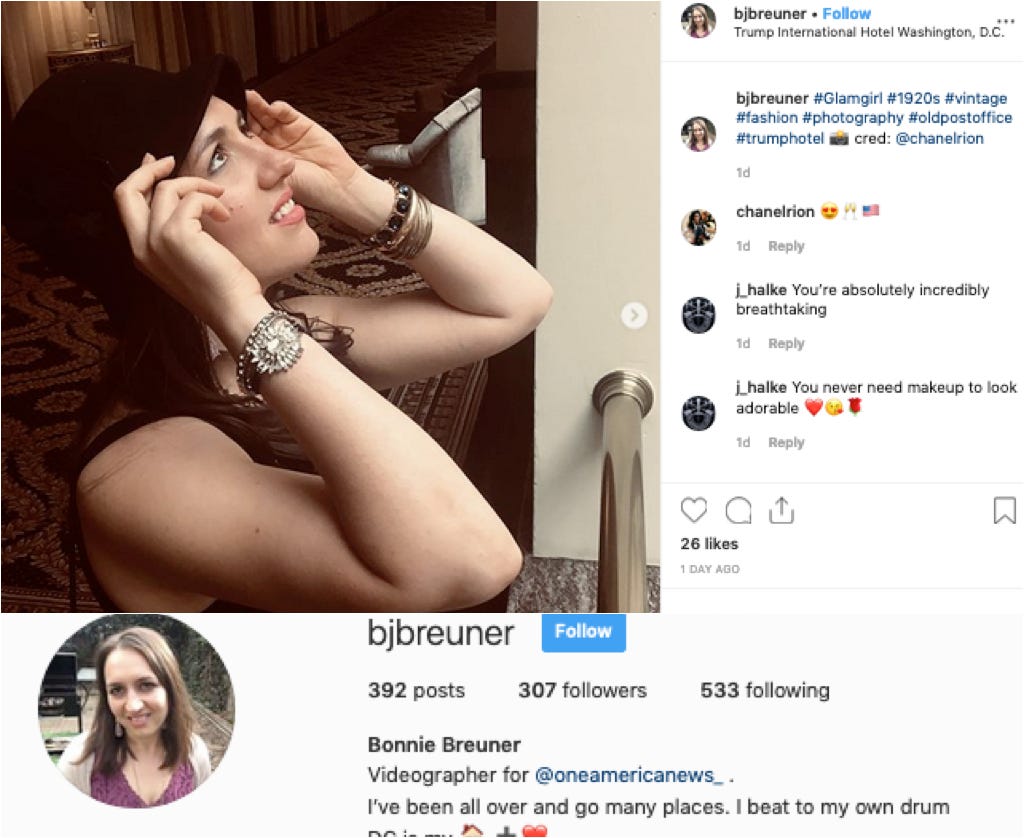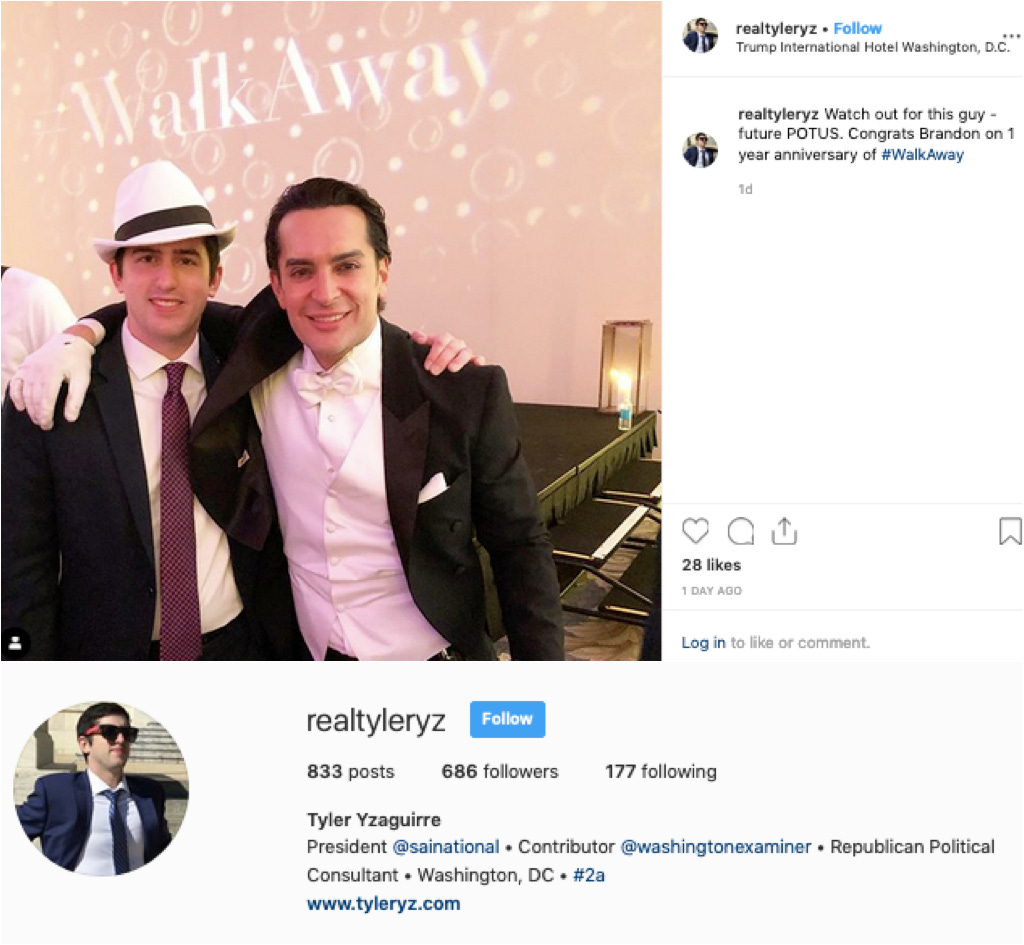 ---
Support 1100 Pennsylvania: never-redacted reporting on President Trump's D.C. hotel
We now know most of what's in the Mueller report. It's time to focus on what happens inside the Trump Hotel D.C. and the president's other businesses. Original, in-depth reporting, of course, takes time. But it's making an impact—and you can help. If you're not an 1100 Pennsylvania member, please become one. Memberships are this newsletter's sole source of revenue. Select the red "Subscribe now" button and become a member by paying just $5 a month or $50 a year. Thank you.
---
Canadian billionaire/U.S. political donor dined with President Trump at the Trump Hotel D.C.
From "He's one of the biggest backers of Trump's push to protect American steel. And he's Canadian." by Eric Lipton for The New York Times:
That lobbying effort was how he and his wife found themselves being ushered into a private dining room at the Trump International Hotel in Washington last spring for a small dinner with the president and his son Donald Trump Jr. Mr. Zekelman said they discussed quotas the United States was about to impose on imports of steel from competitors in South Korea…

The success of his tactics has not gone unnoticed by competitors. The American-Turkish Council, whose sponsors include Borusan Mannesmann, moved its annual meeting from the Ritz-Carlton hotel to the Trump International Hotel in Washington. Among the guests at the event last month were Mr. Ross, the commerce secretary.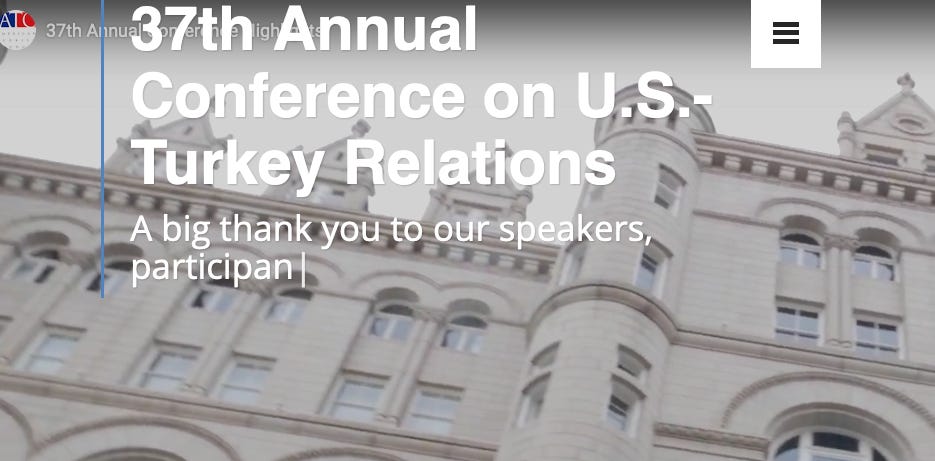 ---
Other recent and upcoming events at Trump properties
Trump Los Angeles hosted the Palos Verdes Peninsula Chamber of Commerce's salute to business luncheon on May 16.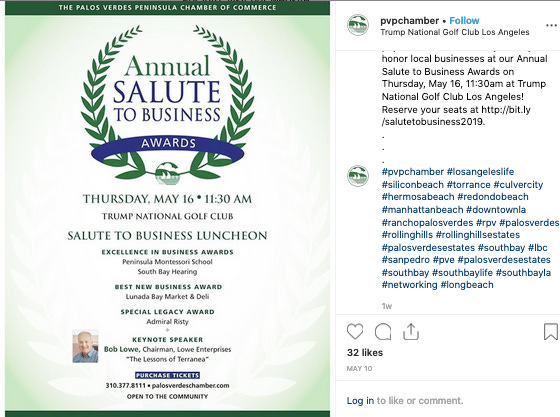 The inaugural Premier Golf Classic was played at Trump Charlotte May 19–20, as 1100 Pennsylvania had previewed. It benefited the Premier Foundation, "an international Christian non-profit organization committed to being a voice for the disadvantaged." It announced it raised $98,000—and that it will return to the U.S. president's golf course next year. Trump Charlotte's Instagram account promoted the charity.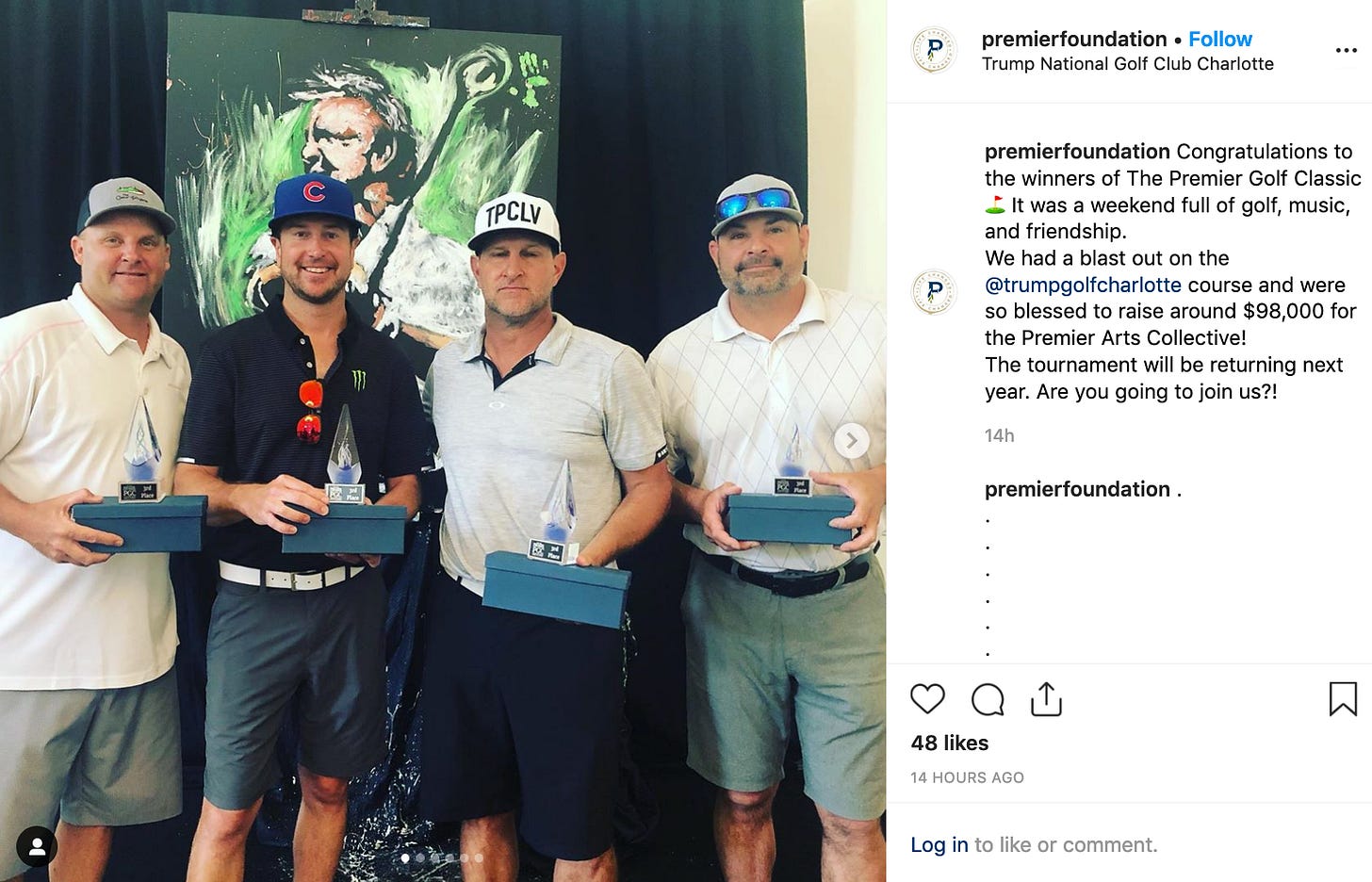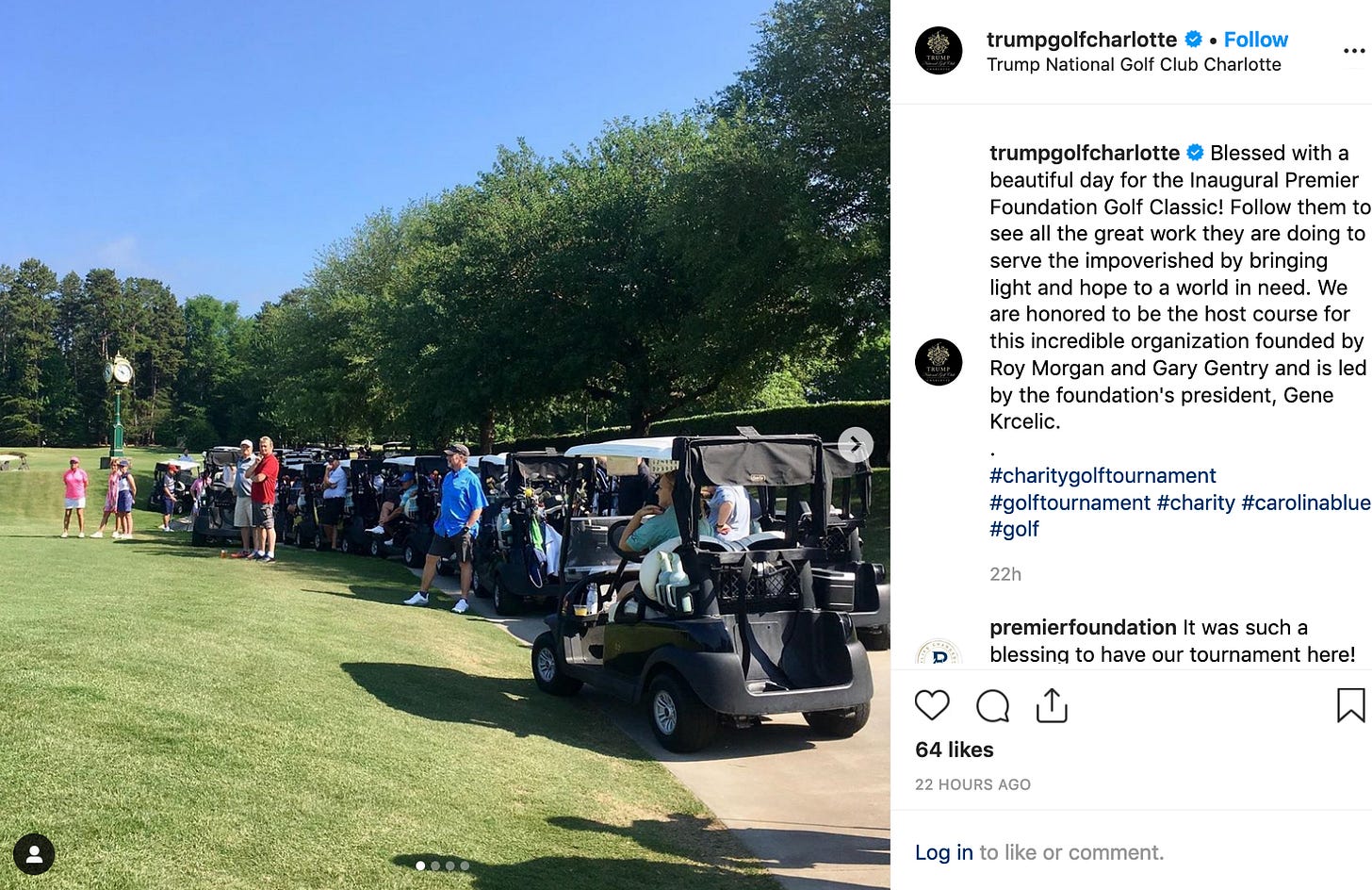 The Lincoln Clubs of California has an "ascent on the Capitol" planned for Oct. 22–25. Members will bunk at a hotel owned by the current head of the party of Lincoln. The room rate is $405 for a single or double occupancy.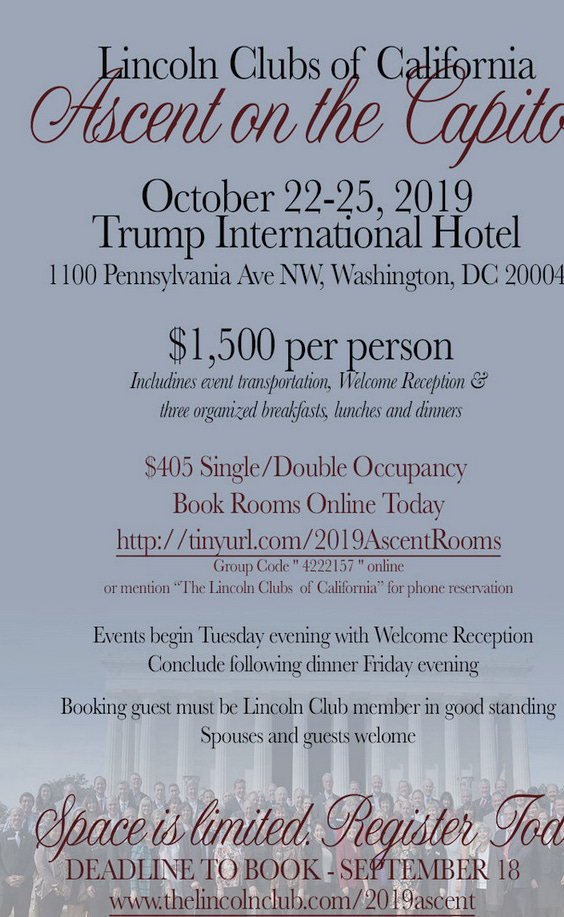 Sounds like the Trumpette's Red, White, and Blue Celebration of President Trump is planning a return to Mar-a-Lago in 2020.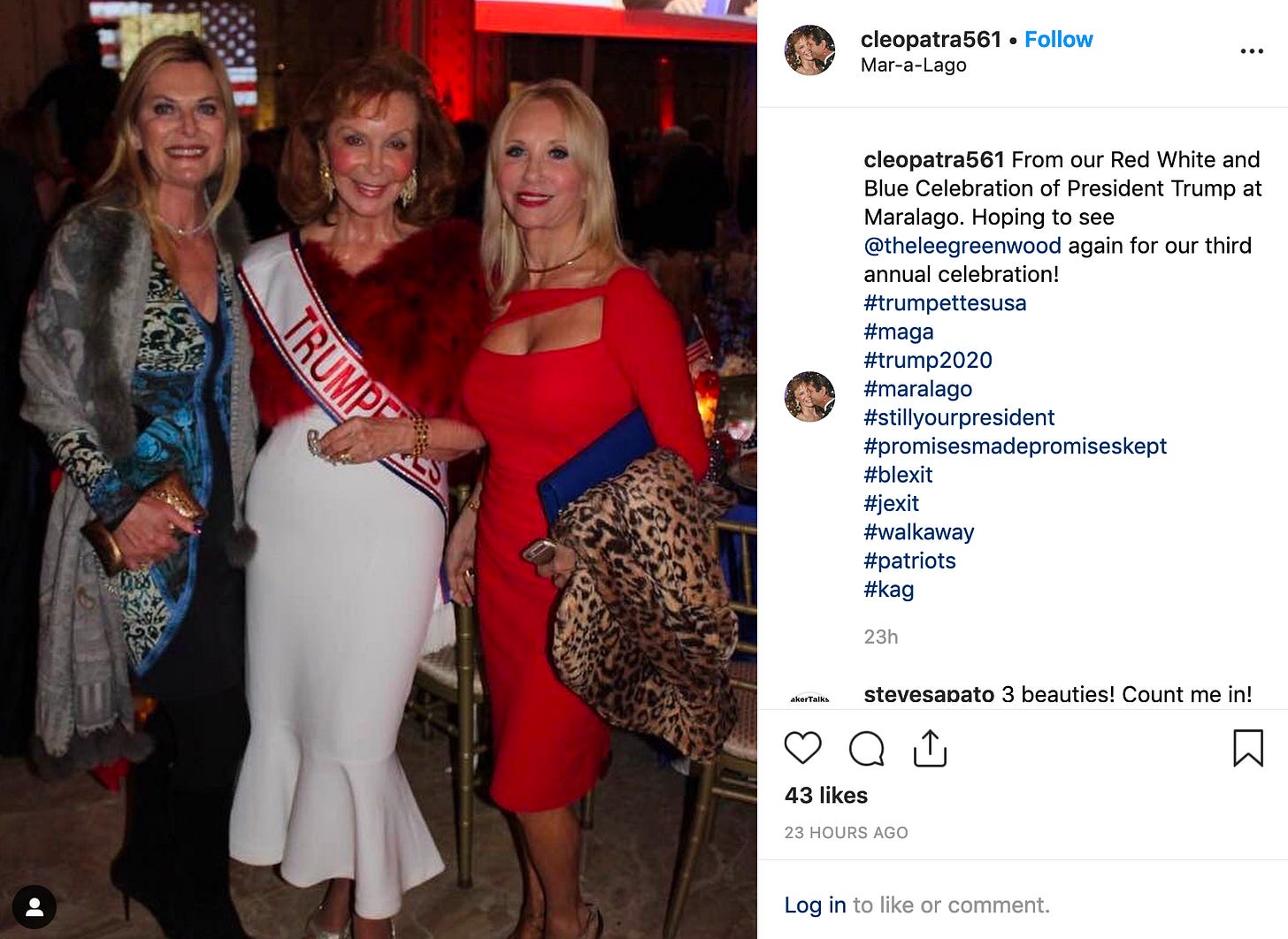 ---
Notable sightings
A glimpse at the foreign officials, government employees, politicians, lobbyists, and the like who patronize or appear at Trump businesses. The people shown here have reasons to want to influence the Trump administration, rely on its good graces for their livelihoods, or should be providing oversight. Additionally, high-profile guests serve as draws for paying customers.
A former Navy SEAL who claims to have killed Osama bin Laden, Bobby O'Neil, was at the commander-in-chief's hotel. President Trump is considering pardoning a Navy SEAL accused of war crimes, Eddie Gallagher. O'Neil has tweeted an article defending Gallagher.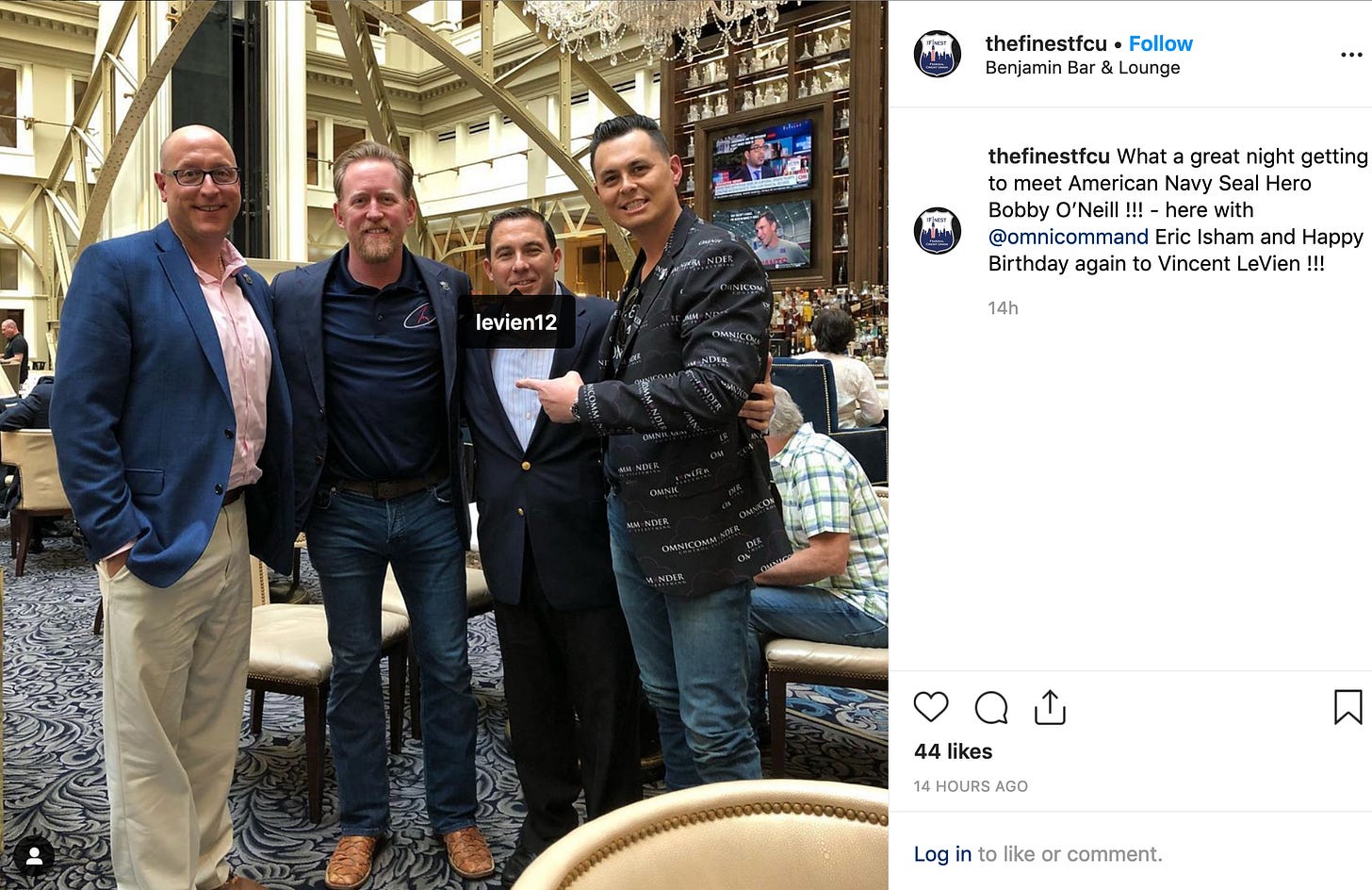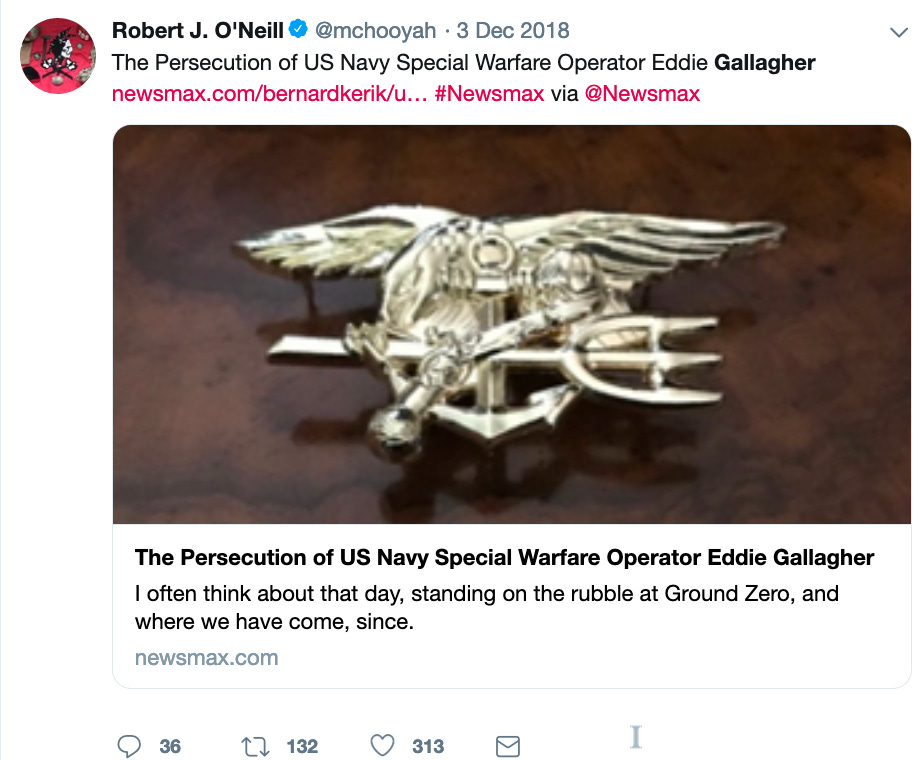 The agricultural attaché at Hungary's ministry of foreign affairs and trade, Kocsy Bela, returned to the D.C. hotel owned by the U.S. president. This time Bela was with
Diego Morales—a former advisor to then Indiana Gov. Mike Pence (R); Morales lost in the 2018 GOP primary for a U.S. House seat in Indiana

Jeff Cardwell—a former state chair at the Indiana GOP and another one-time Gov. Pence advisor, he's currently a senior vice president at lobbying firm Sextons Creek
And in a comment on Cardwell's post, an intern for Rep. Jim Banks (R–IN), Keeton Bartol, wrote that he was at the head of the executive branch's hotel earlier that day.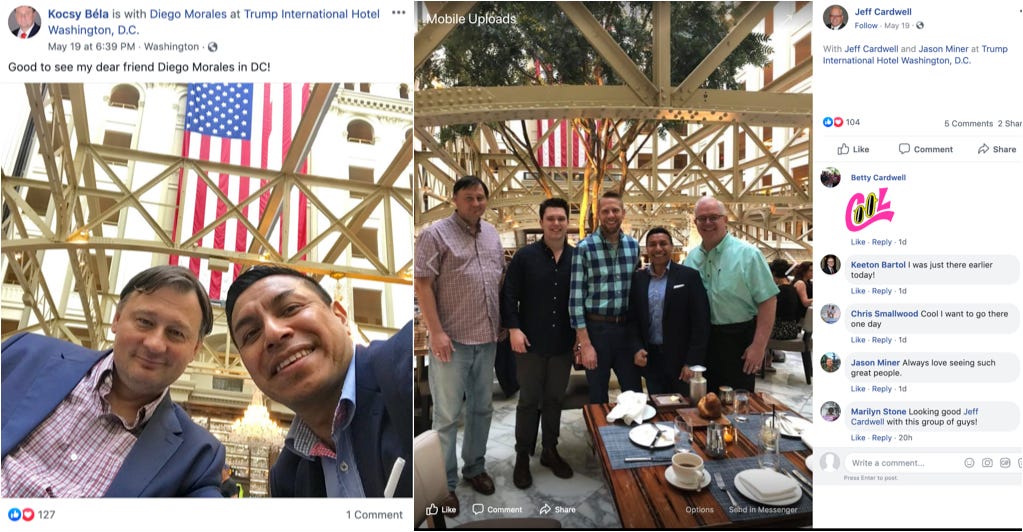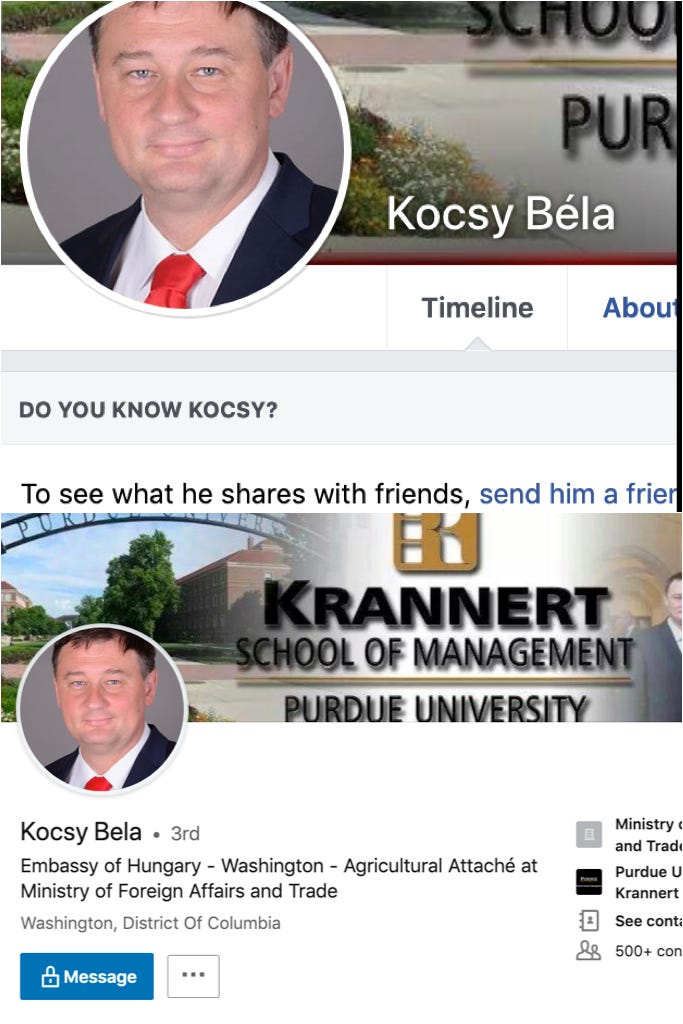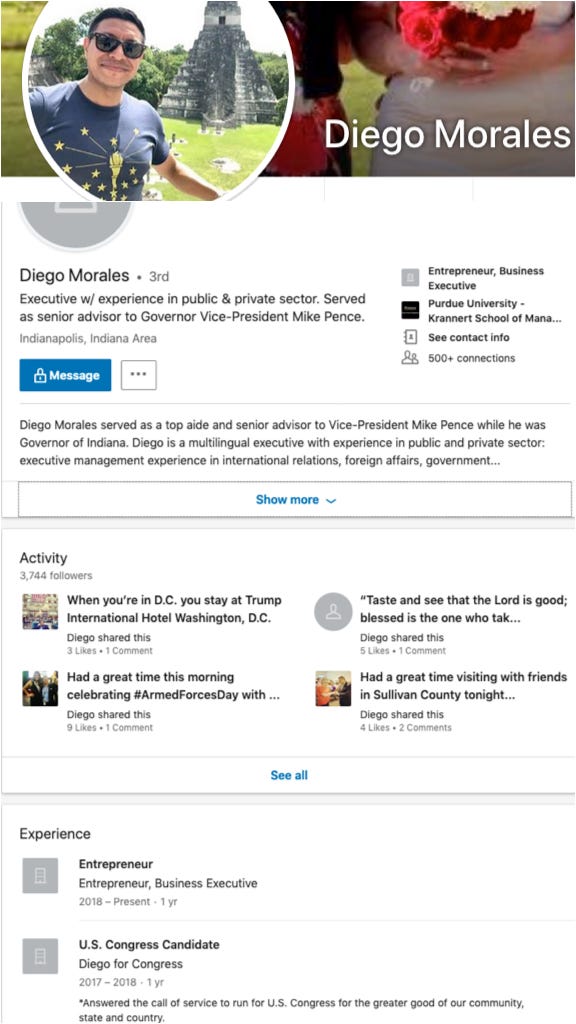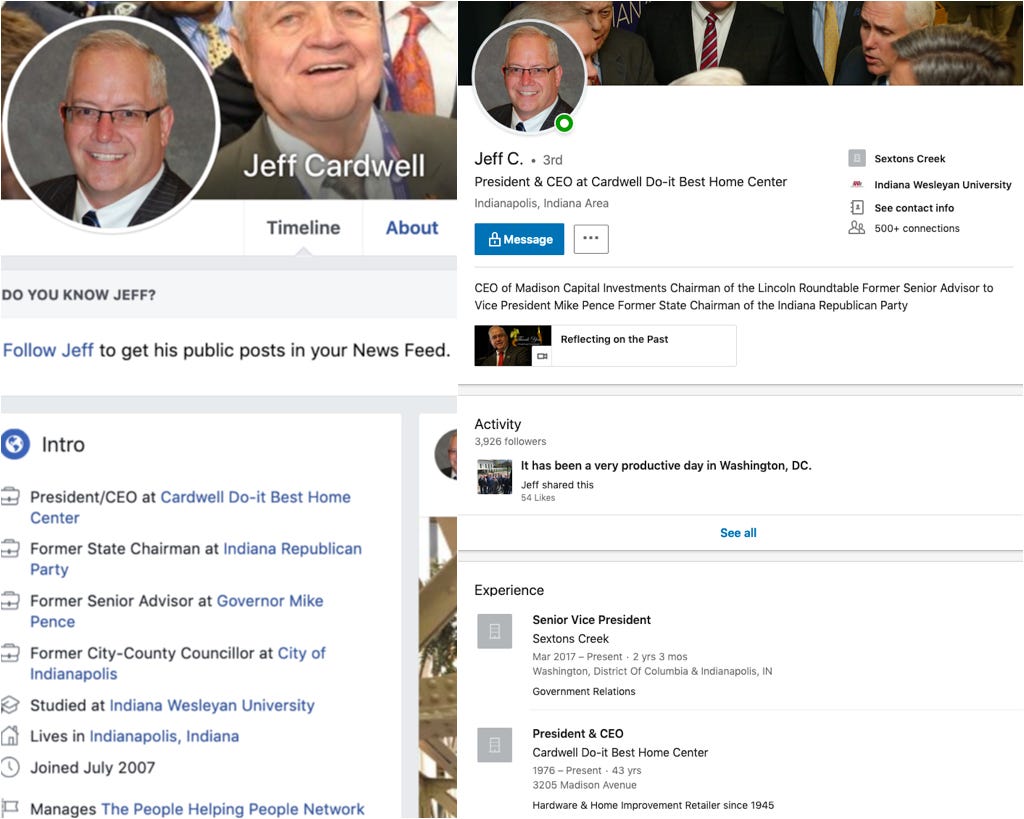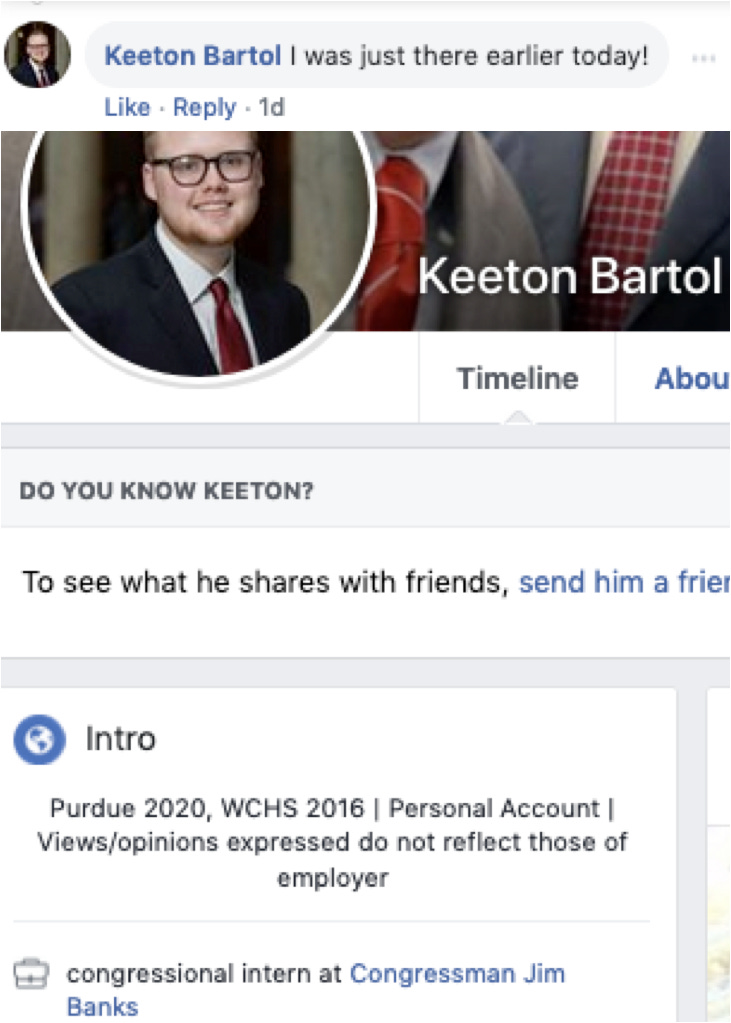 Trump Org EVP Donald Trump Jr. and former White House spokesperson Sean Spicer posed separately with Andre Soriano, who designed the MAGA dress.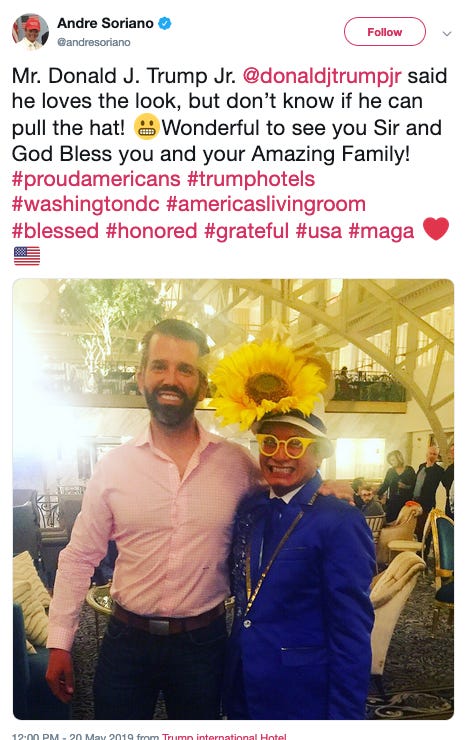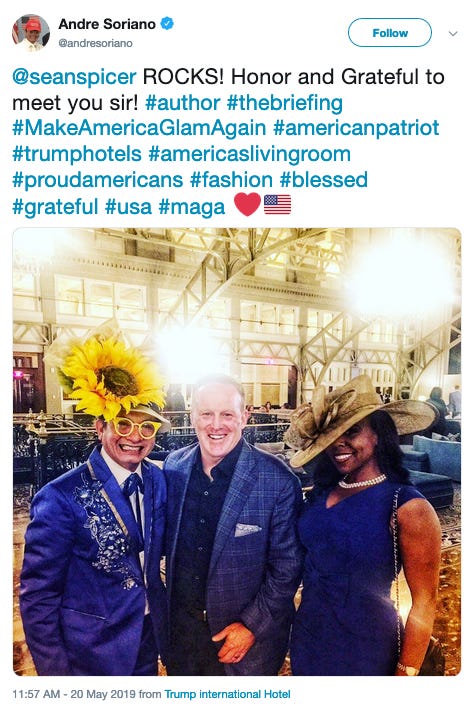 The manager of digital strategy for the Family Research Council, Matthew Mangiaracina was with his "greatest love on this temporal earth."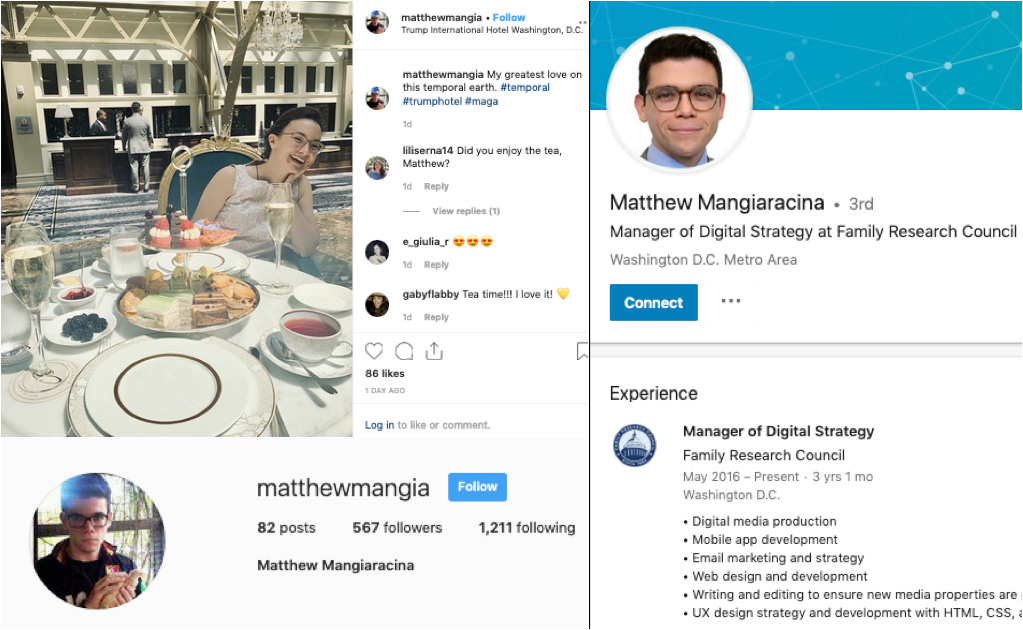 The Collin County, Texas Young Republicans chair, Desiree Brown, lived out her "dream of being rich and famous…kinda" by having afternoon tea at a hotel owned by the head of her party.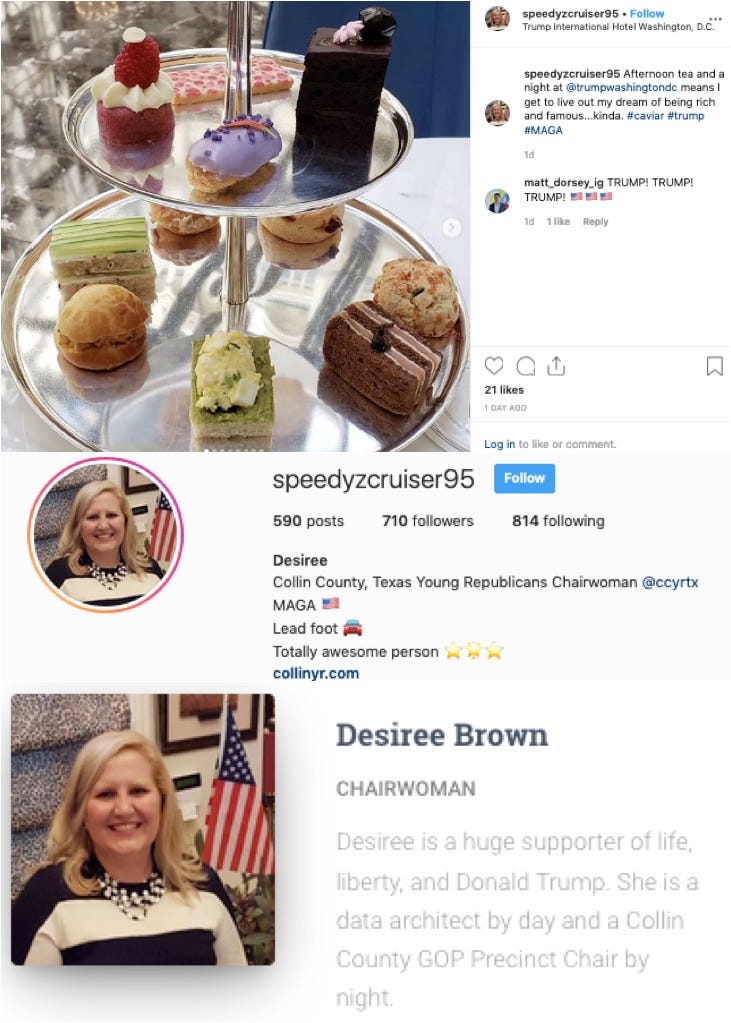 NBC Chicago reporter Trina Orlando had the perfect little ending to her D.C. weekend.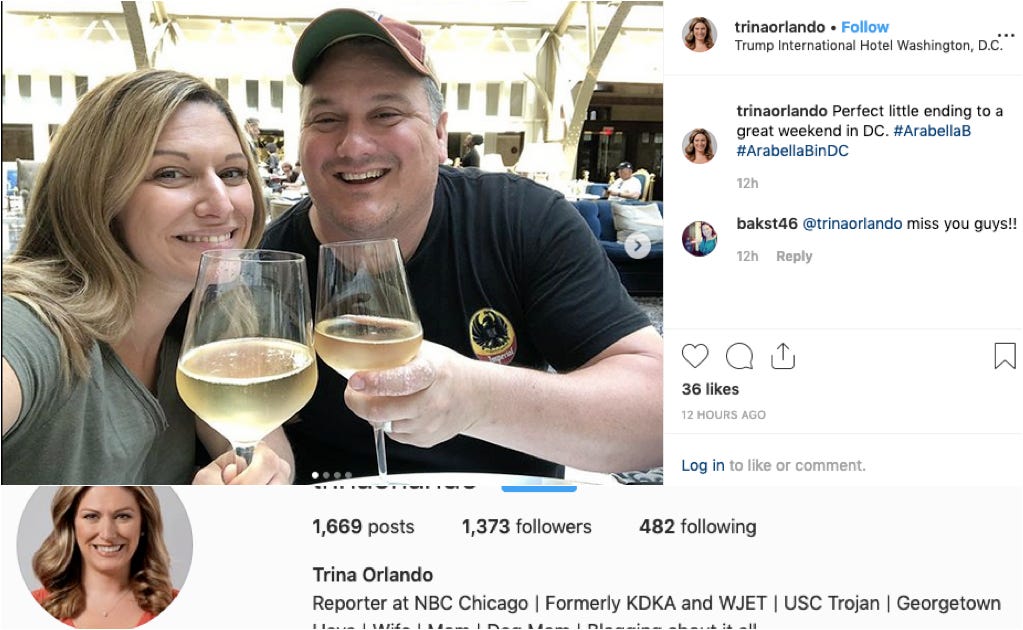 Called, "the face of [Roger] Stone's defense in right-wing media," Jacob Engles held court. (He also was at the National Mall yesterday, talking up the Proud Boys.)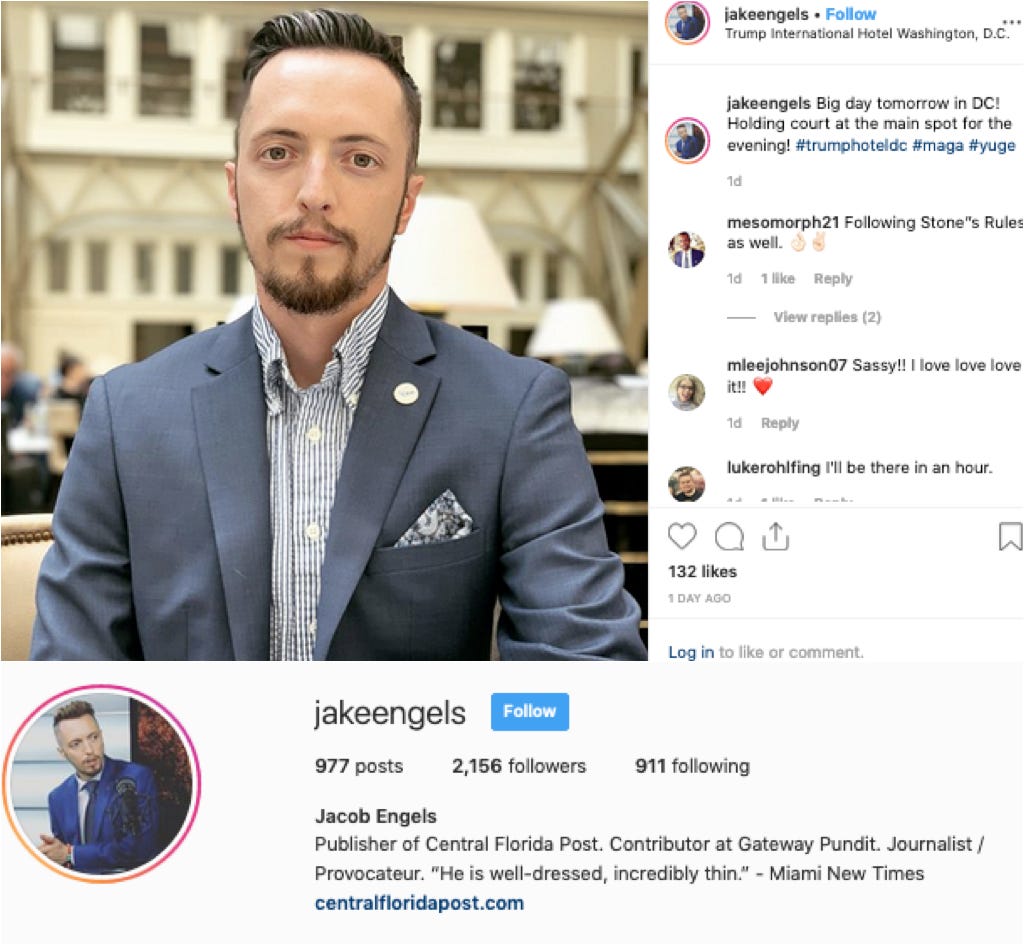 ---
Other Trump Organization news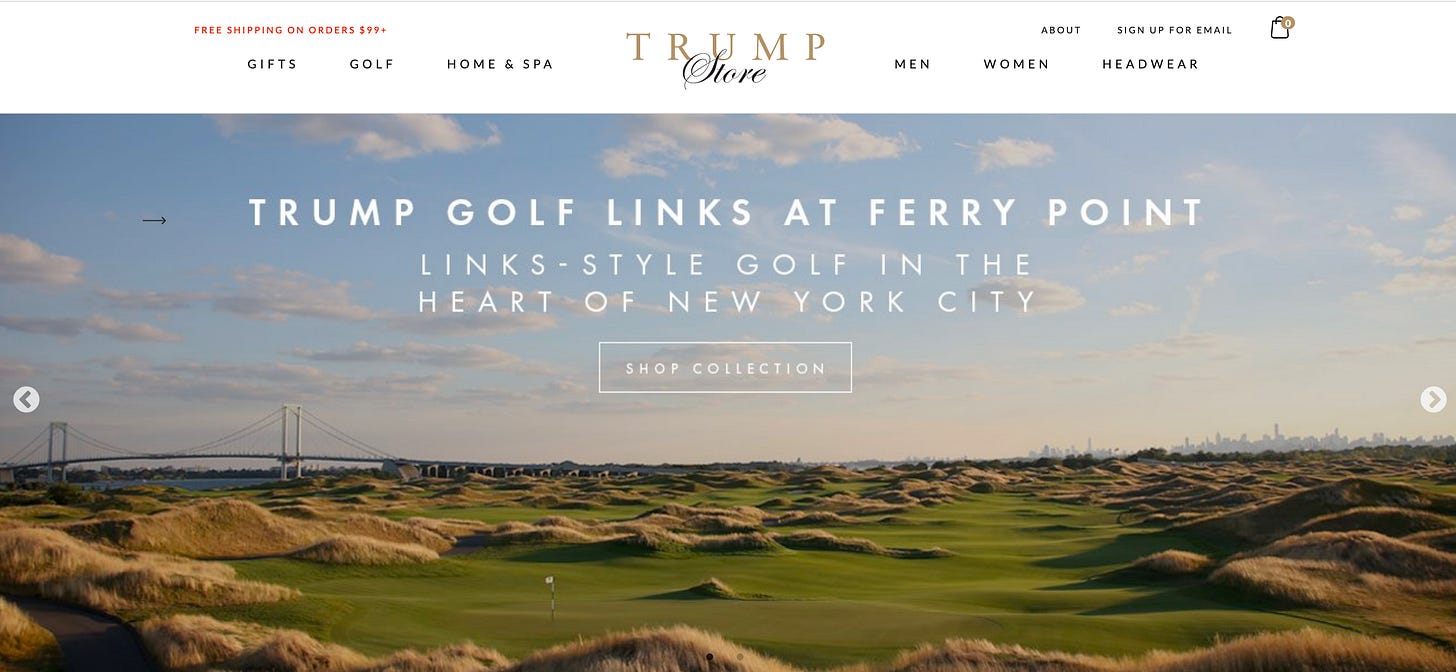 ---
President Trump chose not to divest; Americans need to know who's paying him
Unlike his predecessors, Donald Trump did not divest his businesses upon becoming U.S. president. Think that may be a problem? Become an 1100 Pennsylvania member, and support reporting on who's spending money at the president's businesses—and what they may be getting in return. Memberships are this newsletter's sole source of revenue. Select the red "Subscribe now" button and become a member by paying just $5 a month or $50 a year. Thank you.
---
House investigations, current status (latest change, May 21, 2019)
---
Legal cases, current status (latest change, May 16, 2019)
D.C. and MD attorneys general's emoluments lawsuit (district court docket, appellate court docket)—

Official capacity—On Dec. 20, 2018, the 4th U.S. Circuit Court of Appeals ruled it would hear the president's appeal of district court rulings that allowed the case to proceed to discovery, and the appellate court halted discovery in the case. Discovery had started Dec. 3 and was scheduled to run through Aug. 2, 2019, with the AGs having subpoenaed the Trump Organization, including its Scottish golf courses; the U.S. Departments of Agriculture, Commerce, Defense, and Treasury and the GSA; and the state of Maine. Oral arguments on the appeal occurred on March 19; by all accounts the three-judge panel (all Republican appointees, including one who was a selection of President Trump's) were skeptical of the AGs' case. D.C. AG Karl Racine pledged to take the case to the U.S. Supreme Court if necessary.

Individual capacity—On Dec. 14, Trump's personal attorneys appealed the denial of their motion to dismiss the case, also to the 4th U.S. Circuit Court of Appeals. On Dec. 19, the AGs replied to Trump's motion for a stay pending that appeal by voluntarily dismissing the claims against Trump in his "individual capacity to allow the claims against President Trump in his official capacity to move forward expeditiously." (The AGs only brought suit against Trump in his individual capacity after the judge suggested they do so.) Trump's personal attorneys, on Dec. 21, opposed the motion to dismiss at the district level, saying the appeals court now has jurisdiction and accusing the AGs of "gamesmanship."

Democratic senators and representatives' emoluments lawsuit—On Sept. 28, Judge Emmet G. Sullivan ruled that the legislators have standing to sue. Trump's Justice Department attorneys filed an interlocutory appeal on Oct. 22. On Jan. 30, 2019, the plaintiffs' filed a notice of supplemental authority, notifying the court of the GSA inspector general's report that criticized GSA for failing to consider if the Trump Hotel D.C.'s lease was in compliance with the Constitution after Trump became president. Two days later, the president's attorneys argued that the IG's conclusion was not inconsistent with Trump's argument, but that the judge should ignore that report anyway because the IG has no expertise in interpreting or applying the foreign emoluments clause. On April 30, Sullivan denied Trump's motion to dismiss the suit. While the president's attorneys have a supplemental brief due on May 28, on May 14 they filed a motion to stay the proceedings while they appeal Sullivan's decision.

CREW et. al's emoluments lawsuit—In February 2018, CREW appealed its suit being dismissed for lack of standing to the 2nd U.S. Circuit Court of Appeals. Oral arguments on that motion were held on Oct. 30.

Cork's unfair competition lawsuit—Judge Richard J. Leon dismissed the case on Nov. 26, 2018, writing "Cork has failed to state a claim for unfair competition under D.C. law." On Dec. 10, Cork's attorneys filed a notice of appeal and on Jan. 10, 2019 they submitted a statement of issues to be raised. Cork filed its first appellant brief on May 15, arguing "the District Court failed to recognize the evolving nature of the common law of unfair competition in the District of Columbia and erroneously treated the prior cases as if they were a series of statutes that Appellant had to satisfy to state a claim

Employees' class-action suit alleging racial discrimination—Two of the three plaintiffs did not appear at a status hearing on Jan. 25, 2019; their cases were moved to arbitration. Via email, their attorney, A.J. Dhali, said his clients did not appear at the hearing because their case already had been moved to arbitration last year. The next status hearing is scheduled for Oct. 4.
---
Health inspections, current status (latest change, Aug. 10, 2018)
❌Hotel: five violations on May 7, 2018; two were corrected on site

❌BLT Prime and Benjamin Bar: nine violations on Aug. 10, 2018

❌Sushi Nakazawa: two violations on Aug. 10, 2018

✔️Banquet kitchen: no violations on Aug. 10, 2018

❌Pastry kitchen: two violations on Aug. 10, 2018

✔️Gift shop: no violations on May 7, 2018

❌Employee kitchen and in-room dining: five violations on Aug. 10, 2018; two were corrected on site
---
Is the Trump Organization selling merchandise that depicts the White House? (latest change, March 21, 2019)
Yes.
---
One thing that (probably) has nothing to do with Trump's businesses
"'Bungled from the beginning': How Robert Kraft's sex sting was marred by cops' missteps" by Marc Freeman for The South Florida Sun Sentinel
---
Thanks for reading. If you like what you saw, tell someone—and support this work by becoming a member. If you've been forwarded this newsletter, subscribe for yourself at zacheverson.substack.com. Questions? Read our FAQ/manifesto. Tips or feedback? Contact me, Zach Everson, securely via email at 1100Pennsylvania@protonmail.com or on Signal at 202.804.2744.