Discover more from 1100 Pennsylvania
"The undisputed expert on the D.C. Trump Hotel" – David Fahrenthold of the Washington Post
Over 3,000 subscribers
Report: Oral arguments in Trump's appeal of emoluments suit didn't go well for AGs
Report: Oral arguments in Trump's appeal of emoluments suit didn't go well for AGs
From "Trump hotel emoluments case is at federal appeals court as president asks for it to be thrown out" by Ann E. Marimow and Jonathan O'Connell for The Washington Post:
In court Tuesday, Trump administration attorneys told a three-judge panel that Maryland and the District of Columbia have "no authority" to sue the president in his official capacity over payments the president's business accepts from state and foreign governments.

"There are multiple fundamental defects in this extraordinary suit," said Justice Department attorney Hashim M. Moopan in the morning session of arguments ongoing in Richmond.

Attorneys for D.C. and Maryland said Trump in his role as president is violating the foreign and domestic emoluments clauses of the Constitution. "The official action is the accepting of emoluments, which is a violation of the Constitution, attorney Loren AliKhan told the court.
O'Connell, who was in court, did not think the hearing went well for the plaintiffs: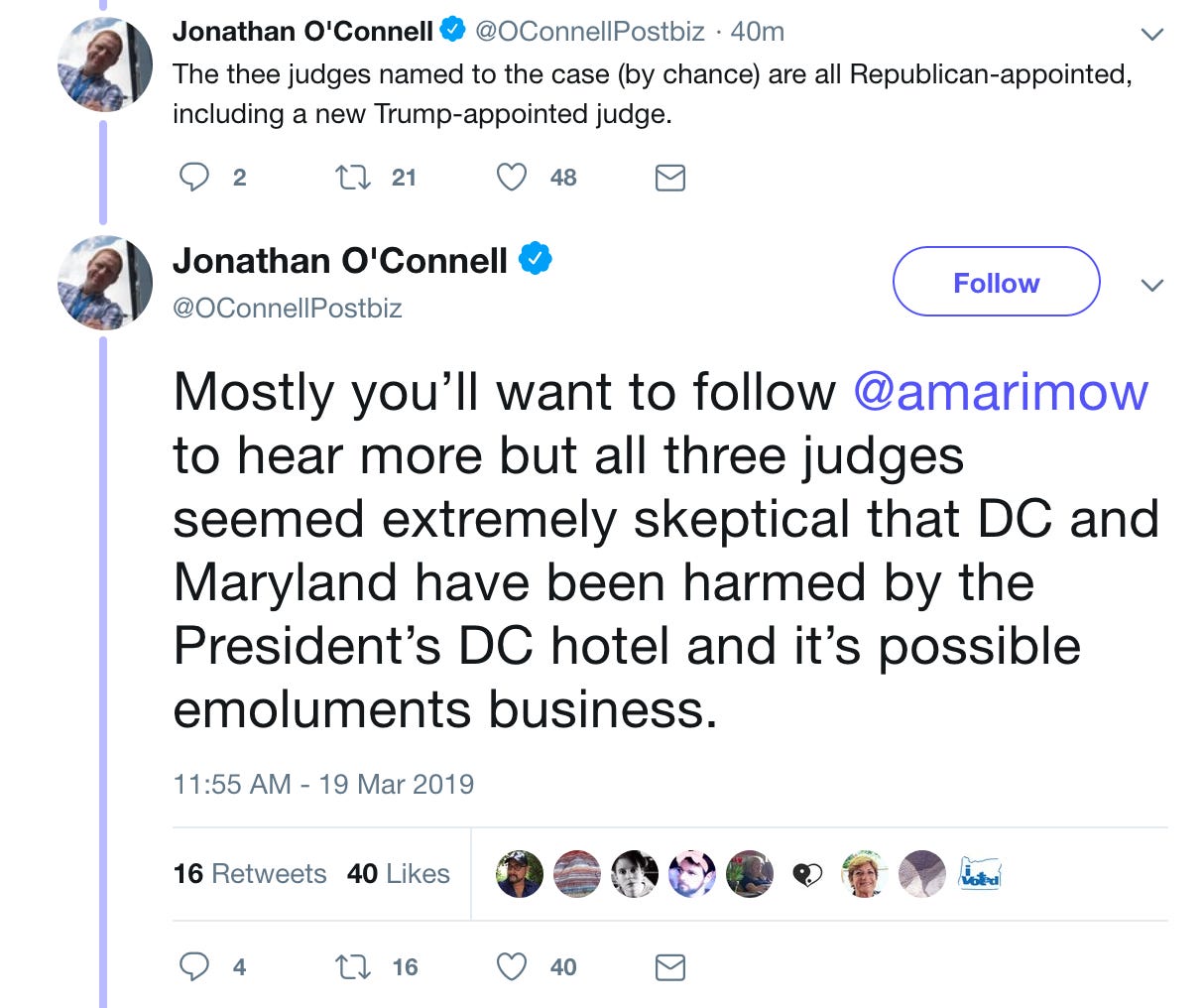 Payday lenders convene at Doral. Again.
For the second straight year, the Community Financial Services Association of America, which represents the payday loan industry, is hosting its annual conference at Trump's Doral golf course.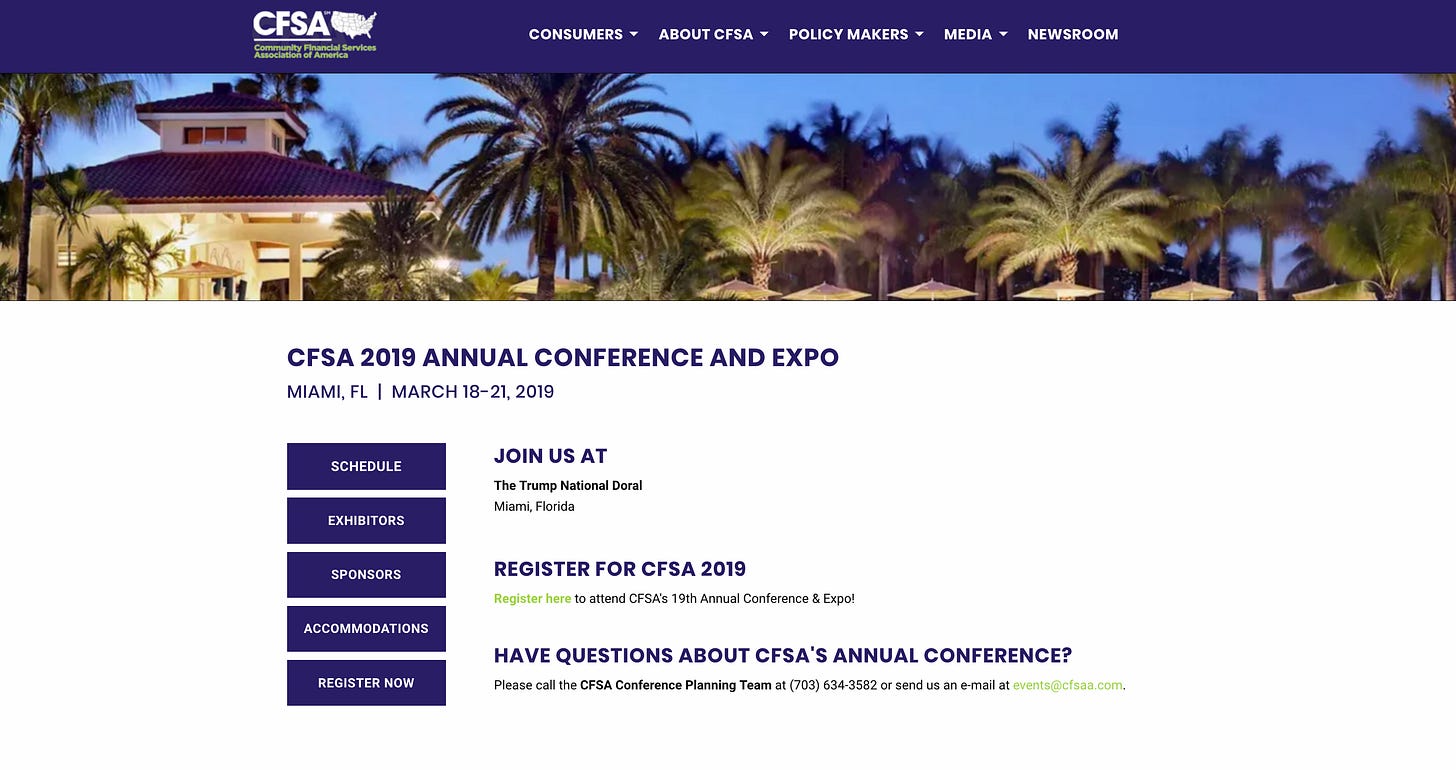 A round of golf at the meeting costs $450, according to Judd Legum of the Popular Information newsletter. Legum also noted that President Trump recently rescinded rules that will benefit these repeat Trump Doral customers.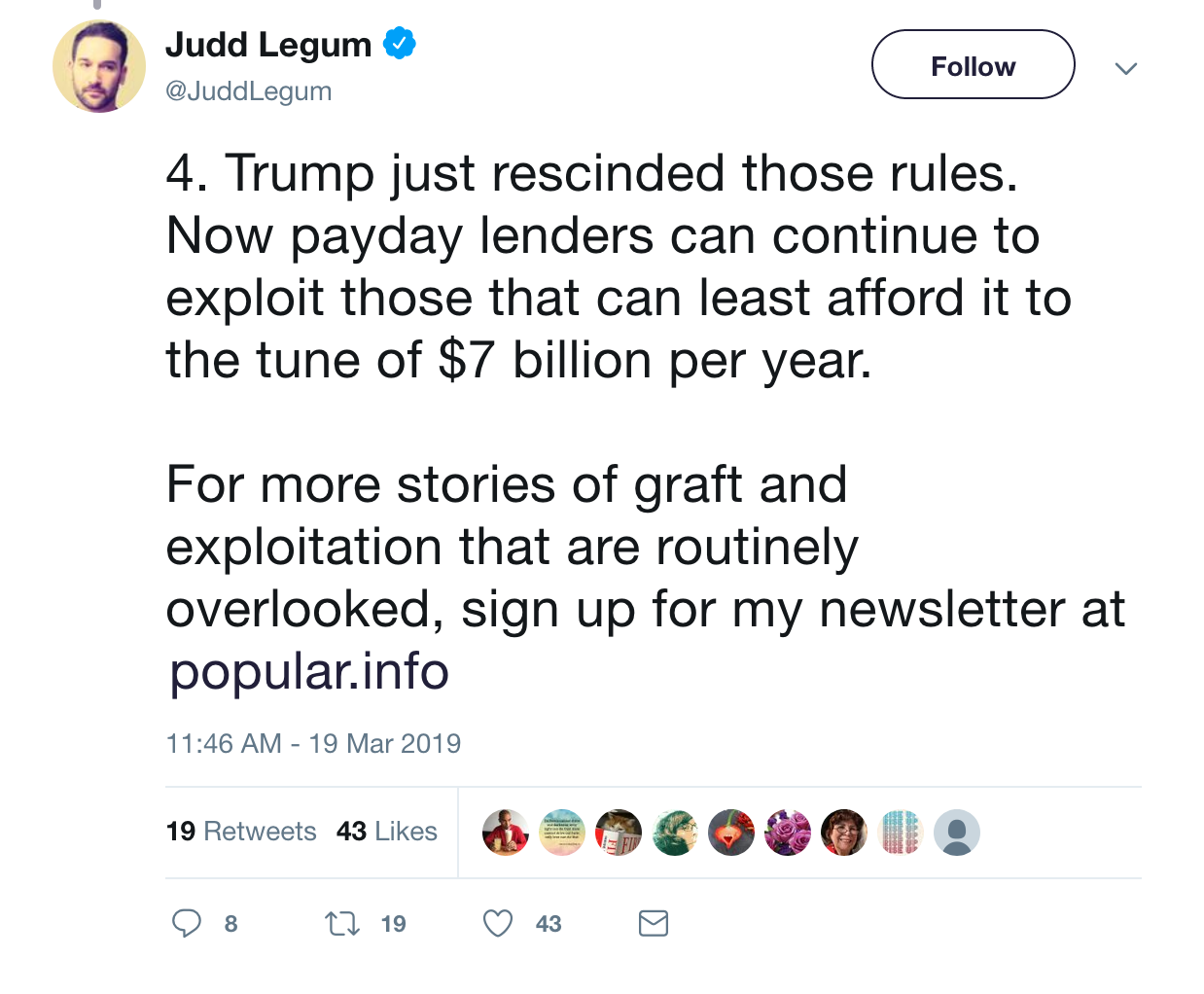 Faith leaders reportedly protested the gathering outside an entrance to Doral.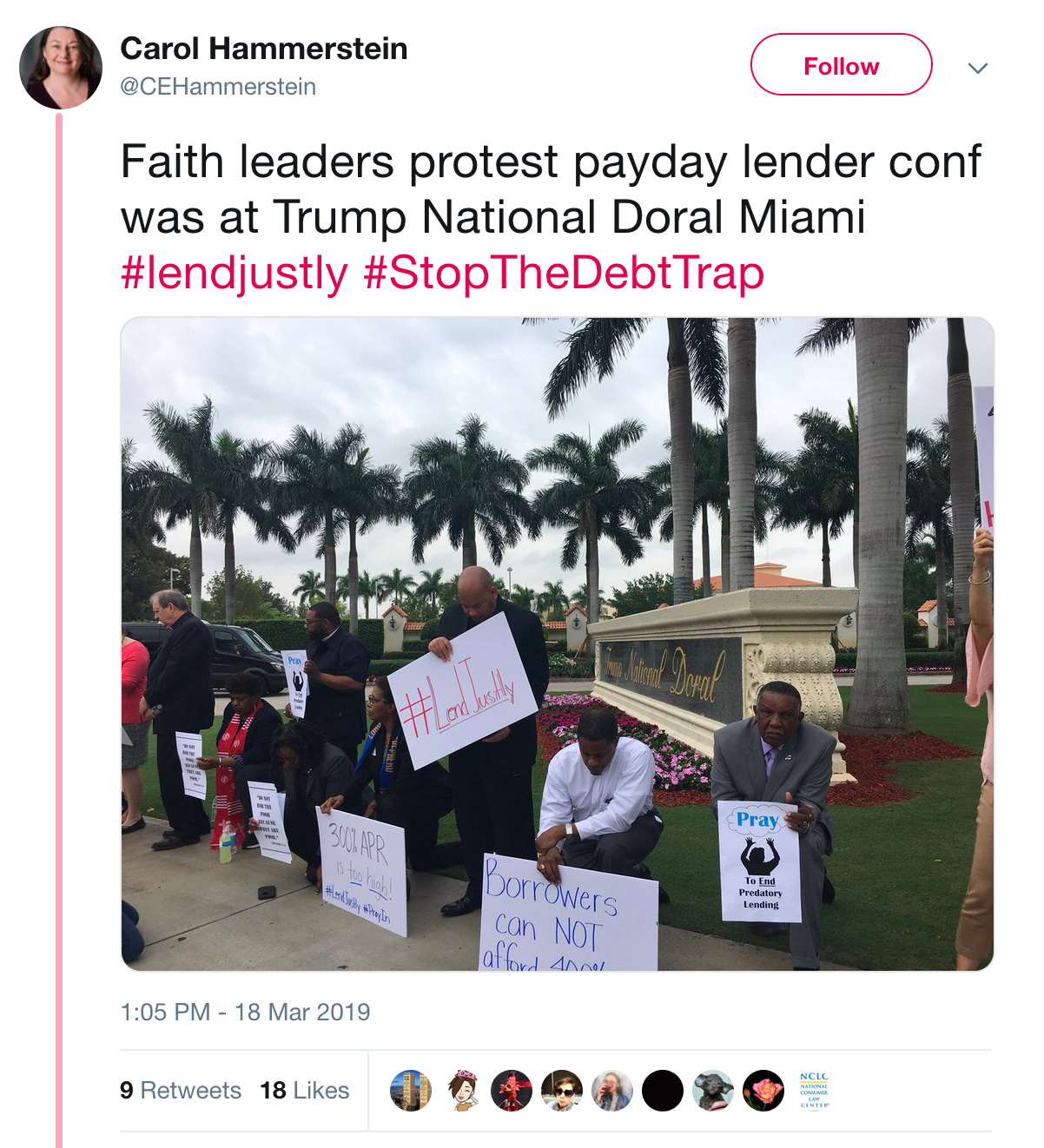 FBI headquarters relocation controversy explained
Today's episode of PRI and WNYC's The Takeaway includes a chat I had with host Tanzina Vega. In seven minutes you'll get a rundown on why the FBI needs a new headquarters—and why President Trump may want that new building to be exactly where the current one is.
"As FBI headquarters crumbles in D.C., President Trump's conflicts of interests complicate a way forward"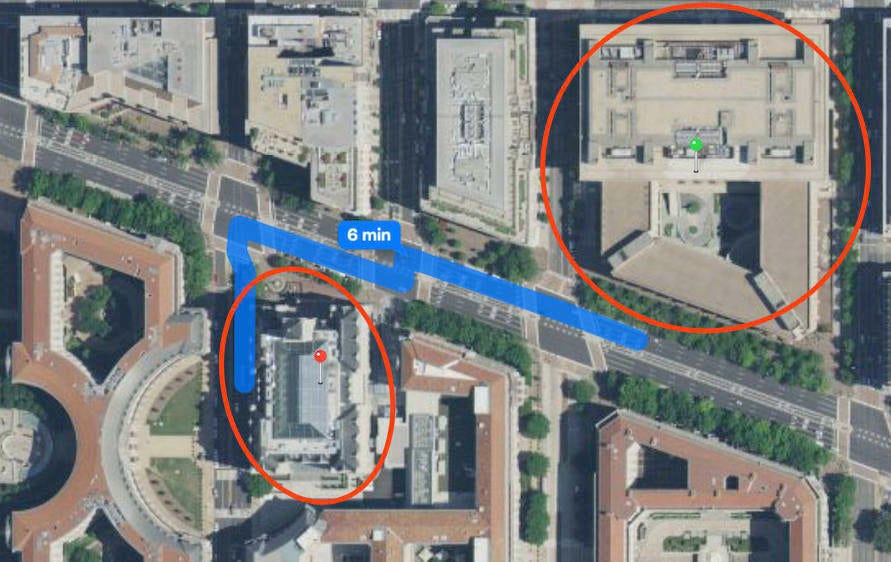 Motorsports celebration returns to Mar-a-Lago
Motorsports celebration The Palm Event is returning to Mar-a-Lago this weekend. It's expected President Trump will be at his private club too.
The entrants fee for vehicle owners is $350.
The Palm Event is fast becoming the most coveted collector car weekend in the United States. The first two years we were hosted at Donald Trump's exclusive Mar-a-Lago Club. In year three, The Palm Event expanded to The Colony Hotel, The Breakers Resort and PGA National Resort & Spa as well as other great Palm Beach locations.

We will be returning to the Mar-a-Lago Club and other exclusive Palm Beach venues in 2019.
Here are the companies sponsoring this event at the president's club (and, yes, The Wall Street Journal kind of stands out).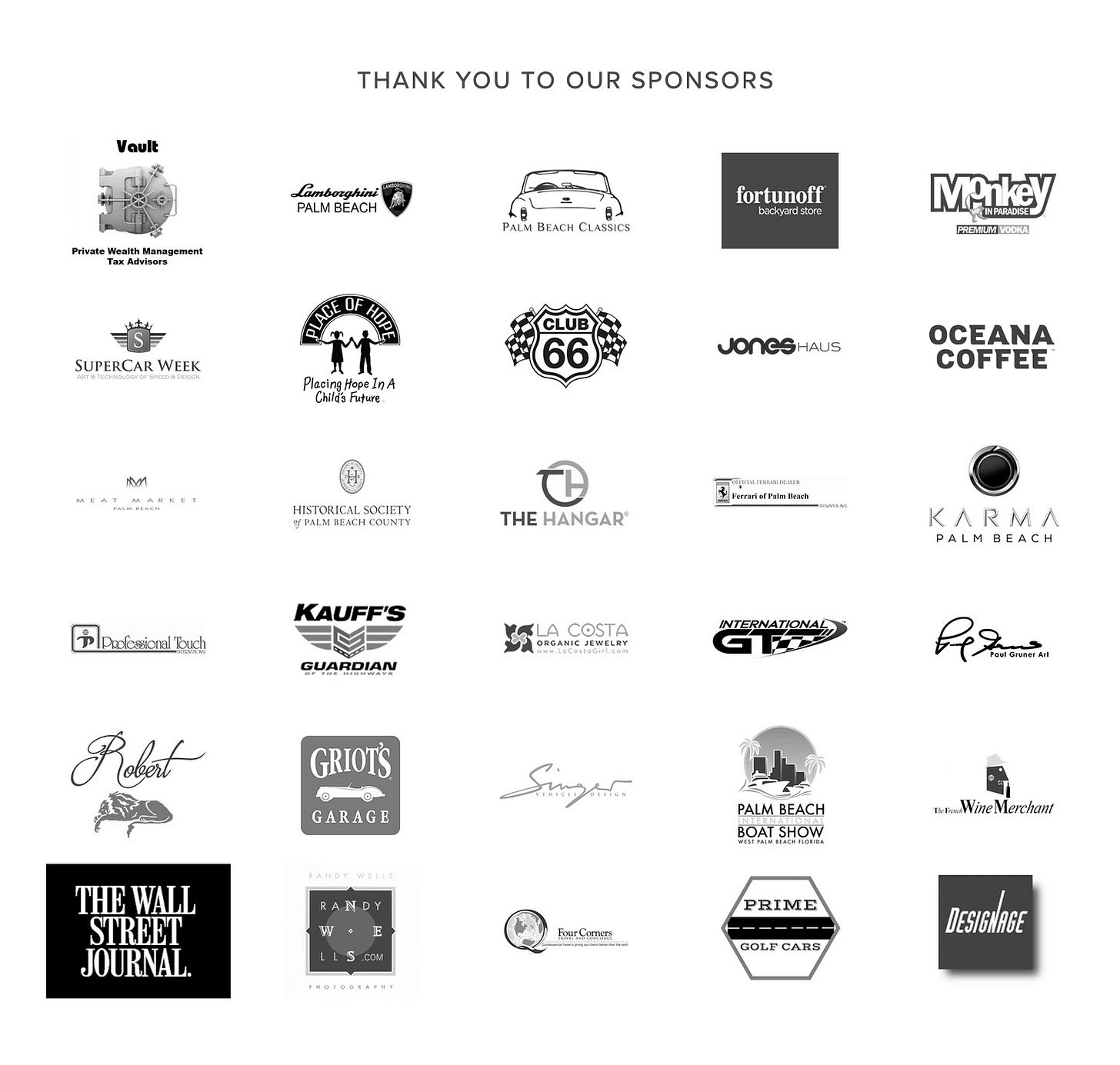 Noteworthy sightings
Prior to visiting the White House for its official Greek independence day celebration, this gentleman appeared to be staying at the Trump Hotel D.C.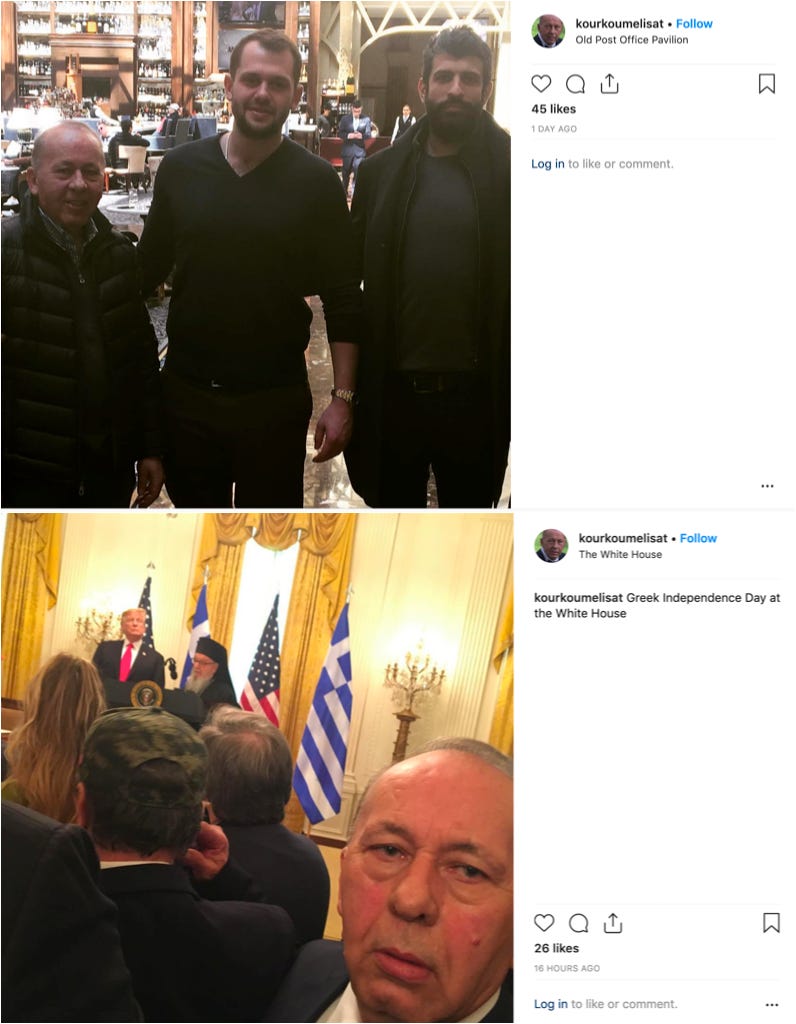 Sarah Selip of Shirley & Banister Public Affairs (for 30 years, it has "successfully represented think tanks, associations, public policy organizations, political candidates, political action committees, corporations, book publishers, authors, and foreign governments") was back at the hotel.
Other Trump Organization news
House investigations, current status (latest changes, March 19, 2019)
Legal cases, current status (latest change, March 19, 2019)
D.C. and MD attorneys general's emoluments lawsuit (district court docket, appellate court docket)—

UPDATED Official capacity—On Dec. 20, 2018, the 4th U.S. Circuit Court of Appeals ruled it would hear the president's appeal of district court rulings that allowed the case to proceed to discovery, and the appellate court halted discovery in the case. Discovery had started Dec. 3 and was scheduled to run through Aug. 2, 2019, with the AGs having subpoenaed the Trump Organization, including its Scottish golf courses; the U.S. Departments of Agriculture, Commerce, Defense, and Treasury and the GSA; and the state of Maine. Oral arguments on the appeal occurred on March 19.

Individual capacity—On Dec. 14, Trump's personal attorneys appealed the denial of their motion to dismiss the case, also to the 4th U.S. Circuit Court of Appeals. On Dec. 19, the AGs replied to Trump's motion for a stay pending that appeal by voluntarily dismissing the claims against Trump in his "individual capacity to allow the claims against President Trump in his official capacity to move forward expeditiously." (The AGs only brought suit against Trump in his individual capacity after the judge suggested they do so.) Trump's personal attorneys, on Dec. 21, opposed the motion to dismiss at the district level, saying the appeals court now has jurisdiction and accusing the AGs of "gamesmanship."

196 Democratic senators and representatives' emoluments lawsuit—On Sept. 28, Judge Emmet G. Sullivan ruled that the legislators have standing to sue. Trump's Justice Department attorneys filed an interlocutory appeal on Oct. 22. On Jan. 30, 2019, the plaintiffs' filed a notice of supplemental authority, notifying the court of the GSA inspector general's report that criticized GSA for failing to consider if the Trump Hotel D.C.'s lease was in compliance with the Constitution after Donald Trump became president. Two days later, the president's attorneys argued that the IG's conclusion was not inconsistent with Trump's argument, but that the judge should ignore that report anyway because the IG has no expertise in interpreting or applying the foreign emoluments clause.

CREW et. al's emoluments lawsuit—In February 2018, CREW appealed its suit being dismissed for lack of standing to the 2nd U.S. Circuit Court of Appeals. Oral arguments on that motion were held on Oct. 30.

Cork's unfair competition lawsuit—Judge Richard J. Leon dismissed the case on Nov. 26, 2018, writing "Cork has failed to state a claim for unfair competition under D.C. law." On Dec. 10, Cork's attorneys filed a notice of appeal and on Jan. 10, 2019 they submitted a statement of issues to be raised. A briefing schedule was set on March 5 with Cork's brief due on April 15, the president's brief due on May 15, and Cork's reply to the president's brief due on June 5.

Employees' class-action suit alleging racial discrimination—Two of the three plaintiffs did not appear at a status hearing on Jan. 25, 2019; their cases were moved to arbitration. Via email, their attorney, A.J. Dhali, said his clients did not appear at the hearing because their case already had been moved to arbitration last year. The next status hearing is scheduled for Oct. 4.
Health inspections, current status (latest change, Aug. 10, 2018)
❌Hotel: five violations on May 7, 2018; two were corrected on site

❌BLT Prime and Benjamin Bar: nine violations on Aug. 10, 2018

❌Sushi Nakazawa: two violations on Aug. 10, 2018

✔️Banquet kitchen: no violations on Aug. 10, 2018

❌Pastry kitchen: two violations on Aug. 10, 2018

✔️Gift shop: no violations on May 7, 2018

❌Employee kitchen and in-room dining: five violations on Aug. 10, 2018; two were corrected on site
One thing that has nothing to do with Trump's businesses (I think, tough to tell sometimes!)
Rep. Paul Gosar (R–AZ) had a tough take on a teenage egg thrower.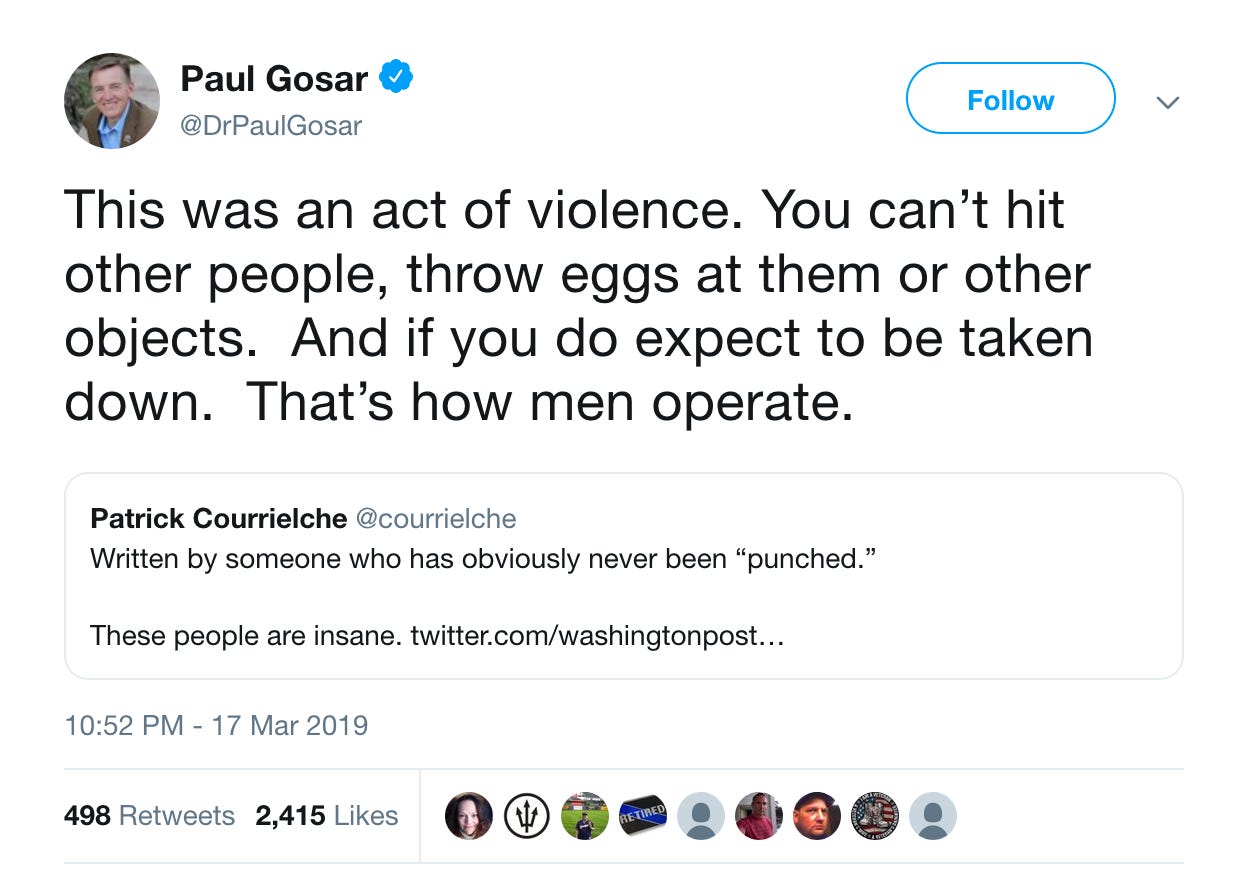 Thanks for reading. If you like what you see, tell someone—and support this work by becoming a paying member ($5/month or $50/year). If you've been forwarded this newsletter, subscribe for yourself at zacheverson.substack.com. Questions? Read our FAQ/manifesto. Tips or feedback? Contact me, Zach Everson, securely via email at 1100Pennsylvania@protonmail.com or on Signal at 202.804.2744.