Discover more from 1100 Pennsylvania
"The undisputed expert on the D.C. Trump Hotel" – David Fahrenthold of the Washington Post
Over 3,000 subscribers
Report: Trump Org paid Indonesian regency past-due $495,000
Welcome to 1100 Pennsylvania, a newsletter devoted to President Donald Trump's Trump International Hotel Washington, D.C. (and his other companies). President Trump, of course, still owns his businesses and can profit from them.
If you like what you see, tell someone—and support this work by paying for a subscription. If you've been forwarded this newsletter, subscribe for yourself at zacheverson.substack.com. Questions? Read our FAQ/manifesto. Tips or feedback? Contact me, Zach Everson, securely via email at 1100Pennsylvania@protonmail.com or on Signal at 202.804.2744.
Report: Trump Organization paid Indonesian regency past-due $495,000
A regency on Bali received almost $495,000 from the Trump Organization last month per The Seminyak Times, an English-language outlet serving Bali's expat community.
According to that article, the funds were for a past-due balance on a building permit that the U.S. president's company owed the regency of Tabanan regarding the Trump International Hotel and Tower Bali. The head of Tabanan's permitting board, I Made Sumerta Yasa, told The Seminyak Times that there was a dispute over the payment, with the Trump Organization wanting to pay in installments but regulations requiring the funds all at once.
Tabanan reportedly received the IDR 7 billion ($494,345.05 per today's exchange rate) on Dec. 28, 2018 for a payment due in March 2018. This transaction does not appear to have been previously reported in U.S. media.
"At least this payment will save our financial crisis, because we have a deficit of more than Rp 51 billion," Yasa told The Seminyak Times.
In August 2015, the Trump Organization signed an agreement with Indonesian billionaire Hary Tanoesoedibjo's company to develop the cliff-top resort and golf course that would be the Trump's first Asian resort. It's not yet completed.
Trump Organization EVP Eric Trump and spokesperson Amanda Miller did not reply to a request for comment.

Mueller investigating Nunes, Flynn, and foreign officials' breakfast meeting at hotel
From "Mueller probes an event with Nunes, Flynn, and foreign officials at Trump's D.C. hotel" by Erin Banco, Asawin Suebsaeng, Betsy Woodruff, and Spencer Ackerman for The Daily Beast:
The Special Counsel's Office and federal prosecutors in Manhattan are scrutinizing a meeting involving former House Intelligence Committee Chairman Devin Nunes, one-time National Security Adviser Michael Flynn, and dozens of foreign officials, according to three sources familiar with the investigations.

The breakfast event, which was first reported by The Daily Sabah, a pro-government Turkish paper, took place at the Trump International Hotel in Washington, D.C. at 8.30 a.m. on Jan. 18, 2017—two days before President Donald Trump's inauguration. About 60 people were invited, including diplomats from governments around the world, according to those same sources.
Mueller is also investigating Ukrainians spotted at the hotel around the inauguration, according to a New York Times report last week.
Trump's inauguration spent more than $1.5 million at Trump's hotel
From "At Trump's inauguration, $10,000 for makeup and lots of room service" by Maggie Haberman, Sharon LaFraniere, and Ben Protess for The New York Times:
The Trump International Hotel was paid more than $1.5 million for services including the use of a ballroom, an "annex" and a space called the townhouse, according to records and people familiar with the payments.
Walter Shaub, a former director of the U.S. Office of Government Ethics and currently a senior advisor for the Citizens for Responsibility and Ethics in Washington (involved in two emoluments suits against the president), has concerns about this arrangement: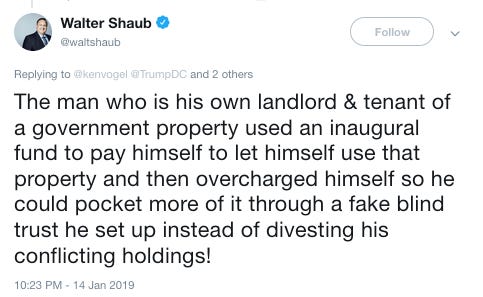 The townhouse in question, by the way, is the Trump Townhouse (it's the hotel's sole townhouse, and the highest priced suite in the building).
Before Trump's election, I reported for Fox News that the Trump Townhouse was part of a $500,000 inauguration package that included "dinner for 24 in the duplex suite's dining room (with the opportunity to select dishes from favorite presidential meals of past inaugural galas), 24/7 car service and two round-trip first-class tickets from anywhere in the United States."
Shortly before the inauguration, I followed up with the hotel's director of sales and marketing, Patricia Tang, to see if anyone booked the package, as well as if the hotel was offering guests any special events or inaugural-themed gifts—which are standard in D.C. hotels during an inauguration weekend and are largely done to cultivate media coverage.
"We have no comment at this time on any of the events, bookings or information regarding the inauguration week," Tang wrote via email.
Two years later, guess we know why the hotel wasn't eager for media attention.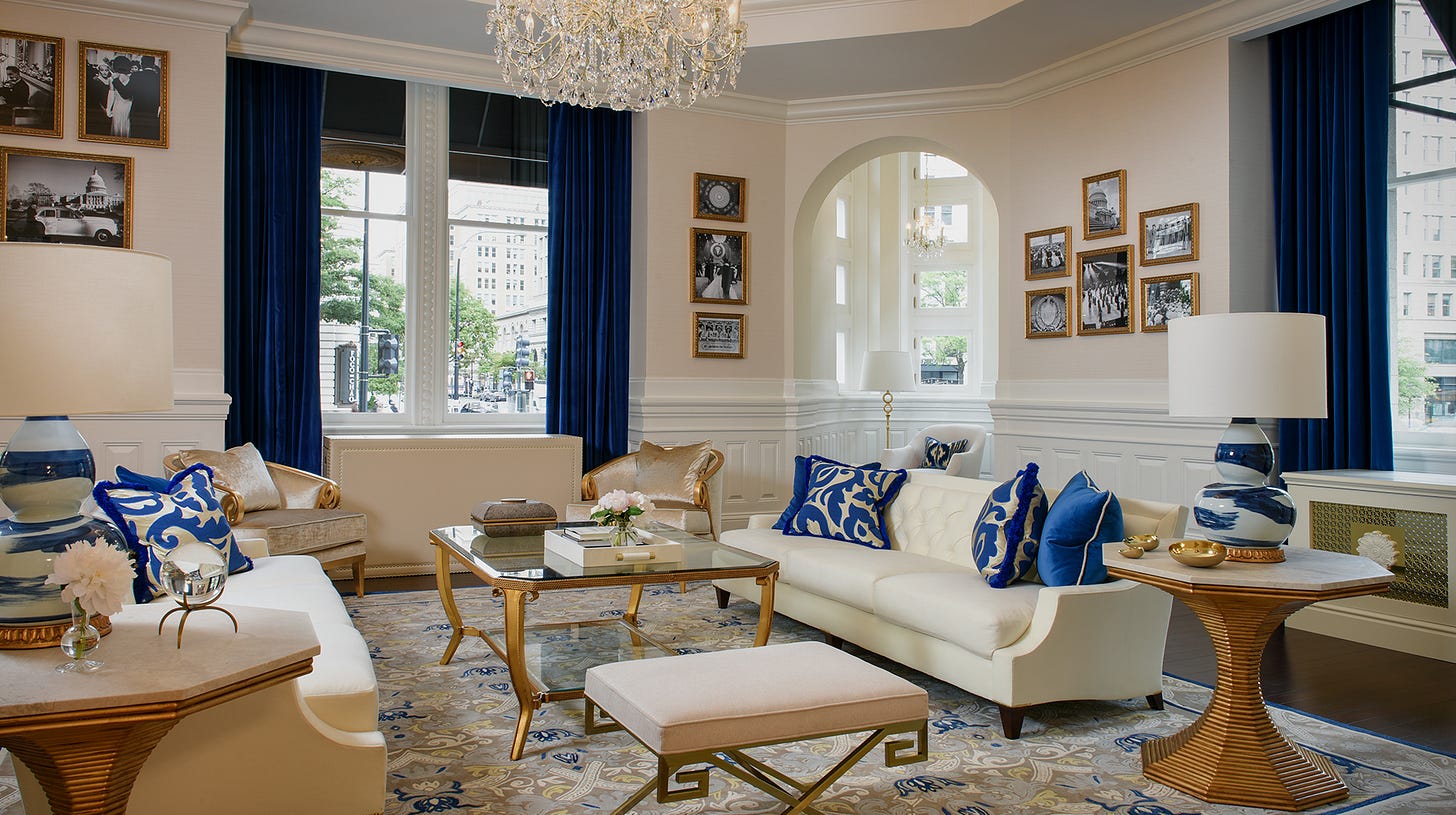 Trump did not serve Clemson food from his hotel; Twitter noticed
Yesterday President Trump fed the Clemson football team fast food rather than have the meal catered by his hotel a few blocks away. Twitter had thoughts.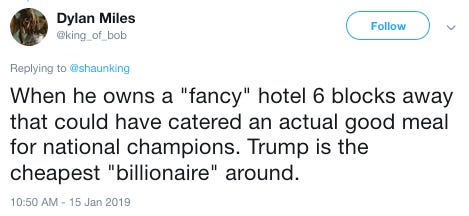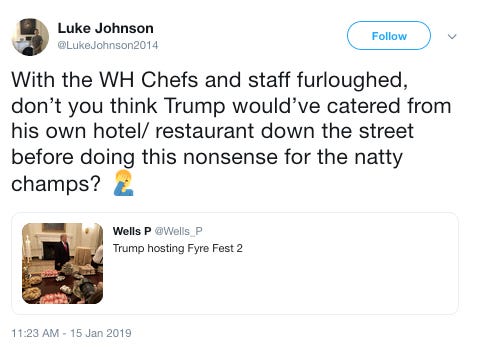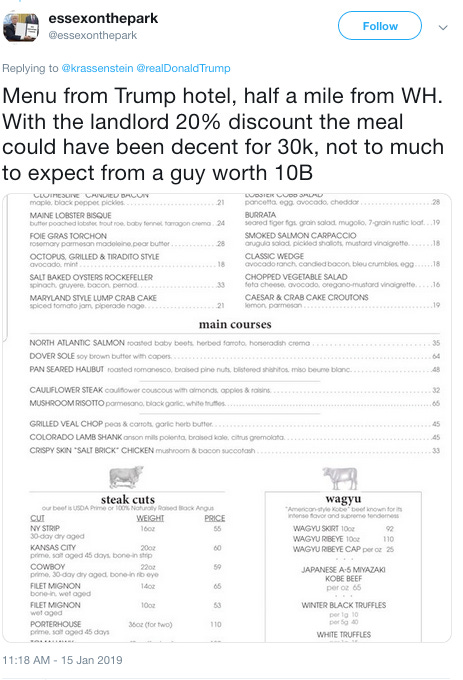 Noteworthy sighting
The head federal lobbyist for TECO Energy, Shannon Maher Bañaga, was thankful for friends and wine.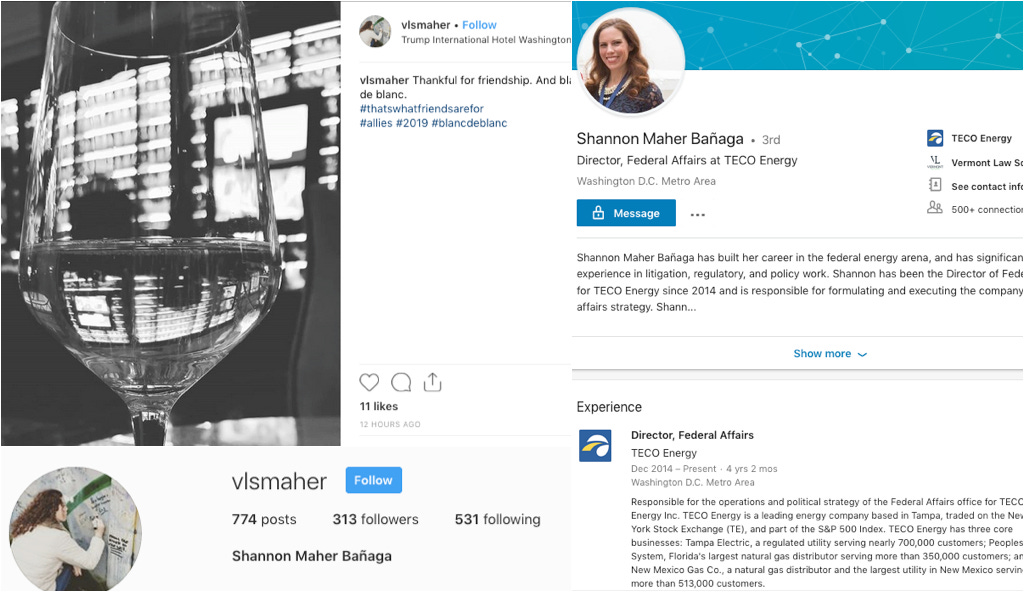 Legal cases, current status (latest change, Jan. 11, 2018)
D.C. and MD attorneys general's emoluments lawsuit (district court docket, appellate court docket)—

Official capacity—On Dec. 20, the 4th U.S. Circuit Court of Appeals ruled it would hear the president's appeal of district court rulings that allowed the case to proceed to discovery, and the appellate court halted discovery in the case. Oral augments on the appeal are tentatively scheduled for March 19–21, although on Dec. 26 the briefing schedule was suspended until further notice after Trump's DoJ attorneys asked for a stay because of the federal government shutdown. (Discovery had started Dec. 3 and was scheduled to run through Aug. 2, 2019, with the AGs already having issued 38 subpoenas, including to the Trump Organization; the U.S. Departments of Agriculture, Commerce, Defense, and Treasury and the GSA; and the state of Maine.)

Individual capacity—On Dec. 14, Trump's personal attorneys appealed the denial of their motion to dismiss the case, also to the 4th U.S. Circuit Court of Appeals. On Dec. 19, the AGs replied to Trump's motion for a stay pending that appeal by voluntarily dismissing the claims against Trump in his "individual capacity to allow the claims against President Trump in his official capacity to move forward expeditiously." (The AGs only brought suit against Trump in his individual capacity after the judge suggested they do so.) Trump's personal attorneys, on Dec. 21, opposed the motion to dismiss at the district level, saying the appeals court now has jurisdiction and accusing the AGs of "gamesmanship."

196 Democratic senators and representatives' emoluments lawsuit—On Sept. 28 judge Emmet G. Sullivan ruled that the legislators have standing to sue. Trump's Justice Department attorneys filed an interlocutory appeal on Oct. 22.

CREW et. al's emoluments lawsuit—In February, CREW appealed its suit being dismissed for lack of standing to the 2nd U.S. Circuit Court of Appeals. Oral arguments on that motion were held on Oct. 30.

Cork's unfair competition lawsuit—Judge Richard J. Leon dismissed the case on Nov. 26, writing "Cork has failed to state a claim for unfair competition under D.C. law." On Dec. 10, Cork's attorneys filed a notice of appeal and on Jan. 10 they submitted a statement of issues to be raised. The next steps, which don't yet have a timeline, include a briefing schedule being set and both sides filing appellate briefs.

Employees' class-action suit alleging racial discrimination—A status hearing on arbitration is scheduled for Jan. 25, 2019.
Health inspections, current status (latest change, Aug. 10, 2018)
❌Hotel: five violations on May 7, 2018; two were corrected on site

❌BLT Prime and Benjamin Bar: nine violations on Aug. 10, 2018

❌Sushi Nakazawa: two violations on Aug. 10, 2018

✔️Banquet kitchen: no violations on Aug. 10, 2018

❌Pastry kitchen: two violations on Aug. 10, 2018

✔️Gift shop: no violations on May 7, 2018

❌Employee kitchen and in-room dining: five violations on Aug. 10, 2018; two were corrected on site
Other Trump Organization news
"Donald Trump sold a Manhattan condo for the first time in nearly two years last Tuesday, according to a Forbes review of property records. The president dealt an 11th-floor unit on the south end of Central Park for $2.15 million to an entity named Scotchview Associates LLC, which appears to be connected to a New Jersey developer." By Dan Alexander for Forbes.

Trump's nominee for attorney general, William Barr, testified to the Senate's judiciary committee during his information hearing that he's not familiar with the contents of emoluments clause.

"An insider from 'The Apprentice' on how the show made Donald Trump." Patrick Radden Keefe talks with the show's supervising producer, Jonathon Braun, for The New Yorker.

The Trump Hotel New York opened 22 years ago today.
One thing that has nothing to do with Trump's businesses (I think, tough to tell sometimes!)
José Andrés was going to open a high-end restaurant on Pennsylvania Avenue, in the Trump Hotel, but backed out after then candidate Donald Trump called Mexicans "rapists." Now Andrés is opening a food kitchen on Pennsylvania Avenue for furloughed government employees.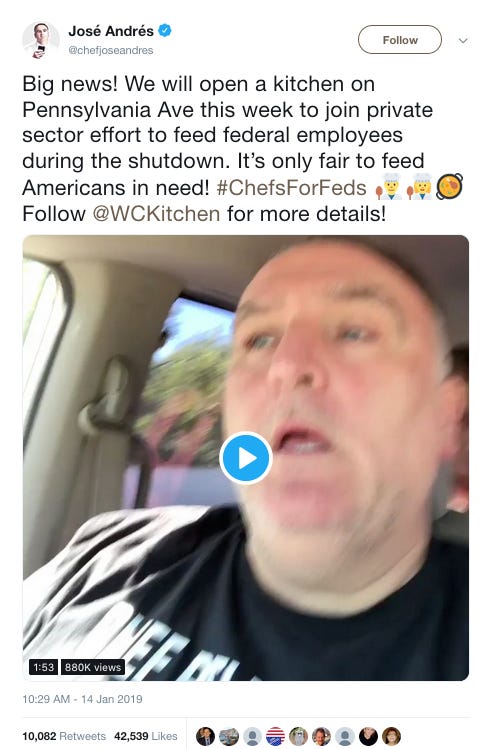 Thanks for reading. If you like what you saw, tell someone—and support this work by paying for a subscription. If you've been forwarded this newsletter, subscribe for yourself at zacheverson.substack.com. Questions? Read our FAQ/manifesto. Tips or feedback? Contact me, Zach Everson, securely via email at 1100Pennsylvania@protonmail.com or on Signal at 202.804.2744.