Discover more from 1100 Pennsylvania
"The undisputed expert on the D.C. Trump Hotel" – David Fahrenthold of the Washington Post
Over 3,000 subscribers
Report: Trump overstated his net worth
Washington Post: Investigators reviewing Trump's 'statements of financial condition' for possible fraud
From "How Donald Trump inflated his net worth to lenders and investors" by David A. Fahrenthold and Jonathan O'Connell for The Washington Post:
When Donald Trump wanted to make a good impression—on a lender, a business partner, or a journalist—he sometimes sent them official-looking documents called "Statements of Financial Condition"…

But, for someone trying to get a true picture of Trump's net worth, the documents were deeply flawed. Some simply omitted properties that carried big debts. Some assets were overvalued. And some key numbers were wrong…

Now, investigators on Capitol Hill and in New York are homing in on these unusual documents in an apparent attempt to determine whether Trump's familiar habit of bragging about his wealth ever crossed a line into fraud.
As for the Trump Hotel D.C., Fahrenthold and O'Connell reported that the financial information Trump provided for that project had been formally audited.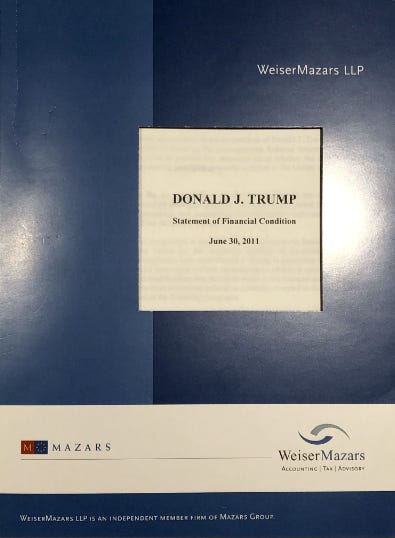 ---
Run by loyal Trump customer, Liberty University landed Pentagon contract
From "Trump pal Falwell got Pentagon contract right after election" by Lachlan Markay for The Daily Beast's Pay Dirt
The Pentagon's energy procurement arm inked the contract, worth nearly $900,000, with a company called Freedom Aviation on May 9, 2017, and has purchased more than $400,000 in turbine fuel from the company since then. Freedom Aviation is wholly owned by Liberty University, a conservative school in Lynchburg, Virginia, led by high-profile Trump supporter Jerry Falwell Jr.
Falwell and the Liberty University community are also regular Trump Hotel D.C. patrons.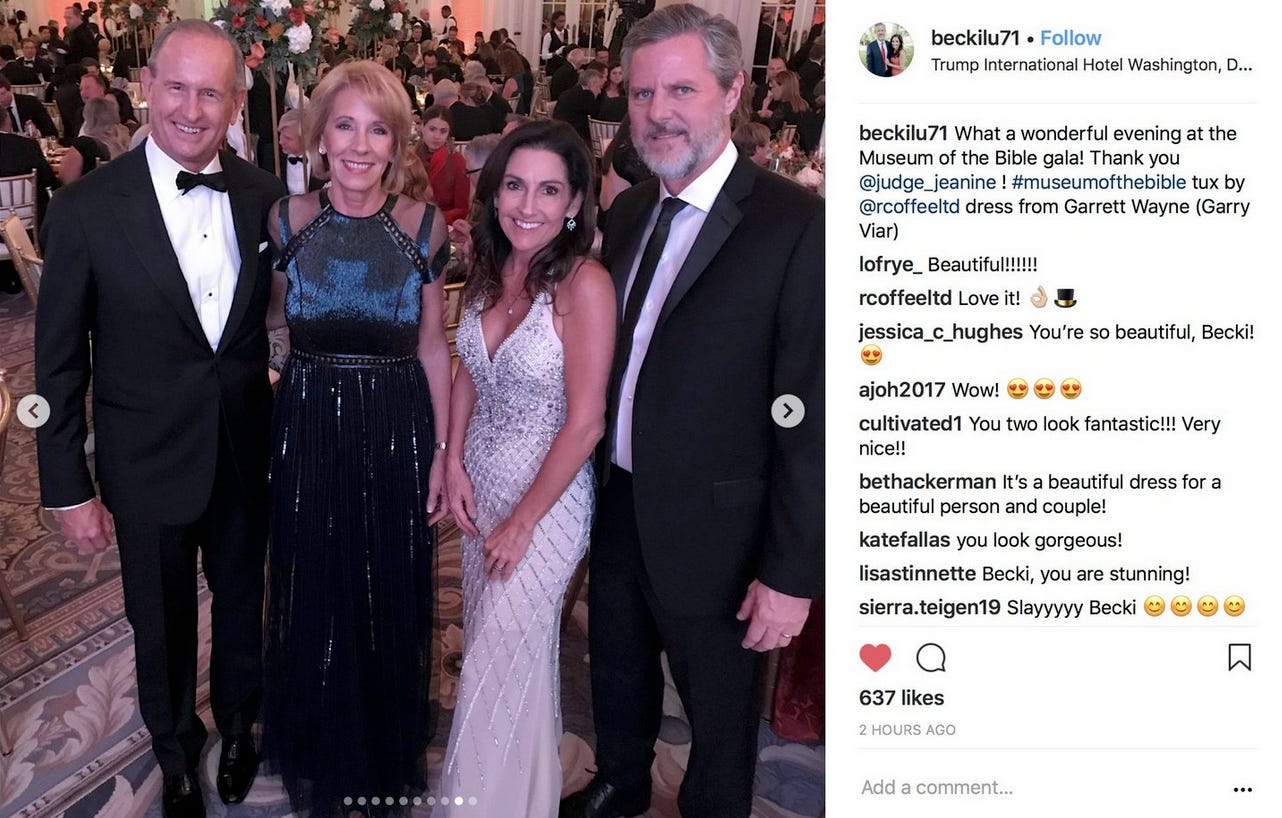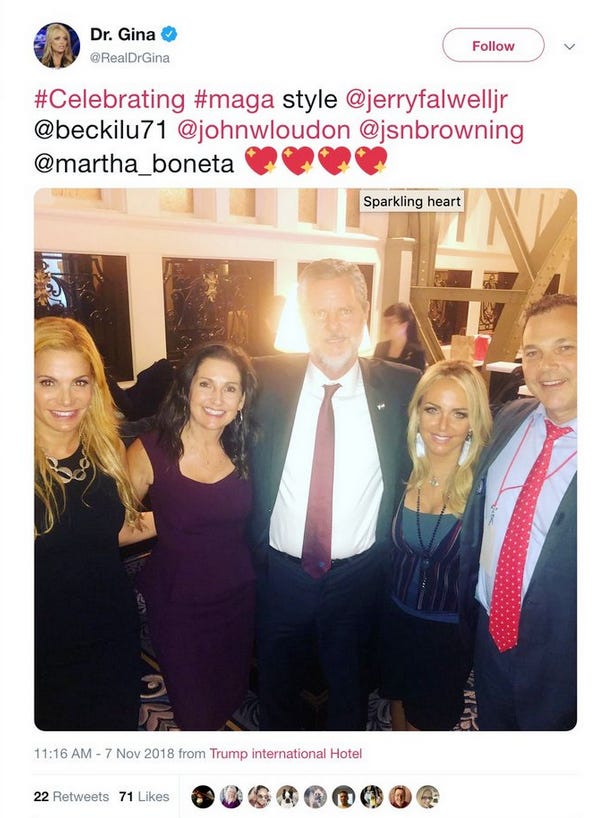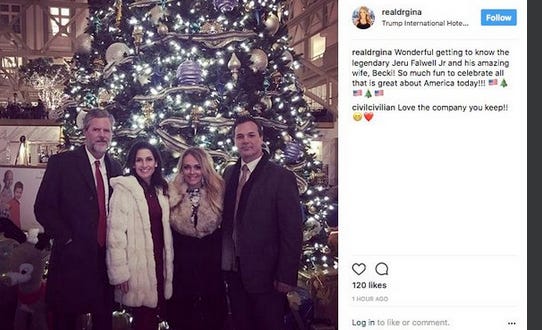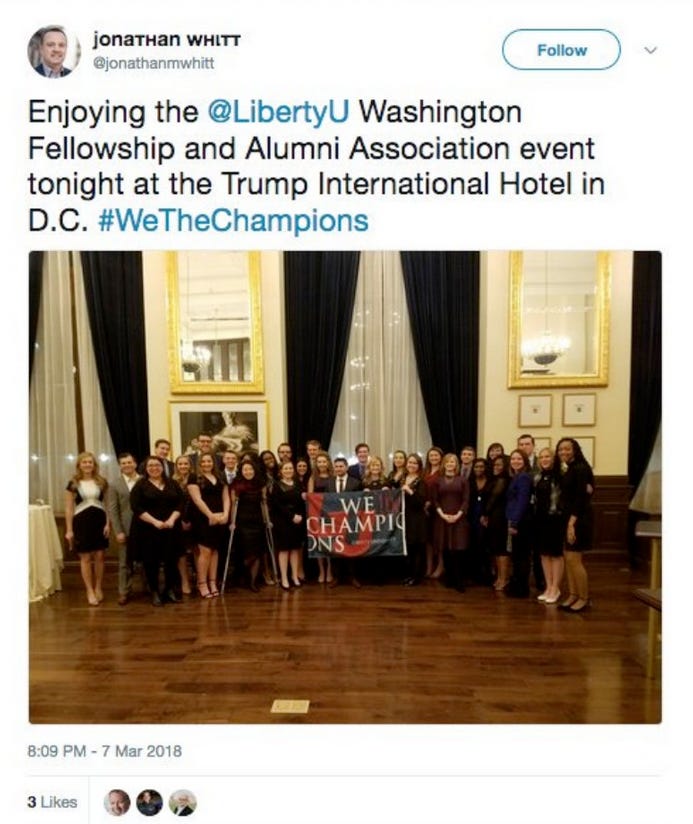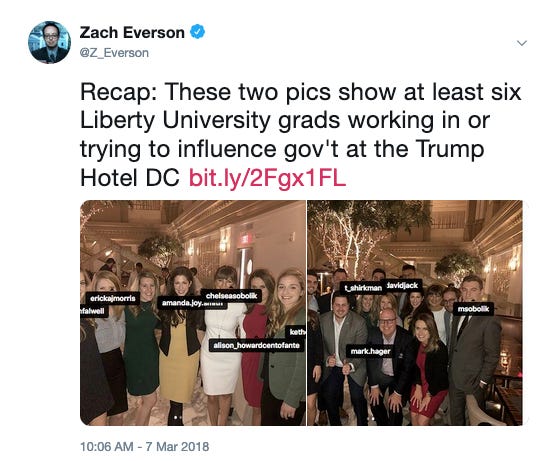 ---
Support this reporting, become a 1100 Pennsylvania member
Reporting on the Trump Hotel D.C. and the president's other businesses takes time. But it's making an impact—and you can help. If you're not an 1100 Pennsylvania member, please become one and help us continue to report on who's spending money at the president's hotel—and what they might be getting in return. Memberships are this newsletter's sole source of income. Select the red "Subscribe now" button and become a member by paying $5 a month or $50 a year. Thank you.
---
Noteworthy sightings
According to the Trump Hotel D.C.'s managing director, Mickael Damelincourt, the U.S. president's company just booked a bunch of foreign business.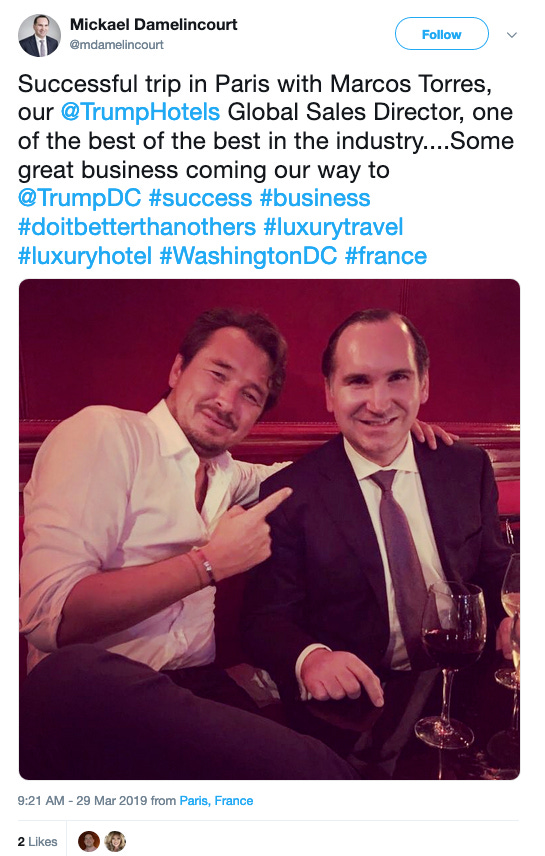 In fact, even Damelincourt's breakfast was a "#success"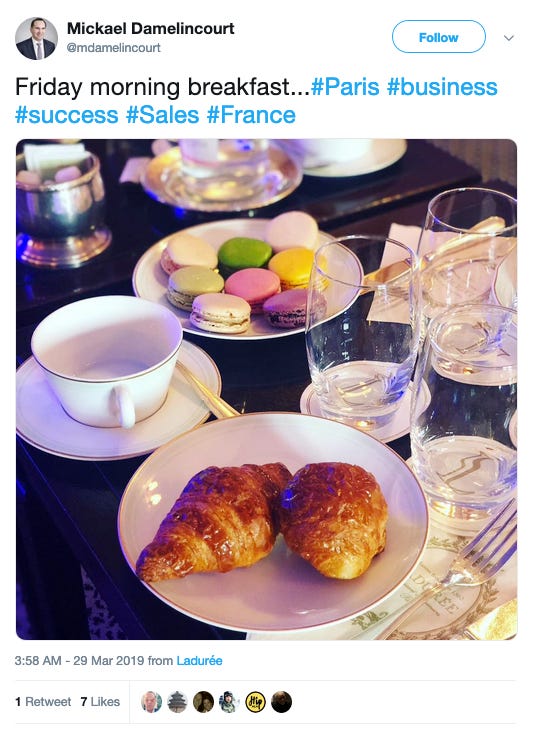 Cooper Rice, an officer in the U.S. Secret Service's uniformed division, had a great night at the president's hotel.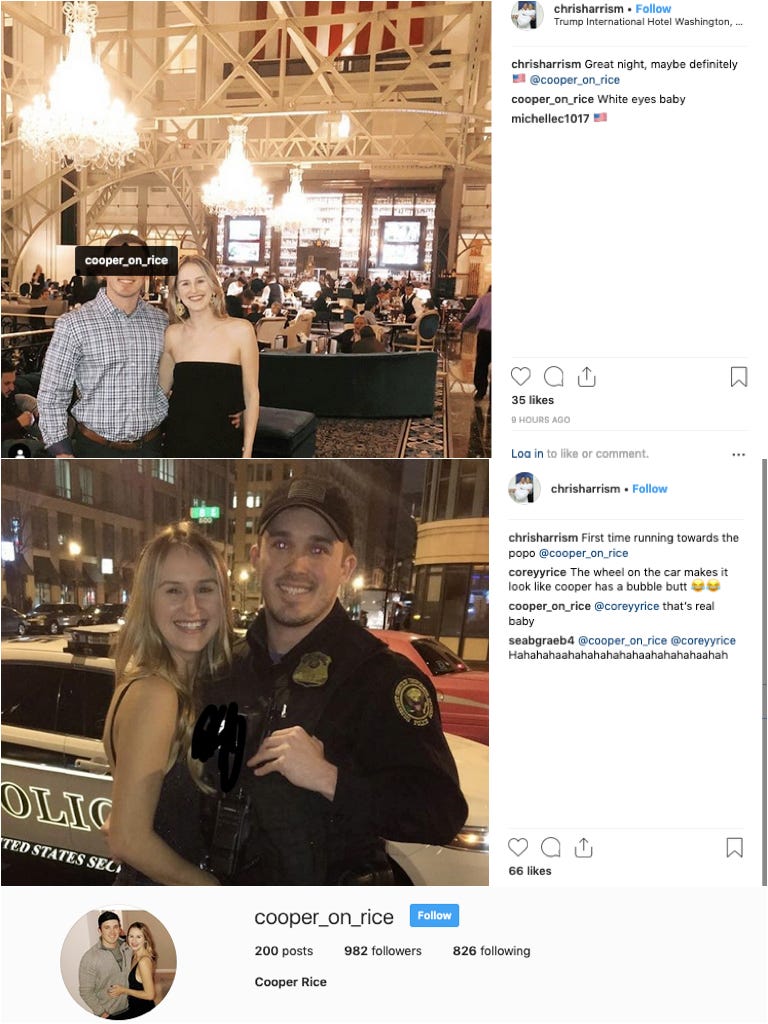 ---
Other Trump Organization news
---
House investigations, current status (latest changes, March 29, 2019)
---
Legal cases, current status (latest change, March 20, 2019)
D.C. and MD attorneys general's emoluments lawsuit (district court docket, appellate court docket)—

Official capacity—On Dec. 20, 2018, the 4th U.S. Circuit Court of Appeals ruled it would hear the president's appeal of district court rulings that allowed the case to proceed to discovery, and the appellate court halted discovery in the case. Discovery had started Dec. 3 and was scheduled to run through Aug. 2, 2019, with the AGs having subpoenaed the Trump Organization, including its Scottish golf courses; the U.S. Departments of Agriculture, Commerce, Defense, and Treasury and the GSA; and the state of Maine. Oral arguments on the appeal occurred on March 19; by all accounts the three-judge panel (all Republican appointees, including one who was a selection of President Trump's) were skeptical of the AGs' case. D.C. AG Karl Racine pledged to take the case to the U.S. Supreme Court if necessary.

Individual capacity—On Dec. 14, Trump's personal attorneys appealed the denial of their motion to dismiss the case, also to the 4th U.S. Circuit Court of Appeals. On Dec. 19, the AGs replied to Trump's motion for a stay pending that appeal by voluntarily dismissing the claims against Trump in his "individual capacity to allow the claims against President Trump in his official capacity to move forward expeditiously." (The AGs only brought suit against Trump in his individual capacity after the judge suggested they do so.) Trump's personal attorneys, on Dec. 21, opposed the motion to dismiss at the district level, saying the appeals court now has jurisdiction and accusing the AGs of "gamesmanship."

Democratic senators and representatives' emoluments lawsuit—On Sept. 28, Judge Emmet G. Sullivan ruled that the legislators have standing to sue. Trump's Justice Department attorneys filed an interlocutory appeal on Oct. 22. On Jan. 30, 2019, the plaintiffs' filed a notice of supplemental authority, notifying the court of the GSA inspector general's report that criticized GSA for failing to consider if the Trump Hotel D.C.'s lease was in compliance with the Constitution after Trump became president. Two days later, the president's attorneys argued that the IG's conclusion was not inconsistent with Trump's argument, but that the judge should ignore that report anyway because the IG has no expertise in interpreting or applying the foreign emoluments clause.

CREW et. al's emoluments lawsuit—In February 2018, CREW appealed its suit being dismissed for lack of standing to the 2nd U.S. Circuit Court of Appeals. Oral arguments on that motion were held on Oct. 30.

Cork's unfair competition lawsuit—Judge Richard J. Leon dismissed the case on Nov. 26, 2018, writing "Cork has failed to state a claim for unfair competition under D.C. law." On Dec. 10, Cork's attorneys filed a notice of appeal and on Jan. 10, 2019 they submitted a statement of issues to be raised. A briefing schedule was set on March 5 with Cork's brief due on April 15, the president's brief due on May 15, and Cork's reply to the president's brief due on June 5.

Employees' class-action suit alleging racial discrimination—Two of the three plaintiffs did not appear at a status hearing on Jan. 25, 2019; their cases were moved to arbitration. Via email, their attorney, A.J. Dhali, said his clients did not appear at the hearing because their case already had been moved to arbitration last year. The next status hearing is scheduled for Oct. 4.
---
Health inspections, current status (latest change, Aug. 10, 2018)
❌Hotel: five violations on May 7, 2018; two were corrected on site

❌BLT Prime and Benjamin Bar: nine violations on Aug. 10, 2018

❌Sushi Nakazawa: two violations on Aug. 10, 2018

✔️Banquet kitchen: no violations on Aug. 10, 2018

❌Pastry kitchen: two violations on Aug. 10, 2018

✔️Gift shop: no violations on May 7, 2018

❌Employee kitchen and in-room dining: five violations on Aug. 10, 2018; two were corrected on site
---
Is the Trump Organization selling merchandise that depicts the White House? (latest change, March 21, 2019)
Yes.
---
One thing that (probably) has nothing to do with Trump's businesses
"Horrific viral video shows bear and her cubs being slaughtered by father and son while hibernating: 'They'll Never Be Able to Link it to Us'" by Aristos Georgiou for Newsweek
---
Thanks for reading. If you like what you see, tell someone—and support this work by becoming a paying member ($5/month or $50/year). If you've been forwarded this newsletter, subscribe for yourself at zacheverson.substack.com. Questions? Read our FAQ/manifesto. Tips or feedback? Contact me, Zach Everson, securely via email at 1100Pennsylvania@protonmail.com or on Signal at 202.804.2744.