Discover more from 1100 Pennsylvania
"The undisputed expert on the D.C. Trump Hotel" – David Fahrenthold of the Washington Post
Over 3,000 subscribers
Reps of 28 foreign governments (at least) have visited Trump Hotel D.C.
Officials from more than 14 percent of the world's sovereign nations have called on 1100 Pennsylvania Avenue
Representatives from at least 28 foreign governments have visited the Trump Hotel D.C. since Donald Trump was elected president, according to an analysis of 1100 Pennsylvania's reporting and other media accounts.
Article 1, section 9 of the U.S. Constitution stipulates that "no Person holding any Office of Profit or Trust under them, shall, without the Consent of the Congress, accept of any present, Emolument, Office, or Title, of any kind whatever, from any King, Prince, or foreign State."
In several of these examples, it's been documented that the foreign government paid the Trump Hotel D.C. At least once, foreign officials said a third-party picked up the tab—in which case Trump still profited from a foreign state holding a function at his business. Additionally, several foreign leaders were advertised as attending events at the hotel, serving as draws to attract paying customers to the U.S. president's business.
In other instances, it's unknown who paid for any costs the foreign officials incurred at the Trump Hotel D.C. (And while there's no evidence this situation has happened, nothing prevents a foreign government from paying for dozens of rooms at the Trump Hotel D.C. and not bothering to stay in them.)
Trump has reported more than $81 million in revenue just from his 76.725 percent ownership stake in the D.C. hotel in 2017 through 2018. In those years the Trump Org donated a combined $343,000 to the U.S. Treasury, which it said represented the entire company's profits from foreign governments. Yet the Trump Org provided no explanation how the figure was computed or evidence that independent auditors verified the calculation.
This Monday, the House Judiciary Committee will hold a hearing on "emoluments and profiting off the presidency." (Committee attorneys and its spokesperson have not replied to inquiries asking for details about the hearing.) Three lawsuits—filed by 200 Democratic members of Congress, the attorneys general for Maryland and D.C., and a hotelier and group of restaurant industry workers—allege the president has violated the emoluments clauses.
Also, in the past day The Washington Post and New York Times have both reported that a whistle-blower filed a complaint about President Trump making an unspecified commitment to at least one foreign leader.
The United Nations recognizes 195 countries, meaning representatives from more than 14 percent of the world's sovereign have visited the Trump Hotel D.C.
That 1100 Pennsylvania wasn't able to find proof of other foreign-government officials having visited the Trump Hotel D.C. doesn't mean they haven't been there, of course. If you have evidence they've called on the U.S. president's D.C. hotel, please contact 1100 Pennsylvania via 1100Pennsylvania@protonmail.com (it'll be encrypted if you also use a ProtonMail account, which is free) or Signal (secure), SMS, or mobile at 202.804.2744.
Afghanistan
Minister of mines and its ambassador to the United States, according to then-USAID political appointee Gregory Huger (previously unreported info, accessed via FOIA)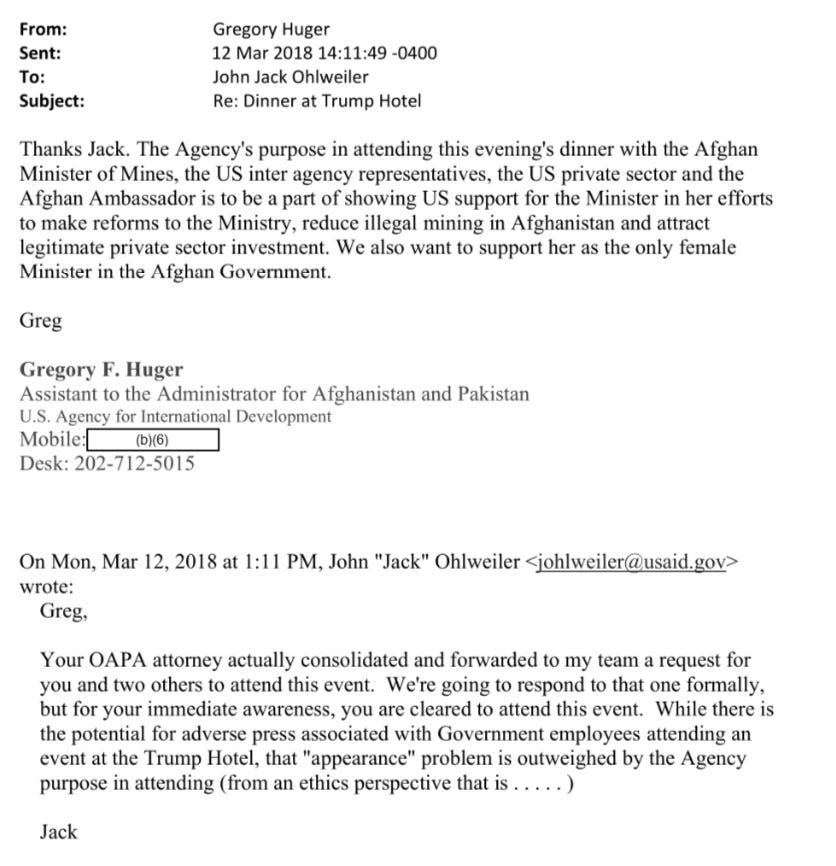 Azerbaijan
Its embassy in the United States co-hosted a 2016 Hanukkah party at the hotel, after Trump's election but before his inauguration (reported Brent Griffiths and Kenneth P. Vogel for Politico).
Bahrain
Its embassy in the United States hosted its 2016 national day celebration at the hotel, after Trump's election but before his inauguration (reported Nolan McCaskill and Madeline Conway for Politico).
Bosnia and Herzegovina
The prime minister of Republika Srpska (a Serbian enclave in Bosnia), Zeljka Cvijanovic (per Dan Friedman of Mother Jones)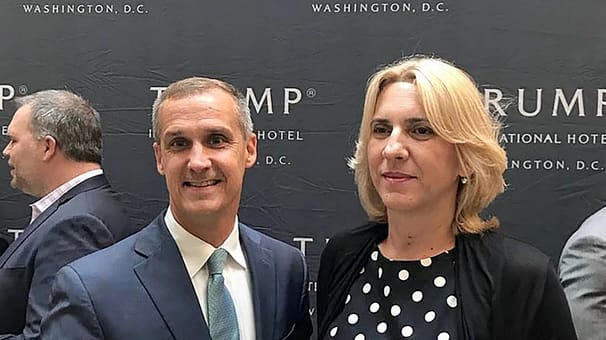 Brazil
Member of Congress (and one of the president's sons) Eduardo Bolsonaro (spotted by journalist Daniel Rittner)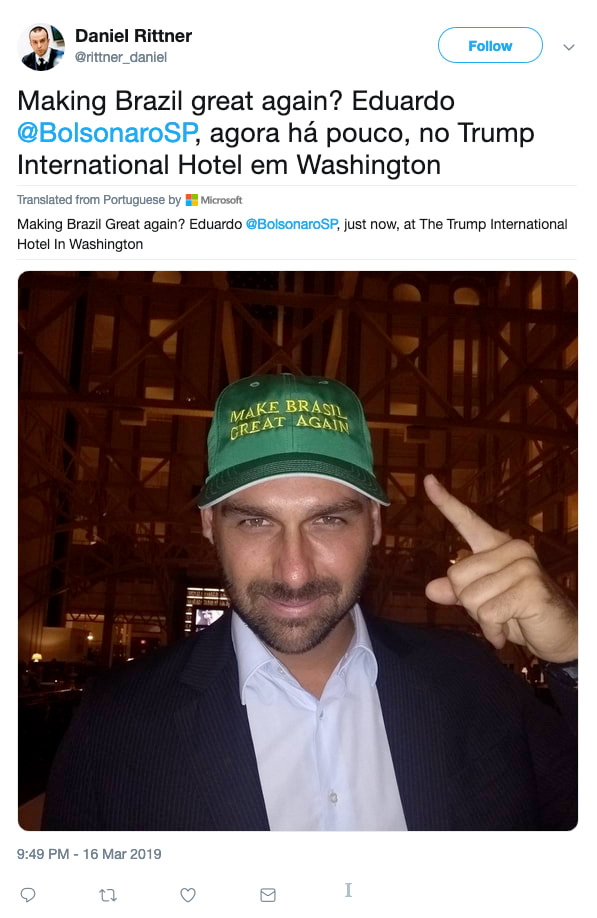 Bulgaria
Spokesman and attaché of the press center of the military ministry, Alexander Urumov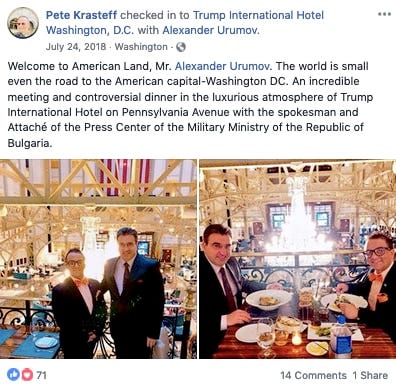 Canada
Member of parliament Tony Clement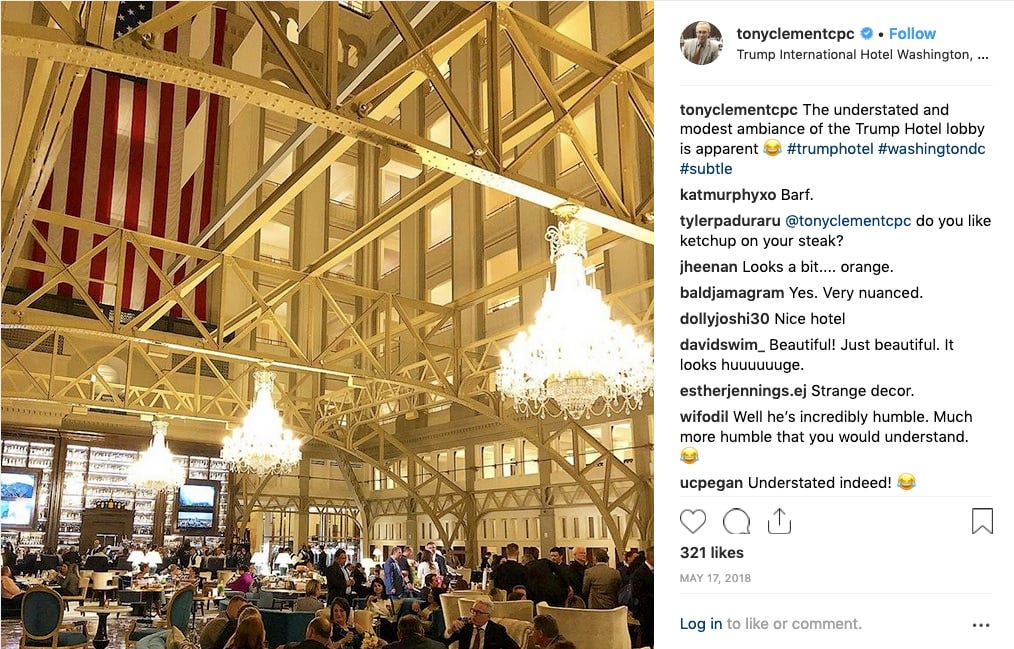 Ontario premier Doug Ford (spotted by Richard Madan of CTV News)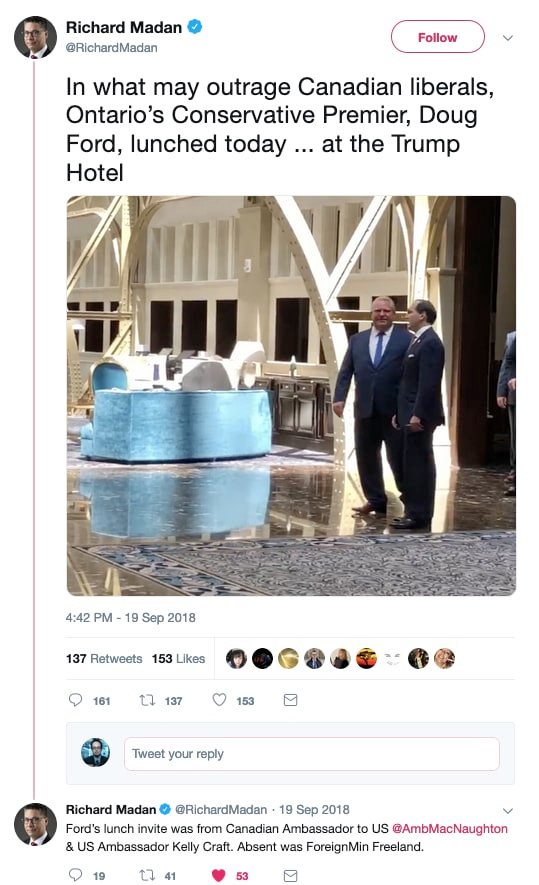 Cyprus
Presidential commissioner for humanitarian affairs and overseas Cypriots Photis Photiou and mayors of occupied Cypriot towns (as reported by me for The Daily Beast)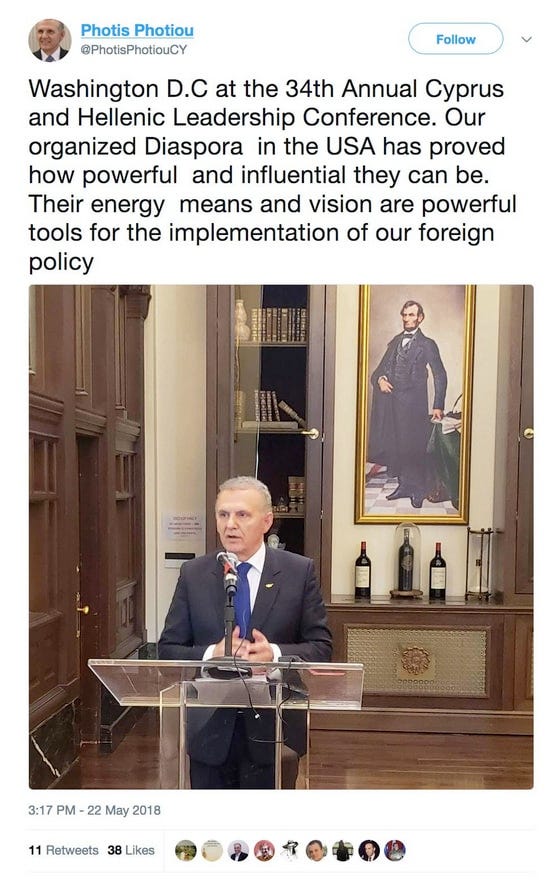 Ecuador
Trade minister Pablo Campana Sáenz (reported David Fahrenthold of The Washington Post)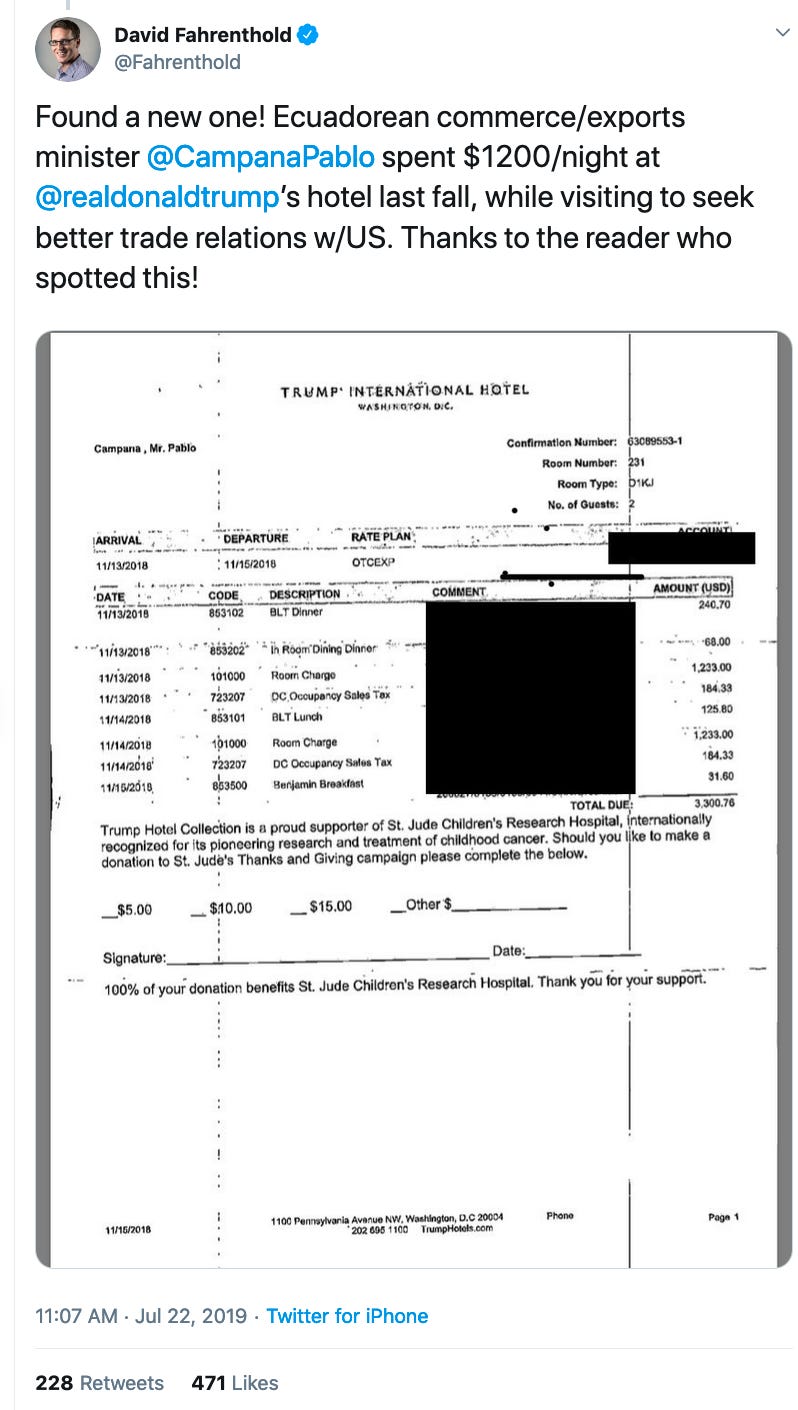 Egypt
Member of parliament Dalia Youssef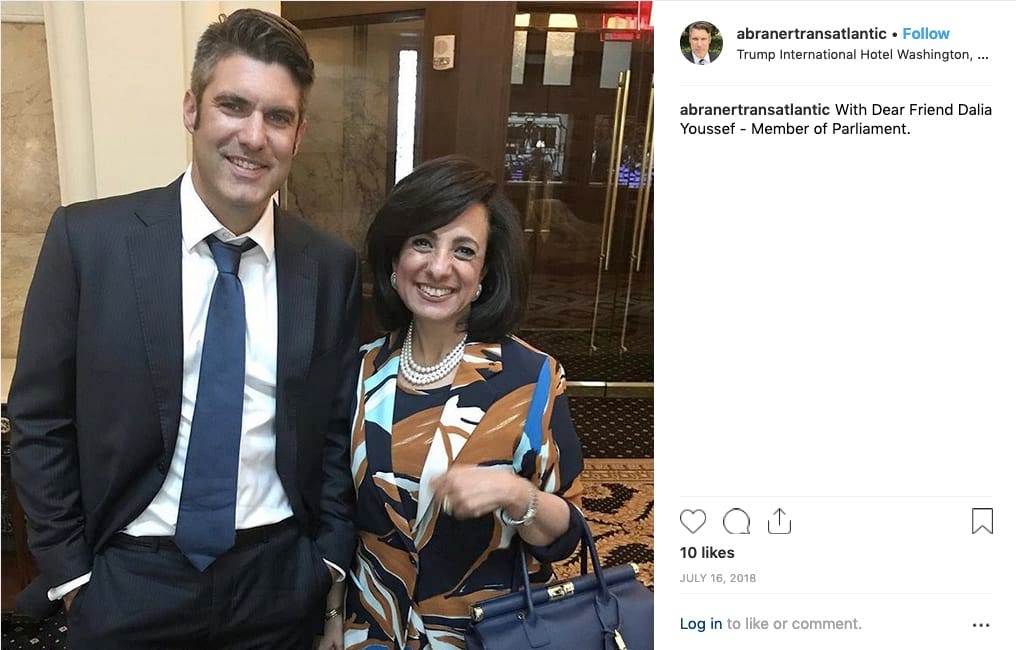 Georgia
Ambassador to the United Nations, Kaha Imnadze (h/t Citizens for Responsibility and Ethics in Washington)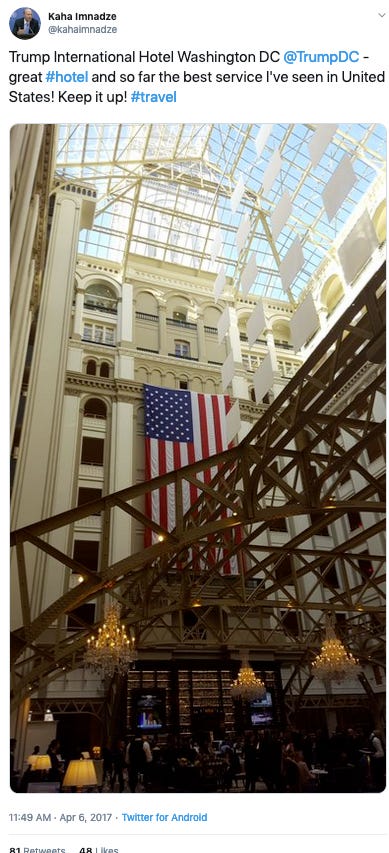 Greece
Greek member of parliament Haris Theocharis (per Greek News Online)
The mayor and deputy mayor of the Greek island of Mykonos, Konstantinos Koukas and Miltiadis Atzamoglou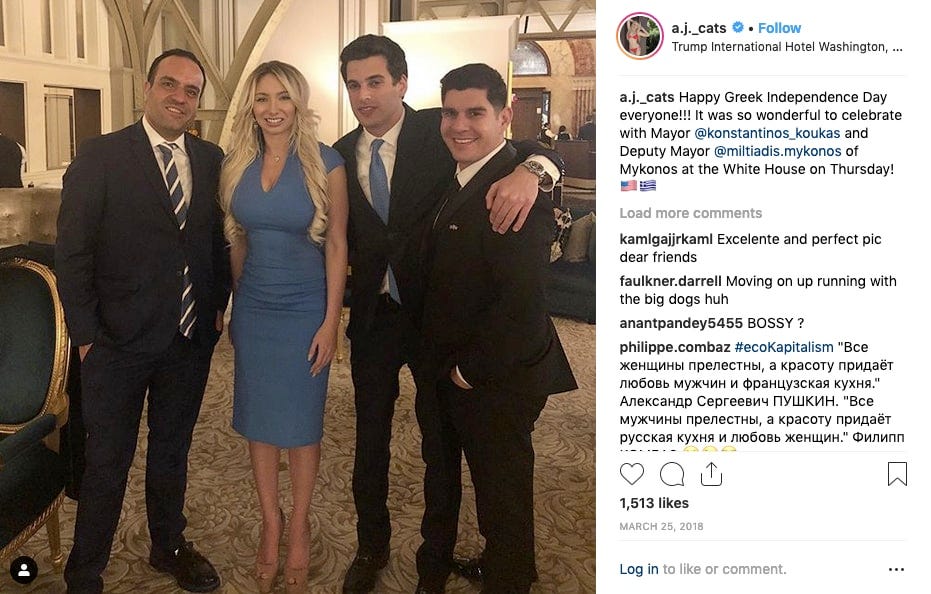 India
Diplomats V. Ashok, Acquino Vimal, Neeraj Agrawal, Vishvesh Negi, Sanjeev Dogra, Sanjay Kumar, MSKVV Satyanarayana, and S.V. Tonk (reported by Aroon Deep)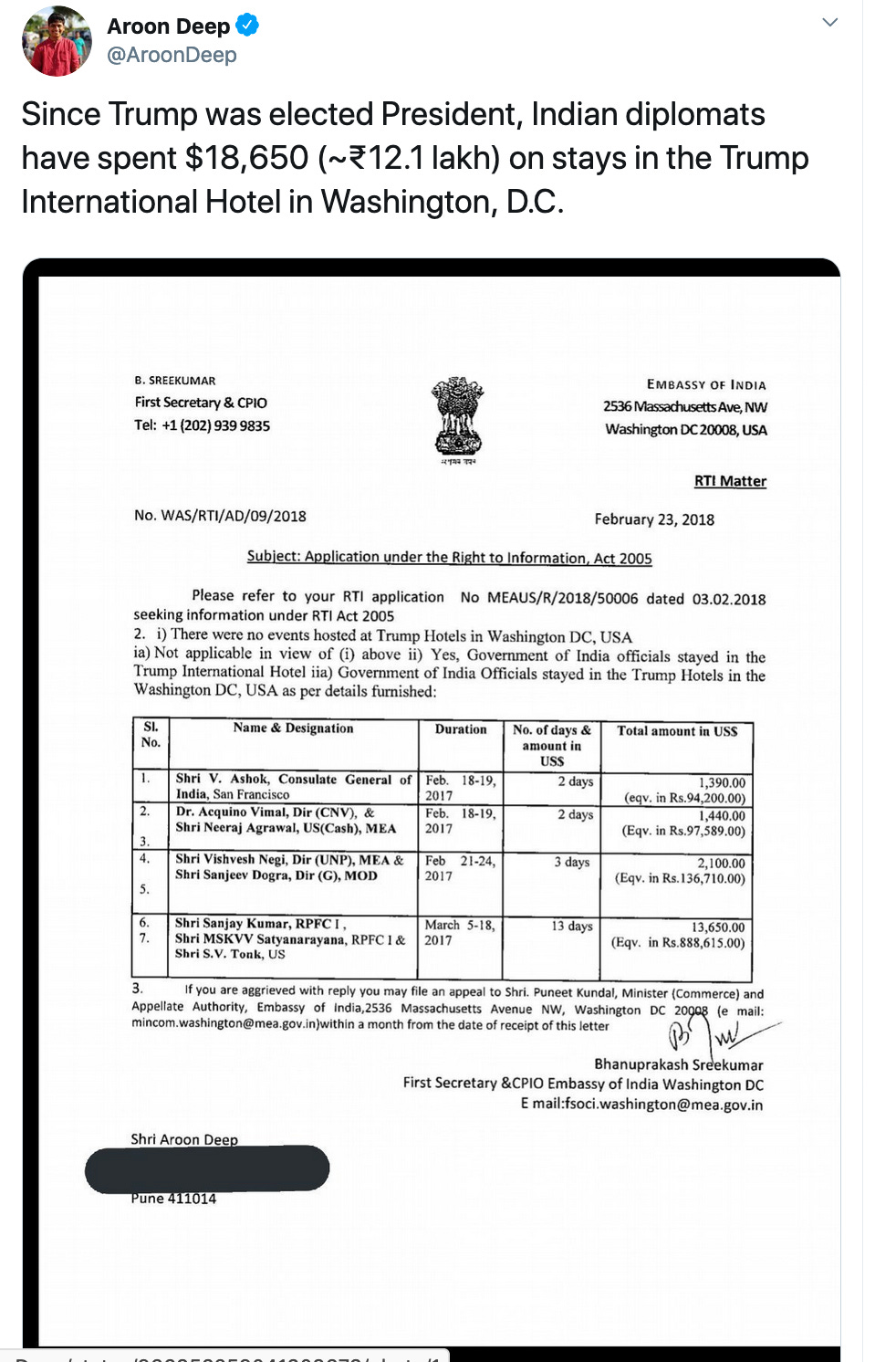 Italy
Deputy minister for foreign affairs and member of parliament Guglielmo Picchi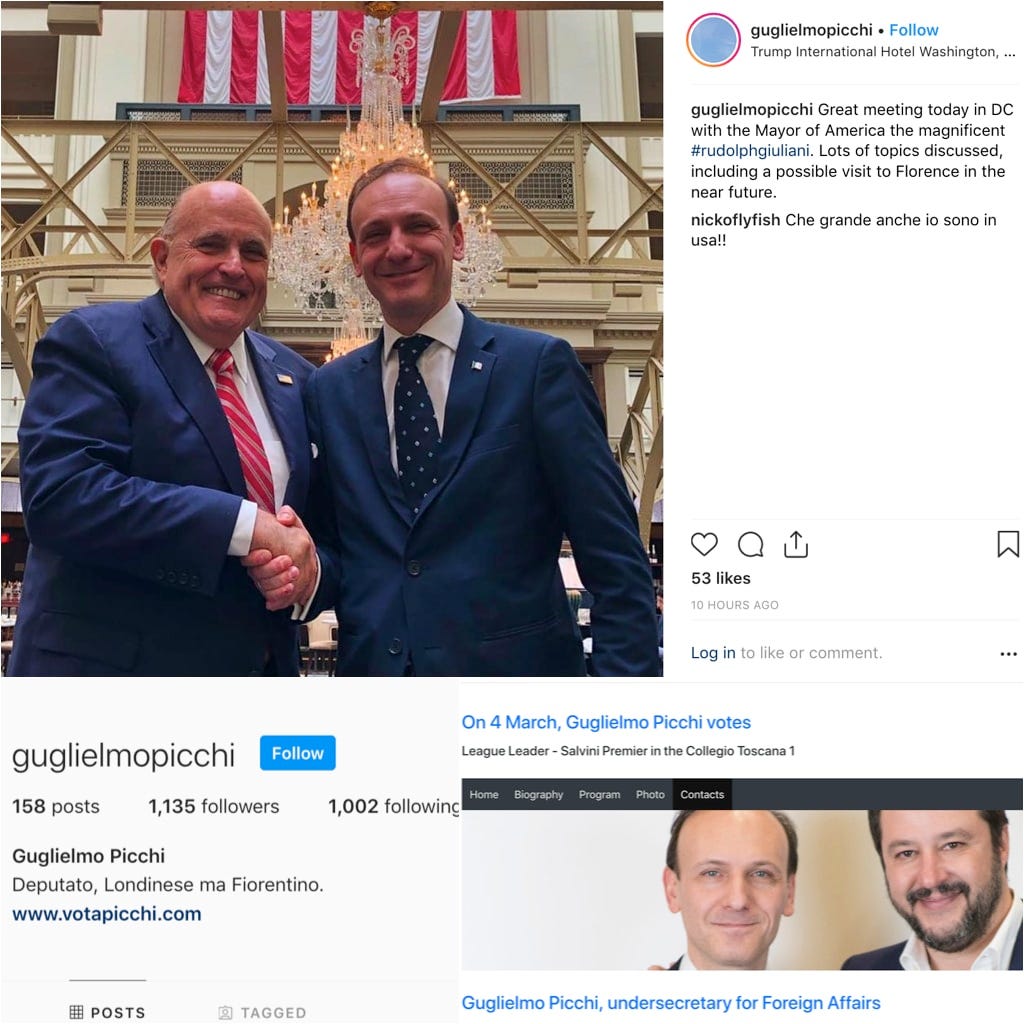 Kuwait
Its embassy in the United States held national day celebrations at the hotel in 2017, 2018, and 2019.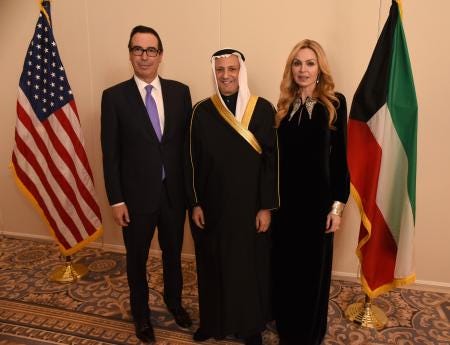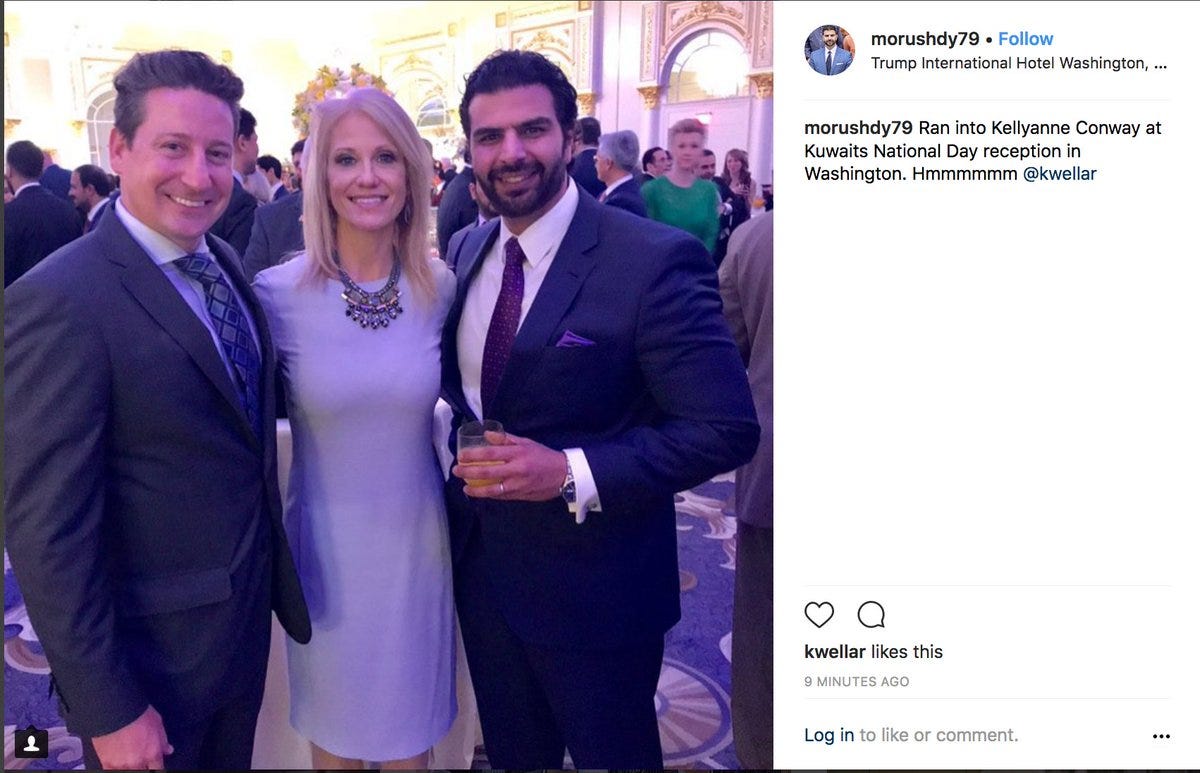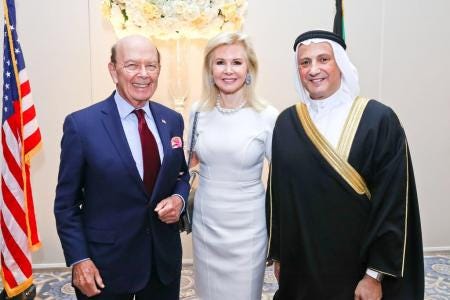 Malaysia
Then-prime minister Najib Razak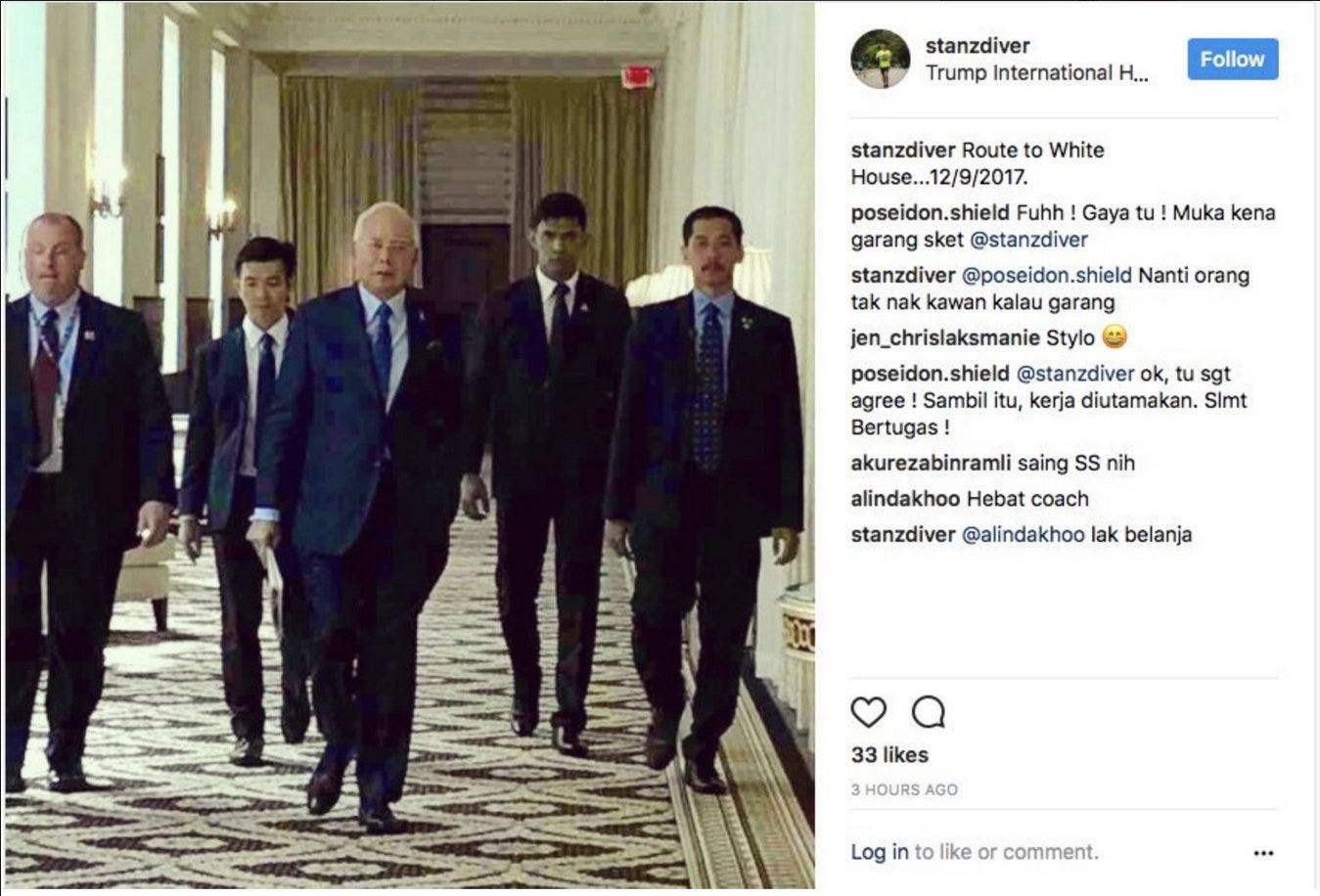 Nigeria
Vice president Yemi Osinbajo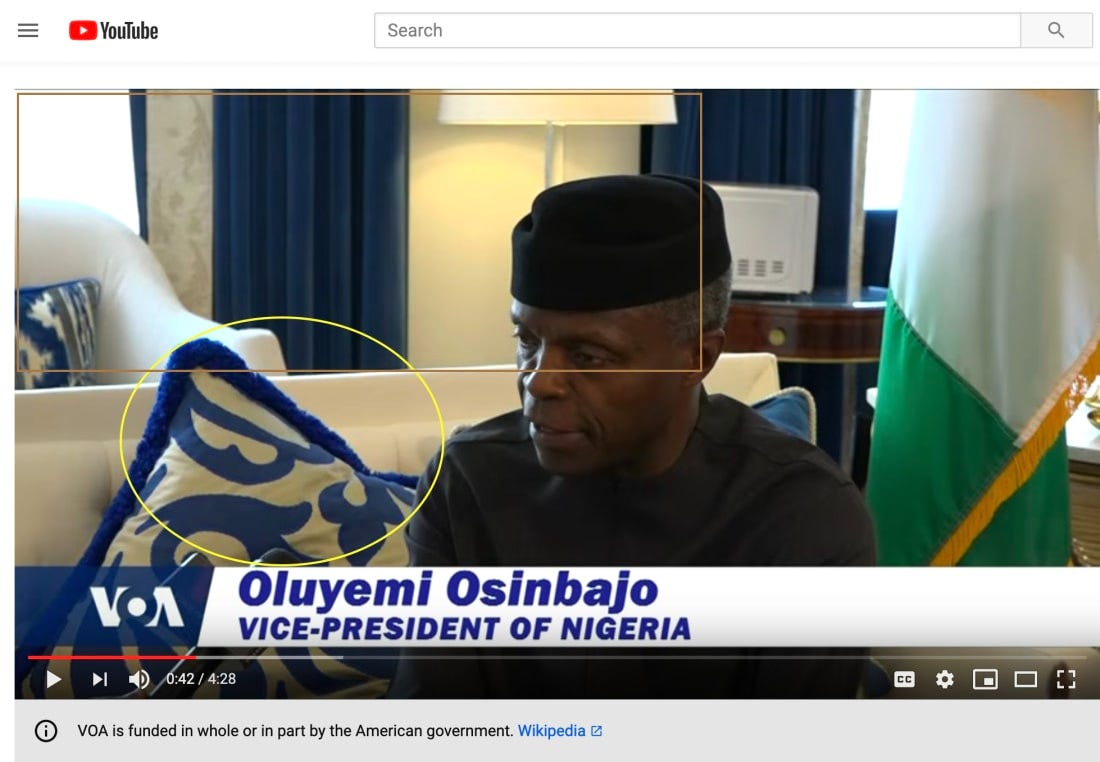 Senate president Bukola Saraki and Rep. Nnenna Ukeje Elendu (reported by Today News Africa)
Senator Ben Murray-Bruce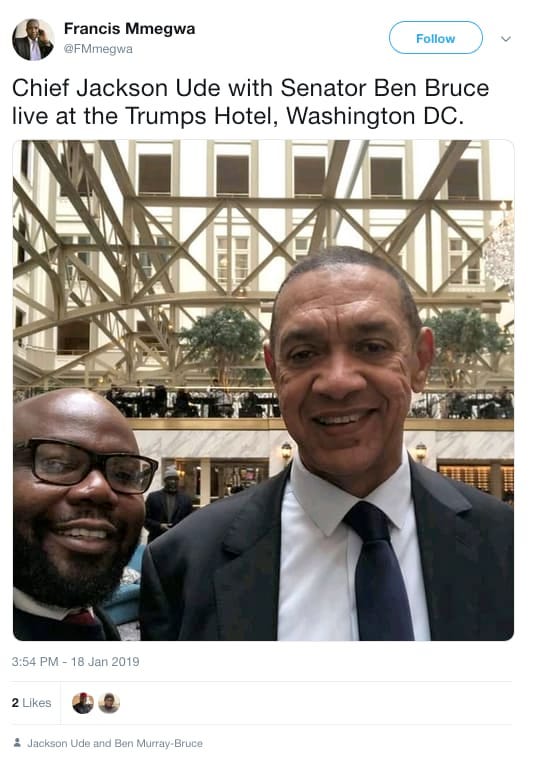 The honorary leader of one of the three main ethnic groups within Lagos, HRM Eze Dr. Christian Nwachukwu, Eze Ndi Igbo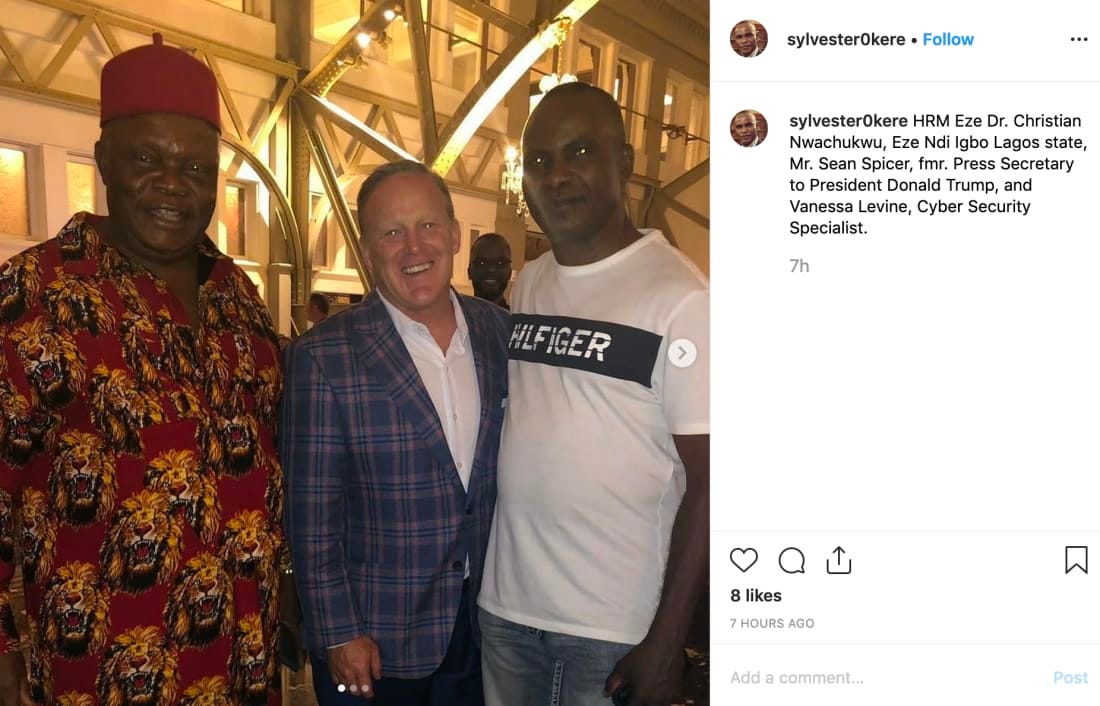 Pakistan
Federal minister for maritime affairs, Ali Haider Zaid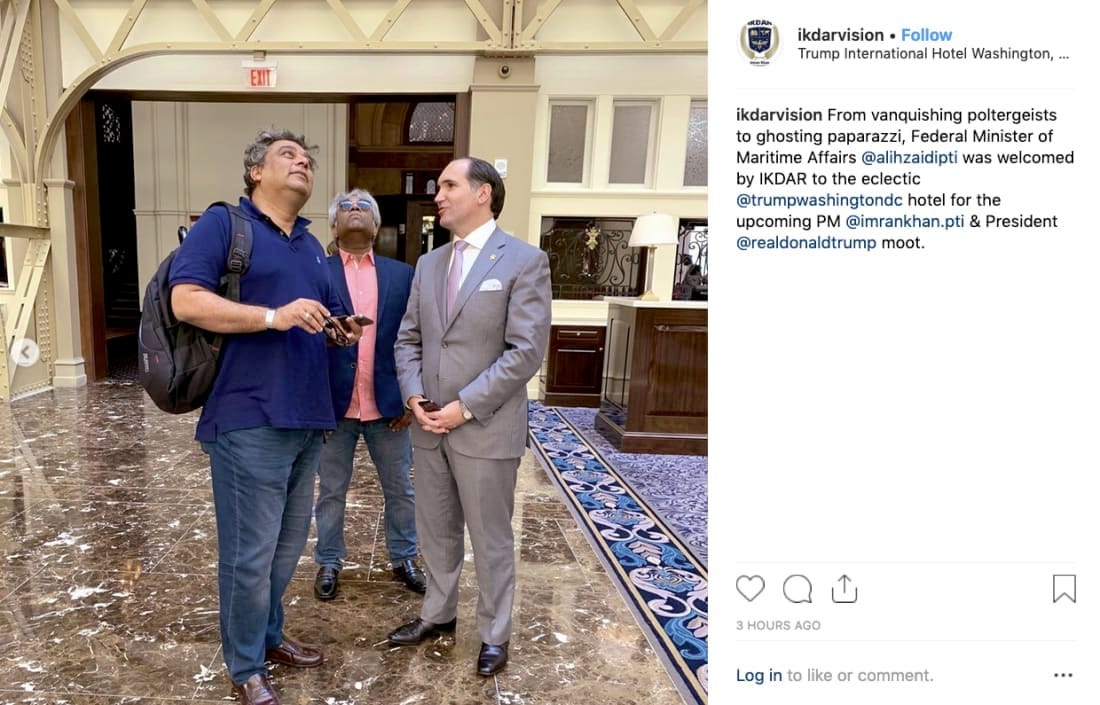 The governor of Pakistan's Sindh province, Imran Ismail (shared by journalist Saqib Ul Islam)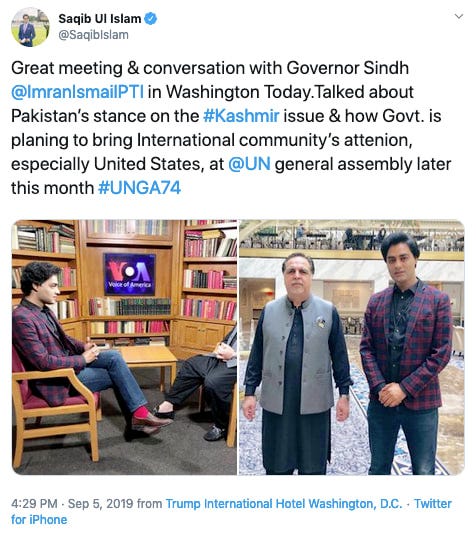 Philippines
Ambassador to the United States Jose Manuel "Babe" del Gallego Romualdez and minister for economic affairs Jose Victor Chan-Gonzaga posed at the embassy's 2018 national day celebration. (The ambassador said the event was paid for by his friends, whom he did not identify.)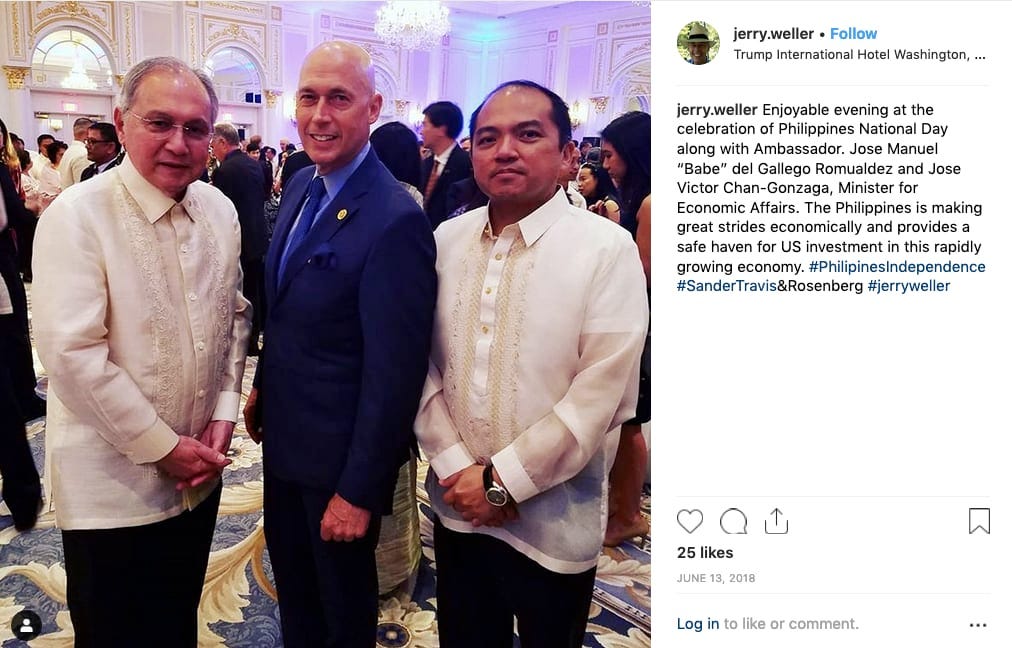 Qatar
Two senior officials attended a breakfast at the hotel during Trump's inaugural celebration (reported Erin Banco, Asawin Suebsaeng, Betsy Woodruff, and Spencer Ackerman for The Daily Beast, with a h/t to Wendy Siegelman)
Romania
President Klaus Iohannis (reported Jonathan O'Connell for The Washington Post)
Prime minister Viorica Dancila (reported Ilya Marritz, Justin Elliott, and your correspondent for ProPublica and WNYC's "Trump, Inc.")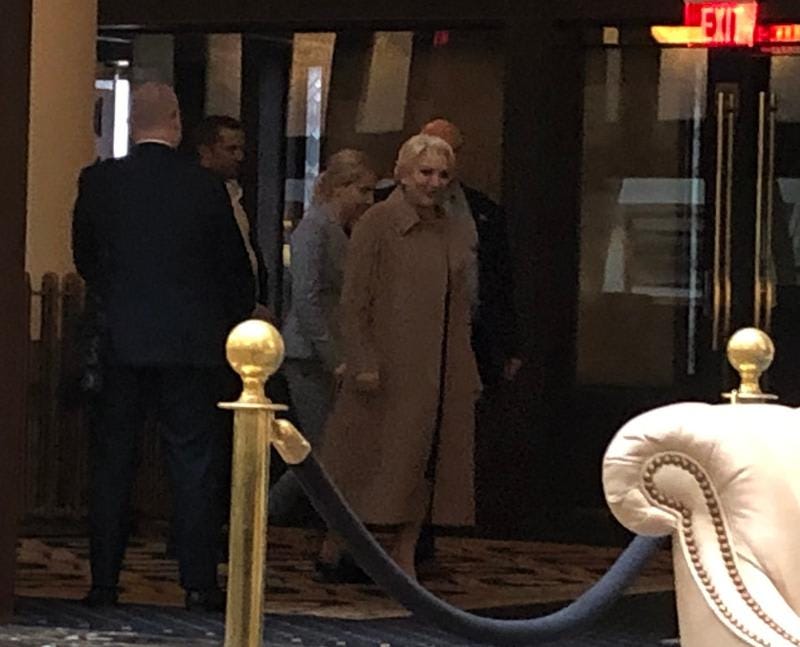 Then-prime minister Sorin Grindeanu and speaker of the lower house in Parliament, Liviu Dragnea (reported Ben Wieder and Peter Stone for McClatchy)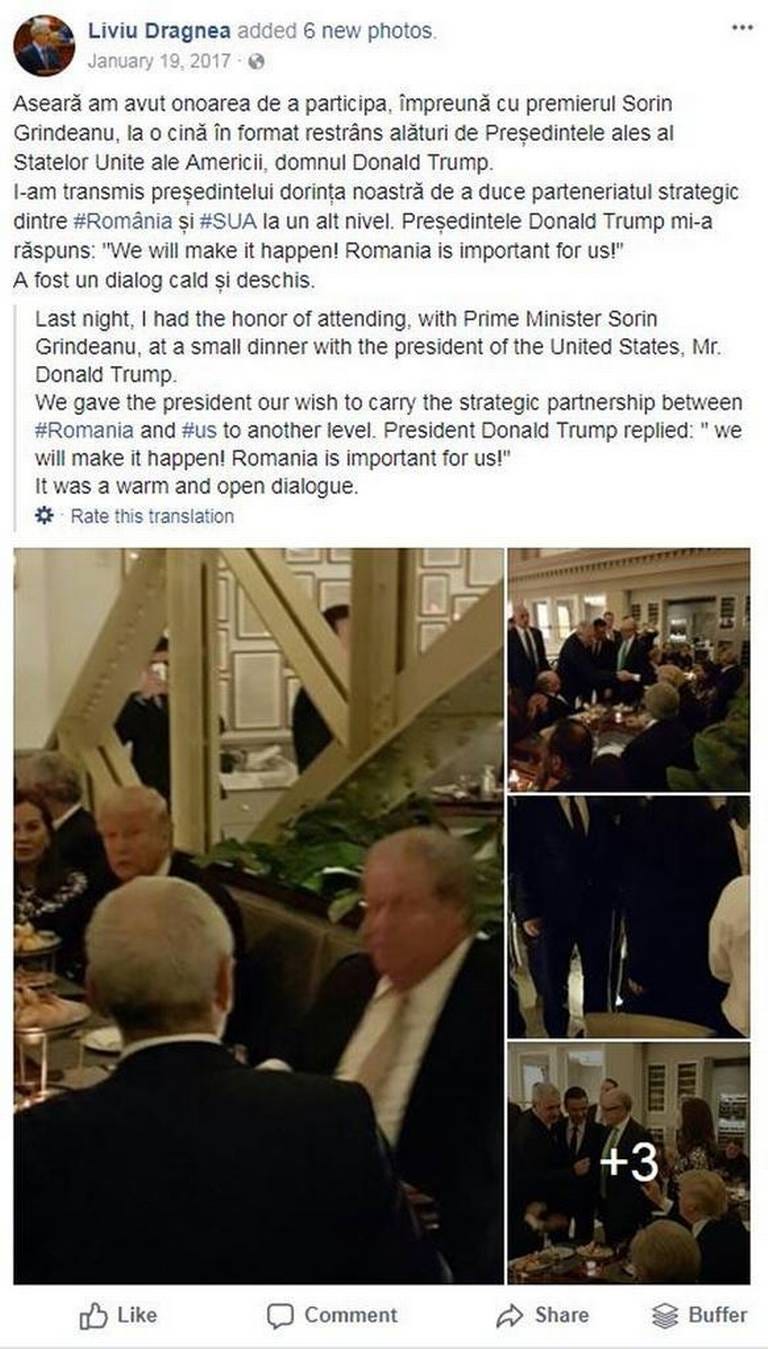 Russia
Ambassador to the United States Anatoly Antonov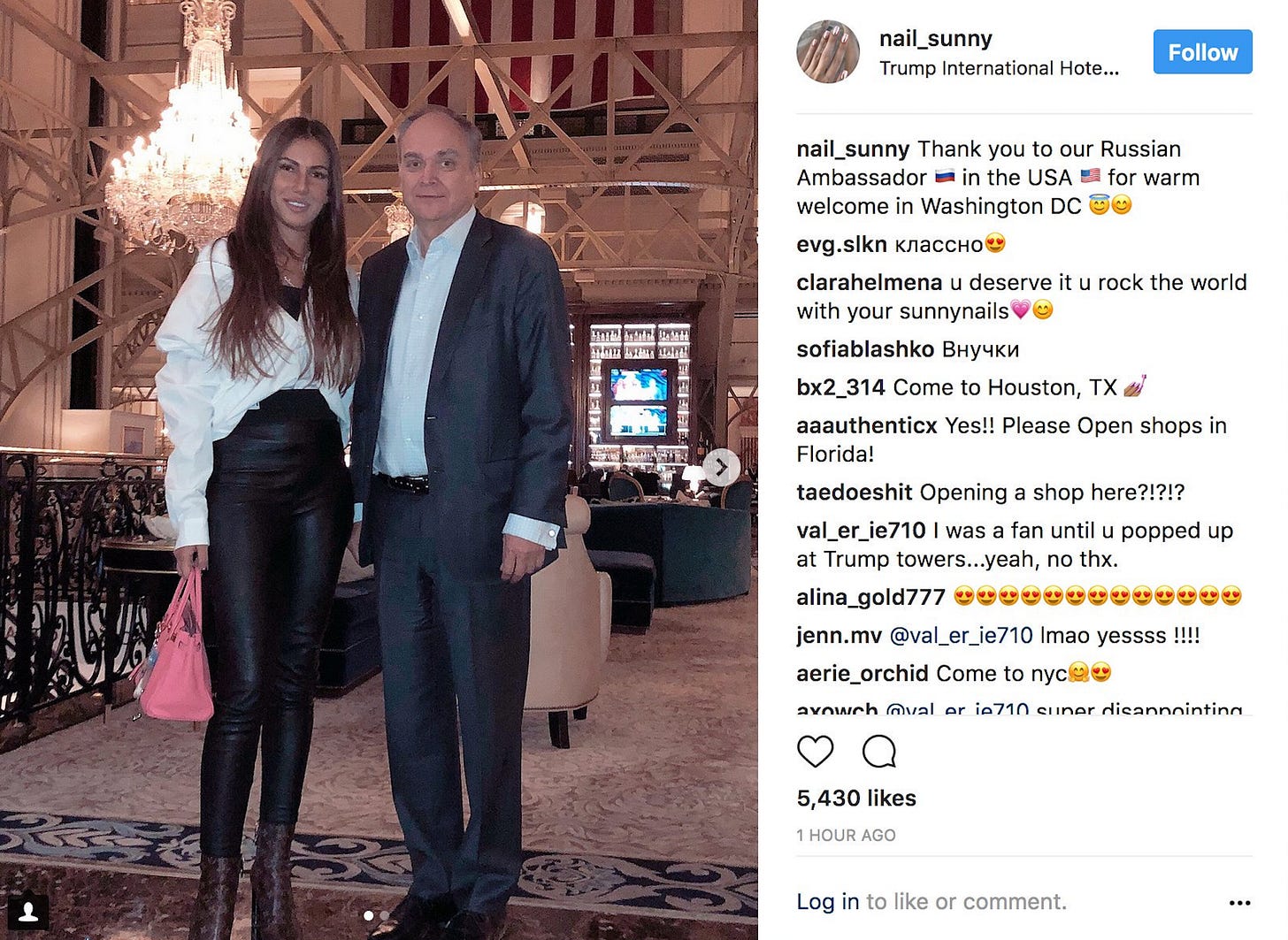 Saudi Arabia
"The Kingdom of Saudi Arabia has paid Trump International Hotel nearly $270,000 through its Washington, D.C. lobbying firm over the past several months, new foreign lobbying disclosure filings show" (reported Chuck Ross for The Daily Caller).
Defense attaché to the United States, major general Yousef Alharbi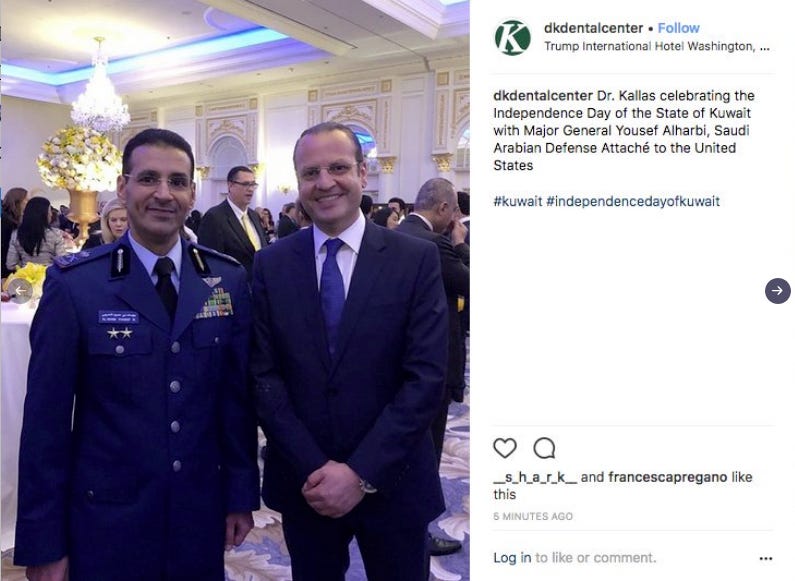 South Korea
National assembly member Wonjin Cho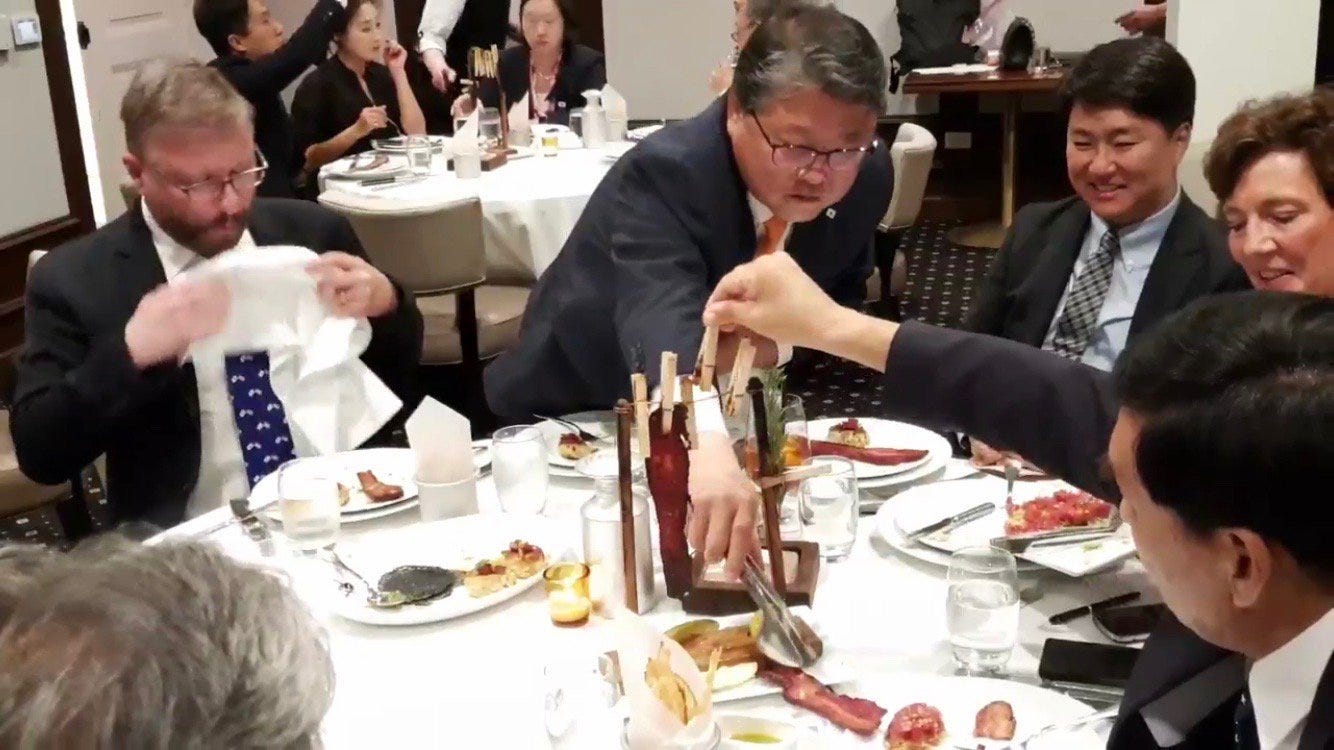 Sweden
Foreign policy advisor for Sweden's national legislature, Andreas E. Palmlöv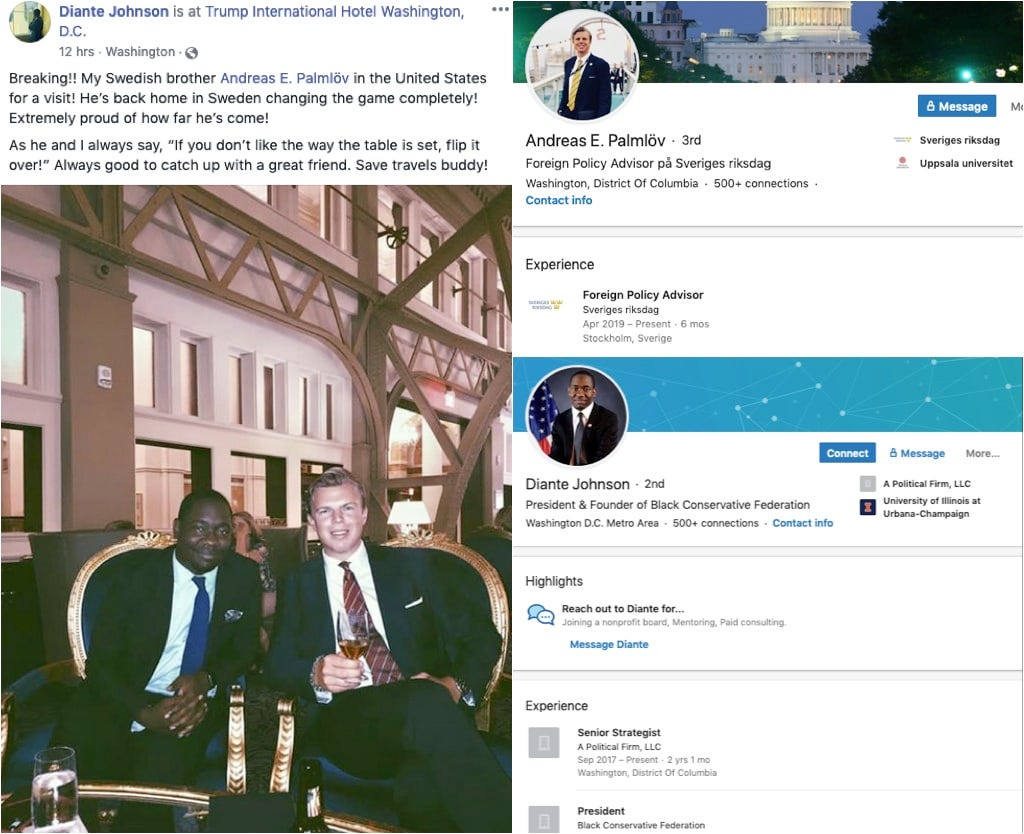 Turkey
Minister of treasury and finance, Berat Albayrak; minister of trade, Ruhsar Pekcan; minister of national defense, Hulusi Akar; and senior advisor to the president, İbrahim Kalın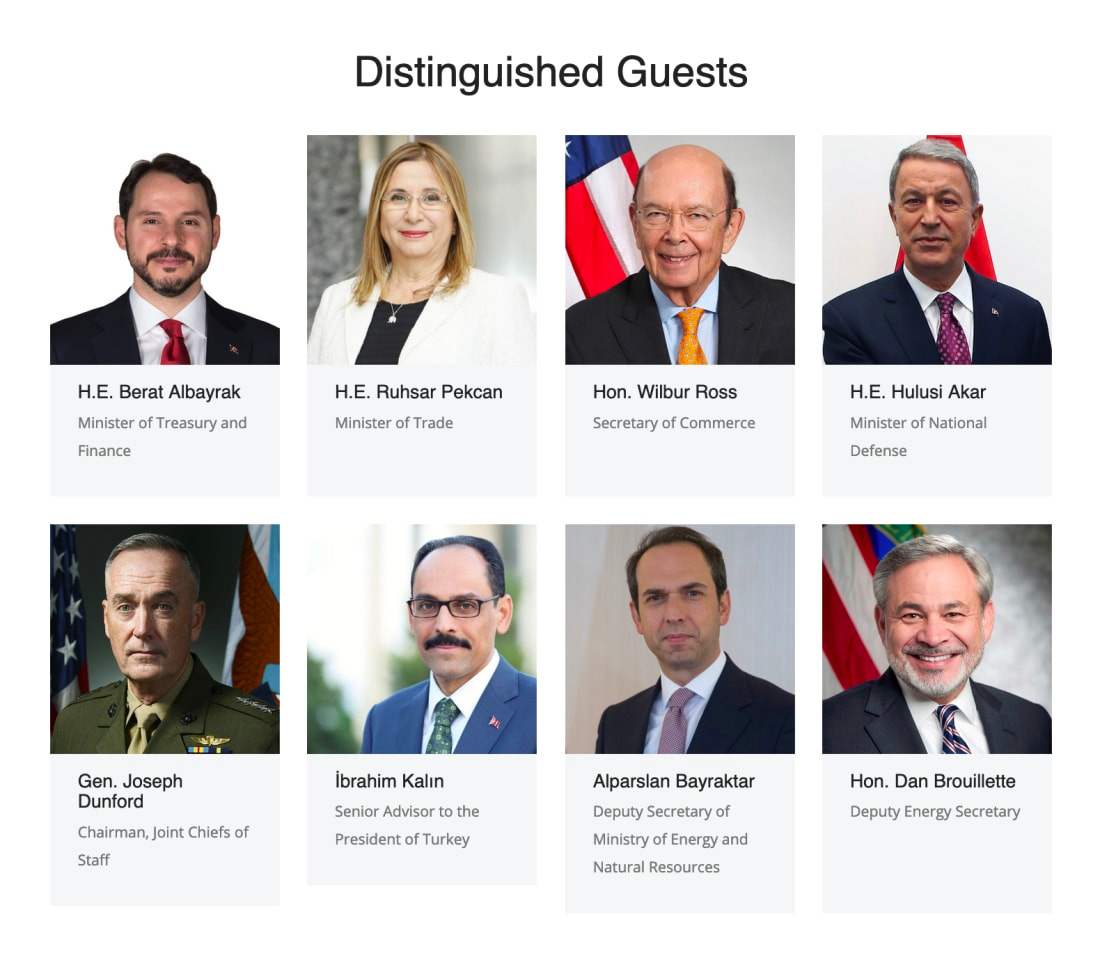 Lieutenant general Yavuz Turkgenci; undersecretary, Ministry of Defense undersecretariat of defense industries, Ismail Demir; ambassador to the United States, Serdar Kilic (per Annual Conference on U.S.–Turkey Relations' 2017 agenda)
Foreign minister, Mevlüt Çavuşoğlu (after Trump's election but before his inauguration)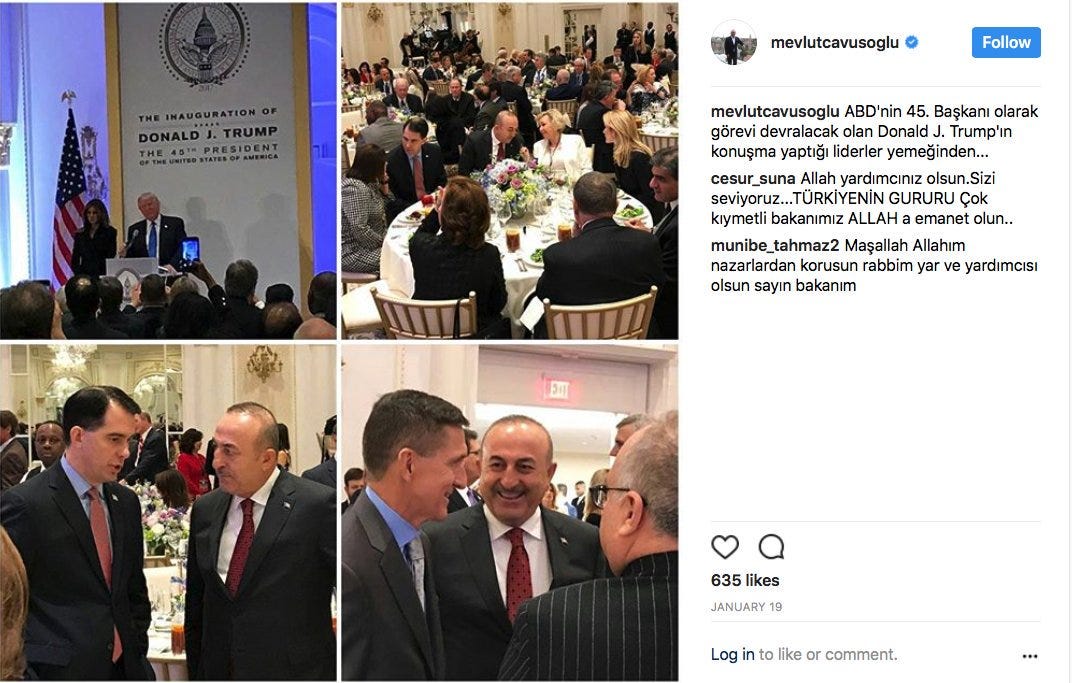 United Arab Emirates
Ambassador to the United States, Yousef Al Otaiba (reported Theodoric Meyer for Politico)
United Kingdom
Member of parliament Alan Duncan (spotted by former Breitbart News London editor-in-chief Raheem Kassam)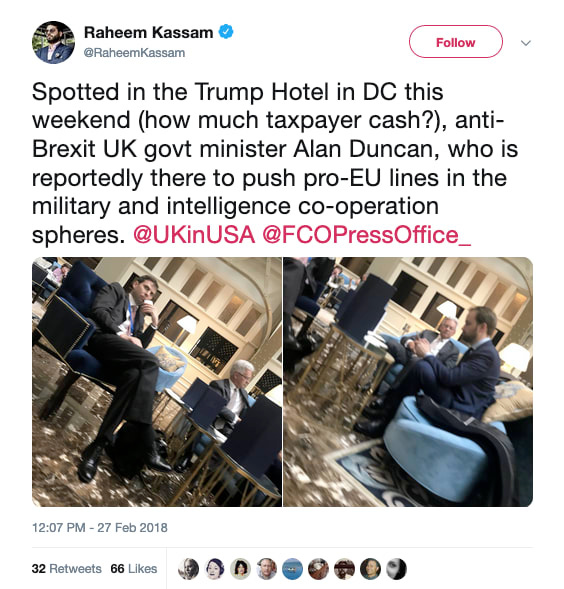 Member of the European parliament Nigel Farage
---
Other Trump Organization news
---
Fact sheets
Each issue of 1100 Pennsylvania reports on new updates in the House investigations, lawsuits, and health inspections regarding the Trump Hotel D.C. For a rundown of the earlier developments in each one, as well as reference sheets for some of 1100 Pennsylvania's previous reporting, please see these paid-subscriber-only fact sheets.
---
Thanks for reading! If you like what you've read, tell someone. If you've been forwarded this newsletter, subscribe at 1100pennsylvania.substack.com. Questions? Read our FAQ. Tips or feedback? Contact Zach Everson at 1100Pennsylvania@protonmail.com (it'll be encrypted if you also use a ProtonMail account, which is free) or via Signal (secure), SMS, or mobile at 202.804.2744.