Discover more from 1100 Pennsylvania
"The undisputed expert on the D.C. Trump Hotel" – David Fahrenthold of the Washington Post
Over 3,000 subscribers
Robert Hyde: New impeachment-inquiry figure, old Trump customer
House candidate who claimed he had the U.S. ambassador to Ukraine under surveillance has met the president at least eight times, as well as other top GOP officials, often at Trump properties
From "Trump supporter and Giuliani associate discussed surveilling Yovanovitch" by Erica Orden and Kara Scannell for CNN:
A tranche of documents made public Tuesday as part of the House impeachment inquiry introduced a colorful new participant in the push last year by Rudy Giuliani and his associates to oust US ambassador to Ukraine Marie Yovanovitch, an effort that is at the center of congressional and prosecutorial investigations.

A series of texts disclosed by House Democrats show that Connecticut congressional candidate Robert F. Hyde, an ardent supporter of President Donald Trump who has donated thousands of dollars to Republican politics and the Trump campaign, communicated extensively with Giuliani associate Lev Parnas about Yovanovitch.

Using coarse language, Hyde suggested to Parnas in messages throughout March 2019 that Yovanovitch should be removed from her post, and Hyde implied he or his allies were surveilling her.
While Hyde is "a colorful new participant" in the impeachment proceedings, 1100 Pennsylvania has been reporting on the lobbyist's Trump property appearances since April 1, 2019 when he enjoyed a "Sunday funday" at the president's D.C. hotel.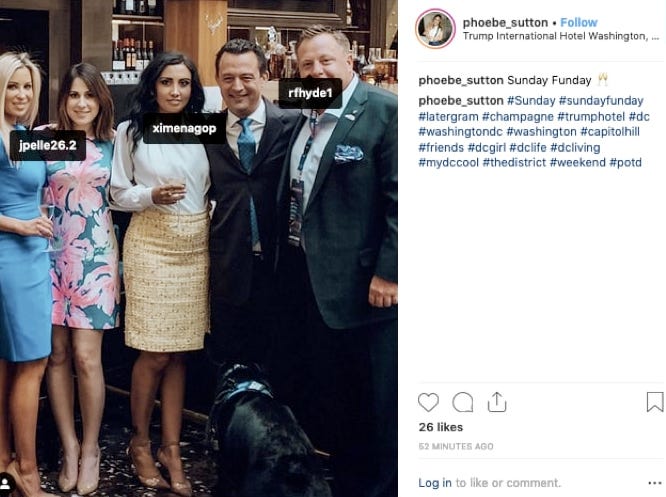 A deeper look at Hyde's Instagram and other sources show he's visited at least six Trump properties: Mar-a-Lago, where he claims to be a member; Palm Beach; Sterling, Virginia; D.C.; Bedminster; and Las Vegas. The Marine Corps veteran also had his photo taken twice with Vice President Mike Pence; met all of the president's known adult children (yes, Tiffany too!); and bowled at the White House
Given the tendency for social-media accounts to go private or photos to disappear, 1100 Pennsylvania branched out from its usual editorial focus and included some photos from non-Trump properties to show the breadth of Hyde's reach within top GOP circles.
Hyde often reposts old photos, so their dates often are meaningless, and due to space constraints, 1100 Pennsylvania cut some newsworthy photos.
President Trump
At Mar-a-Lago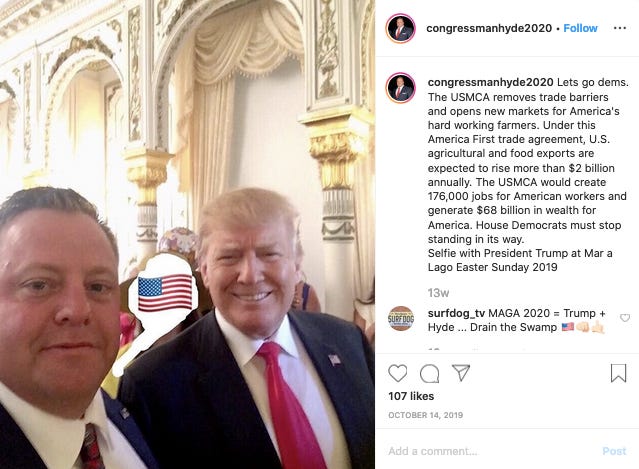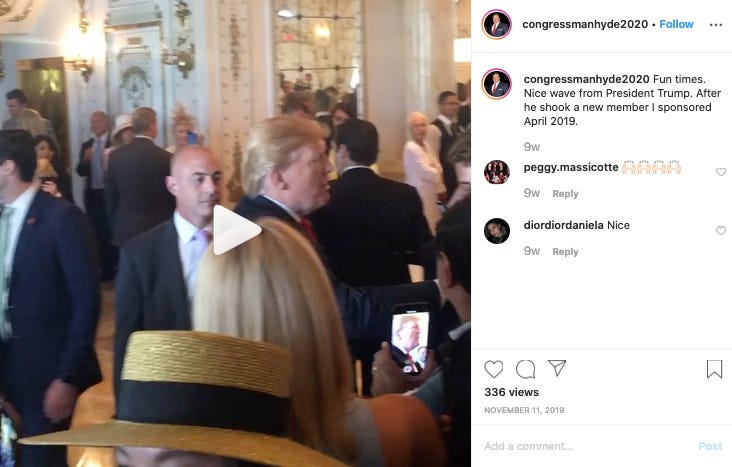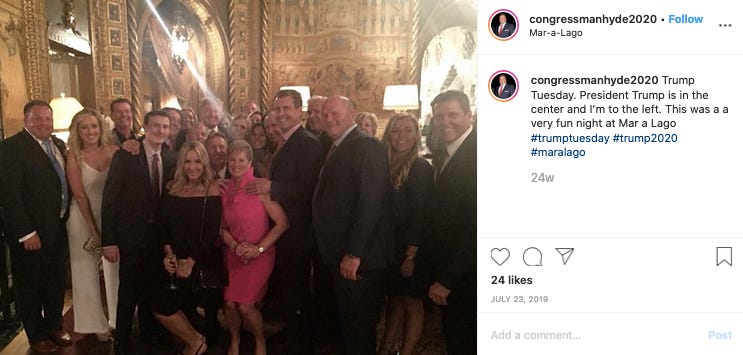 At Trump Palm Beach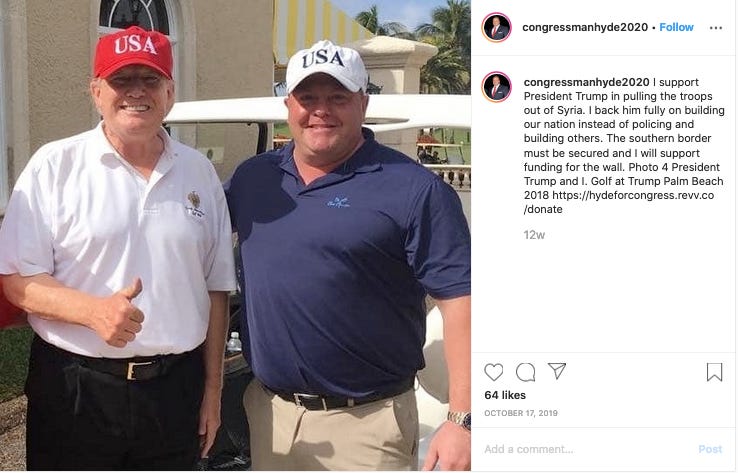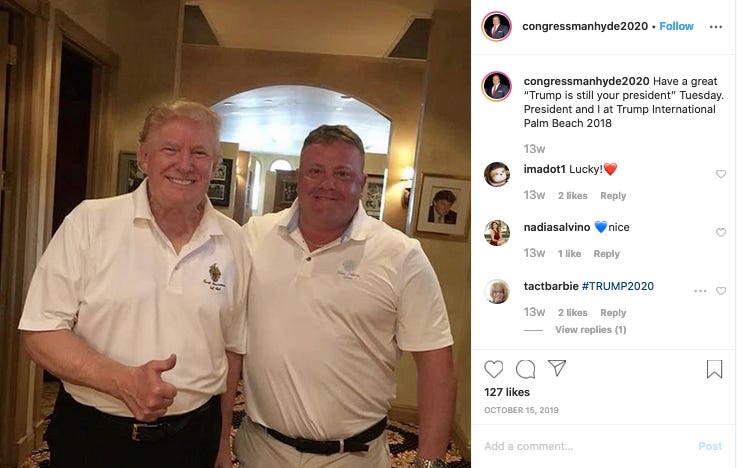 At Trump Sterling, VA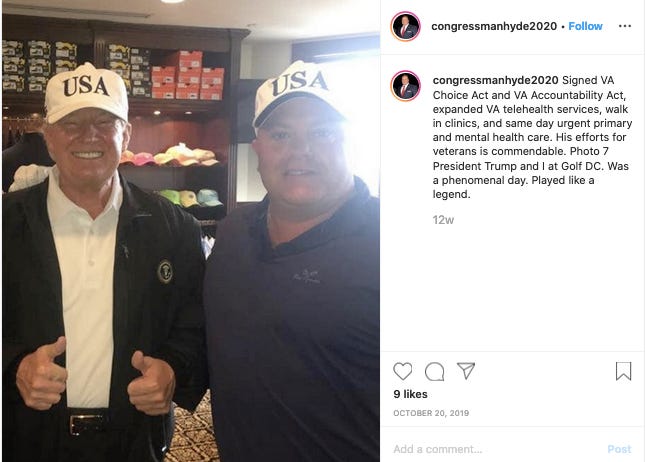 At a Trump Golf Course, with Tiger Woods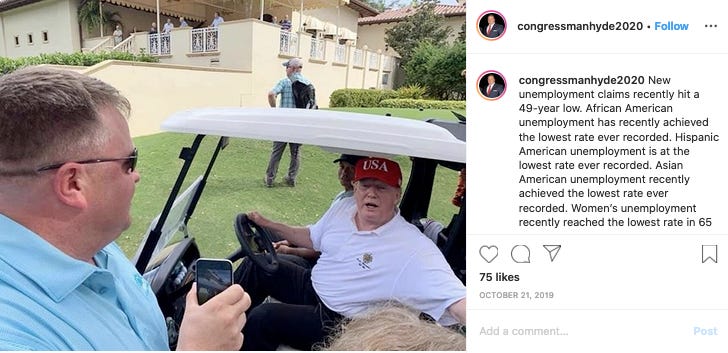 At unidentified venues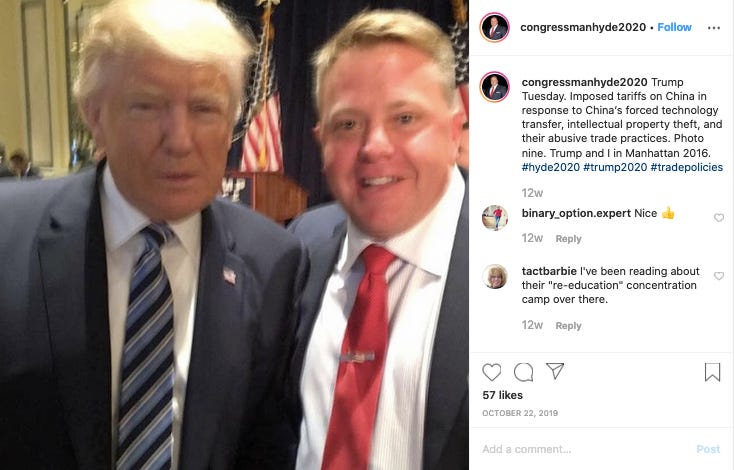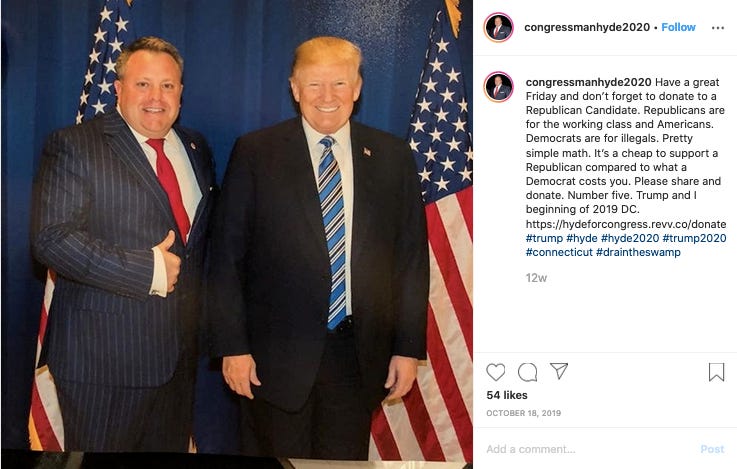 Trump cabinet members and senior advisors
Vice President Mike Pence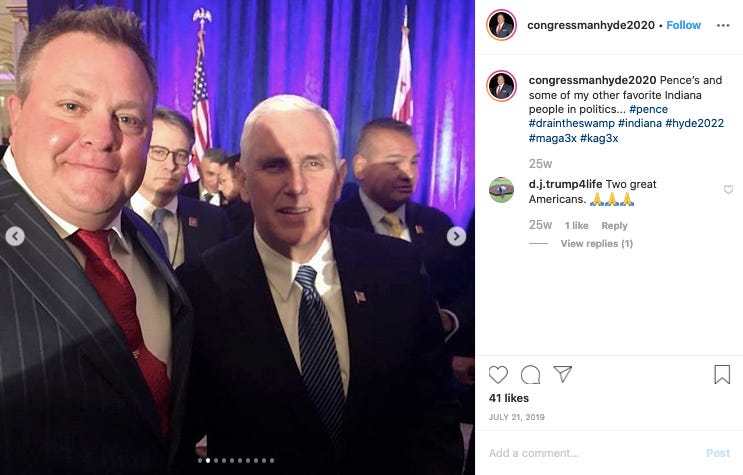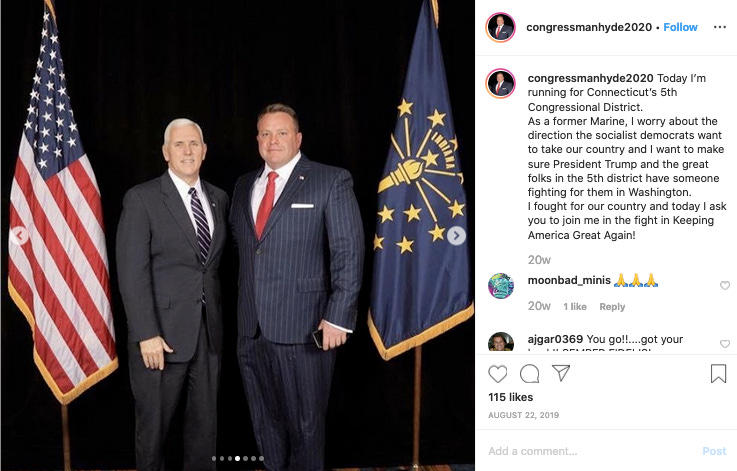 Secretary of Housing and Urban Development Ben Carson
One-time White House spokesperson Sarah Huckabee Sanders, as well as Fox News's Gina Loudon and senior Trump campaign advisor Katrina Pierson, at the Trump Hotel D.C.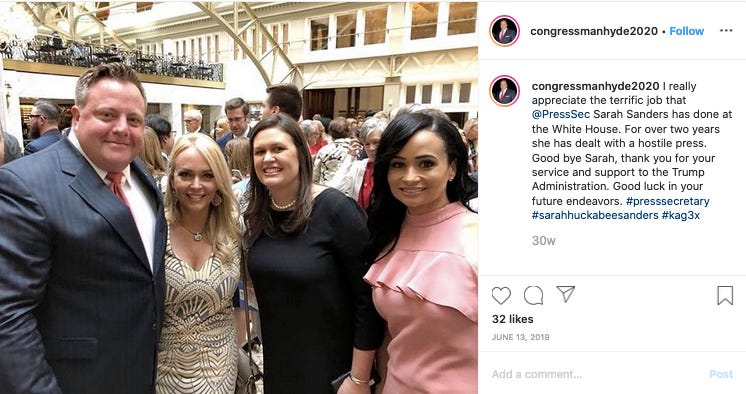 One-time White House spokesperson Sean Spicer, as well as Loudon and lobbyist David Spady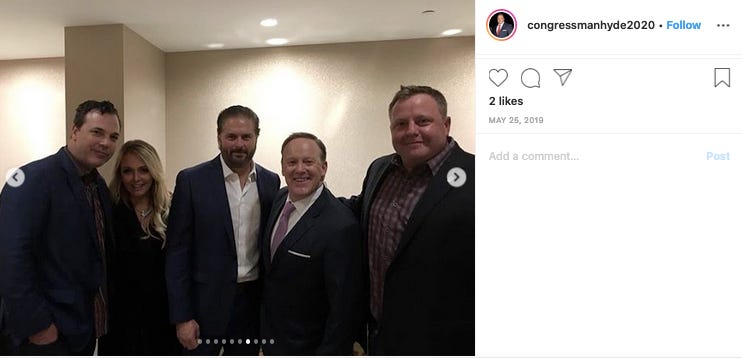 Former White House physician and current GOP U.S. House candidate in Texas Ronny Jackson at the Trump Hotel D.C.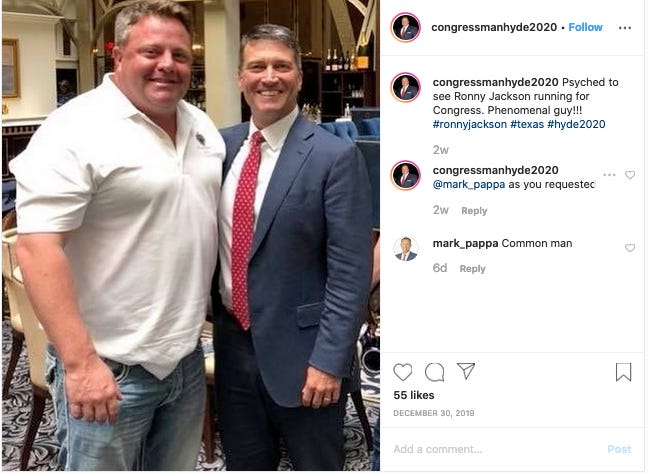 One of the president's personal attorneys, Rudy Giuliani, at the Trump Hotel D.C.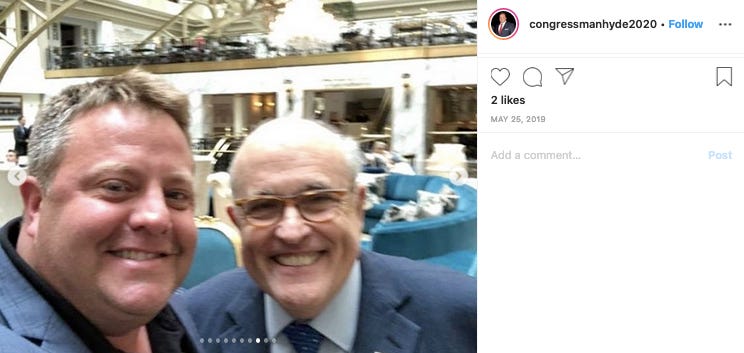 One-time National Security Advisor Mike Flynn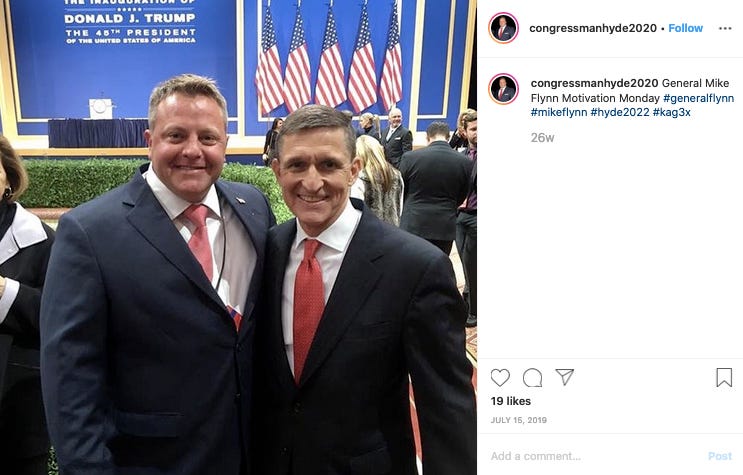 ---
Resolve to stay informed and support reporting on who's paying President Trump
Paid subscriptions are this publication's sole source of revenue—no ads, no grants, no payments from George Soros (unless he's a subscriber). Support this reporting and help ensure it continues. Just $5 a month or $50 a year.
---
Trump family members
Donald Trump Jr. at the Trump Hotel D.C. (they've been photographed together on at least five different occasions)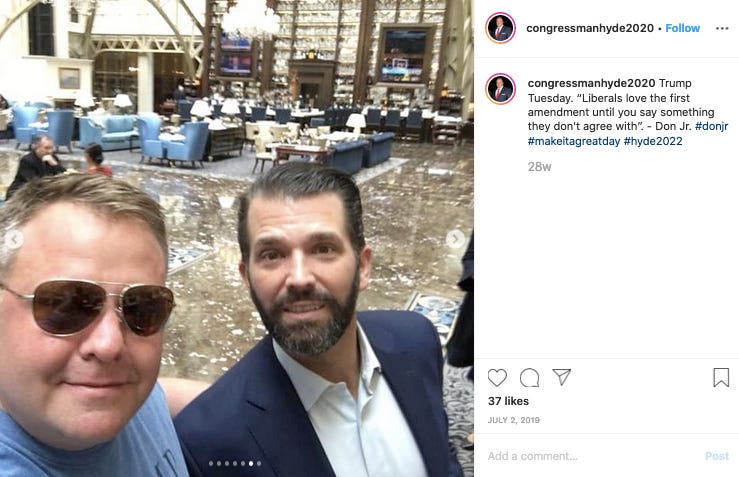 Ivanka Trump at Trump Bedminster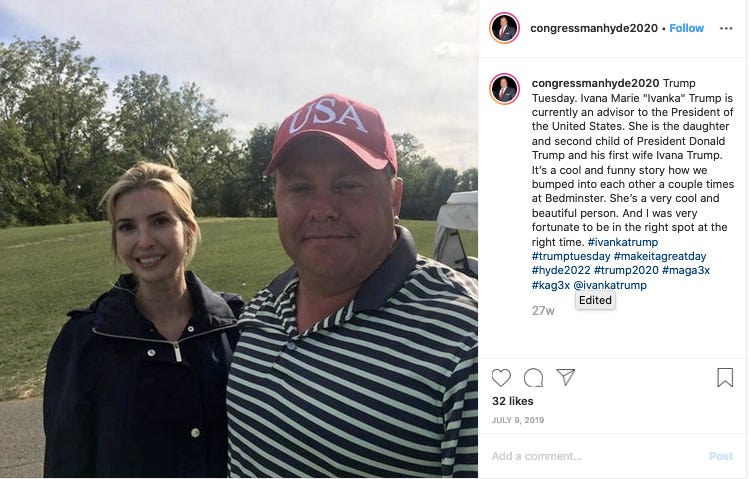 Eric Trump at Trump Bedminster (they've been photographed together on at least three different occasions)
Tiffany Trump at the Trump Hotel D.C.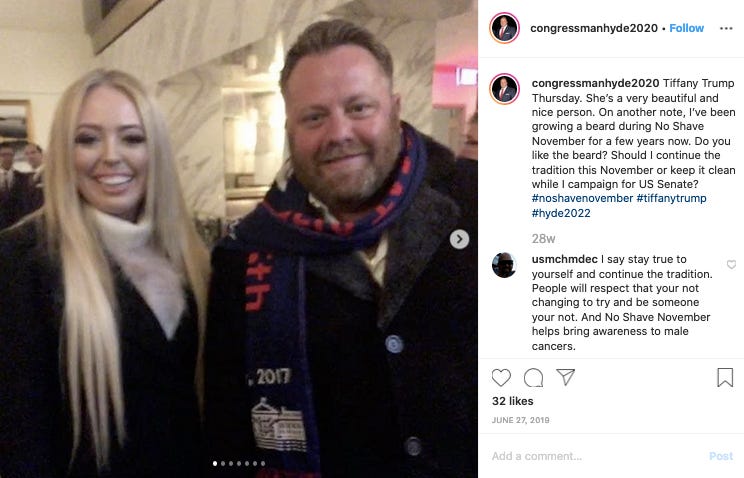 Members of Congress
Sen. Ted Cruz (R–TX)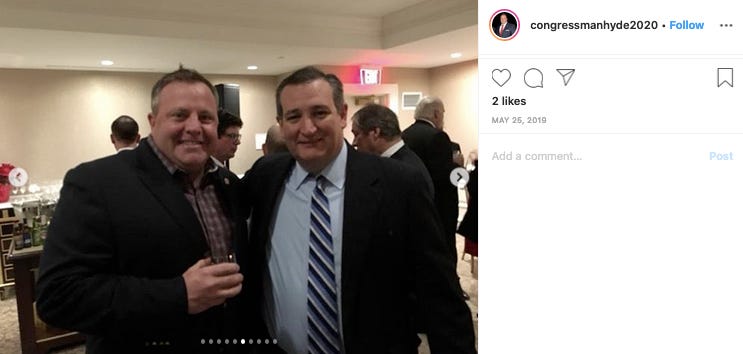 Sen. Rand Paul (R–KY) and former Trump campaign manager Corey Lewandowski at the Trump Hotel D.C.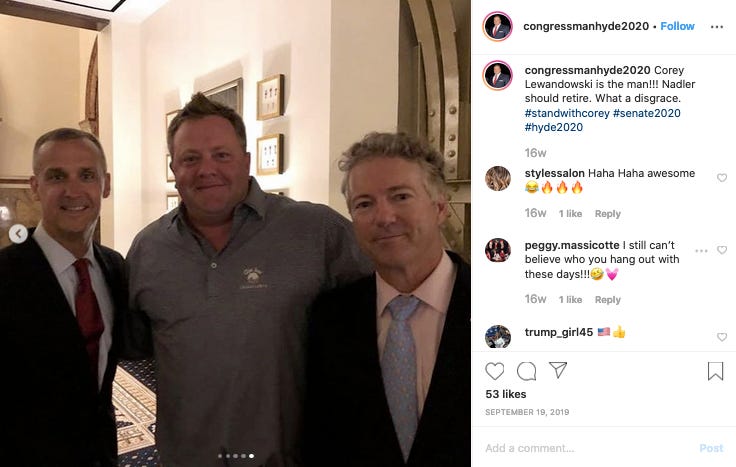 House Minority Leader Kevin McCarthy (R–CA)
Reps. Warren Davidson (R–OH) and Jim Jordan (R–OH) at the Trump Hotel D.C.
Rep. Greg Pence (R–IN) at Trump Hotel D.C.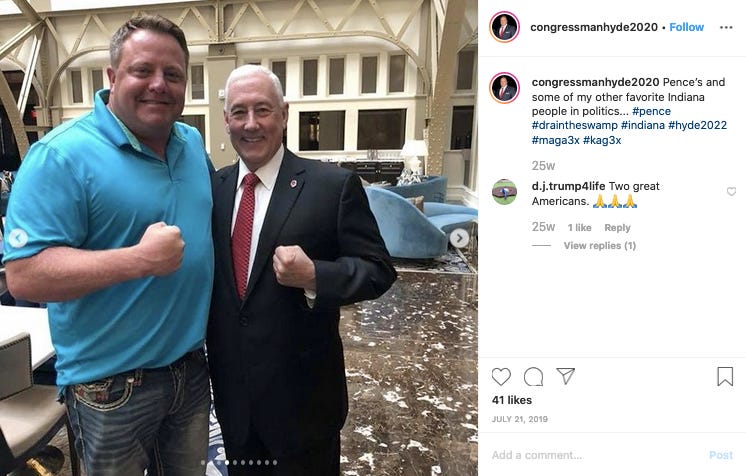 Other notable photos
Florida Gov. Ron DeSantis (R) at the Trump Hotel D.C. (from Hyde's website)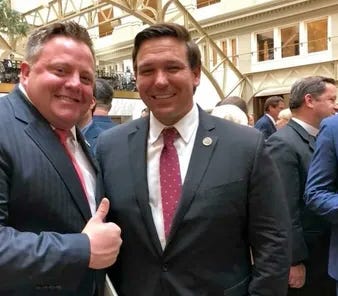 Former Arkansas Gov. Mike Huckabee (R)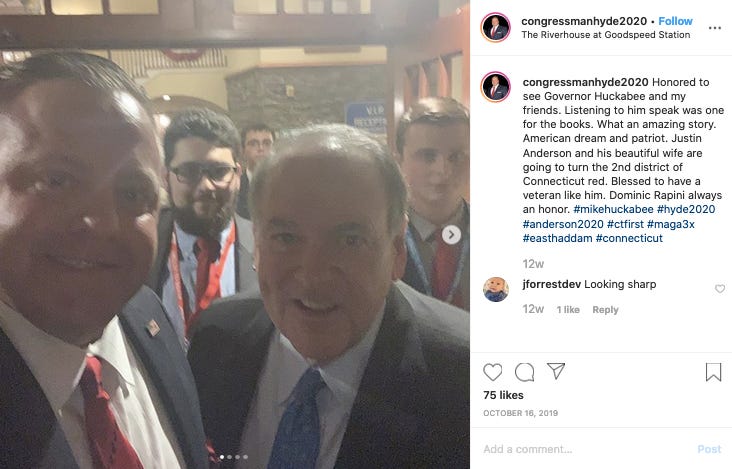 Former New Jersey Gov. Chris Christie (R)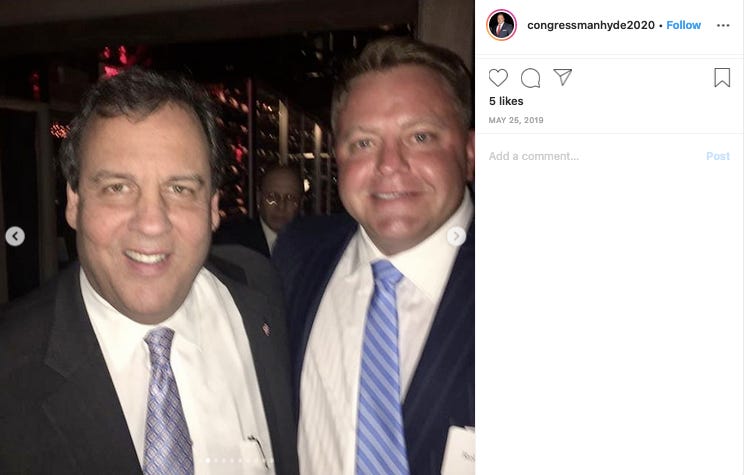 President George W. Bush's spokesperson Ari Fleischer at Trump Las Vegas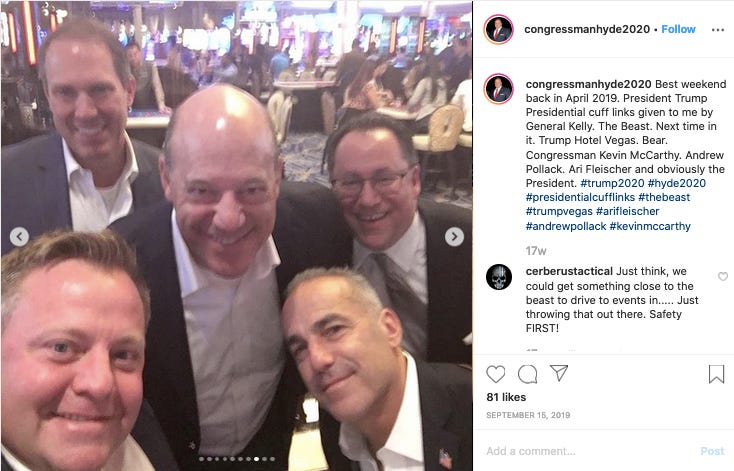 Turning Point USA's Charlie Kirk and two of organizers of the monthly happy hour for lobbyists at the Trump Hotel D.C.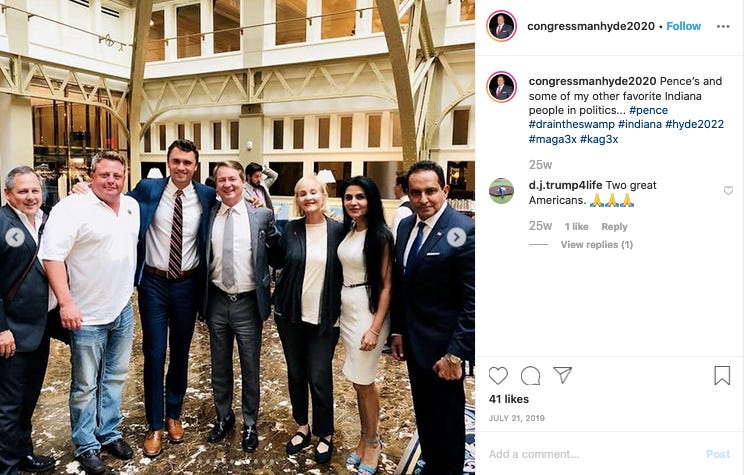 Bowling at the White House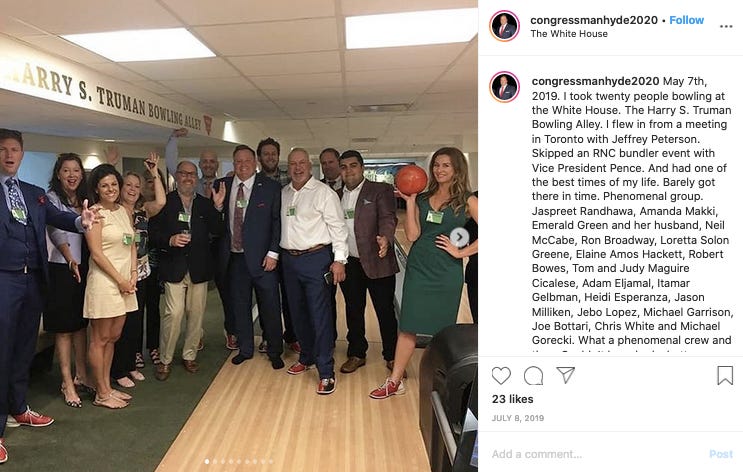 ---
Thanks for reading! If you like what you've read, tell someone. If you've been forwarded this newsletter, subscribe at 1100pennsylvania.substack.com. Questions? Read our FAQ. Tips or feedback? Contact Zach Everson at 1100Pennsylvania@protonmail.com (it'll be encrypted if you also use a ProtonMail account, which is free) or via Signal (secure), SMS, or mobile at 202.804.2744.