Discover more from 1100 Pennsylvania
"The undisputed expert on the D.C. Trump Hotel" – David Fahrenthold of the Washington Post
Over 3,000 subscribers
Roger Stone touts his wares
Welcome to 1100 Pennsylvania, a newsletter devoted to President Donald Trump's Trump International Hotel Washington, D.C. (and his other companies). President Trump, of course, still owns his businesses and can profit from them.
If you like what you see, tell someone—and support this work by becoming a paying member ($5/month or $50/year). If you've been forwarded this newsletter, subscribe for yourself at zacheverson.substack.com. Questions? Read our FAQ/manifesto. Tips or feedback? Contact me, Zach Everson, securely via email at 1100Pennsylvania@protonmail.com or on Signal at 202.804.2744.
Warned against acting like he's on a 'book tour,' Roger Stone talks and peddles books, t-shirts
About 26 hours after a U.S. district judge instructed Roger Stone not to treat criminal proceedings against him as a "book tour," the longtime Trump advisor appeared at the Trump Hotel D.C. to speak before a paying crowd of a couple hundred supporters, sign books (available for $30), and plug a website selling "Roger Stone did nothing wrong" t-shirts ($33).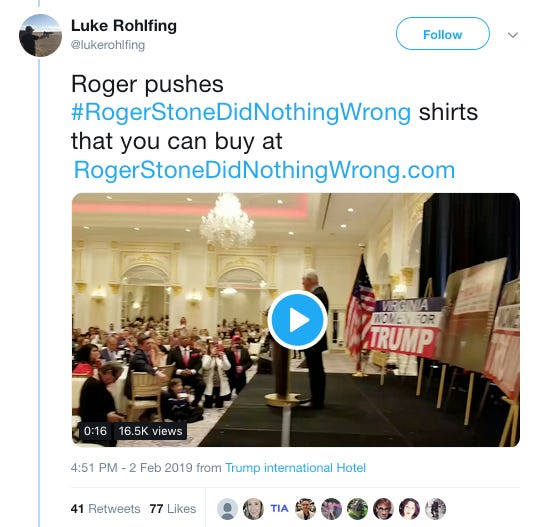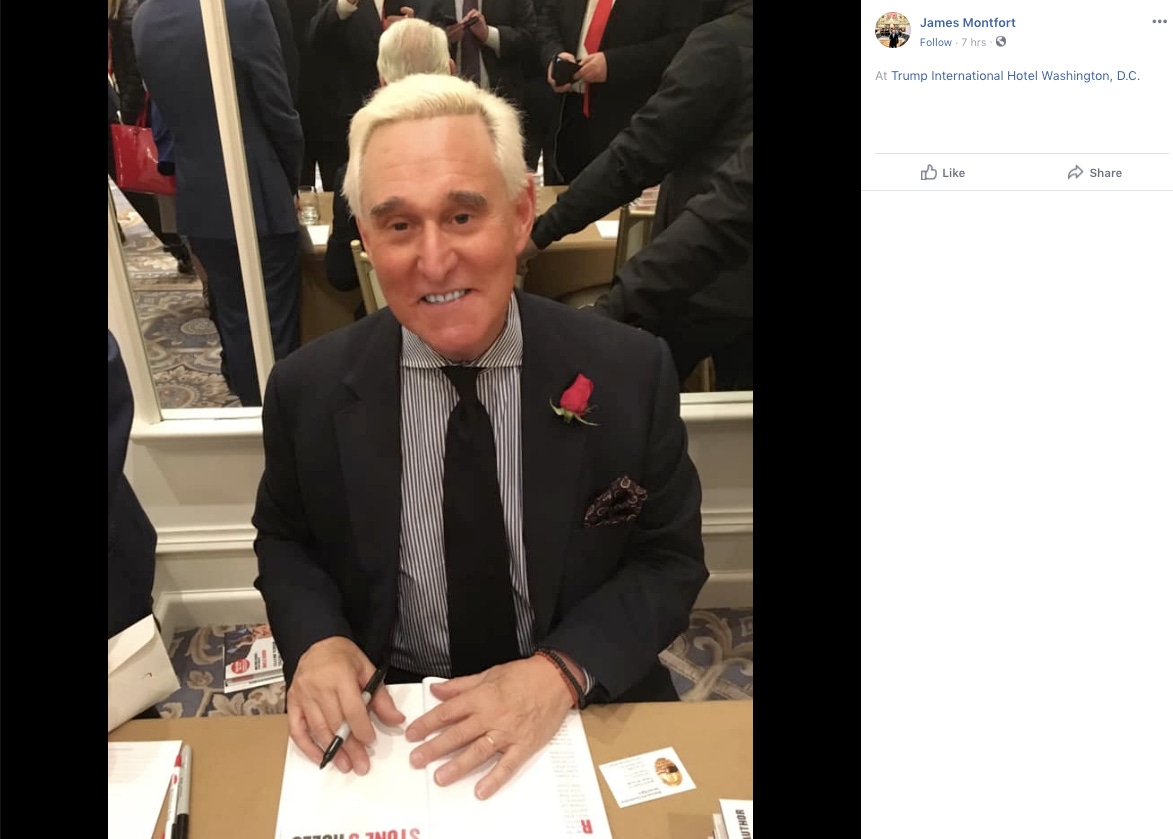 [Because of formatting limitations, select the link to play the video.]
Also, from the stage, Stone promised to plead not guilty; discussed his wife's experience during his arrest; and, like his hero Richard Nixon, pledged never to quit. He also posed on the red carpet.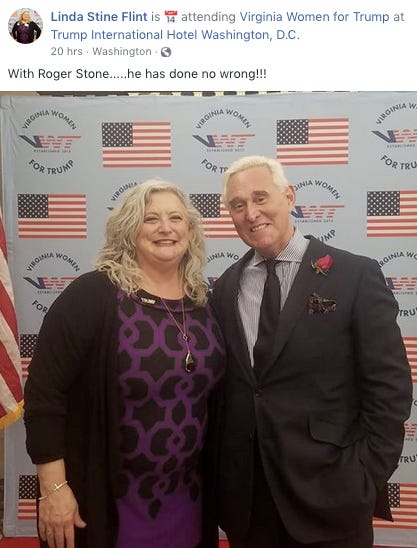 Stone was at the president's D.C. hotel Saturday night to headline the Virginia Women for Trump's 2020 campaign kickoff, an appearance booked before he was booked on five counts of false statements, one count of obstruction of an official proceeding, and one count of witness tampering.
His participation had been in doubt though, with a gag order a possible result of his arraignment on Friday. But while U.S. District Judge Amy Berman Jackson said she was considering issuing such an directive in the future, she did not do so on Friday. Instead she just warned Stone, "This is a criminal case, not a public relations campaign," according to Andrew M Harris and Carlyann Edwards of Bloomberg.
While media was banned from the event because of "security concerns," Big League Politics's Luke Rohlfing posted several videos of Stone on Twitter.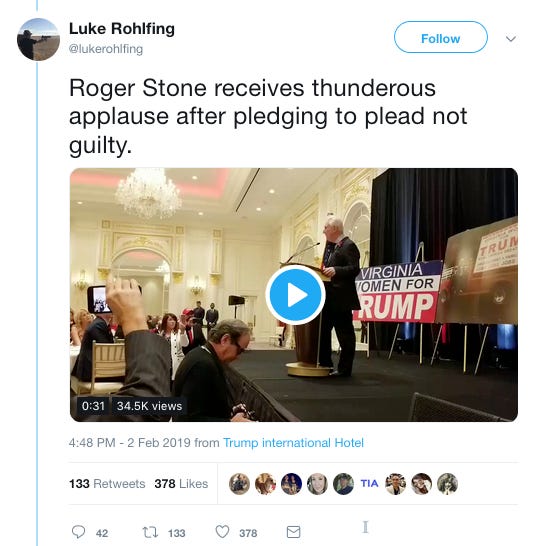 Virginia Women for Trump is an LLC and not affiliated with President Trump's campaign.
Also seen at the campaign kickoff: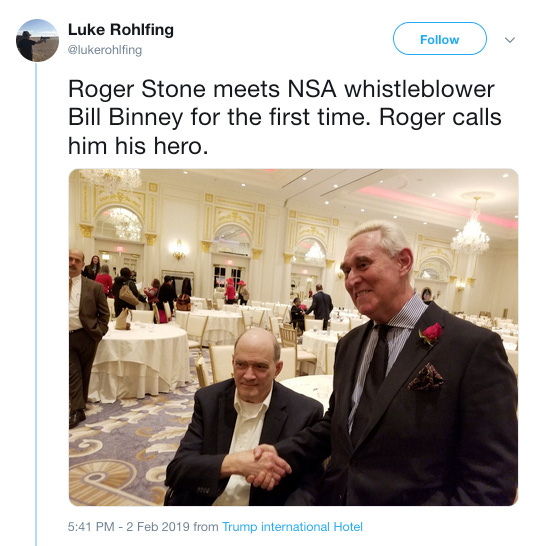 And during the event, former Rep. Dana Rohrabacher (R–CA)—whom Rep. Kevin McCarthy (R–CA) once described as being on Vladimir Putin's payroll—was at the hotel—which is owned by another American McCarthy thought Putin paid. Rohrabacher posed with Scott Presler, the lead activism strategist at ACT for America (which the Southern Poverty Law Center has designated as a hate group), and Ivan Raiklin, who tried to run for U.S. Senate in Virginia but was kept off the ballot by the GOP for failing to collect enough signatures.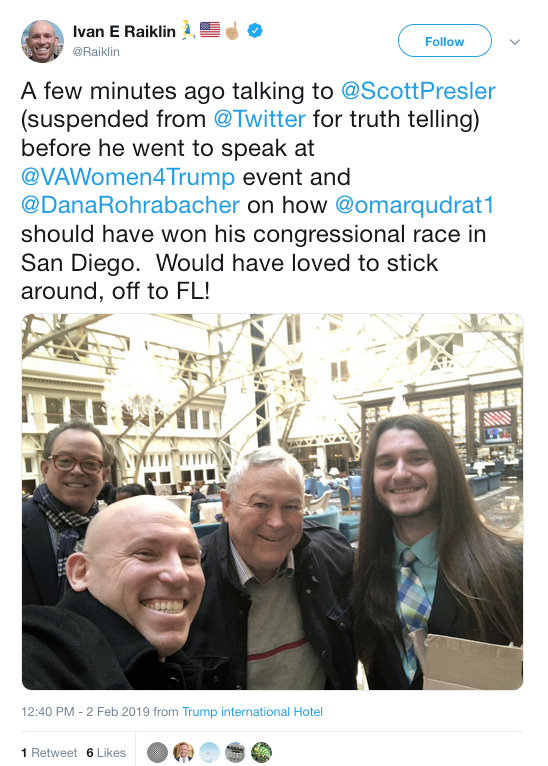 President promotes his Jupiter golf course during round with business partners Nicklaus and Woods
On Saturday, the U.S. president's Instagram and Twitter accounts shared a photo of him golfing at his Jupiter, Fla. golf course with two of his business partners, Jack Nicklaus and Tiger Woods. The president's Instagram post promoted the venue in both the location tag and the caption, while the tweet just mentioned it in the caption.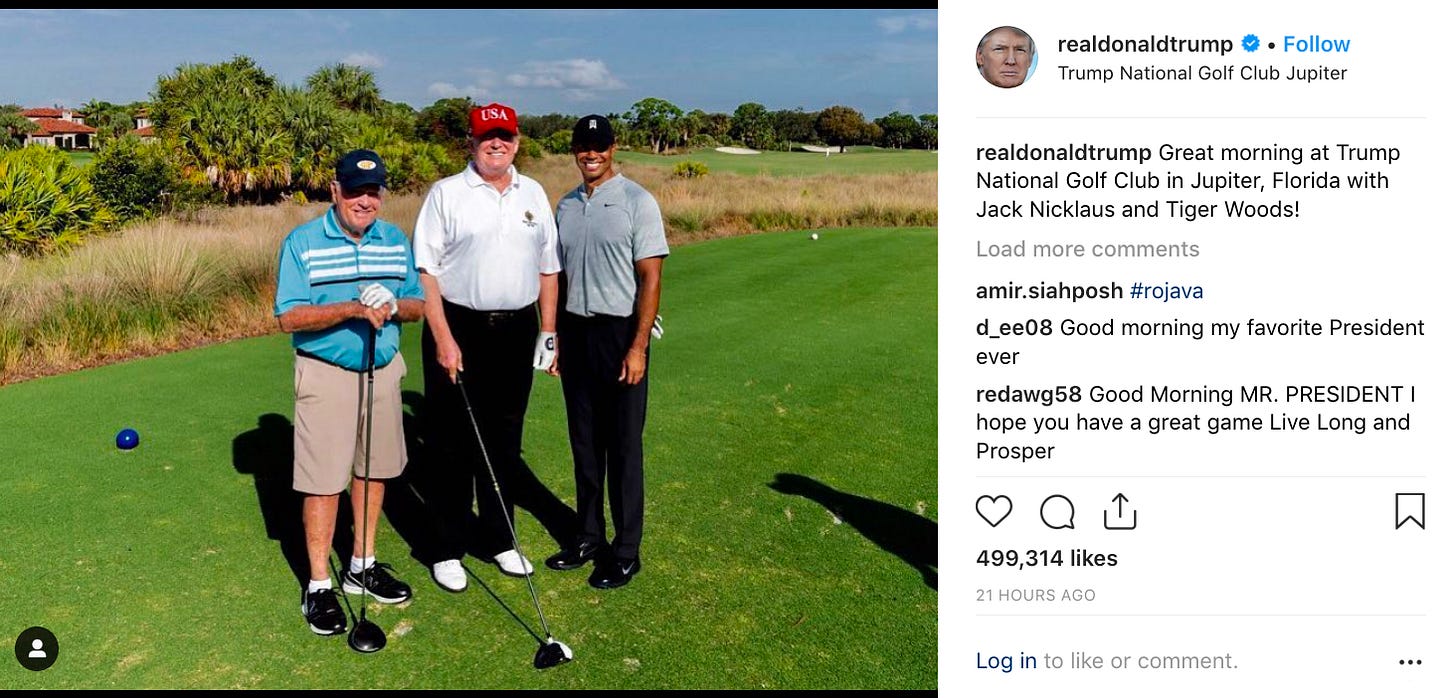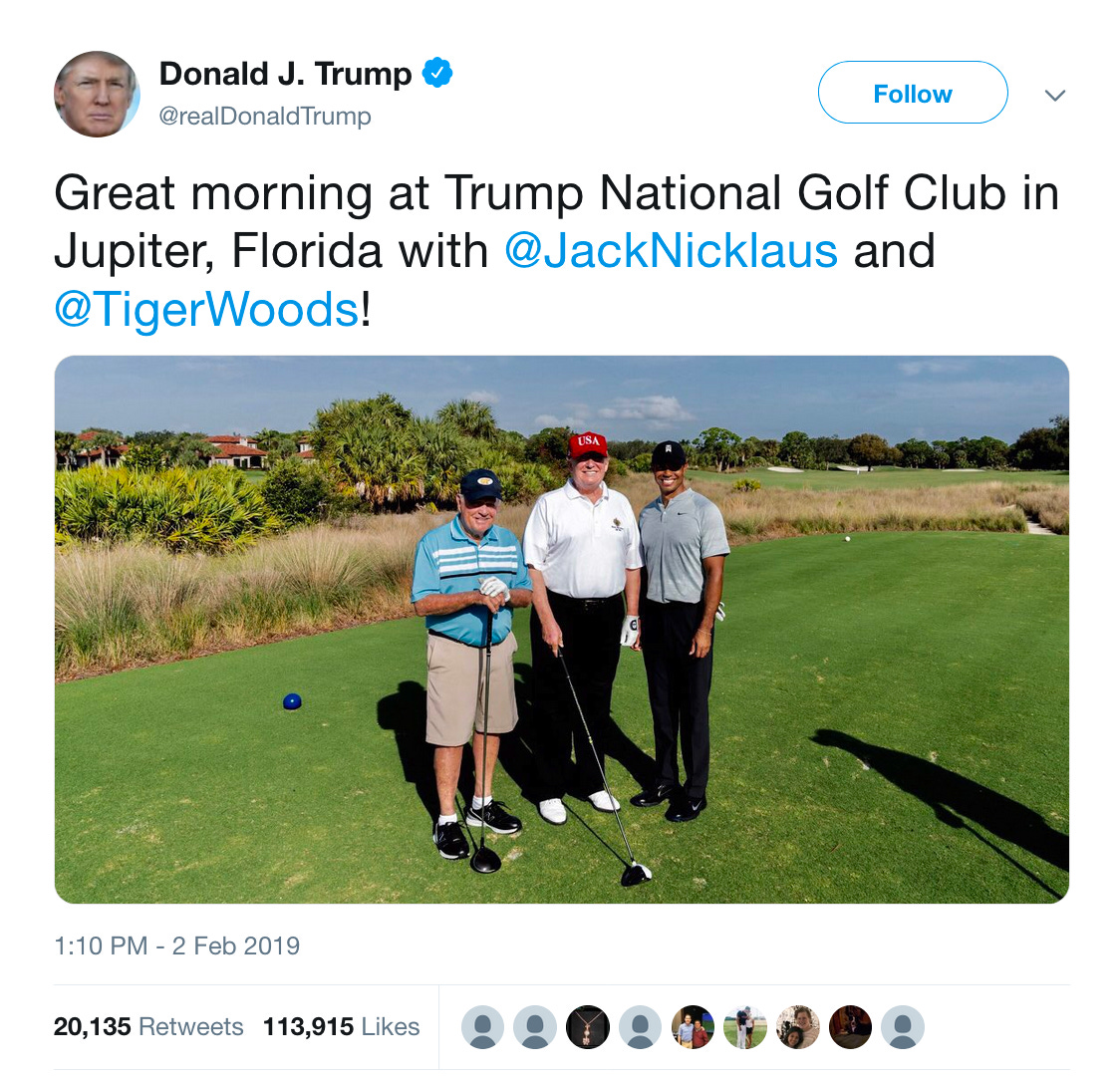 Nicklaus designed Trump's Jupiter and Bronx golf courses, while Woods designed the Trump course in Dubai.
And this Trump Jupiter patron, celebrating her bridal shower, got marriage advice from Woods and Trump. Congrats?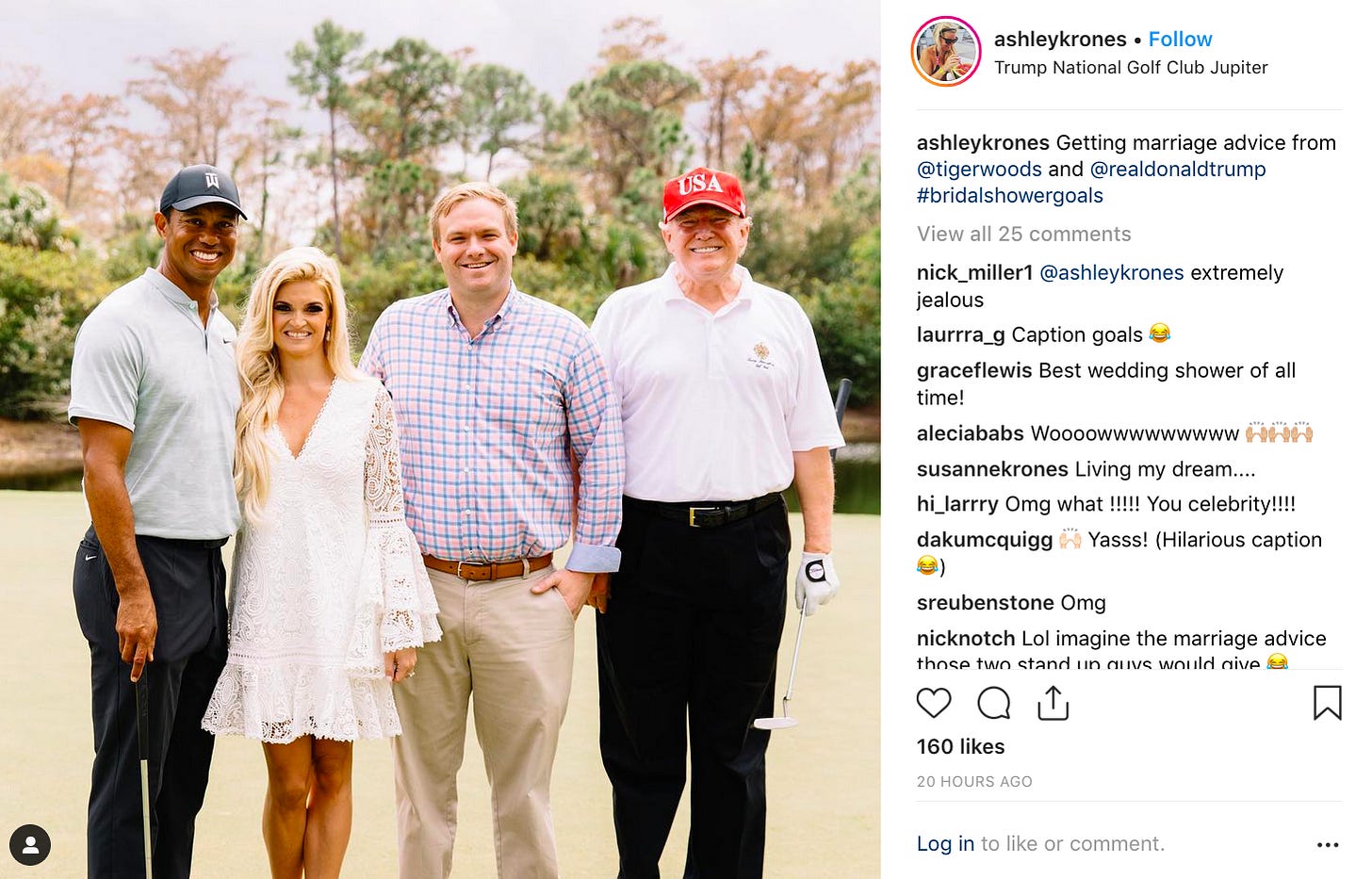 On Sunday, Trump watched the Super Bowl at his Palm Beach golf course, meaning he visited three of his properties in about 30 hours.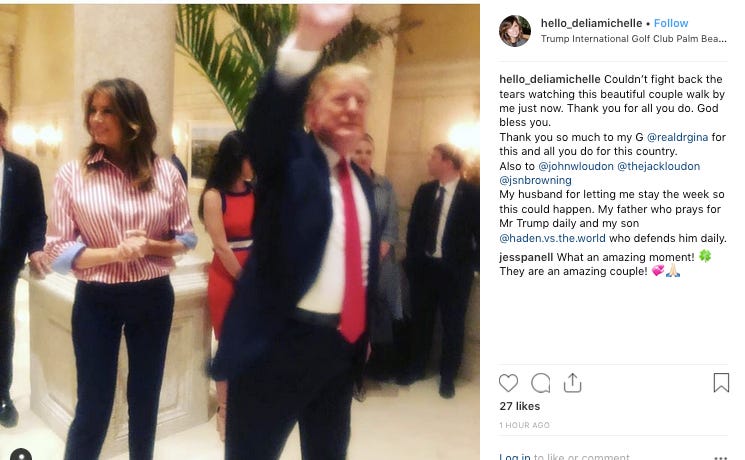 GOP lawmakers from Louisiana raised money at U.S. president's hotel
From "At Washington Mardi Gras, candidates cull campaign cash" by Julia O'Donoghue for The Times-Picayune:
This celebration unofficially kicked off Wednesday afternoon with a fundraiser for Attorney General Jeff Landry at Trump International Hotel. Vice President Mike Pence was the special guest and a big draw.

Trump International Hotel has been a popular location for Louisiana Republican fundraisers this year. On Friday, [Louisiana House Speaker Taylor] Barras, Metairie state Rep. Cameron Henry and Jefferson Parish Sheriff Joe Lopinto are having a joint bourbon tasting event there, Barras said in an interview Wednesday.
Attorney representing Trump in emoluments appeal donated to Obama, Warren, DSSC
On Friday, Justice Department attorney Mark Freeman notified the U.S. Fourth Circuit Court of Appeals that he'd be appearing on behalf of President Trump in the D.C. and Maryland attorneys general's emoluments lawsuit. Trump is appealing a lower court ruling that granted the AGs standing.
Nothing more an interesting tidbit here, but per FEC records Freeman appears to have donated $700 to Barack Obama's presidential campaigns, $225 to Elizabeth Warren's U.S. Senate campaign in 2011, and $250 to the Democratic Senatorial Campaign Committee in 2014. (Freeman is a graduate of Harvard Law School, where Obama also went and Warren taught.) While Freeman did not reply to an email inquiry asking to verify he made those donations, an Internet search turned up information that matched his city of residence with the FEC records.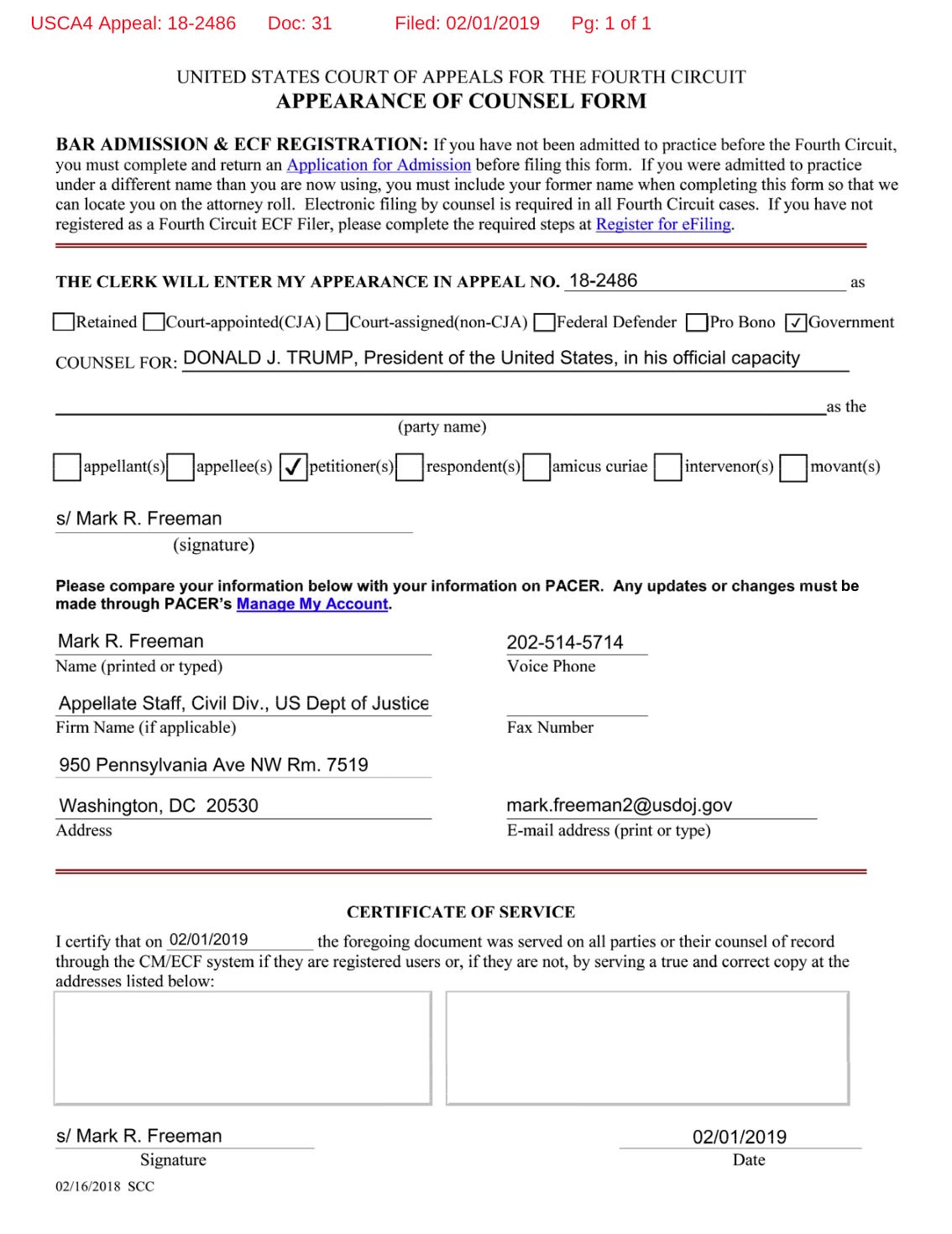 Expenditure
The Republican Attorneys General Association spent $80 on a meeting expense at the D.C. hotel owned by the head of their party in December 2018. [H/T Matt Corley of Citizens for Responsibility and Ethics in Washington]

Noteworthy sightings
Fox News's Gina Loudon had the president's ear at his Palm Beach golf club. She's also been spotted recently at Mar-a-Lago and the D.C. hotel. Trump has tweeted praise for her book.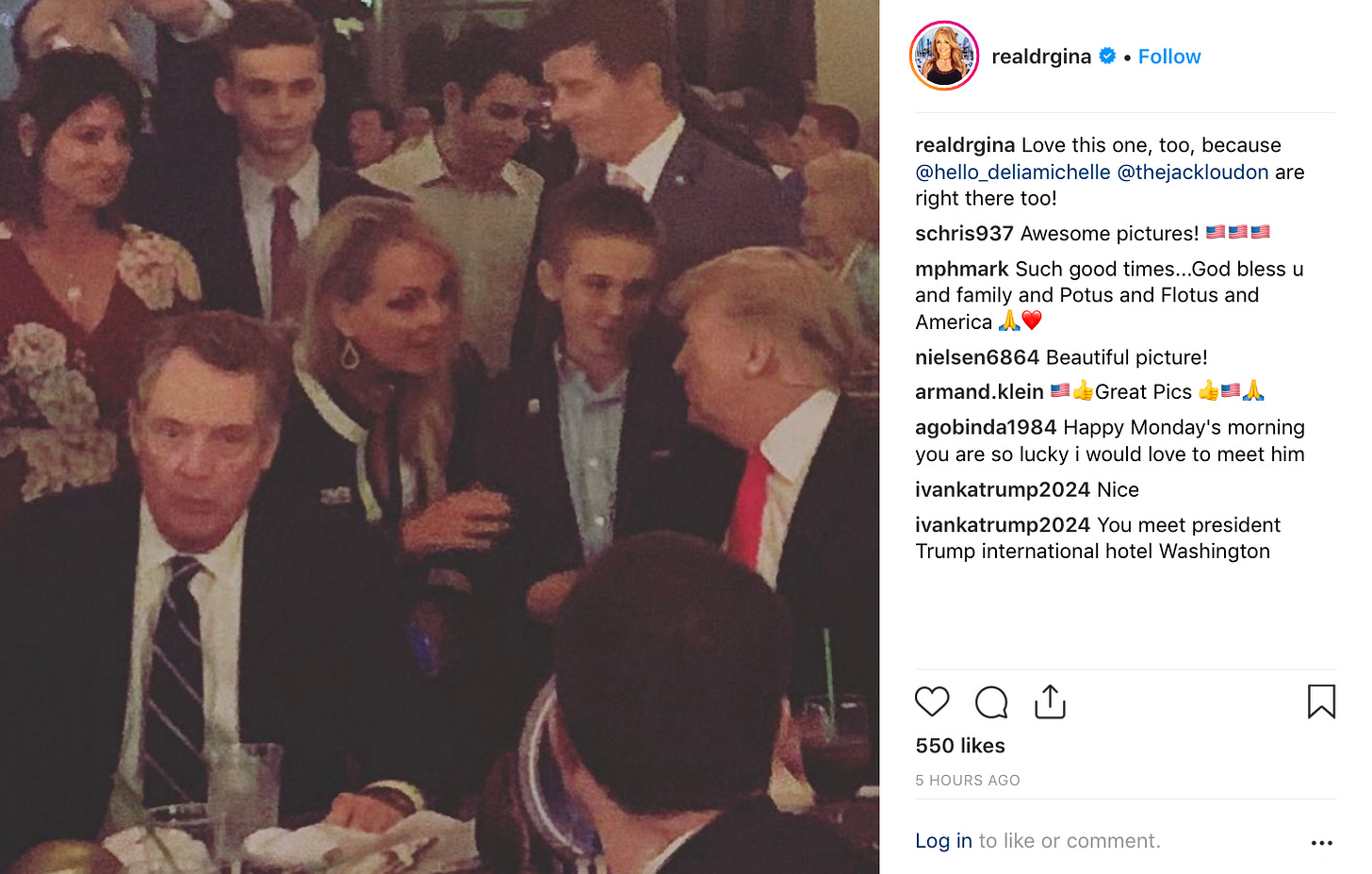 Not only did Trump Palm Beach patrons get to watch the Super Bowl with the U.S. president/club owner, but they also got to hang with Don King. Only in America.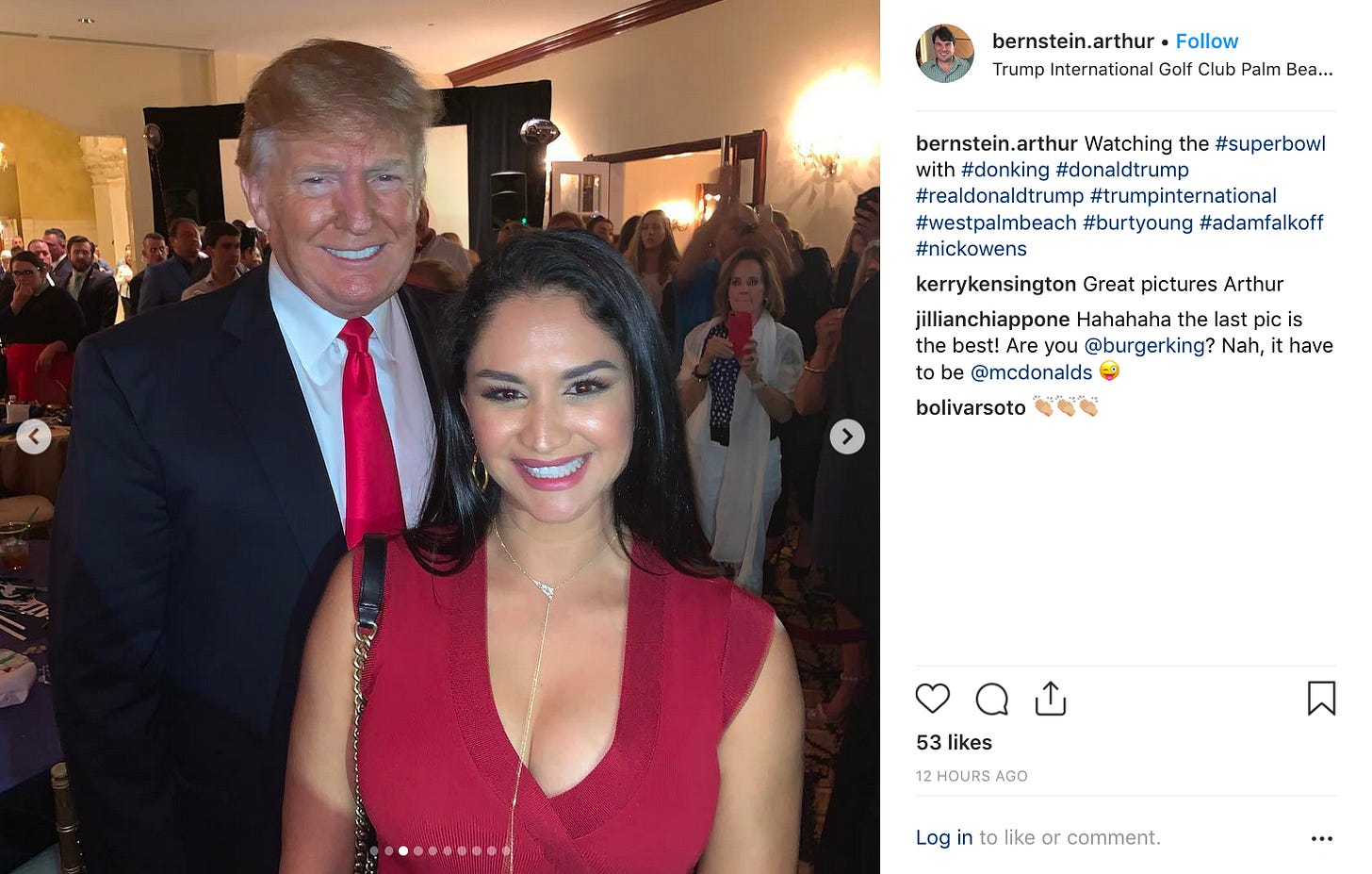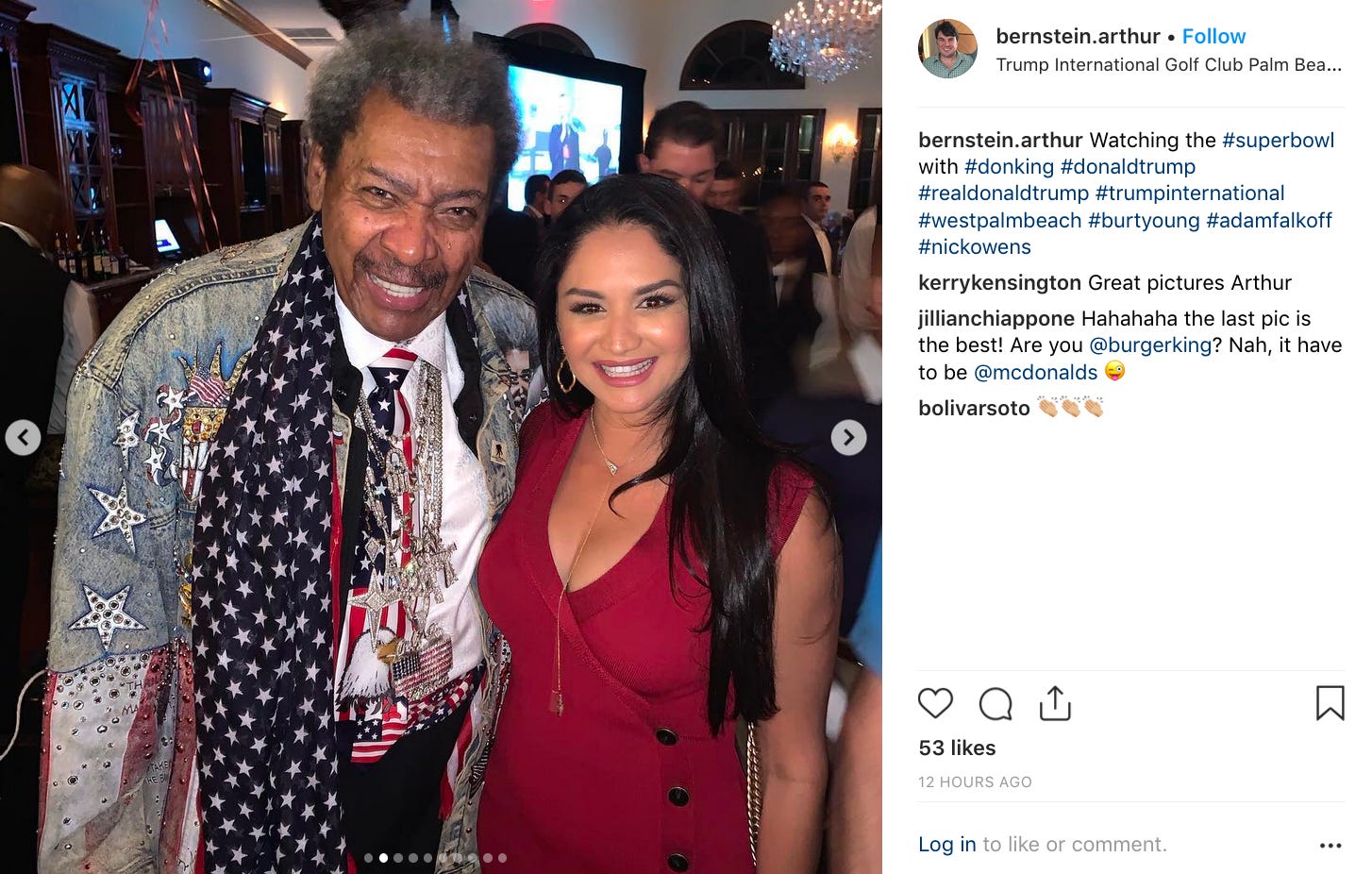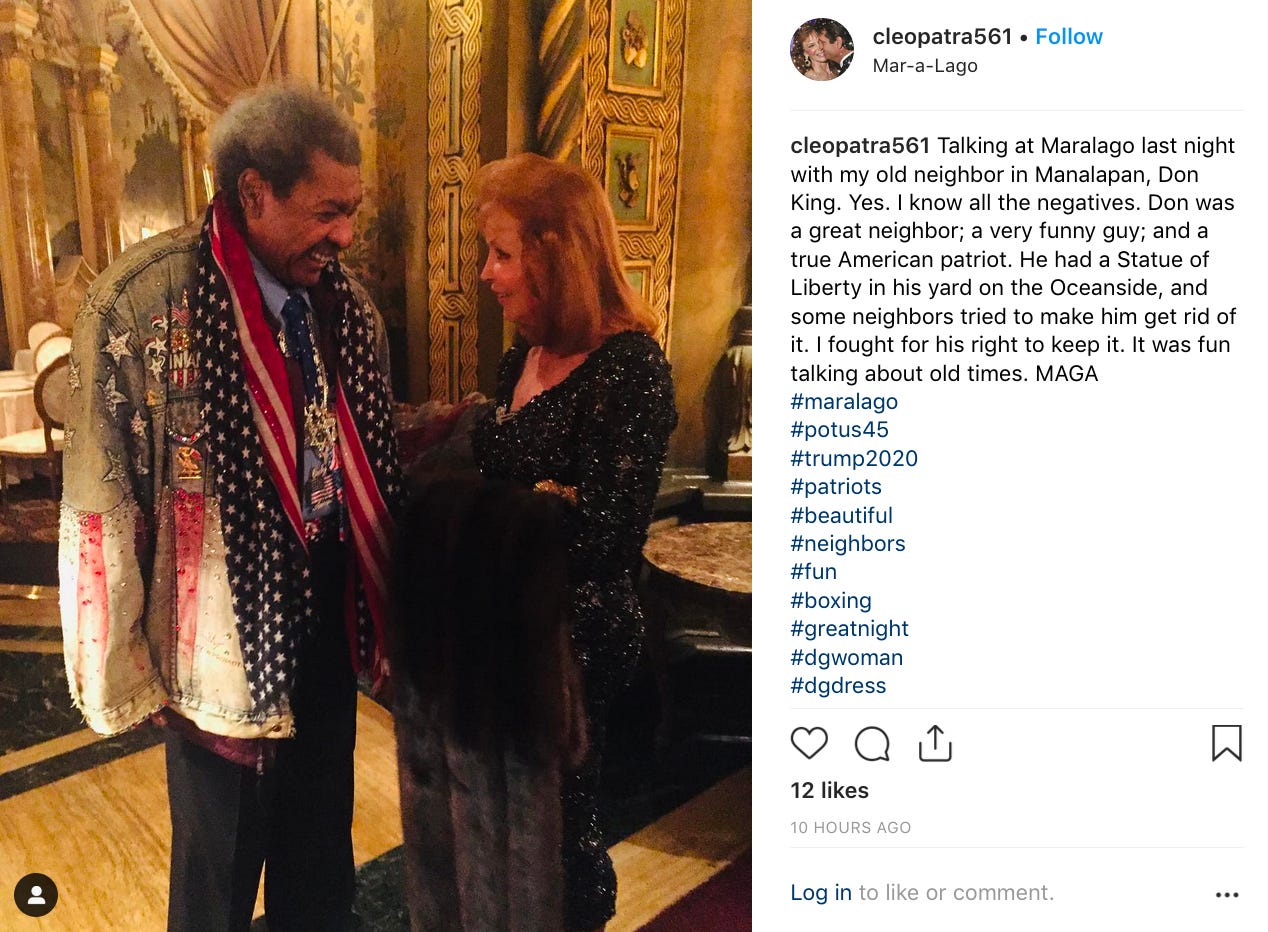 In an undated photo, White House spokesperson Sarah Huckabee Sanders reportedly posed with Enrique Tarrio, the leader of the Proud Boys, a far-right men's organization.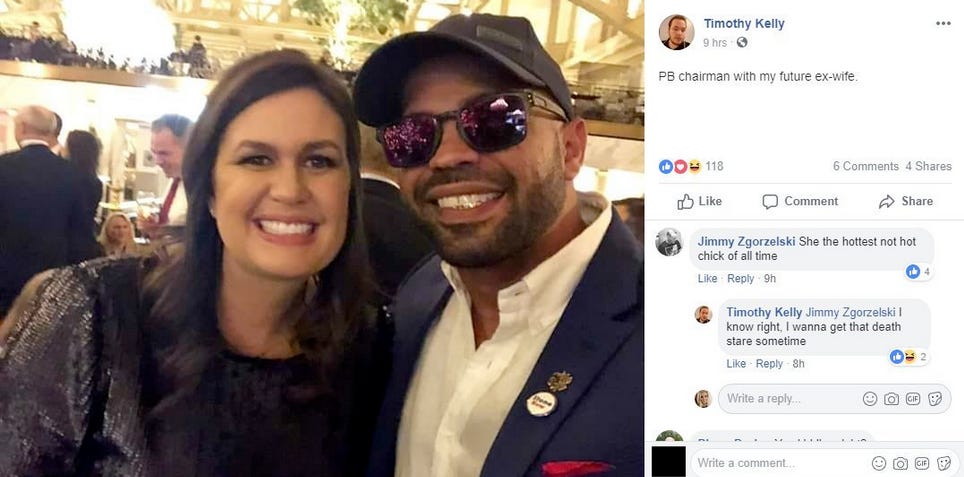 White House social media director Dan Scavino posed with Loudon's kids at Trump Palm Beach.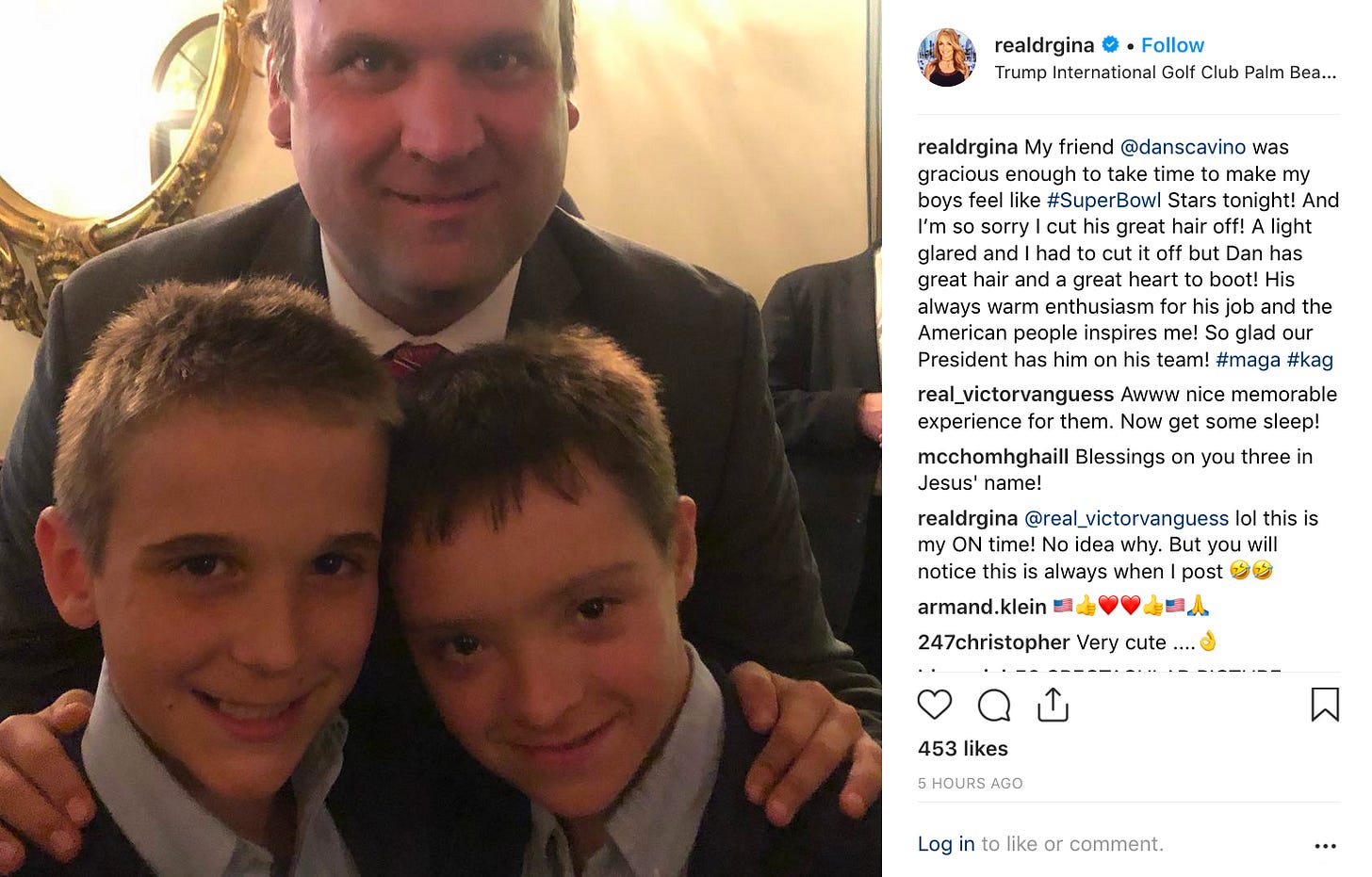 The CEO at the Pelican Institute for Public Policy, "Louisiana's free-market think tank," Daniel Erspamer, ate cake pops at the D.C. hotel.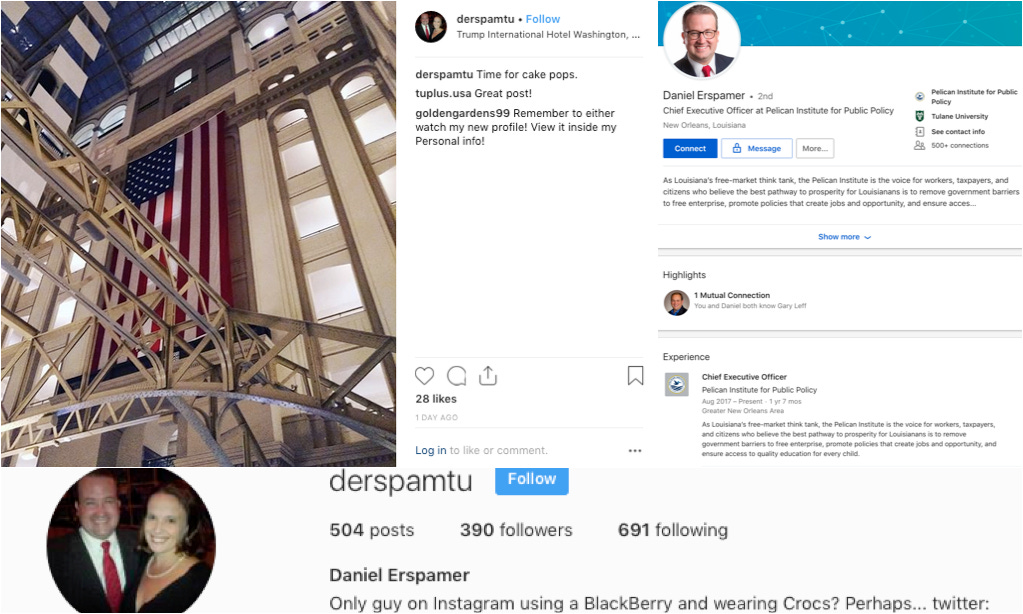 A government contractor working for Microsoft, Pishoy Bous, raved about his meal at Sushi Nakazawa.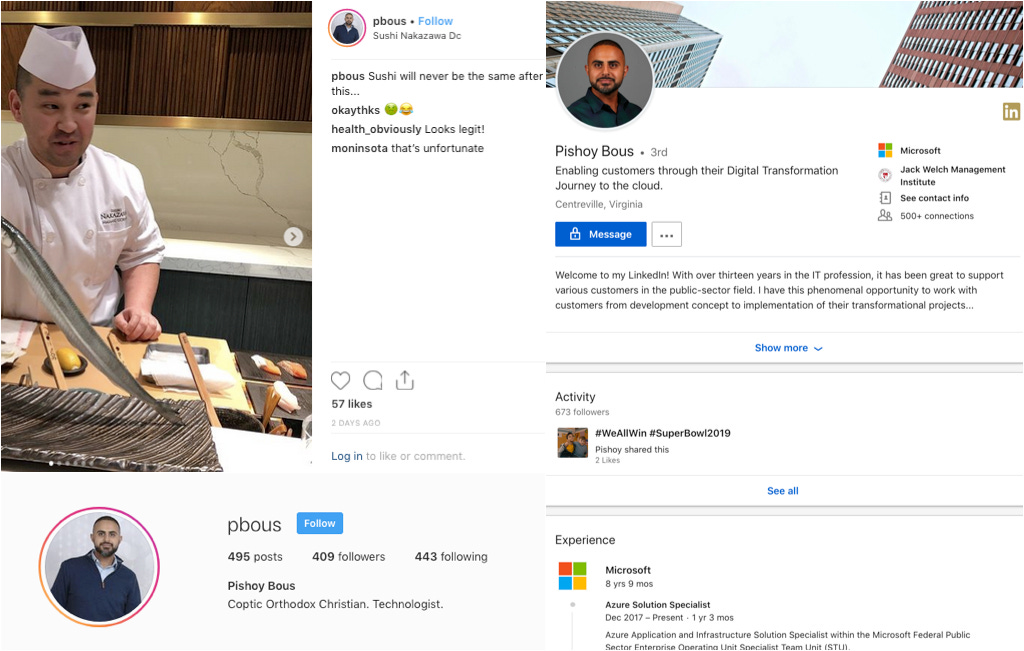 Infowars and Gateway Pundit contributor, Jacob Engels, was chilling like a villain in a room at the Trump Hotel D.C.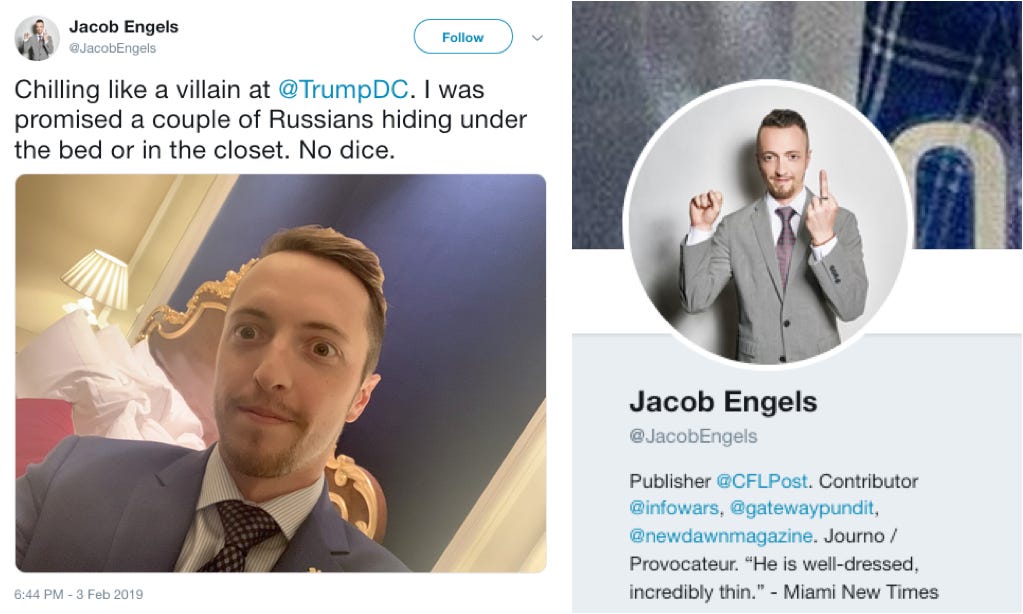 BLT Prime executive chef Bill Williamson shows off how he says hello.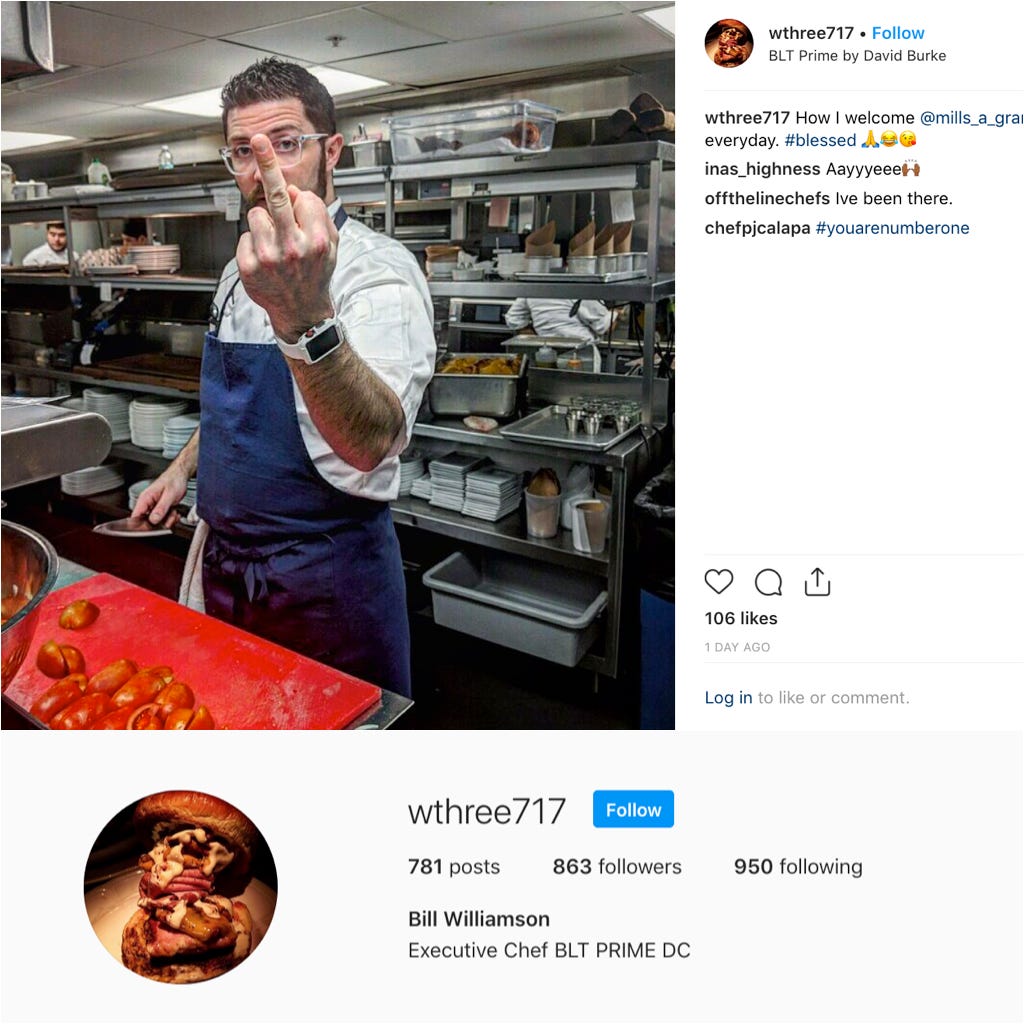 Someone want to tell the Trump Hotel D.C.'s managing director, Mickael Damelincourt, that the Patriots and #TomBrady also got busted for cheating? (I am pro-Patriots and take no pleasure in reporting this.)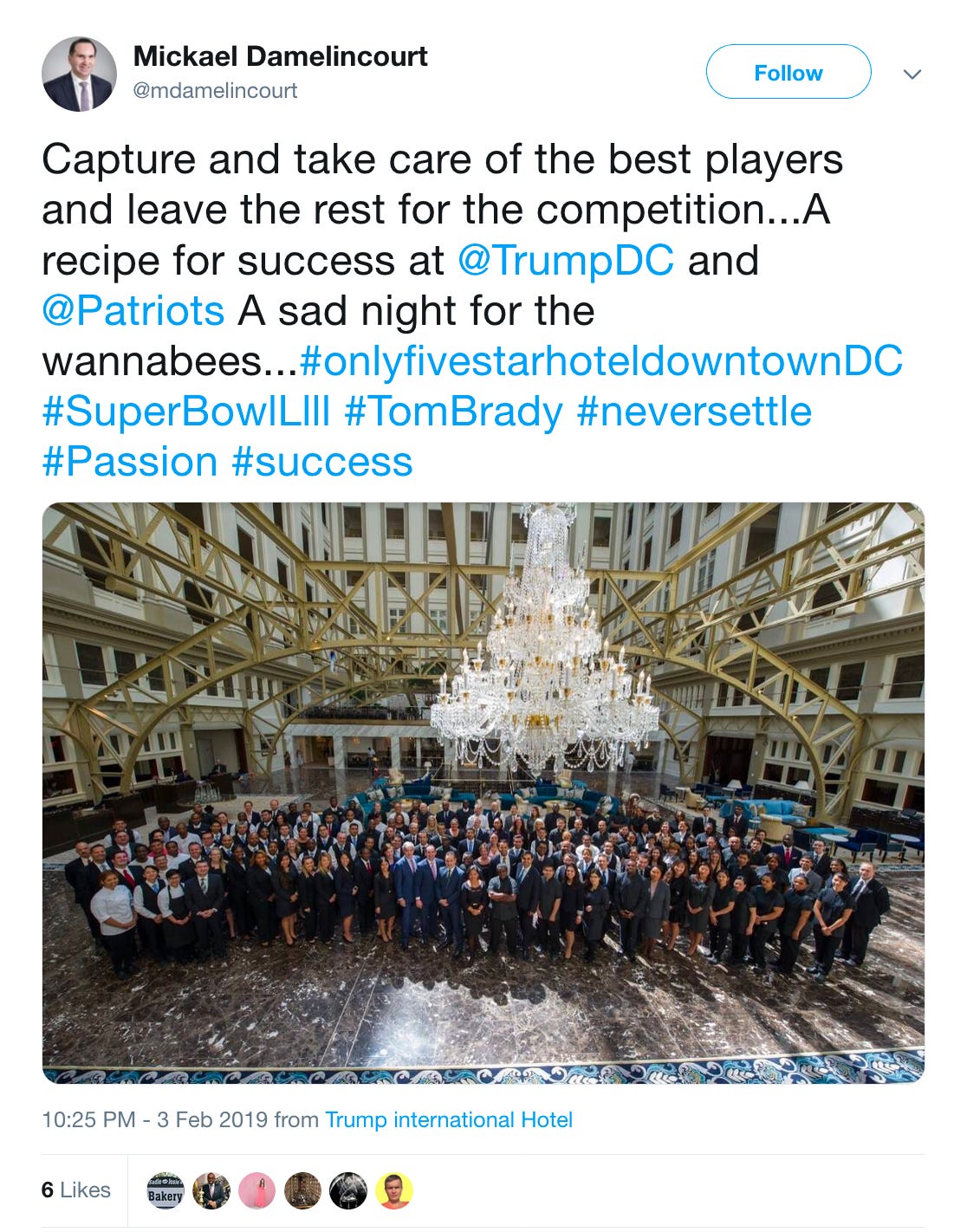 Other Trump Organization news
House investigations, current status (latest change, Feb. 1, 2019)
Legal cases, current status (latest change, Feb. 4, 2019)
D.C. and MD attorneys general's emoluments lawsuit (district court docket, appellate court docket)—

Official capacity—On Dec. 20, the 4th U.S. Circuit Court of Appeals ruled it would hear the president's appeal of district court rulings that allowed the case to proceed to discovery, and the appellate court halted discovery in the case. (Discovery had started Dec. 3 and was scheduled to run through Aug. 2, 2019, with the AGs already having issued 38 subpoenas, including to the Trump Organization; the U.S. Departments of Agriculture, Commerce, Defense, and Treasury and the GSA; and the state of Maine.) Oral arguments on the appeal are scheduled for March 19.

Individual capacity—On Dec. 14, Trump's personal attorneys appealed the denial of their motion to dismiss the case, also to the 4th U.S. Circuit Court of Appeals. On Dec. 19, the AGs replied to Trump's motion for a stay pending that appeal by voluntarily dismissing the claims against Trump in his "individual capacity to allow the claims against President Trump in his official capacity to move forward expeditiously." (The AGs only brought suit against Trump in his individual capacity after the judge suggested they do so.) Trump's personal attorneys, on Dec. 21, opposed the motion to dismiss at the district level, saying the appeals court now has jurisdiction and accusing the AGs of "gamesmanship."

UPDATED 196 Democratic senators and representatives' emoluments lawsuit—On Sept. 28 judge Emmet G. Sullivan ruled that the legislators have standing to sue. Trump's Justice Department attorneys filed an interlocutory appeal on Oct. 22. And on Jan. 30, 2019 the plaintiff's filed a notice of supplemental authority, notifying the court of the GSA inspector general's report that criticized GSA for failing to consider if the Trump Hotel D.C.'s lease was in compliance with the U.S. Constitution after Donald Trump became president. Two days later, the president's attorneys argued that the IG's conclusion was not inconsistent with Trump's argument, but that the judge should ignore that report anyway because the IG has no expertise in interpreting or applying the foreign emoluments clause.

CREW et. al's emoluments lawsuit—In February, CREW appealed its suit being dismissed for lack of standing to the 2nd U.S. Circuit Court of Appeals. Oral arguments on that motion were held on Oct. 30.

Cork's unfair competition lawsuit—Judge Richard J. Leon dismissed the case on Nov. 26, writing "Cork has failed to state a claim for unfair competition under D.C. law." On Dec. 10, Cork's attorneys filed a notice of appeal and on Jan. 10 they submitted a statement of issues to be raised. The next steps, which don't yet have a timeline, include a briefing schedule being set and both sides filing appellate briefs.

Employees' class-action suit alleging racial discrimination—Two of the three plaintiffs did not appear at a status hearing on Jan. 25; their cases were moved to arbitration. Via email, their attorney, A.J. Dhali, said his clients did not appear at the hearing because their case already had been moved to arbitration last year. The next status hearing is scheduled for Oct. 4.
Health inspections, current status (latest change, Aug. 10, 2018)
❌Hotel: five violations on May 7, 2018; two were corrected on site

❌BLT Prime and Benjamin Bar: nine violations on Aug. 10, 2018

❌Sushi Nakazawa: two violations on Aug. 10, 2018

✔️Banquet kitchen: no violations on Aug. 10, 2018

❌Pastry kitchen: two violations on Aug. 10, 2018

✔️Gift shop: no violations on May 7, 2018

❌Employee kitchen and in-room dining: five violations on Aug. 10, 2018; two were corrected on site
One thing that has nothing to do with Trump's businesses (I think, tough to tell sometimes!)
Dana Rohrabacher needs to update his Twitter profile.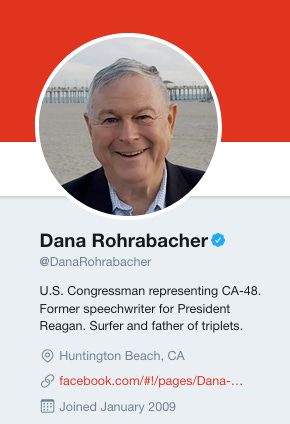 Thanks for reading. If you like what you see, tell someone—and support this work by becoming a paying member ($5/month or $50/year). If you've been forwarded this newsletter, subscribe for yourself at zacheverson.substack.com. Questions? Read our FAQ/manifesto. Tips or feedback? Contact me, Zach Everson, securely via email at 1100Pennsylvania@protonmail.com or on Signal at 202.804.2744.