Discover more from 1100 Pennsylvania
"The undisputed expert on the D.C. Trump Hotel" – David Fahrenthold of the Washington Post
Over 3,000 subscribers
Romanian PM staying at U.S. president's hotel
In town for AIPAC, Viorica Dancila was spotted at the Trump Hotel D.C. on multiple nights
From "Romanian prime minister is staying at Trump's D.C. hotel" by Ilya Marritz, Justin Elliott, and me for ProPublica and WNYC's Trump, Inc.:
The prime minister of Romania stayed at President Donald Trump's hotel during her trip to Washington over the weekend. She is the first foreign government leader known to have booked a room at the property in more than a year.
Select the link for the full article and to see a photo of Dancila in the hotel's lobby.
Dancila also met with Vice President Mike Pence on her visit to the United States.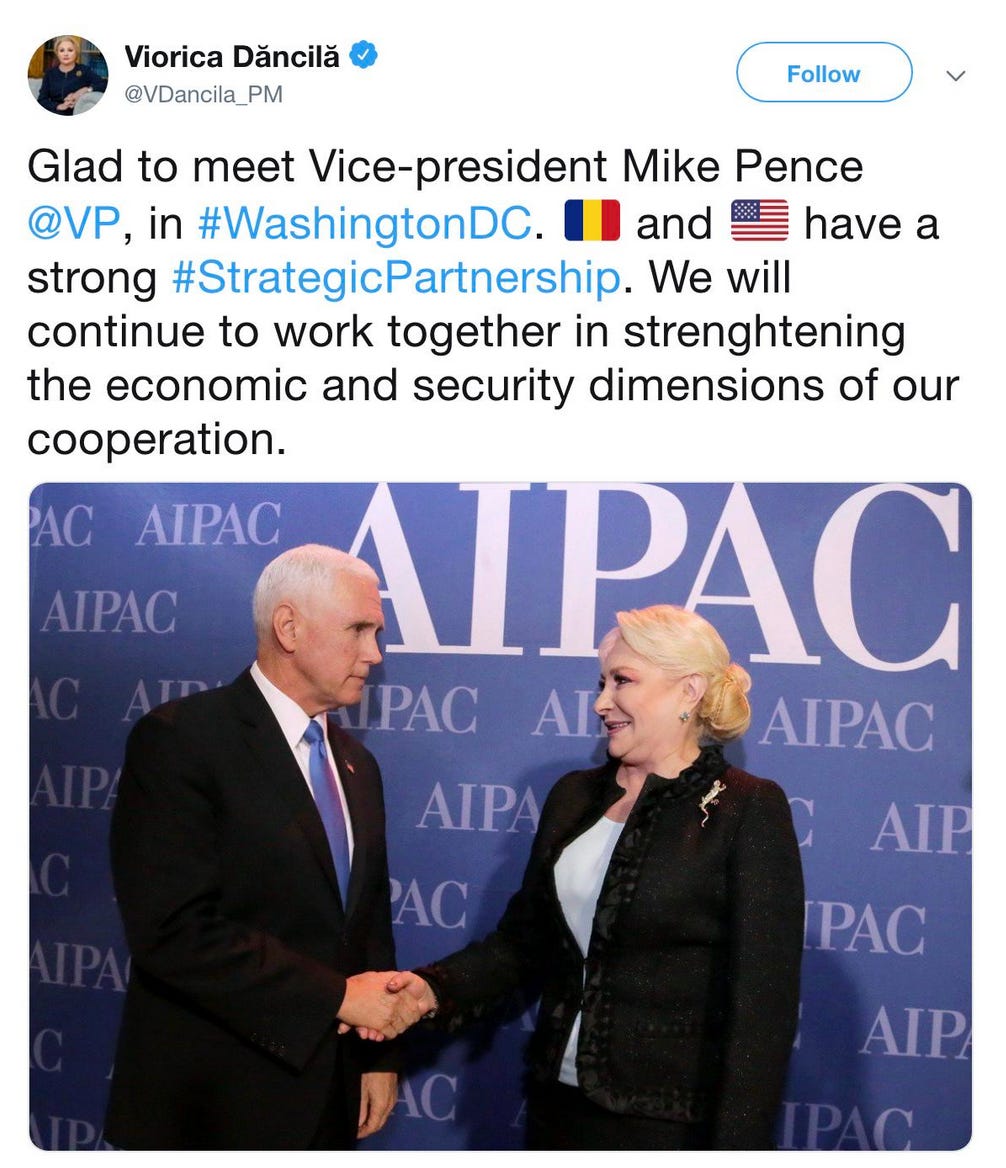 ---
Purina Mills booked Trump's ballroom
Animal-feeds company Purina (not to be confused with petcare firm Nestlé Purina) held an event over the weekend at the president's D.C. hotel, based on a band's booking page and two photos tagged to the hotel's location showing the Purina logo. From the second photo it appears the group rented out the hotel's main ballroom.
Representatives from Purina have not replied to an inquiry about the event.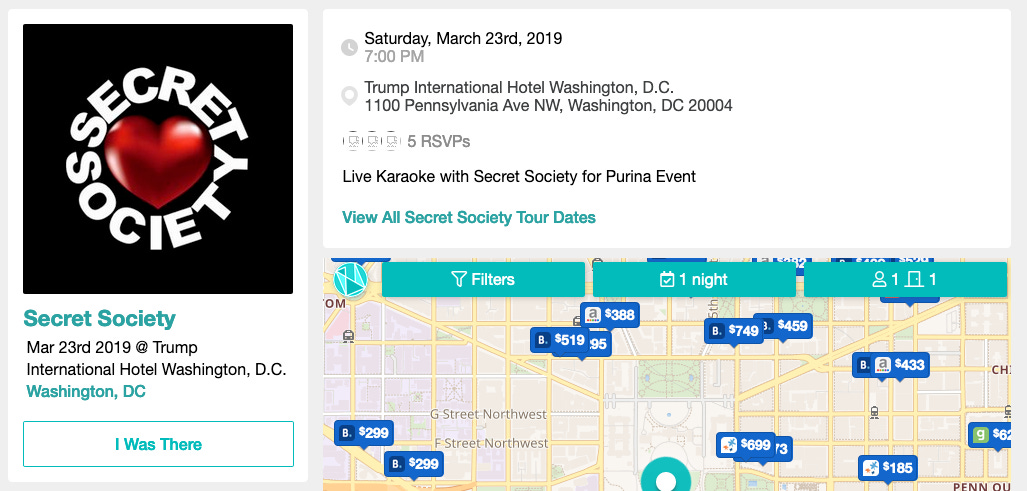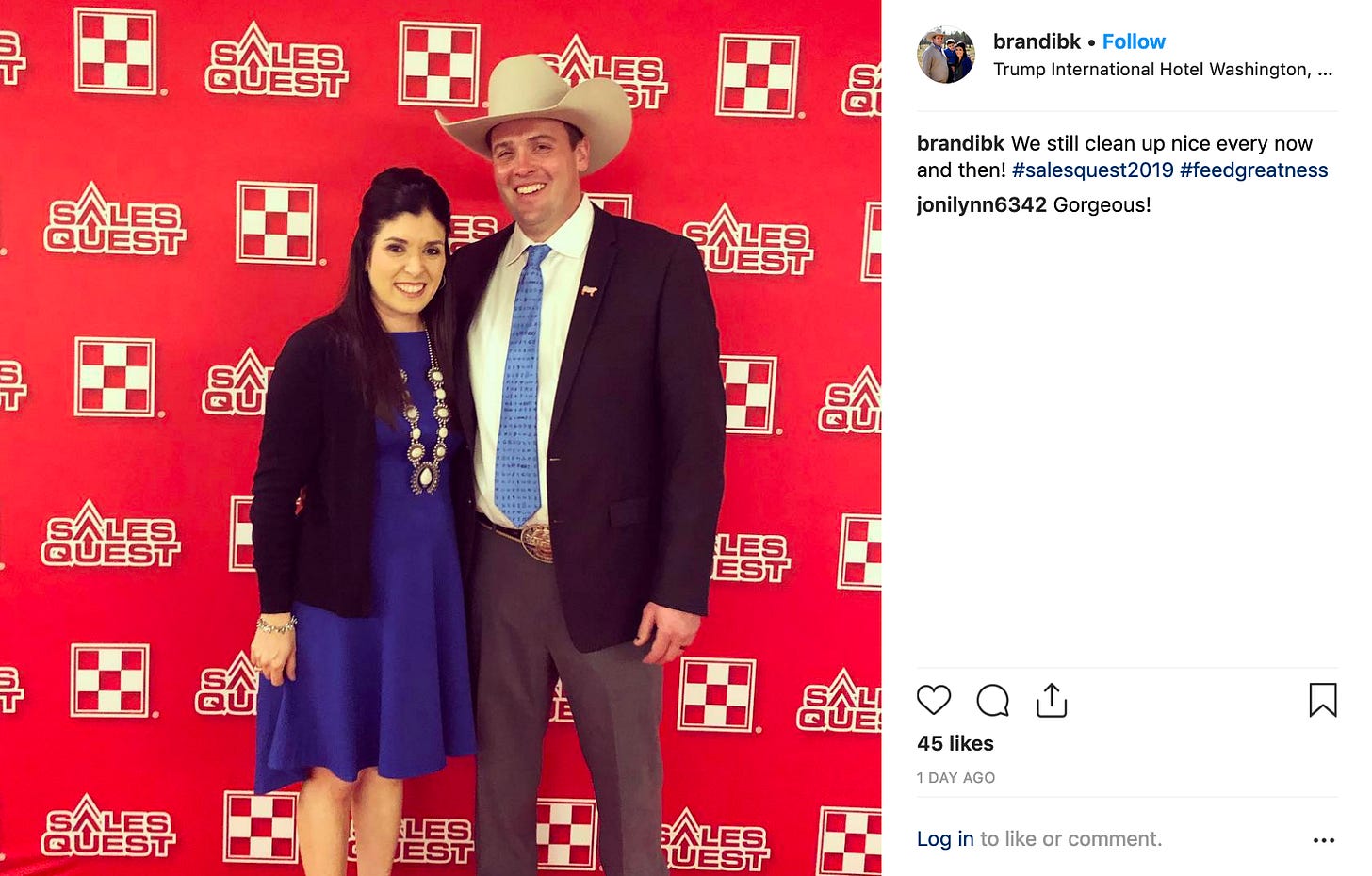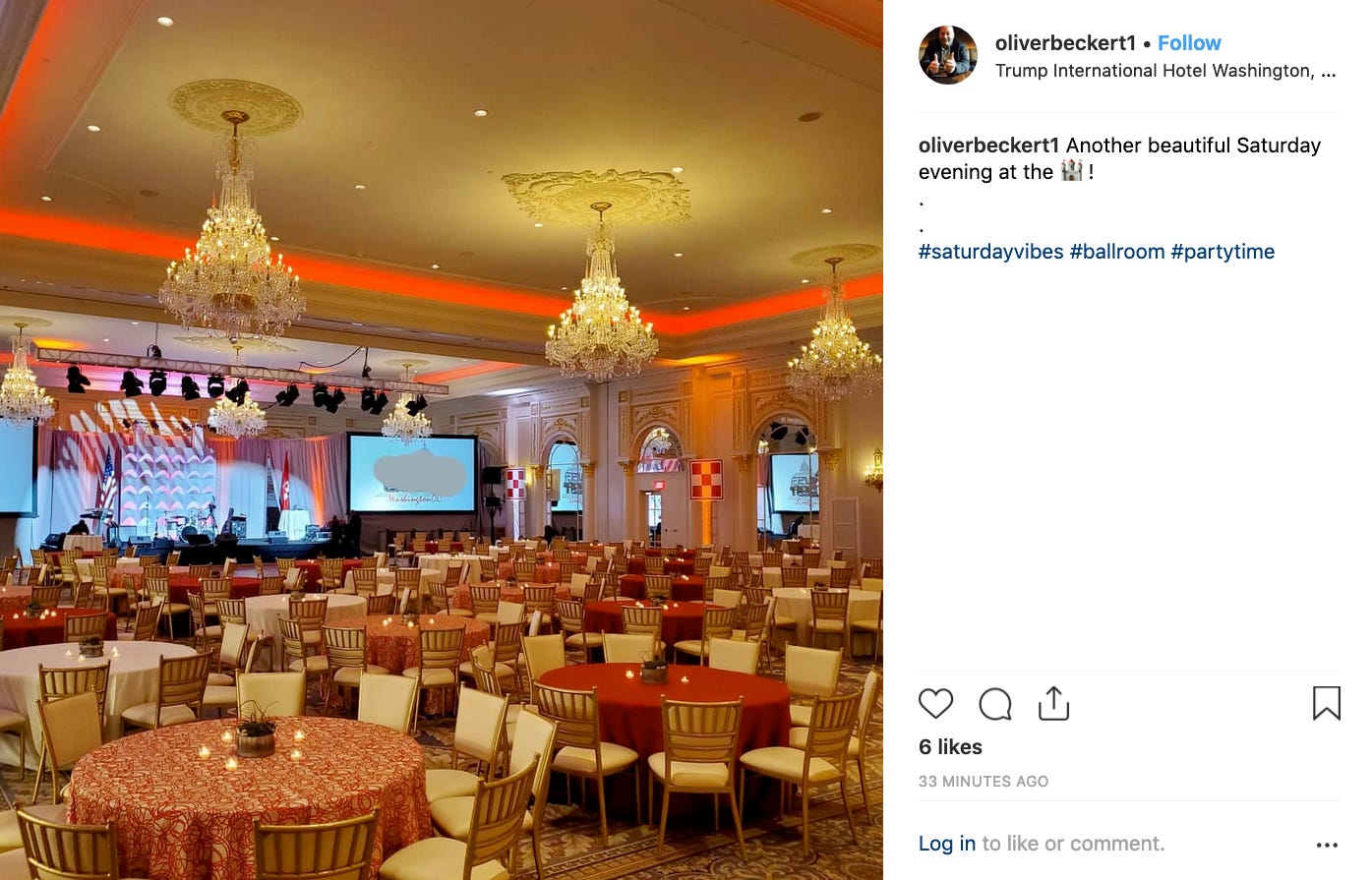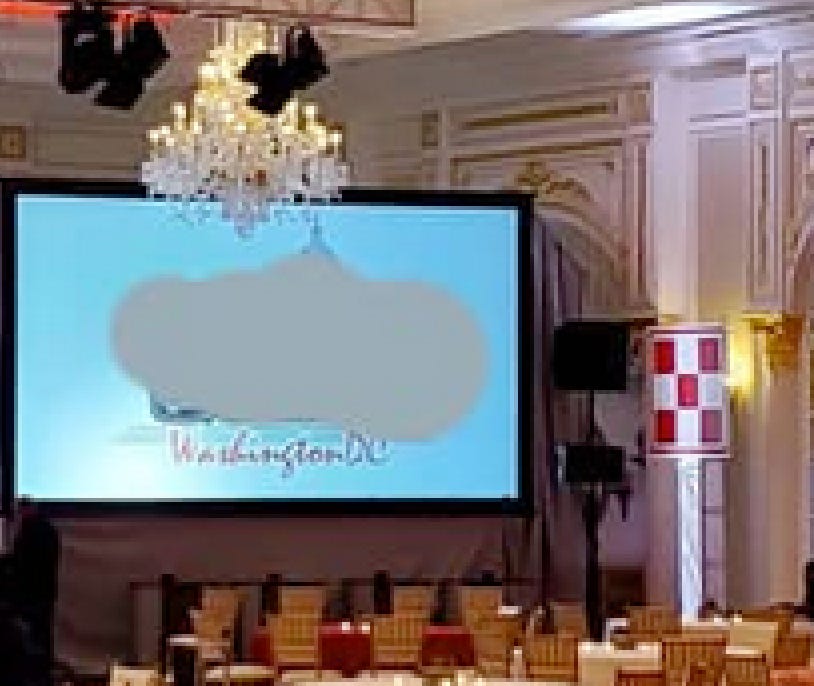 ---
Support this reporting, become a 1100 Pennsylvania member
Reporting on the Trump Hotel D.C. and the president's other businesses takes time. But it's making an impact—and you can help. If you're not an 1100 Pennsylvania member, please become one and help us continue to report on who's spending money at the president's hotel—and what they might be getting in return. Memberships are this newsletter's sole source of income. Select the red "Subscribe now" button and become a member by paying $5 a month or $50 a year. Thank you.
---
Round up: Trump's weekend at his Mar-a-Lago club and his Palm Beach golf course
At Mar-a-Lago, Trump met with leaders from the Bahamas, Dominican Republic, Haiti, Jamaica, and Saint Lucia. And while his post didn't mention his private club…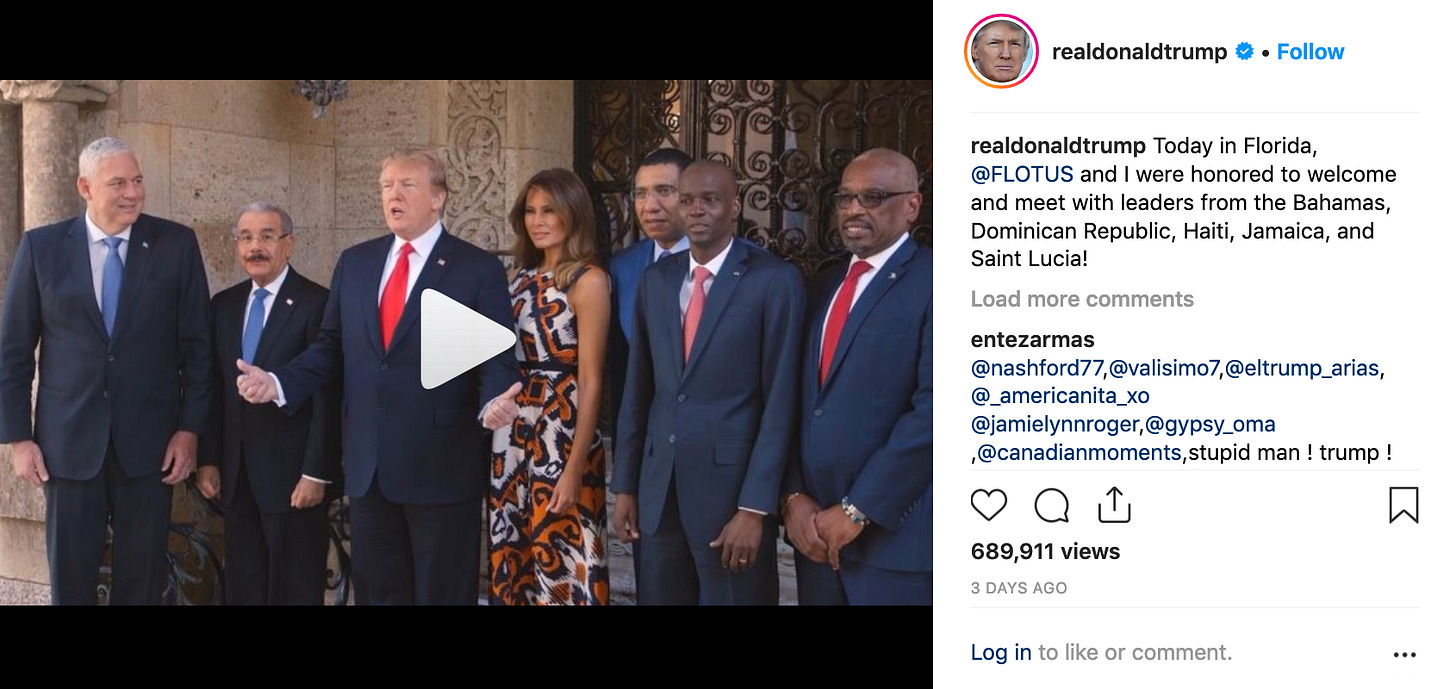 …the embassy of Haiti's did…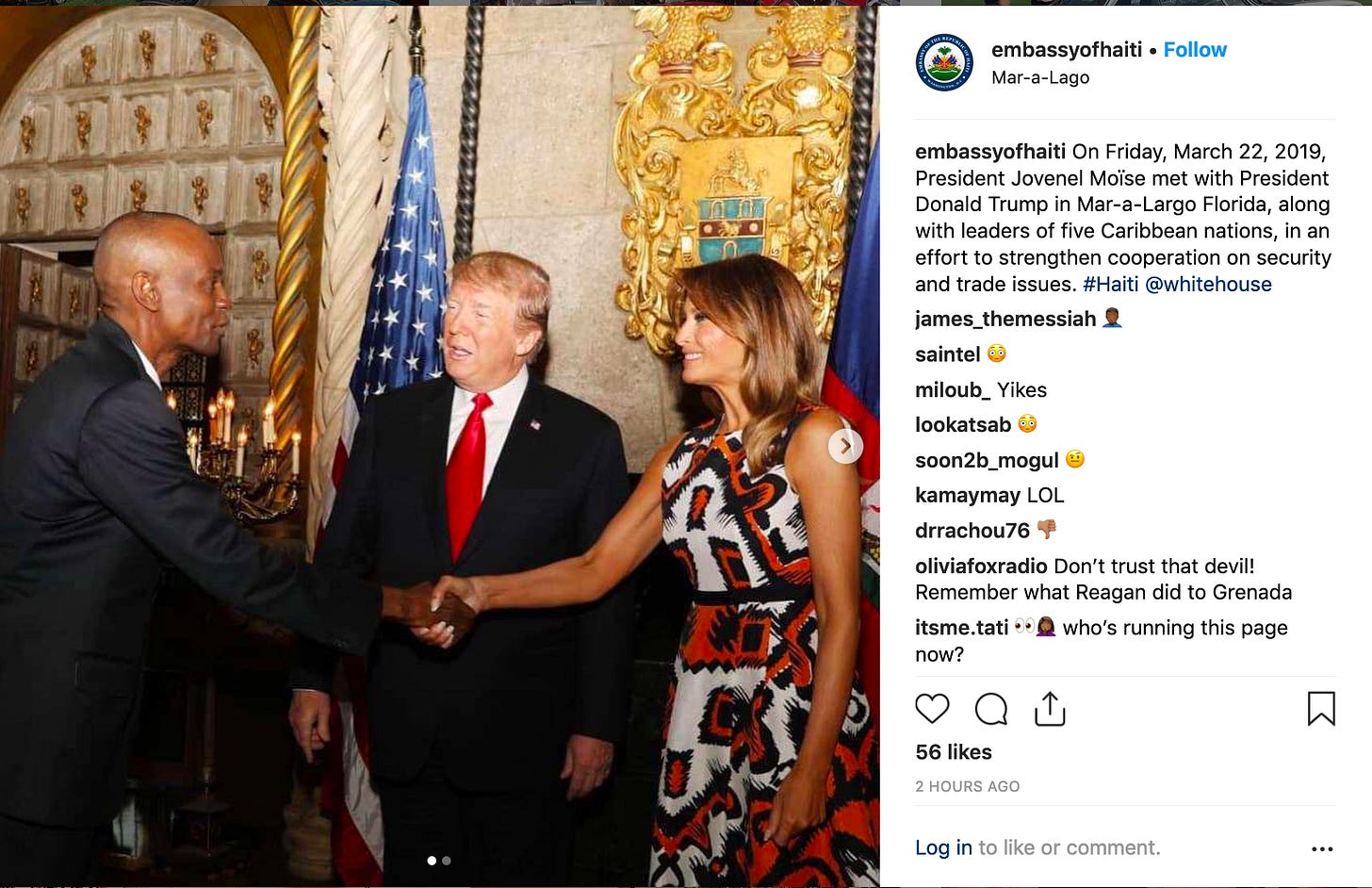 …as did one from Guadalupe's consulate.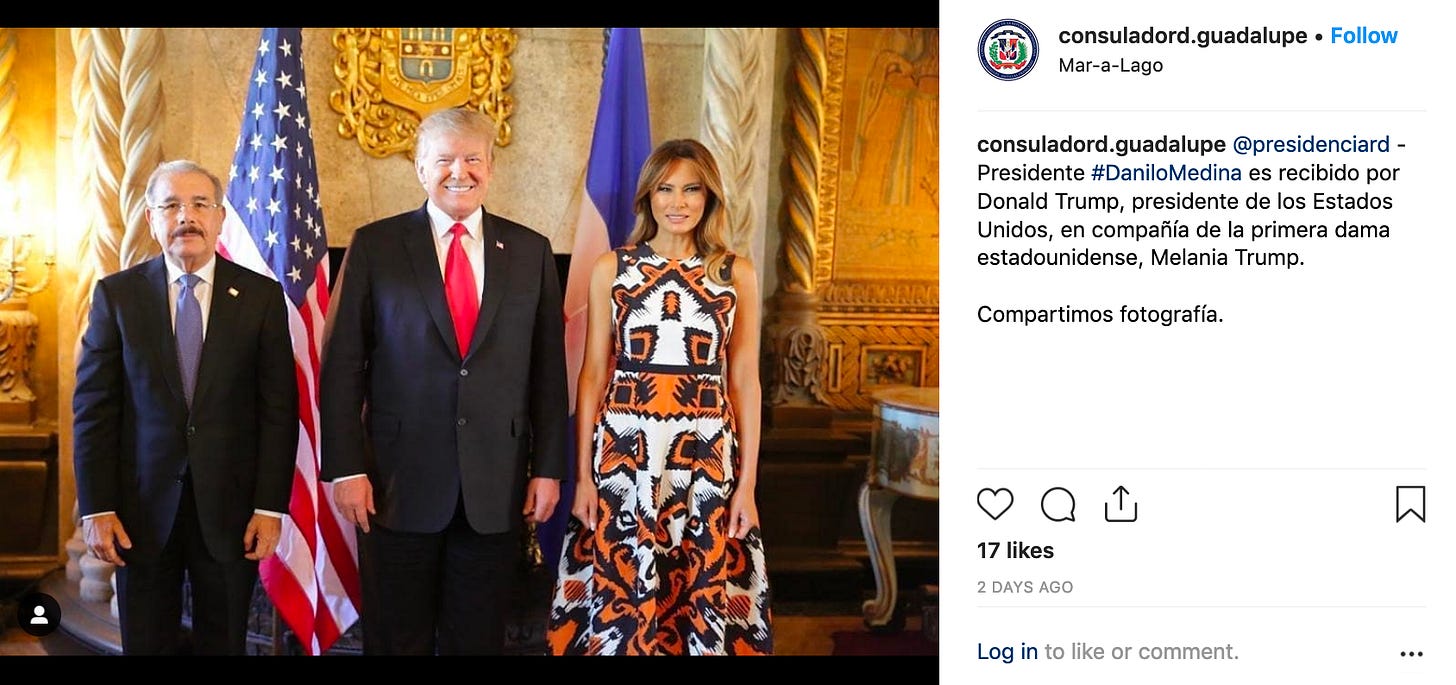 From "Graham delivers laughs—and loyalty—at Mar-a-Lago dinner" by Andrew Restuccia, Daniel Lippman, and Marc Caputo for Politico:
Sen. Lindsey Graham delivered a rousing speech behind closed doors at Mar-a-Lago on Friday night, joking about the prospect of President Donald Trump opening a hotel in Jerusalem and asking the crowd whether they'd like to see former Rep. Trey Gowdy on the Supreme Court.
Gowdy also attended the dinner. And Graham called for investigating Hillary Clinton, according to Kevin Liptak of CNN. It was well received by Mar-a-Lago's patrons.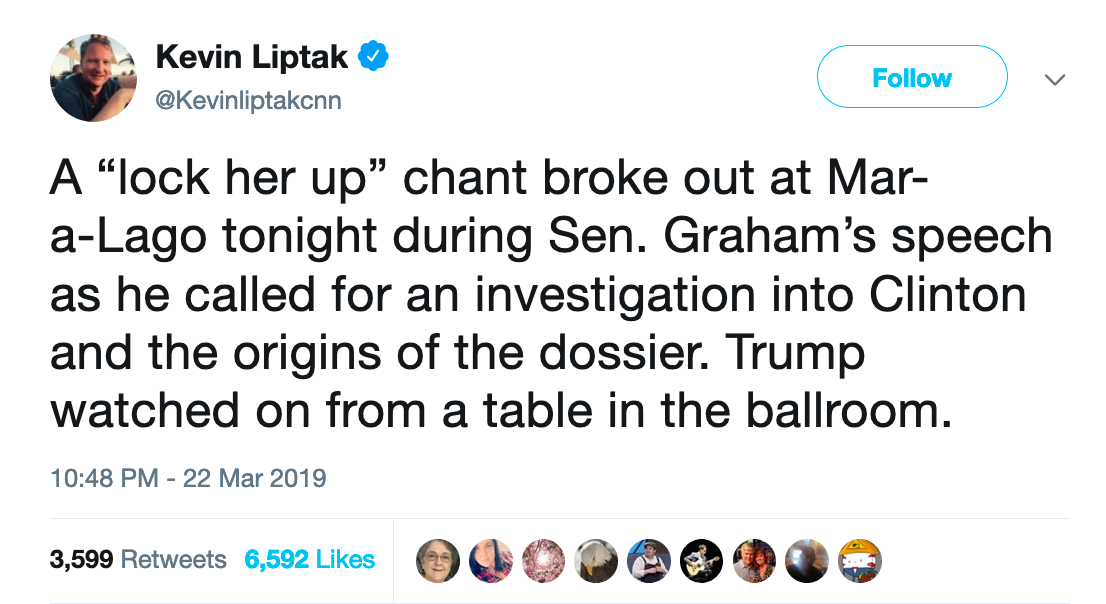 The president took the stage at his private club too.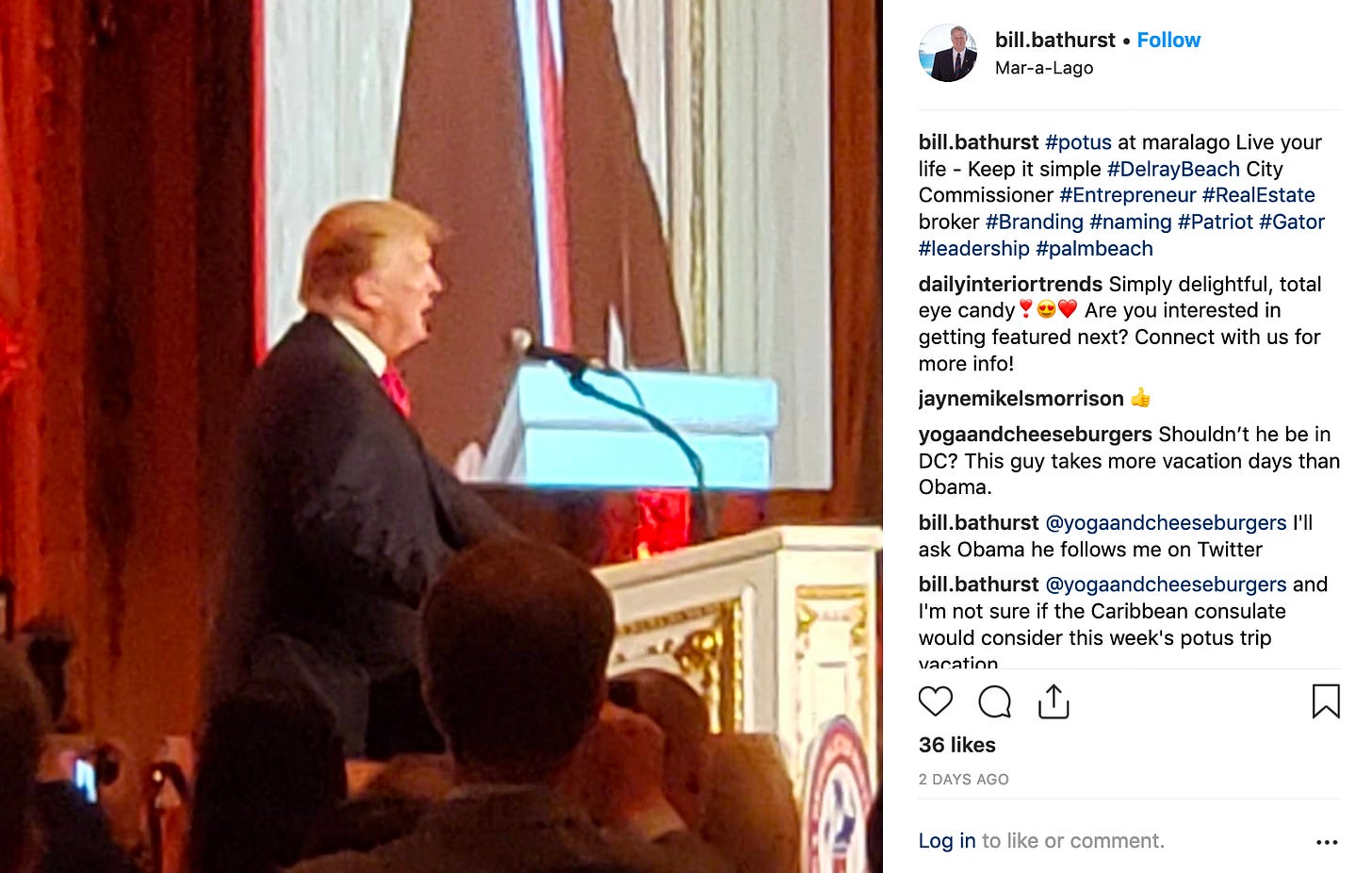 Rep. Brian Mast (R–FL) attended the Lincoln Day dinner at Mar-a-Lago.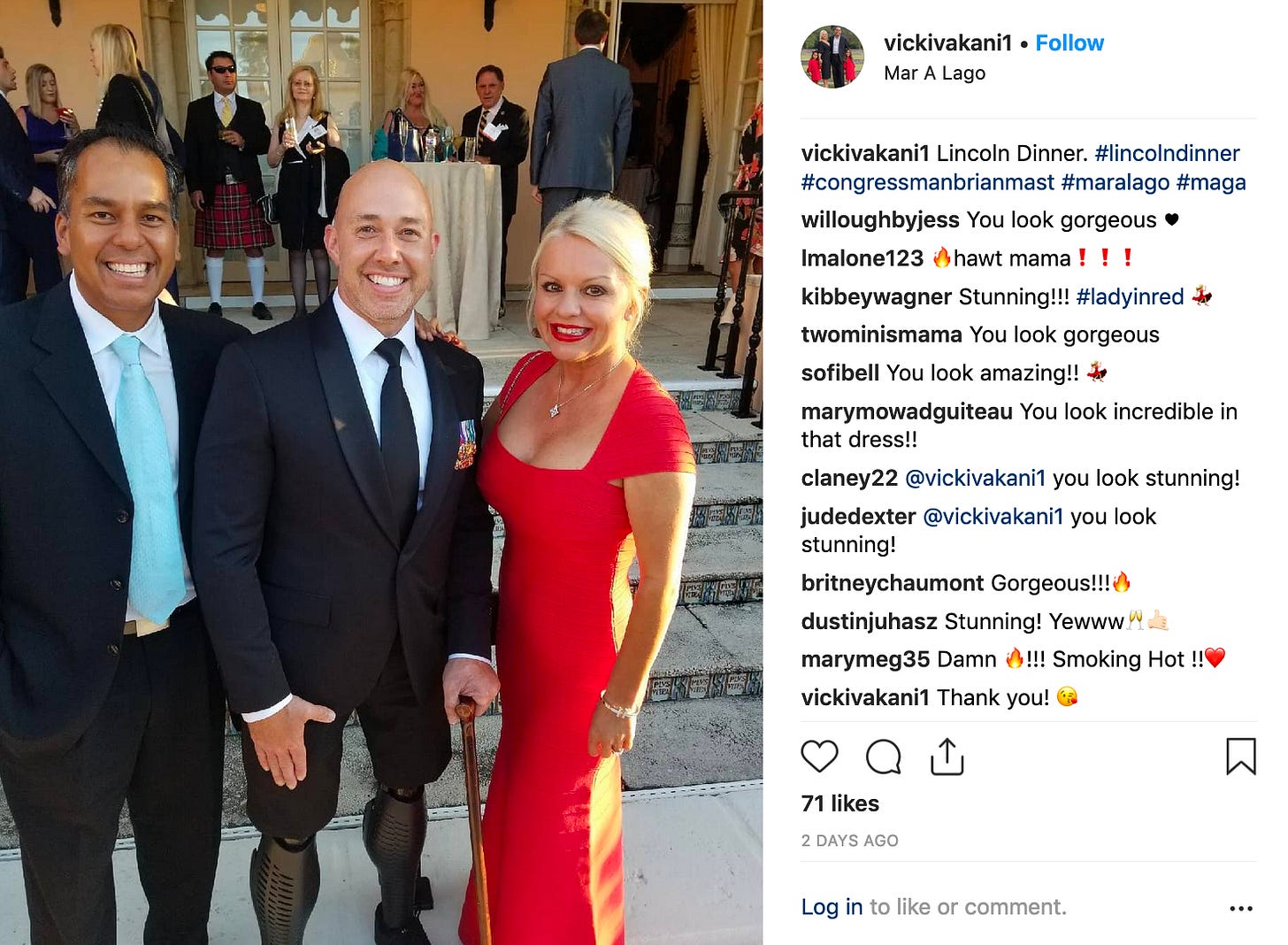 Vice chair of the pro-Trump non-profit America First Policies Kimberly Guilfoyle, Trump Org EVP Donald Trump Jr., and former Florida attorney general Pam Bondi also were there. In this photo, Guilfoyle tagged European designer Chiara Boni La Petite Robe.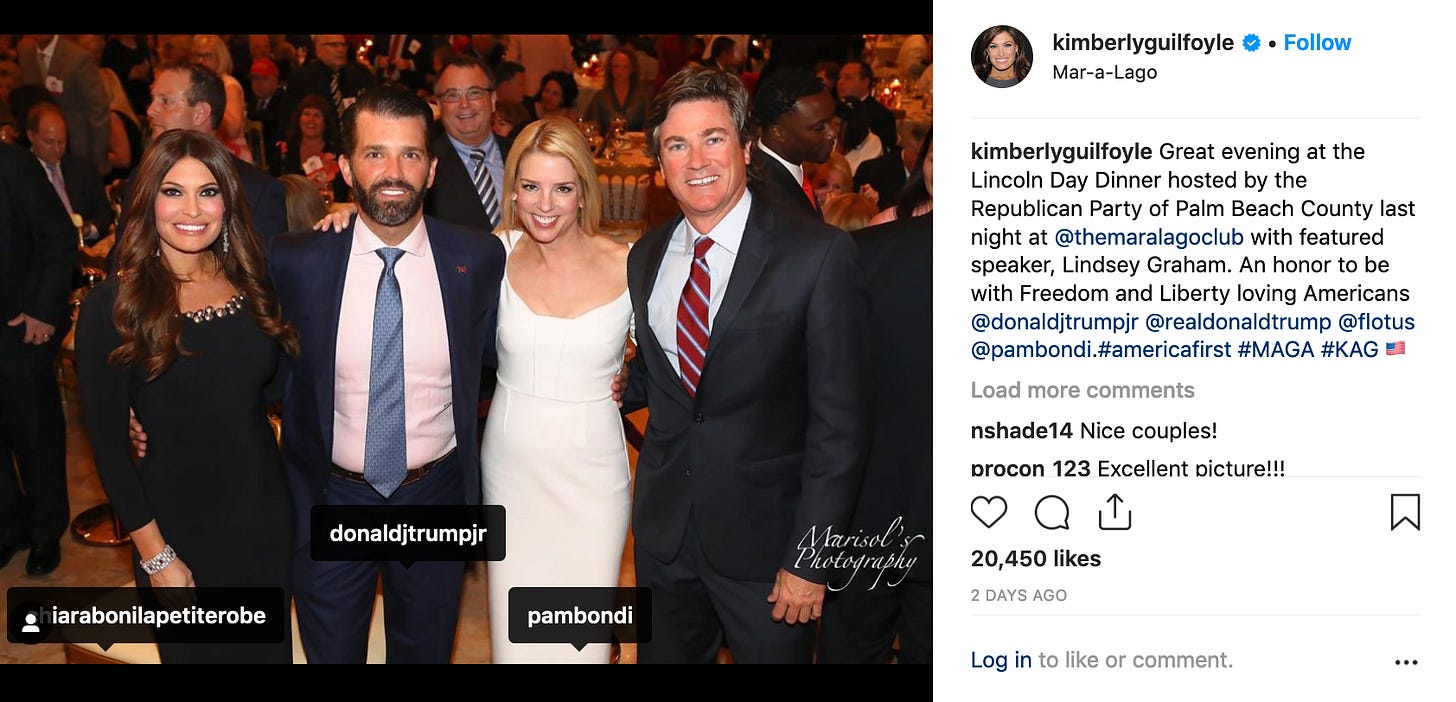 Senior advisor to the counsel to the president, Liz Horning; White House staff secretary, Derek Lyons; White House spokesperson, Sarah Huckabee Sanders; White House director of social media and assistant to the president, Dan Scavino; press secretary and communications director for the First Lady, Stephanie Grisham; and White House deputy press secretary, J. Hogan Gidley, had a great night at their boss's private club. This photo from a U.S. government employee on a verified Instagram account mentions Mar-a-Lago in both the location field and caption.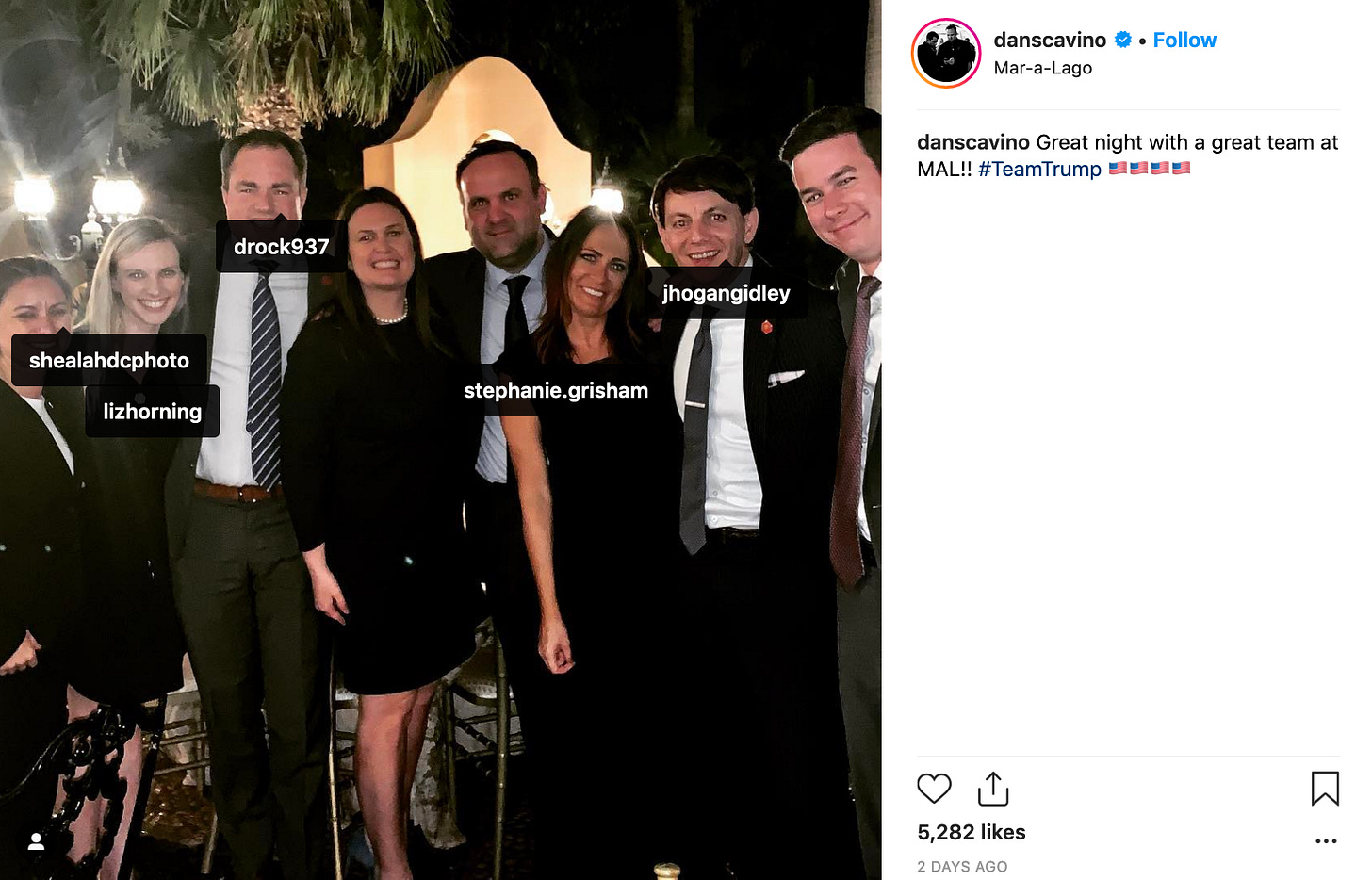 Disgraced former Rep. Mark Foley (R–FL) was back at Mar-a-Lago.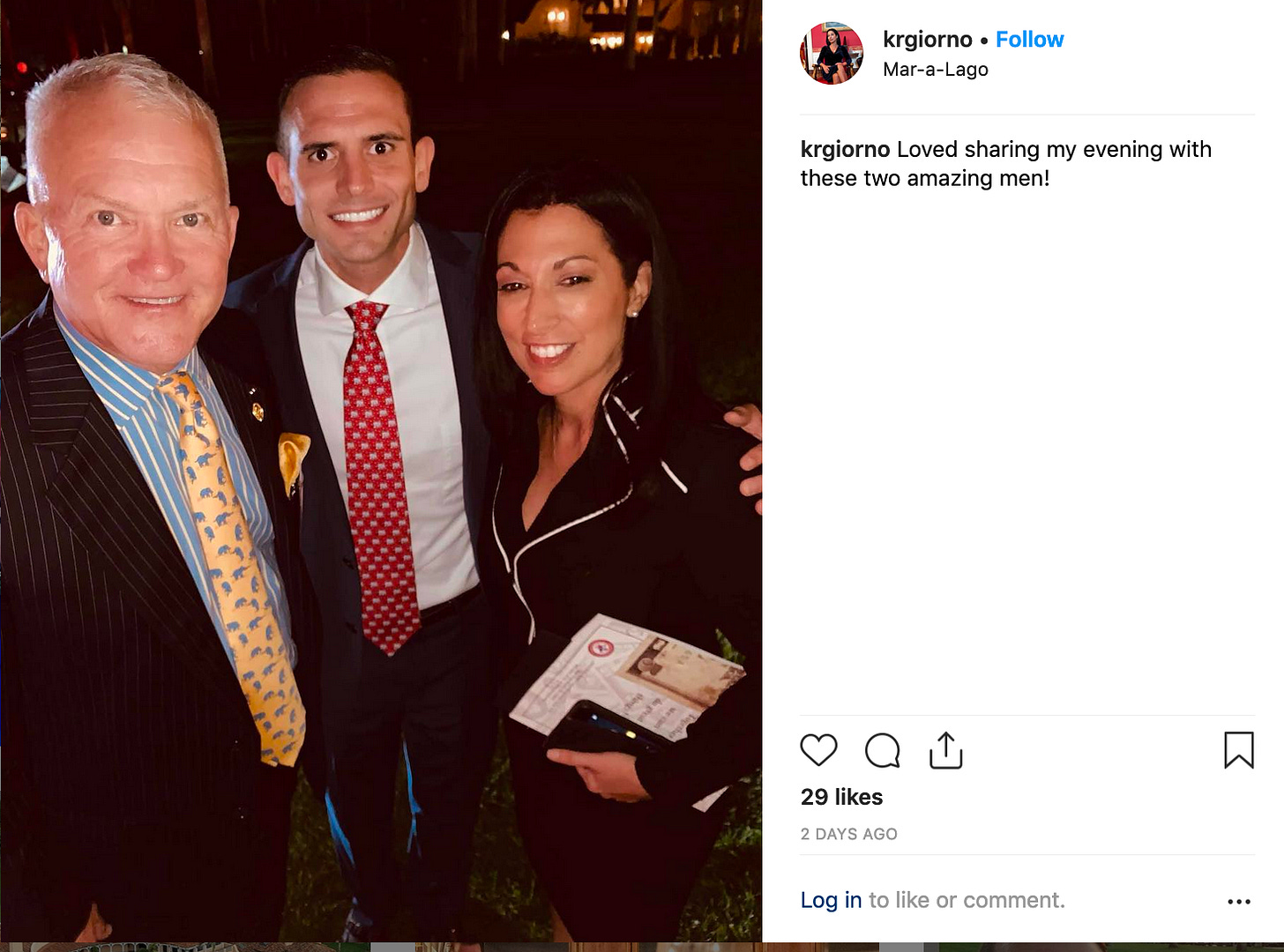 Fox News's Gina Loudon, a Trump business regular, had "a beautiful, spirited evening in the most beautiful club in the world."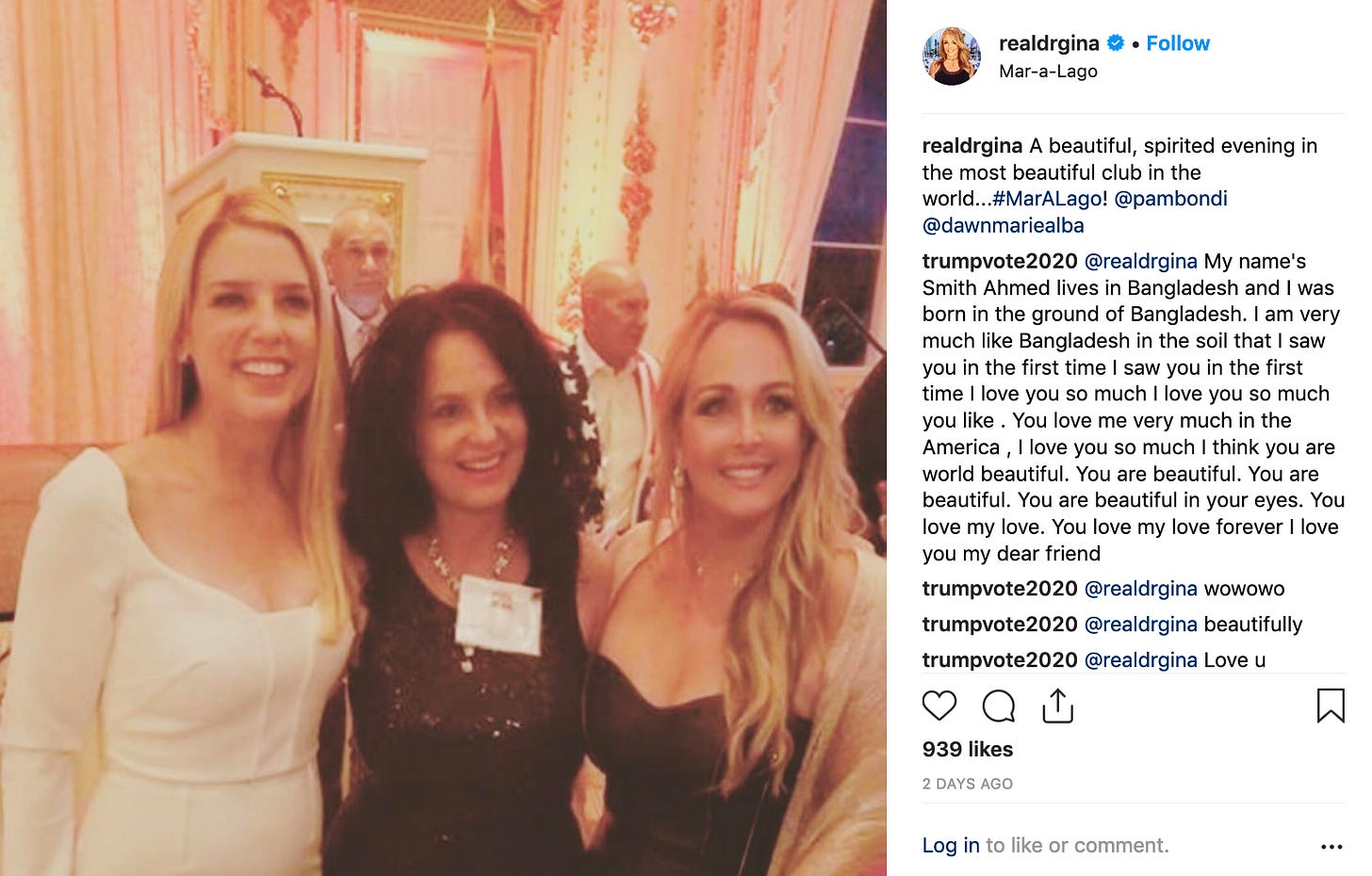 Over the weekend the president also squeezed in a round of golf with one of his supporters, Kid Rock.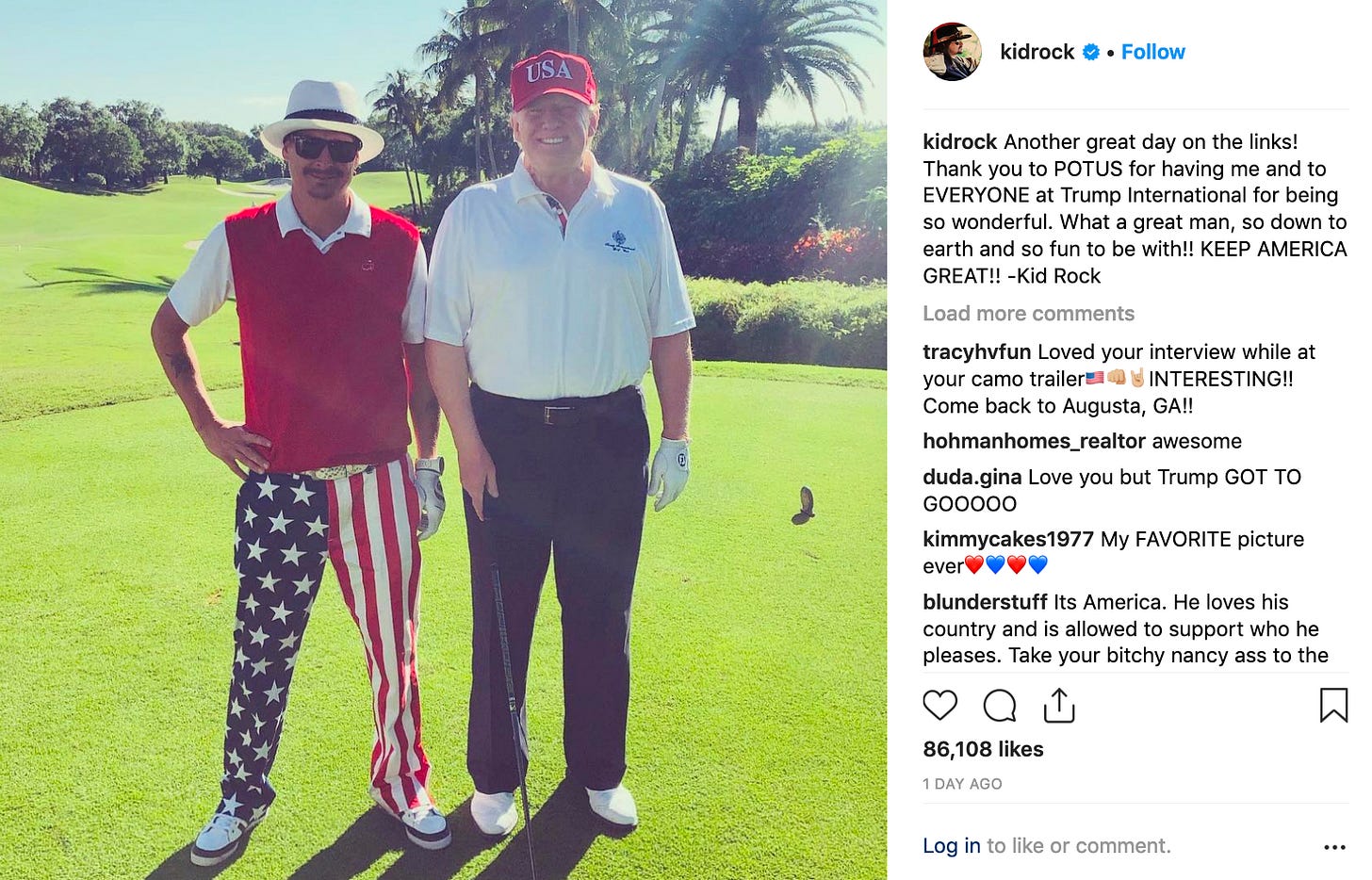 And another Trump customer got a photo with the U.S. president.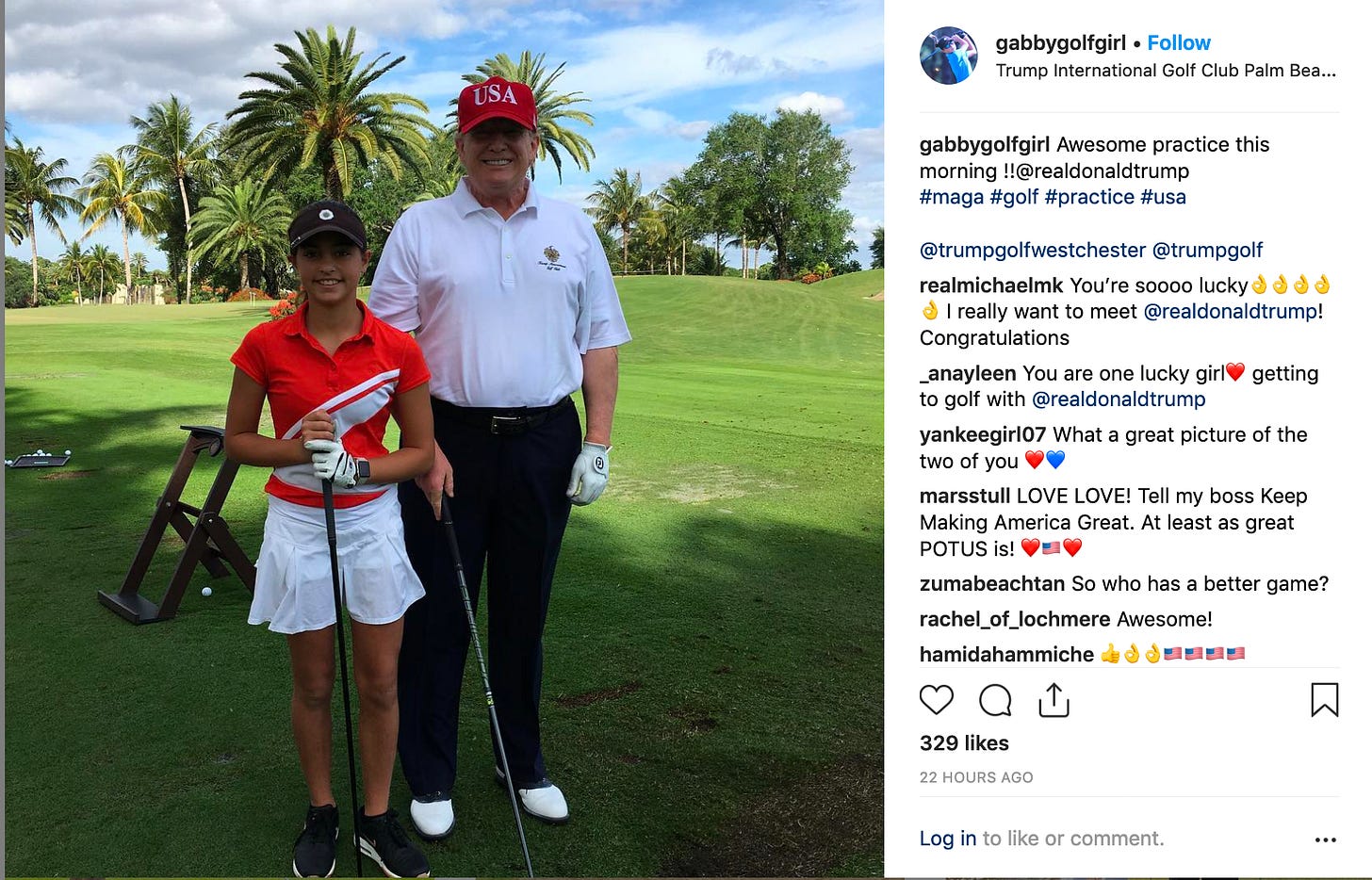 ---
Gillibrand attacks hotel owner outside one of his New York properties
From "Kirsten Gillibrand, outside a Trump hotel, calls the president a 'coward'" by Shane Goldmacher for The New York Times:
Senator Kirsten Gillibrand of New York, speaking outside a Trump-branded high-rise in Manhattan on Sunday, launched a frontal attack on President Trump, calling him a "coward" and the building bearing his name "a shrine to greed, division and vanity."

The speech by Ms. Gillibrand, part of what her campaign billed as the official kickoff of a 2020 bid that has unofficially been underway since January, appeared to be a calculated effort to elevate a candidate who has so far struggled for traction and attention in a crowded Democratic field.
The speech occurred outside the Trump International Hotel & Tower, near Central Park. Last week, Gillibrand's fellow Democratic candidate for president, South Bend, Ind. Mayor Pete Buttigieg, reportedly attended a fundraiser at an apartment inside the same building.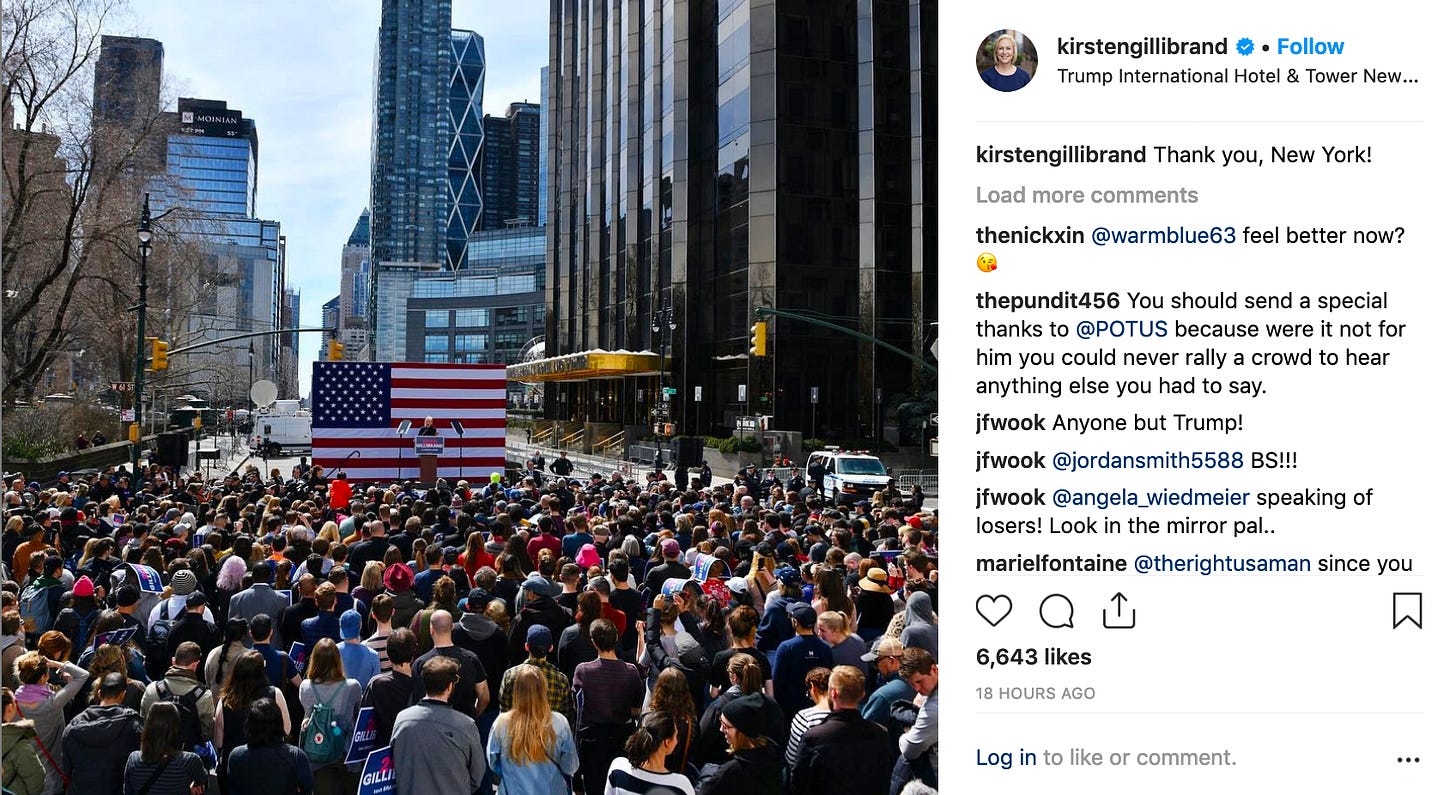 ---
Noteworthy sightings
A former advisor to Bangladesh's BNP political party who later was found guilty of fraud by a U.S. court, Zahid F. Sarder Saddi, returned to the U.S. president's hotel. (Conviction info via bdnews24.com.)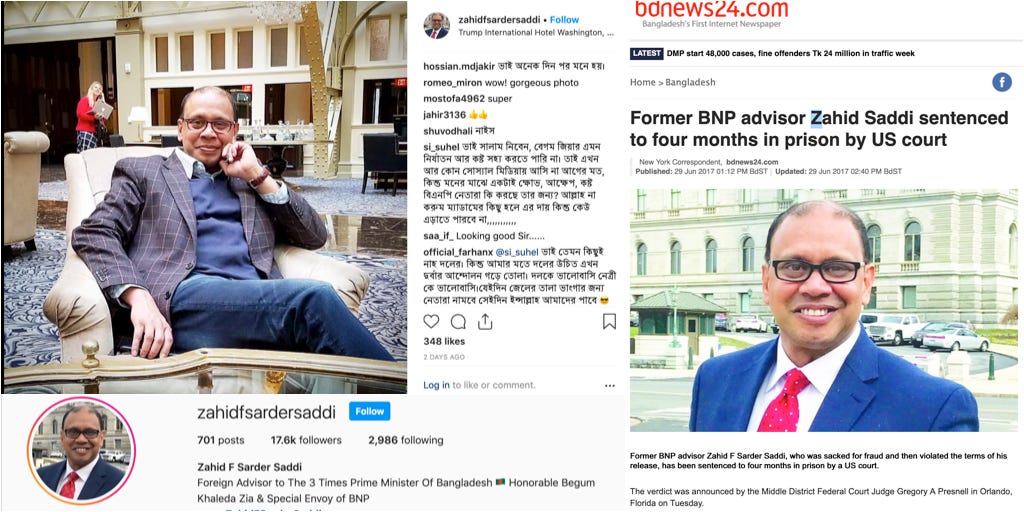 The dining companion of the head of imports and exports at the U.K.'s Food Standards Agency enjoyed a lovely birthday treat at the U.S. president's hotel.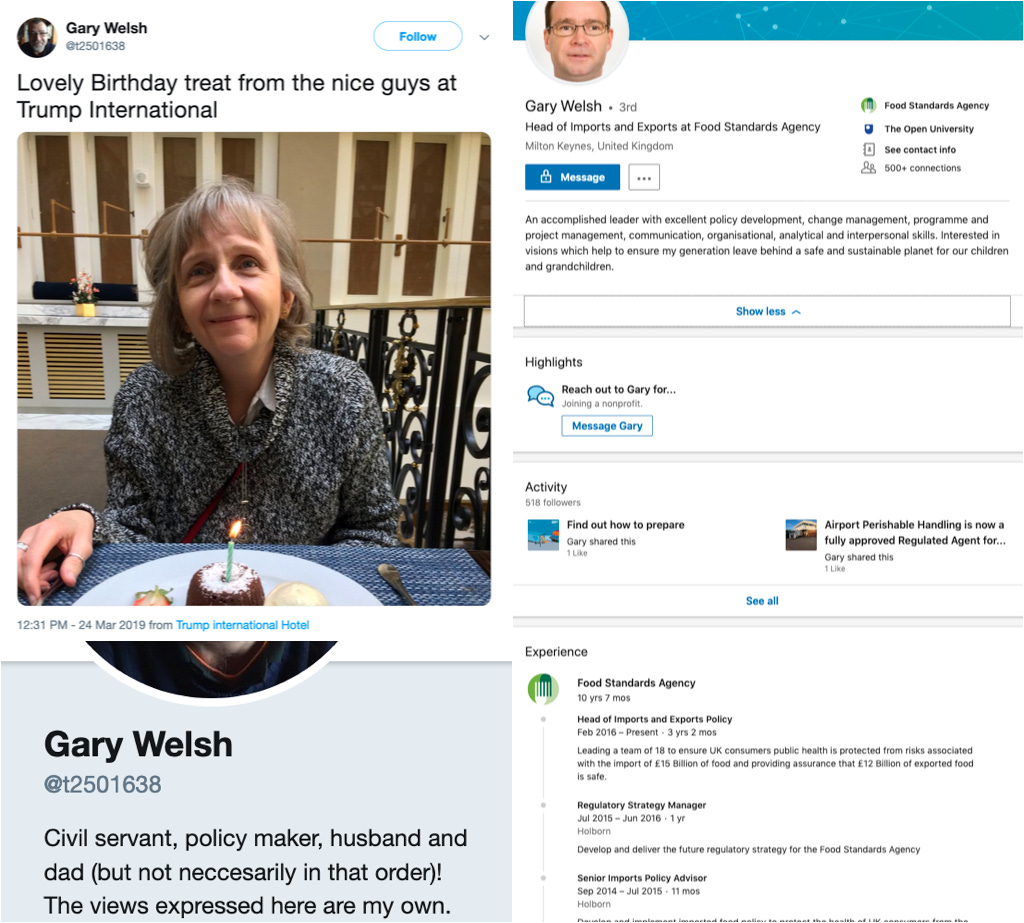 The same Friday afternoon FEMA dumped news of a massive data breach, Department of Homeland Security Sec. Kirstjen Nielsen was back at her boss's hotel (per Katie Rogers of The New York Times).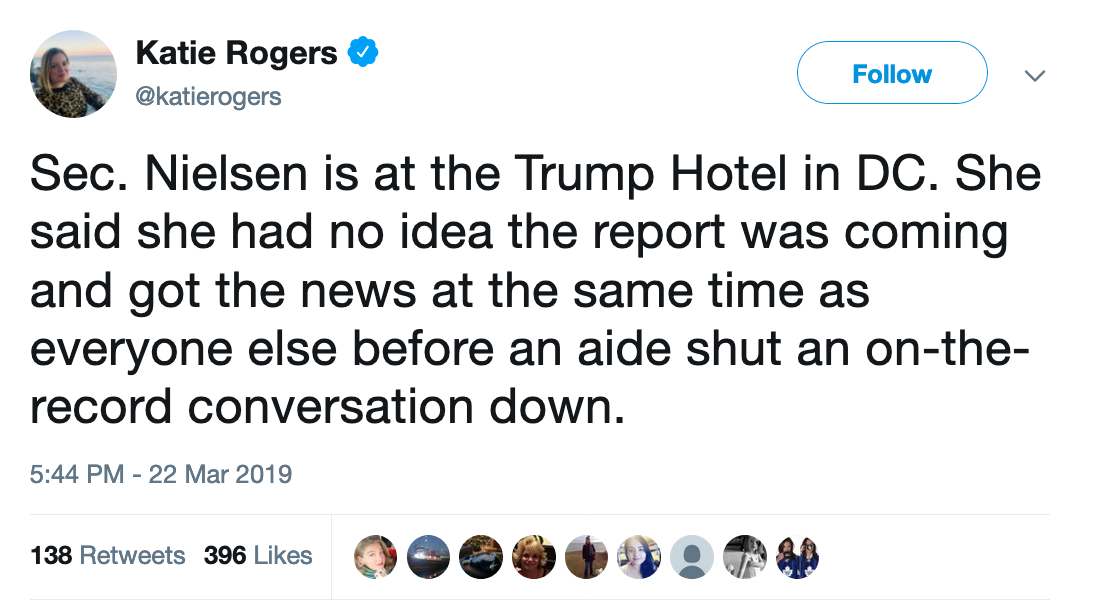 President Trump's personal attorney, Rudy Giuliani, was back at President Trump's Hotel D.C. On Friday, he was spotted lunching there (per Katie Rogers of The New York Times) and re-entering the building again later the evening (by your correspondent). Here Giuliani posed with Alyssa Gulick, an intern for Rep. Jim Banks (R–IN).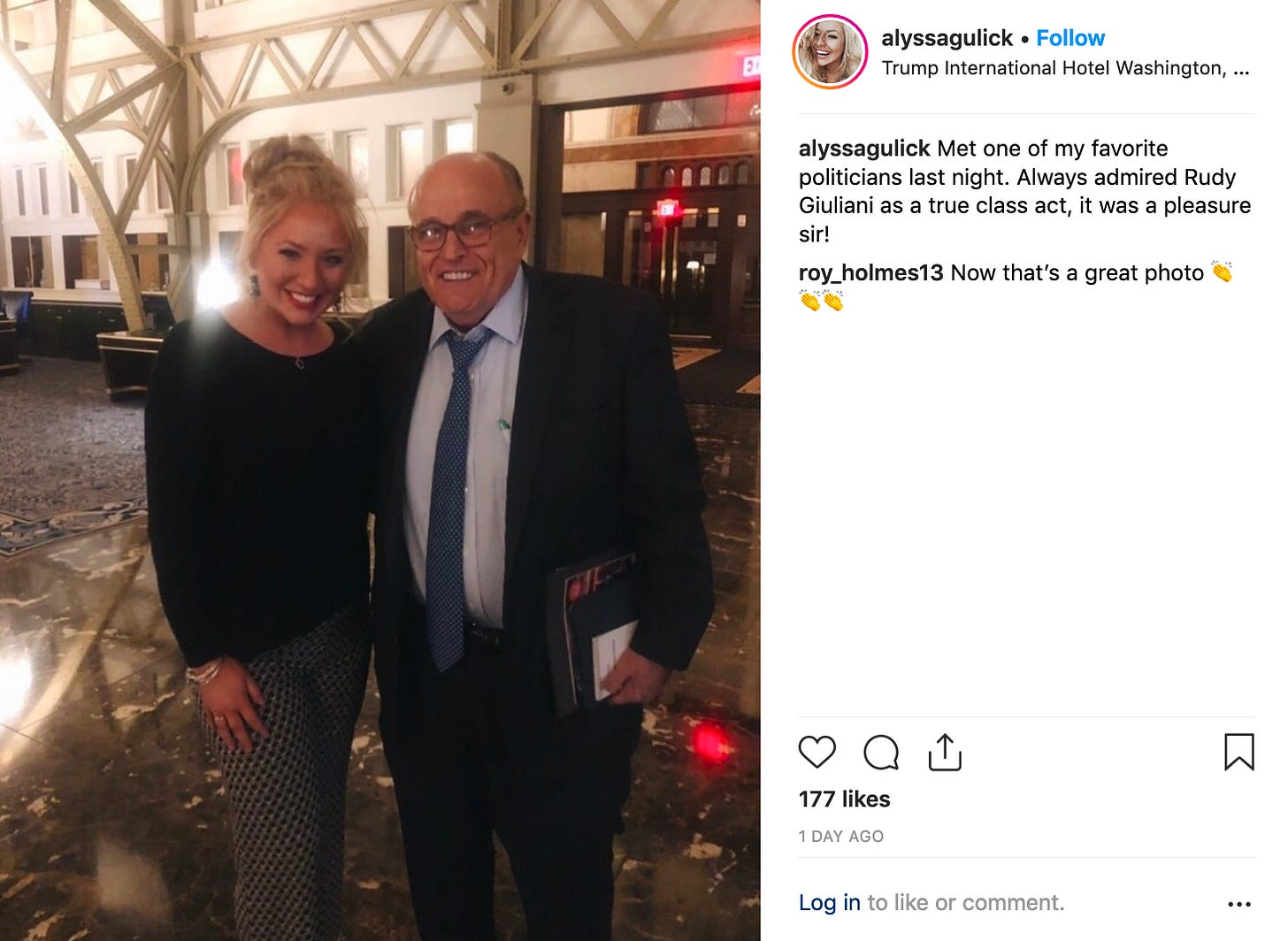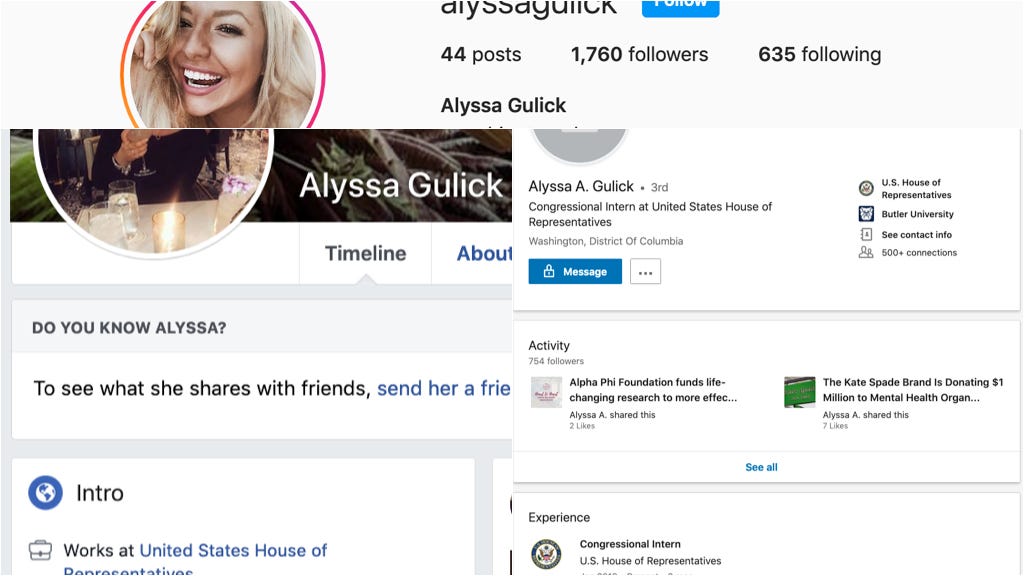 Jim Emme, a board member for the Natural Products Association ("the leading trade association for dietary supplements") and the CEO of NOW Health Group, left a good impression.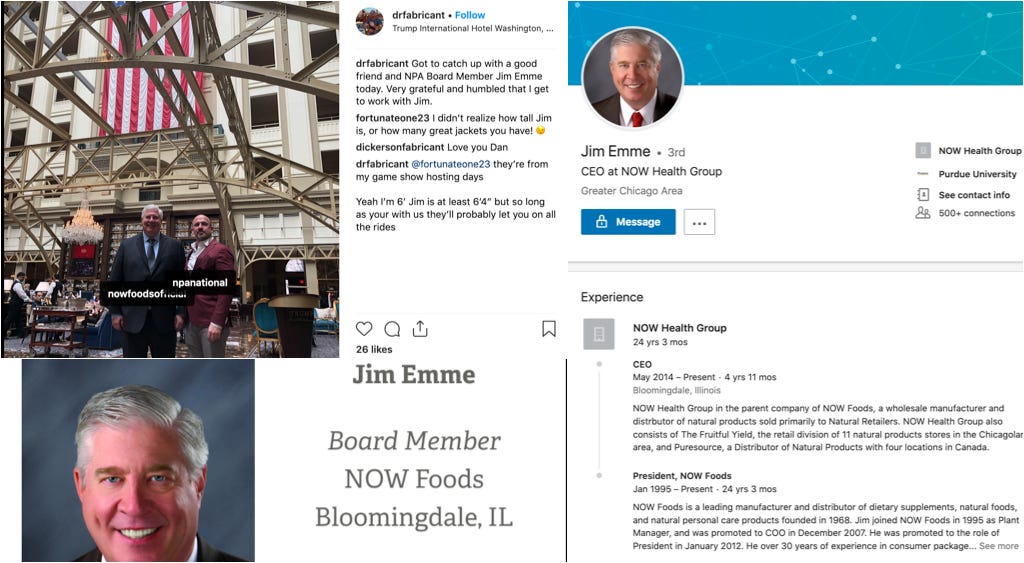 Fox News pundit and Trump campaign advisor, Harlan Hill, a Trump Hotel D.C. regular found solace in from all those pesky D.C. Democrats. He was with fellow hotel regulars The Hill's Buck Sexton and Jessica Grose, as well as a senior contributor to The Federalist, Erielle Davidson. Your correspondent spotted Hill at the hotel both Friday and Sunday nights.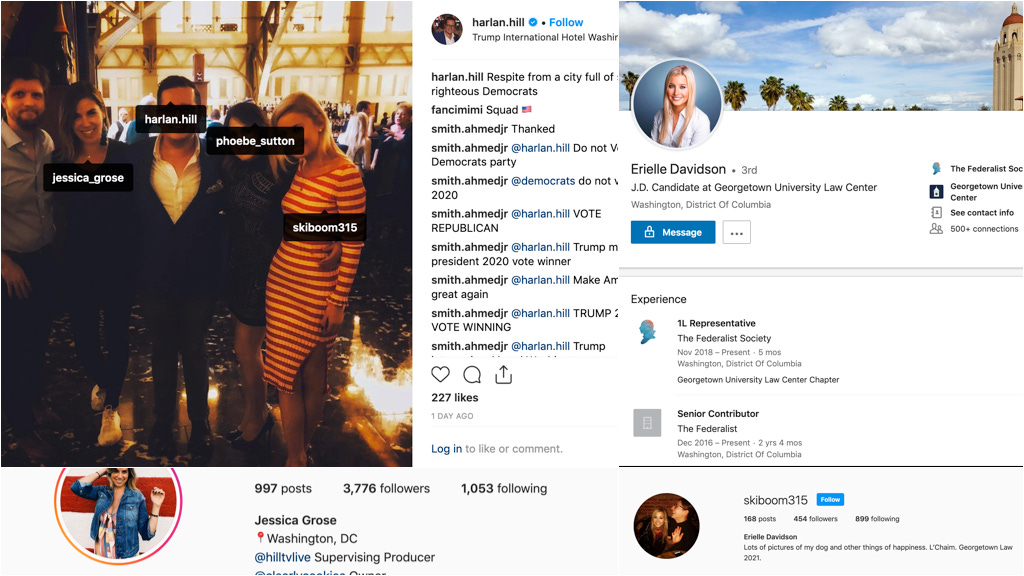 University of California-Berkeley student Hayden Williams, who allegedly was assaulted while recruiting students to join Turning Point USA, returned to the hotel Friday night. He was with Ximena Barreto, a former Trump political appointee in the Department of Health and Human Services who resigned after CNN and Media Matters reported she'd "spread conspiracies and made anti-Muslim comments". Also seen with Barreto, lobbyist and repeat hotel customer Christopher Neiweem.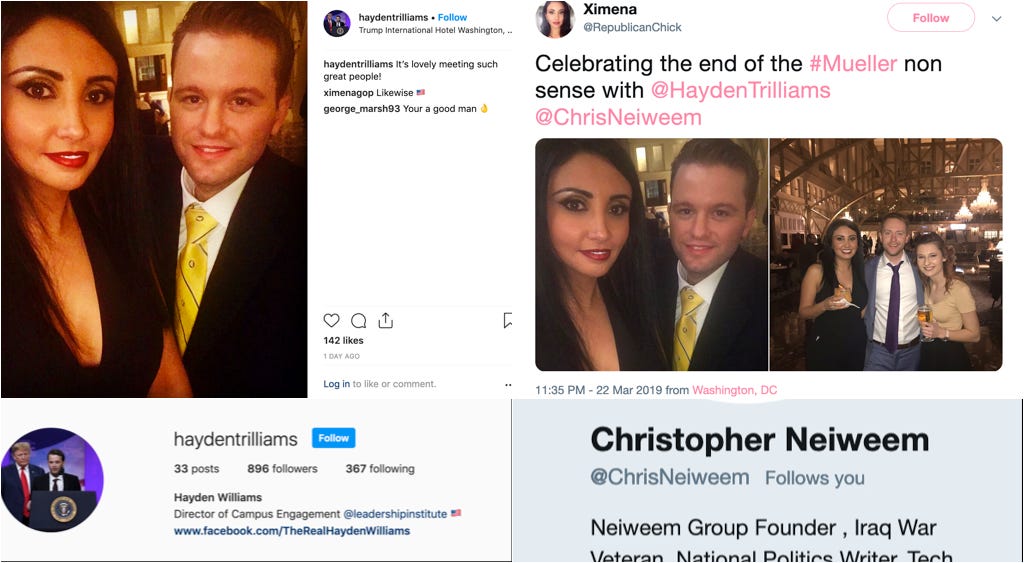 The Trump Hotel D.C.'s managing director, Mickael Damelincourt, continued his crusade against allegedly spiteful travel bloggers. "#Trump"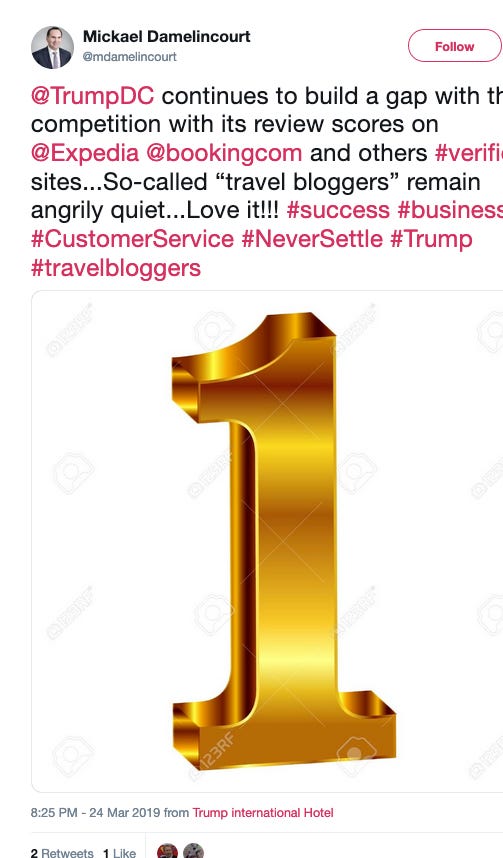 ---
Other Trump Organization news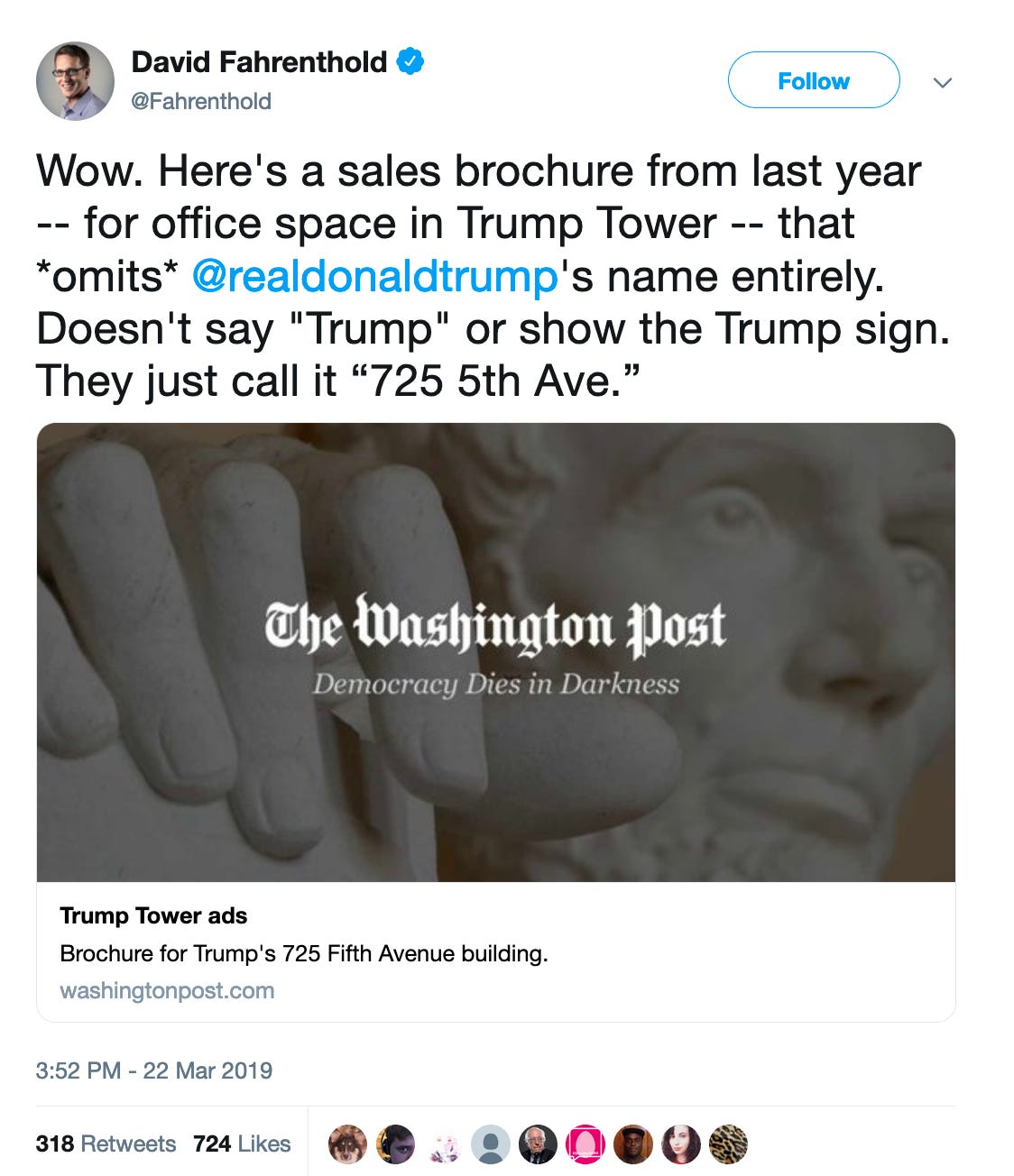 ---
House investigations, current status (latest changes, March 22, 2019)
---
Legal cases, current status (latest change, March 20, 2019)
D.C. and MD attorneys general's emoluments lawsuit (district court docket, appellate court docket)—

Official capacity—On Dec. 20, 2018, the 4th U.S. Circuit Court of Appeals ruled it would hear the president's appeal of district court rulings that allowed the case to proceed to discovery, and the appellate court halted discovery in the case. Discovery had started Dec. 3 and was scheduled to run through Aug. 2, 2019, with the AGs having subpoenaed the Trump Organization, including its Scottish golf courses; the U.S. Departments of Agriculture, Commerce, Defense, and Treasury and the GSA; and the state of Maine. Oral arguments on the appeal occurred on March 19; by all accounts the three-judge panel (all Republican appointees, including one who was a selection of President Trump's) were skeptical of the AGs' case. D.C. AG Karl Racine pledged to take the case to the U.S. Supreme Court if necessary.

Individual capacity—On Dec. 14, Trump's personal attorneys appealed the denial of their motion to dismiss the case, also to the 4th U.S. Circuit Court of Appeals. On Dec. 19, the AGs replied to Trump's motion for a stay pending that appeal by voluntarily dismissing the claims against Trump in his "individual capacity to allow the claims against President Trump in his official capacity to move forward expeditiously." (The AGs only brought suit against Trump in his individual capacity after the judge suggested they do so.) Trump's personal attorneys, on Dec. 21, opposed the motion to dismiss at the district level, saying the appeals court now has jurisdiction and accusing the AGs of "gamesmanship."

Democratic senators and representatives' emoluments lawsuit—On Sept. 28, Judge Emmet G. Sullivan ruled that the legislators have standing to sue. Trump's Justice Department attorneys filed an interlocutory appeal on Oct. 22. On Jan. 30, 2019, the plaintiffs' filed a notice of supplemental authority, notifying the court of the GSA inspector general's report that criticized GSA for failing to consider if the Trump Hotel D.C.'s lease was in compliance with the Constitution after Trump became president. Two days later, the president's attorneys argued that the IG's conclusion was not inconsistent with Trump's argument, but that the judge should ignore that report anyway because the IG has no expertise in interpreting or applying the foreign emoluments clause.

CREW et. al's emoluments lawsuit—In February 2018, CREW appealed its suit being dismissed for lack of standing to the 2nd U.S. Circuit Court of Appeals. Oral arguments on that motion were held on Oct. 30.

Cork's unfair competition lawsuit—Judge Richard J. Leon dismissed the case on Nov. 26, 2018, writing "Cork has failed to state a claim for unfair competition under D.C. law." On Dec. 10, Cork's attorneys filed a notice of appeal and on Jan. 10, 2019 they submitted a statement of issues to be raised. A briefing schedule was set on March 5 with Cork's brief due on April 15, the president's brief due on May 15, and Cork's reply to the president's brief due on June 5.

Employees' class-action suit alleging racial discrimination—Two of the three plaintiffs did not appear at a status hearing on Jan. 25, 2019; their cases were moved to arbitration. Via email, their attorney, A.J. Dhali, said his clients did not appear at the hearing because their case already had been moved to arbitration last year. The next status hearing is scheduled for Oct. 4.
---
Health inspections, current status (latest change, Aug. 10, 2018)
❌Hotel: five violations on May 7, 2018; two were corrected on site

❌BLT Prime and Benjamin Bar: nine violations on Aug. 10, 2018

❌Sushi Nakazawa: two violations on Aug. 10, 2018

✔️Banquet kitchen: no violations on Aug. 10, 2018

❌Pastry kitchen: two violations on Aug. 10, 2018

✔️Gift shop: no violations on May 7, 2018

❌Employee kitchen and in-room dining: five violations on Aug. 10, 2018; two were corrected on site
---
Is the Trump Organization selling merchandise that depicts the White House? (latest change, March 21, 2019)
Yes.
---
One thing that (probably) has nothing to do with Trump's businesses
From "Far right and very wrong: Why white nationalist terrorism is a global threat" by The Economist:
The names and slogans scrawled on his weapons were familiar to extreme white nationalists all around the world—but hardly anyone else. His ranting internet manifesto, "The Great Replacement", repeated a staple far-right conspiracy theory: that non-white and Muslim immigrants in Western countries are invaders, ushered in by scheming elites to replace ethnic-European populations. Variants of that once-fringe idea are now common, not just in social-media posts by anonymous wackos but in the speeches of elected politicians from Hungary to Iowa.
---
Thanks for reading. If you like what you see, tell someone—and support this work by becoming a paying member ($5/month or $50/year). If you've been forwarded this newsletter, subscribe for yourself at zacheverson.substack.com. Questions? Read our FAQ/manifesto. Tips or feedback? Contact me, Zach Everson, securely via email at 1100Pennsylvania@protonmail.com or on Signal at 202.804.2744.