Discover more from 1100 Pennsylvania
"The undisputed expert on the D.C. Trump Hotel" – David Fahrenthold of the Washington Post
Over 3,000 subscribers
Spotted: Rudy Giuliani and Romania's prime minister
The president's attorney, who's made overtures to Romania, dined within feet of Viorica Dancila at the Trump Hotel D.C.
Rudy Giuliani and Romania's prime minister dined within arm's reach of each other this weekend at the Trump Hotel D.C. 
Viorica Dancila stayed at the U.S. president's hotel over the weekend (as Ilya Marritz of WNYC, Justin Elliott of ProPublica, and your correspondent reported on Monday). As that article explained, Giuliani, the president's personal attorney, had "made overtures to the Romanian government since Trump was elected." Giulinai had been spotted at the hotel this weekend too, but not with Dancila. And his spokesperson did not reply to a request for comment for that article.
But then, at 2:08 a.m. today, Giuliani tweeted a picture of himself dining in the hotel's BLT Prime restaurant with the president's "All Star legal team." And there, seated just over Giuliani's left shoulder, is the prime minister of Romania.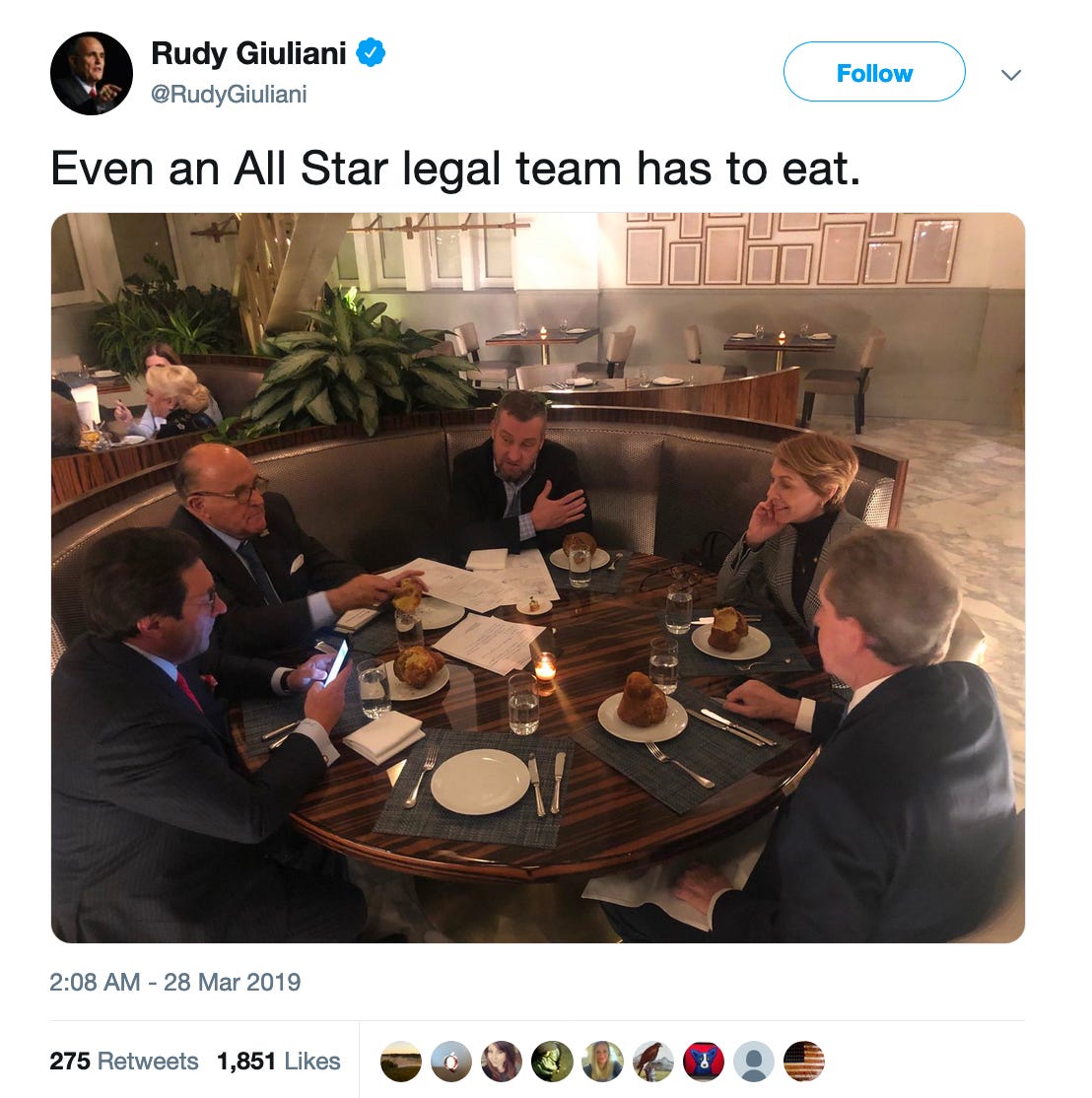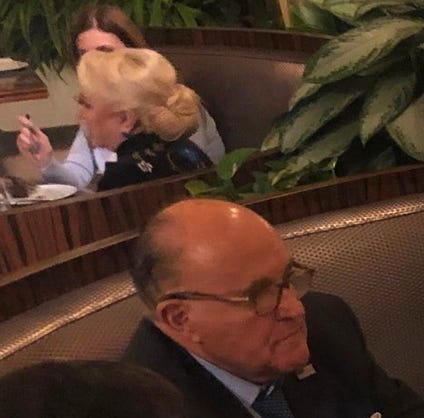 Beyond that BLT Prime's patron's physical resemblance to Dancila, she's wearing the same dress your correspondent spotted Dancila in at the hotel around 6 p.m. on Sunday.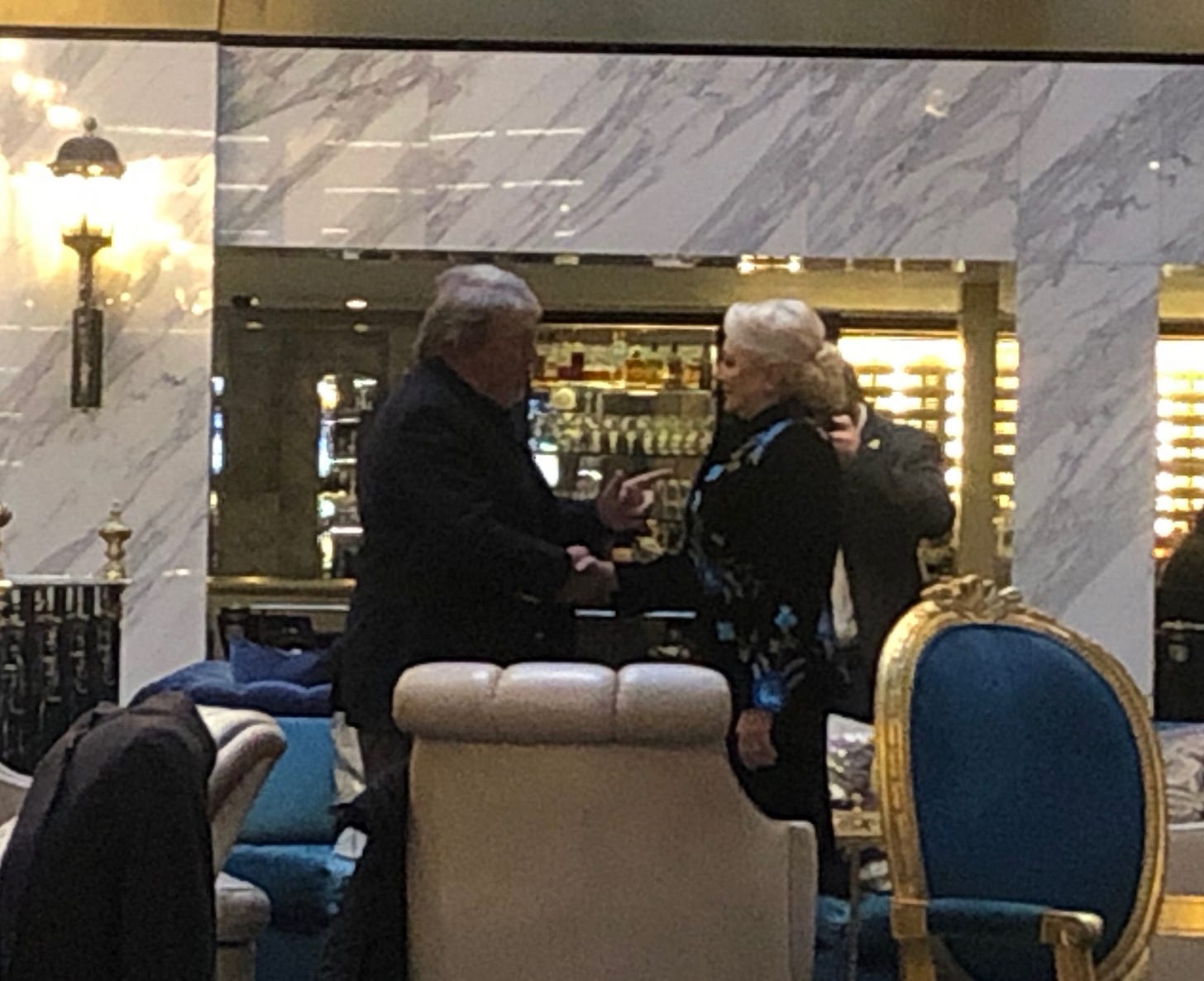 Additionally, the photo Giuliani shared in today's wee hours could not have have been taken last night, as Molly Jong-Fast had seen him dining in New York City around 7 p.m.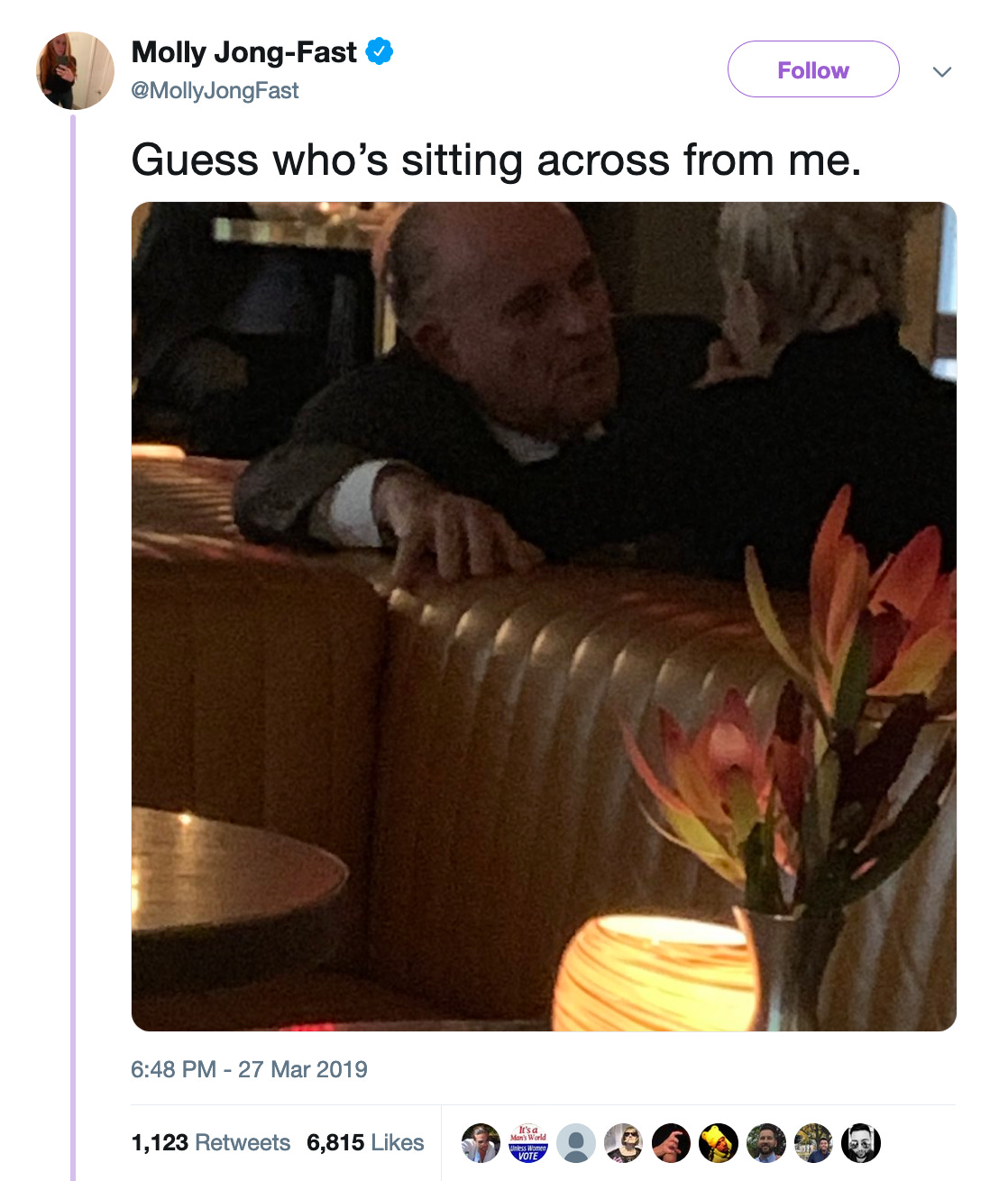 Of course, the mere fact that Dancila and Giuliani ate next to each other proves nothing (except that the U.S. president profited from both of their meals).
---
Trump Store selling White House merch made in China, Thailand
The Trump Store is selling merchandise depicting the White House that was not made in the United States. Those items, which debuted online last week, also are sold in the Trump Hotel D.C.'s gift shop, a half mile down the street from the White House.
Photos, taken this morning in the hotel's gift shop, show a Trump Hotels shot glass with a drawing of the White House that was made in China. And a Trump coffee mug with the White House on it was manufactured in Thailand.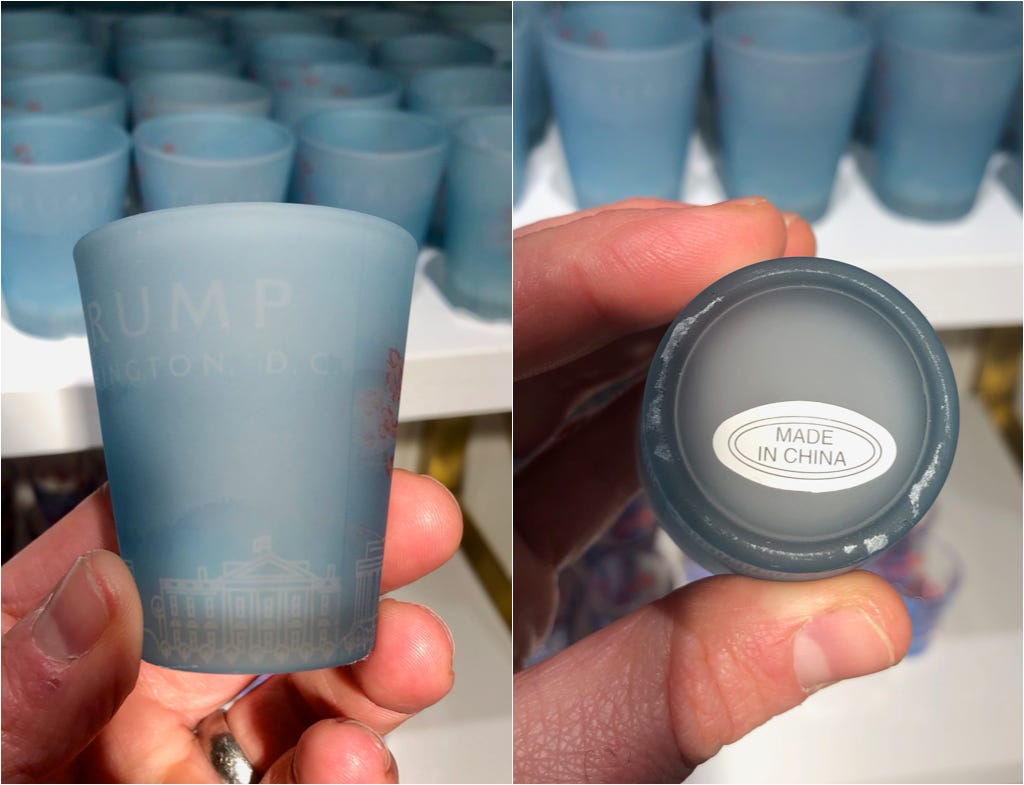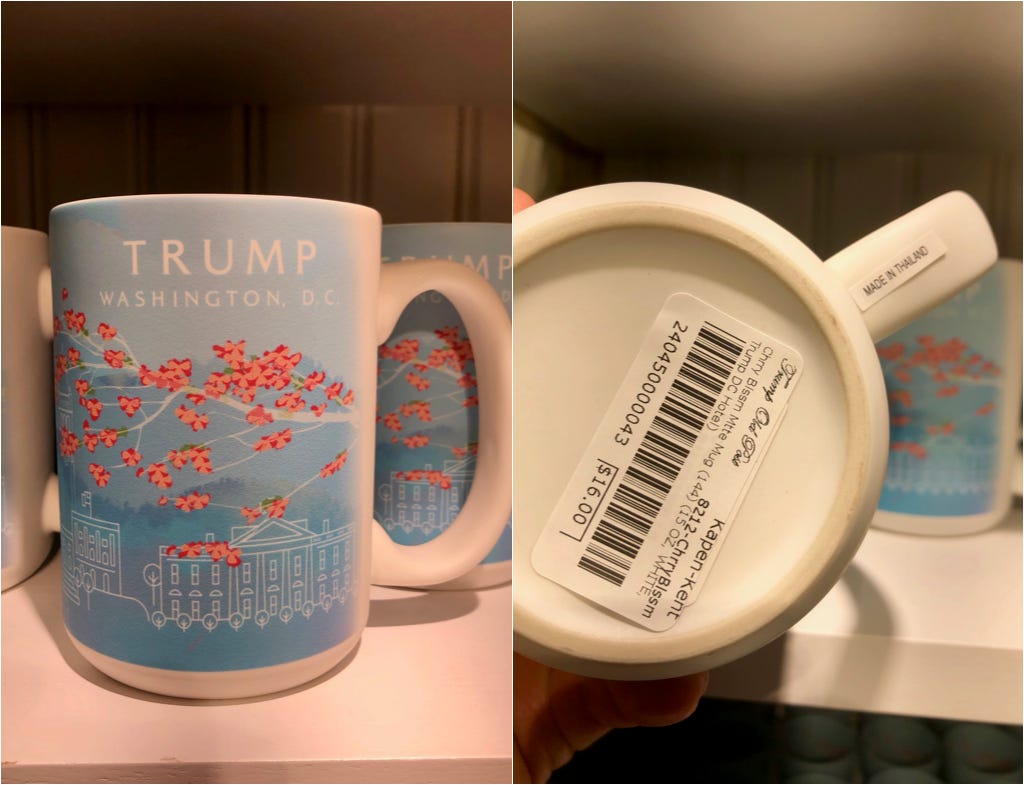 The Trump three-bar soap set, however, was made in the United States. Originally advertised with one bar showing the White House under "Trump Hotels", those wrappers appear to have been removed (a gift-shop sales clerk claimed they never existed).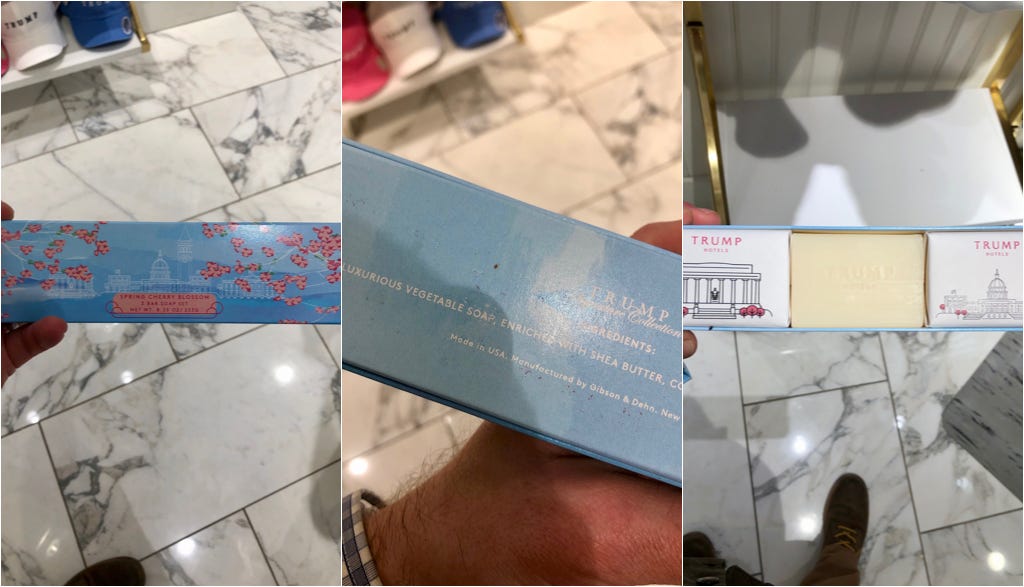 It was not immediately apparent where several of the other items were made.
---
Support this reporting, become a 1100 Pennsylvania member
Reporting on the Trump Hotel D.C. and the president's other businesses takes time. But it's making an impact—and you can help. If you're not an 1100 Pennsylvania member, please become one and help us continue to report on who's spending money at the president's hotel—and what they might be getting in return. Memberships are this newsletter's sole source of income. Select the red "Subscribe now" button and become a member by paying $5 a month or $50 a year. Thank you.
---
Hotel welcomes Family Research Council's Christian Heritage Tour and Summit today
The Family Research Council's inaugural D.C. Christian Heritage Tour and Summit is today through Sunday with accommodations at the Trump Hotel D.C. Tickets for the tour cost $2,498 per person and do not include airfare.
According to FRC president Tony Perkins, the tour may include "a White House briefing." There also will be "a private spiritual heritage tour of the U.S. Capitol followed by dinner with congressional members on Capitol Hill." And on Sunday, the hotel will host a worship service with Perkins.
From Perkins's letter describing the event:
While others may try to disprove the fact that America is a Christian nation, we want to show you first-hand why it is fact. Journey with us through the establishment of our nation, our present challenges and opportunities, and look into a future that is possible. For the sake of America, we must steward this great gift with prayer, engage in the present political environment, and stand firm in transcendent Truth as we move forward.
"We have a religious niche," the hotel's managing director, Mickael Damelincourt, said in an interview with Hotels magazine last year.

---
Other Trump Organization news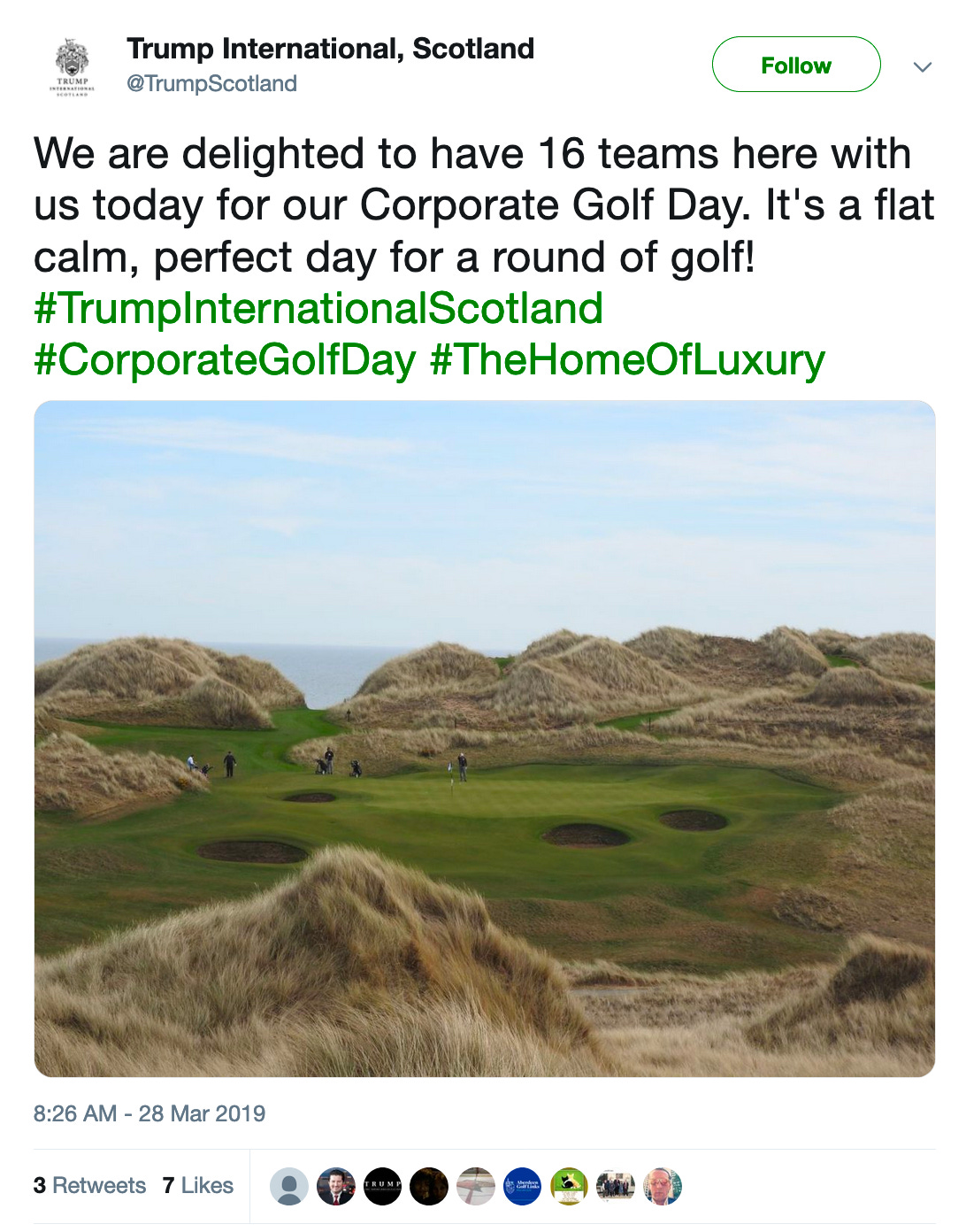 ---
House investigations, current status (latest changes, March 28, 2019)
---
Legal cases, current status (latest change, March 20, 2019)
D.C. and MD attorneys general's emoluments lawsuit (district court docket, appellate court docket)—

Official capacity—On Dec. 20, 2018, the 4th U.S. Circuit Court of Appeals ruled it would hear the president's appeal of district court rulings that allowed the case to proceed to discovery, and the appellate court halted discovery in the case. Discovery had started Dec. 3 and was scheduled to run through Aug. 2, 2019, with the AGs having subpoenaed the Trump Organization, including its Scottish golf courses; the U.S. Departments of Agriculture, Commerce, Defense, and Treasury and the GSA; and the state of Maine. Oral arguments on the appeal occurred on March 19; by all accounts the three-judge panel (all Republican appointees, including one who was a selection of President Trump's) were skeptical of the AGs' case. D.C. AG Karl Racine pledged to take the case to the U.S. Supreme Court if necessary.

Individual capacity—On Dec. 14, Trump's personal attorneys appealed the denial of their motion to dismiss the case, also to the 4th U.S. Circuit Court of Appeals. On Dec. 19, the AGs replied to Trump's motion for a stay pending that appeal by voluntarily dismissing the claims against Trump in his "individual capacity to allow the claims against President Trump in his official capacity to move forward expeditiously." (The AGs only brought suit against Trump in his individual capacity after the judge suggested they do so.) Trump's personal attorneys, on Dec. 21, opposed the motion to dismiss at the district level, saying the appeals court now has jurisdiction and accusing the AGs of "gamesmanship."

Democratic senators and representatives' emoluments lawsuit—On Sept. 28, Judge Emmet G. Sullivan ruled that the legislators have standing to sue. Trump's Justice Department attorneys filed an interlocutory appeal on Oct. 22. On Jan. 30, 2019, the plaintiffs' filed a notice of supplemental authority, notifying the court of the GSA inspector general's report that criticized GSA for failing to consider if the Trump Hotel D.C.'s lease was in compliance with the Constitution after Trump became president. Two days later, the president's attorneys argued that the IG's conclusion was not inconsistent with Trump's argument, but that the judge should ignore that report anyway because the IG has no expertise in interpreting or applying the foreign emoluments clause.

CREW et. al's emoluments lawsuit—In February 2018, CREW appealed its suit being dismissed for lack of standing to the 2nd U.S. Circuit Court of Appeals. Oral arguments on that motion were held on Oct. 30.

Cork's unfair competition lawsuit—Judge Richard J. Leon dismissed the case on Nov. 26, 2018, writing "Cork has failed to state a claim for unfair competition under D.C. law." On Dec. 10, Cork's attorneys filed a notice of appeal and on Jan. 10, 2019 they submitted a statement of issues to be raised. A briefing schedule was set on March 5 with Cork's brief due on April 15, the president's brief due on May 15, and Cork's reply to the president's brief due on June 5.

Employees' class-action suit alleging racial discrimination—Two of the three plaintiffs did not appear at a status hearing on Jan. 25, 2019; their cases were moved to arbitration. Via email, their attorney, A.J. Dhali, said his clients did not appear at the hearing because their case already had been moved to arbitration last year. The next status hearing is scheduled for Oct. 4.
---
Health inspections, current status (latest change, Aug. 10, 2018)
❌Hotel: five violations on May 7, 2018; two were corrected on site

❌BLT Prime and Benjamin Bar: nine violations on Aug. 10, 2018

❌Sushi Nakazawa: two violations on Aug. 10, 2018

✔️Banquet kitchen: no violations on Aug. 10, 2018

❌Pastry kitchen: two violations on Aug. 10, 2018

✔️Gift shop: no violations on May 7, 2018

❌Employee kitchen and in-room dining: five violations on Aug. 10, 2018; two were corrected on site
---
Is the Trump Organization selling merchandise that depicts the White House? (latest change, March 21, 2019)
Yes.
---
One thing that (probably) has nothing to do with Trump's businesses
Former Trump Cabinet secretaries Scott Pruit and Ryan Zinke were hanging out together recently at the Dallas County Republican Party's annual Reagan dinner.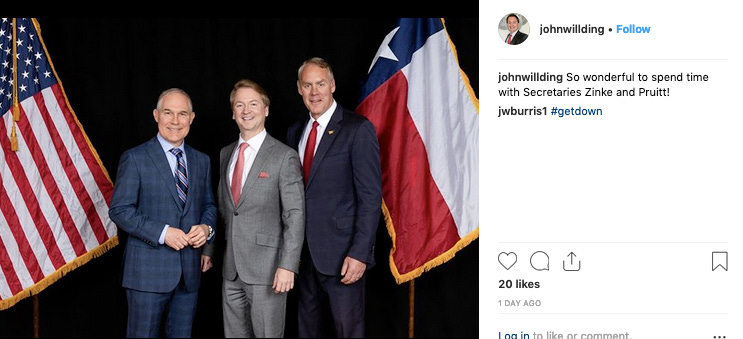 ---
Thanks for reading. If you like what you see, tell someone—and support this work by becoming a paying member ($5/month or $50/year). If you've been forwarded this newsletter, subscribe for yourself at zacheverson.substack.com. Questions? Read our FAQ/manifesto. Tips or feedback? Contact me, Zach Everson, securely via email at 1100Pennsylvania@protonmail.com or on Signal at 202.804.2744.