Discover more from 1100 Pennsylvania
"The undisputed expert on the D.C. Trump Hotel" – David Fahrenthold of the Washington Post
Over 3,000 subscribers
T-Mobile admits execs weren't big Trump D.C. clients—until merger approval was needed
T-Mobile execs barely patronized the Trump Hotel D.C.—until they needed gov't approval
From "T-Mobile acknowledges its patronage of Trump's Washington hotel increased sharply after announcement of merger with Sprint" by David A. Fahrenthold and Jonathan O'Connell for The Washington Post:
T-Mobile's patronage of President Trump's Washington hotel increased sharply after the announcement of its merger with its Sprint last April, with executives spending about $195,000 at the property since then, the company told congressional Democrats in a letter last month.

Before news of the megadeal between rival companies broke on April 29, 2018, the company said, only two top officials from T-Mobile had ever stayed at Trump's hotel, with one overnight stay each in August 2017.
T-Mobile's admission evokes the Republican National Committee: the RNC wasn't a big spender at Trump properties until after Trump was elected, cementing his leadership of the GOP for at least four years.
Here's T-Mobile CEO John Legere at the Trump Hotel D.C., the day after T-Mobile and Sprint announced their planned merger. (The picture is no longer available on Facebook, but your corespondent shared a screenshot of it back when it was posted on April 30, 2018.)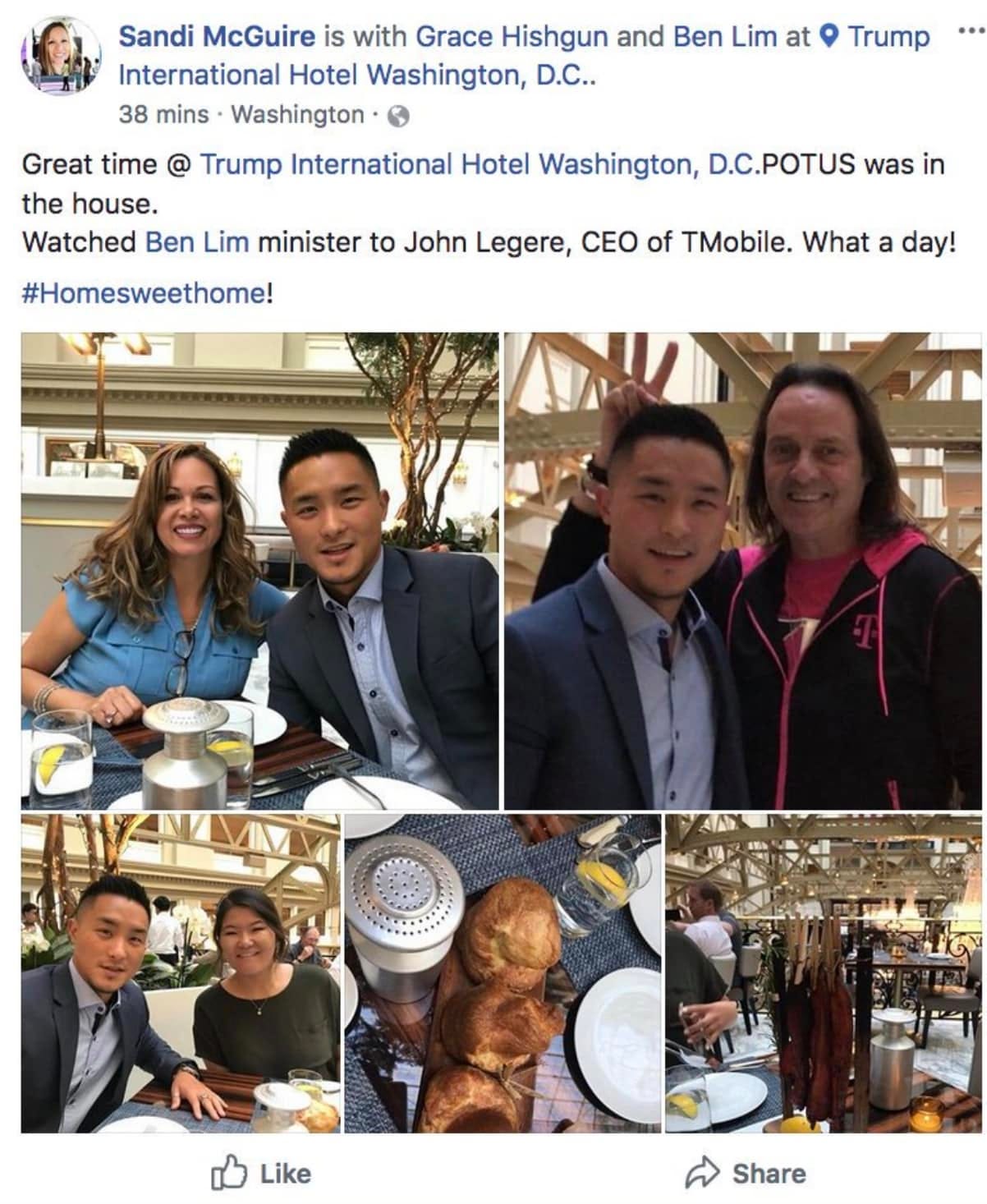 Judge rules GSA must turn over unredacted document related to canceled FBI HQ relocation
This morning district court judge Christopher Cooper ruled that the General Services Administration must turn over an unredacted document related to its cancelling plans to relocate the FBI's headquarters. It's the second time Cooper has recently demanded GSA be more forthcoming in its reply to a Freedom of Information Act request from government watchdog Citizens for Responsibility and Ethics in Washington.
The FBI's current headquarters is diagonally across Pennsylvania Avenue from the Trump Hotel D.C., a six-minute walk (per Apple Maps). Moving the FBI's main office would free up its current location for redevelopment, possibly as a luxury hotel that would compete with the president's business. (The Trump Hotel D.C. often promotes itself as downtown D.C.'s only five-star hotel.) Last year Democrats on the House Oversight committee alleged the president intervened in the GSA's decision-making process.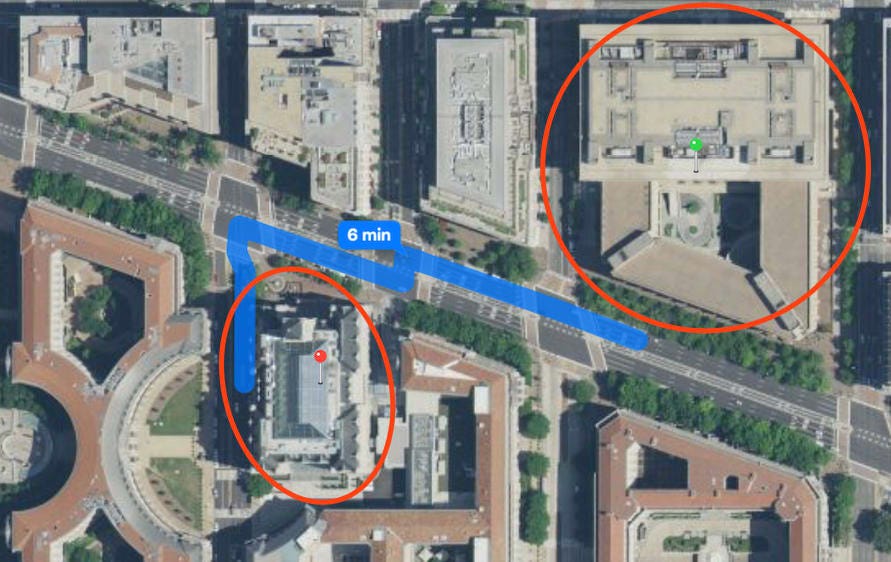 CREW had filed a FOIA request in June 2018 for documents regarding GSA reversing its earlier decision to move the FBI's main office to suburban Maryland, instead opting to keep it put in downtown D.C. Three months later, CREW sued after GSA failed to reply. Today's ruling was regarding "whether GSA permissibly redacted information—including appraised values of the Hoover Building, and the value of offers it received for the property—from a document titled 'Findings and Determination' ('F&D') that explained the agency's decision to cancel the swap-relocation project."
No surprise, CREW's executive director, Noah Bookbinder was happy with today's decision. Via email, he wrote
We are pleased with Judge Cooper's decision today in our litigation to obtain documents related to the decision to abandon the years-long effort to build new FBI headquarters. We agree that the document in question is clearly not deliberative, and we look forward to receiving it. We will continue our efforts to pursue much-needed government transparency.
Bookbinder did not have an estimate for when CREW may receive the unredacted document.
In December, Cooper ordered GSA to "a more comprehensive" search in response to CREW's FOIA request.
Wheeler makes it three Trump Cabinet members at Trump's hotel for Kuwaiti celebration
The Kuwaiti embassy in the United States recently updated the web recap of its national day celebration at the Trump Hotel D.C. on Feb. 27. In addition to Secretaries Ben Carson and Wilbur Ross and counselor to the president Kellyane Conway, we now know that EPA administrator Andrew Wheeler was in attendance [H/T Government Executive].
The embassy also posted new photos of Carson and Ross posing, separately, with Kuwait Ambassador to the United States, Sheikh Salem Abdullah Al-Jaber Al-Sabah.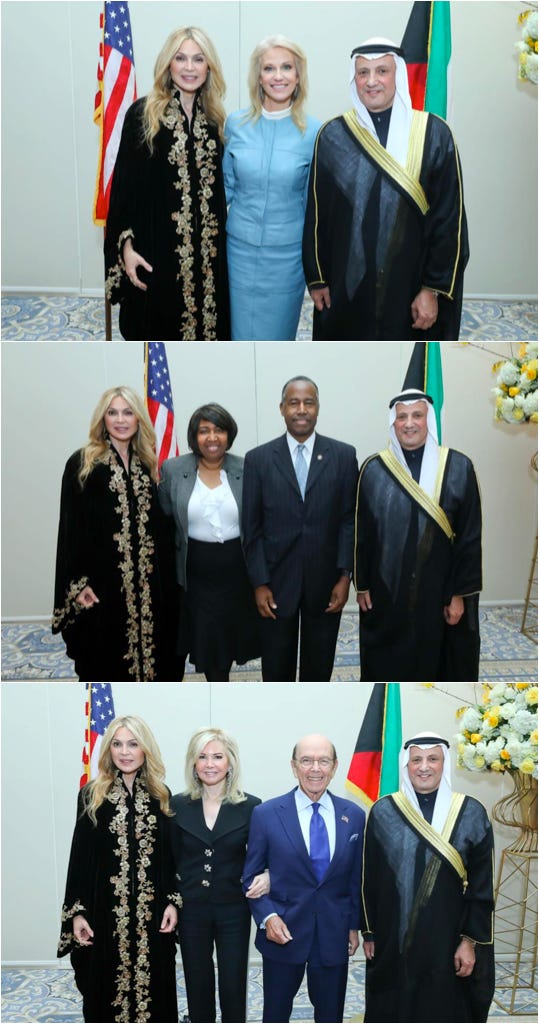 Reminder: Monthly networking event for lobbyists is tonight in the president's hotel's lobby
Tonight, March's Trump First Tuesday—a "business networking happy hour for government relations professionals and friends"—takes place in the U.S. president's hotel's lobby from 5:30-8 p.m. According to the event's Facebook page, 107 people are attending, with another 552 people interested in the event.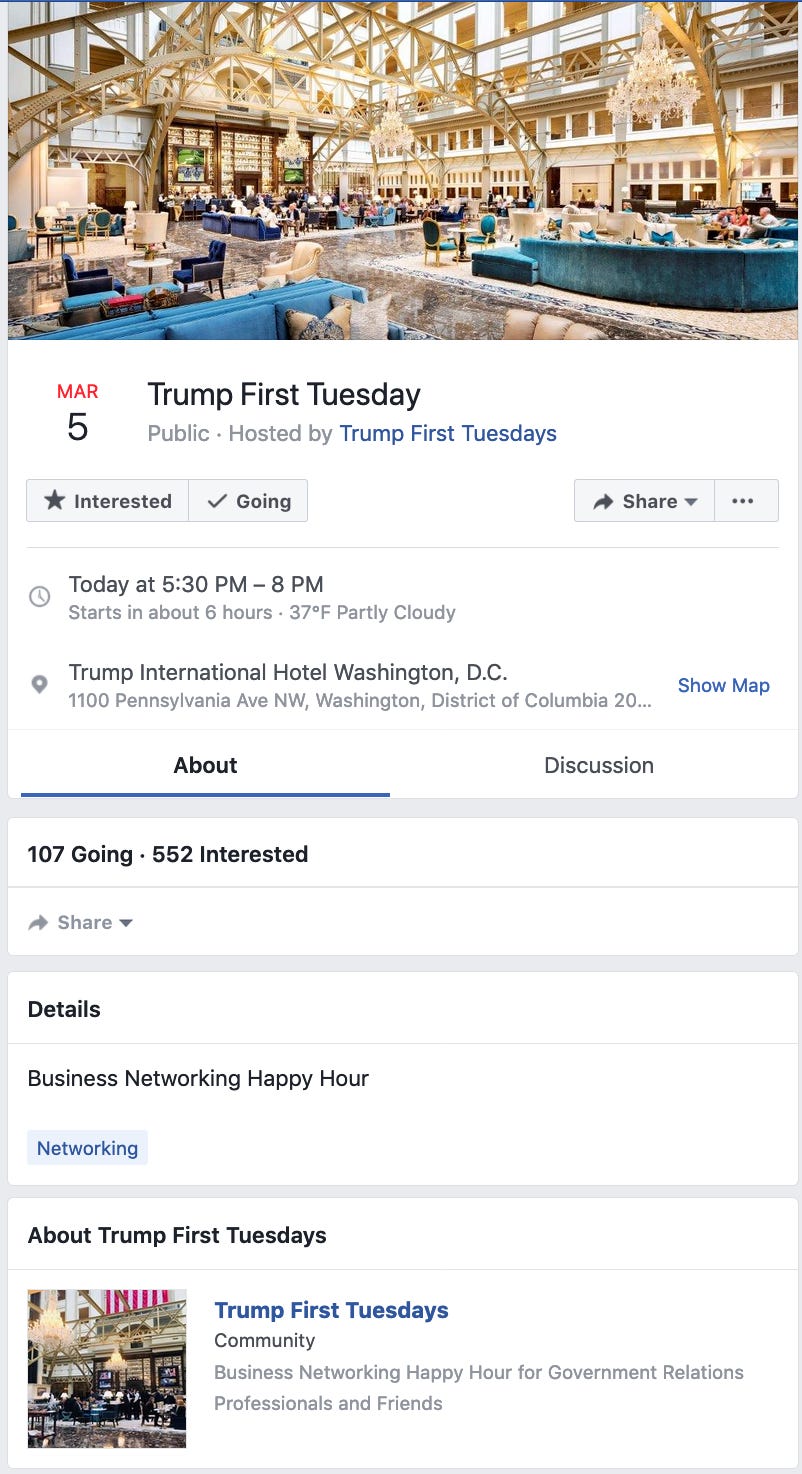 Group advocating for women's rights in the Middle East live-streaming tonight
Tonight at the Trump Hotel D.C, the Middle Eastern Women's Coalition will be live streaming to Facebook from the Trump Hotel D.C. According to the group's website, it "wants to reform the barbaric practices of child marriages, genital mutilations, honor killings and dress code restrictions by initiating a cultural and religious revolution throughout the Middle East and North Africa (MENA) region."
The Middle Eastern Women's Coalition's president, Rabia Kazan, is a Trump Hotel D.C. regular. The group announced in December 2018 it was endorsing President Trump's re-election bid.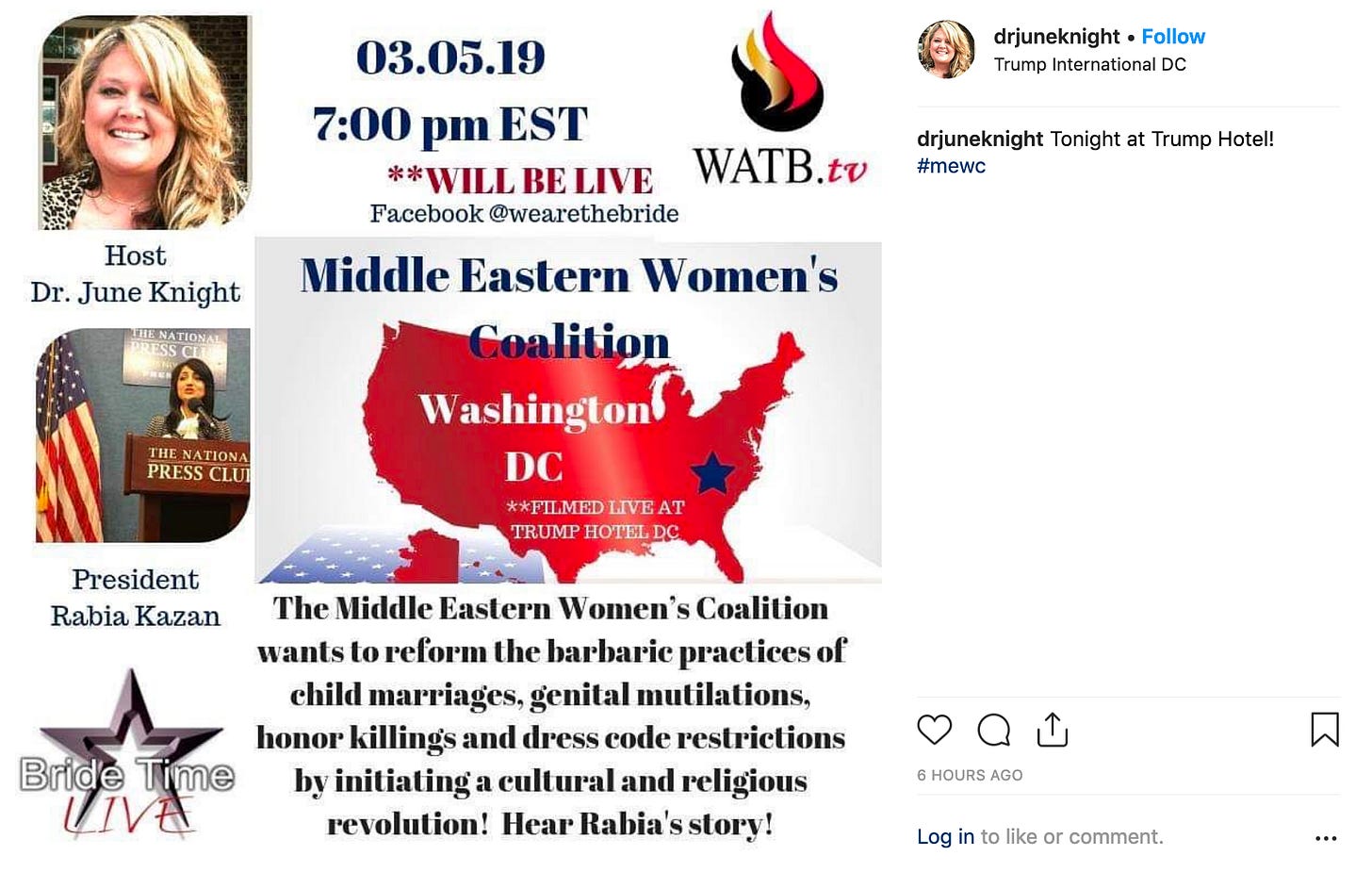 Noteworthy sightings
Want to donate your time to improving American-Turkish bilateral trade during an event at the U.S. president's hotel? The volunteer coordinator at the American-Turkish Council has an opportunity for you. Good timing for the event too: just yesterday U.S. Trade Representative Robert Lighthizer announced that President Trump had decided to end Turkey's preferential trade status.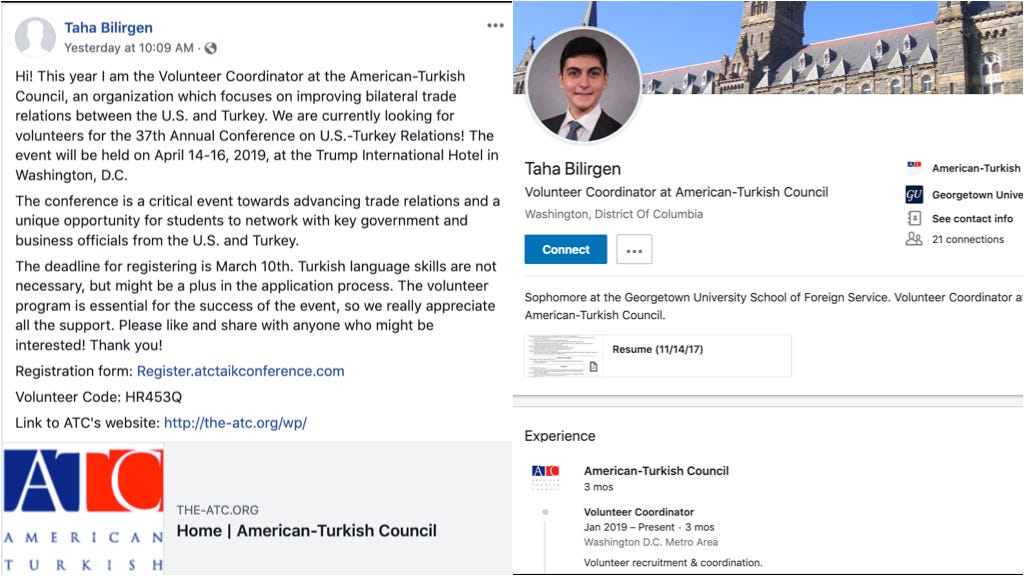 Department of Homeland Security employee Eric Duke met the FBI's tour coordinator at the president's hotel.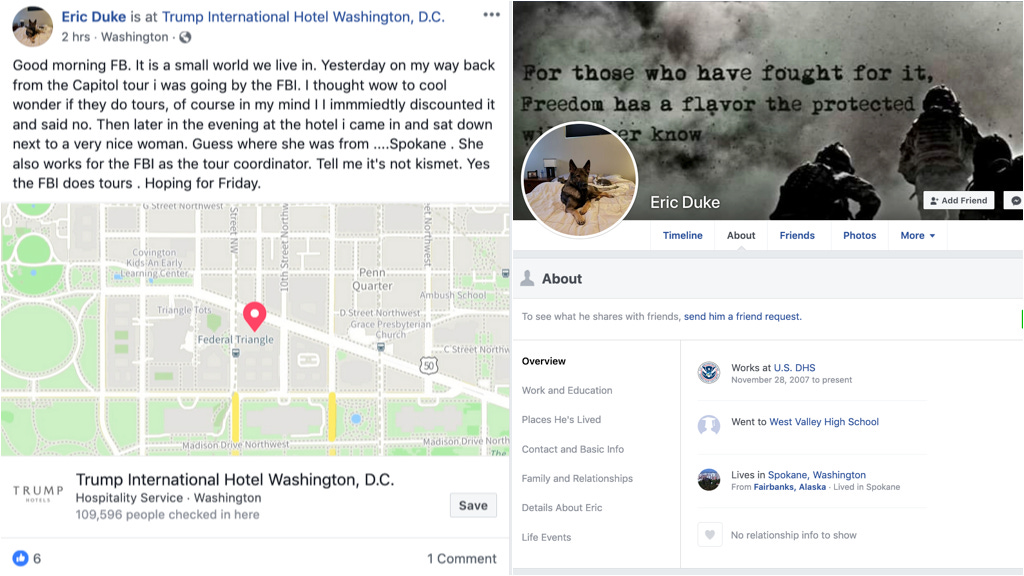 The hotel's executive chef, Oliver Beckert, prepared his finest meats and cheeses and then some for a media visit.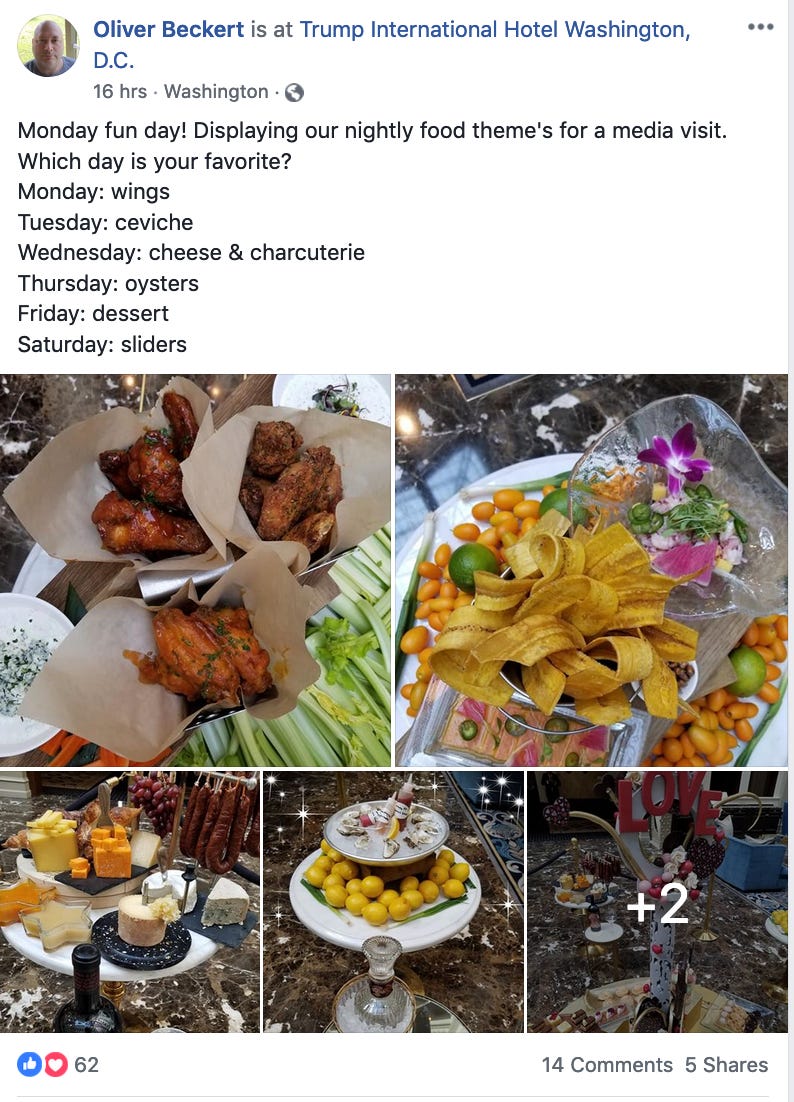 Actress Mindy Robinson was at the president's hotel post-CPAC.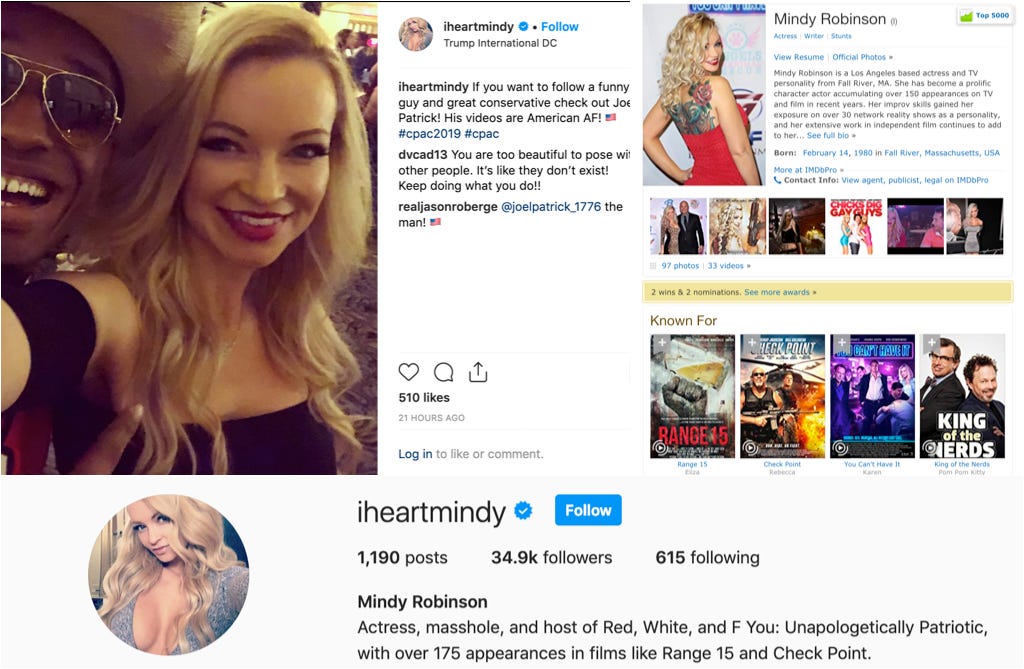 Turning Point USA's founder and president, Charlie Kirk, was back at the hotel over the weekend.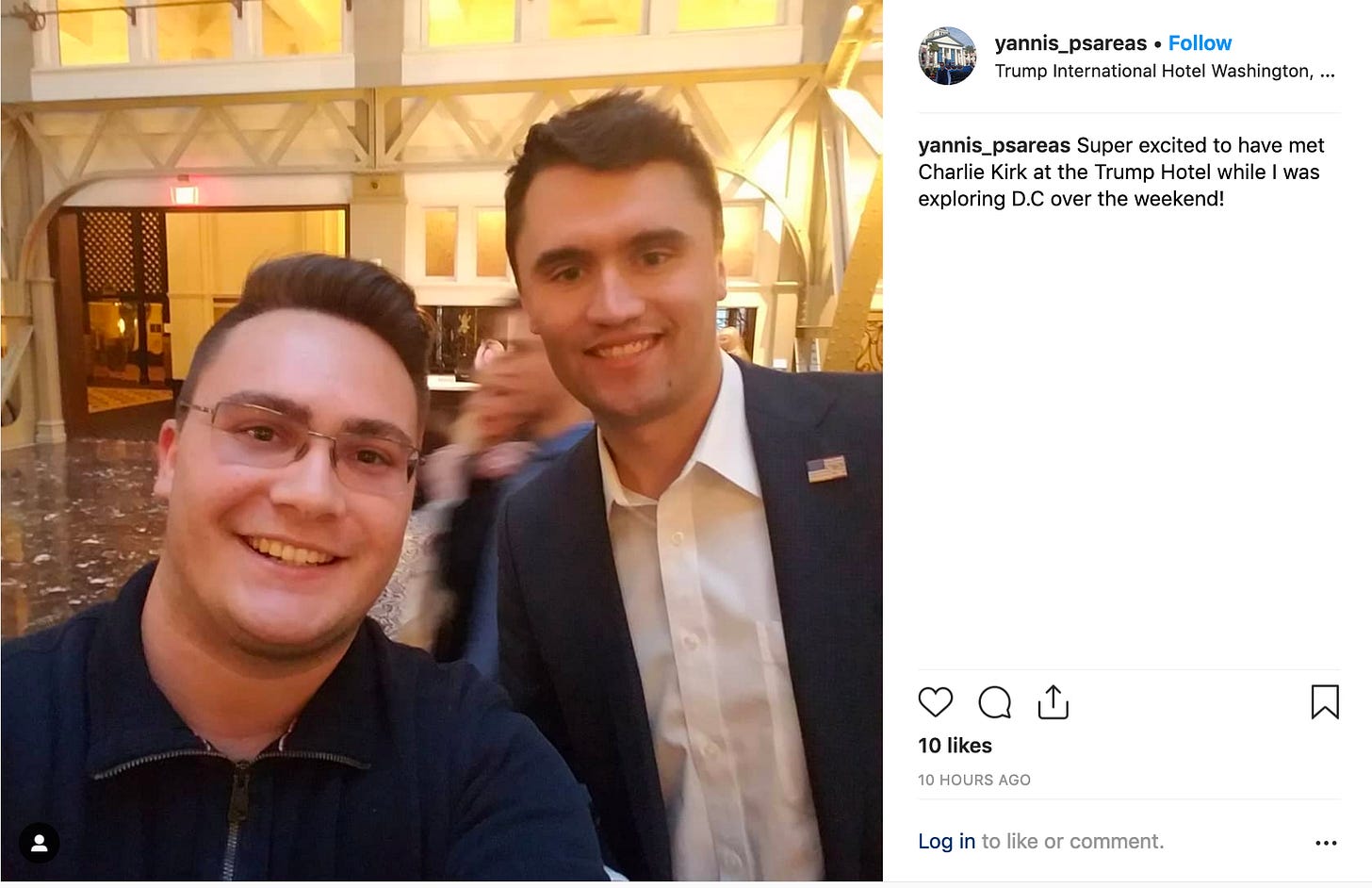 Travel agent Bruce Cairns is now certified in how to sell Trump Hotels.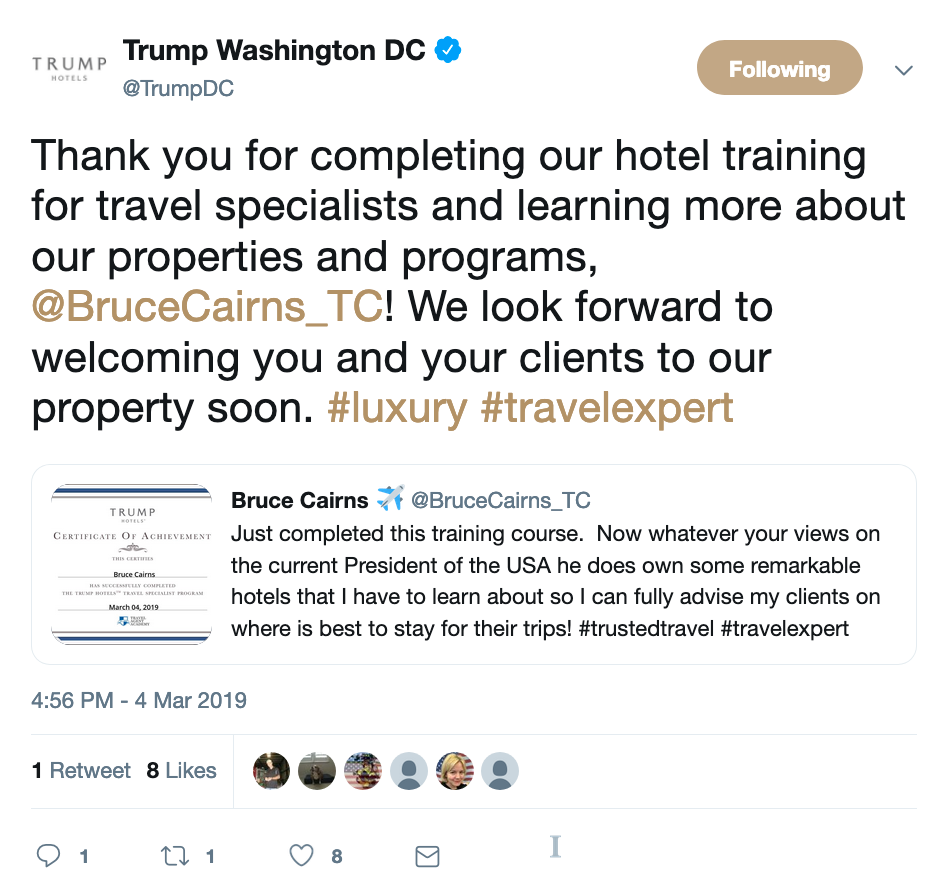 Other Trump Organization news
House investigations, current status (latest changes, March 5, 2019)
Legal cases, current status (latest change, Feb. 22, 2019)
D.C. and MD attorneys general's emoluments lawsuit (district court docket, appellate court docket)—

Official capacity—On Dec. 20, 2018, the 4th U.S. Circuit Court of Appeals ruled it would hear the president's appeal of district court rulings that allowed the case to proceed to discovery, and the appellate court halted discovery in the case. Discovery had started Dec. 3 and was scheduled to run through Aug. 2, 2019, with the AGs having subpoenaed the Trump Organization, including its Scottish golf courses; the U.S. Departments of Agriculture, Commerce, Defense, and Treasury and the GSA; and the state of Maine. Oral arguments on the appeal are scheduled for March 19. The AGs filed their brief opposing the president's appeal on Feb. 6, stating, "The President is not entitled to an order requiring the district court to certify for interlocutory review its denial of his motion to dismiss. No court has ever issued such relief." Trump's DOJ attorneys replied on Feb. 21: "Plaintiffs fundamentally err, substantively and procedurally."

Individual capacity—On Dec. 14, Trump's personal attorneys appealed the denial of their motion to dismiss the case, also to the 4th U.S. Circuit Court of Appeals. On Dec. 19, the AGs replied to Trump's motion for a stay pending that appeal by voluntarily dismissing the claims against Trump in his "individual capacity to allow the claims against President Trump in his official capacity to move forward expeditiously." (The AGs only brought suit against Trump in his individual capacity after the judge suggested they do so.) Trump's personal attorneys, on Dec. 21, opposed the motion to dismiss at the district level, saying the appeals court now has jurisdiction and accusing the AGs of "gamesmanship."

196 Democratic senators and representatives' emoluments lawsuit—On Sept. 28, Judge Emmet G. Sullivan ruled that the legislators have standing to sue. Trump's Justice Department attorneys filed an interlocutory appeal on Oct. 22. On Jan. 30, 2019, the plaintiffs' filed a notice of supplemental authority, notifying the court of the GSA inspector general's report that criticized GSA for failing to consider if the Trump Hotel D.C.'s lease was in compliance with the Constitution after Donald Trump became president. Two days later, the president's attorneys argued that the IG's conclusion was not inconsistent with Trump's argument, but that the judge should ignore that report anyway because the IG has no expertise in interpreting or applying the foreign emoluments clause.

CREW et. al's emoluments lawsuit—In February 2018, CREW appealed its suit being dismissed for lack of standing to the 2nd U.S. Circuit Court of Appeals. Oral arguments on that motion were held on Oct. 30.

Cork's unfair competition lawsuit—Judge Richard J. Leon dismissed the case on Nov. 26, 2018, writing "Cork has failed to state a claim for unfair competition under D.C. law." On Dec. 10, Cork's attorneys filed a notice of appeal and on Jan. 10, 2019 they submitted a statement of issues to be raised. The next steps, which don't yet have a timeline, include setting a briefing schedule and both sides filing appellate briefs.

Employees' class-action suit alleging racial discrimination—Two of the three plaintiffs did not appear at a status hearing on Jan. 25, 2019; their cases were moved to arbitration. Via email, their attorney, A.J. Dhali, said his clients did not appear at the hearing because their case already had been moved to arbitration last year. The next status hearing is scheduled for Oct. 4.
Health inspections, current status (latest change, Aug. 10, 2018)
❌Hotel: five violations on May 7, 2018; two were corrected on site

❌BLT Prime and Benjamin Bar: nine violations on Aug. 10, 2018

❌Sushi Nakazawa: two violations on Aug. 10, 2018

✔️Banquet kitchen: no violations on Aug. 10, 2018

❌Pastry kitchen: two violations on Aug. 10, 2018

✔️Gift shop: no violations on May 7, 2018

❌Employee kitchen and in-room dining: five violations on Aug. 10, 2018; two were corrected on site
One thing that has nothing to do with Trump's businesses (I think, tough to tell sometimes!)
"The Making of the Fox News White House" by Jane Mayer for The New Yorker
Thanks for reading. If you like what you see, tell someone—and support this work by becoming a paying member ($5/month or $50/year). If you've been forwarded this newsletter, subscribe for yourself at zacheverson.substack.com. Questions? Read our FAQ/manifesto. Tips or feedback? Contact me, Zach Everson, securely via email at 1100Pennsylvania@protonmail.com or on Signal at 202.804.2744.