Discover more from 1100 Pennsylvania
"The undisputed expert on the D.C. Trump Hotel" – David Fahrenthold of the Washington Post
Over 3,000 subscribers
T-Mobile execs book Trump's hotel
Welcome to 1100 Pennsylvania, a newsletter devoted to President Donald Trump's Trump International Hotel Washington, D.C. (and his other companies). President Trump, of course, still owns his businesses and can profit from them.
If you like what you see, tell someone—and support this work by paying for a subscription. If you've been forwarded this newsletter, subscribe for yourself at zacheverson.substack.com. Questions? Read our FAQ/manifesto. Tips or feedback? Contact me, Zach Everson, securely via email at 1100Pennsylvania@protonmail.com or on Signal at 202.804.2744.
T-Mobile execs book Trump's hotel: Thoughts on and reactions to today's
Post
scoop
From "T-Mobile announced a merger needing Trump administration approval. The next day, 9 executives had reservations at Trump's hotel." By Jonathan O'Connell and David A. Fahrenthold for The Washington Post:
Last April, telecom giant T-Mobile announced a megadeal: a $26 billion merger with rival Sprint, which would more than double T-Mobile's value and give it a huge new chunk of the cellphone market.

But for T-Mobile, one hurdle remained: Its deal needed approval from the Trump administration.

The next day, in Washington, staffers at the Trump International Hotel were handed a list of incoming "VIP Arrivals." That day's list included nine of T-Mobile's top executives — including its chief operating officer, chief technology officer, chief strategy officer, chief financial officer and its outspoken celebrity chief executive, John Legere…Legere appears to have made at least four visits to the Trump hotel, walking the lobby in his T-Mobile gear.
Some thoughts and observations:
1. Here's Legere at the hotel the day after T-Mobile and Sprint announced their merger
The picture is no longer available on Facebook, but I shared a screenshot of it back when it was posted on April 30, 2018:
2. Legere attended a networking event for lobbyists at the hotel
Trump First Tuesdays is a monthly "business networking happy hour for government relations professionals and friends." Whether he intended to or not, Legere was a guest at the one in May 2018.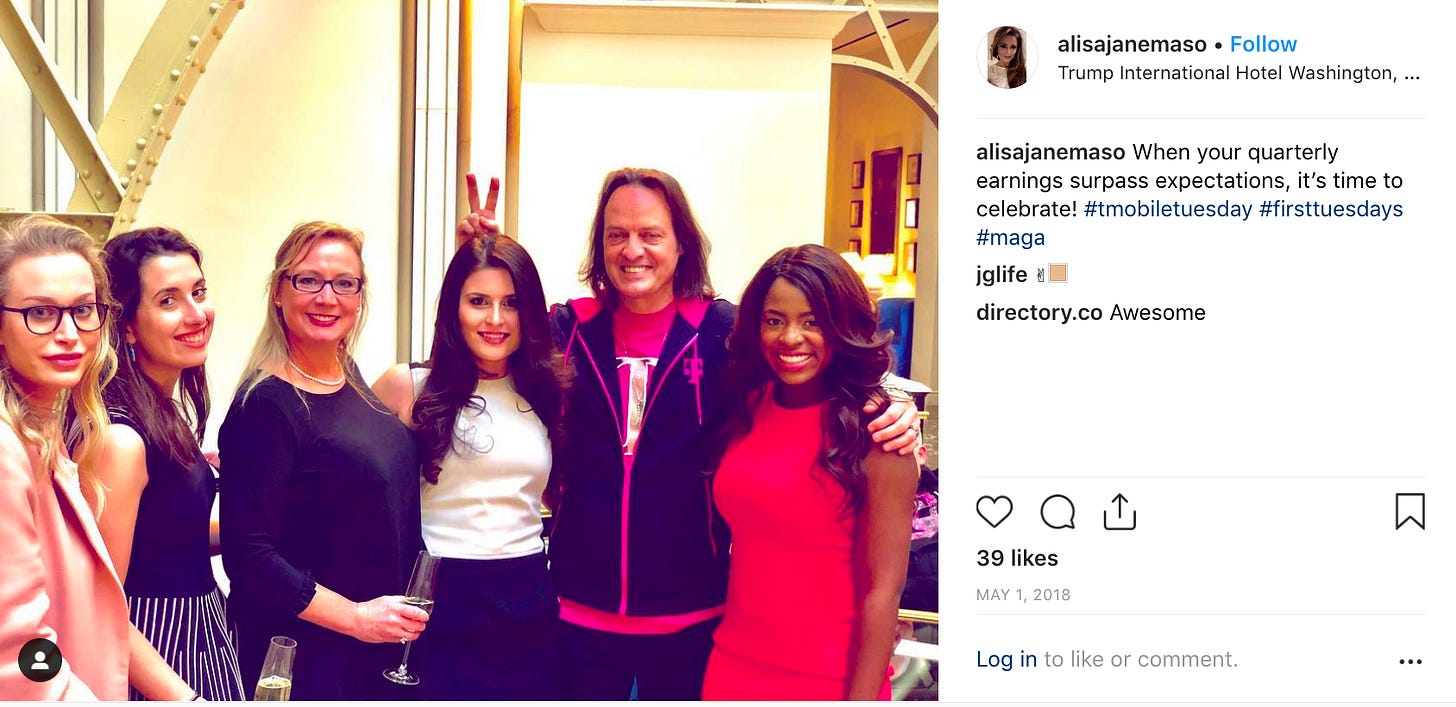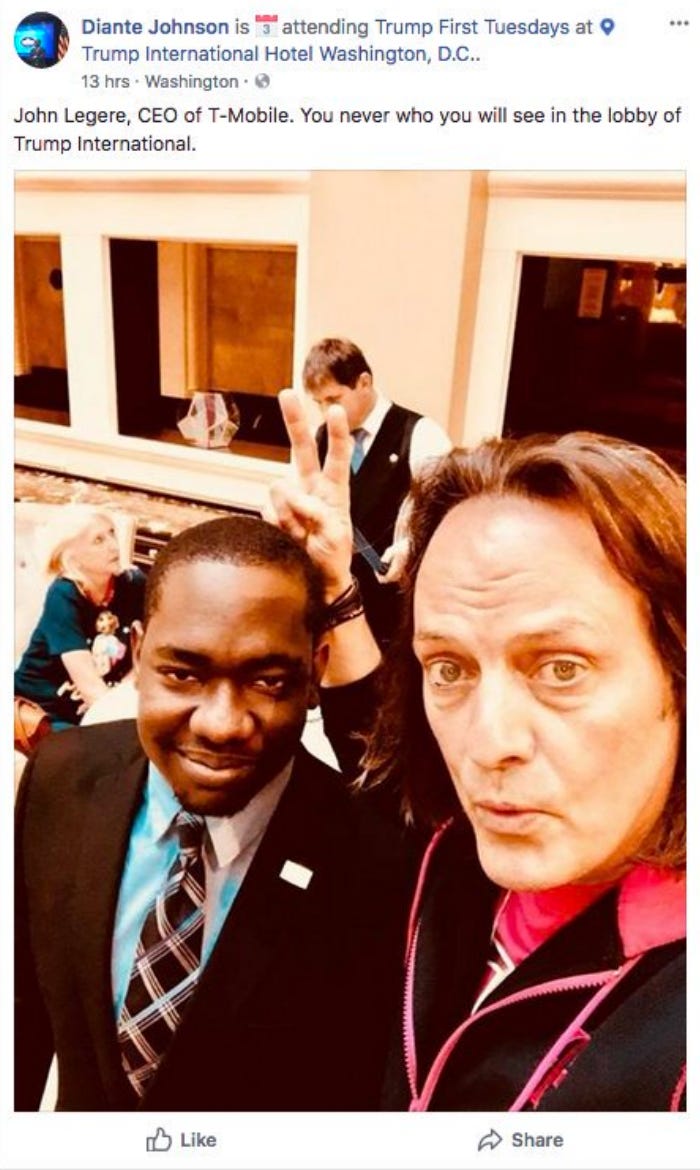 3. Legere popped up in so many photos around May 8, 2018, that it merited a collage
Between his standard flashy attire and many, many promoted tweets, it's clear Legere wants to be noticed in general. But it was hard not to see this onslaught of pics and think, this is a man who wants it to be known that he's patronizing the president's hotel.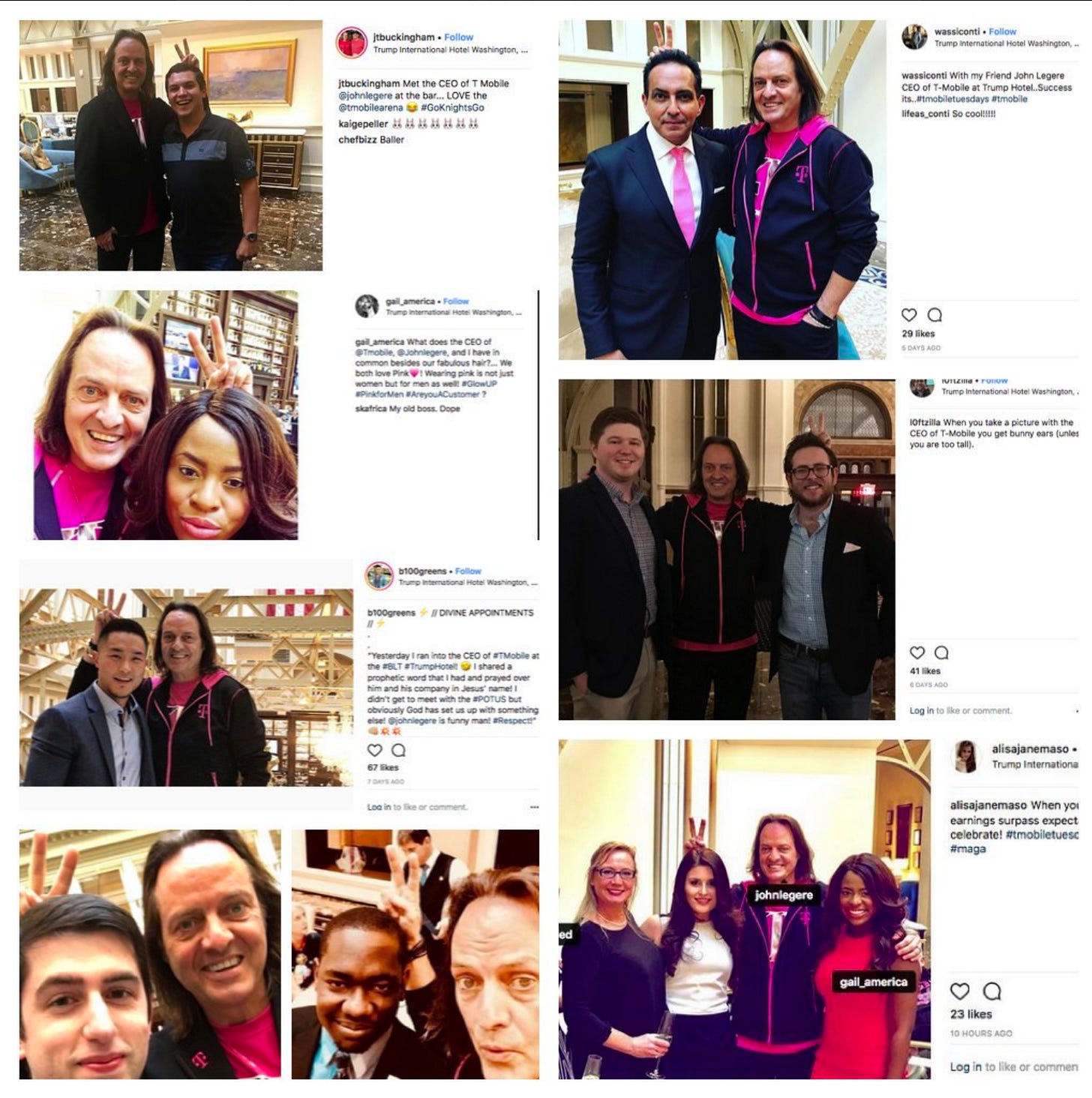 4. More details about Lewandowski and Legere
On June 27, the same day that Legere testified to Congress about the merger, he was spotted at the hotel by independent journalist Zach Everson, according to an account Everson posted on Twitter. Everson said he saw Legere in the hotel lobby, talking to former Trump campaign manager Corey Lewandowski, who has advised T-Mobile during the merger talks.
After chatting with Lewandowski, Legere walked over to the hotel's elevators, which required a room key to use. So it seems likely he was not just hanging out at the hotel's lobby bar, but rather was staying there again too.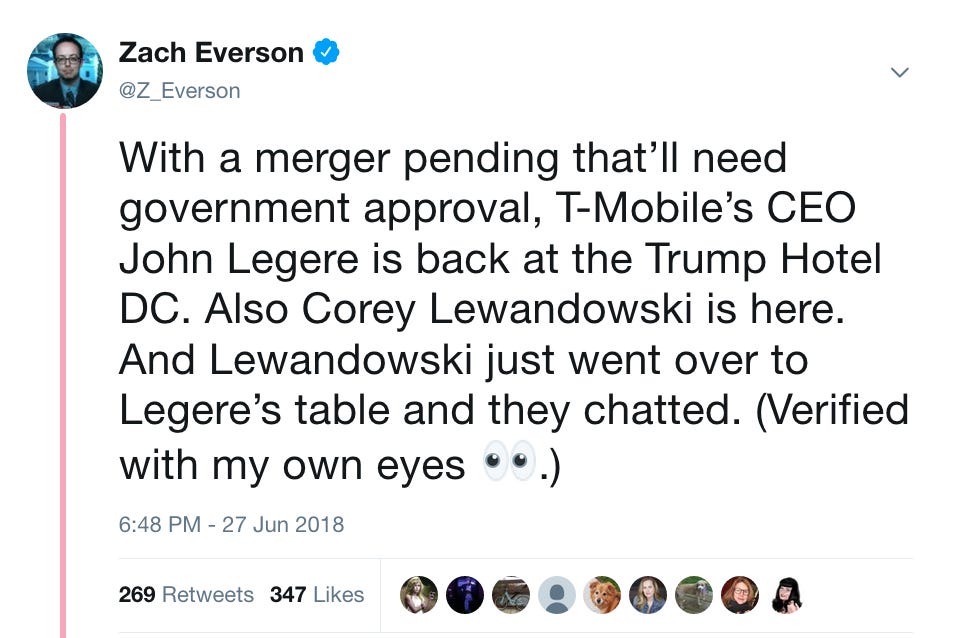 5. Additional
Post
stories about Trump Hotel D.C. guests may be forthcoming
From the article:
The VIP Arrivals lists obtained by The Post — in which Trump hotel executives alerted their staff to foreign officials, corporate executives, long-term guests, Trump family friends and big spenders—provide an inside look at some of the hotel's customers. The Post obtained lists for about a dozen days in 2018.
6. The Trump Hotel D.C. researches its guests before they arrive
Regarding the hotel's use of a VIP arrivals list, when I checked into the Trump Hotel D.C. in April 2017, within moments of reaching the desk, two senior managers greeted me, offering business cards. It was a welcome that made it clear to me that the hotel knew I was a journalist, possibly on assignment (I was!).
The hotel's managing director, Mickael Damelincourt, later explained that the hotel's attaché department researches each day's arrivals in advance (including looking at their social media accounts), to help ensure guests have a comfortable stay. Not said by Damelincourt, but probably also true: the hotel wants to know how to manage its guests for its own purposes too. (Which explains that complimentary glass of Veuve Clicquot I was poured.)
7. That hotel staffers are leaking to
The Post
may explain this tweet from the hotel's managing director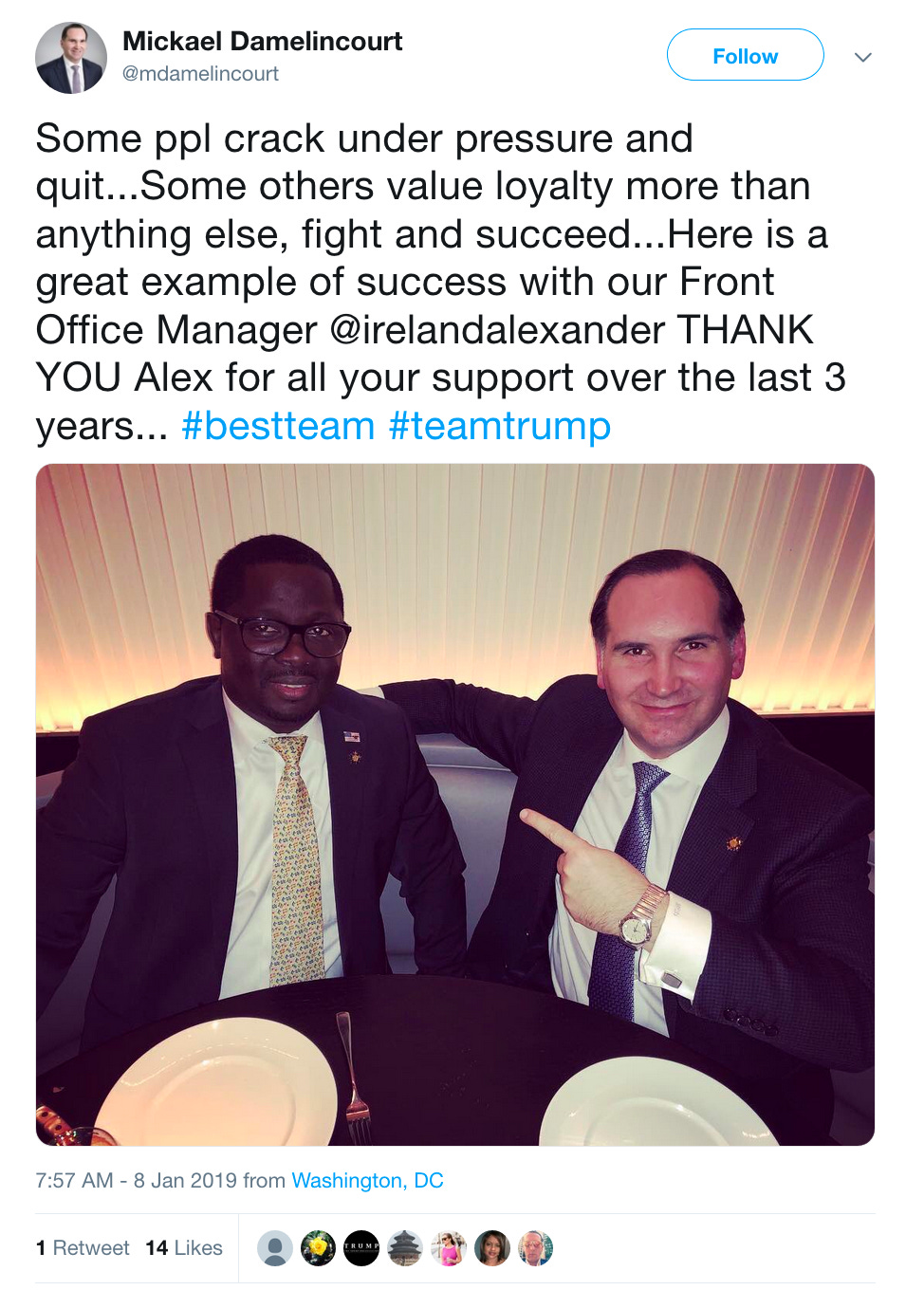 8. Government officials, watchdogs, attorneys react to today's story
FCC commissioner Jessica Rosenworcel: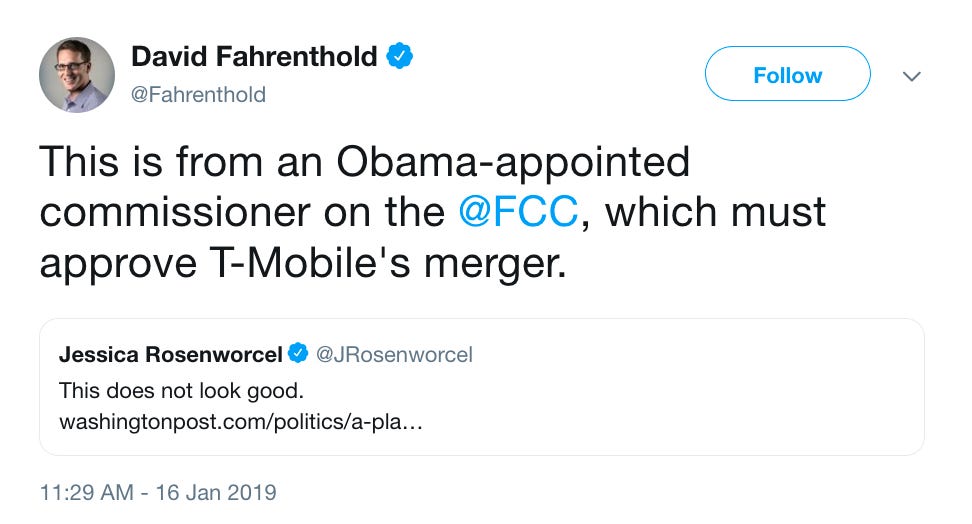 Sen. Richard Blumenthal (D–CT), who is the lead plaintiff in an emoluments suit against Trump brought by 196 Democratic members of the Senate and House: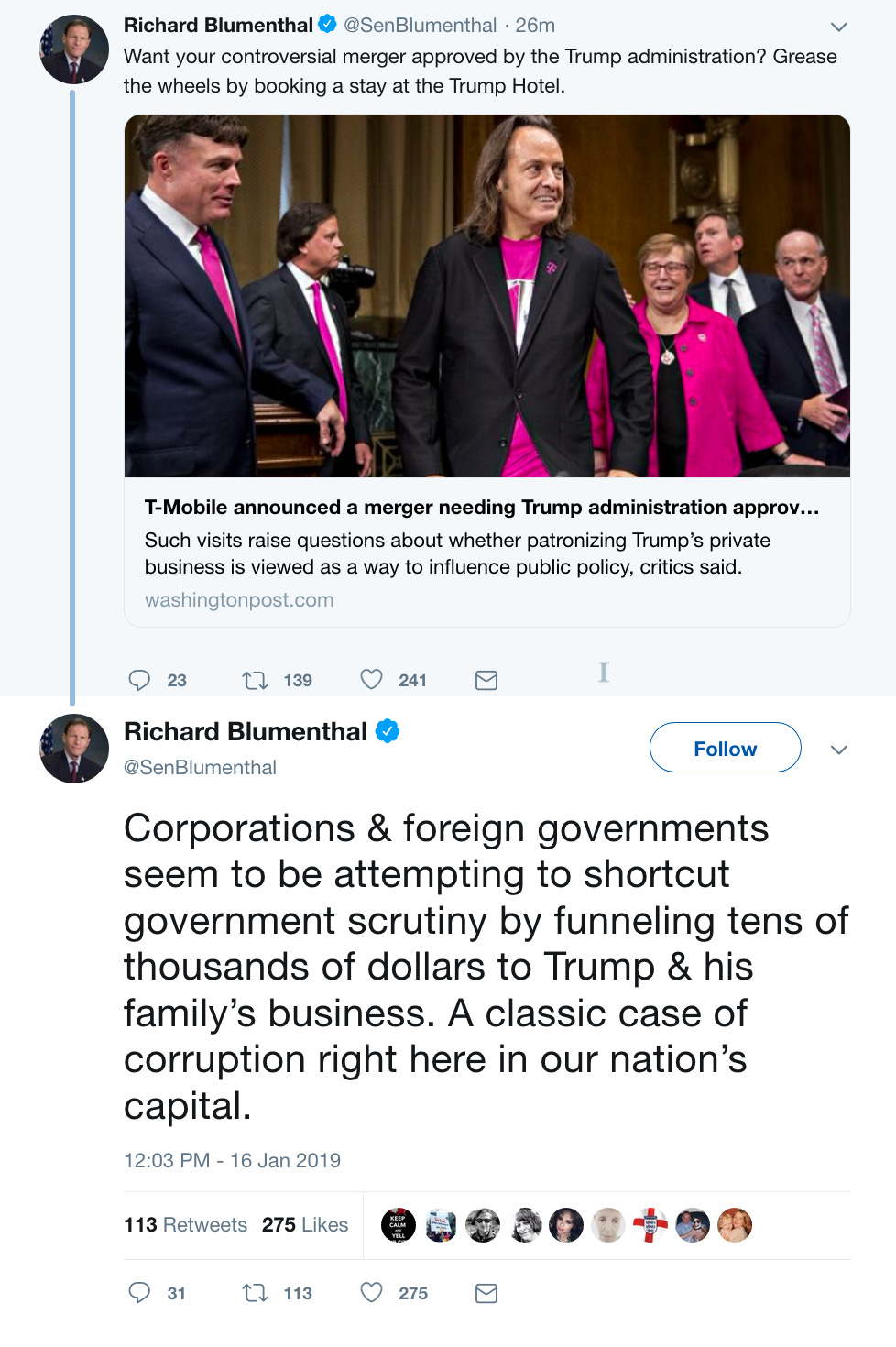 Walter Shaub, a former director of the U.S. Office of Government Ethics and currently a senior advisor for the Citizens for Responsibility and Ethics in Washington (involved in two emoluments suits against the president):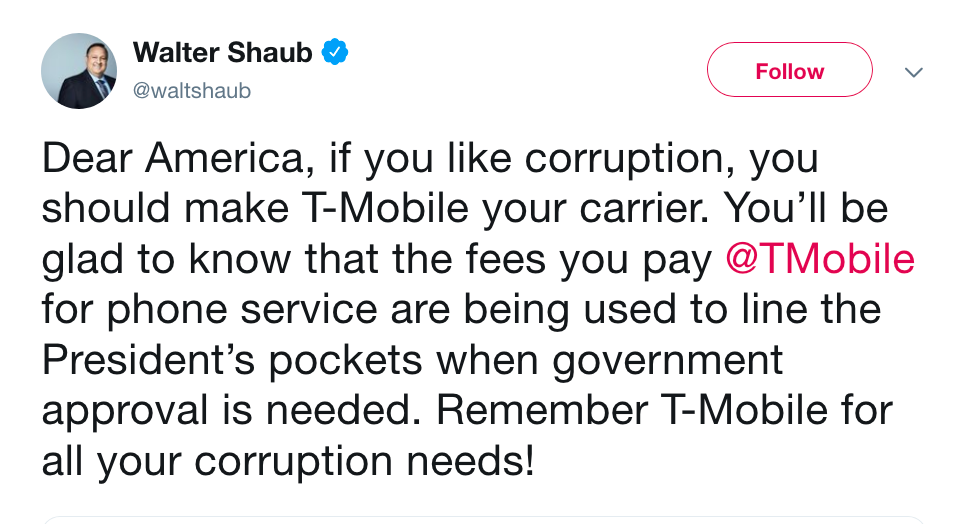 Scott Rome of Vertias Law, which is representing Cork in its unfair competition lawsuit against the president and his D.C. hotel: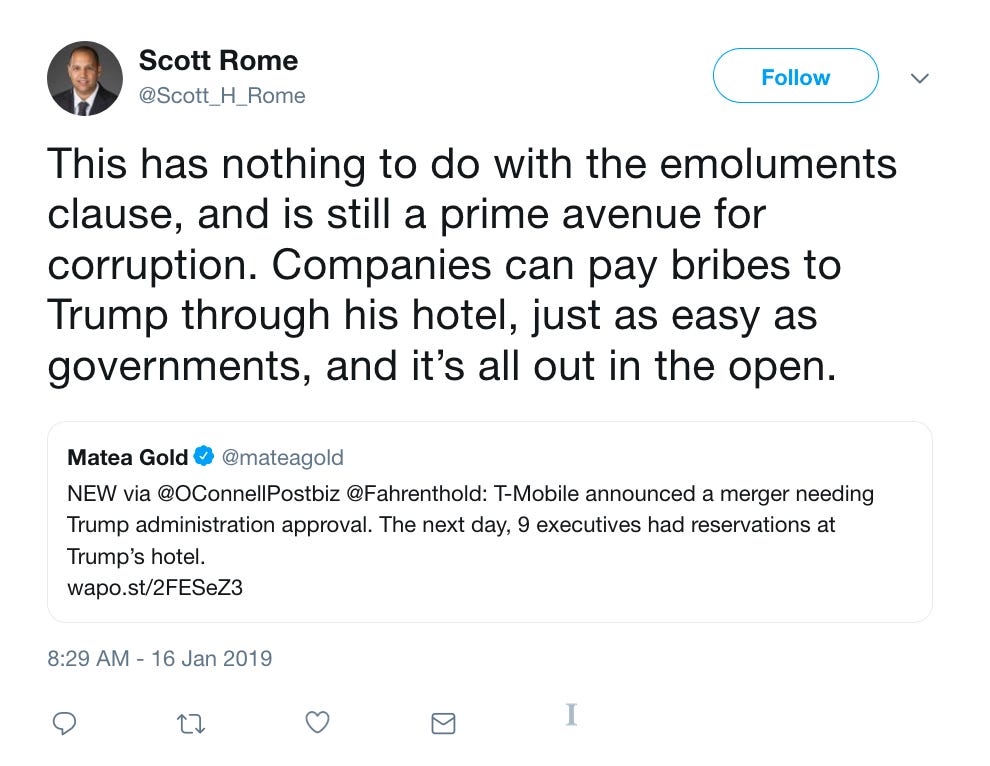 As for Legere, he having a snowball fight—which seems like a great way to not be checking your Twitter mentions: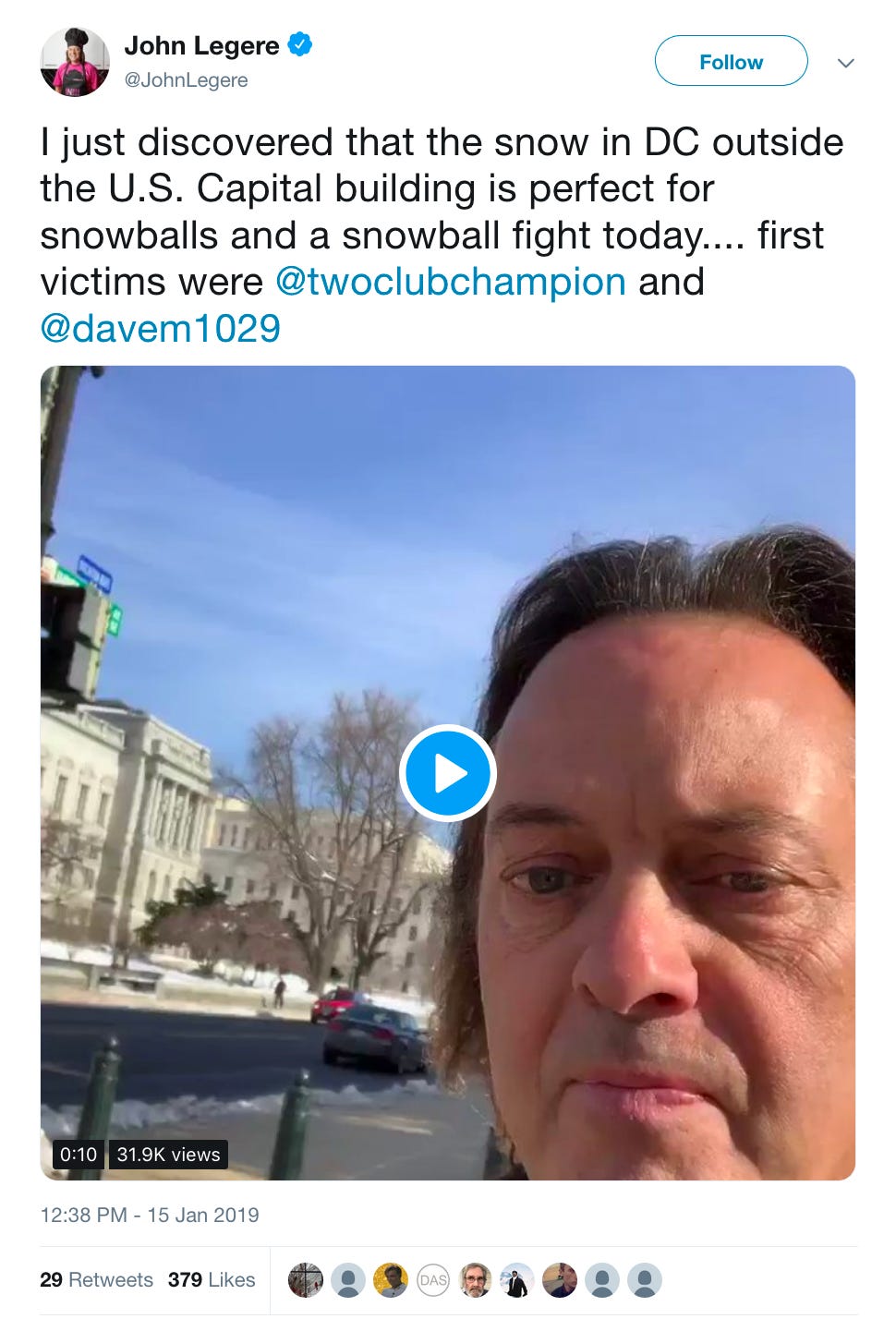 Inauguration accounted for 17 percent of hotel's revenue in January and February 2017
Forbes's Dan Alexander did the math: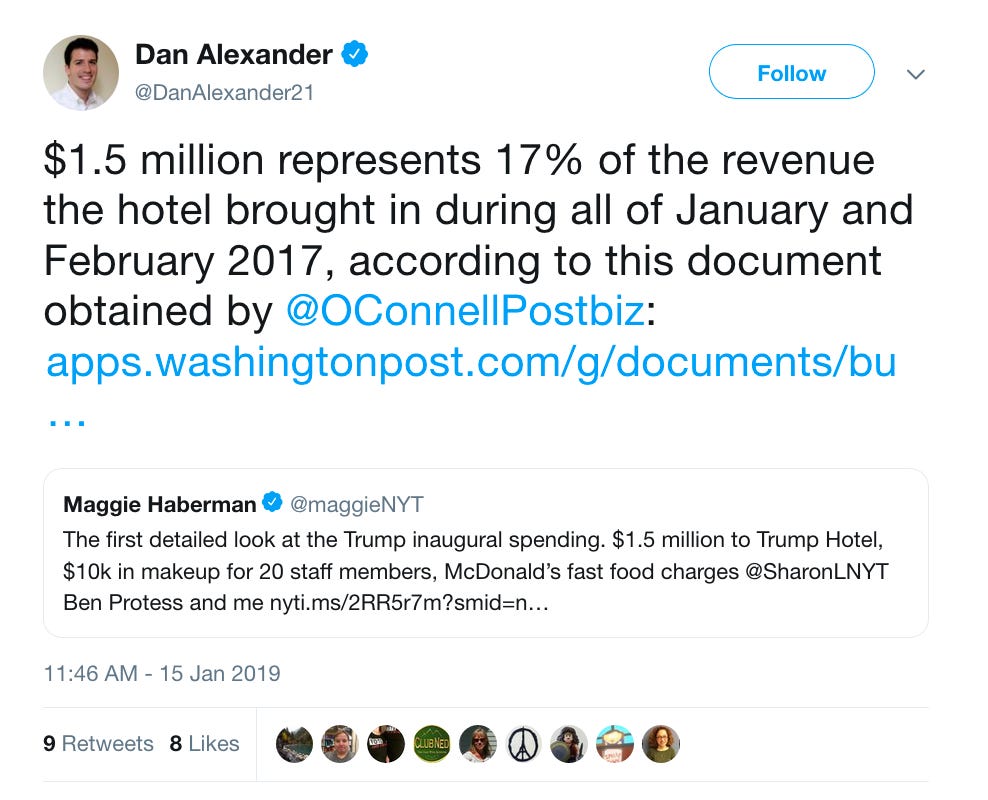 Nunes dismisses Daily Beast report that Mueller is investigating his breakfast meeting at hotel
From "Nunes: Daily Beast report on Trump hotel breakfast meeting is 'fake news'" on The Daily Beast:
Rep. Devin Nunes (R-CA) dismissed a Daily Beast report about Special Counsel Robert Mueller looking into a 2017 meeting he attended along with former National Security Adviser Michael Flynn and foreign officials as a "fake news story" on Tuesday. "It's always another day, they do another fake news story. I don't even know what they're talking about," Nunes told Fox & Friends. "The fact that I'm holding meetings with ambassadors—you can have at it, because I do it every day," he said.
Noteworthy sighting
An editorial producer for CNN's "State of the Union with Jake Tapper," Cassie McNamara, was transported back to Japan for an evening at Sushi Nakazawa.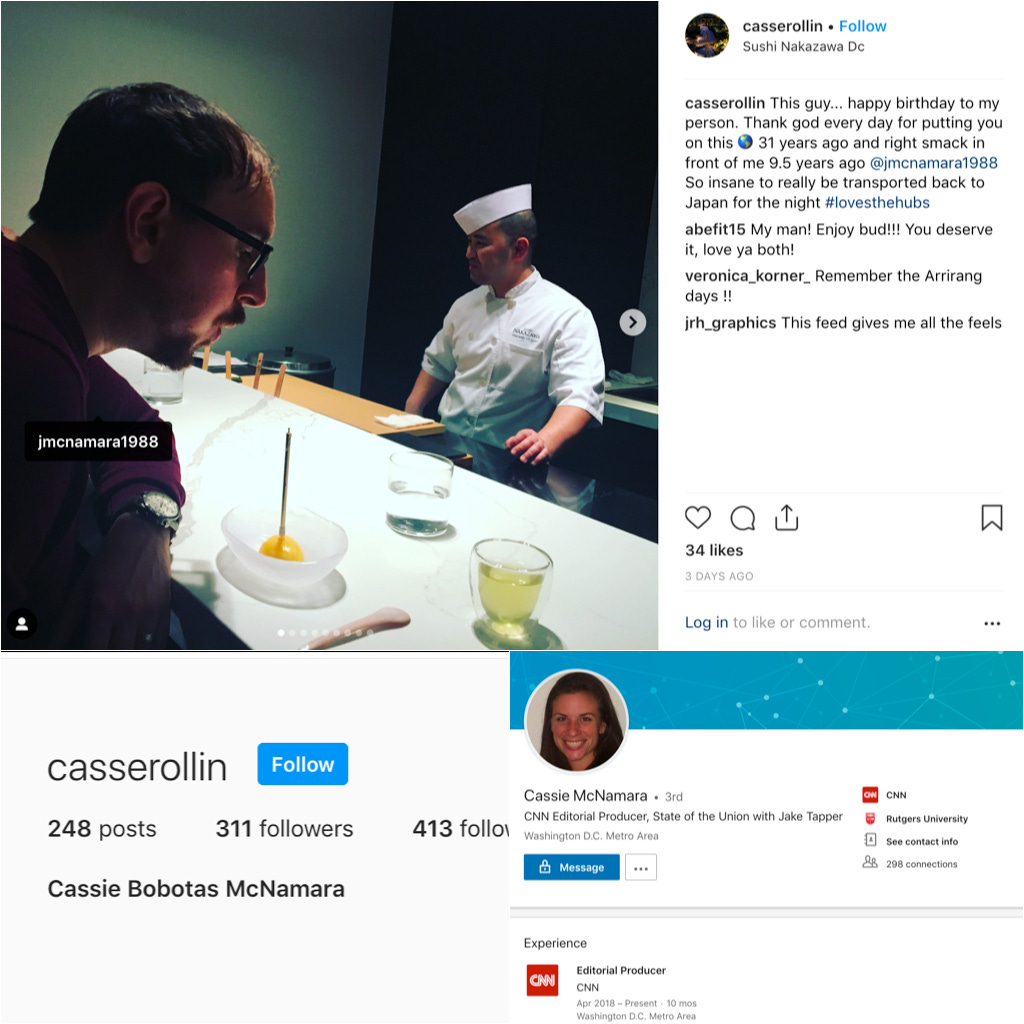 Legal cases, current status (latest change, Jan. 11, 2018)
D.C. and MD attorneys general's emoluments lawsuit (district court docket, appellate court docket)—

Official capacity—On Dec. 20, the 4th U.S. Circuit Court of Appeals ruled it would hear the president's appeal of district court rulings that allowed the case to proceed to discovery, and the appellate court halted discovery in the case. Oral augments on the appeal are tentatively scheduled for March 19–21, although on Dec. 26 the briefing schedule was suspended until further notice after Trump's DoJ attorneys asked for a stay because of the federal government shutdown. (Discovery had started Dec. 3 and was scheduled to run through Aug. 2, 2019, with the AGs already having issued 38 subpoenas, including to the Trump Organization; the U.S. Departments of Agriculture, Commerce, Defense, and Treasury and the GSA; and the state of Maine.)

Individual capacity—On Dec. 14, Trump's personal attorneys appealed the denial of their motion to dismiss the case, also to the 4th U.S. Circuit Court of Appeals. On Dec. 19, the AGs replied to Trump's motion for a stay pending that appeal by voluntarily dismissing the claims against Trump in his "individual capacity to allow the claims against President Trump in his official capacity to move forward expeditiously." (The AGs only brought suit against Trump in his individual capacity after the judge suggested they do so.) Trump's personal attorneys, on Dec. 21, opposed the motion to dismiss at the district level, saying the appeals court now has jurisdiction and accusing the AGs of "gamesmanship."

196 Democratic senators and representatives' emoluments lawsuit—On Sept. 28 judge Emmet G. Sullivan ruled that the legislators have standing to sue. Trump's Justice Department attorneys filed an interlocutory appeal on Oct. 22.

CREW et. al's emoluments lawsuit—In February, CREW appealed its suit being dismissed for lack of standing to the 2nd U.S. Circuit Court of Appeals. Oral arguments on that motion were held on Oct. 30.

Cork's unfair competition lawsuit—Judge Richard J. Leon dismissed the case on Nov. 26, writing "Cork has failed to state a claim for unfair competition under D.C. law." On Dec. 10, Cork's attorneys filed a notice of appeal and on Jan. 10 they submitted a statement of issues to be raised. The next steps, which don't yet have a timeline, include a briefing schedule being set and both sides filing appellate briefs.

Employees' class-action suit alleging racial discrimination—A status hearing on arbitration is scheduled for Jan. 25, 2019.
Health inspections, current status (latest change, Aug. 10, 2018)
❌Hotel: five violations on May 7, 2018; two were corrected on site

❌BLT Prime and Benjamin Bar: nine violations on Aug. 10, 2018

❌Sushi Nakazawa: two violations on Aug. 10, 2018

✔️Banquet kitchen: no violations on Aug. 10, 2018

❌Pastry kitchen: two violations on Aug. 10, 2018

✔️Gift shop: no violations on May 7, 2018

❌Employee kitchen and in-room dining: five violations on Aug. 10, 2018; two were corrected on site
Other Trump Organization news
One thing that has nothing to do with Trump's businesses (I think, tough to tell sometimes!)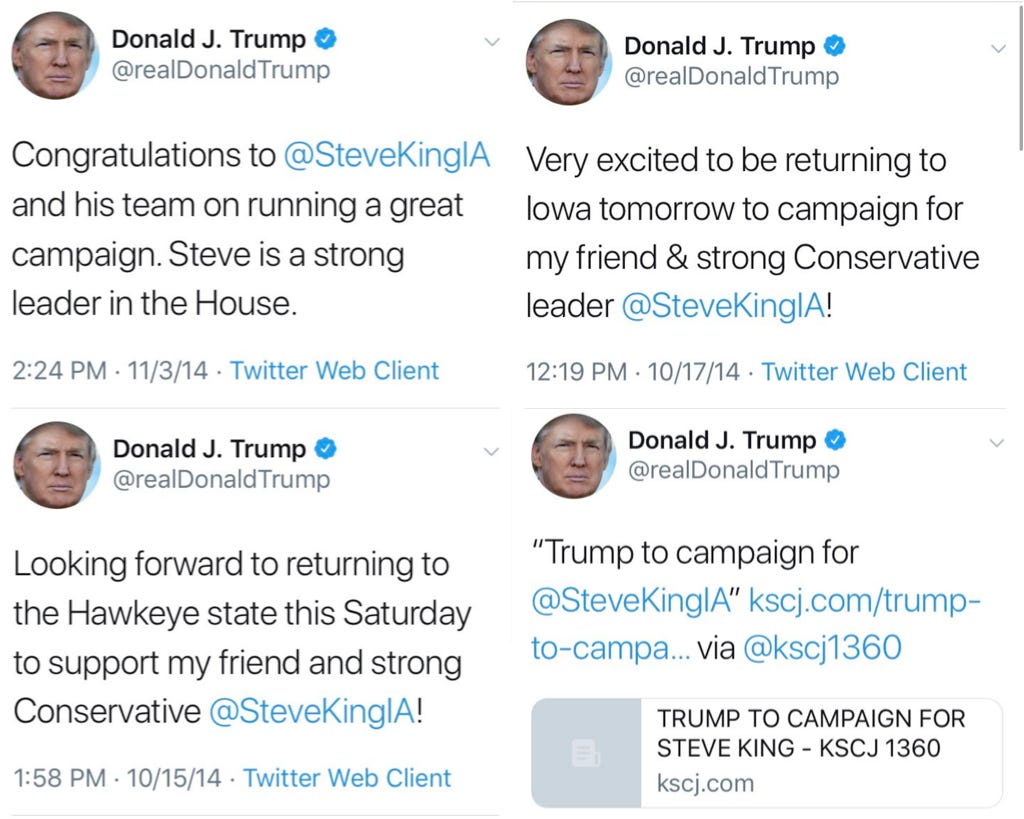 Thanks for reading. If you like what you saw, tell someone—and support this work by paying for a subscription. If you've been forwarded this newsletter, subscribe for yourself at zacheverson.substack.com. Questions? Read our FAQ/manifesto. Tips or feedback? Contact me, Zach Everson, securely via email at 1100Pennsylvania@protonmail.com or on Signal at 202.804.2744.