Discover more from 1100 Pennsylvania
"The undisputed expert on the D.C. Trump Hotel" – David Fahrenthold of the Washington Post
Over 3,000 subscribers
T-Mobile landed big VA contract in December
VA awarded high-spending hotel patron a lucrative contract
T-Mobile executives' high-spending ways ($195,000!) at the Trump Hotel D.C. have been viewed largely through the lens of the telecom company's need for federal regulators to approve its merger with Sprint. Turns out last December though, T-Mobile landed a lucrative contract with the Department of Veterans Affairs [h/t @RMonnar].
From a press release announcing the deal:
The U.S. Department of Veterans Affairs (VA) is partnering with T-Mobile (NASDAQ: TMUS) to help expand veterans' access to health care….T-Mobile's agreement with VA is part of the U.S. Navy's Spiral 3 Wireless and Telecommunications Services contract, worth $993.5 million over five years.
As ProPublica reported last August, customers of one of the president's businesses already have an undue influence at the VA.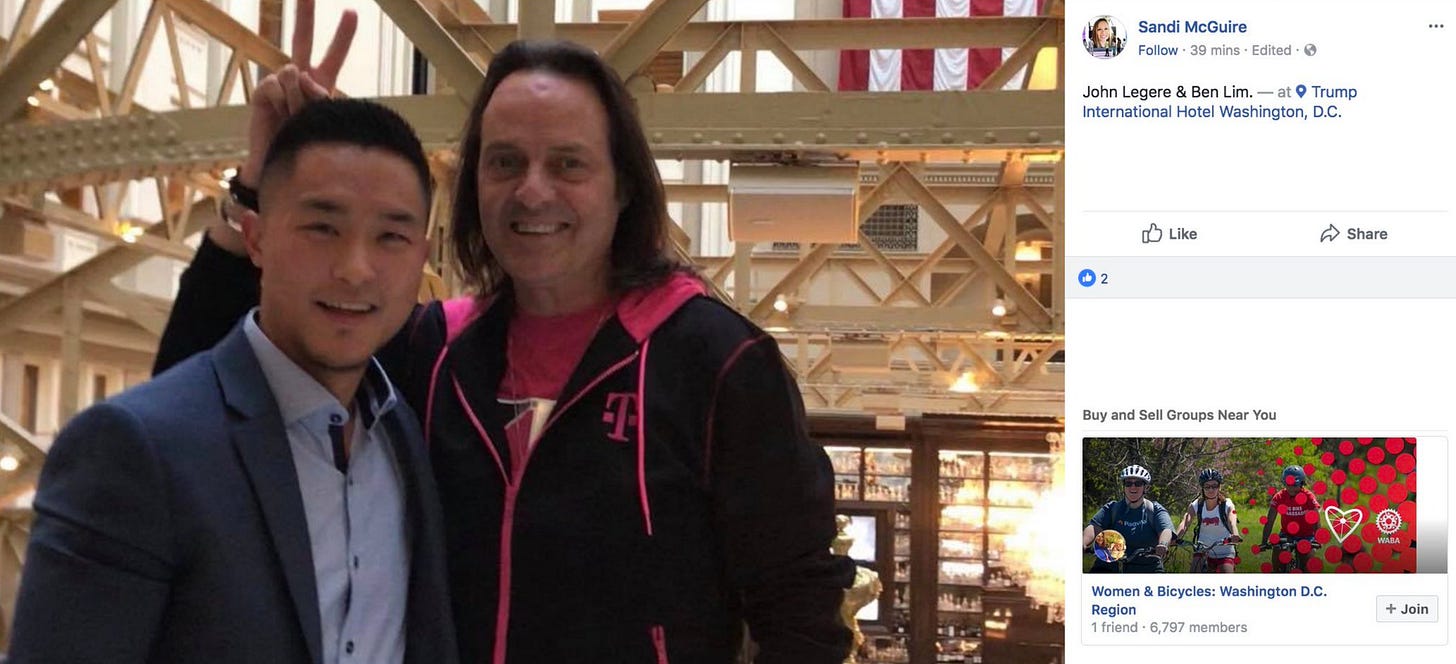 ---
Report: White House connections enjoy doting managers, best servers at hotel
From "Inside the pampered and personalized world of DC's VIP diners" by Jessica Sidman for Washingtonian:
The obvious safe space for a Trump loyalist is the President's hotel. According to former server Badger Russell, who worked at its steakhouse for nearly a year, through February 2018, any high-level people connected with the White House were waited on by the hotel restaurant's most experienced servers and fussed over by managers. As soon as a Trump VIP sat down, staff protocol called for delivery of a complimentary glass of bubbly. The kitchen would prioritize that table's food orders ahead of everyone else's, so they'd never wait too long for a tuna tartare—no matter how busy the restaurant might be.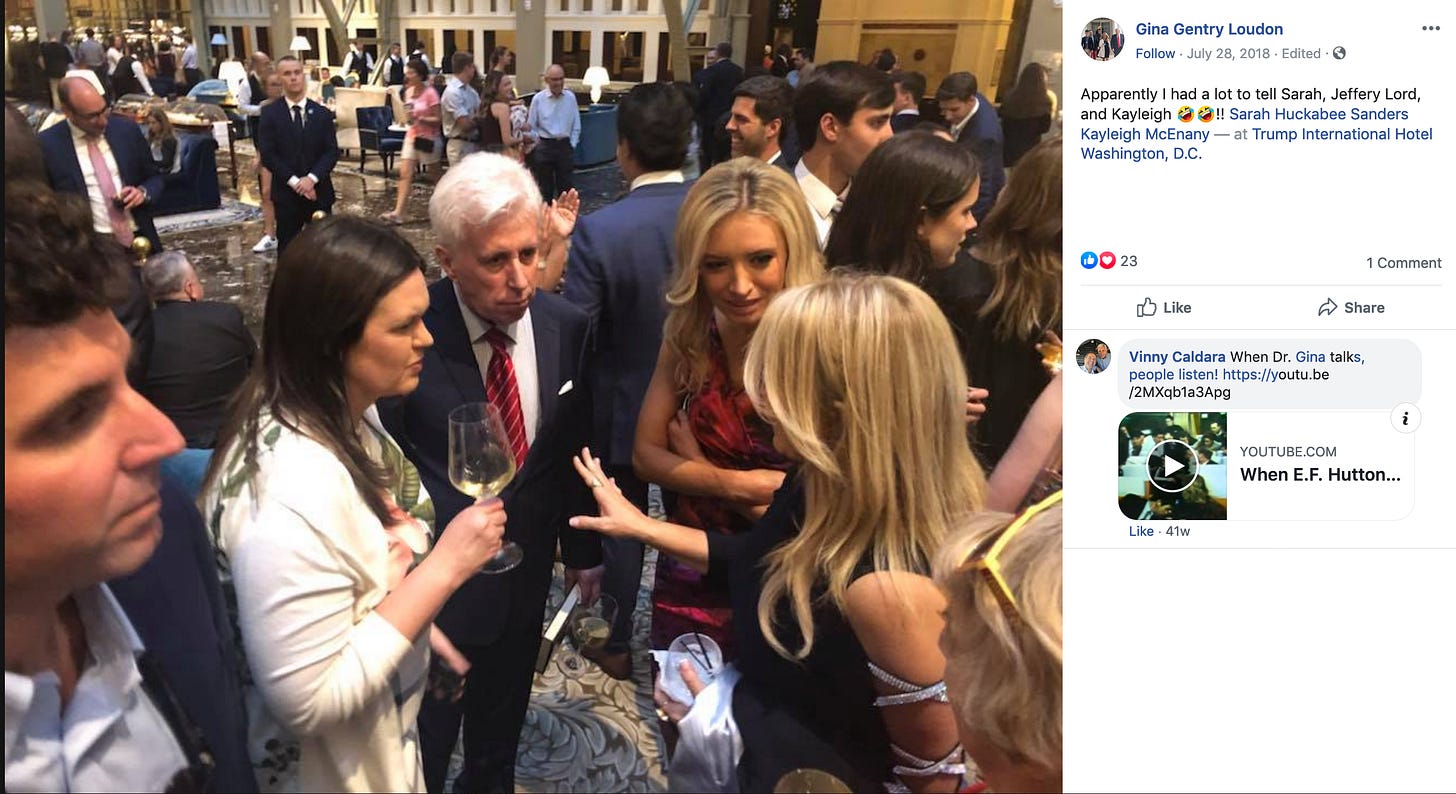 ---
Support 1100 Pennsylvania: never-redacted reporting on President Trump's D.C. hotel
We now know most of what's in the Mueller report. It's time to focus on what happens inside the Trump Hotel D.C. and the president's other businesses. Original, in-depth reporting, of course, takes time. But it's making an impact—and you can help. If you're not an 1100 Pennsylvania member, please become one. Memberships are this newsletter's sole source of revenue. Select the red "Subscribe now" button and become a member by paying just $5 a month or $50 a year. Thank you.
---
Group of energy attorneys suggest Trump's hotel for meeting goers
The Trump Hotel D.C. is one of three hotels the Energy Bar Association (for attorneys, not RXBARS) is recommending for its northeast chapter meeting in June.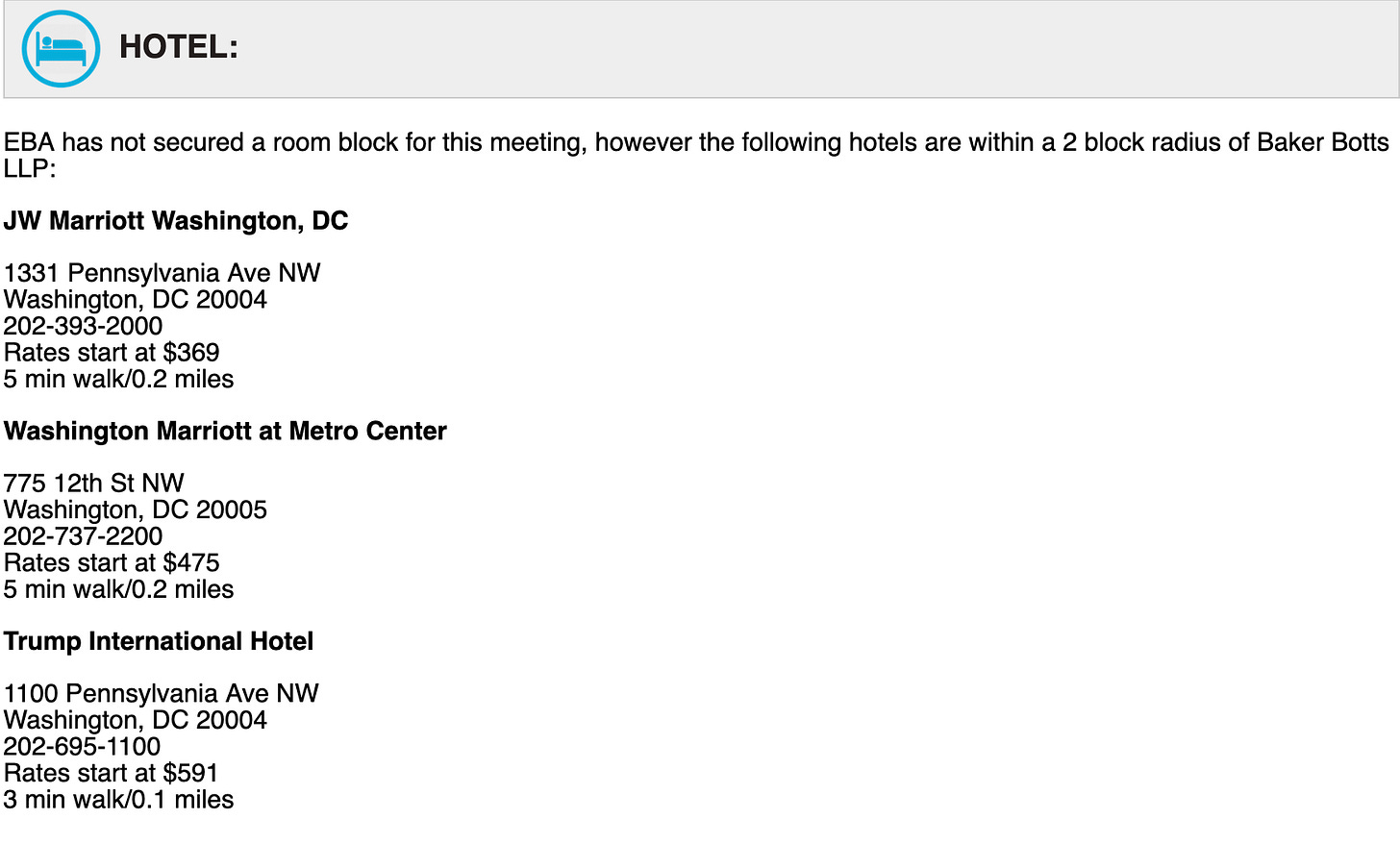 ---
Notable sightings
White House counselor Kellyanne Conway in the Lincoln Library of her boss's hotel. (Seems likely this photo was taken at the Trump Victory Finance Committee kickoff on May 7.)
National press secretary for the Trump 2020 campaign, Kayleigh McEcnany celebrated her mom with a picture from Mar-a-Lago.
Martha Boneta announced her appointment to the pro-Trump America Winning Coalition's executive board with photos of her and its president, Steven Rogers, from the Trump Hotel D.C. Boneta, a hotel regular, is already a policy advisor for the pro-Trump nonprofit America First Policies and chair of Vote America First.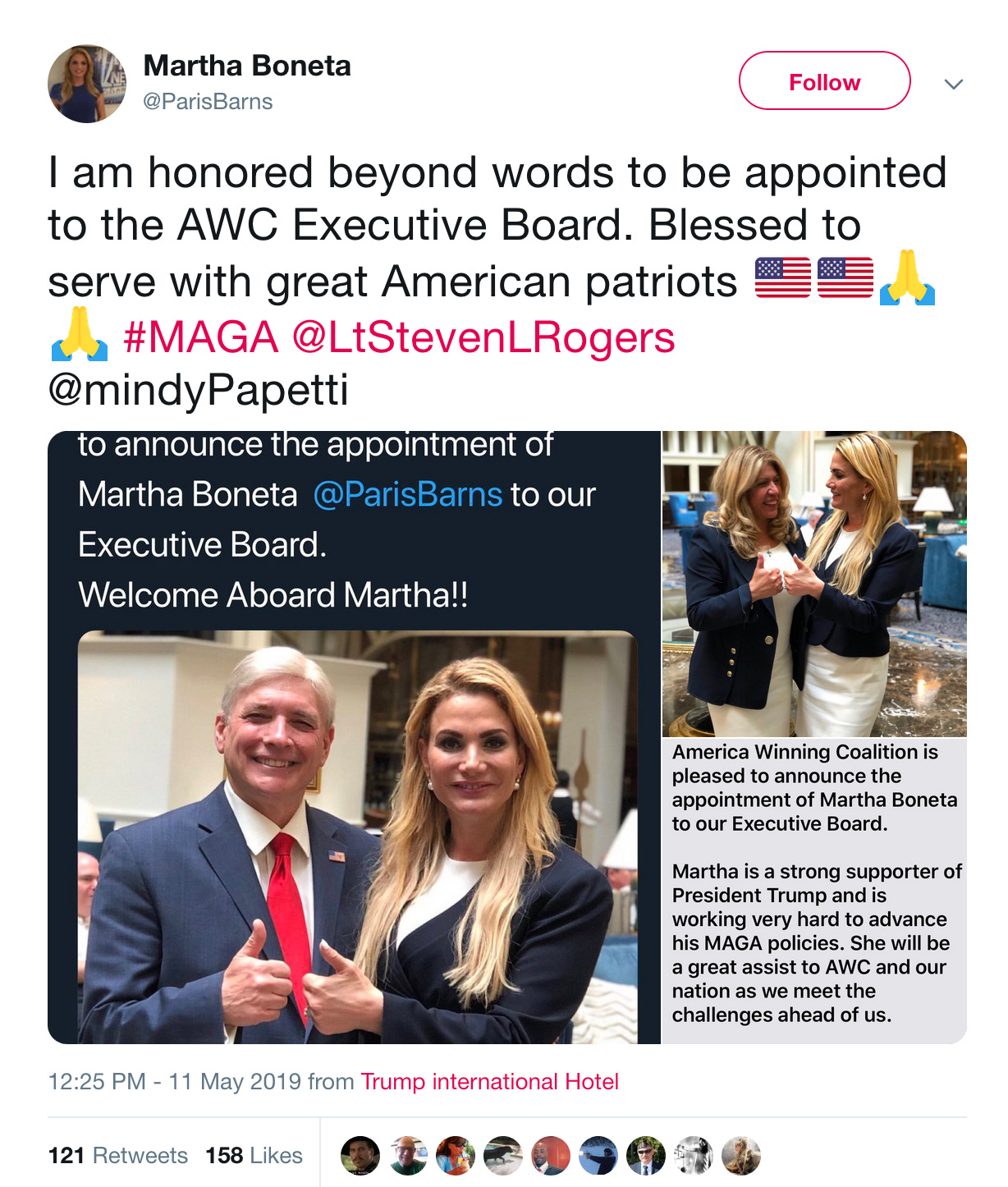 Boneta also plugged the radio show of former White House staffer Sebastian Gorka.
"From dive bars and dusty roads, beach nights and boating days, to The Keys, #MaraLago, Trump Int'l and the White House...one thing remains: a lock tight friendship that has Jesus in the center of it." – Fox News's Gina Loudon, who falsely claimed she has a PhD in psychology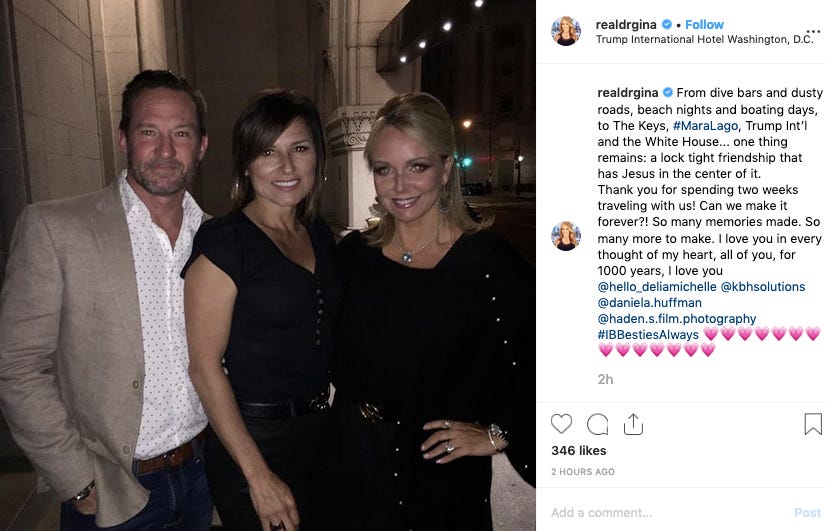 Yesterday at the hotel, your correspondent spotted regulars Rabia Kazan, the president of the pro-Trump Middle Eastern Women's Coalition and a director of the National Diversity Coalition, and Ximena Barreto, a former Trump political appointee in the Department of Health and Human Services who resigned after CNN and Media Matters reported she'd "spread conspiracies and made anti-Muslim comments," hanging out together.
Tianyi Joe Zhu, a managing partner for Playground Capital—a U.S.-China joint venture investments and holdings company with Nanjing Wande Group, China's largest playground and sports manufacturer—made "'America's Living Room' look great again!" He appears to have participated in a White House initiative earlier that same day.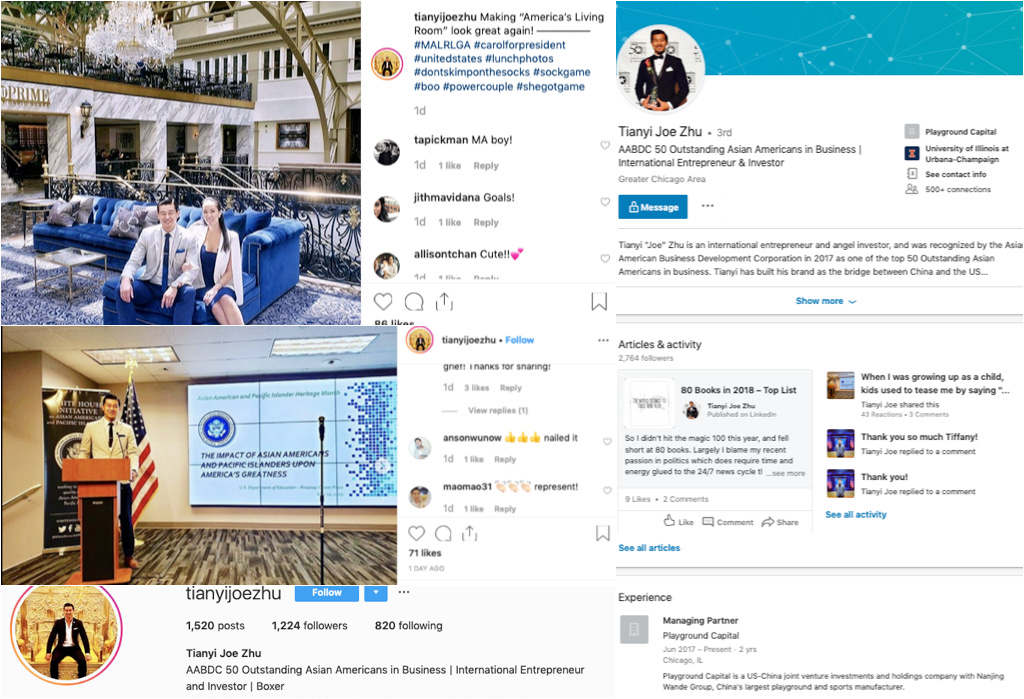 A staffer for Sen. Cindy Hyde-Smith (R-MS), Elizabeth Henry returned to the head of the executive branch's hotel. This time it was to honor her mother.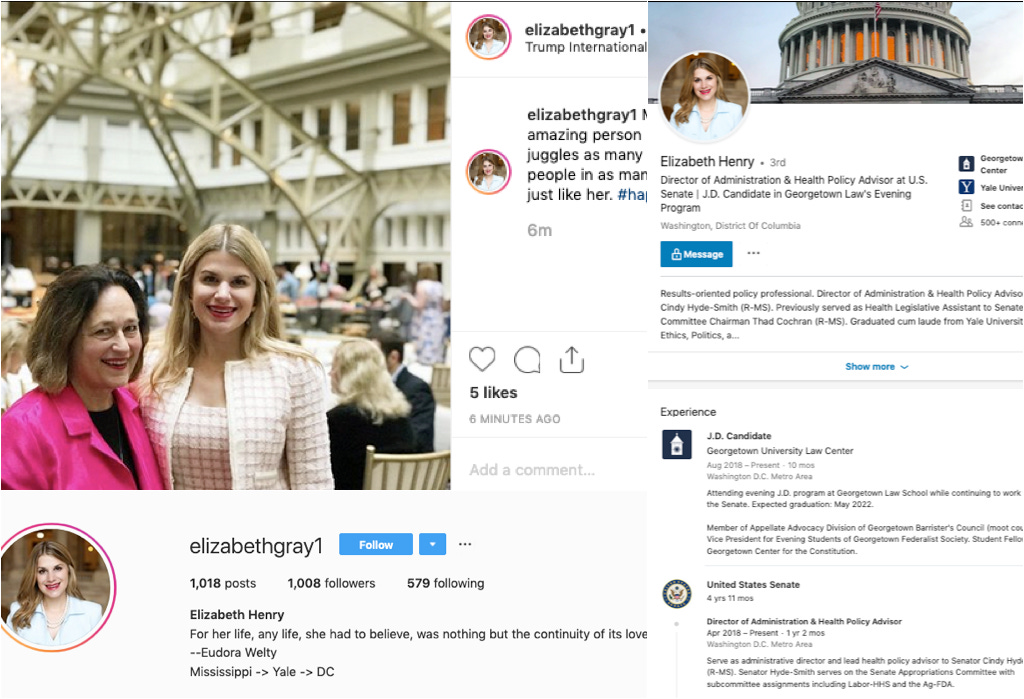 A Delaware national committeeman at the Young Republican National Federation, Hunter Gordon Dworsky, ended his Saturday in a "a great way" at the president's hotel. He can't wait for 2020.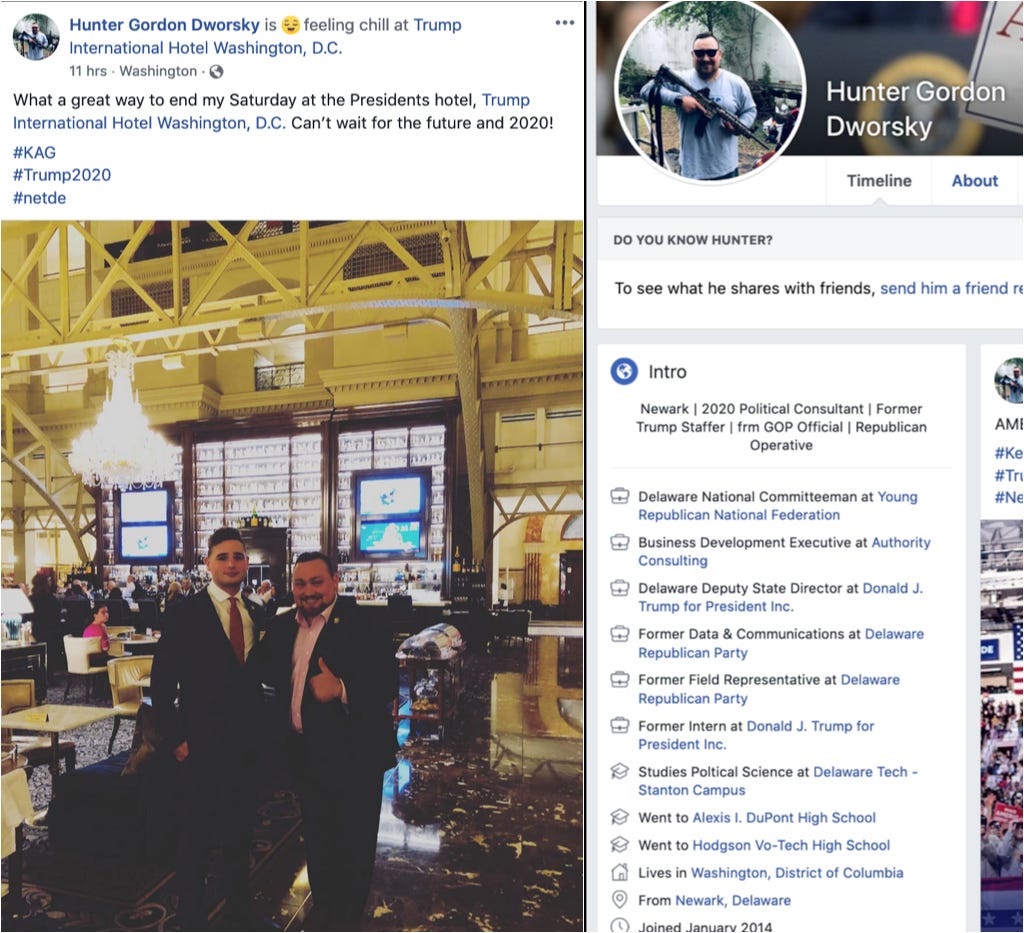 Likely in town for National Police Week, officers from Genoa Township, Ohio, Jason Berner, Sgt. Rich Lyon, and Joe Graham enjoyed some drinks—including a $9 Coke.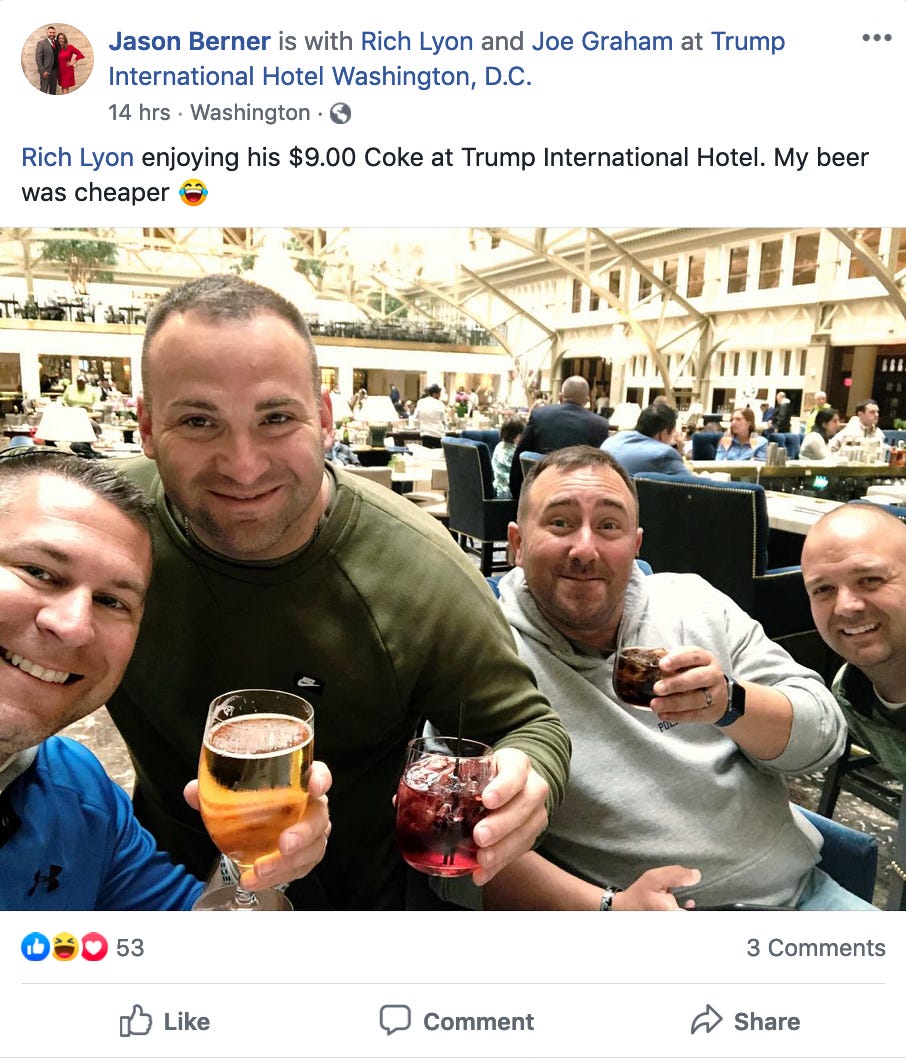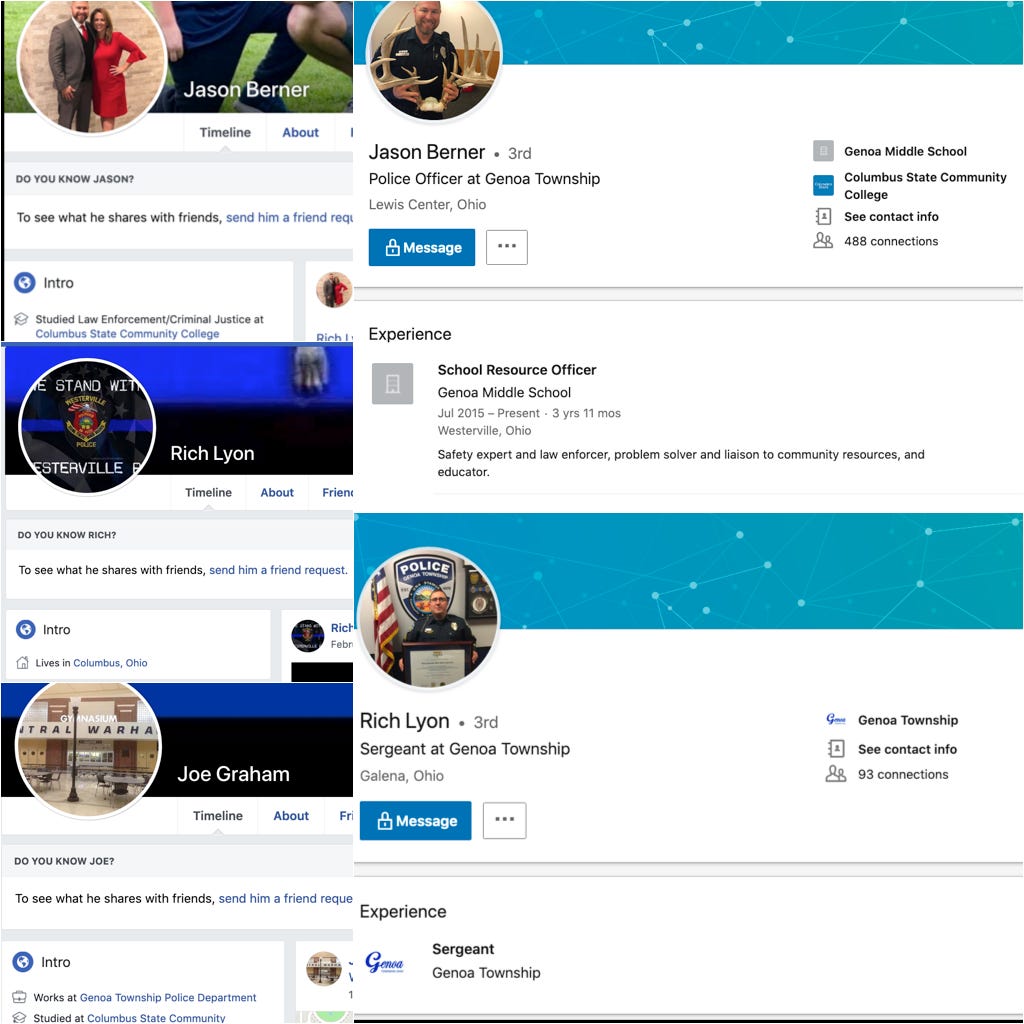 Jacob Wohl shared a photo of him meeting with Omar Navarro (whose campaign spent more than $12,000 at Trump properties while losing to Rep. Maxine Waters (D–CA)), the freshly banned from Twitter Mike Morrison, and political strategist Mike Tokes.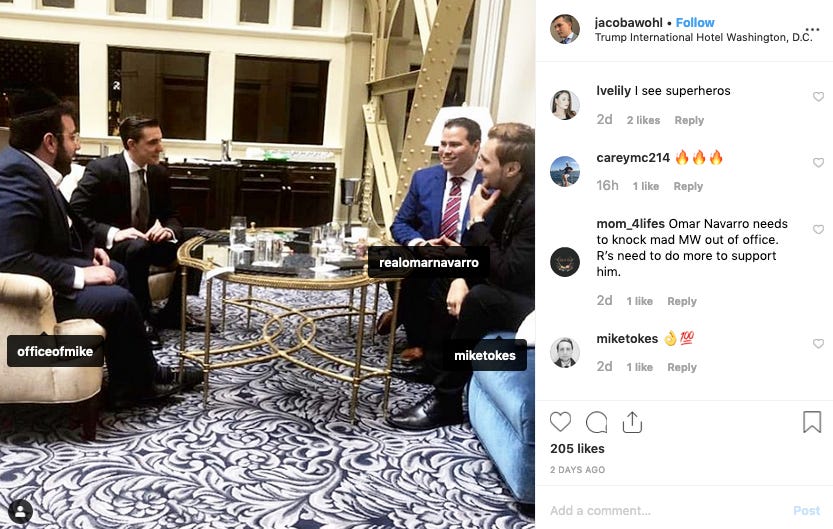 Navarro, shown on a different day, was also just one of the "many wonderful people" this guest met at the hotel.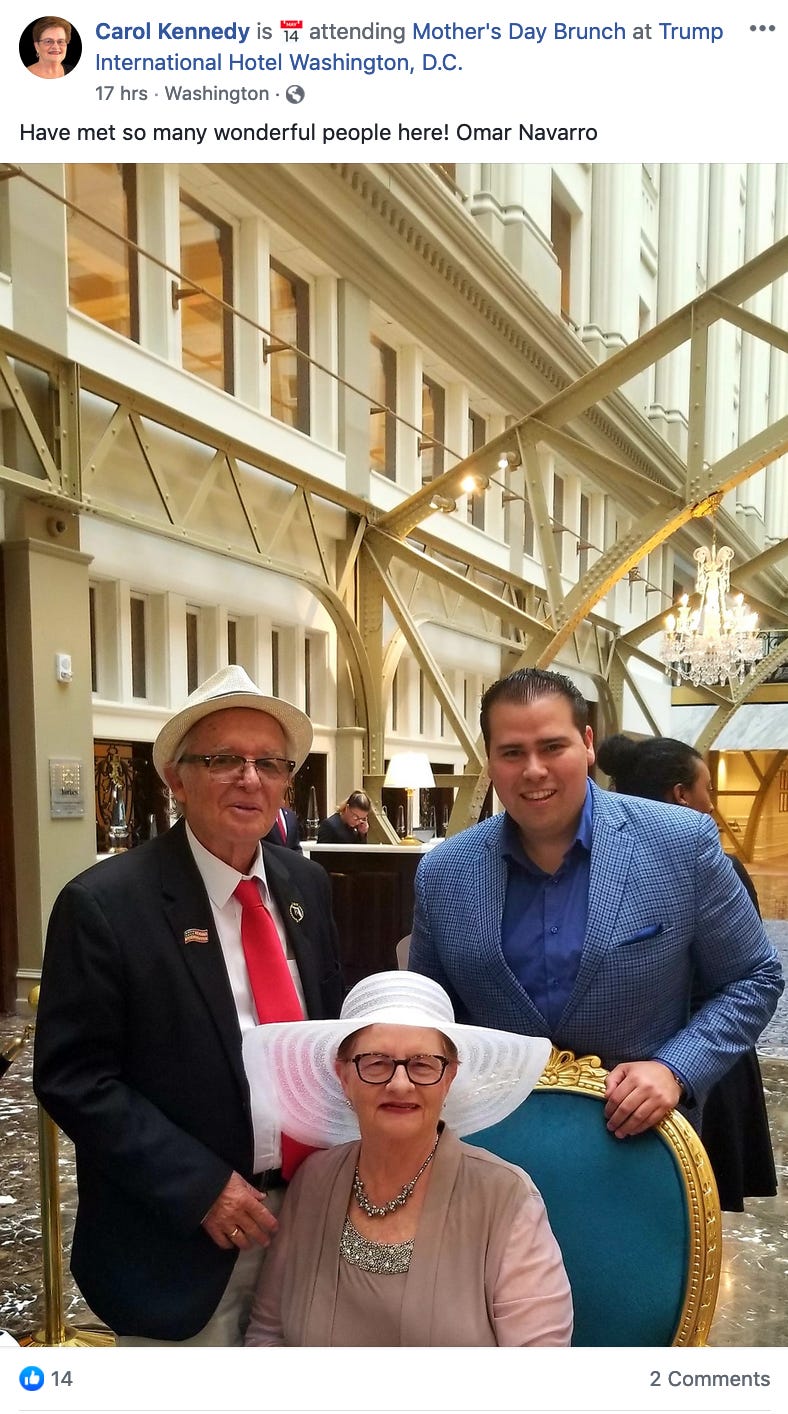 Funded in part by two Scottish municipal governments, a tourism board representing Aberdeen and Aberdeenshire learned how to best sell one of the U.S. president's Scottish properties.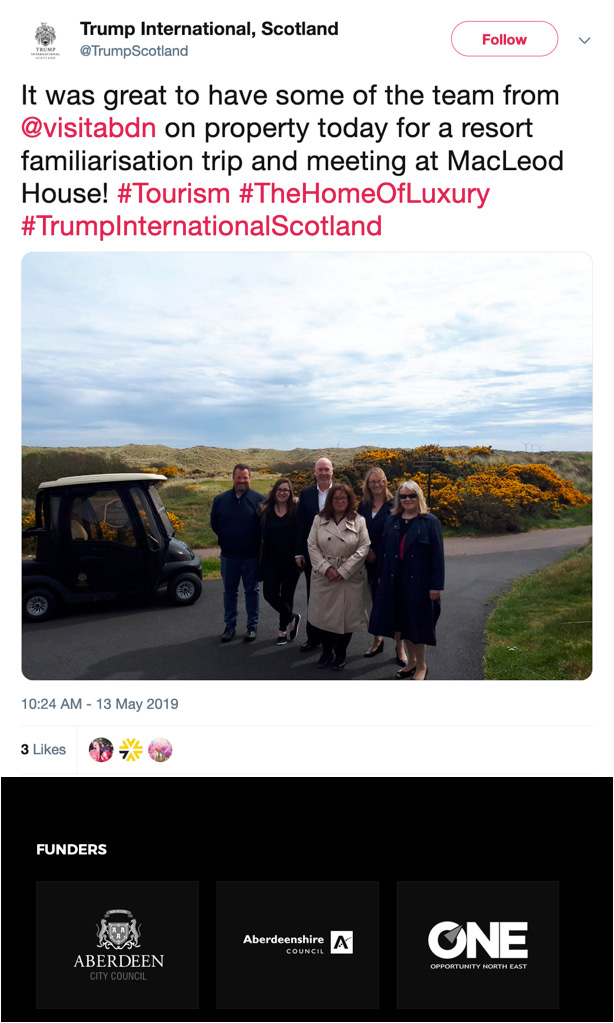 Sounds like the special venue that is the president's D.C. hotel had a profitable Mother's Day brunch, according to the hotel's managing director, Mickael Damelincourt.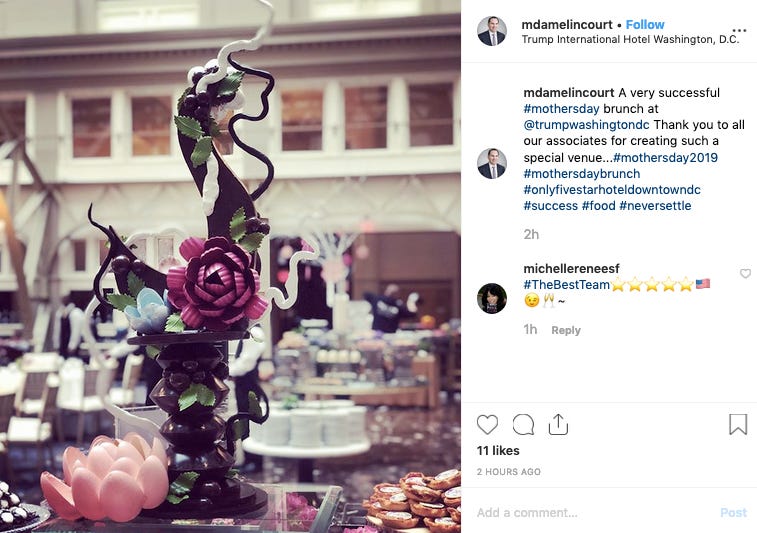 ---
Other Trump Organization news
---
House investigations, current status (latest change, May 10, 2019)
---
President Trump chose not to divest; Americans need to know who's paying him
Unlike his predecessors, Donald Trump did not divest his businesses upon becoming U.S. president. Think that may be a problem? Become an 1100 Pennsylvania member, and support reporting on who's spending money at the president's businesses—and what they may be getting in return. Memberships are this newsletter's sole source of revenue. Select the red "Subscribe now" button and become a member by paying just $5 a month or $50 a year. Thank you.
---
Legal cases, current status (latest change, May 8, 2019)
D.C. and MD attorneys general's emoluments lawsuit (district court docket, appellate court docket)—

Official capacity—On Dec. 20, 2018, the 4th U.S. Circuit Court of Appeals ruled it would hear the president's appeal of district court rulings that allowed the case to proceed to discovery, and the appellate court halted discovery in the case. Discovery had started Dec. 3 and was scheduled to run through Aug. 2, 2019, with the AGs having subpoenaed the Trump Organization, including its Scottish golf courses; the U.S. Departments of Agriculture, Commerce, Defense, and Treasury and the GSA; and the state of Maine. Oral arguments on the appeal occurred on March 19; by all accounts the three-judge panel (all Republican appointees, including one who was a selection of President Trump's) were skeptical of the AGs' case. D.C. AG Karl Racine pledged to take the case to the U.S. Supreme Court if necessary.

Individual capacity—On Dec. 14, Trump's personal attorneys appealed the denial of their motion to dismiss the case, also to the 4th U.S. Circuit Court of Appeals. On Dec. 19, the AGs replied to Trump's motion for a stay pending that appeal by voluntarily dismissing the claims against Trump in his "individual capacity to allow the claims against President Trump in his official capacity to move forward expeditiously." (The AGs only brought suit against Trump in his individual capacity after the judge suggested they do so.) Trump's personal attorneys, on Dec. 21, opposed the motion to dismiss at the district level, saying the appeals court now has jurisdiction and accusing the AGs of "gamesmanship."

Democratic senators and representatives' emoluments lawsuit—On Sept. 28, Judge Emmet G. Sullivan ruled that the legislators have standing to sue. Trump's Justice Department attorneys filed an interlocutory appeal on Oct. 22. On Jan. 30, 2019, the plaintiffs' filed a notice of supplemental authority, notifying the court of the GSA inspector general's report that criticized GSA for failing to consider if the Trump Hotel D.C.'s lease was in compliance with the Constitution after Trump became president. Two days later, the president's attorneys argued that the IG's conclusion was not inconsistent with Trump's argument, but that the judge should ignore that report anyway because the IG has no expertise in interpreting or applying the foreign emoluments clause. On April 30, Sullivan denied Trump's motion to dismiss the suit. The president's attorneys have a supplemental brief due on May 28.

CREW et. al's emoluments lawsuit—In February 2018, CREW appealed its suit being dismissed for lack of standing to the 2nd U.S. Circuit Court of Appeals. Oral arguments on that motion were held on Oct. 30.

Cork's unfair competition lawsuit—Judge Richard J. Leon dismissed the case on Nov. 26, 2018, writing "Cork has failed to state a claim for unfair competition under D.C. law." On Dec. 10, Cork's attorneys filed a notice of appeal and on Jan. 10, 2019 they submitted a statement of issues to be raised. A briefing schedule was set on March 5 with Cork's brief due on April 15, the president's brief due on May 15, and Cork's reply to the president's brief due on June 5. On April 11, however, Cork's attorneys requested a 30-day extension, to which Trump's attorneys consented—as did the court the following day.

Employees' class-action suit alleging racial discrimination—Two of the three plaintiffs did not appear at a status hearing on Jan. 25, 2019; their cases were moved to arbitration. Via email, their attorney, A.J. Dhali, said his clients did not appear at the hearing because their case already had been moved to arbitration last year. The next status hearing is scheduled for Oct. 4.
---
Health inspections, current status (latest change, Aug. 10, 2018)
❌Hotel: five violations on May 7, 2018; two were corrected on site

❌BLT Prime and Benjamin Bar: nine violations on Aug. 10, 2018

❌Sushi Nakazawa: two violations on Aug. 10, 2018

✔️Banquet kitchen: no violations on Aug. 10, 2018

❌Pastry kitchen: two violations on Aug. 10, 2018

✔️Gift shop: no violations on May 7, 2018

❌Employee kitchen and in-room dining: five violations on Aug. 10, 2018; two were corrected on site
---
Is the Trump Organization selling merchandise that depicts the White House? (latest change, March 21, 2019)
Yes.
---
One thing that (probably) has nothing to do with Trump's businesses
---
Thanks for reading. If you like what you saw, tell someone—and support this work by becoming a member. If you've been forwarded this newsletter, subscribe for yourself at zacheverson.substack.com. Questions? Read our FAQ/manifesto. Tips or feedback? Contact me, Zach Everson, securely via email at 1100Pennsylvania@protonmail.com or on Signal at 202.804.2744.