Discover more from 1100 Pennsylvania
"The undisputed expert on the D.C. Trump Hotel" – David Fahrenthold of the Washington Post
Over 3,000 subscribers
Times' hotel investigation, annotated
Dive deeper into the morass of President Trump's business conflicts
Citing 1100 Pennsylvania as a source, on Saturday the New York Times published a blockbuster look at the symbiotic relationship between the Trump Administration and Trump Organization—
"The swamp that Trump built" by Nicholas Confessore, Karen Yourish, Steve Eder, Ben Protess, Maggie Haberman, Grace Ashford, Michael LaForgia, Kenneth P. Vogel, Michael Rothfeld, and Larry Buchanan
Today's issue of 1100 Pennsylvania was drafted on the assumption that you want even more details about the conflicts highlighted in the Times' piece. Gathered largely from 1100 Pennsylvania's earlier original reporting, here you go.
Let's start by looking at some photos of Trump customers in the lead graphic that weren't identified in the captions—
Then-Liberty University head honcho Jerry Falwell Jr. and his wife Becki enjoyed the company of President Donald J. Trump and Trump campaign official Kimberly Guilfoyle at Mar-a-Lago in December 2019. The spray-tan company that worked on Becki used the photo to promote itself.
Kuwait's ambassador to the United States, Salem Al-Sabah hosted the embassy's 2019 national day celebration at the Trump Hotel D.C. It marked the third year in a row the event was held at the U.S. president's business.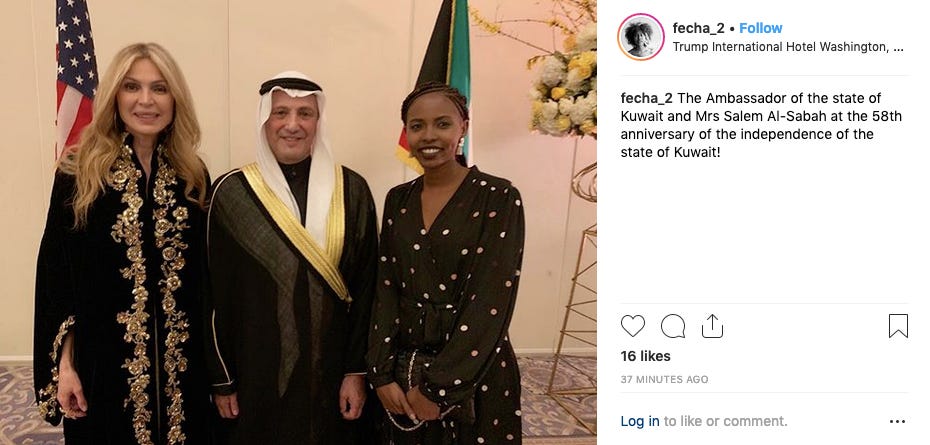 In 2018, then-Rep. Mark Meadows (R–NC) posed with Revival Outside the Walls Ministry's Barry Meguiar on the hotel's lower level, near private function rooms (and some restrooms). Meadows campaign has reported spending more than $15,000 at the Trump Hotel D.C. And while in Congress, Meadows also criticized a General Services Administration inspector general's report that questioned the agency's handling of the Trump Hotel D.C.'s lease and let Capital One know he was concerned about his colleagues' request for Trump Organization financial documents.
In March 2020, Trump made Meadows his chief of staff.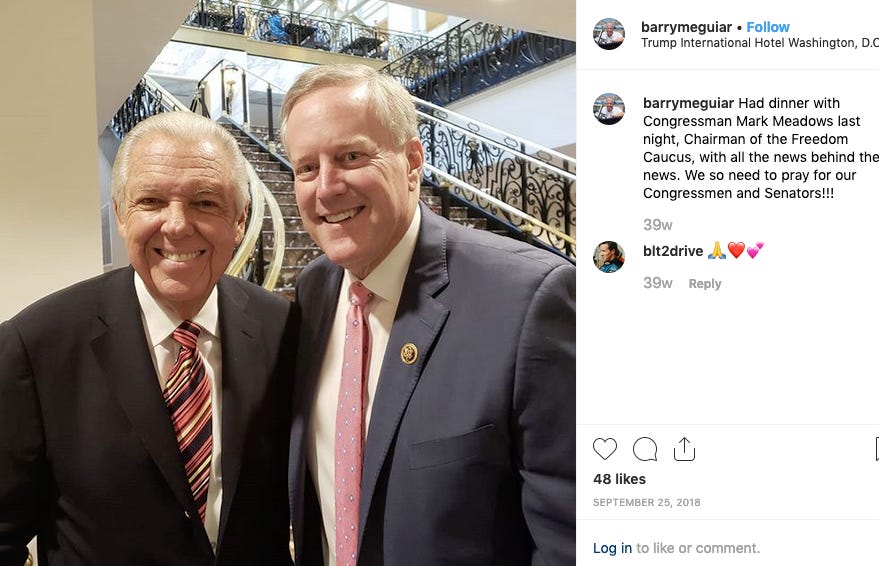 During the summer of 2019, Nigerian vice president Yemi Osinbajo was at the Trump Hotel D.C. while in town to meet with Mike Pence in the West Wing. (1100 Pennsylvania confirmed Osinbajo's whereabouts via an analysis of throw pillows.)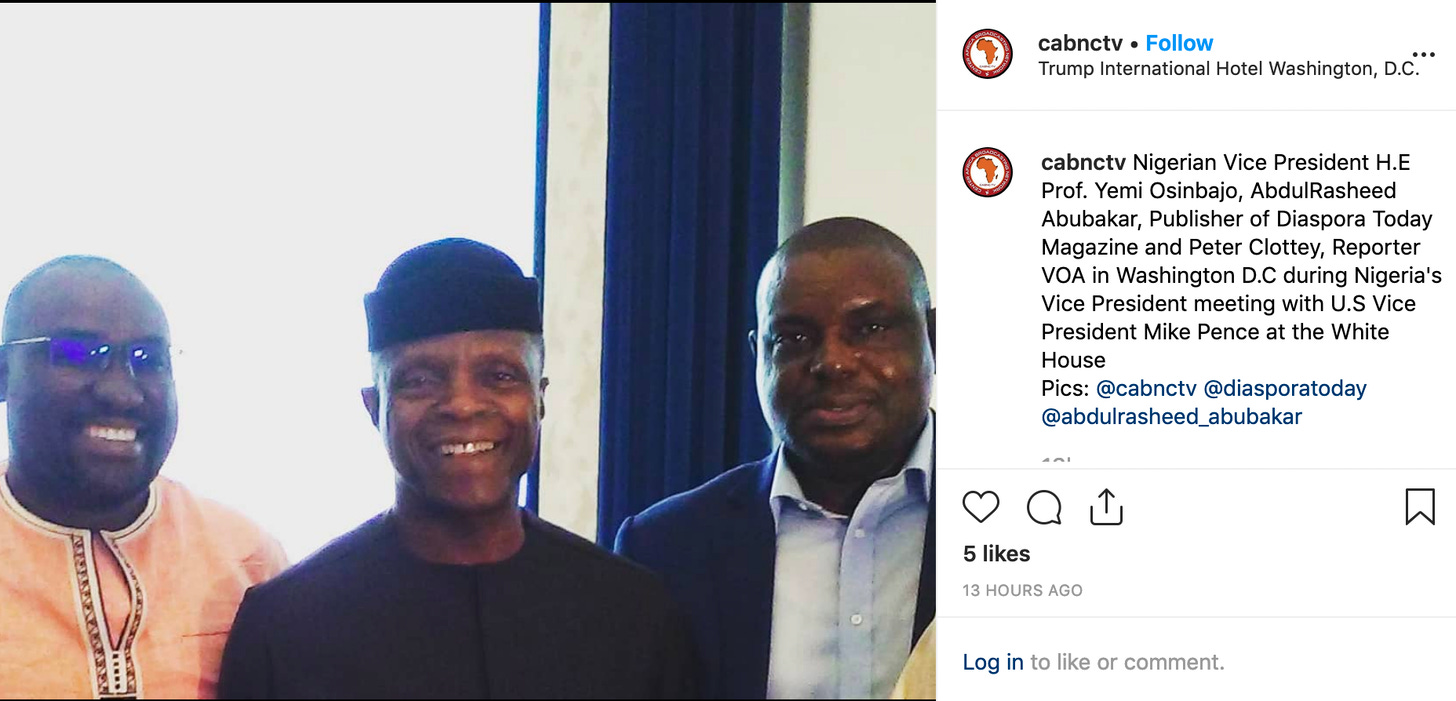 Major GOP donor and the son of billionaire Xerox investor Darwin Dawson, Doug Deason, whose job is managing his family's wealth—including large stakes in a gas and oil company and a global tax-services firm—declared the president's place his favorite hotel in December 2019. For more on Deason—including his massive influence on other GOP donors—listen to episode 1 of The Center for Public Integrity's podcast "The Heist." Deason was with Jacki Pick, host of a radio program on Glen Beck's The Blaze.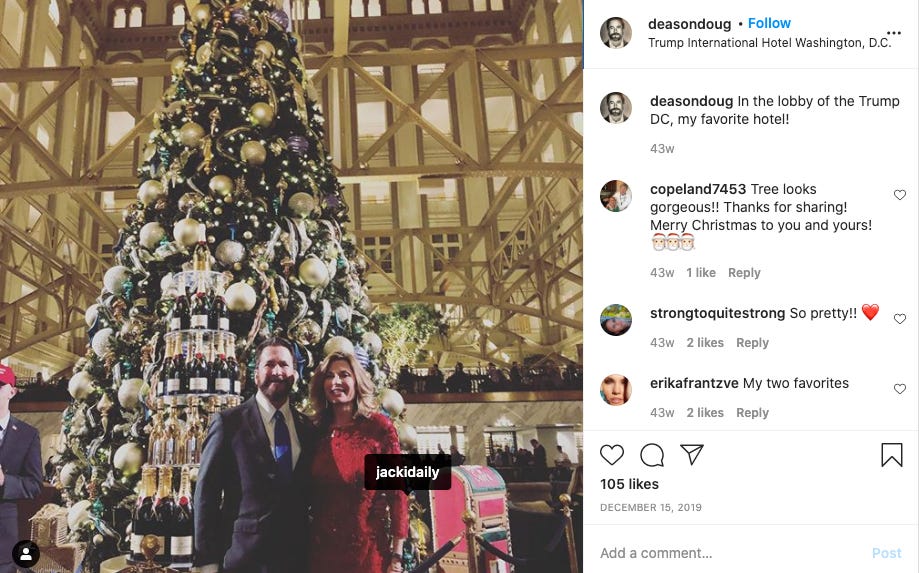 The Philippines Ambassador to the United States, Jose Manuel "Babe" del Gallego Romualdez, and the country's Minister for Economic Affairs, Jose Victor Chan-Gonzaga, posed at the embassy's 2018 national day celebration in the Trump Hotel D.C.'s grand ballroom. They are with former Rep. Jerry Weller (R-IL). He heads an international public affairs, strategic consulting and business development firm.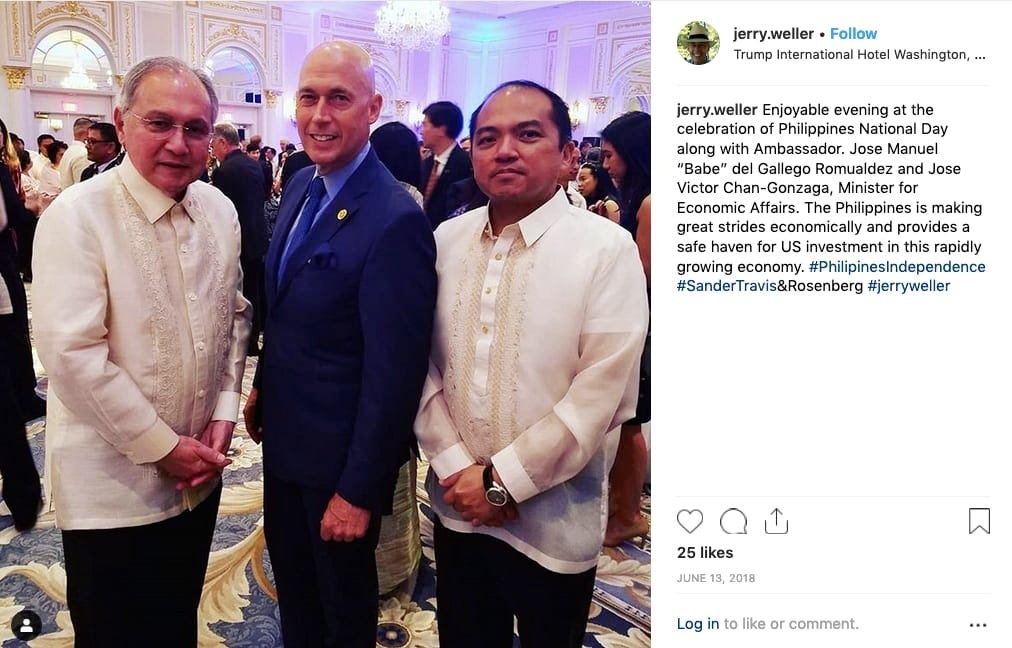 For Malaysia's then-prime minister Najib Razak, the route to the White House in December 2017 included a stroll on one of the Trump Hotel D.C.'s upper floors (only accessible with a room key). Razak, of course, has since sentenced to 12 years in prison after being found guilty of abuse of power, money laundering, and criminal breach of trust in the 1MDB scandal.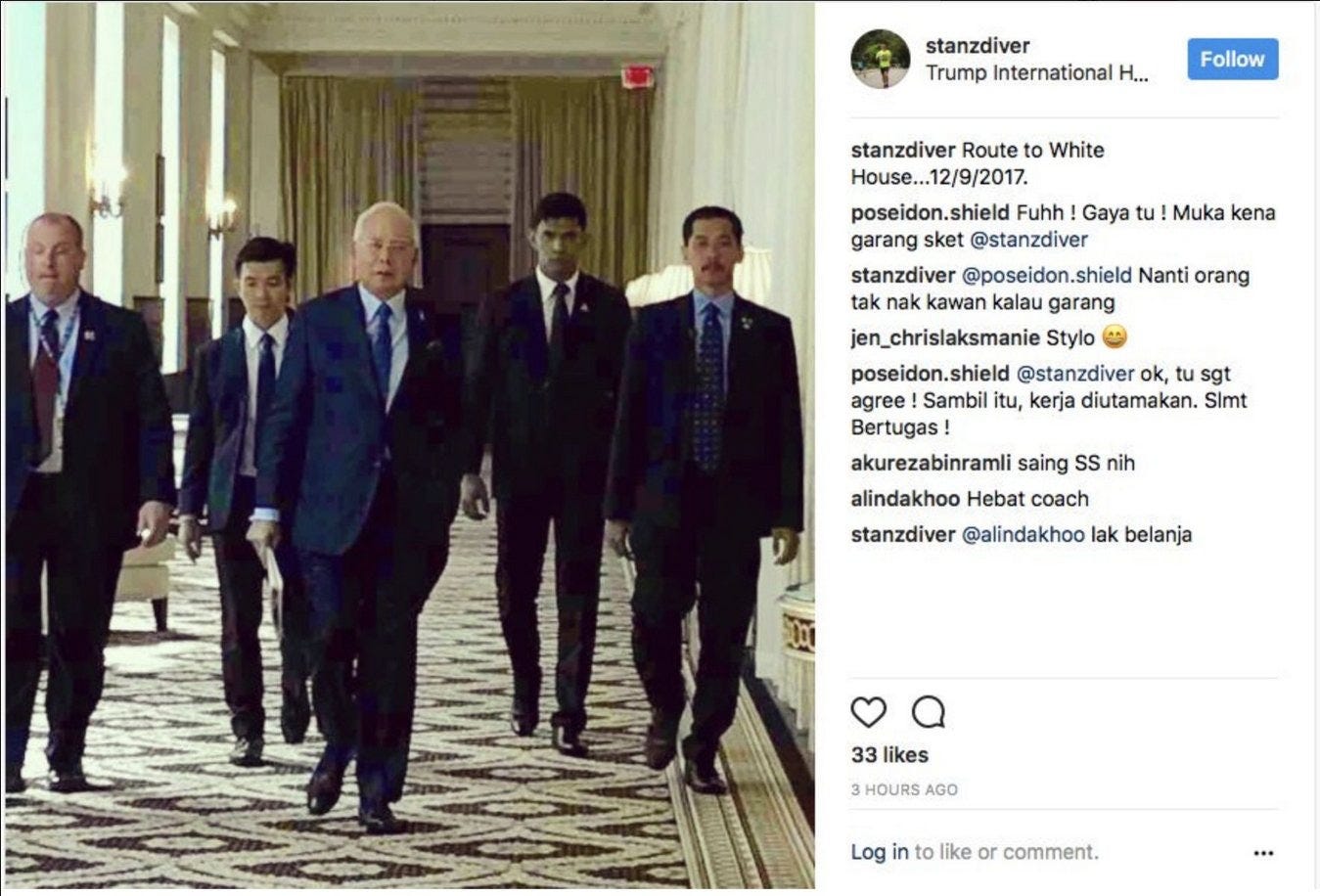 As for the Times's article itself, here are some D.C. hotel-related excerpts followed by 1100 Pennsylvania's insight—
[The National Shooting Sports Foundation] co-hosted an annual conference there that was previously held at a nearby Grand Hyatt.
First reported by 1100 Pennsylvania in April 2019, the Firearms Import/Export Conference's (IM/EX) agenda included presentations from at least four U.S. government departments—that is, government officials who work for the hotel's owner.
[Star Parker, founder of the Center for Urban Renewal and Education] decided to move the summit to the Trump hotel over the objection of some of the pastors, who worried about political blowback….The pricing was still good last year, and the pastors more enthusiastic, when the annual summit returned
Former Arkansas Gov. Mike Huckabee (R) was a featured guest at CURE's three-day 2019 summit. It was one of Huckabee's many appearances as a special guest at the president's D.C. hotel.
And in June 2020, Vice President Mike Pence invited prominent Black conservatives to his office to discuss "how we can move our Nation forward." Parker was one of four participants who doubled as a customer of the president's. (Pence was another of them—his PAC has spent more than $235,000 at the Trump Hotel D.C.)
In early 2018, according to Facebook posts, John Willding, a lawyer at Barnes & Thornburg with business before the government, began hosting a monthly mixer that came to be known as Trump First Tuesdays.
This event was originally described as a "business networking happy hour for government relations professionals and friends." So lobbyists. The June 2019 gathering was attended by so many people that the hotel's manager needed to use panorama mode when taking a picture of his "#success."
[Author, futurist and life coach Lance] Wallnau was equally sure of where to hold his 2018 motivational conference: the Trump hotel in Washington. "There's a reason God calls us to certain geography at certain times," he wrote in promotional materials…He turned to Mr. Trump's "majestic" hotel again the next year.
Guests at Wallnau's 2019 extreme dream trip at the Trump Hotel D.C. proudly posed with the hotel owner's campaign slogan. And the weekend before this November's election, Wallnau—who's also a self-proclaimed prophet—is holding a three-day rally at the incumbent's D.C. hotel. When 1100 Pennsylvania first checked, room rates during the event started at $1,156 a night. The hotel has since sold out.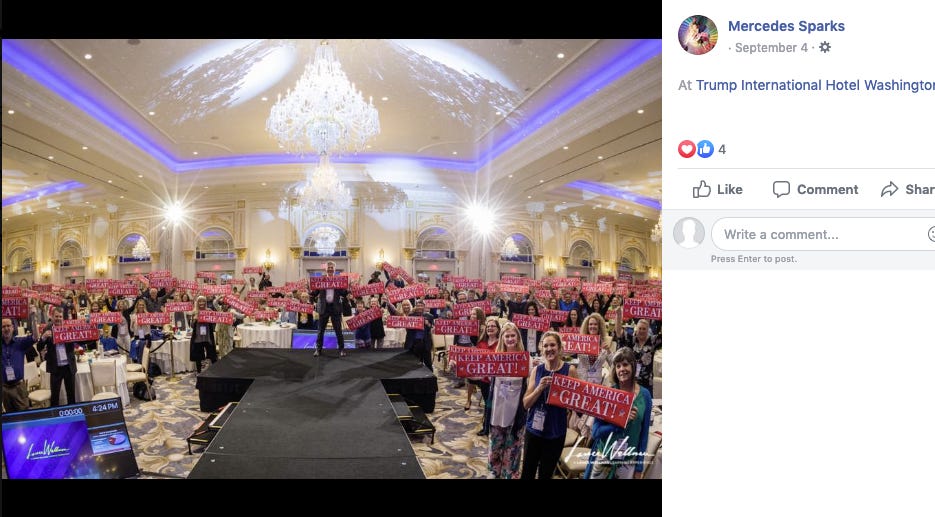 Patrons ranged from small outfits like Summit Ministries, a Colorado religious education group that paid $180,834 to host a donor conference in 2018.
As 1100 Pennsylvania reported last week, this outlay represented 2.3 percent of Summit Ministry's revenue that year.
The [Museum of the Bible] threw a fund-raiser at the hotel and held its grand opening gala there, too, spending $278,290 in all.
These two events were within three weeks of each other. The benefit cost $5,000 per person while the black-tied dedication gala was $2,500 a ticket. The museum's room block at the former gala sold out (likely generating additional revenue for the president). Secretary of Education Betsy DeVos was among the administration officials in attendance.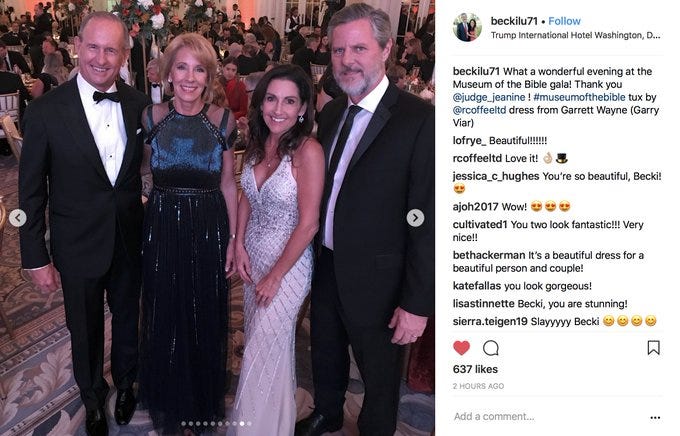 [Christian conference speaker Dutch Sheets] urged followers to book rooms for a 2018 prayer gathering, calling it a "prophetic" choice because only Mr. Trump's hotel had affordable rooms available.
This event sold out.
The Family Research Council sponsored a $2,500-a-head "Christian heritage tour and summit" at the hotel. 
According to FRC president Tony Perkins before the tour began, "a White House briefing" was tentatively on the agenda.
Representatives of at least 33 foreign countries have passed through the Washington hotel, according to the journalist Zach Everson's newsletter 1100 Pennsylvania, which chronicles comings and goings there.
Hi.
Some embassies moved their annual galas or independence commemorations to the hotel.
Embassies that partied at the president's place also include Azerbaijan, Bahrain, Kuwait (three times), and the Philippines. Ambassadors spotted there on other occasions include ones from Afghanistan, Georgia, Russia, Turkey, and the United Arab Emirates.
The FLC Group, a Vietnamese conglomerate with a commercial airline subsidiary, hosted a conference at the Washington hotel in June 2018, promoting investment opportunities in Vietnam.
First reported by your correspondent in The Daily Beast, organizers advertised this event would feature "leaders of diplomatic agencies, financial institutions, fund management companies, investment funds, enterprises and individual investors, as well as global press agencies.
Also, the article mentions two $1 million donors to Trump's inauguration. In January 2020, the D.C. attorney general sued the Trump inaugural committee and the Trump Hotel D.C., alleging the former improperly spent nonprofit funds at the latter.