Discover more from 1100 Pennsylvania
"The undisputed expert on the D.C. Trump Hotel" – David Fahrenthold of the Washington Post
Over 3,000 subscribers
Today: Cabinet members, campaign officials, bundlers, and, yes, lobbyists
Trump bundlers meet with administration and campaign staff at hotel while lobbyists hold happy hour
Trump's Cabinet members, Trump's campaign manager, and Trump's fundraisers gather today at Trump's hotel, while separately (but maybe not) come happy hour, lobbyists will mingle at the hotel's bar for their monthly Trump First Tuesday meetup.
From "Trump embraces the traditional fund-raising he once shunned" by Annie Karni and Maggie Haberman for The New York Times:
About 200 bundlers from across the country are expected to gather Tuesday at the Trump International Hotel for a series of meetings and workshops about the campaign's new fund-raising program. Vice President Mike Pence will address the group. Brad Parscale, President Trump's campaign manager, will play host. Stephen A. Schwarzman, the Wall Street billionaire, has R.S.V.P.'d yes.
Other expected notables include Kellyanne Conway, Steven Mnuchin, Lara Trump, RNC chairwoman Ronna McDaniel, and Todd Ricketts per Josh Dawsey of The Washington Post: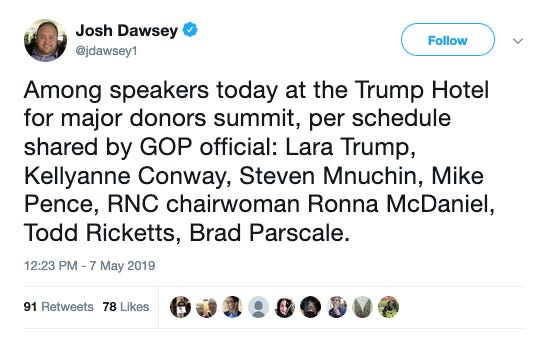 Also tonight, the hotel is hosting the monthly Trump First Tuesday happy hour from 5:30 to 8 p.m. The event's description use to call it "a business networking happy hour for government relations professionals [lobbyists] and friends." But now it's just described as a "business networking happy hour." So maybe non-lobbyist bundlers and Cabinet members will feel welcome too.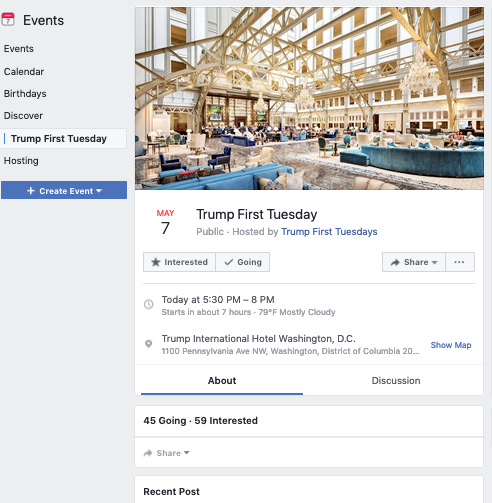 ---
Mnuchin refuses to release Trump's tax returns
Yesterday, Treasury Secretary and one-time Trump Hotel D.C. resident Steve Mnuchin declined to comply with Rep. Richard Neal's (D–MA) request for President Trump's tax returns.
From "The Daily 202: Mnuchin's refusal to release Trump's taxes recalls a treasury secretary who resisted White House pressure" by James Hohmann for The Washington Post:
Mnuchin claimed that the House Ways and Means Committee "lacks a legitimate legislative purpose" for invoking a 1924 law that explicitly states the Internal Revenue Service "shall furnish" the tax returns of any American at the request of the chairman. The secretary acknowledged recently, while under oath, that Treasury lawyers consulted with the White House Counsel's Office about the issue, even though the process was intended to be walled off. Mnuchin announced last night that the Justice Department will soon issue a legal opinion to justify his noncompliance.
Here's Mnuchin's reply to Neal: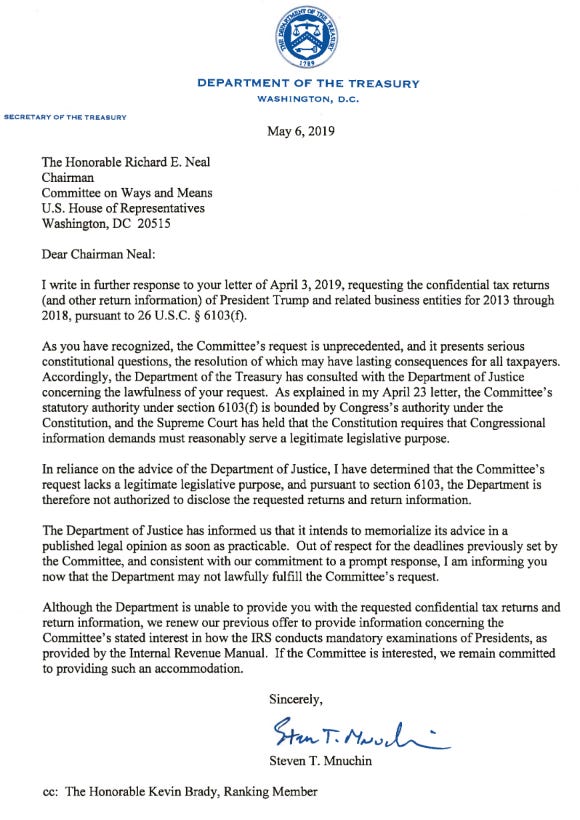 ---
Support 1100 Pennsylvania: never-redacted reporting on President Trump's D.C. hotel
We now know most of what's in the Mueller report. It's time to focus on what happens inside the Trump Hotel D.C. and the president's other businesses. Original, in-depth reporting, of course, takes time. But it's making an impact—and you can help. If you're not an 1100 Pennsylvania member, please become one. Memberships are this newsletter's sole source of revenue. Select the red "Subscribe now" button and become a member by paying just $5 a month or $50 a year. Thank you.
---
Trump Dubai golf course designer stops by White House to pick up Presidential Medal of Freedom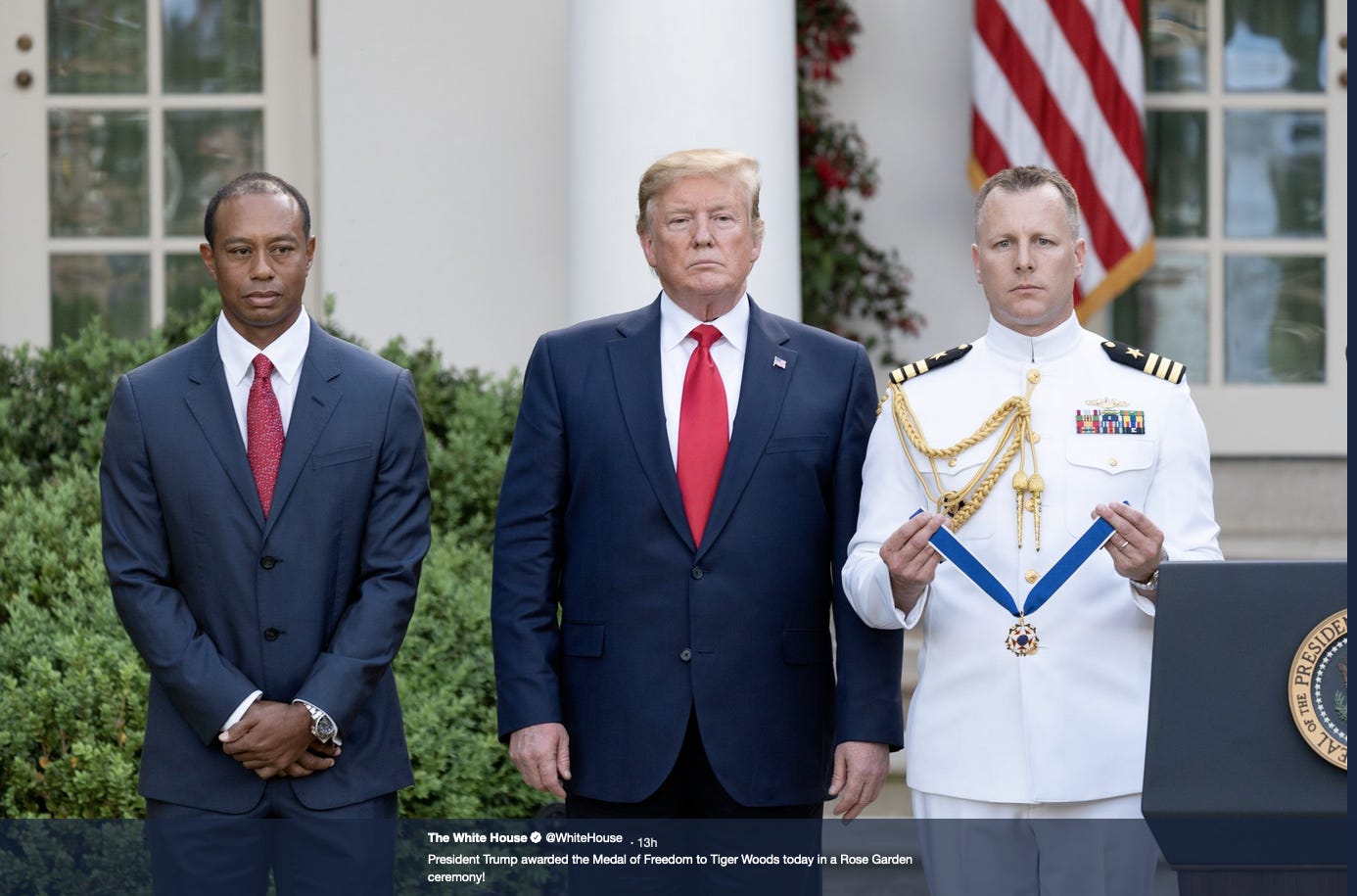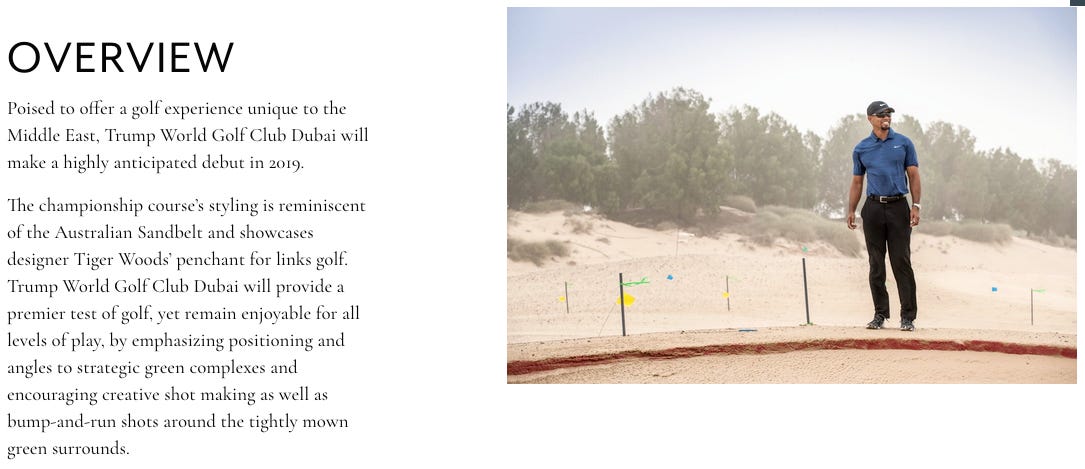 ---
Notable sightings
Trump 2016 deputy campaign manager David Bossie and Bikers for Trump's Chris Cox were at the Trump Hotel D.C. during a JEXIT pre-party, which encourages Jews to join the hotel owner's political party. The JEXIT gathering comes just a few days after LEXIT held its own event at the Trump Hotel D.C. (Earlier yesterday, by the way, "Donald Trump was incensed over a report that one of his highest-profile supporters, David Bossie, had been engaged in apparent financial self-dealing under the guise of re-electing the president," reported Asawin Suebsaeng and Lachlan Markay for The Daily Beast.)

Socialite Day McCarthy posed in a Trump shirt at the hotel's entrance.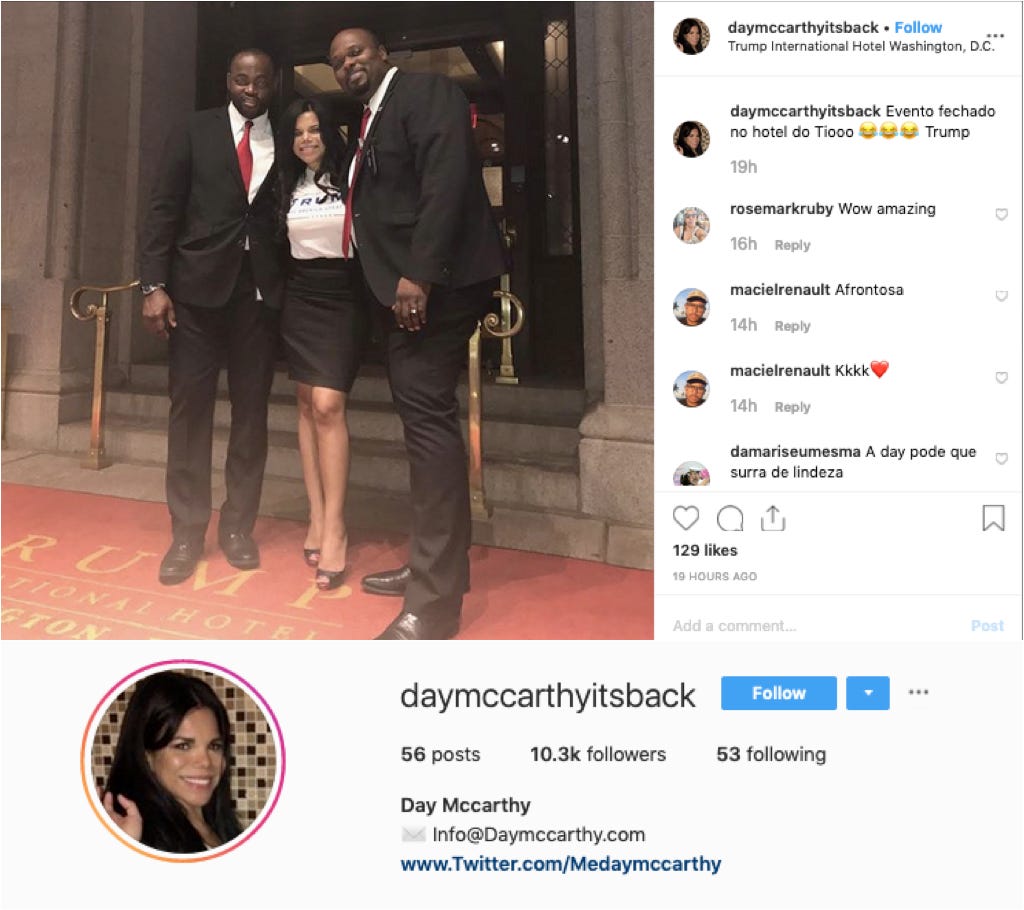 The Thornwood (N.Y.) fire department held its annual inspection and awards ceremony at Trump's Westchester golf course on May 4.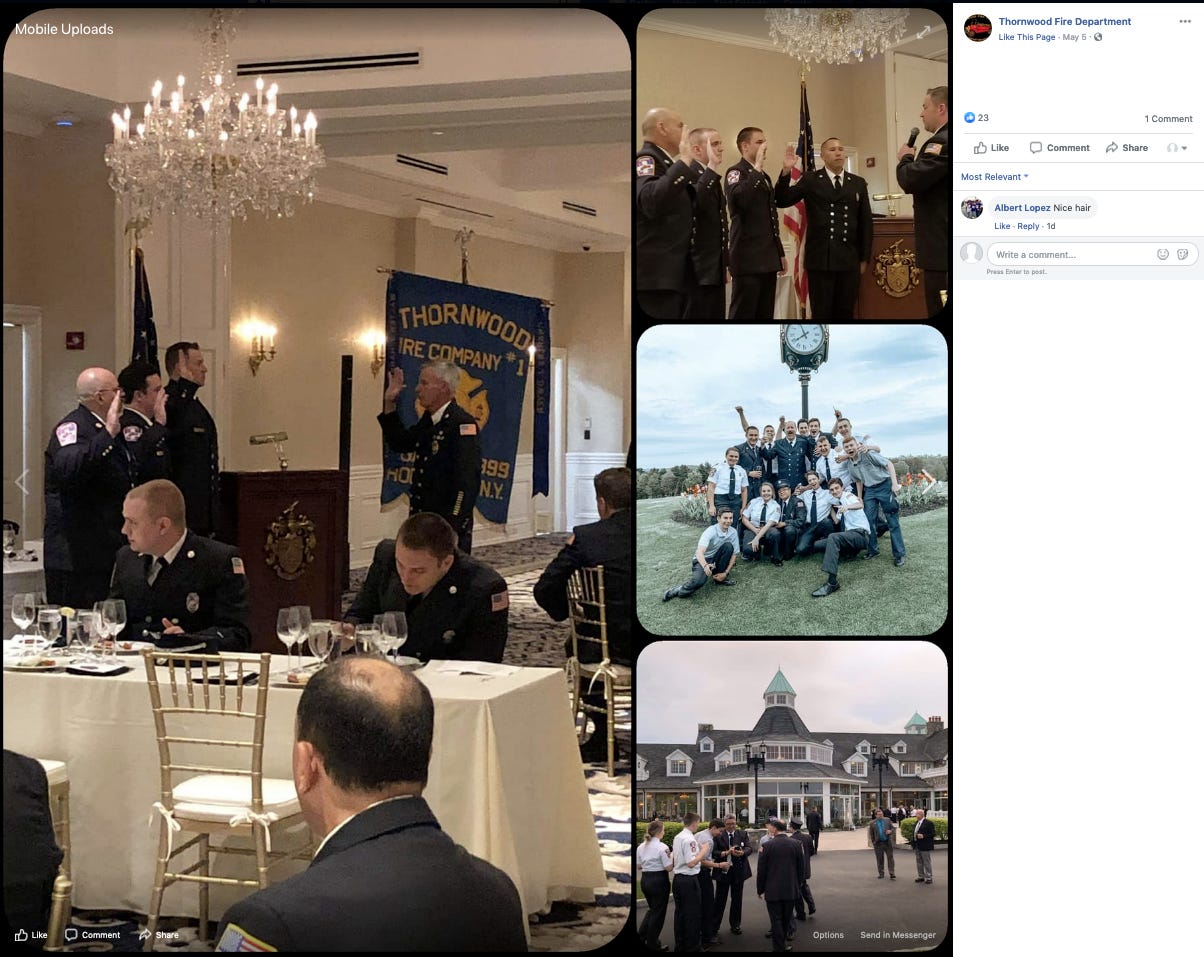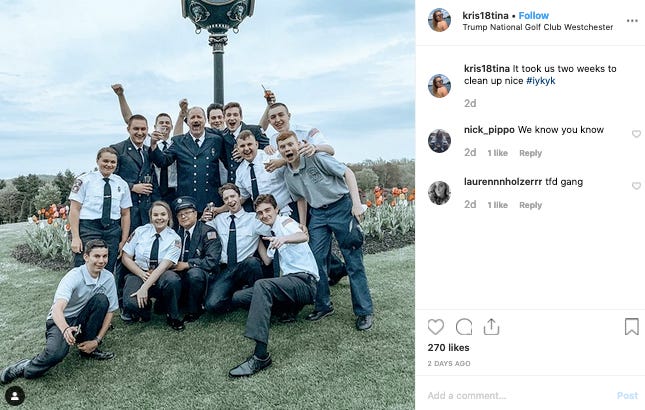 Trump Turnberry hosted a charity that benefits people suffering with mental health issues, the Kris Boyd Charity (Boyd is a pro soccer player in Scotland).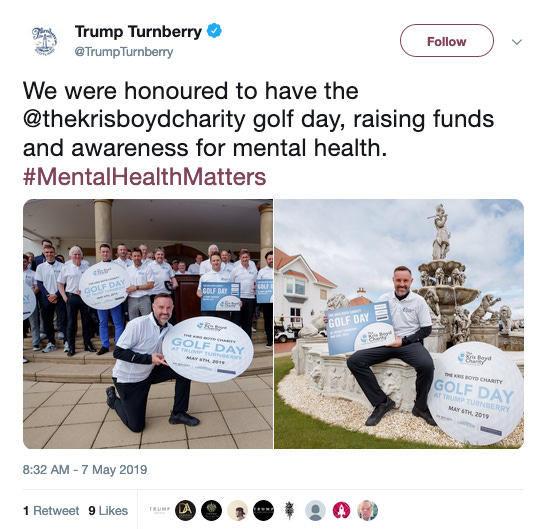 ---
Other Trump Organization news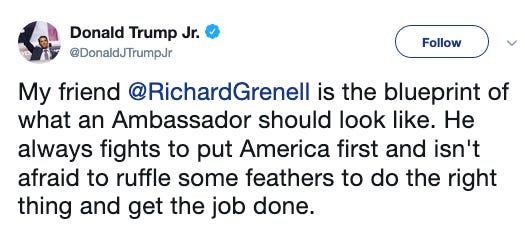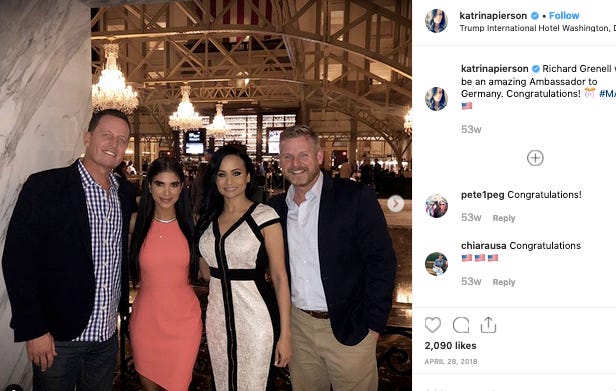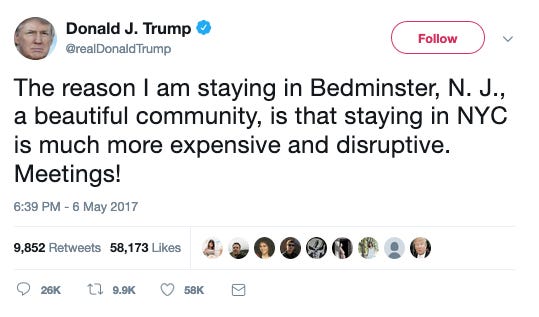 ---
House investigations, current status (latest change, May 7, 2019)
---
President Trump chose not to divest; Americans need to know who's paying him
Unlike his predecessors, Donald Trump did not divest his businesses upon becoming U.S. president. Think that may be a problem? Become an 1100 Pennsylvania member, and support reporting on who's spending money at the president's businesses—and what they may be getting in return. Memberships are this newsletter's sole source of revenue. Select the red "Subscribe now" button and become a member by paying just $5 a month or $50 a year. Thank you.
---
Legal cases, current status (latest change, May 6, 2019)
D.C. and MD attorneys general's emoluments lawsuit (district court docket, appellate court docket)—

Official capacity—On Dec. 20, 2018, the 4th U.S. Circuit Court of Appeals ruled it would hear the president's appeal of district court rulings that allowed the case to proceed to discovery, and the appellate court halted discovery in the case. Discovery had started Dec. 3 and was scheduled to run through Aug. 2, 2019, with the AGs having subpoenaed the Trump Organization, including its Scottish golf courses; the U.S. Departments of Agriculture, Commerce, Defense, and Treasury and the GSA; and the state of Maine. Oral arguments on the appeal occurred on March 19; by all accounts the three-judge panel (all Republican appointees, including one who was a selection of President Trump's) were skeptical of the AGs' case. D.C. AG Karl Racine pledged to take the case to the U.S. Supreme Court if necessary.

Individual capacity—On Dec. 14, Trump's personal attorneys appealed the denial of their motion to dismiss the case, also to the 4th U.S. Circuit Court of Appeals. On Dec. 19, the AGs replied to Trump's motion for a stay pending that appeal by voluntarily dismissing the claims against Trump in his "individual capacity to allow the claims against President Trump in his official capacity to move forward expeditiously." (The AGs only brought suit against Trump in his individual capacity after the judge suggested they do so.) Trump's personal attorneys, on Dec. 21, opposed the motion to dismiss at the district level, saying the appeals court now has jurisdiction and accusing the AGs of "gamesmanship."

Democratic senators and representatives' emoluments lawsuit—On Sept. 28, Judge Emmet G. Sullivan ruled that the legislators have standing to sue. Trump's Justice Department attorneys filed an interlocutory appeal on Oct. 22. On Jan. 30, 2019, the plaintiffs' filed a notice of supplemental authority, notifying the court of the GSA inspector general's report that criticized GSA for failing to consider if the Trump Hotel D.C.'s lease was in compliance with the Constitution after Trump became president. Two days later, the president's attorneys argued that the IG's conclusion was not inconsistent with Trump's argument, but that the judge should ignore that report anyway because the IG has no expertise in interpreting or applying the foreign emoluments clause. On April 30, Sullivan denied Trump's motion to dismiss the suit. The president's attorneys have a supplemental brief due on May 14, although they've requested an extension to May 28.

CREW et. al's emoluments lawsuit—In February 2018, CREW appealed its suit being dismissed for lack of standing to the 2nd U.S. Circuit Court of Appeals. Oral arguments on that motion were held on Oct. 30.

Cork's unfair competition lawsuit—Judge Richard J. Leon dismissed the case on Nov. 26, 2018, writing "Cork has failed to state a claim for unfair competition under D.C. law." On Dec. 10, Cork's attorneys filed a notice of appeal and on Jan. 10, 2019 they submitted a statement of issues to be raised. A briefing schedule was set on March 5 with Cork's brief due on April 15, the president's brief due on May 15, and Cork's reply to the president's brief due on June 5. On April 11, however, Cork's attorneys requested a 30-day extension, to which Trump's attorneys consented—as did the court the following day.

Employees' class-action suit alleging racial discrimination—Two of the three plaintiffs did not appear at a status hearing on Jan. 25, 2019; their cases were moved to arbitration. Via email, their attorney, A.J. Dhali, said his clients did not appear at the hearing because their case already had been moved to arbitration last year. The next status hearing is scheduled for Oct. 4.
---
Health inspections, current status (latest change, Aug. 10, 2018)
❌Hotel: five violations on May 7, 2018; two were corrected on site

❌BLT Prime and Benjamin Bar: nine violations on Aug. 10, 2018

❌Sushi Nakazawa: two violations on Aug. 10, 2018

✔️Banquet kitchen: no violations on Aug. 10, 2018

❌Pastry kitchen: two violations on Aug. 10, 2018

✔️Gift shop: no violations on May 7, 2018

❌Employee kitchen and in-room dining: five violations on Aug. 10, 2018; two were corrected on site
---
Is the Trump Organization selling merchandise that depicts the White House? (latest change, March 21, 2019)
Yes.
---
One thing that (probably) has nothing to do with Trump's businesses
"Alexa has been eavesdropping on you this whole time" by Geoffrey A. Fowler for The Washington Post
---
Thanks for reading. If you like what you saw, tell someone—and support this work by becoming a member. If you've been forwarded this newsletter, subscribe for yourself at zacheverson.substack.com. Questions? Read our FAQ/manifesto. Tips or feedback? Contact me, Zach Everson, securely via email at 1100Pennsylvania@protonmail.com or on Signal at 202.804.2744.