Discover more from 1100 Pennsylvania
"The undisputed expert on the D.C. Trump Hotel" – David Fahrenthold of the Washington Post
Over 3,000 subscribers
Trump files to appeal emoluments case
President's Justice Department attorneys ask to put Congressional Democrats' suit on hold to allow for appeal
From "Justice Department seeks to appeal emoluments case against Trump" by Sharon LaFraniere for The New York Times:
The Justice Department moved on Tuesday to challenge a federal district judge's ruling last month that allowed congressional Democrats to proceed with a lawsuit claiming that President Trump had violated the Constitution by profiting from his businesses while in office.

In a filing, the department asked Judge Emmet G. Sullivan of the United States District Court for the District of Columbia to allow them to appeal his ruling and to halt the proceedings in the meantime.
The Justice Department similarly appealed a district court's ruling in the emoluments lawsuit filed by the D.C. and Maryland attorneys general. Oral arguments in that appeal took place in March and, by all accounts, went quite well for the president.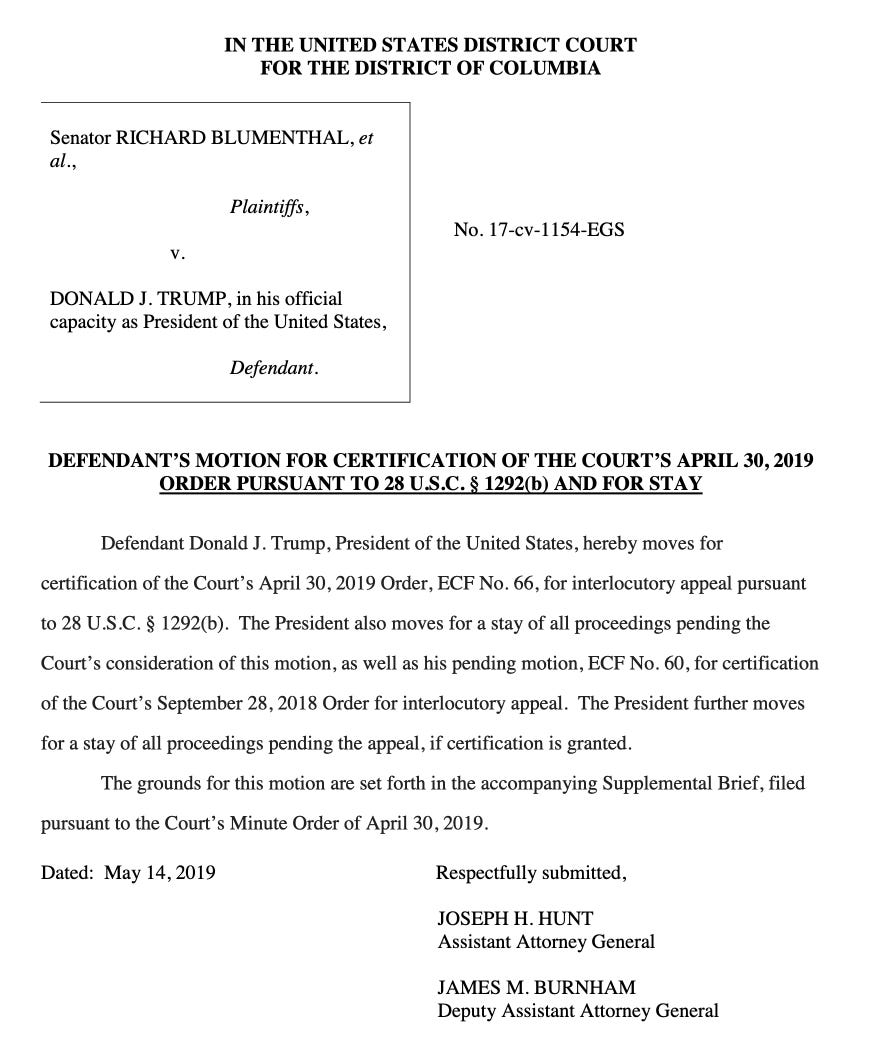 ---
American Pro-Israel PAC returned to Mar-a-Lago to mark anniversary of U.S. embassy opening Jerusalem
Last night the American Pro-Israel PAC partied at Mar-a-Lago to celebrate the one-year anniversary of the club's owner relocating the U.S. embassy in Israel from Tel Aviv to Jerusalem.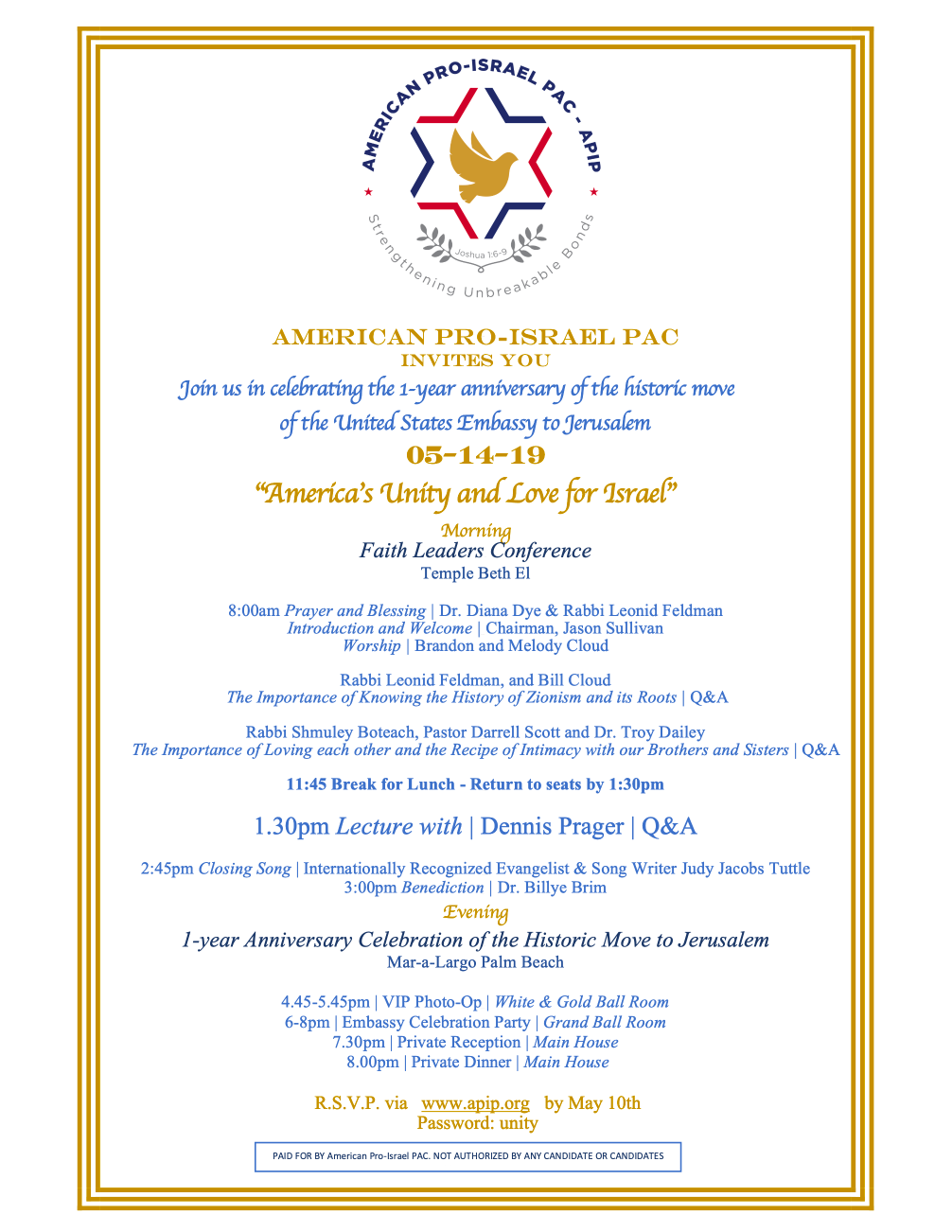 According to social-media posts, the event included praise, worship, and dinner. As one pastor wrote, "I've been to a lot of places but the President's house down in the south is pretty cool." Prominent pro-Trump pastor Mark Burns was among the speakers.
Last night's gala was at least the third event "America's only conservative pro-Israel PAC" has hosted at Mar-a-Lago in the past seven months. In March, it held a fundraiser for itself there. While it's not clear how APIP assists Israel beyond offer prayers, it does plenty to help the U.S. president's business. As 1100 Pennsylvania reported in March:
From its founding in September 2018 through the end of that year, APIP spent $38,871.77 at Mar-a-Lago, according to Federal Election Commission records. In total, last year it raised $237,660 and spent $173,825.43—meaning 16 percent of APIP's income and 22 percent of its total disbursements went to Mar-a-Lago. It gave no money to campaigns or other PACs, although it did pay three of its board members a total of $45,000.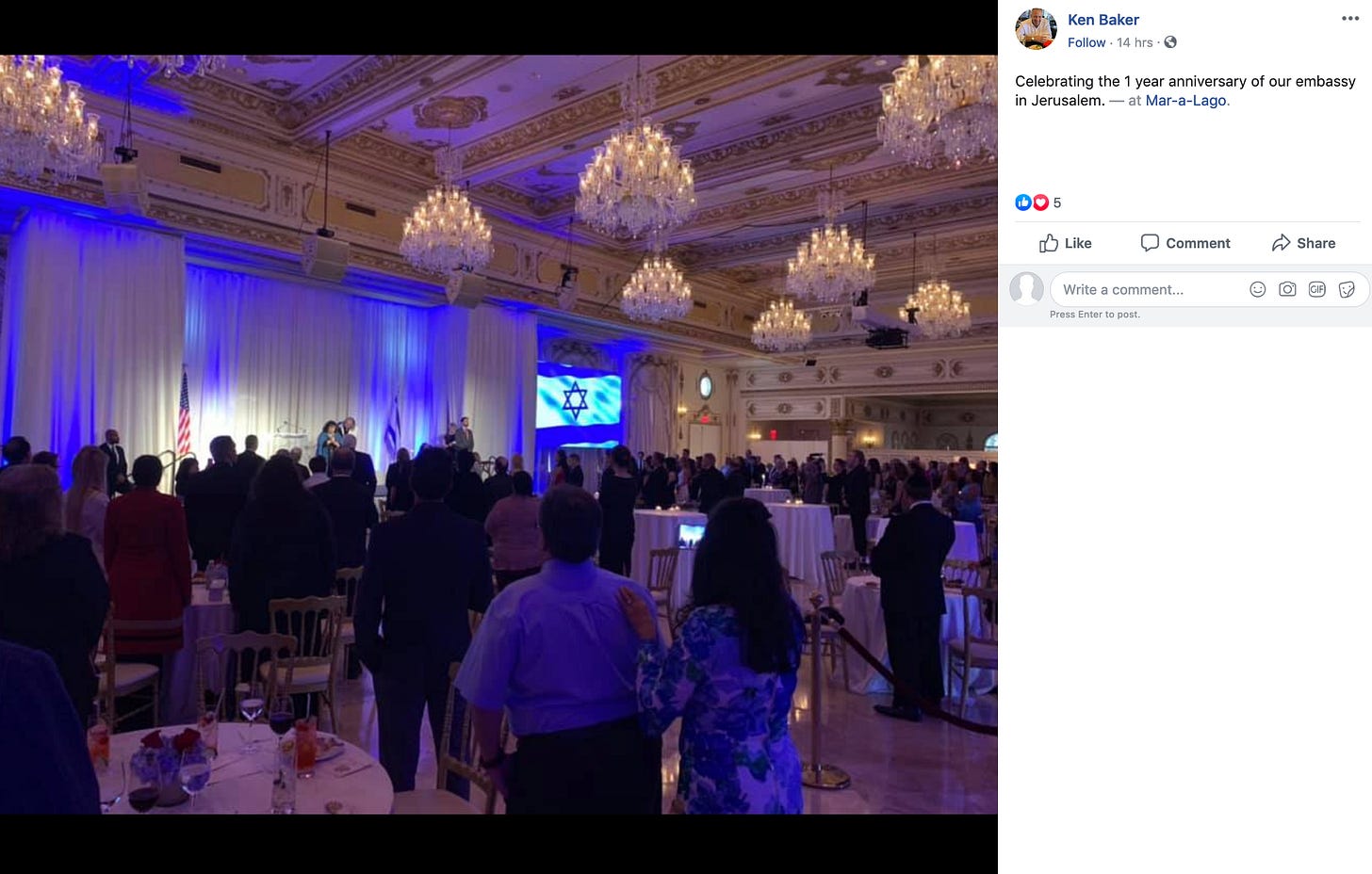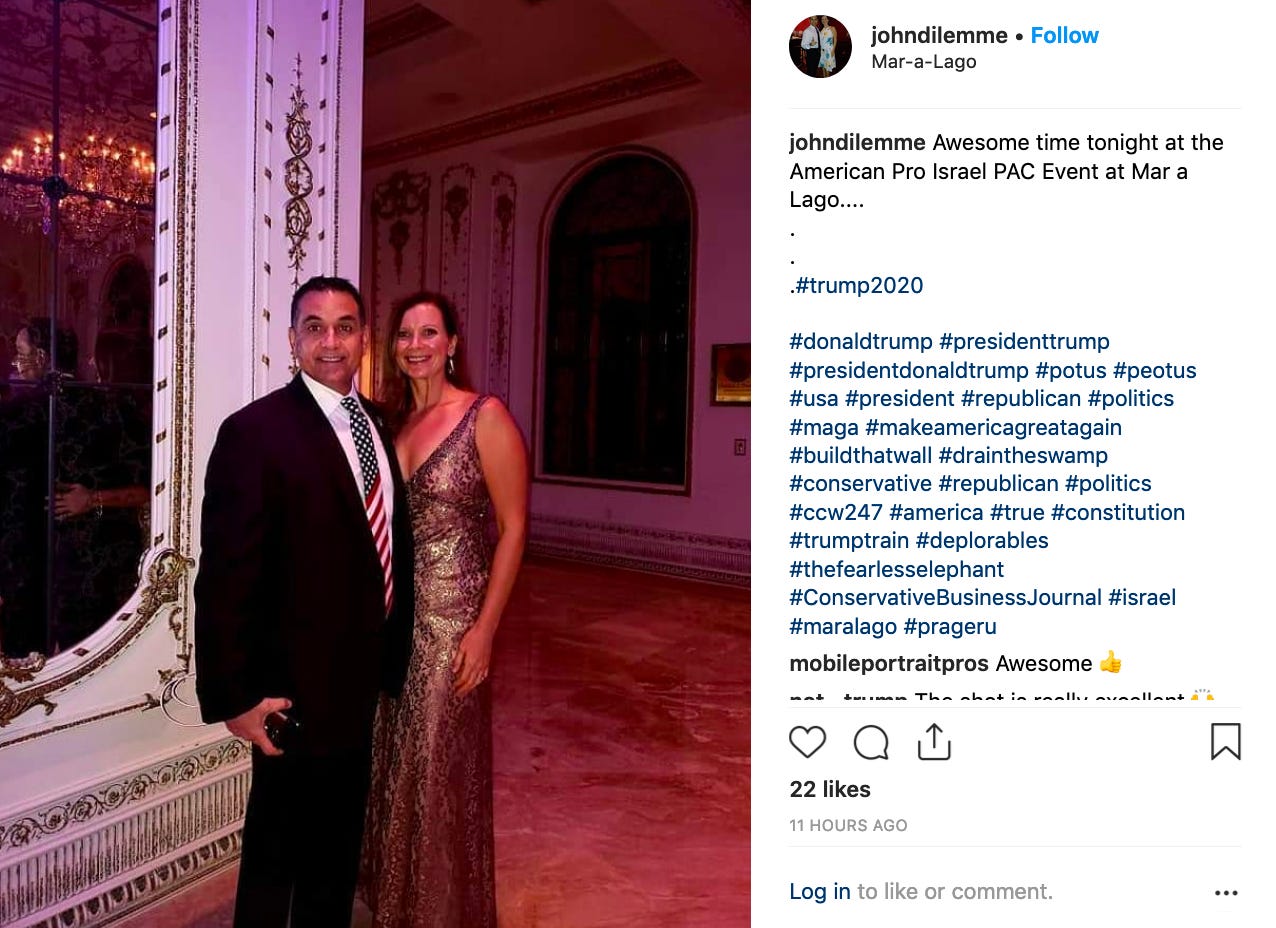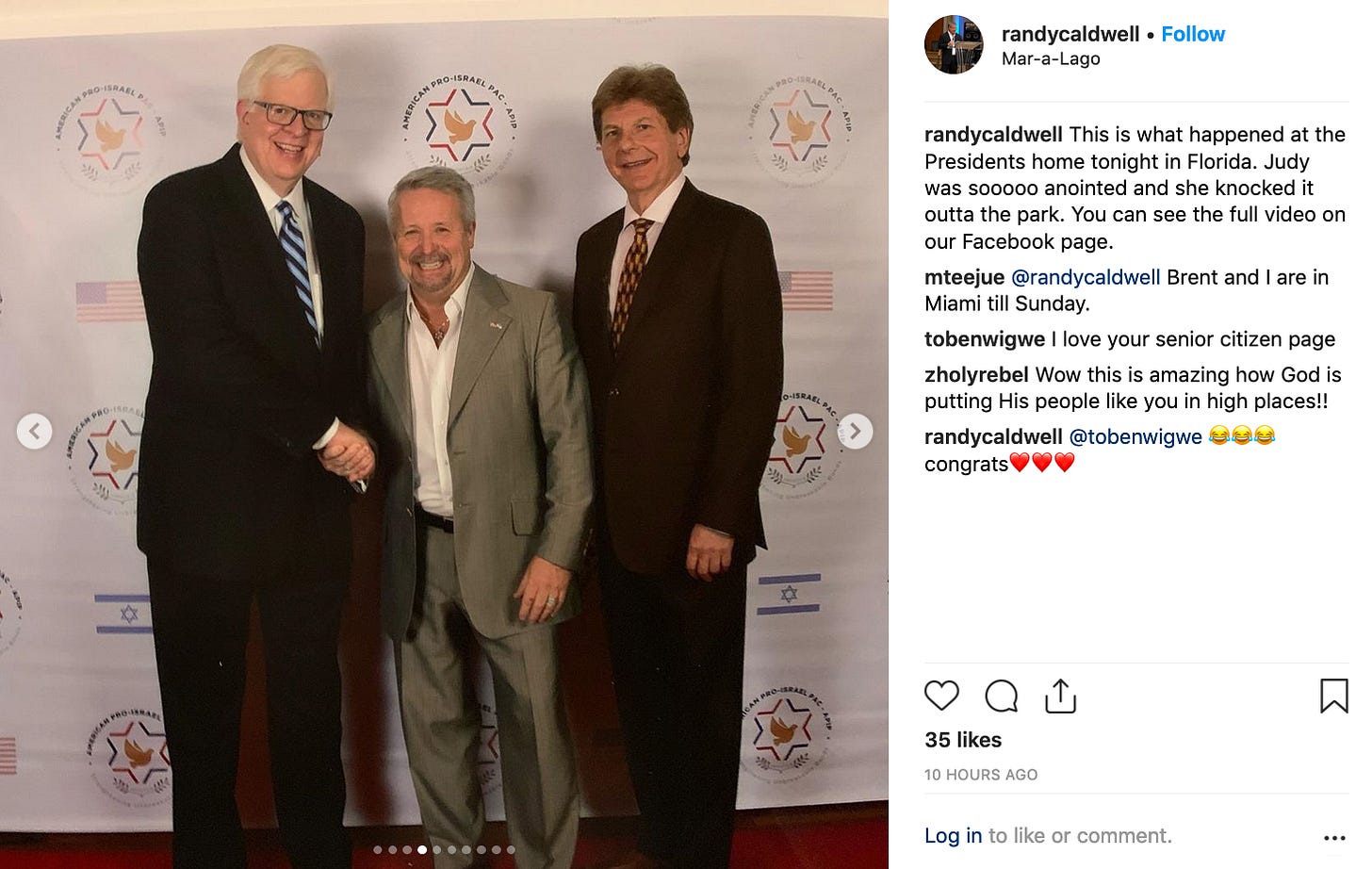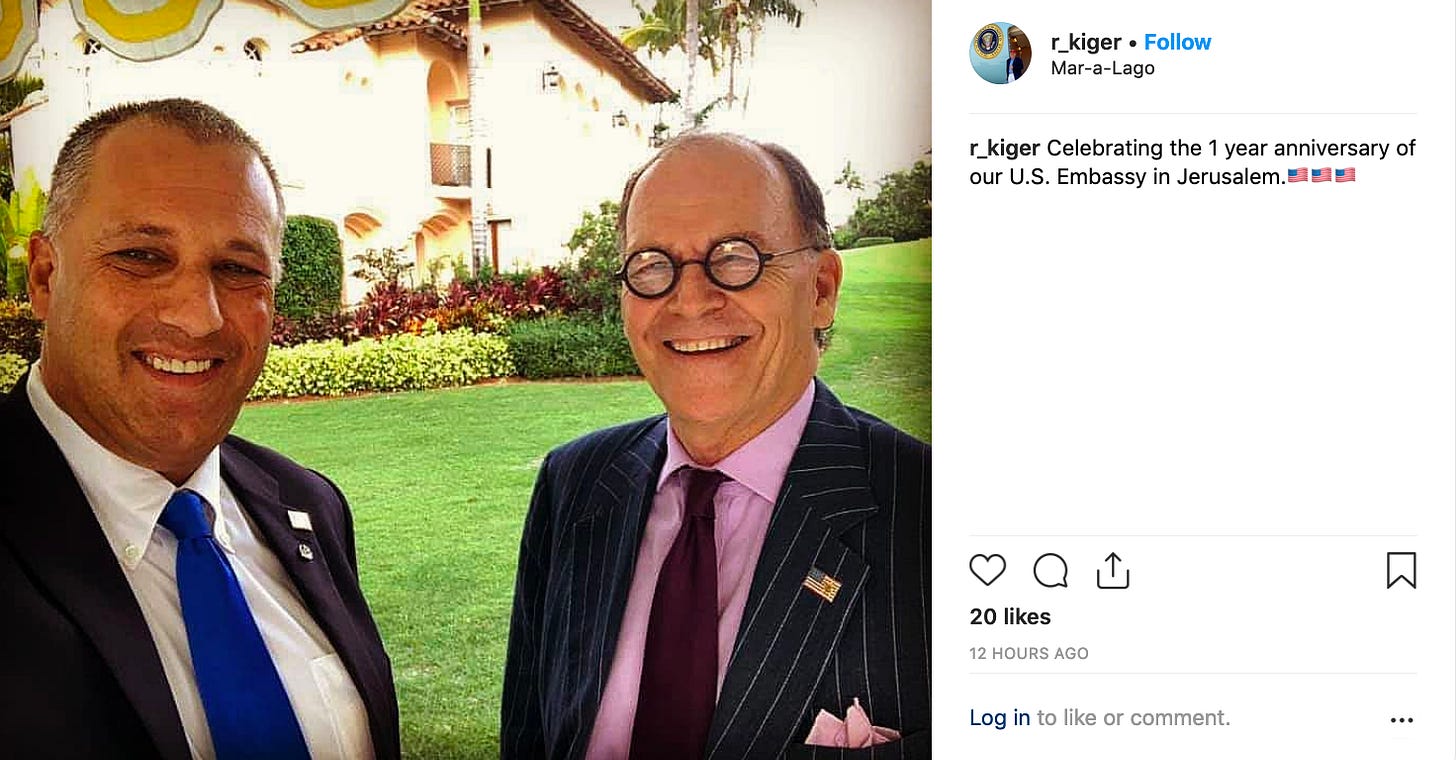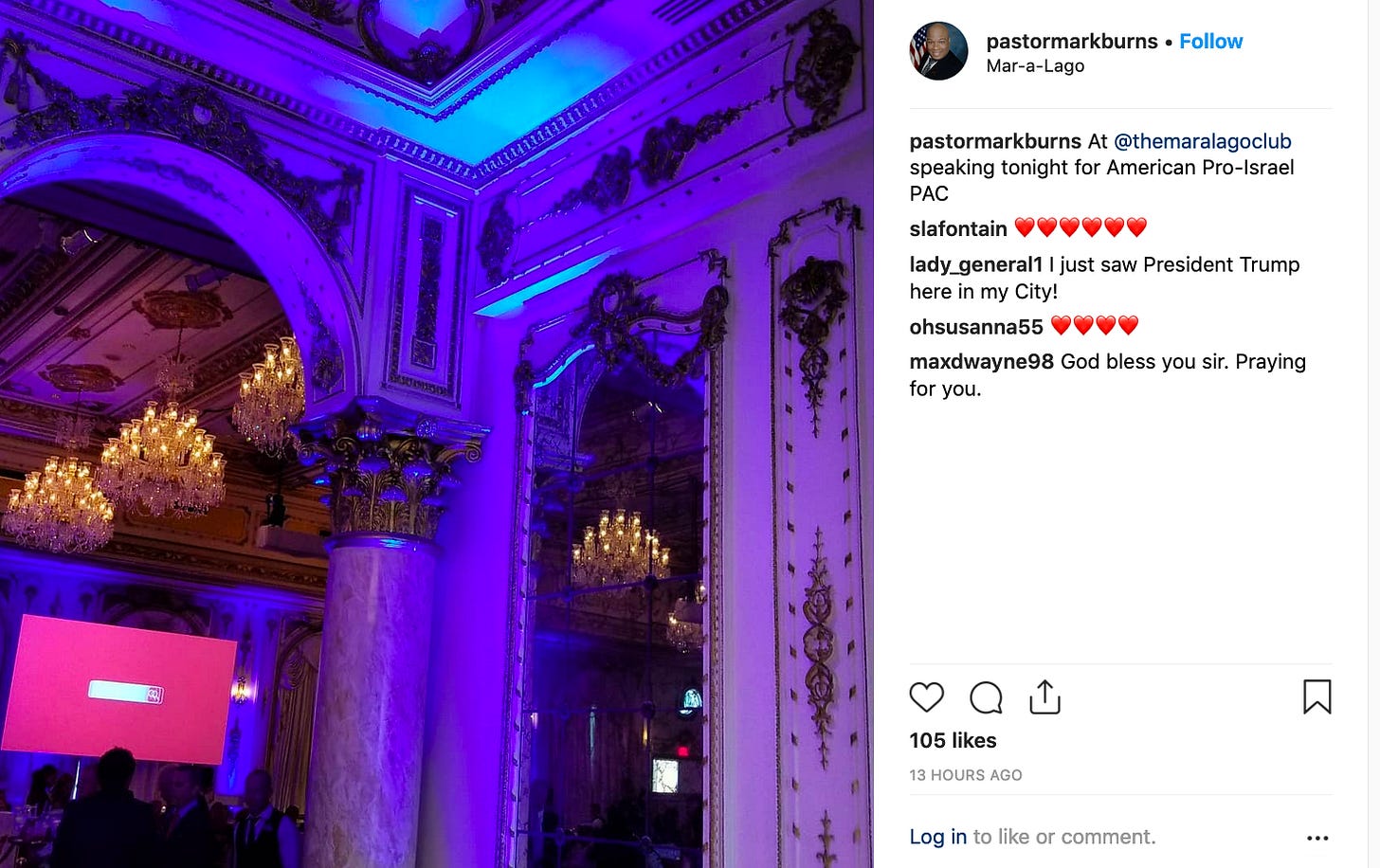 ---
Support 1100 Pennsylvania: never-redacted reporting on President Trump's D.C. hotel
We now know most of what's in the Mueller report. It's time to focus on what happens inside the Trump Hotel D.C. and the president's other businesses. Original, in-depth reporting, of course, takes time. But it's making an impact—and you can help. If you're not an 1100 Pennsylvania member, please become one. Memberships are this newsletter's sole source of revenue. Select the red "Subscribe now" button and become a member by paying just $5 a month or $50 a year. Thank you.
---
Trump National D.C. hosted a St. Jude's fundraiser. Another one is scheduled for Bedminster.
Yesterday Trump National Golf Club Washington, D.C. (which is in Sterling, Virginia) hosted the St. Jude Open. And in July, Trump Colts Neck will welcome the inaugural St. Jude New Jersey Golf Classic.
The Trump Organization, especially Eric Trump, has a close relationship with the Memphis-based children's research hospital—raising funds for it and profiting while doing so. From "How Donald Trump shifted kids-cancer charity money into his business" by Dan Alexander for Forbes:
To date, [Eric Trump] has directed more than $11 million [to the St. Jude Children's Research Hospital]…He has also helped raise another $5 million through events with other organizations.

The best part about all this, according to Eric Trump, is the charity's efficiency: Because he can get his family's golf course for free and have most of the other costs donated, virtually all the money contributed will go toward helping kids with cancer. "We get to use our assets 100% free of charge," Trump tells Forbes.

That's not the case. In reviewing filings from the Eric Trump Foundation and other charities, it's clear that the course wasn't free—that the Trump Organization received payments for its use, part of more than $1.2 million that has no documented recipients past the Trump Organization.
Anyway, sponsorship opportunities for yesterday's fundraiser at Trump National ranged from $1,000 to $50,000. Companies taking advantage of the opportunity to support an event at one of the U.S. president's businesses included
CBSI, a D.C.-area building restoration, repair, and waterproofing firm that has worked on several government properties—$25,000

MGM—$10,000

Wells Fargo Advisors—$7,500

Guaranteed Rate, a mortgage firm—$5,500
According to the event's website, the St. Jude Open included "breakfast, lunch, 18 holes of golf, a cocktail and awards reception, dinner program and live and silent auctions." Tickets were $1,250 for the entire event or $200 to attend just the reception. Prices for the New Jersey fundraiser are lower, but the golf tournament has already sold out.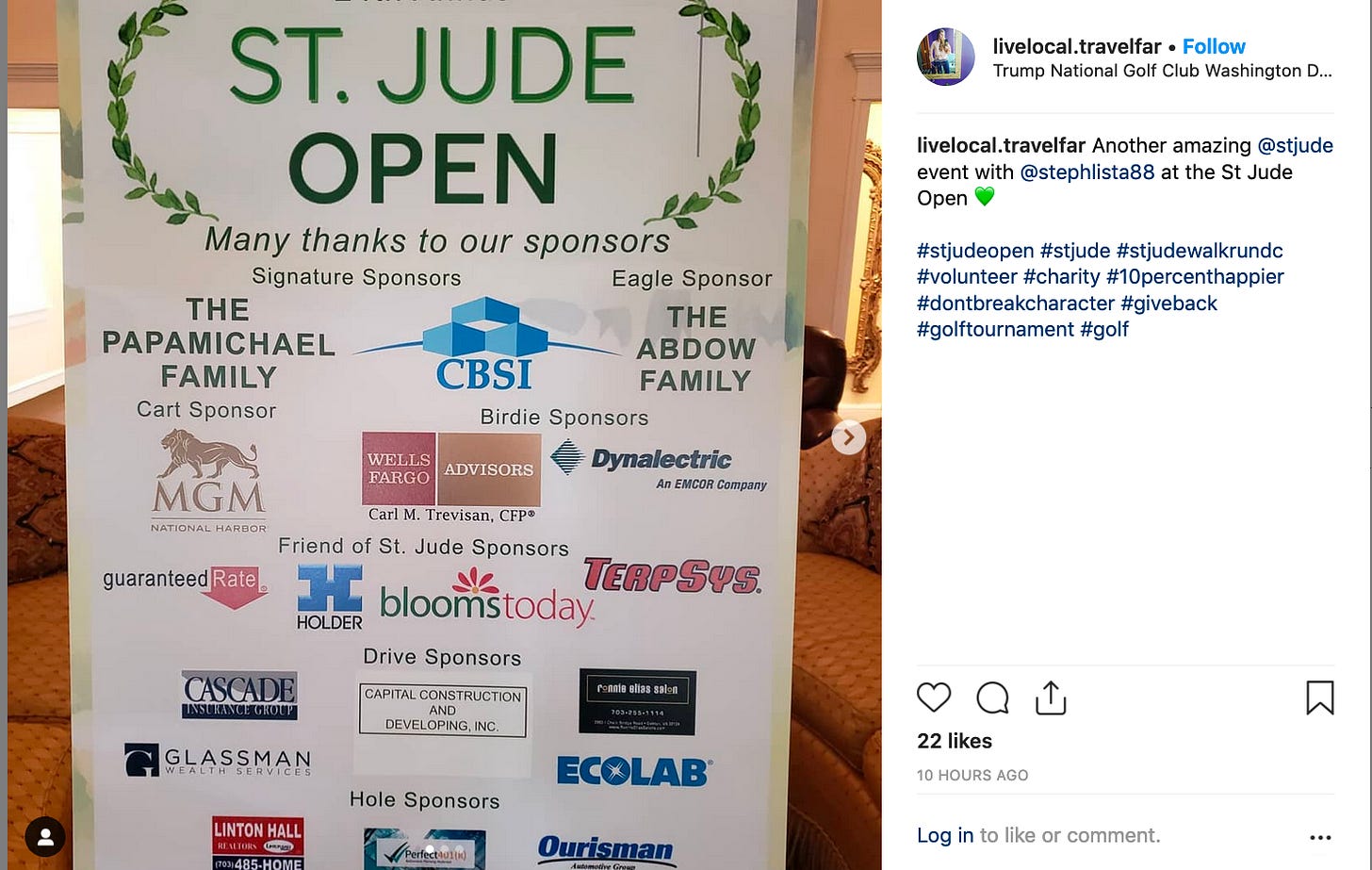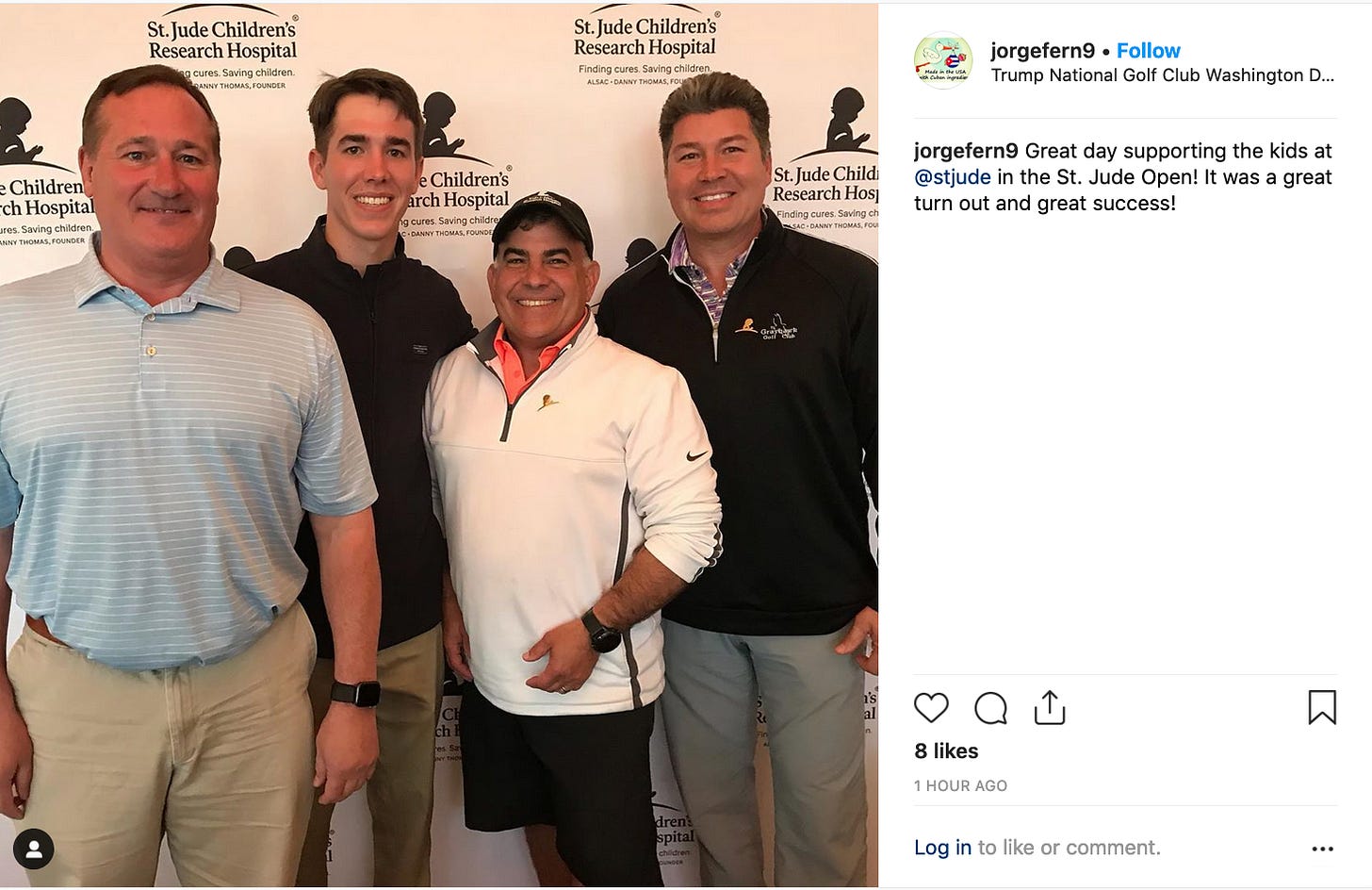 ---
Notable sightings
Trump campaign senior advisor Katrina Pierson and Louisiana police officers celebrated national police week.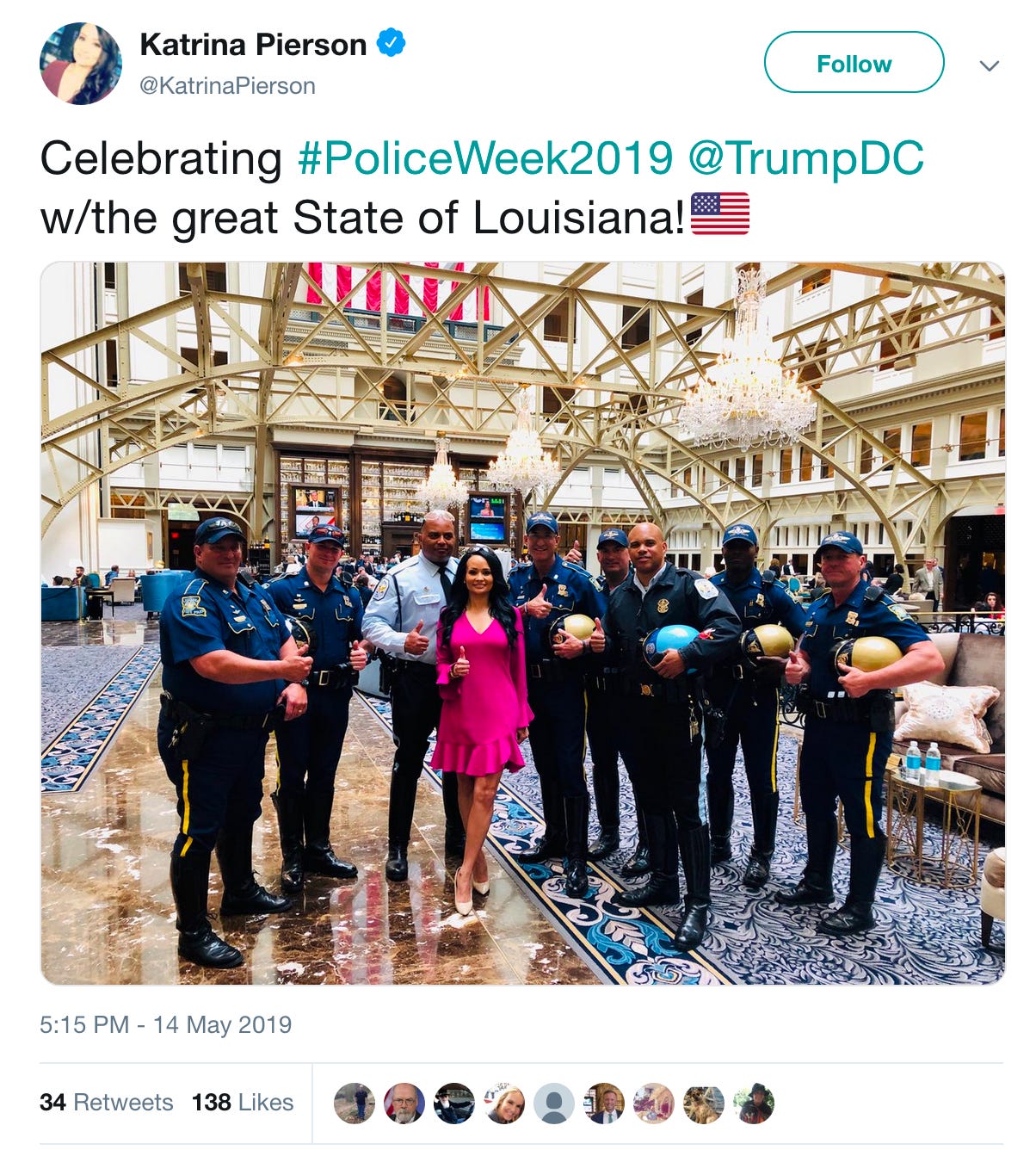 They weren't the only police officers at the U.S. president's hotel either.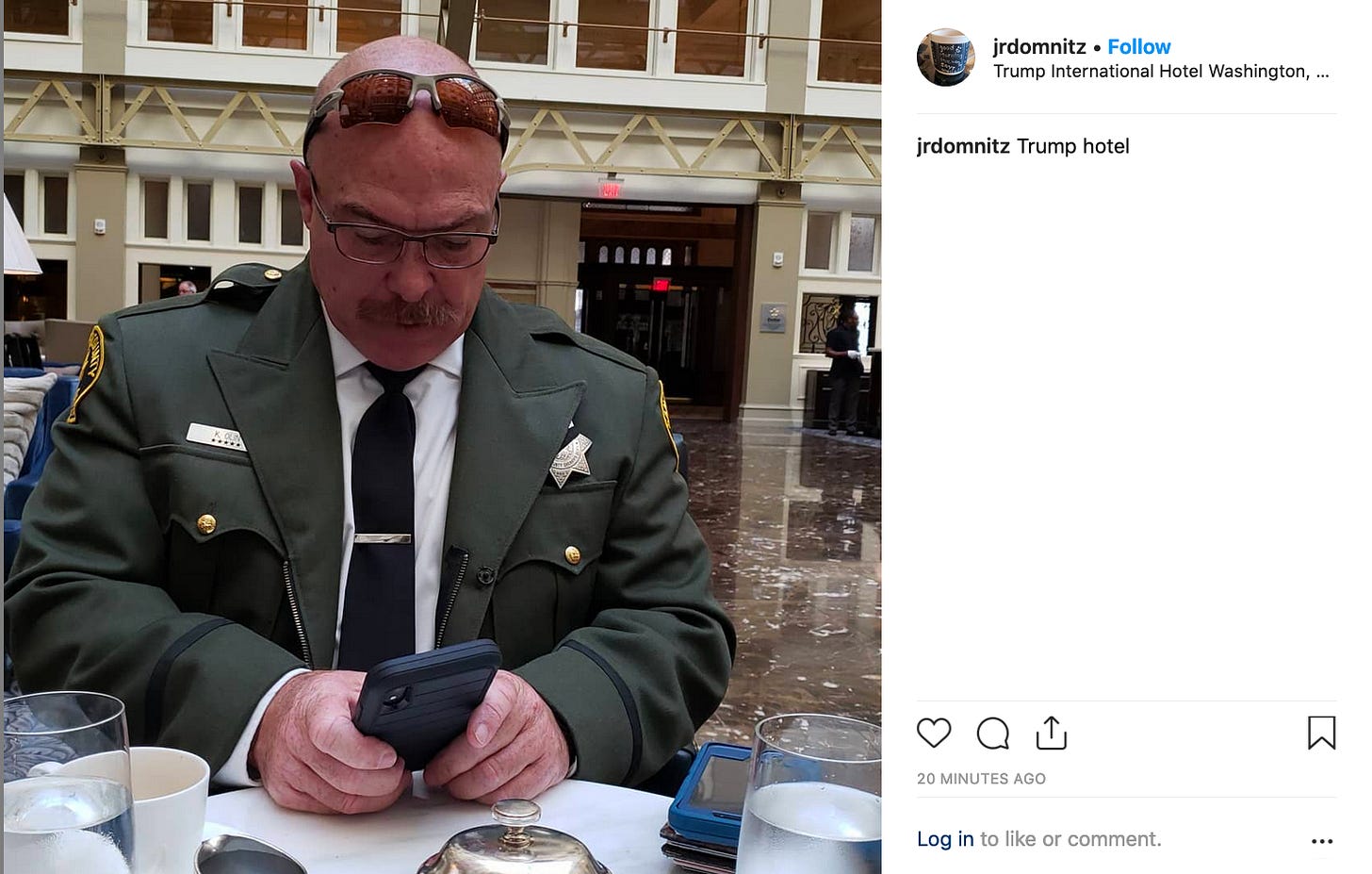 The deputy press secretary at the National Republican Congressional Committee, Natalie Baldassarre, treated her mom to "an unforgettable evening" at the head of the party's hotel.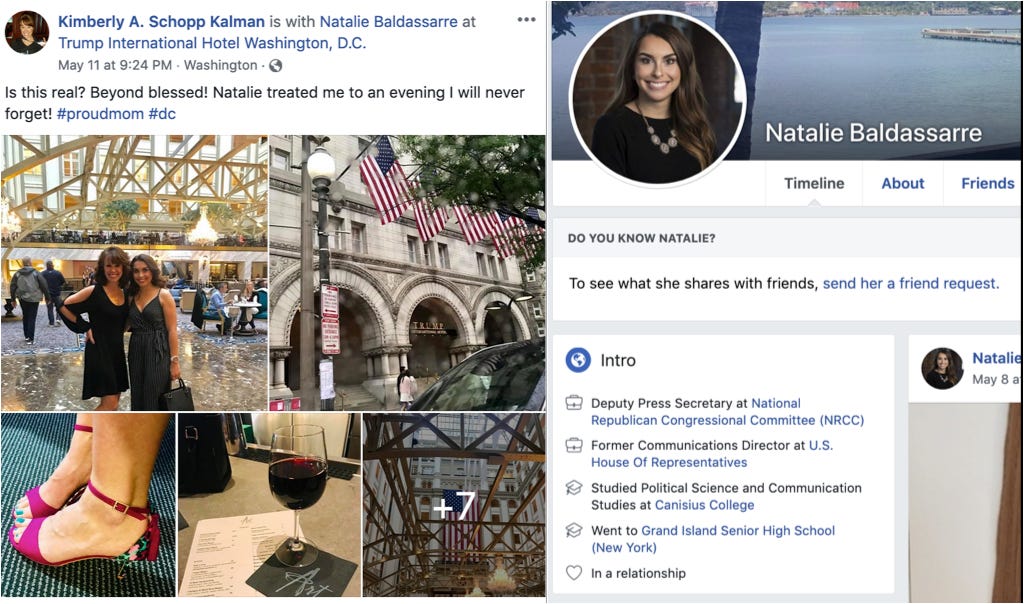 A Trump supporter is looking into booking the president's hotel on election night 2020 to be near celebrities and politicians.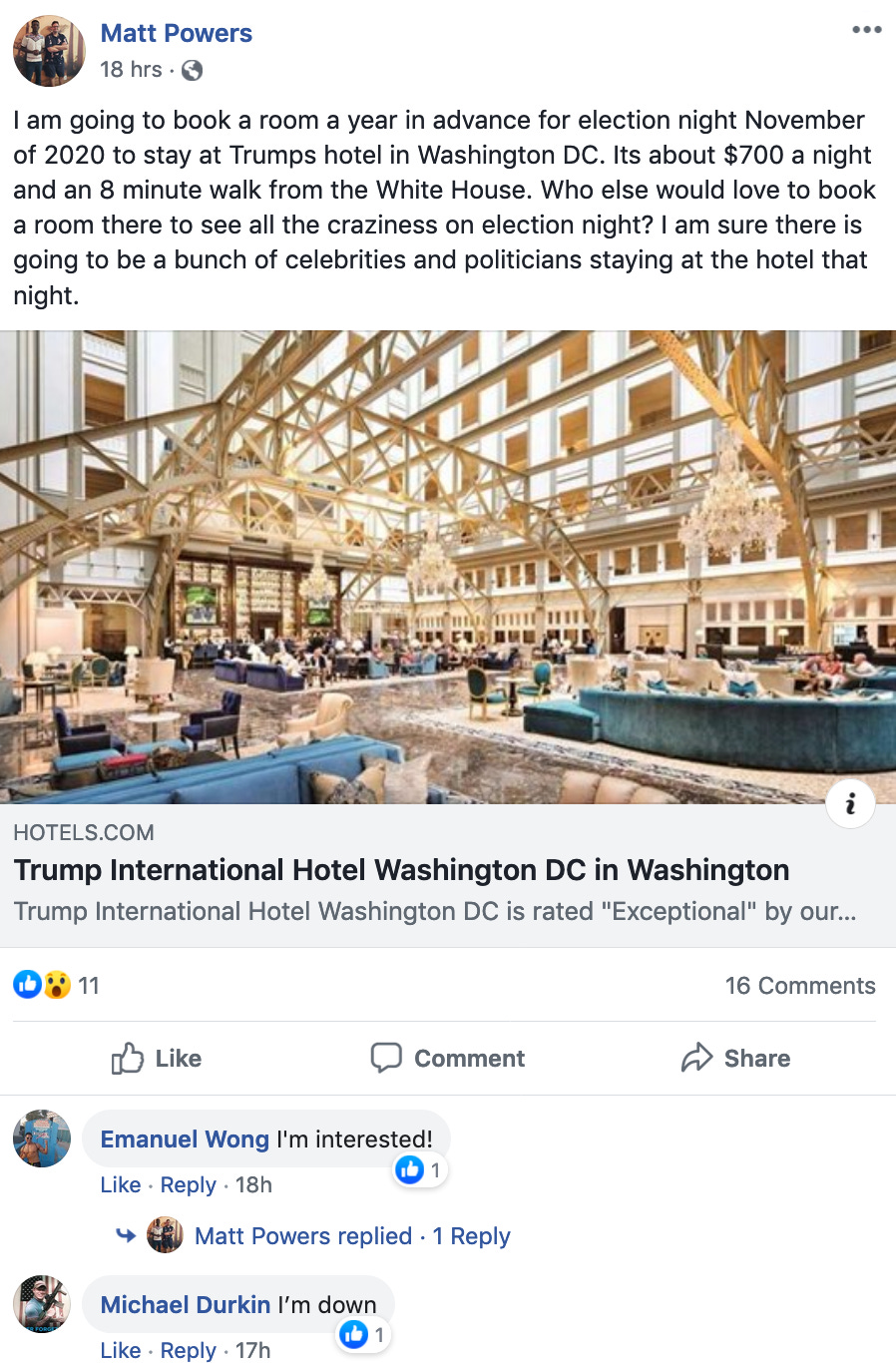 In February, White House spokesperson Sarah Huckabee Sanders promoted her boss's private club.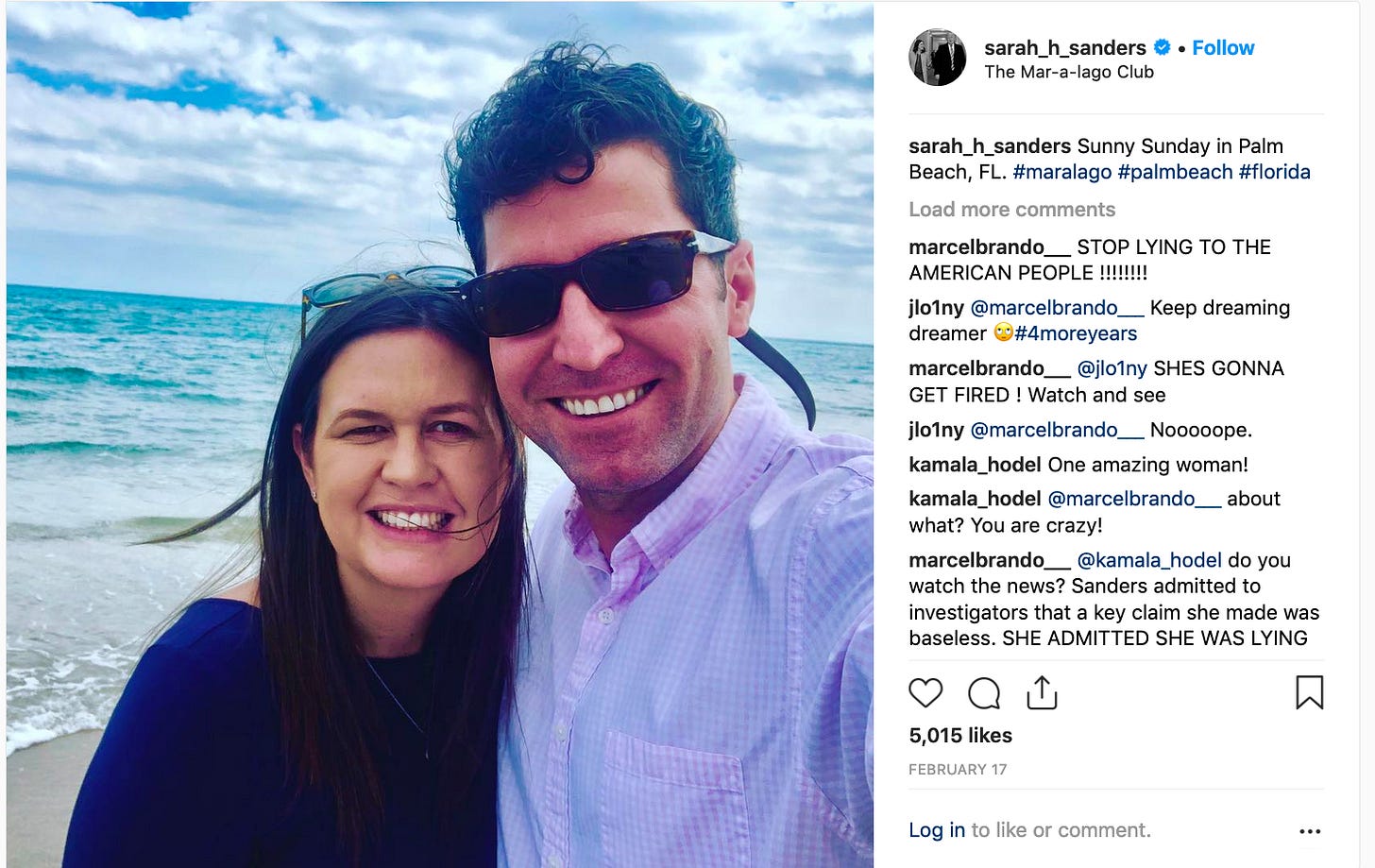 ---
Other Trump Organization news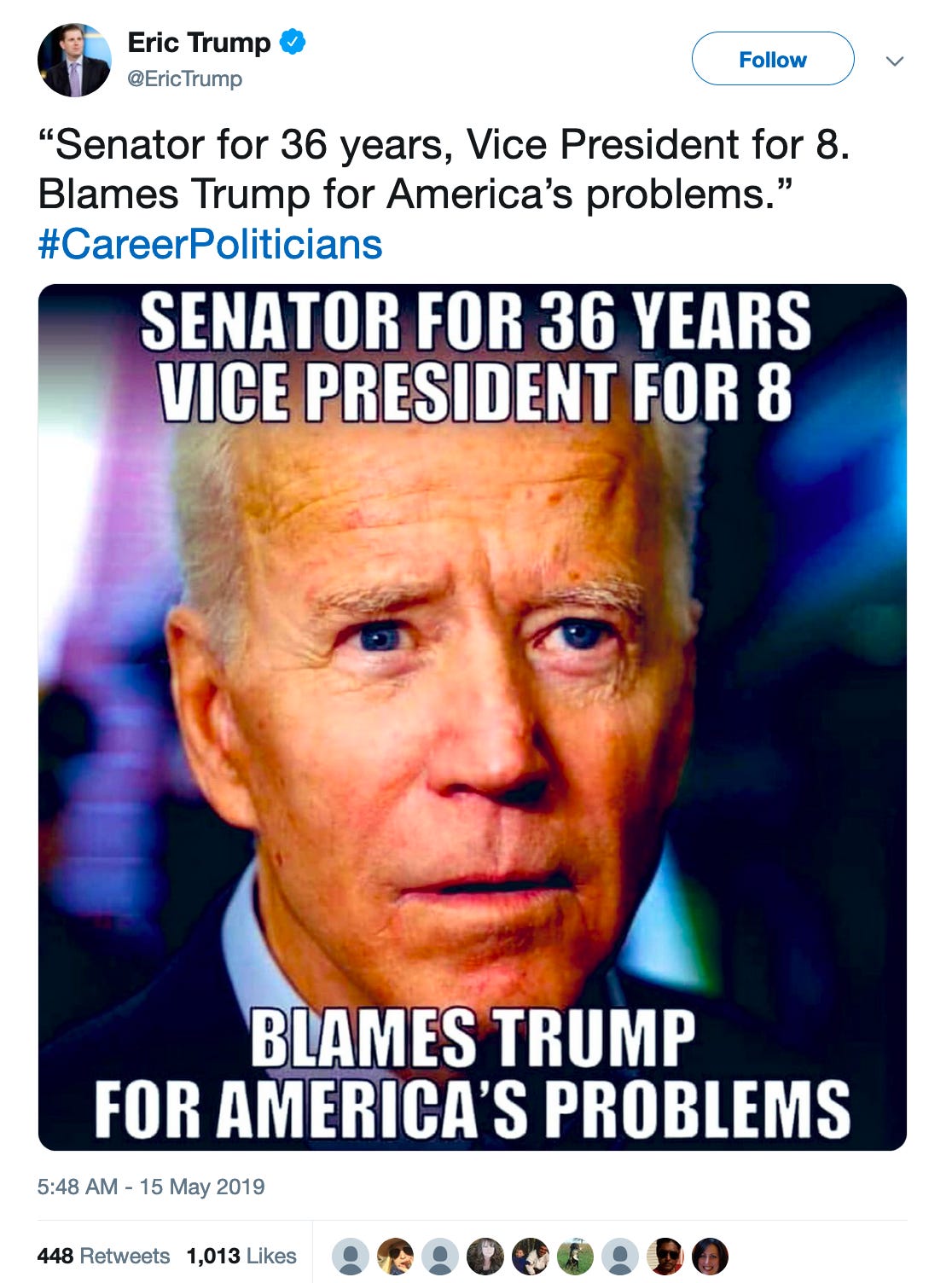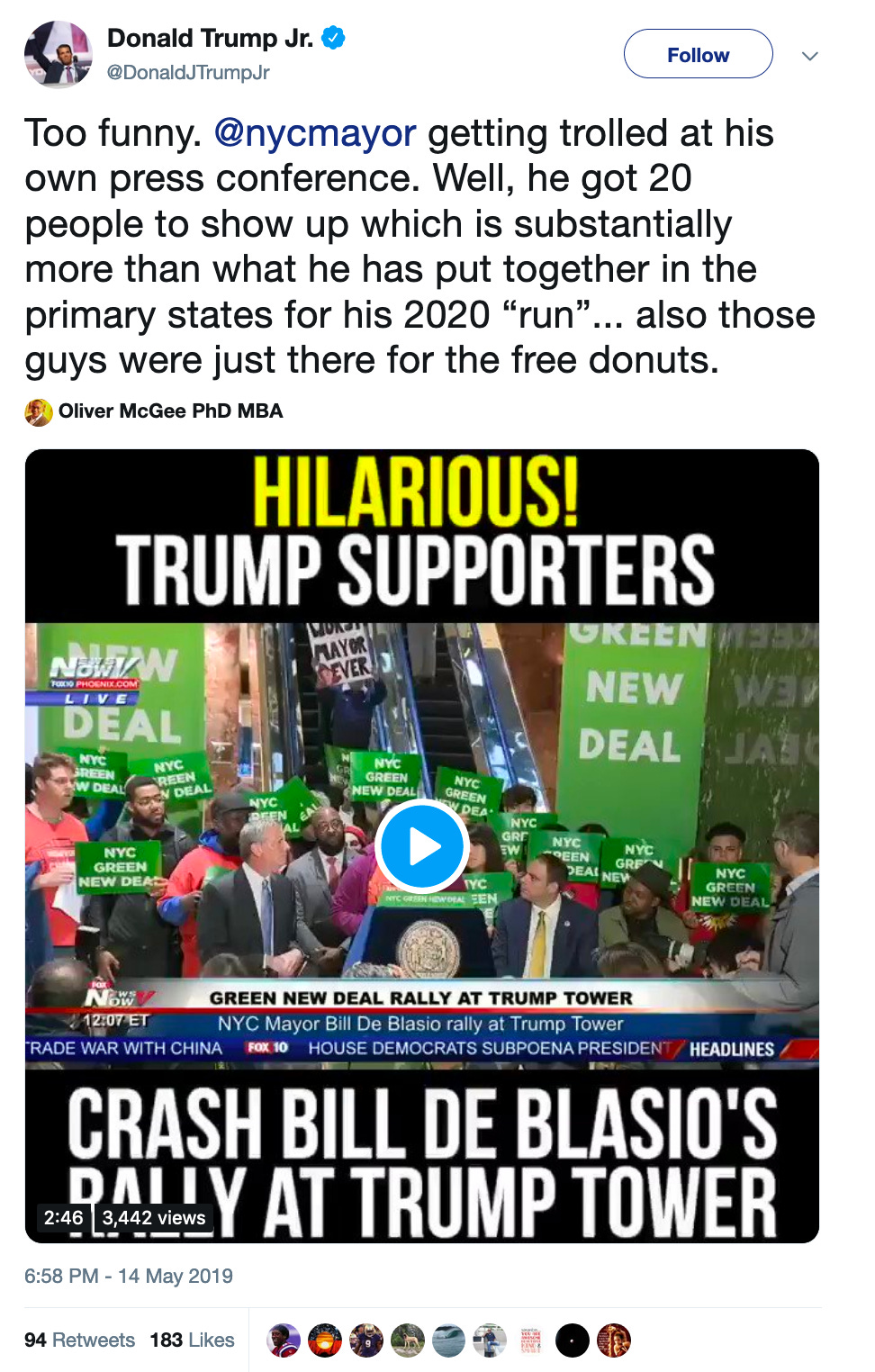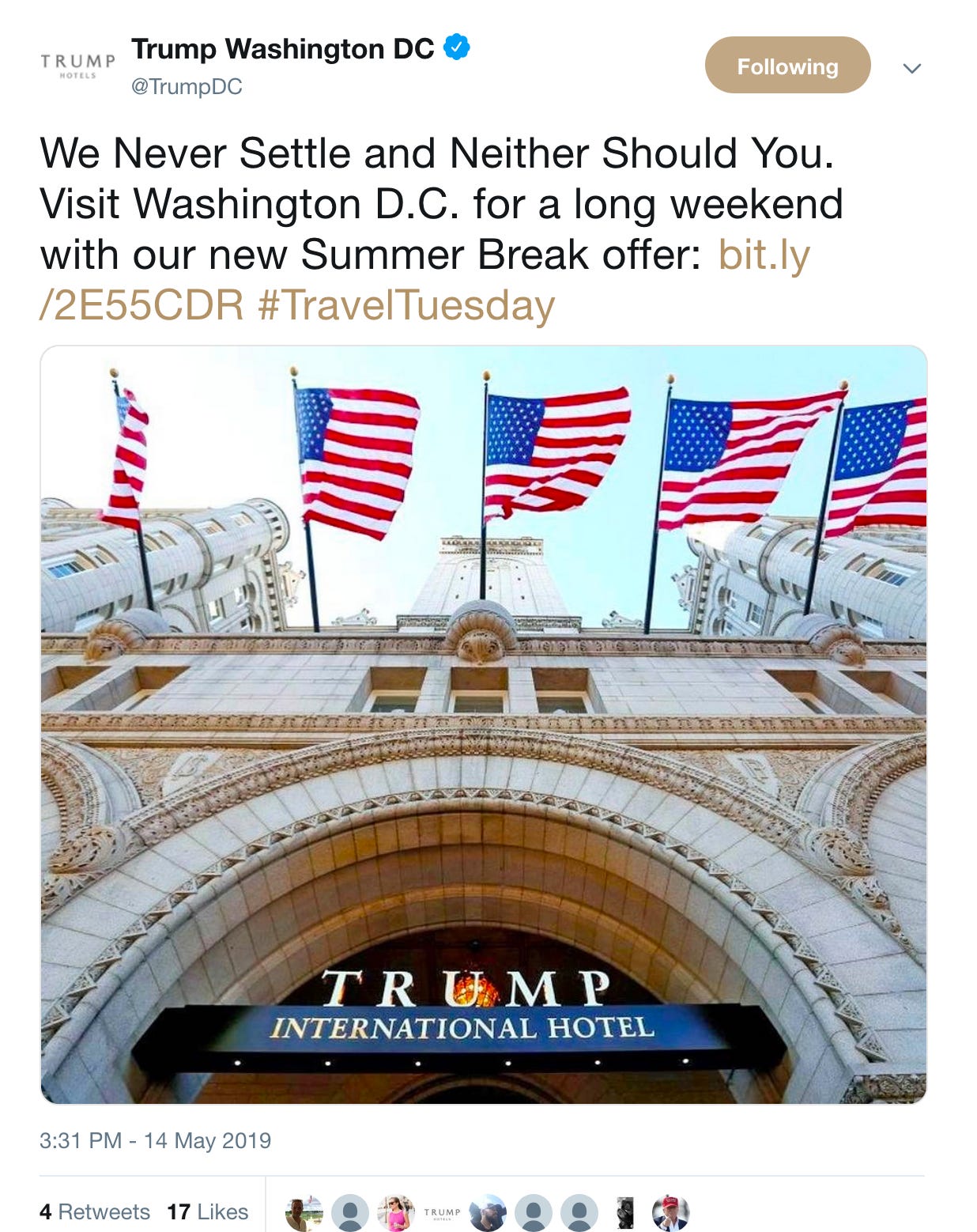 ---
House investigations, current status (latest change, May 14, 2019)
---
President Trump chose not to divest; Americans need to know who's paying him
Unlike his predecessors, Donald Trump did not divest his businesses upon becoming U.S. president. Think that may be a problem? Become an 1100 Pennsylvania member, and support reporting on who's spending money at the president's businesses—and what they may be getting in return. Memberships are this newsletter's sole source of revenue. Select the red "Subscribe now" button and become a member by paying just $5 a month or $50 a year. Thank you.
---
Legal cases, current status (latest change, May 15, 2019)
D.C. and MD attorneys general's emoluments lawsuit (district court docket, appellate court docket)—

Official capacity—On Dec. 20, 2018, the 4th U.S. Circuit Court of Appeals ruled it would hear the president's appeal of district court rulings that allowed the case to proceed to discovery, and the appellate court halted discovery in the case. Discovery had started Dec. 3 and was scheduled to run through Aug. 2, 2019, with the AGs having subpoenaed the Trump Organization, including its Scottish golf courses; the U.S. Departments of Agriculture, Commerce, Defense, and Treasury and the GSA; and the state of Maine. Oral arguments on the appeal occurred on March 19; by all accounts the three-judge panel (all Republican appointees, including one who was a selection of President Trump's) were skeptical of the AGs' case. D.C. AG Karl Racine pledged to take the case to the U.S. Supreme Court if necessary.

Individual capacity—On Dec. 14, Trump's personal attorneys appealed the denial of their motion to dismiss the case, also to the 4th U.S. Circuit Court of Appeals. On Dec. 19, the AGs replied to Trump's motion for a stay pending that appeal by voluntarily dismissing the claims against Trump in his "individual capacity to allow the claims against President Trump in his official capacity to move forward expeditiously." (The AGs only brought suit against Trump in his individual capacity after the judge suggested they do so.) Trump's personal attorneys, on Dec. 21, opposed the motion to dismiss at the district level, saying the appeals court now has jurisdiction and accusing the AGs of "gamesmanship."

UPDATED Democratic senators and representatives' emoluments lawsuit—On Sept. 28, Judge Emmet G. Sullivan ruled that the legislators have standing to sue. Trump's Justice Department attorneys filed an interlocutory appeal on Oct. 22. On Jan. 30, 2019, the plaintiffs' filed a notice of supplemental authority, notifying the court of the GSA inspector general's report that criticized GSA for failing to consider if the Trump Hotel D.C.'s lease was in compliance with the Constitution after Trump became president. Two days later, the president's attorneys argued that the IG's conclusion was not inconsistent with Trump's argument, but that the judge should ignore that report anyway because the IG has no expertise in interpreting or applying the foreign emoluments clause. On April 30, Sullivan denied Trump's motion to dismiss the suit. While the president's attorneys have a supplemental brief due on May 28, on May 14 they filed a motion to stay the proceedings while they appeal Sullivan's decision.

CREW et. al's emoluments lawsuit—In February 2018, CREW appealed its suit being dismissed for lack of standing to the 2nd U.S. Circuit Court of Appeals. Oral arguments on that motion were held on Oct. 30.

Cork's unfair competition lawsuit—Judge Richard J. Leon dismissed the case on Nov. 26, 2018, writing "Cork has failed to state a claim for unfair competition under D.C. law." On Dec. 10, Cork's attorneys filed a notice of appeal and on Jan. 10, 2019 they submitted a statement of issues to be raised. A briefing schedule was set on March 5 with Cork's brief due on April 15, the president's brief due on May 15, and Cork's reply to the president's brief due on June 5. On April 11, however, Cork's attorneys requested a 30-day extension, to which Trump's attorneys consented—as did the court the following day.

Employees' class-action suit alleging racial discrimination—Two of the three plaintiffs did not appear at a status hearing on Jan. 25, 2019; their cases were moved to arbitration. Via email, their attorney, A.J. Dhali, said his clients did not appear at the hearing because their case already had been moved to arbitration last year. The next status hearing is scheduled for Oct. 4.
---
Health inspections, current status (latest change, Aug. 10, 2018)
❌Hotel: five violations on May 7, 2018; two were corrected on site

❌BLT Prime and Benjamin Bar: nine violations on Aug. 10, 2018

❌Sushi Nakazawa: two violations on Aug. 10, 2018

✔️Banquet kitchen: no violations on Aug. 10, 2018

❌Pastry kitchen: two violations on Aug. 10, 2018

✔️Gift shop: no violations on May 7, 2018

❌Employee kitchen and in-room dining: five violations on Aug. 10, 2018; two were corrected on site
---
Is the Trump Organization selling merchandise that depicts the White House? (latest change, March 21, 2019)
Yes.
---
One thing that (probably) has nothing to do with Trump's businesses
"The urgent quest for slower, better news" by Michael Luo for The New Yorker
---
Thanks for reading. If you like what you saw, tell someone—and support this work by becoming a member. If you've been forwarded this newsletter, subscribe for yourself at zacheverson.substack.com. Questions? Read our FAQ/manifesto. Tips or feedback? Contact me, Zach Everson, securely via email at 1100Pennsylvania@protonmail.com or on Signal at 202.804.2744.