Trump government appointee landed new position after allegedly being injured at president's hotel
After glass allegedly gashed her chin, Commerce Dept. staffer scored new position at World Bank; U.S. government employees appear to be listed as potential witnesses for plaintiff, Trump Org.
After a Commerce Department employee, who at least at one point had been a political appointee of President Donald J. Trump's, allegedly was lacerated by flying glass at his D.C. hotel, she received a new job with the World Bank, according to filings with D.C. Superior Court and information obtained from social media.
In November 2019, Cameron Dorsey sued the Trump International Hotel Washington, D.C. for negligence, alleging a shard of glass flew off a champagne bottle opened with a saber and gashed her chin while she was patronizing the bar in January 2018.
At the time of the purported incident, Dorsey—who had been a political appointee of President Donald J. Trump's at least until November 2017—worked in the Department of Commerce. After the alleged injury and just one month before she filed the suit, Dorsey received a new job, advising one of the World Bank's top leaders, the executive director representing the United States, a Senate-confirmed political appointee of the president's.
Dorsey is asking for $350,000 in damages from the president's company. The Trump Organization has denied the charges.
In addition to the conflicts raised by a World Bank staffer who reports to a Trump appointee suing his D.C. hotel, at least one political appointee of Trump's is listed as a potential witness by both parties in the suit. The U.S. government hired this person after the incident allegedly occurred. And another U.S. government employee working in the executive branch may be asked to testify against the president's company, while a lobbyist is listed as a potential witness for the Trump Hotel D.C.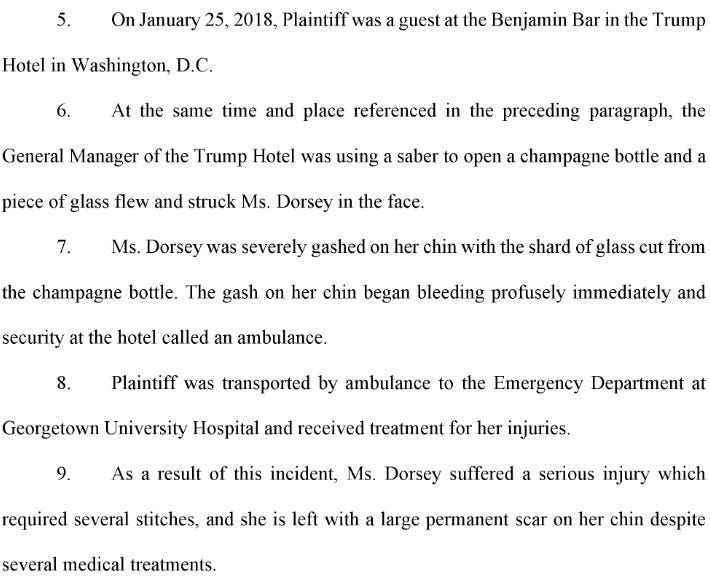 1100 Pennsylvania broke the story about the lawsuit in December 2019, but the plaintiff's role in the Trump administration and subsequent new position have not been reported until now. While multiple sources and circumstantial evidence long made that connection appear to be the case, it wasn't nailed down until a court filing her attorneys made on Monday.
The plaintiff, Cameron Dorsey was a special assistant in the Department of Commerce from Jan. 25 to Nov. 25, 2017, according to a financial disclosure she filed with the U.S. Office of Government Ethics and other information reported by Trump Town (a database of the president's political appointees maintained by ProPublica and Columbia Journalism Investigations). Per her LinkedIn profile, Dorsey then became a policy advisor in the Commerce Department's International Trade Administartion, which is where she was employed at the time of the alleged incident on Jan. 25, 2018 at the Trump Hotel D.C.

Twenty-one months after the purported event—and just one month before she sued the president's business—Dorsey joined The World Bank as a commercial advisor to its executive director, according to her LinkedIn profile.
The bank's website confirms Dorsey's employment.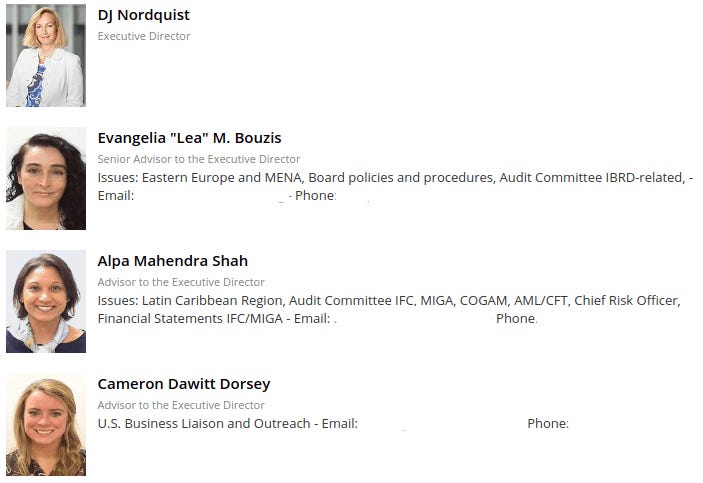 Dorsey's now asking D.C. Superior Court to award her $350,000 in damages from the president's business. Donald Trump is not listed as a defendant. In a response to the suit filed on Jan. 21 2020, attorneys for the Trump Old Post Office denied the allegations and said Dorsey's claims were barred by contributory negligence and assumption of risk. The hotel's attorneys requested a jury trial.
Citing the litigation, Dorsey's attorney, Patrick Regan of personal injury law firm Regan Zambri Long, said it would not be appropriate to respond to 1100 Pennsylvania's inquiries. Spokespeople for the White House, the World Bank, the Department of Commerce, and the Trump Organization did not answer inquiries asking for more information about the suit—including if Dorsey's new position was the result of her allegedly being injured at the president's hotel or if any U.S. government employees have contacted her about the matter.
While court filings make no explicit mention of the plaintiff's employment, a preliminary list of witnesses Dorsey's attorney submitted on April 6 included members of her family. Multiple interactions between social media accounts belonging to people with their names and those of a Cameron Dorsey who works at the World Bank confirmed the plaintiff's employment.
Both parties in the suit listed Lenwood Brooks as a potential witness. A Lenwood Brooks known to patronize the Trump Hotel D.C. is currently the chief of staff at the National Credit Union, a U.S. government agency, having been hired and at least promoted once since the alleged incident. The Trump Hotel D.C. also included Nick Owens as a possible witness. Another known Trump customer, Nick Owens is a former Trump transition staffer turned financial-services lobbyist.

In July 2019—after the alleged incident at the Trump Hotel D.C.—Brooks and Owens golfed at Trump Bedminster while the president was there, as 1100 Pennsylvania reported at the time.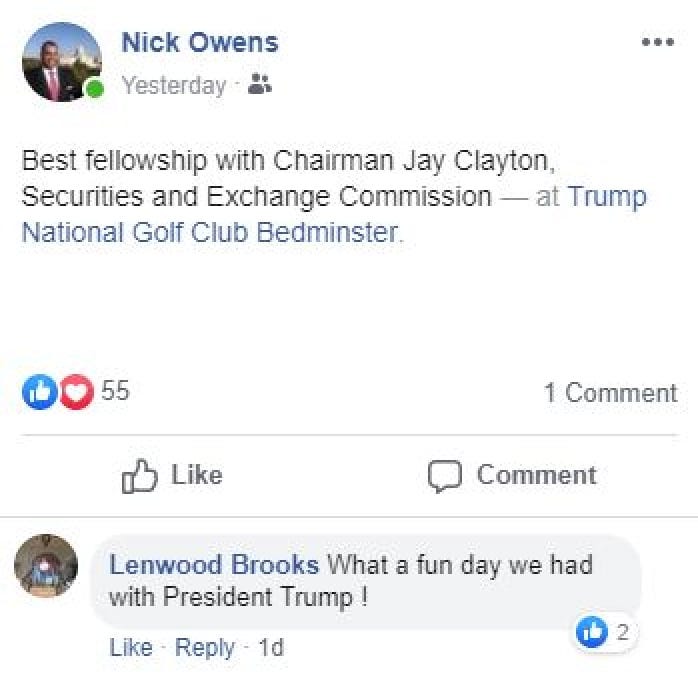 Dorsey's witness list also includes Hallie Offen, whom the filing identifies as a co-worker of the plaintiff. According to LinkedIn, a Hallie Offen works at the Department of Commerce.
In her complaint, Dorsey's attorneys allege that on Jan. 25, 2018, she was struck on the chin by a piece of glass that flew off a sabered bottle of champagne. "The gash on her chin began gushing blood immediately and security at the hotel called an ambulance," which took her to Georgetown University Hospital, according to the filing [bold added]. Her attorneys claim that the incident required stitches, left her with a large scar on her chin, caused her to suffer post-traumatic stress disorder, and cost her financially via lost wages and medical expenses.
The initial court hearing occurred on Feb. 7, 2020, before Associate Judge Florence Pan (an Obama nominee), according to the case's docket (2019 CA 007427 B). A mediation session is scheduled for Oct. 29.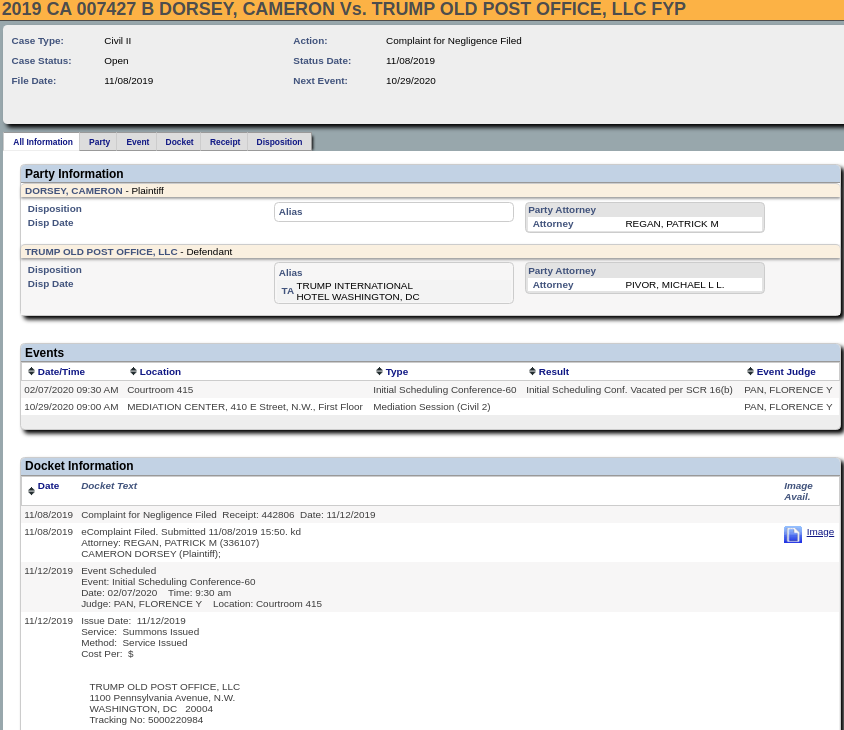 As 1100 Pennsylvania previously reported, sabering open a bottle of champagne (called sabrage) is one of the Trump Hotel D.C.'s signature moves, and it usually delights. The hotel's food and beverage director, Daniel Mahdavian, demonstrated the process in this 2016 video, saying it came about after the Trump family challenged him to be engaging. (Mahdavian is the sole Trump Hotel D.C. employee named as a potential witness in Dorsey's filing this week; the hotel's lists him and a few others.)
Prior to her government employment, Dorsey worked for the Trump campaign and the 2016 Republican National Convention. She wrote a first-person account of that experience for Refinery 29.
Dorsey was cited in a March 2018 article titled "How the spoils were doled out to Trump campaign workers and allies" by Eric Lipton and Danielle Ivory for The New York Times [bold added]:
The former campaign field worker who now promotes sales of nuclear energy equipment abroad is Cameron Dorsey, a 2014 graduate of Washington and Lee University in Virginia who also worked briefly for the Republican National Committee and a political consulting firm, according to her financial disclosure form.

The Commerce Department did not comment on the experience level of some of its recent hires.
In a photo Dorsey shared in an Instagram story on a date when her LinkedIn profile said she was employed by the Commerce Department, had the caption "Tax payer dollars hard at work." Dorsey and her attorney did not reply to a question asking what she meant by that statement.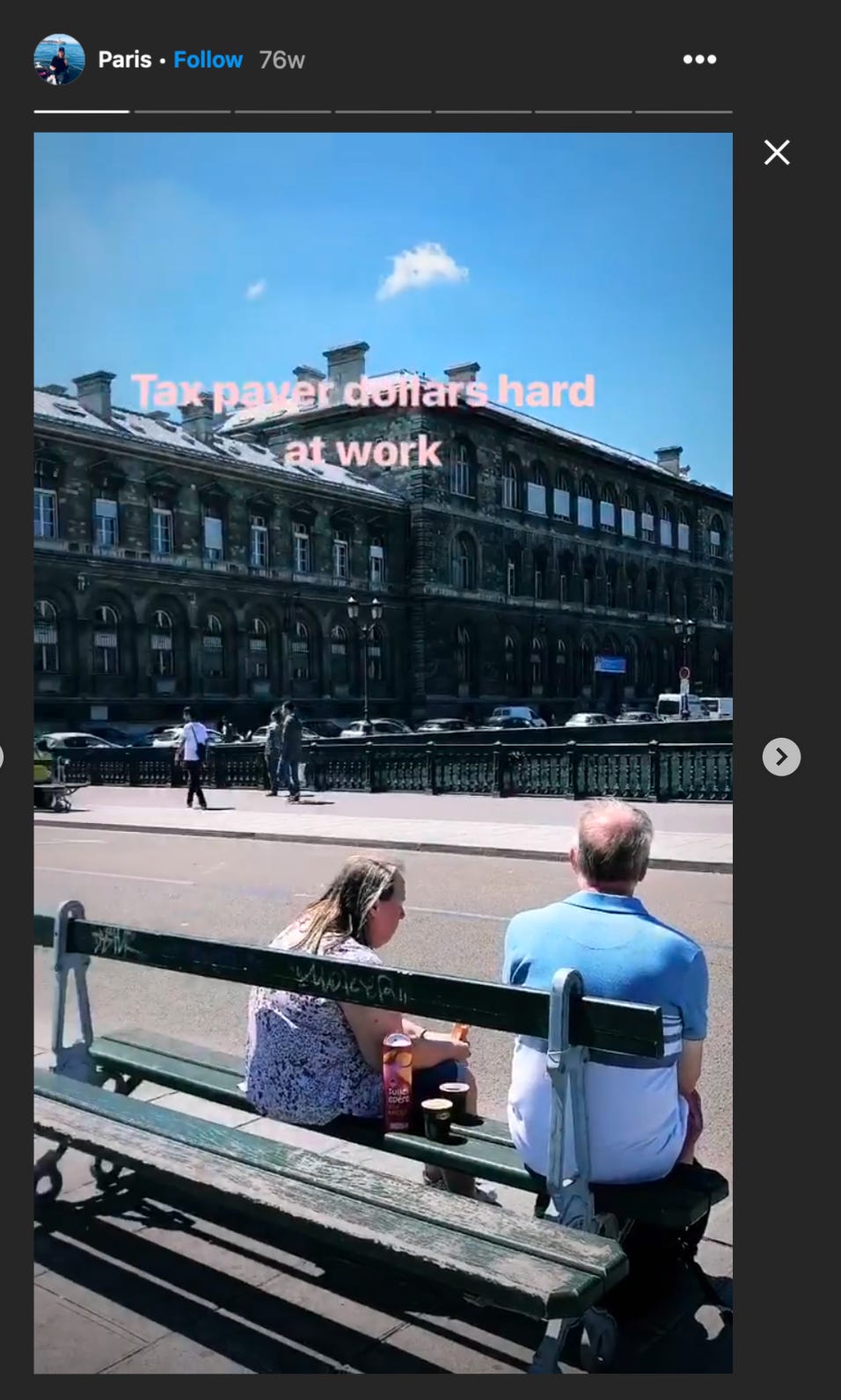 ---
1100 Pennsylvania's reporting reaches millions. Subscribe and ensure it continues.
Recently your correspondent appeared on Inside Edition to share 1100 Pennsylvania's reporting on the Trump Hotel D.C. Additionally, 1100 Pennsylvania has been cited by The Associated Press, The Atlanta Journal Constitution, Business Insider, Capital (French), The Daily Beast, The Daily Mail, The Guardian, The Hartford Courant, MSNBC, Ireland's Newstalk radio, NBC News, The New York Times, The Palm Beach Post, ProPublica and WNYC's Trump, Inc., Stern (German), The Wall Street Journal, The Washington Examiner, The Washington Post, Washingtonian, and Yahoo News.
Thanks to 1100 Pennsylvania's paid subscribers who support in-depth reporting on who's paying Donald Trump and what they may want from the president, helping bring this information to a much wider audience. Paid subscriptions are this publication's sole source of revenue—no ads, no grants. Support this reporting and ensure it continues. Just $5 a month or $50 a year.
---
Other Trump organization news
---
Reference section
Links to rundowns of developments in the House's investigations and lawsuits, reference sheets for some of 1100 Pennsylvania's previous reporting, and articles that provide the background on why all of this matters. The date published or last updated is in parentheses.
Trackers
Notable hotel customers
Summaries
25 unimpeachable examples of Trump profiting from his hotel: Foreign governments, Trump administration, GOP lawmakers, industry all have called on the Trump Hotel D.C. since its owner became president (Sept. 27, 2019)

"Power tripping in the swamp: How Trump's D.C. hotel swallowed Washington
The MAGA social scene is a movable feast, but its dark heart resides within the Old Post Office Building, where the Trump Org operates under a mercenary charter" by your correspondent for Vanity Fair (October 2019)

"Inside the world's most controversial hotel: The hotel that was expected to take its place among the crown jewels of D.C.'s travel scene has become a magnet for protestors, a West Wing Annex, and—possibly—the center of a constitutional crisis." by your correspondent for Condé Nast Traveler (May 2018)
Upcoming key dates
Sept. 23, 2019—House Judiciary Committee hearing "Presidential corruption: Emoluments and profiting off the presidency" (postponed, not yet rescheduled)

March 20, 2020—Status hearing before D.C. Superior Court in former hotel employees' lawsuit alleging racial discrimination, postponed due to coronavirus-related closure

March 31, 2020—Before postponement due to coronavirus-related closure, the Supreme Court was to hear Trump's appeal of earlier rulings requiring his financial institutions to comply with subpoenas from House Financial Services, Intelligence, and Oversight Committees and the New York district attorney's office

June 2020—Before postponement or oral arguments due to a coronavirus-related closure, Supreme Court decision due on Trump's appeal of earlier rulings requiring his financial institutions to comply with subpoenas from House Financial Services, Intelligence, and Oversight

Aug. 10, 2020—Scheduling conference before D.C. Superior Court in D.C. attorney general's lawsuit alleging improperly spent nonprofit funds by the Trump Hotel D.C. and Trump's inaugural committee
---
Thanks for reading! If you like what you've read, tell someone. If you've been forwarded this newsletter, subscribe at 1100pennsylvania.substack.com. Questions? Read our FAQ. Tips or feedback? Contact Zach Everson at 1100Pennsylvania@protonmail.com (it'll be encrypted if you also use a ProtonMail account, which is free) or via Signal (secure), SMS, or mobile at 202.804.2744.