Discover more from 1100 Pennsylvania
"The undisputed expert on the D.C. Trump Hotel" – David Fahrenthold of the Washington Post
Over 3,000 subscribers
Trump Org exploring sale of D.C. hotel
Citing criticism it's defying ethics laws, the Trump Organization put its D.C. hotel on the block
From "Trump Organization exploring sale of marquee Washington Hotel" by Craig Karmin for The Wall Street Journal:
The Trump Organization is exploring a sale of the rights to the company's opulent Washington, D.C., hotel, a move it says is motivated partly by criticism that the Trumps are flouting ethics laws by profiting from the property.
The asking price: $500 million.
In his statement to the Journal, Trump Org EVP Eric Trump said, "People are objecting to us making so much money on the hotel, and therefore we may be willing to sell."
That declaration is, um, interesting given testimony from a General Services Administration official at a House committee hearing last month. (The Trump Hotel D.C. is in the Old Post Office building, which the U.S. government owns and rents out to the Trump Org.; GSA administers its lease.) In addition to its monthly rent of $250,000, the lease calls for the Trump Hotel D.C. to pay GSA a cut of its gross revenues if it reaches certain performance thresholds. GSA's public buildings commissioner Daniel Mathews, a political appointee of Trump's, testified that the hotel did not pay GSA any funds beyond its base rent last year.
So the Trump Hotel D.C. is making a ton of money, yet it's not enough for the Trump Org to have to pay any additional rent.
Anyway, let's speculate!
Despite its ideal location, historic building, and recent major renovation, the Trump Hotel D.C. may be a hard sell. Established luxury hoteliers could be afraid of blowback from paying President Trump's company a few hundred million. And potential buyers may not want the additional scrutiny that would come from such a deal (like all your employees getting, "I'm very sorry to bother" emails from David Fahrenthold).
Also, consider the possibility that the Trump Org has no desire to sell the hotel. Rather it hopes putting it on the market will placate critics by showing that the president's company is at least trying to address their concerns.
This move also could be viewed as a hedge on President Trump's reelection. "Political spending at Trump properties surpasses $20 million" reported Karl Evers-Hillstrom for the Center for Responsive Politics's OpenSecrets yesterday. Should Trump be out of office in January 2021, that revenue stream seems likely to dry up, with House Minority Leader Kevin McCarthy (R–CA) back to only showing up once a decade.
And should the hotel sale happen while Trump is still president, where will he go when he wants to eat out? The hotel's steakhouse remains the only D.C. restaurant he's been known to have dined at while president.
As for the email newsletter that shares a name with the hotel's address, it's not going anywhere. Subscriptions remain $5 a month or $50 a year.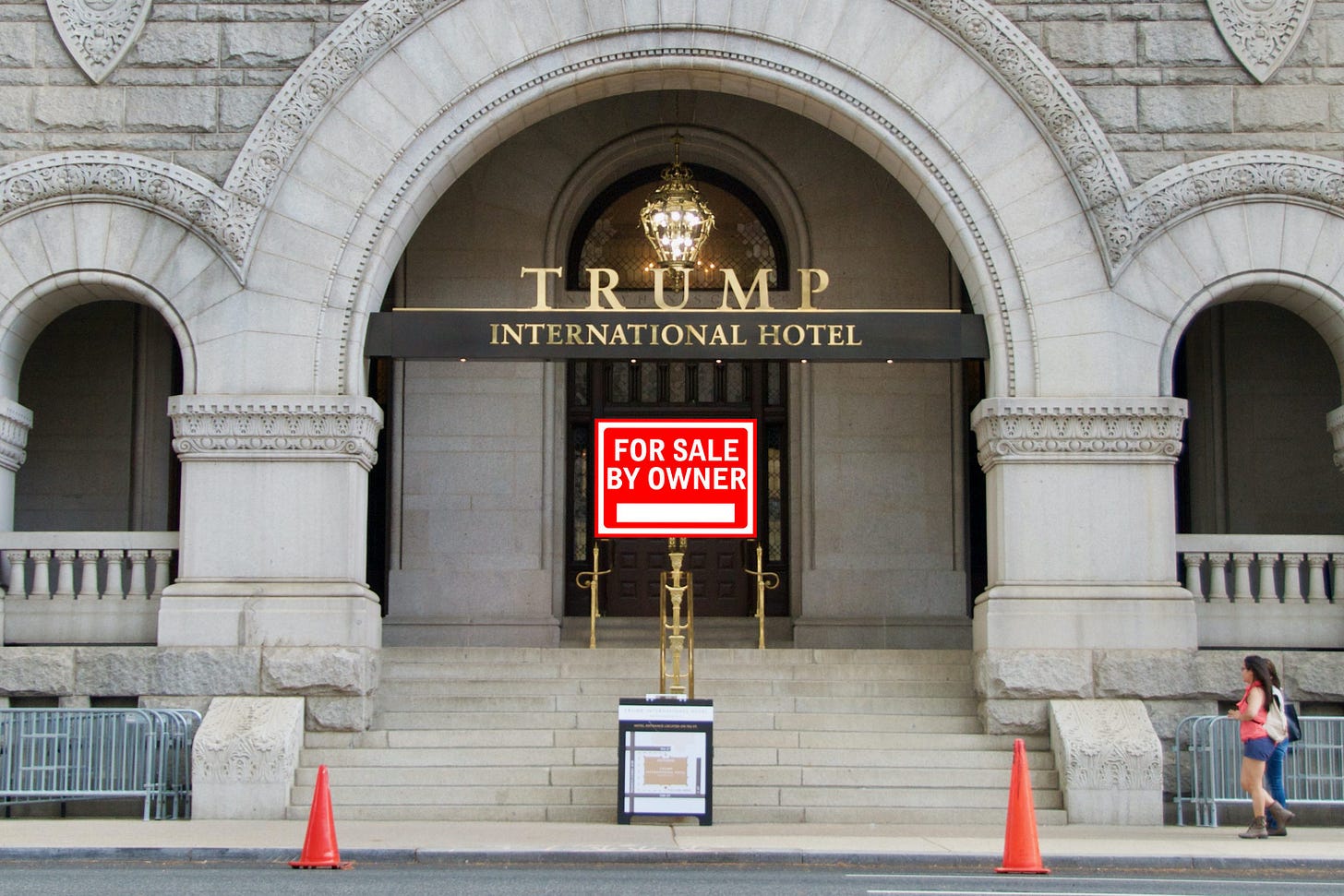 ---
Quicken Loans founder landed tax breaks for wealthy areas of Detroit where he owns property. Previously a Quicken Loans lobbyist had talked up the city to Pence at the Trump Hotel D.C.
Three months after a Quicken Loans lobbyist reported that he praised Detroit to Vice President Mike Pence in a private venue at the Trump Hotel D.C., areas of the city were granted special tax status, benefiting Quicken Loans' billionaire founder, Dan Gilbert.
To be clear, that encounter was just one of many ways in which Quicken Loans advocated for parts of Detroit to be declared opportunity zones.
From yesterday's "How a tax break to help the poor went to NBA owner Dan Gilbert" by Jeff Ernsthausen and Justin Elliott for ProPublica:
After a lobbying effort, Dan Gilbert, billionaire founder of Quicken Loans, won special tax status for wealthy areas of downtown Detroit where he owns billions worth of property…

In April 2018, the downtown tracts in which Gilbert had poured so much capital officially became opportunity zones.
From Quicken Loans lobbyist Ryan Eaton, at the Trump Hotel D.C., posted to Instagram on Jan. 26, 2018 (previously shared by your correspondent):
Good to talk to the Vice President for a moment today about the great things going on in Detroit!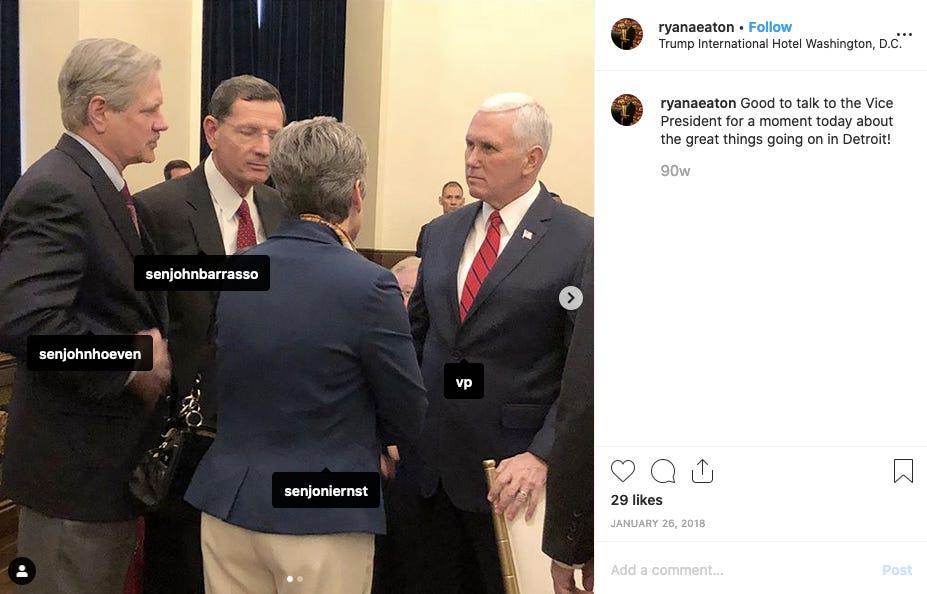 ---
House Transportation Committee subpoenaed GSA for hotel documents
Yesterday House Transportation Committee Chair Peter DeFazio (D–OR) issued a subpoena to the General Services Administration seeking documents regarding the Trump Hotel D.C.'s lease.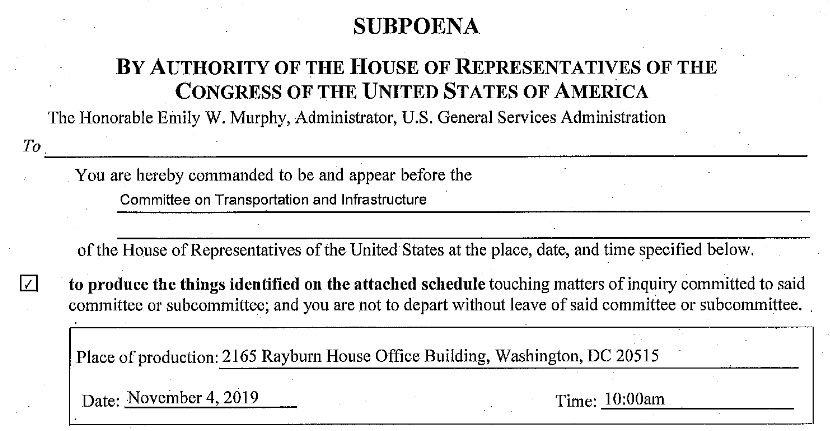 GSA supervises the Trump Organization's lease of the Old Post Office building; the Transportation committee's Subcommittee on Economic Development, Public Buildings, and Emergency Management oversees GSA.
DeFazio set a deadline of Nov. 4. Recipients of subpoenas from other House panels investing aspects of the presidents finances have largely ignored them, however, so it seems likely this standoff is headed to the courts.
Since the Democrats took control of the House in January, DeFazio and Rep. Dina Titus (D–NV), who chairs that subcommittee, have written to GSA three times, seeking information about the hotel's lease.
In addition to a monthly rent of $250,000, the lease calls for the Trump Hotel D.C. to pay GSA a cut of its gross revenues if it reaches certain performance thresholds. In a contentious hearing last month, GSA's public buildings commissioner Daniel Mathews, a political appointee of Trump's, testified that the hotel did not pay GSA any funds beyond its base rent last year. Yet Mathews declined to provide the subcommittee with the hotel's financial statements.
Democrats on the panel also were interested in the legal opinions that led to GSA determining that after Trump's election, the hotel was still in compliance with the lease, despite a clause banning elected officials from entering into the agreement.
Information the subpoena seeks includes
---
Campaign expenditures
The campaign for Republican Joe Collins, who's running to unseat Rep. Maxine Waters (D–CA), spent $8,854.32 at Trump International Hotel New York in the last quarter. These disbursements are his campaign's first at a Trump property. The campaign for Collins's opponent in the GOP primary, Omar Navarro, who's lost to Waters twice already, has spent $15,844.53 at Trump properties. In July, both candidates were in the Trump Hotel D.C.'s lobby at the same time.

---
Notable sightings
A glimpse of the foreign officials, government employees, politicians, lobbyists, and the like who patronize or appear at Trump businesses. Most people shown here have reasons to want to influence the Trump administration, rely on its good graces for their livelihoods, or should be providing oversight. Additionally, high-profile guests serve as draws for paying customers.
A national social expert for the Asian Development Bank in Tajikstan, Jamshed Vazirov, enjoyed a beer with his lovely wife at the U.S. president's hotel.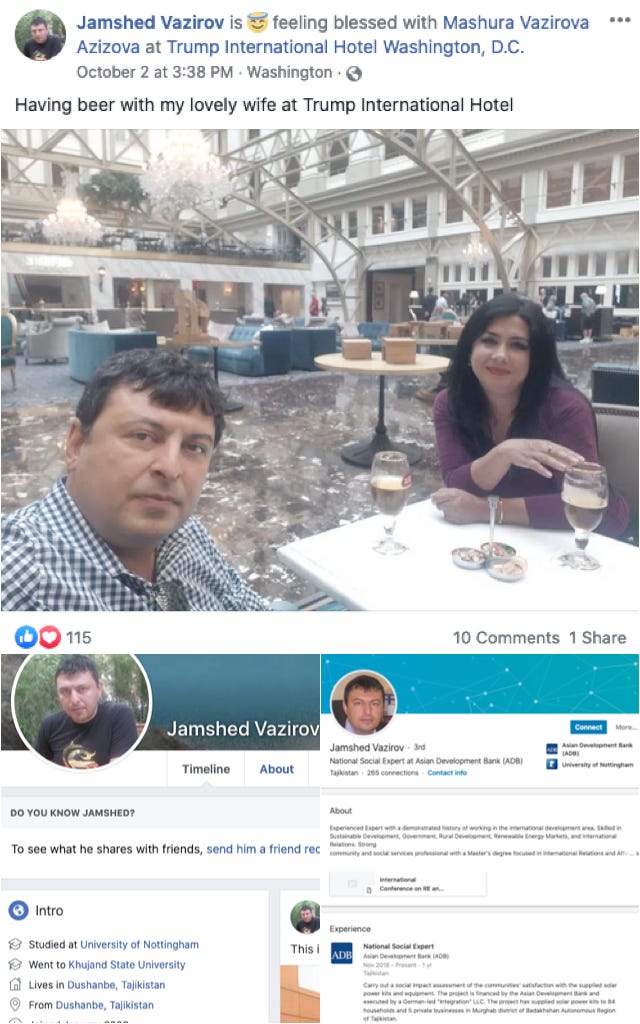 Republican candidate for Congress in Pennsylvania, Andrew Meehan, was at the president's bar.
Mario Boemio, who works at the U.S. Army, was "staying at the boss's place."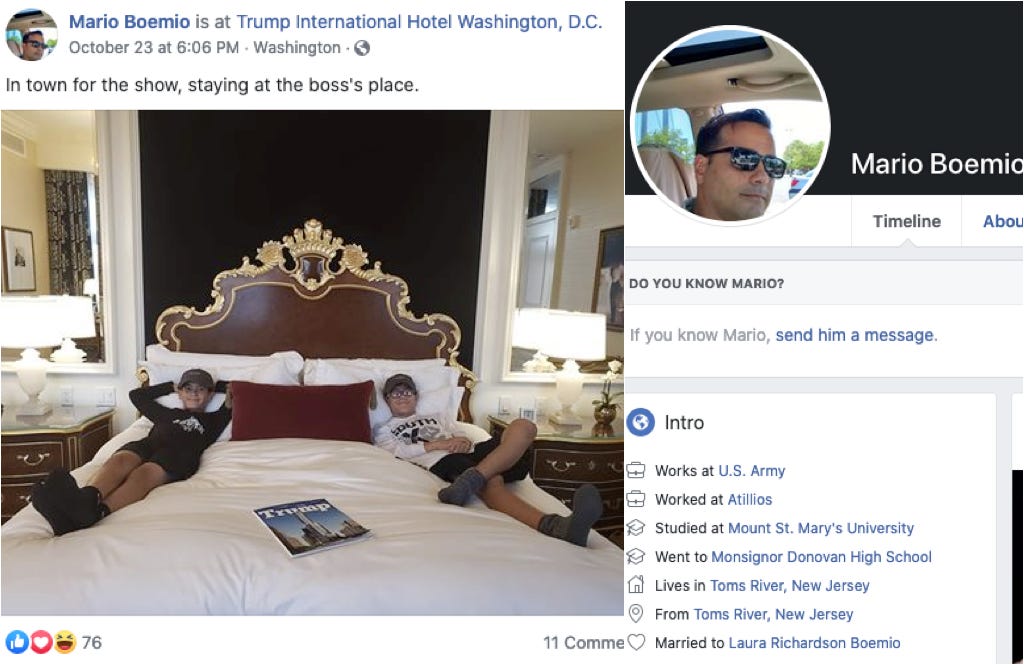 District constituent outreach specialist for Pennsylvania State Rep. Jack Rader (R), Matt Deegan, enjoyed "cocktails with the Donald."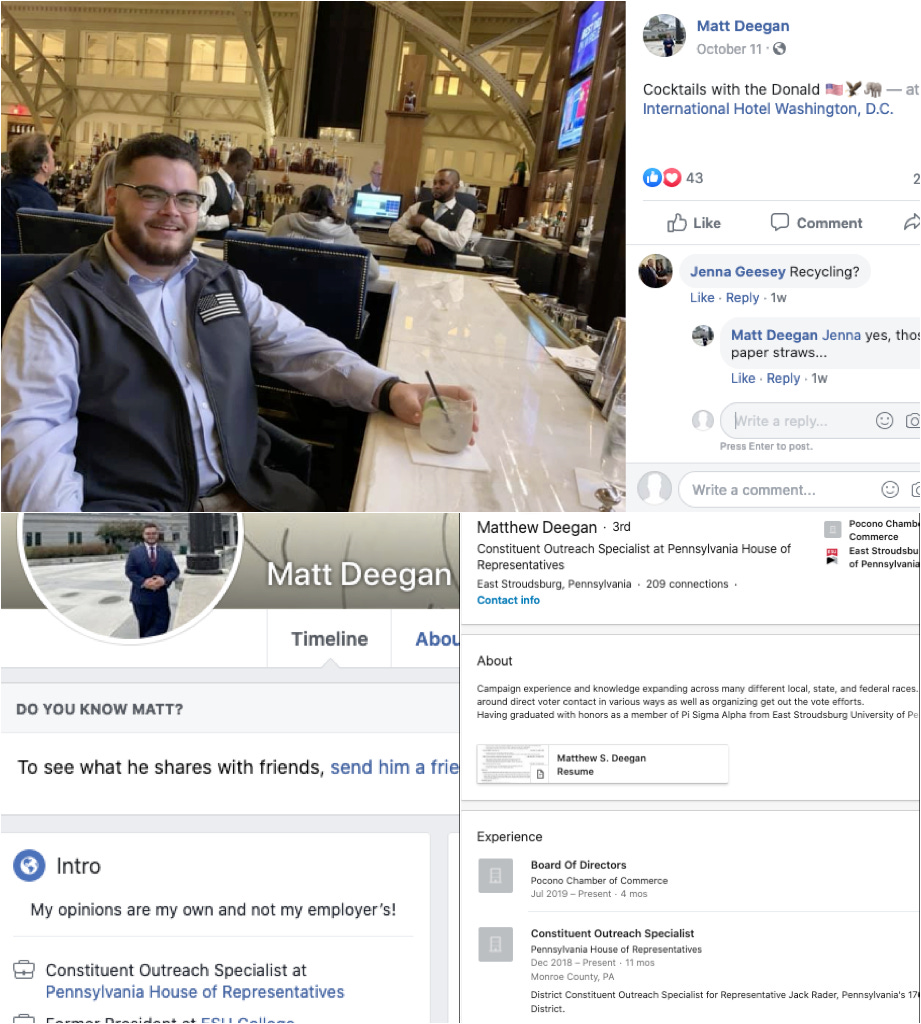 Michelle Misook Won, chair of the Korean Women Veterans Association of Washington D.C., stopped by a D.C. hotel owned by the person with authority over the Department of Veterans Affairs.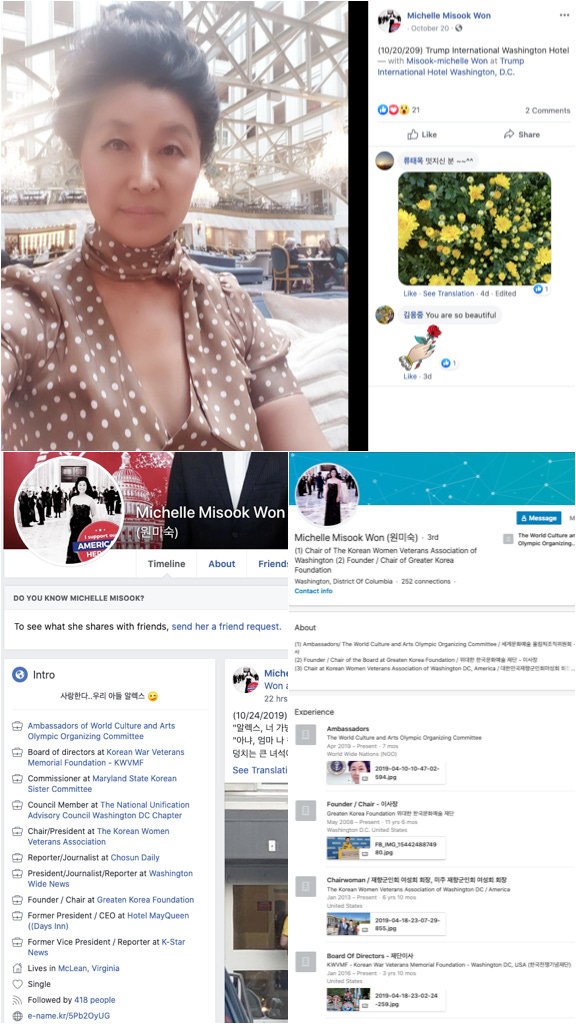 Attorney Amos Jones, whose specialties include the Foreign Agents Registration Act of 1938, really liked the meatloaf.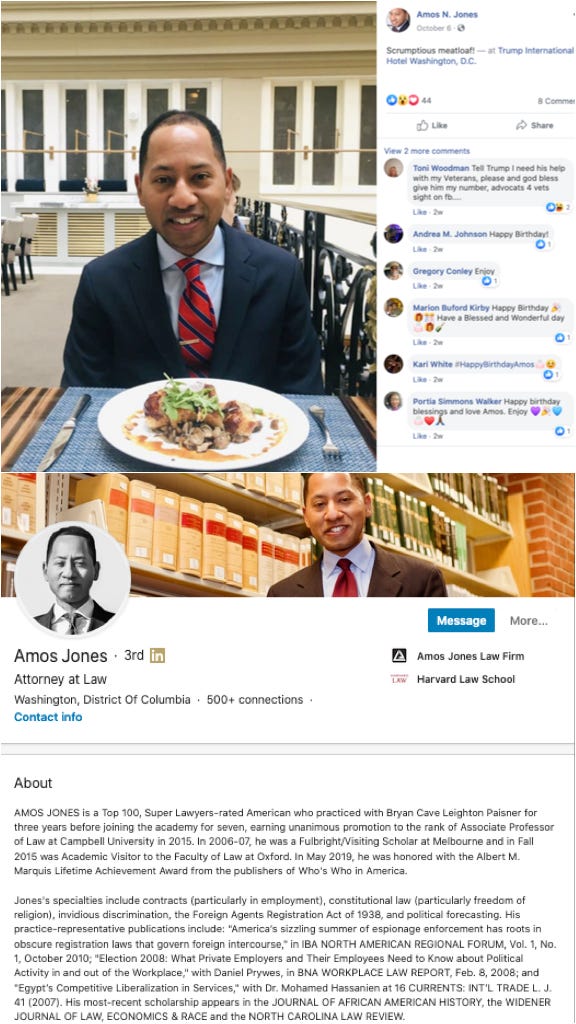 ---
Other Trump Organization news
---
Reference section
Links to rundowns of developments in the House's investigations and lawsuits, reference sheets for some of 1100 Pennsylvania's previous reporting, and articles that provide the background on why all of this matters. The date published or last updated is in parentheses.
Trackers
Notable hotel customers
Summaries
---
Thanks for reading! If you like what you've read, tell someone. If you've been forwarded this newsletter, subscribe at 1100pennsylvania.substack.com. Questions? Read our FAQ. Tips or feedback? Contact Zach Everson at 1100Pennsylvania@protonmail.com (it'll be encrypted if you also use a ProtonMail account, which is free) or via Signal (secure), SMS, or mobile at 202.804.2744.