Discover more from 1100 Pennsylvania
"The undisputed expert on the D.C. Trump Hotel" – David Fahrenthold of the Washington Post
Over 3,000 subscribers
Trump Org responds—or not—to coronavirus
Brazilian official who posed with Trump, Pence at Mar-a-Lago now in quarantine after coronavirus diagnosis; attendee at brunch for donors also tested positive
Brazil's press secretary, who was at Mar-a-Lago last weekend and posed for a photo with President Donald J. Trump and Vice President Mike Pence, was diagnosed with the coronavirus on Thursday and is in quarantine, reported Dareh Gregorian for NBC News. In addition to that now-viral picture, at least two videos shared on social media appear to show the spokesperson, Fabio Wajngarten, within feet of the president.
Trump has not been tested for the coronavirus, as of late Friday afternoon reported Kevin Brueninger for CNBC. Trump did tell a reporter though that he would "most likely" be tested "fairly soon."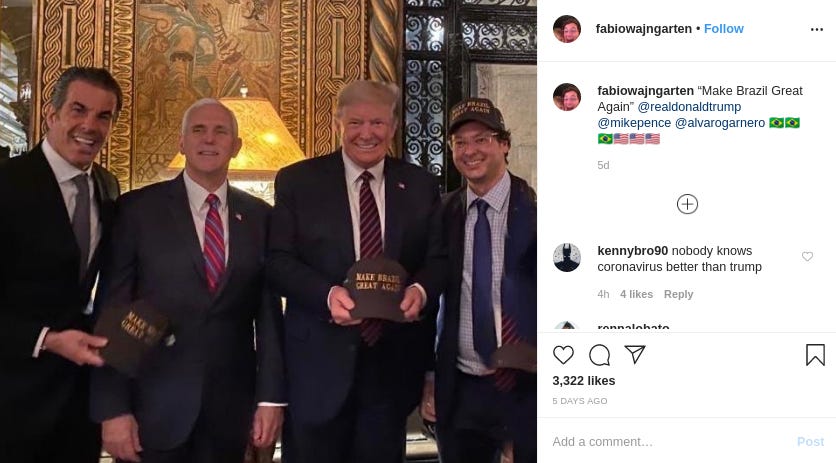 In the first video, Wajngarten appears to be the person standing behind Trump as he introduced Brazil's President Jair Bolsonaro to Pence, White House adviser Ivanka Trump, and Fox News host Tucker Carlson. (A formatting constraint is why the embedded video shows your correspondent's tweet rather than the source material from Instagram. To see the video in situ, follow this link.)
On Instagram, Wajngarten also posted the video clip at the end of Bolsonaro's March 7 tweet. If the press secretary was in fact the person who recorded the footage, it means he was within feet of the president and Eric Trump, a businessperson walled off from his father's administration.
Late Friday morning on his official Facebook page, Bolsonaro said he had tested negative for COVID-19. But that post came just hours after a major daily newspaper in Rio de Janeiro, O Dia, reported that Bolsonaro had tested positive for coronavirus. The newspaper appears to be standing by its original report, from journalist Leandro Mazzini. And on Fox News, one of the president's sons, Eduardo Bolsonaro, a congressperson in Brazil, appeared to confirm his father's positive test result, although Eduardo later denied it, reported that network's Chris Irvine.
As the first video embedded in this newsletter shows, the elder Bolsonaro shook hands with Pence, Ivanka, and Carlson.
On Sunday, Mar-a-Lago hosted a brunch fundraiser to benefit the president's re-election. One attendee later tested positive for the coronavirus according to an email sent by the Trump Victory committee, reported Maggie Haberman of The New York Times. She added that "a Republican National Committee official said the donor did not come in contact with the president." Based on photos posted to Instagram, it appears more than 100 people attended the brunch.
As of Friday afternoon, Mar-a-Lago had not informed members about the two visitors who tested positive, reported David Fahrenthold of The Washington Post.
In addition to the Brazilian delegation and campaign donors, last week the president's resort hosted a birthday party for Trump Victory finance committee chair Kimberly Guilfoyle. Sen. Lindsey Graham (R-SC) attended the event and is now in self-quarantine, having possibly been exposed to the coronavirus twice (once back in D.C.), reported Schuyler Kropf for The Post and Courier.
As 1100 Pennsylvania previously reported, other notable weekend guests at Mar-a-Lago included Brazil's Minister of Foreign Affairs Ernesto Araújomm; Acting Director of National Intelligence Richard Grenell; White House senior adviser Jared Kushner; Eduardo Bolsonaro; State Department spokesperson Morgan Ortagus; Trump-endorsed candidate for U.S. Senate in Michigan John James; Turning Point USA founder Charlie Kirk; Fox News's Gina Gentry and Jesse Watters; White House correspondent for One America News Network Chanel Rion; the recently pardoned Bernard Kerik; Trump campaign senior advisers Katrina Pierson and Lara Trump; EVP at the U.S. Chamber of Commerce, Jonathan Weinberger; and businessperson walled off from his father's administration Donald Trump Jr.
Less notable guests your correspondent couldn't fit into Monday's issue as well as people newly spotted at Mar-a-Lago last weekend include Rep. Matt Gaetz (R-FL) [H/T Bess Levin of Vanity Fair]; senior adviser to Pence, Marty Obst; one of the president's personal attorneys, Rudy Giuliani; Trump campaign press secretary Kayleigh McEnany; Trump campaign director of external affairs for finance, Ashley Mocarski; Thousand Oaks, CA mayor and pastor Rob McCoy; singer Kaya Jones; "billionaire heiress" and chair of the Manhattan GOP Andrea Catsimatidis; Women for Trump co-chair Madison Gesiotto; Don Jr.'s fixer Arthur Schwartz; national chair of the Young Republicans, Rick Loughery; billionaire's son and GOP donor Doug Deason; and the president's daughter Tiffany Trump.
---
1100 Pennsylvania's reporting reaches millions. Subscribe and ensure it continues.
Recently your correspondent appeared again on MSNBC's "The Beat with Ari Melber" to share 1100 Pennsylvania's reporting on the Trump Hotel D.C. Additionally, 1100 Pennsylvania's reporting has been cited by The Associated Press, The Atlanta Journal Constitution, Business Insider, Capital (French), The Daily Beast, The Daily Mail, The Guardian, The Hartford Courant, Inside Edition, Ireland's Newstalk radio, NBC News, The New York Times, The Palm Beach Post, Stern (German), The Wall Street Journal, The Washington Examiner, The Washington Post, Washingtonian, and Yahoo News.
Thanks to 1100 Pennsylvania's paid subscribers who support in-depth reporting on who's paying Donald Trump and what they may want from the president, helping bring this information to a much wider audience. Paid subscriptions are this publication's sole source of revenue—no ads, no grants. Support this reporting and ensure it continues. Just $5 a month or $50 a year.
---
Other notable sightings
The Trump Hotel D.C.'s Instagram location page went more than 24 hours without any new photos from customers. Your correspondent can't recall that happening before.
---
Other Trump Organization coronavirus news
---
Reference section
Links to rundowns of developments in the House's investigations and lawsuits, reference sheets for some of 1100 Pennsylvania's previous reporting, and articles that provide the background on why all of this matters. The date published or last updated is in parentheses.
Trackers
Notable hotel customers
Summaries
25 unimpeachable examples of Trump profiting from his hotel: Foreign governments, Trump administration, GOP lawmakers, industry all have called on the Trump Hotel D.C. since its owner became president (Sept. 27, 2019)

"Power tripping in the swamp: How Trump's D.C. hotel swallowed Washington
The MAGA social scene is a movable feast, but its dark heart resides within the Old Post Office Building, where the Trump Org operates under a mercenary charter" by your correspondent for Vanity Fair (October 2019)

"Inside the world's most controversial hotel: The hotel that was expected to take its place among the crown jewels of D.C.'s travel scene has become a magnet for protestors, a West Wing Annex, and—possibly—the center of a constitutional crisis." by your correspondent for Condé Nast Traveler (May 2018)
Upcoming key dates
Sept. 23, 2019—House Judiciary Committee hearing "Presidential corruption: Emoluments and profiting off the presidency" (postponed, not yet rescheduled)

Jan. 23, 2020—Trump Organization's deadline to bid for the lease rights to its D.C. hotel.

March 20, 2020—Status hearing before D.C. Superior Court in former hotel employees' lawsuit alleging racial discrimination

March 31, 2020—Supreme Court hears Trump's appeal of earlier rulings requiring his financial institutions to comply with subpoenas from House Financial Services, Intelligence, and Oversight Committees and the New York district attorney's office

April 6, 2020—Deadline for parties to exchange witness lists in lawsuit alleging a shard of glass from a sabered bottle of champagne left a gash in a customer's chin

June 2020—Supreme Court decision due on Trump's appeal of earlier rulings requiring his financial institutions to comply with subpoenas from House Financial Services, Intelligence, and Oversight
---
Thanks for reading! If you like what you've read, tell someone. If you've been forwarded this newsletter, subscribe at 1100pennsylvania.substack.com. Questions? Read our FAQ. Tips or feedback? Contact Zach Everson at 1100Pennsylvania@protonmail.com (it'll be encrypted if you also use a ProtonMail account, which is free) or via Signal (secure), SMS, or mobile at 202.804.2744.