Trump Org staffer gets 'private' WH tour
Welcome to 1100 Pennsylvania, a newsletter devoted to President Donald Trump's Trump Hotel International Washington, D.C. (and his other companies). President Trump, of course, still owns his businesses and can profit from them.
If you like what you see, tell someone. If you've been forwarded this newsletter, subscribe for yourself at zacheverson.substack.com. Tips or feedback? Contact me, Zach Everson, securely via email at 1100Pennsylvania@protonmail.com or on Signal at 202.804.2744.
Trump Org decorator and family land 'private,' 'impromptu' White House tour
"My Daughter Organized The Most Amazing Event .. A Private Tour Of The White House 🇺🇸 For My Birthday," Debra Pirolo posted on Instagram this November.
"First day of Moms fun filled birthday weekend included lots of kitten love and a impromptu tour of the White House," Pirolo's daughter, Giavona Sullivan shared on her Instagram.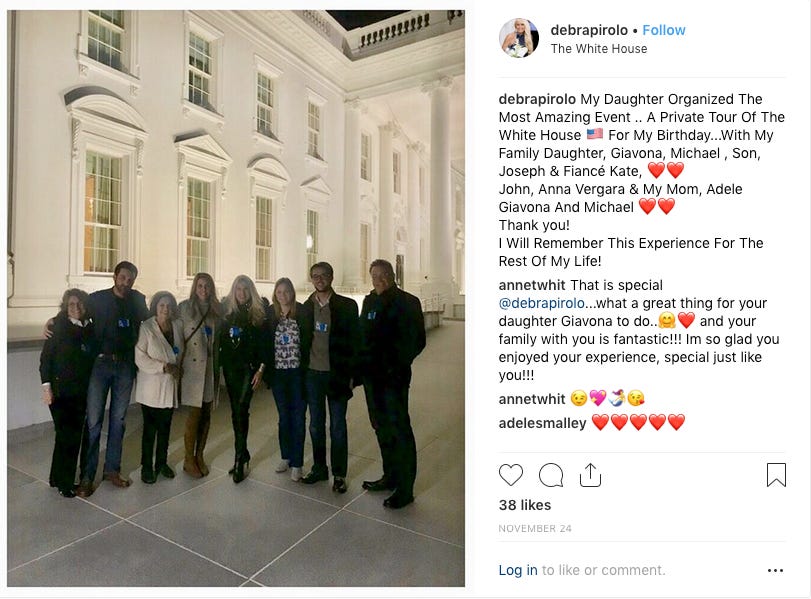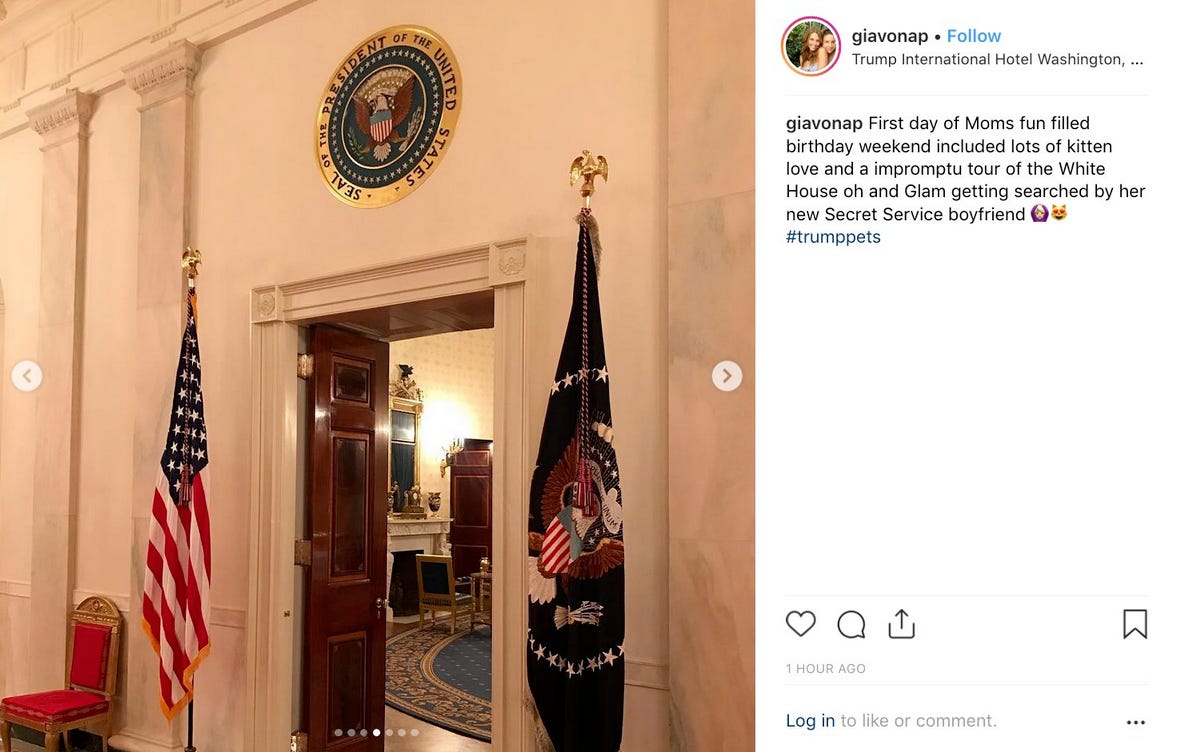 Sullivan's Instagram account—now private—also contains a clue as to how they, along with at least six other loved ones, likely got this self-described unplanned, personal White House tour: she's the vice president of interior design for the Trump Organization.

Sullivan isn't just a run-of-the-mill Trump Organization employee; she appears close to the family. Eric and Lara Lea's Trump tasked her to design their son's nursery. Along with Lara Lea, Don Jr.'s now ex-wife Vanessa, and Trump Org event planner turned Department of Housing and Urban Development region II administrator Lynne Patton, Sullivan served on The Eric Trump Foundation's committee. She got married at Eric's Trump Winery. Ivanka Trump spent a page in her 2017 book, Women Who Work, lauding (and taking some credit for) Sullivan's rise from Trump golf club assistant to organization-wide VP. Ivanka also praised Sullivan as "playing a vital role" in the development of the Trump Hotel D.C.—which, of course, was where Sullivan and her mom stayed at the time of their White House visit.
And Sullivan's familiar with the now-president too.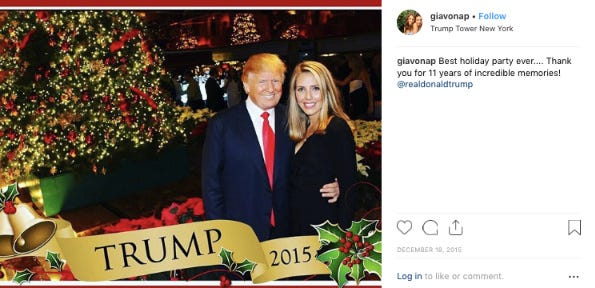 Beyond making her Instagram account private within minutes, Sullivan did not respond to two emails asking for details how the special tour came about. White House deputy press secretary Lindsey Walters did not reply to an email asking if "private" White House tours for Trump Organization employees are common practices and if standard prescreening security procedures were followed for an "impromptu" visit. Similarly, Eric Trump; the D.C. hotel's managing director, Mickael Damelincourt; and spokespeople for both the Trump Org and its D.C. hotel did not answer questions about how often Trump Org staffers or hotel guests get this kind of special access to the White House.
Army spouses sip tea, commander-in-chief profits
The Army Spouses Club will return to the commander-in-chief's hotel with a $65.25 per person tour and high tea next Wednesday. The group held a similar event last April, with 38 registered attendees.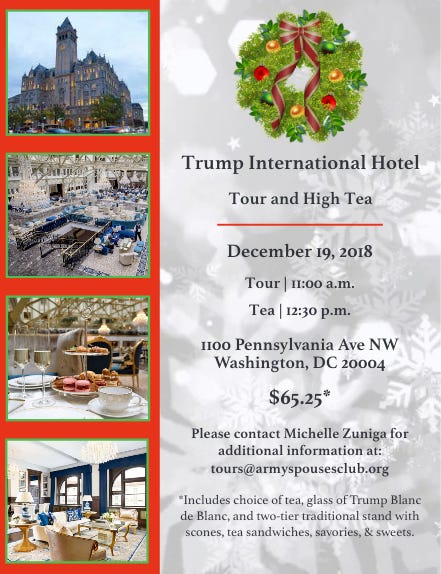 (Also, while the club is calling it high tea, the food described means it's actually afternoon tea. This is not just pearl clutching, damn it. As your new favorite publication, Tea Time Magazine, explains, "High tea is not a fancy tea, as many people assume. Delectable scones, tea sandwiches, and cakes are the hallmark of an afternoon tea, which is served in midafternoon. A high tea, however, includes much more substantive fare, such as meat, fish, and egg dishes, as well as breads and desserts, and is offered in the early evening. Think of it as a light supper served with tea.")
New Year's Eve pricing same as last year
Yesterday the hotel unveiled its New Year's Eve pricing for the black-tie party at the Benjamin Bar and Lounge: a $250 per person minimum on food and beverage. It's the same price as last year (and seems reasonable for a D.C luxury hotel).
Noteworthy sightings
Former Sen. Rick Santorum (R–PA) turned lobbyist and CNN pundit posed with political consultant Jessica Colón and executive director at the Santorum-founded Patriot Voices/commissioner at the United States Commission on International Religious Freedom, Nadine Maenza. (Maenza was appointed to the latter by the hotel's owner.)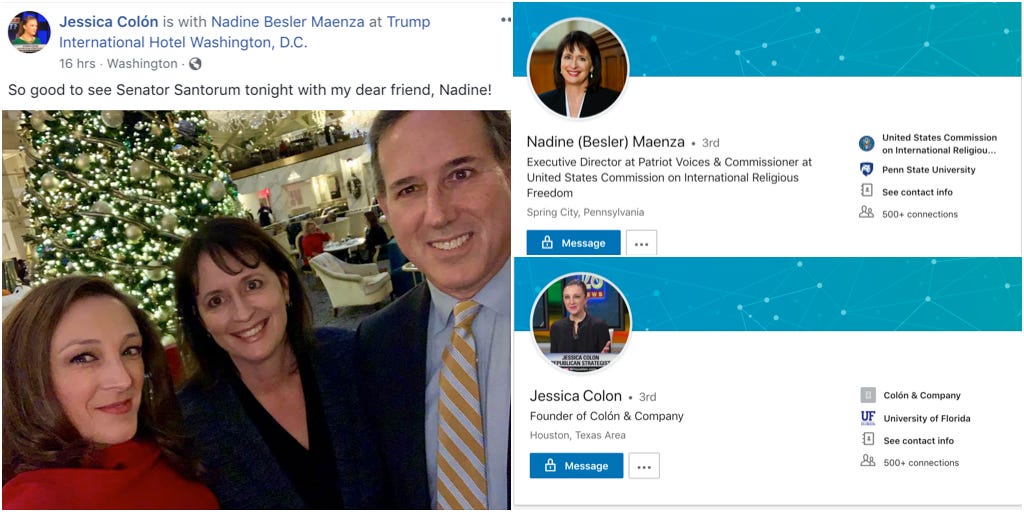 Trump 2020 campaign manager Brad Parscale towered over these RNC national committee women.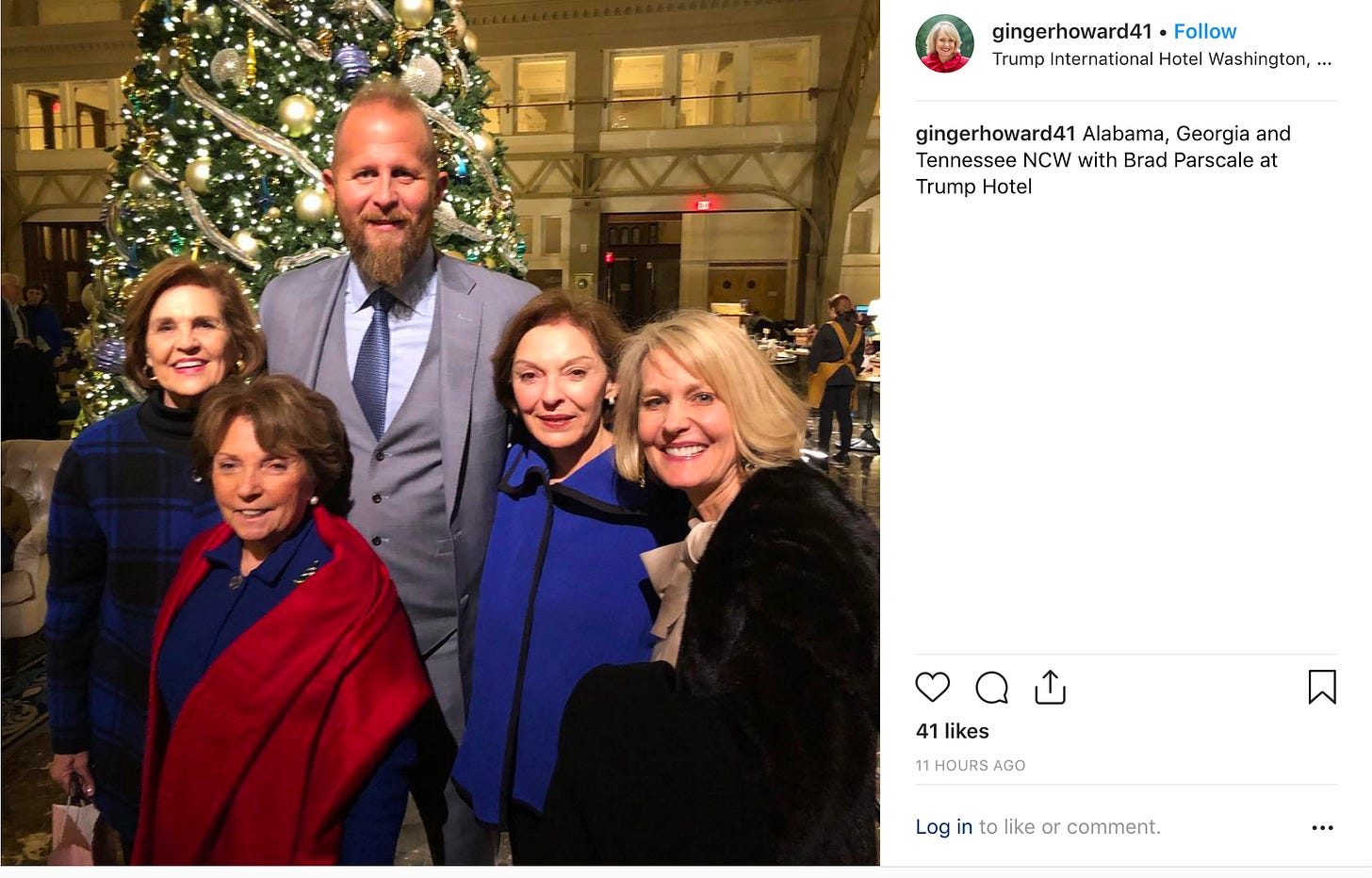 Trump 2020 campaign advisor and President Trump's daughter-in law, Lara Lea Trump, posed by the hotel's tree with her son.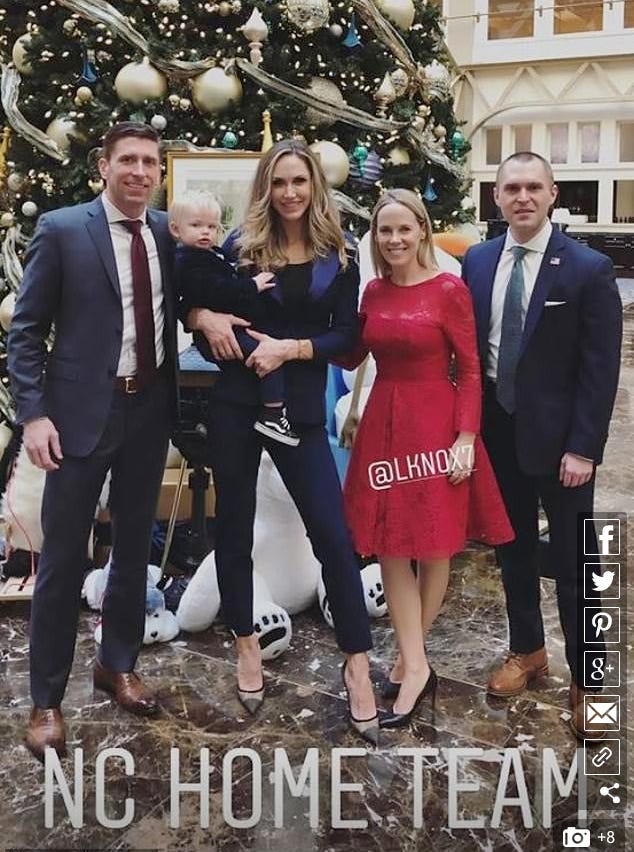 Actors Justin Theroux and Armie Hammer and made it rain outside the hotel.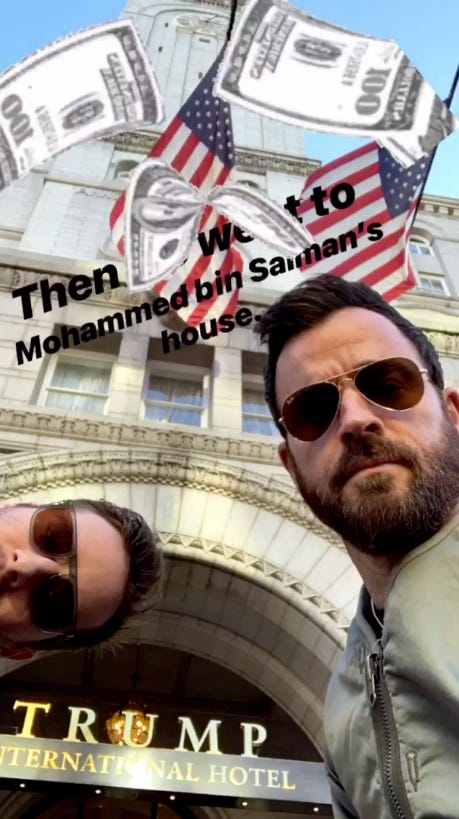 NGO Global Witness and Robin Bell projected a protest about the president's conflicts of interest on the building.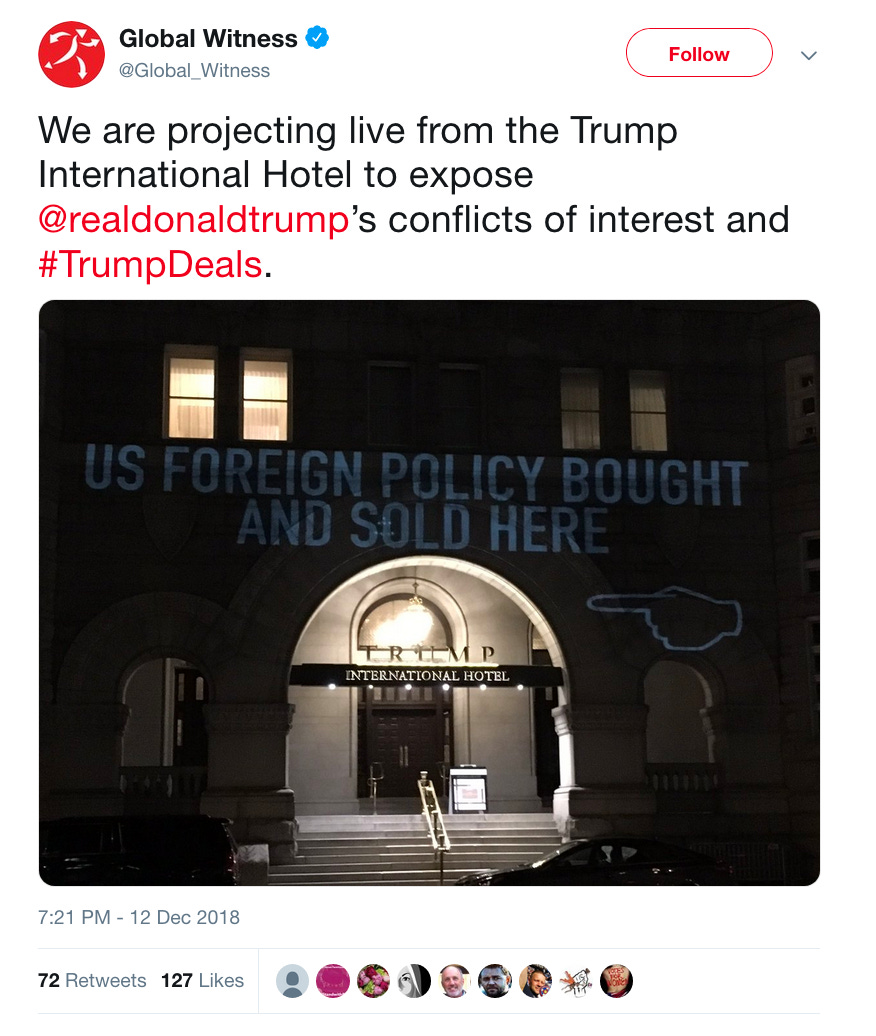 After their Christmas party, these Bush–Cheney alumni stopped in at the current president's hotel.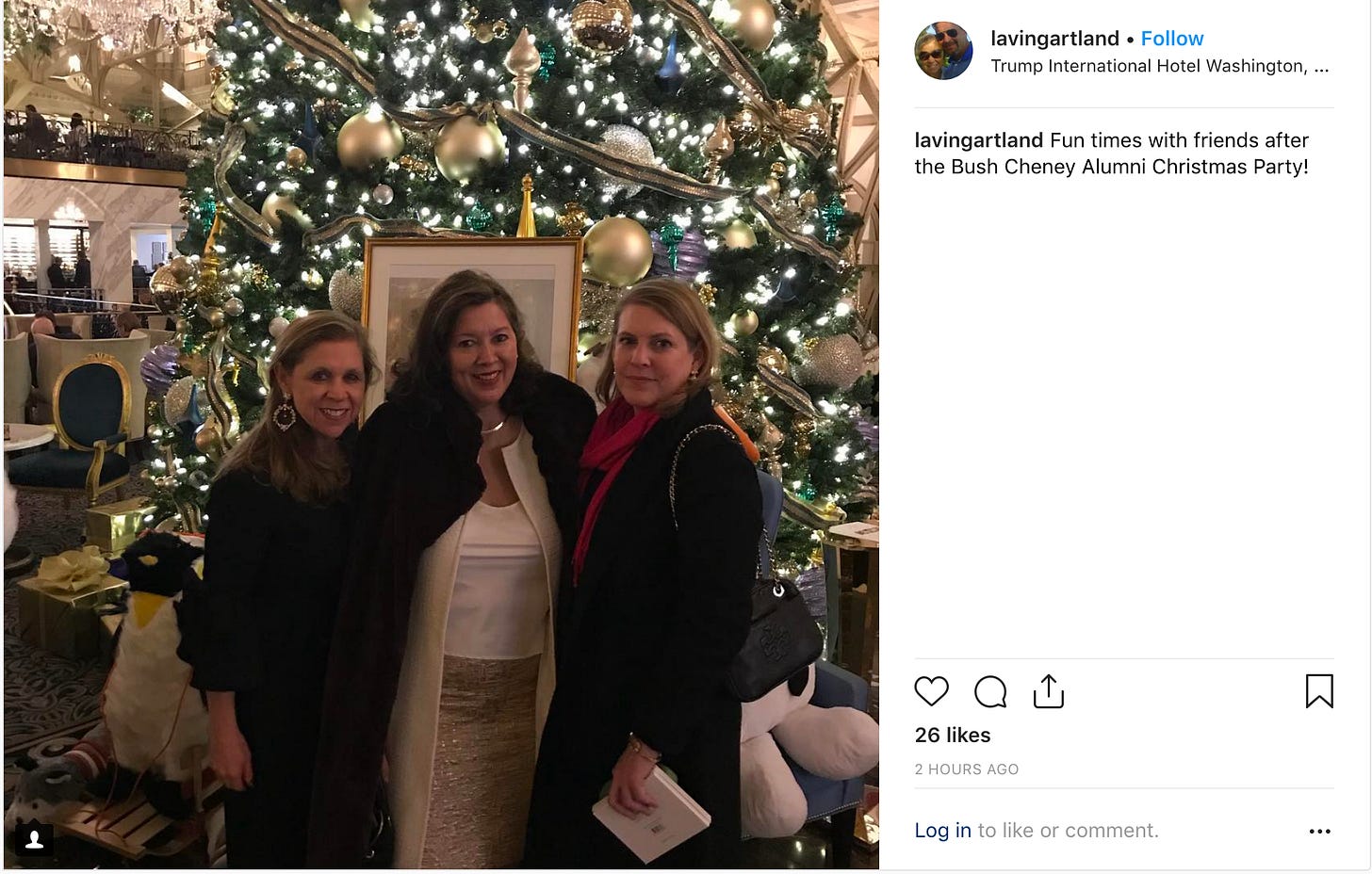 Flashback to just more than a year ago: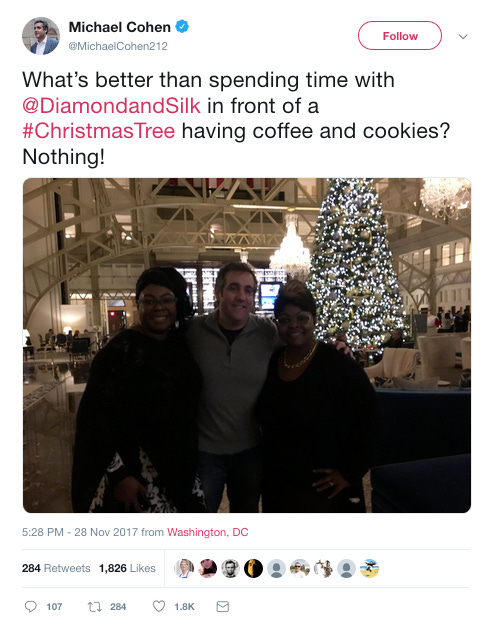 The hotel sent up a bottle to Julliane Thompson, a stressed out principal at the lobbying and communications firm Main Street Network Strategies.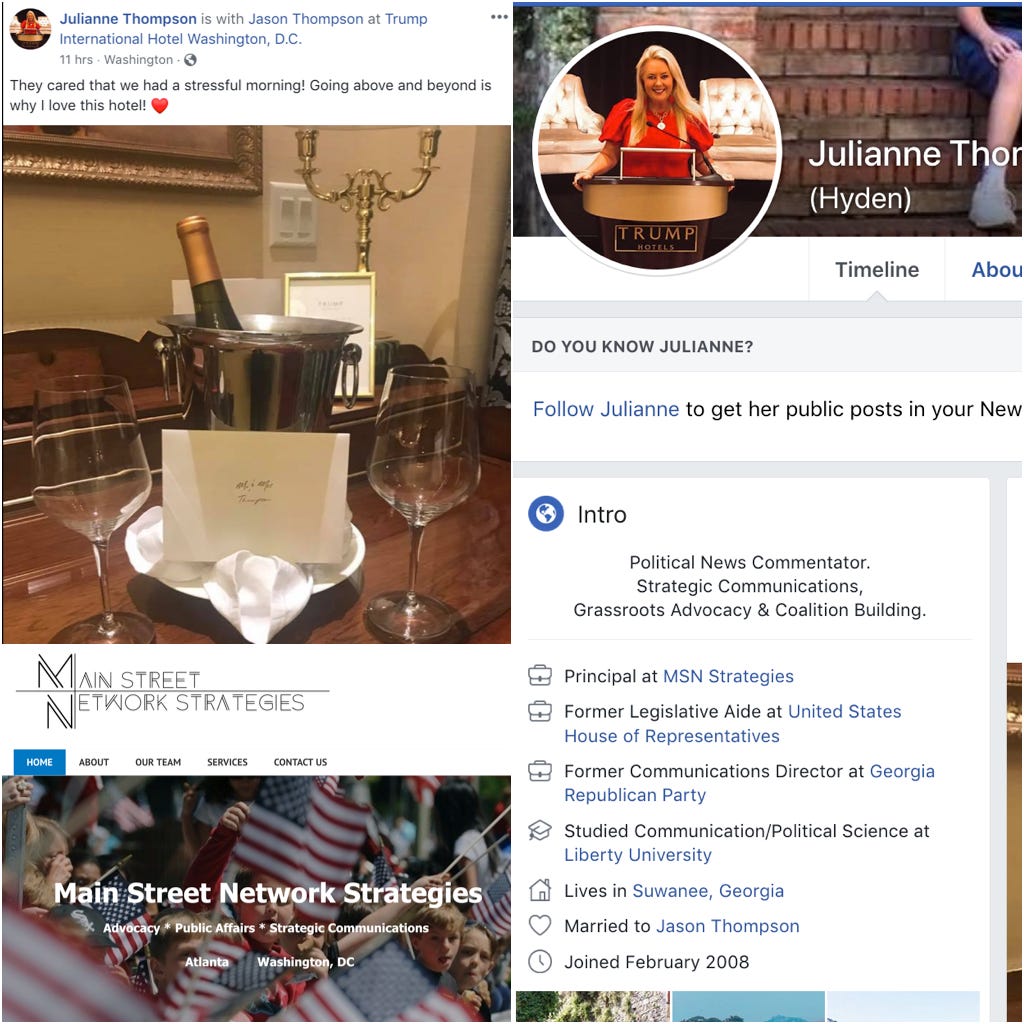 New campaign expenditure
Rep. Troy Balderson's (R–OH) campaign spent another $3,647.20 on food and beverage at the hotel on Nov. 18. In total his campaign has spent more than $9,000 at the president's hotel.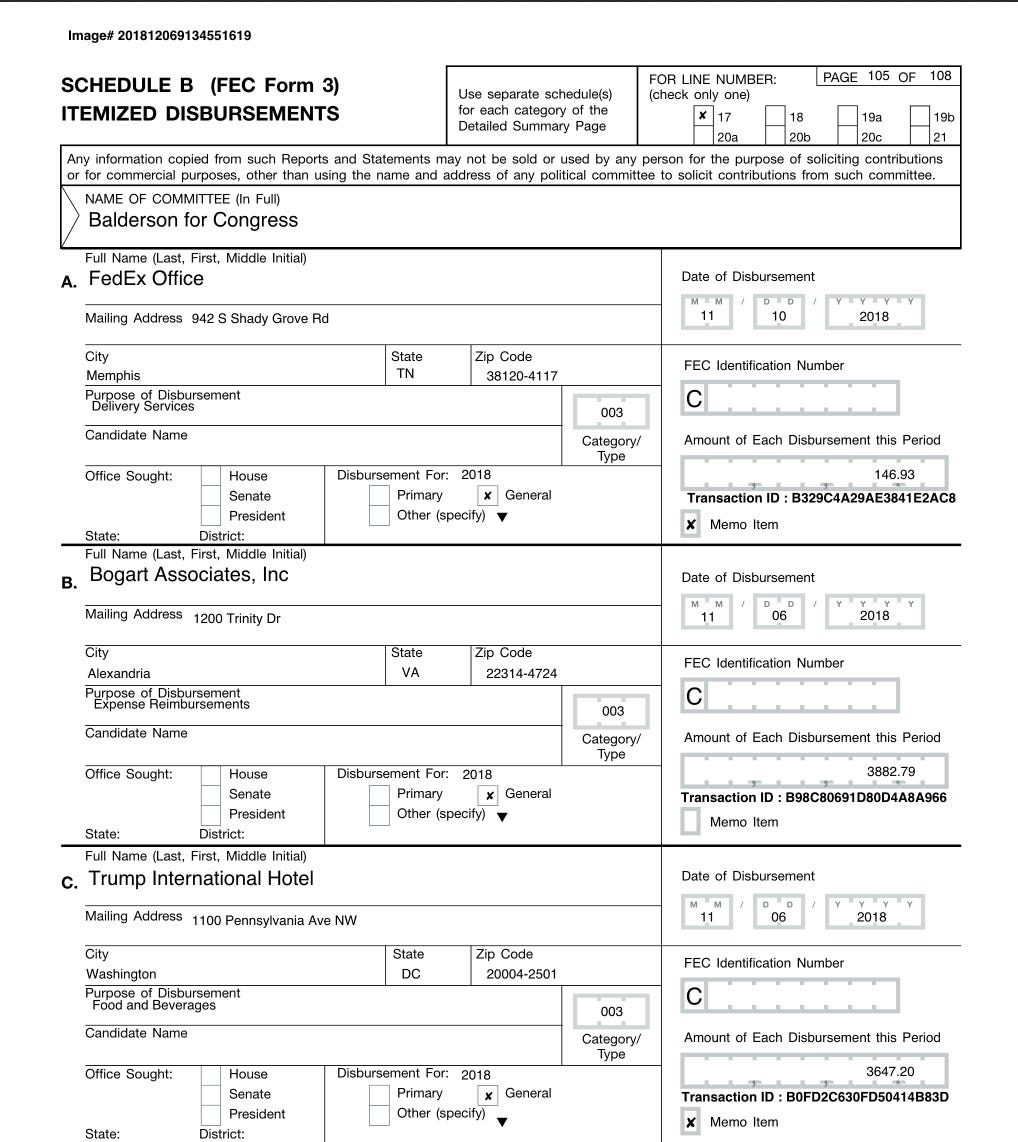 Legal cases, current status (latest change, Dec. 10, 2018)
Health inspections, current status (latest change, Aug. 10, 2018)
Correction: Previous issues of 1100 Pennsylvania wrongly stated the number of days since BLT Prime has been out of compliance with the D.C. health code. The figure mentioned, 238 days as of yesterday, was for the hotel itself rather than its steakhouse. BLT Prime had a clean review back in May; it was in August rather (just 124 days ago) when the D.C. Department of Health found nine violations. I regret the error.
Anyway, here's a rundown of the latest inspection results:
❌Hotel: five violations on May 7, 2018; two were corrected on site

❌BLT Prime and Benjamin Bar: nine violations on Aug. 10, 2018

❌Sushi Nakazawa: two violations on Aug. 10, 2018

✔️Banquet kitchen: no violations on Aug. 10, 2018

❌Pastry kitchen: two violations on Aug. 10, 2018

✔️Gift shop: no violations on May 7, 2018

❌Employee kitchen and in-room dining: five violations on Aug. 10, 2018; two were corrected on site
All information is as of today per the D.C. Department of Health (which does not assign grades, scores, or ratings). View all seven reports compiled into one .pdf here.
Other Trump Organization news
QAnon enthusiasts found all sorts of meaning in the Trump Hotel and Tower Chicago's gingerbread elevator.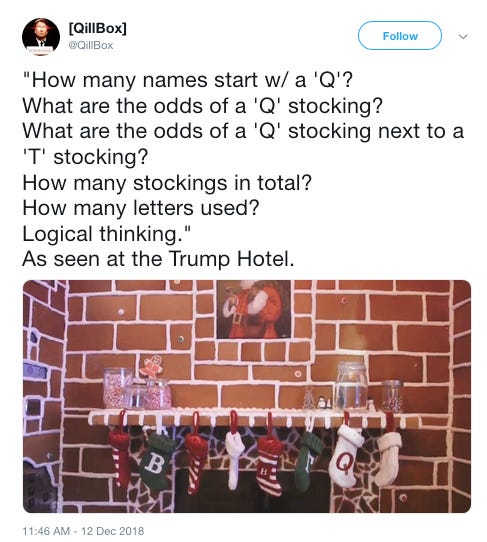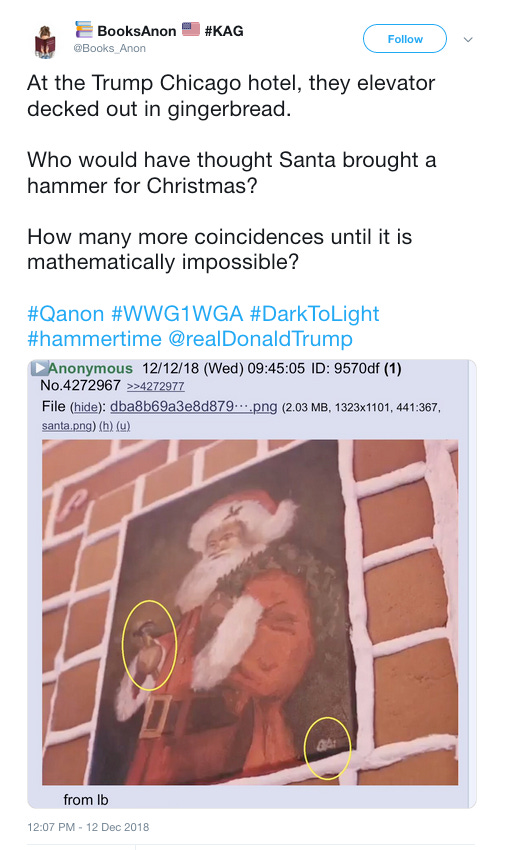 "A window washer fell to his death from the 64-story Trump International Hotel in Las Vegas on Wednesday," Allen Cone writes for UPI.
Ivanka Trump plugged the Trump administration's new opportunity zones and how they'll benefit the Mississippi Delta.Washington Post reporter Jonathan O'Connell promptly pointed out why she may have chosen to highlight that region.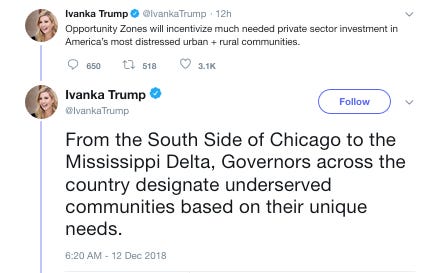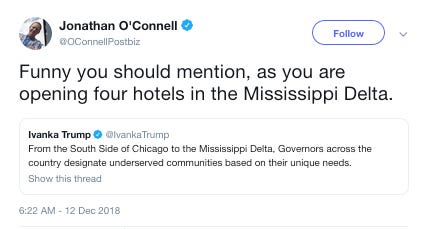 Norm Eisen, the chair of CREW, which is involved in two of the emoluments lawsuits against President Trump, thinks AMI's plea yesterday could lead to more legal problems for the Trump Organization.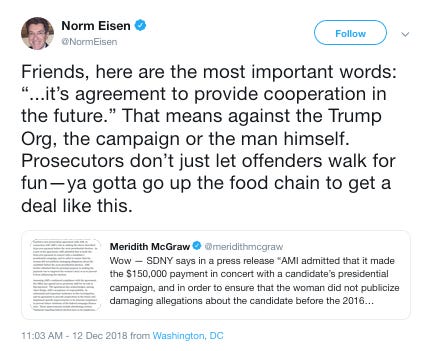 These tweets, sent a year ago, have not aged well.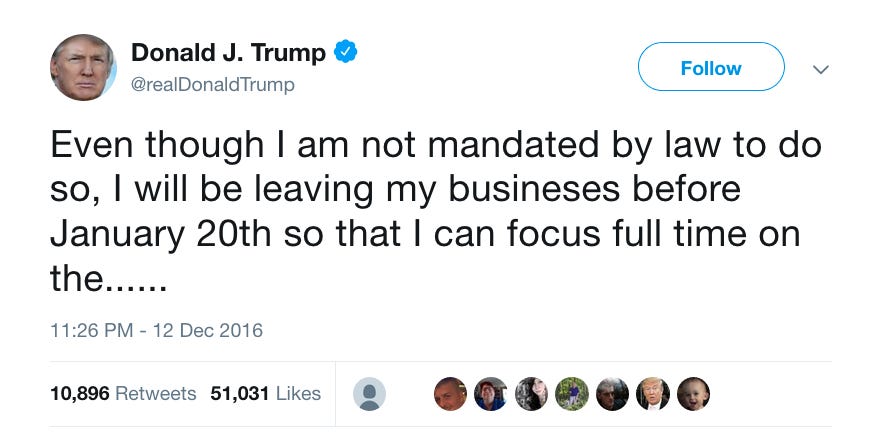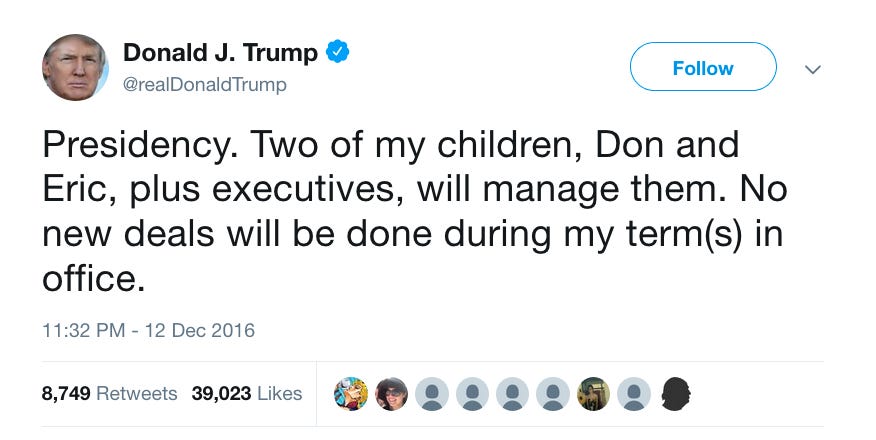 One thing that has nothing to do with Trump's businesses (I think, tough to tell sometimes!)
ProPublica and Kentucky Gov. Matt Bevin (R) exchanged pleasantries.
Thanks for reading. If you like what you saw, tell someone. If you've been forwarded this newsletter, subscribe for yourself at zacheverson.substack.com. Tips or feedback? Contact me, Zach Everson, securely via email at 1100Pennsylvania@protonmail.com or on Signal at 202.804.2744.