Discover more from 1100 Pennsylvania
"The undisputed expert on the D.C. Trump Hotel" – David Fahrenthold of the Washington Post
Over 3,000 subscribers
Trump, Pence posed with Brazilian official now suspected of having coronavirus
Report: Bolsonaro's press secretary, who was at Mar-a-Lago this weekend, now has coronavirus-like symptoms
This weekend at Mar-a-Lago, President Donald J. Trump and Vice President Mike Pence posed for a photo with a Brazilian government official who, according to a local media report, has since developed coronavirus-like symptoms.
UPDATE March 12, 2020, 11:20 a.m.: The government official has tested positive, according to Brazilian media reports.
UPDATE March 13, 2020, 9:55 a.m.: A major daily newspaper in Rio de Janeiro is now reporting that Brazil's President Jair Bolsonaro, who also met with Trump and Pence last weekend, has tested positive for cornoavirus.
UPDATE March 13, 2020, 11:56 a.m.: Via a post on his official Facebook page, Bolsonaro said he tested negative for COVID-19.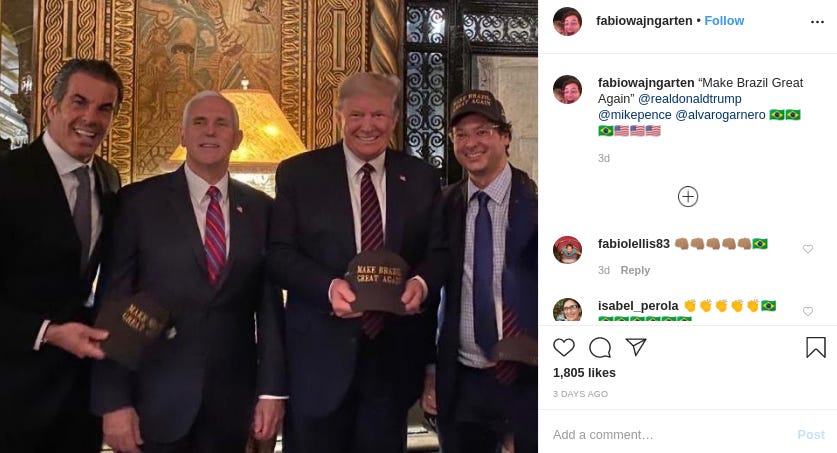 The official reportedly was tested Wednesday, and his results are due back Thursday.
Wednesday afternoon, Mônica Bergamo of Folha de S.Paulo, reported that Fabio Wajngarten, Bolsonaro's press secretary, is suspected of having the coronavirus. On Twitter, Wajngarten wrote that his health was fine without confirming or denying the report.
On his Instagram page three days ago, Wajngarten shared a photo of himself posing with Pence and Trump along with Make Brazil Great Again hats.
Pence, of course, is spearheading the United States's effort to contain the pandemic.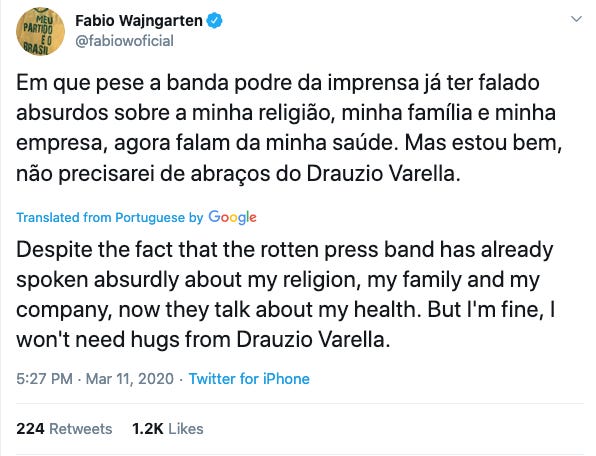 ---
'America's living room's' menu has added a new wine by the crystal spoon
The day the Dow Jones plummeted into bear-market territory, President Trump's D.C. hotel announced its beverage offerings now include a new sweet wine served by the crystal spoon. Referring to the hotel's bar again as "America's living room," managing director Mickael Damelincourt announced on Wednesday that the Trump Hotel D.C. now carries 2005 Château Climens 1er Cru, available by glass or spoon.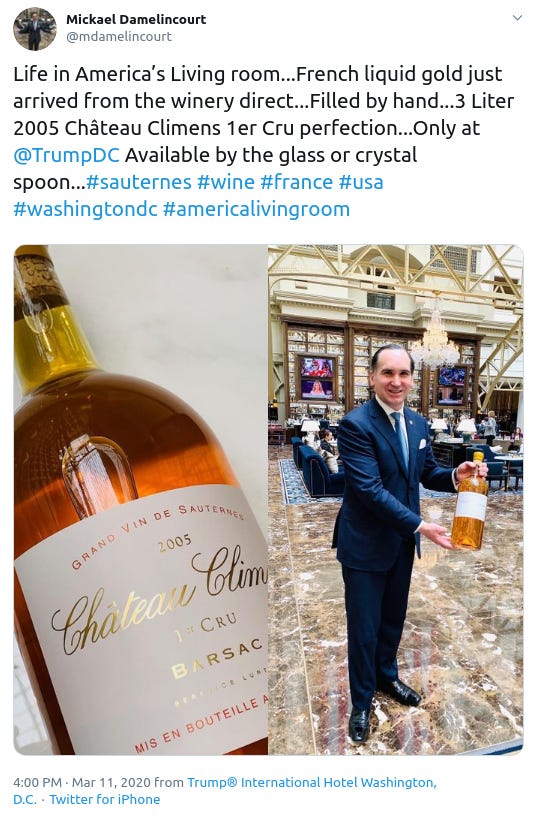 While the Benjamin Bar and Lounge's menu had not been updated by press time to include this new item—and its price—retail wine websites sell bottles of the 2005 Château Climens 1er Cru Barsac for around $150. Based on a search on Google, it appears the Trump Hotel D.C. though is the first venue to offer it by a crystal spoon.
The hotel already offers five varietals of sweet wine from a Hungarian vineyard via a 1-ounce pour on a crystal spoon. Prices ranging from $19 to $140, with the hotel suggesting guests order at least three to compare. And for $100, one can commemorate the experience by taking home a crystal spoon of their very own.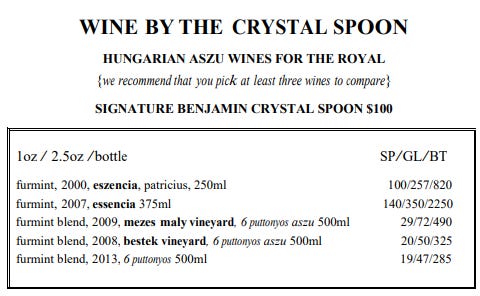 ---
1100 Pennsylvania's reporting reaches millions. Subscribe and ensure it continues.
Recently your correspondent appeared again on MSNBC's "The Beat with Ari Melber" to share 1100 Pennsylvania's reporting on the Trump Hotel D.C. Additionally, 1100 Pennsylvania's reporting recently was cited by The Associated Press, The Atlanta Journal Constitution, Capital (French), The Daily Beast, The Daily Mail, The Guardian, The Hartford Courant, Inside Edition, Ireland's Newstalk radio, NBC News, The New York Times, The Palm Beach Post, Stern (German), The Wall Street Journal, The Washington Examiner, The Washington Post, Washingtonian, and Yahoo News.
Thanks to 1100 Pennsylvania's paid subscribers who support in-depth reporting on who's paying Donald Trump and what they may want from the president, helping bring this information to a much wider audience. Paid subscriptions are this publication's sole source of revenue—no ads, no grants. Support this reporting and ensure it continues. Just $5 a month or $50 a year.
---
Campaign expenditures
The campaign for Rep. Mike Turner (R-OH) spent $98 for meeting food and beverage on Nov. 26 at the head of the executive branch's D.C. hotel. Turner's campaign now has reported spending a total of $2,040.30 at the Trump Hotel D.C.

---
Other notable sightings
A glimpse of the foreign officials, government employees, politicians, lobbyists, and the like who patronize or appear at Trump businesses. Most people shown here have reasons to want to influence the Trump administration, rely on its good graces for their livelihoods, or should be providing oversight. Additionally, high-profile guests serve as draws for paying customers.
Boxer Cara Castronuova chatted with the president while they were both at his Palm beach golf course. Each used to work with NBC as Castronuova had been a head trainer on The Biggest Loser.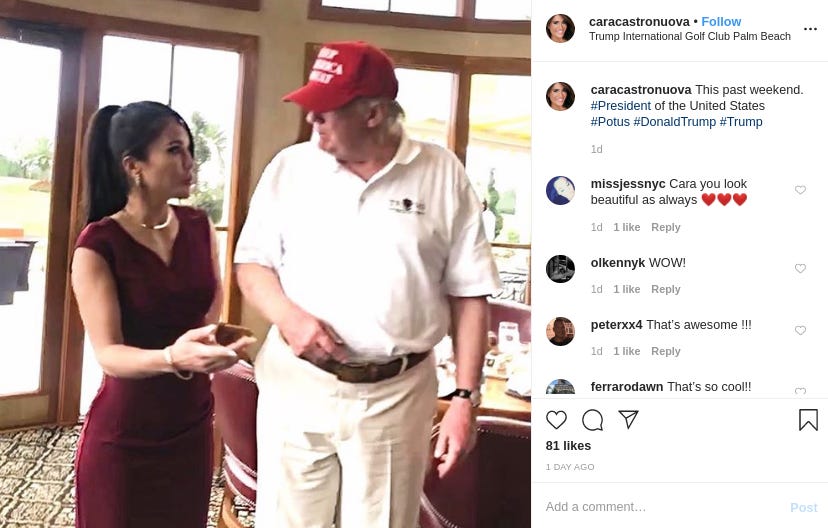 A new photo appeared of Attorney General William Barr hanging out at his boss's place.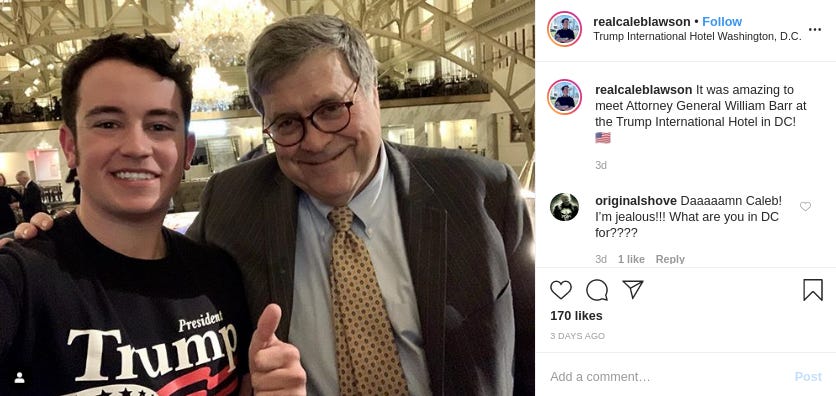 The GOP candidate for a U.S. House seat in Texas, Tre Pennie, smiled and put his hands out at the Trump Hotel D.C. He's with his "brother," John Willding, an organizer of the hotel's monthly happy hour for lobbyists. Pennie also posted that he's "a good friend" with the president's D.C. hotel's managing director (and Pennie's wearing a different outfit than in the first pic, meaning he's likely been there at least twice). The front page of Pennie's campaign website has a plugin that shows his Instagram posts, so voters interested in learning more about him will discover that he's a repeat customer of the president's. Pennie also shared the photos with his supporters via his campaign's official Facebook page.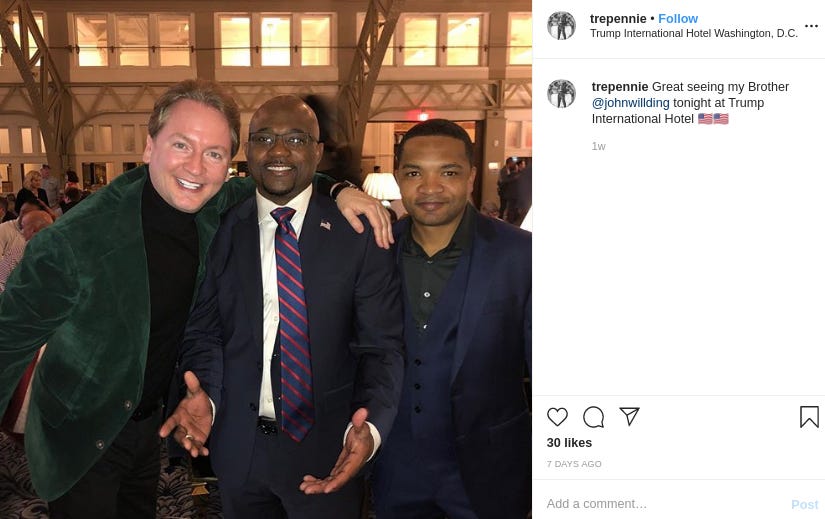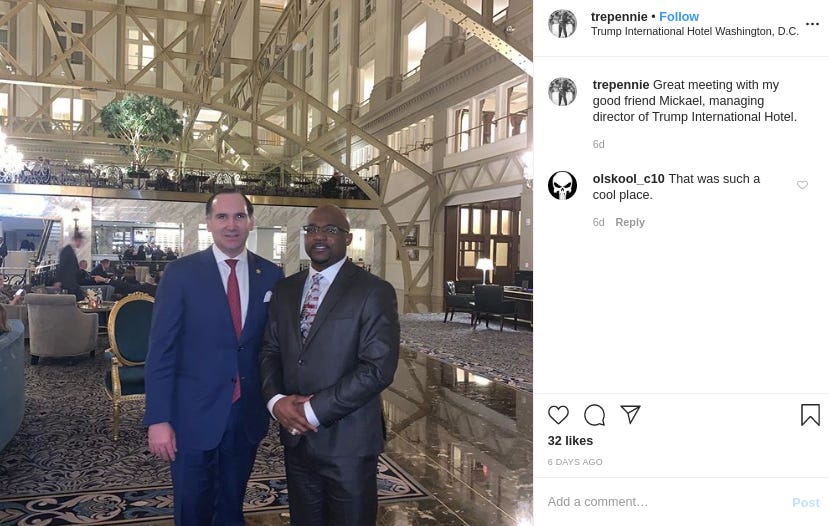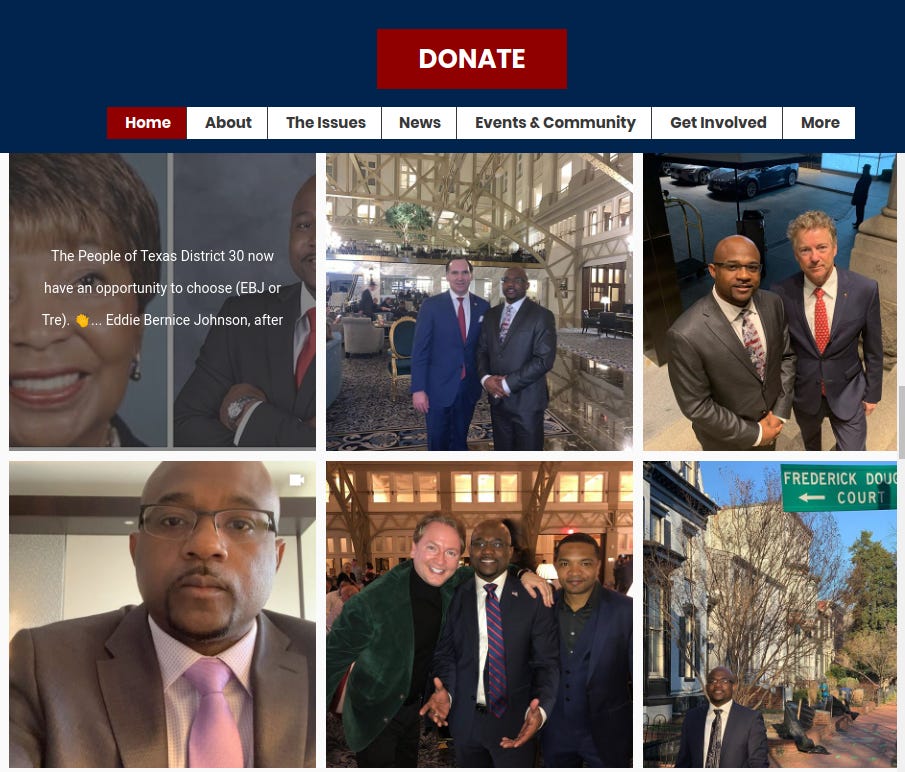 Jonathan Weinberger, an EVP at the U.S. Chamber of Commerce, visited Mar-a-Lago recently. Last April the U.S. Chamber of Commerce's president and CEO claimed the group was trying to distance itself from the GOP. (Weinberger's with State Department spokesperson Morgan Ortagus, who's his wife, and Fox News's Gina Loudon, both of whose presences 1100 Pennsylvania reported previously.)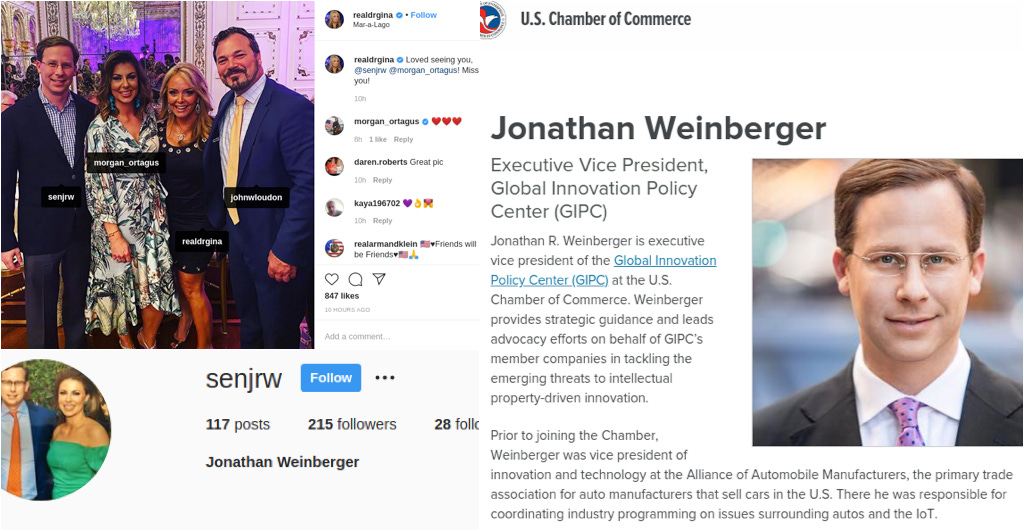 Scott McLaren, the deputy director of the Delaware Criminal Justice Council, an organization that administers federal grants, watched election returns Tuesday night at the president's D.C. hotel.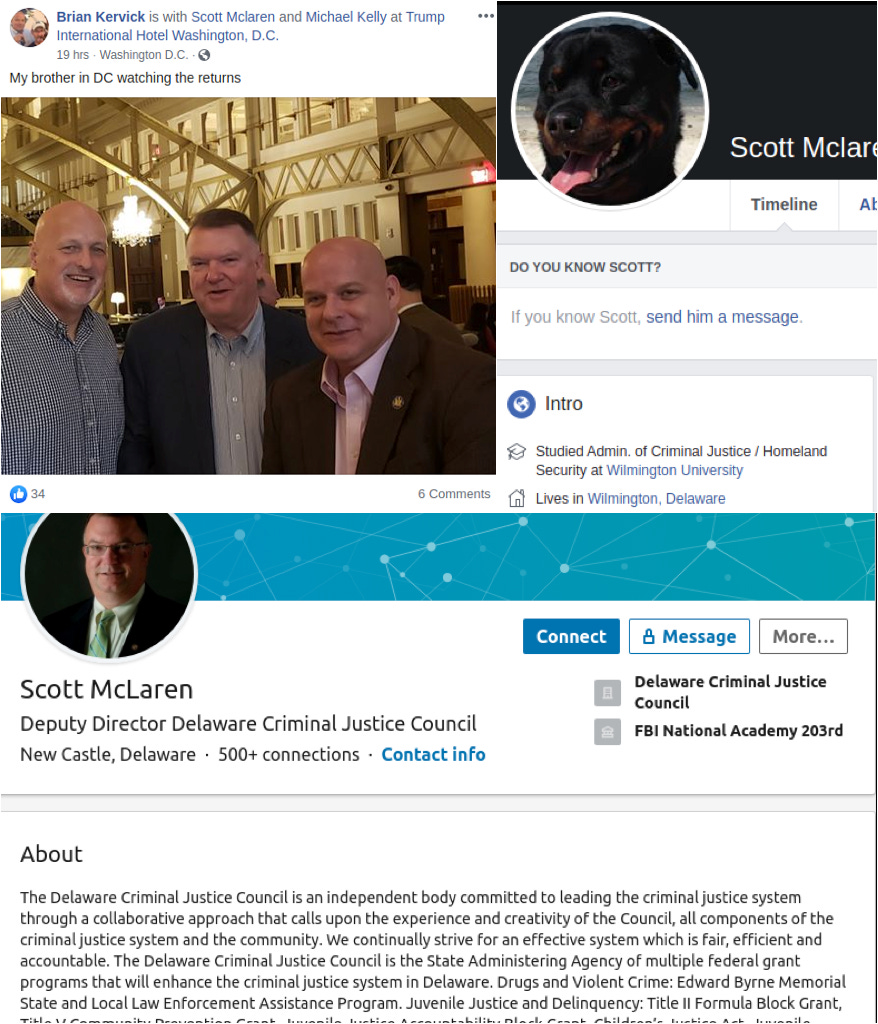 ---
Other Trump Organization news
---
Reference section
Links to rundowns of developments in the House's investigations and lawsuits, reference sheets for some of 1100 Pennsylvania's previous reporting, and articles that provide the background on why all of this matters. The date published or last updated is in parentheses.
Trackers
Notable hotel customers
Summaries
25 unimpeachable examples of Trump profiting from his hotel: Foreign governments, Trump administration, GOP lawmakers, industry all have called on the Trump Hotel D.C. since its owner became president (Sept. 27, 2019)

"Power tripping in the swamp: How Trump's D.C. hotel swallowed Washington
The MAGA social scene is a movable feast, but its dark heart resides within the Old Post Office Building, where the Trump Org operates under a mercenary charter" by your correspondent for Vanity Fair (October 2019)

"Inside the world's most controversial hotel: The hotel that was expected to take its place among the crown jewels of D.C.'s travel scene has become a magnet for protestors, a West Wing Annex, and—possibly—the center of a constitutional crisis." by your correspondent for Condé Nast Traveler (May 2018)
Upcoming key dates
Sept. 23, 2019—House Judiciary Committee hearing "Presidential corruption: Emoluments and profiting off the presidency" (postponed, not yet rescheduled)

Jan. 23, 2020—Trump Organization's deadline to bid for the lease rights to its D.C. hotel.

March 20, 2020—Status hearing before D.C. Superior Court in former hotel employees' lawsuit alleging racial discrimination

March 31, 2020—Supreme Court hears Trump's appeal of earlier rulings requiring his financial institutions to comply with subpoenas from House Financial Services, Intelligence, and Oversight Committees and the New York district attorney's office

April 6, 2020—Deadline for parties to exchange witness lists in lawsuit alleging a shard of glass from a sabered bottle of champagne left a gash in a customer's chin

June 2020—Supreme Court decision due on Trump's appeal of earlier rulings requiring his financial institutions to comply with subpoenas from House Financial Services, Intelligence, and Oversight
---
Thanks for reading! If you like what you've read, tell someone. If you've been forwarded this newsletter, subscribe at 1100pennsylvania.substack.com. Questions? Read our FAQ. Tips or feedback? Contact Zach Everson at 1100Pennsylvania@protonmail.com (it'll be encrypted if you also use a ProtonMail account, which is free) or via Signal (secure), SMS, or mobile at 202.804.2744.