Trump plugged Trump course, Trump charity, Trump regular
In a single retweet, the U.S. president promoted his golf course, a charity associated with his son, and a Trump business regular
Peak synergy between the Trump administration, the Trump Organization, and the Trump family's for-profit charitable work may have been reached last night when President Trump retweeted the Trump Organization promoting both a Trump golf course and a charity formerly called the Eric Trump Foundation. That charity, in turn, raises funds to support a research hospital that regularly holds events at Trump properties. (Due to a formatting limitation, select this link to watch the video in the tweet.)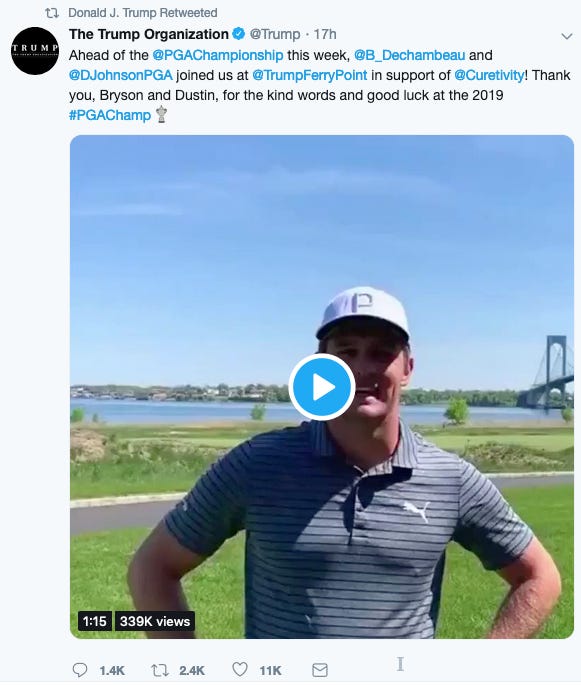 The Trump Organization's tweet from earlier in the day included a video of pro golfers Bryson DeChambeau and Dustin Johnson praising Trump Golf Links at Ferry Point:
"Just played at Trump Golf Links Ferry Point and it is incredible today. It was an awesome experience. Loved every minute of it," said DeChambeau, a five-time PGA tour winner. "You guys should all check it out. Something that I know I'll be coming back to for a long time."

"The golf course is beautiful. I'd recommend anybody who has a chance to come out and play it. I love the golf course" said Johnson, currently the world's top-ranked golfer.
The text of the Trump Organization's tweet also plugs Curetivity—which used to be called the Eric Trump Foundation. Curetivity raises funds for St. Jude Children's Research Hospital in Memphis. And as 1100 Pennsylvania reported yesterday,
Also, in 2016 Eric wrote that he was resigning from his charity and ceasing "all direct fundraising efforts of my foundation…during the tenure of my father's presidency in order to avoid the appearance or assertion of any impropriety and/or a conflict of interest." Yet that messaging didn't get across to at least one of the golfers supporting Curetivity at Trump Ferry Point.
In a video Barstool Sports's podcast Fore Play shared earlier in the week, DeChambeau told members of the media, "I did an Eric Trump Foundation thing on Saturday." [H/T Nick Penzenstadler of USA Today] (Due to a formatting limitation, select this link to watch the video; DeChambeau's mention of the Eric Trump Foundation comes at 0:23.)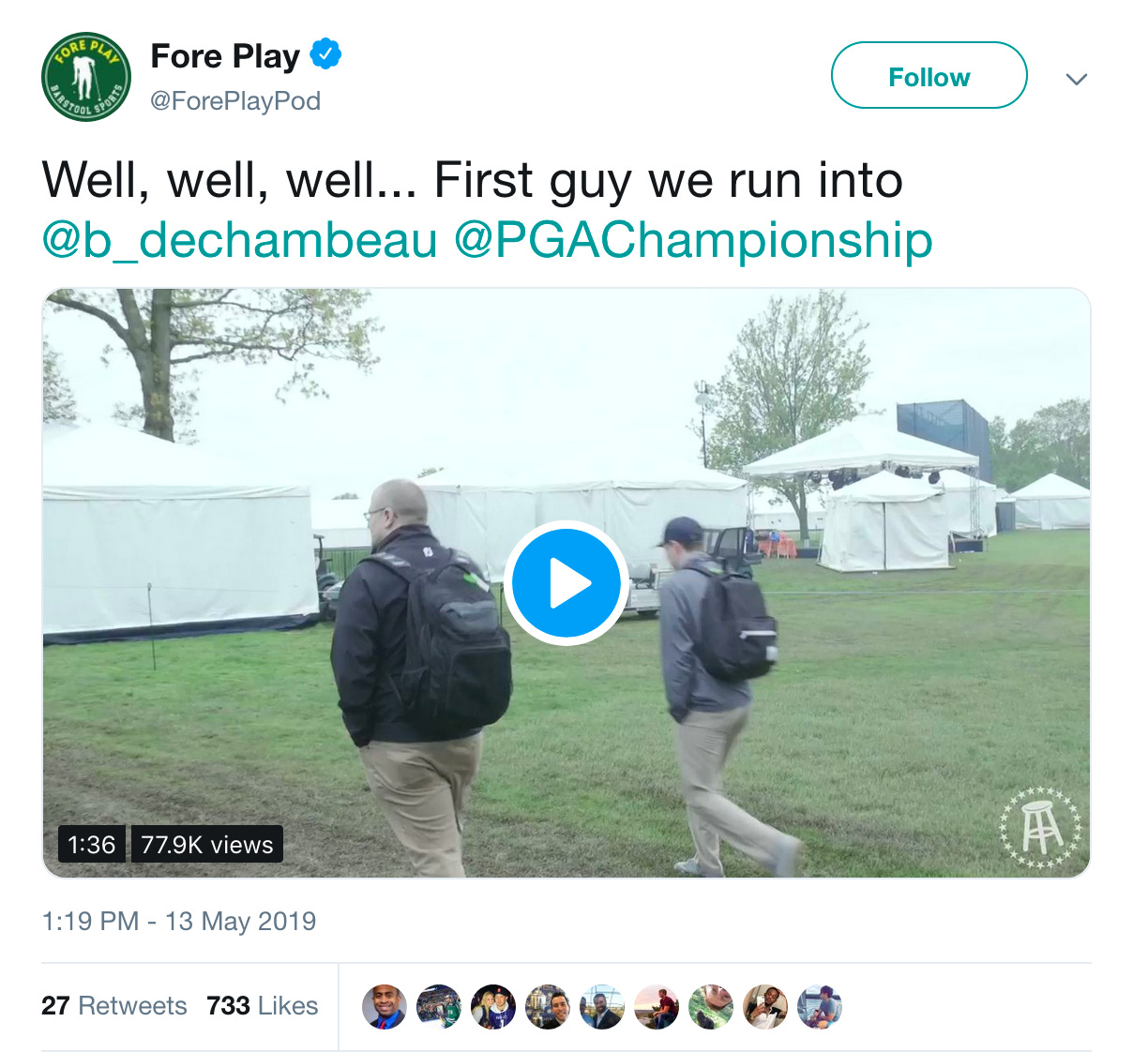 So, to recap, we had the U.S. president retweeting his business, which was promoting one of its golf courses and a charity involving one of his sons that raises funds for a Trump golf course regular.
---
Trump bunking tonight at 'one of the least desirable luxury properties in Manhattan'—his own
Two days after Shahien Nasiripour reported for Bloomberg that Trump Tower "now ranks as one of the least desirable luxury properties in Manhattan," the White House announced President Trump will spend tonight at—Trump Tower.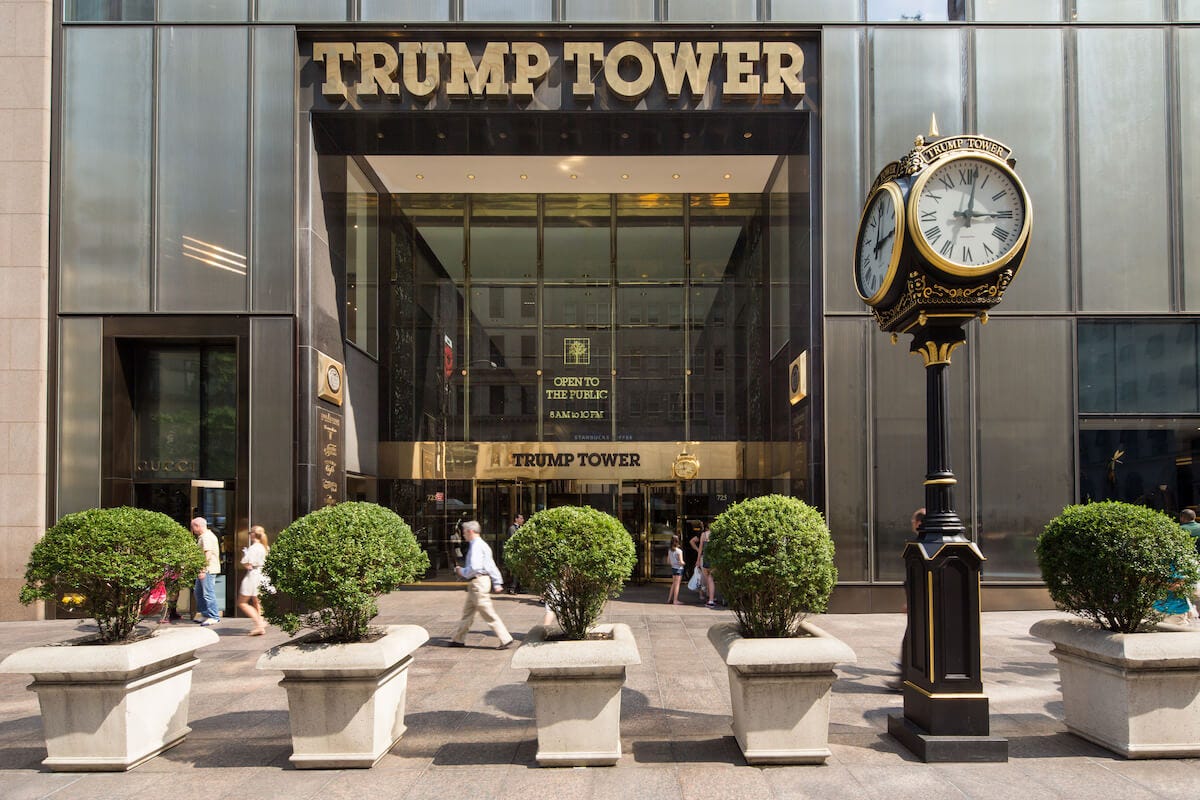 ---
Support 1100 Pennsylvania: never-redacted reporting on President Trump's D.C. hotel
We now know most of what's in the Mueller report. It's time to focus on what happens inside the Trump Hotel D.C. and the president's other businesses. Original, in-depth reporting, of course, takes time. But it's making an impact—and you can help. If you're not an 1100 Pennsylvania member, please become one. Memberships are this newsletter's sole source of revenue. Select the red "Subscribe now" button and become a member by paying just $5 a month or $50 a year. Thank you.
---
Trump Hotels reaching out to luxury Asian market
"ILTM Asia Pacific is THE invitation-only event where the suppliers of luxury travel experiences meet the buyers representing the fast growing and sought after market of luxury travellers from Asia Pacific," according to its website.
Trump Hotels will be exhibiting at the trade show, which takes place May 27–30 in Singapore. And Mickael Damelincourt, the Trump Hotel D.C.'s managing director, will be there, drumming up business for the U.S. president's Pennsylvania Avenue hotel from wealthy Asians.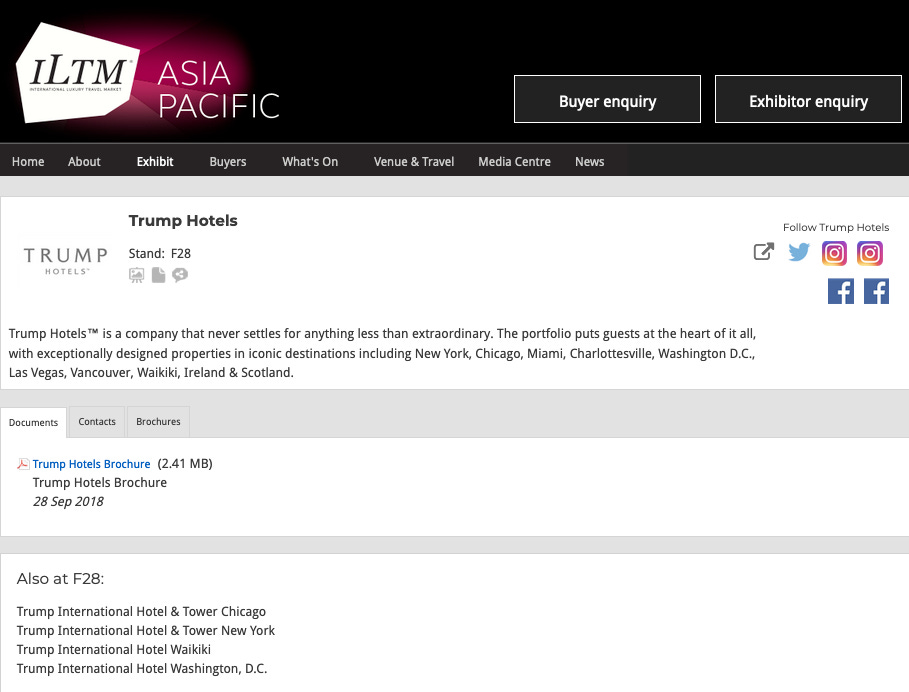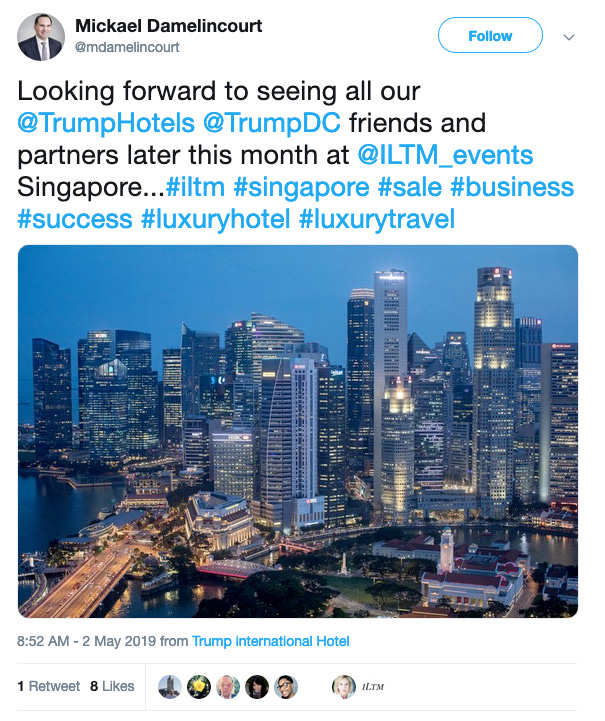 Also, the brochure of Trump properties uploaded to the ILTM website advertises the Trump International Hotel and Tower Panama; that property was de-Trumped in March 2018.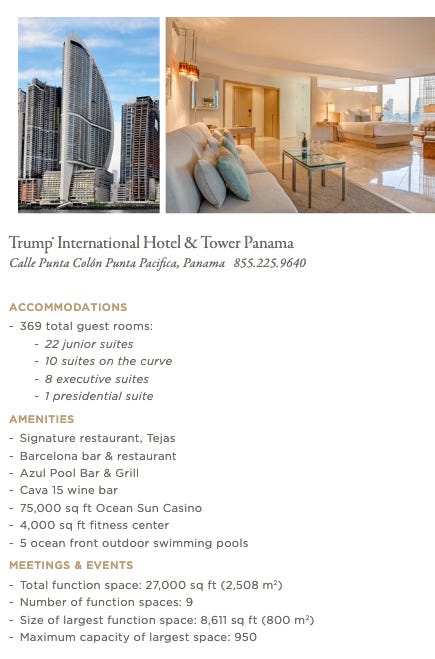 ---
Trump pardoned former business partner
Yesterday President Trump pardoned Conrad Black, who was convicted of fraud in 2007 and has been out of prison for almost nine years.
Black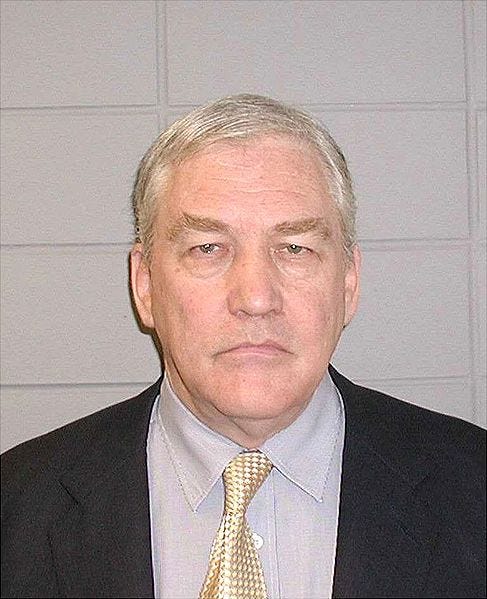 ---
Can you solve the mystery of the Trump Hotel D.C.'s missing dumpsters?
If so, please contact me. [H/T @WallyCohen]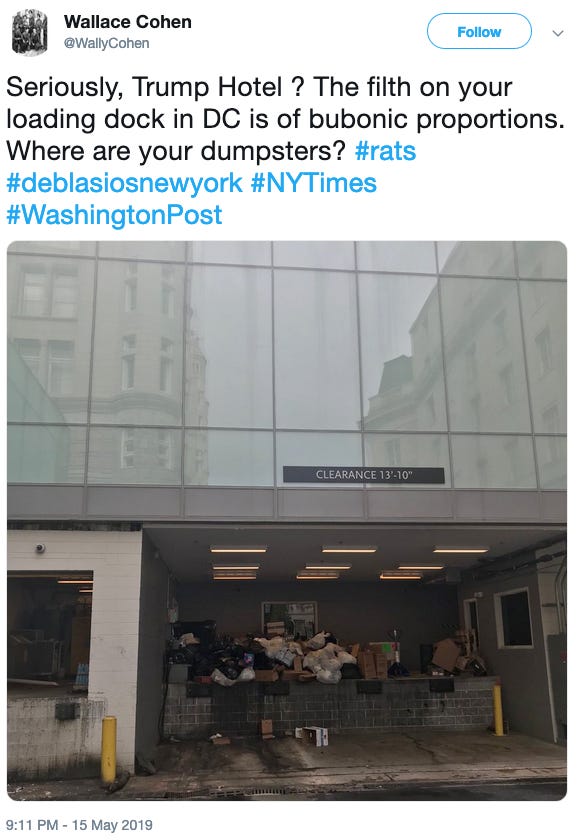 ---
Correction
Yesterday's 1100 Pennsylvania reported that the St. Jude New Jersey Golf Classic will take place in July at Trump Bedminster. It actually is slated for Trump Colts Neck. We regret the error and have updated the web version of the newsletter.
---
Notable sightings
A former advisor to Nigel Farage and Steve Bannon, Raheem Kassam, ran into Rudy Giuliani at the Trump Hotel D.C. per Ben Schreckinger for Politico. Kassam and Giuliani are both regulars at the hotel.
A policy advisor for the pro-Trump nonprofit America First Policies, a member of the pro-Trump America Winning Coalition's executive board, and the chair of Vote America First, Martha Boneta, ostensibly shared a photo on her phone for you to look at on your phone advising you to forget about your phone.
The executive director of the conservative Moms March for America, Karen R. Vaughn, did not hate her room.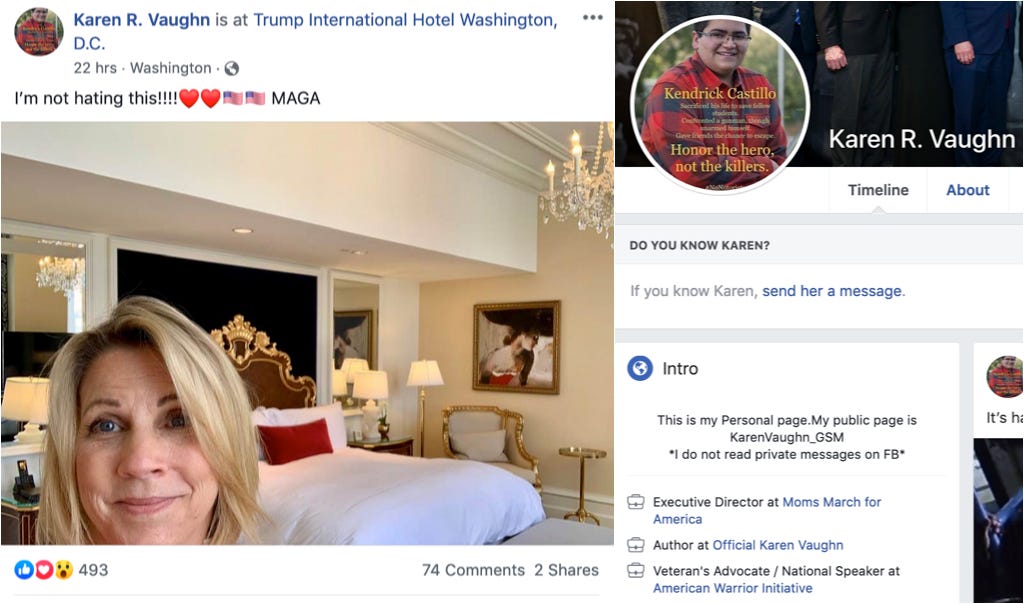 National police week brought more officers into the president's hotel: two of these diners, John Sully and Tracy Cavanaught, work for the Chicago police department.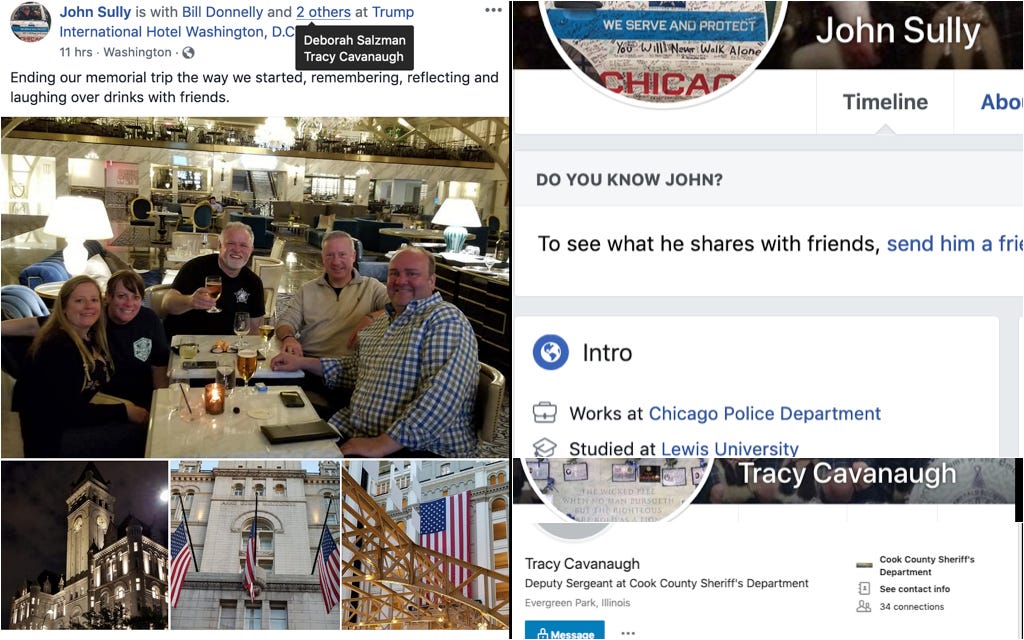 ---
Other Trump Organization news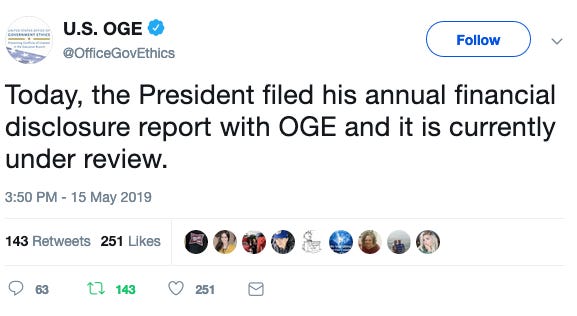 ---
House investigations, current status (latest change, May 16, 2019)
---
President Trump chose not to divest; Americans need to know who's paying him
Unlike his predecessors, Donald Trump did not divest his businesses upon becoming U.S. president. Think that may be a problem? Become an 1100 Pennsylvania member, and support reporting on who's spending money at the president's businesses—and what they may be getting in return. Memberships are this newsletter's sole source of revenue. Select the red "Subscribe now" button and become a member by paying just $5 a month or $50 a year. Thank you.
---
Legal cases, current status (latest change, May 16, 2019)
D.C. and MD attorneys general's emoluments lawsuit (district court docket, appellate court docket)—

Official capacity—On Dec. 20, 2018, the 4th U.S. Circuit Court of Appeals ruled it would hear the president's appeal of district court rulings that allowed the case to proceed to discovery, and the appellate court halted discovery in the case. Discovery had started Dec. 3 and was scheduled to run through Aug. 2, 2019, with the AGs having subpoenaed the Trump Organization, including its Scottish golf courses; the U.S. Departments of Agriculture, Commerce, Defense, and Treasury and the GSA; and the state of Maine. Oral arguments on the appeal occurred on March 19; by all accounts the three-judge panel (all Republican appointees, including one who was a selection of President Trump's) were skeptical of the AGs' case. D.C. AG Karl Racine pledged to take the case to the U.S. Supreme Court if necessary.

Individual capacity—On Dec. 14, Trump's personal attorneys appealed the denial of their motion to dismiss the case, also to the 4th U.S. Circuit Court of Appeals. On Dec. 19, the AGs replied to Trump's motion for a stay pending that appeal by voluntarily dismissing the claims against Trump in his "individual capacity to allow the claims against President Trump in his official capacity to move forward expeditiously." (The AGs only brought suit against Trump in his individual capacity after the judge suggested they do so.) Trump's personal attorneys, on Dec. 21, opposed the motion to dismiss at the district level, saying the appeals court now has jurisdiction and accusing the AGs of "gamesmanship."

Democratic senators and representatives' emoluments lawsuit—On Sept. 28, Judge Emmet G. Sullivan ruled that the legislators have standing to sue. Trump's Justice Department attorneys filed an interlocutory appeal on Oct. 22. On Jan. 30, 2019, the plaintiffs' filed a notice of supplemental authority, notifying the court of the GSA inspector general's report that criticized GSA for failing to consider if the Trump Hotel D.C.'s lease was in compliance with the Constitution after Trump became president. Two days later, the president's attorneys argued that the IG's conclusion was not inconsistent with Trump's argument, but that the judge should ignore that report anyway because the IG has no expertise in interpreting or applying the foreign emoluments clause. On April 30, Sullivan denied Trump's motion to dismiss the suit. While the president's attorneys have a supplemental brief due on May 28, on May 14 they filed a motion to stay the proceedings while they appeal Sullivan's decision.

CREW et. al's emoluments lawsuit—In February 2018, CREW appealed its suit being dismissed for lack of standing to the 2nd U.S. Circuit Court of Appeals. Oral arguments on that motion were held on Oct. 30.

UPDATED Cork's unfair competition lawsuit—Judge Richard J. Leon dismissed the case on Nov. 26, 2018, writing "Cork has failed to state a claim for unfair competition under D.C. law." On Dec. 10, Cork's attorneys filed a notice of appeal and on Jan. 10, 2019 they submitted a statement of issues to be raised. Cork filed its first appellant brief on May 15, arguing "the District Court failed to recognize the evolving nature of the common law of unfair competition in the District of Columbia and erroneously treated the prior cases as if they were a series of statutes that Appellant had to satisfy to state a claim

Employees' class-action suit alleging racial discrimination—Two of the three plaintiffs did not appear at a status hearing on Jan. 25, 2019; their cases were moved to arbitration. Via email, their attorney, A.J. Dhali, said his clients did not appear at the hearing because their case already had been moved to arbitration last year. The next status hearing is scheduled for Oct. 4.
---
Health inspections, current status (latest change, Aug. 10, 2018)
❌Hotel: five violations on May 7, 2018; two were corrected on site

❌BLT Prime and Benjamin Bar: nine violations on Aug. 10, 2018

❌Sushi Nakazawa: two violations on Aug. 10, 2018

✔️Banquet kitchen: no violations on Aug. 10, 2018

❌Pastry kitchen: two violations on Aug. 10, 2018

✔️Gift shop: no violations on May 7, 2018

❌Employee kitchen and in-room dining: five violations on Aug. 10, 2018; two were corrected on site
---
Is the Trump Organization selling merchandise that depicts the White House? (latest change, March 21, 2019)
Yes.
---
One thing that (probably) has nothing to do with Trump's businesses
From "Jeff Koons 'Rabbit' sets auction record for most expensive work by living artist" by Scott Reyburn for The New York Times:
A shiny stainless steel sculpture created by Jeff Koons in 1986, inspired by a child's inflatable toy, sold at Christie's on Wednesday night for $91.1 million with fees, breaking the record at auction for a work by a living artist, set just last November by David Hockney.

Robert E. Mnuchin, an art dealer and the father of Treasury Secretary Steven Mnuchin, made the winning bid for Mr. Koons's 1986 "Rabbit" from an aisle seat near the front of the salesroom. He was seated near Peter Brant, the collector and private museum-owner, and Jeffrey Deitch, the dealer.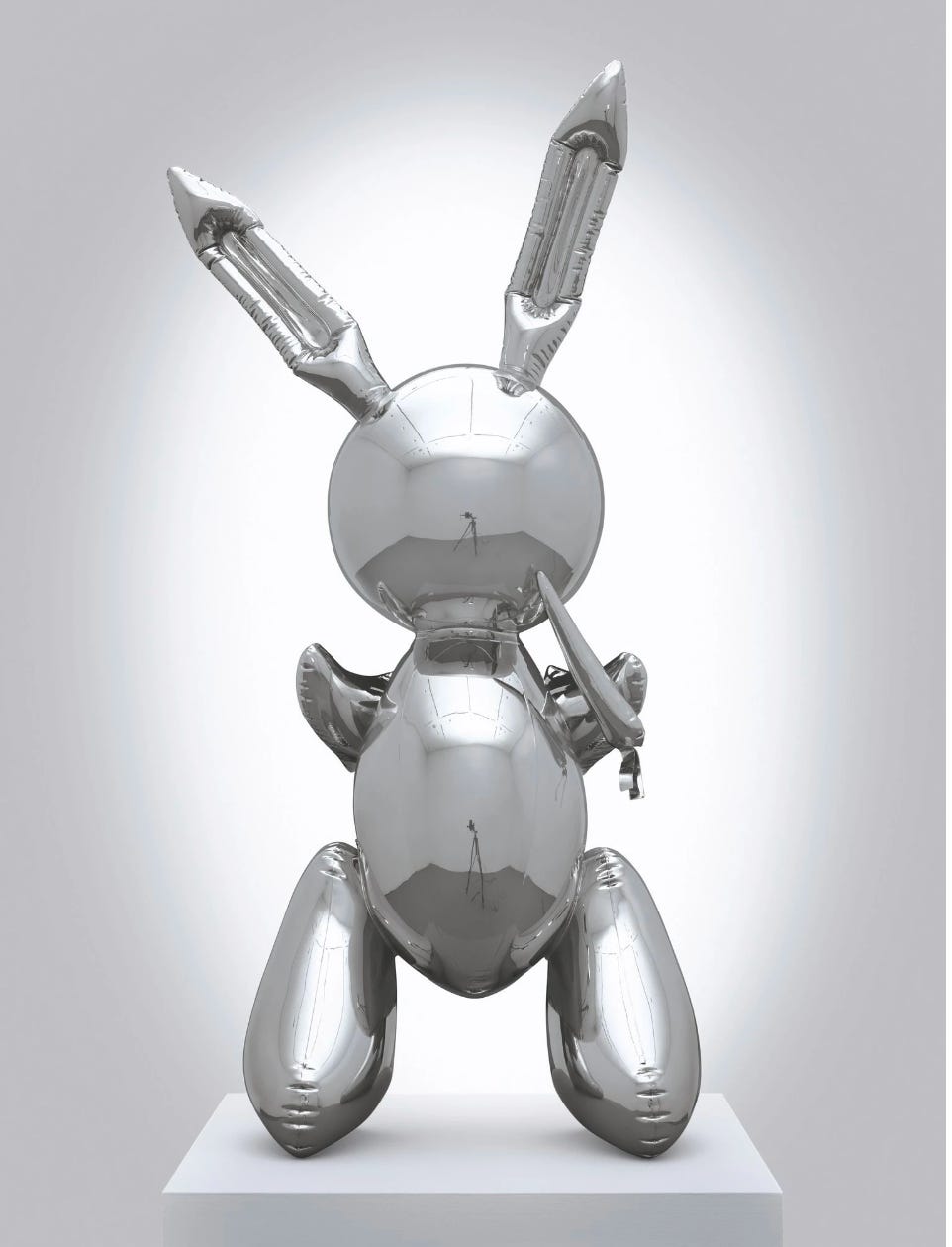 ---
Thanks for reading. If you like what you saw, tell someone—and support this work by becoming a member. If you've been forwarded this newsletter, subscribe for yourself at zacheverson.substack.com. Questions? Read our FAQ/manifesto. Tips or feedback? Contact me, Zach Everson, securely via email at 1100Pennsylvania@protonmail.com or on Signal at 202.804.2744.