Discover more from 1100 Pennsylvania
"The undisputed expert on the D.C. Trump Hotel" – David Fahrenthold of the Washington Post
Over 3,000 subscribers
Trump profits from gun industry
Hotel hosted firearms conference same week three mass shootings killed 32 people
In the same week three mass shootings killed 32 people in the United States, President Trump profited from the gun industry when his Trump Hotel D.C. hosted the Firearms Import/Export Conference.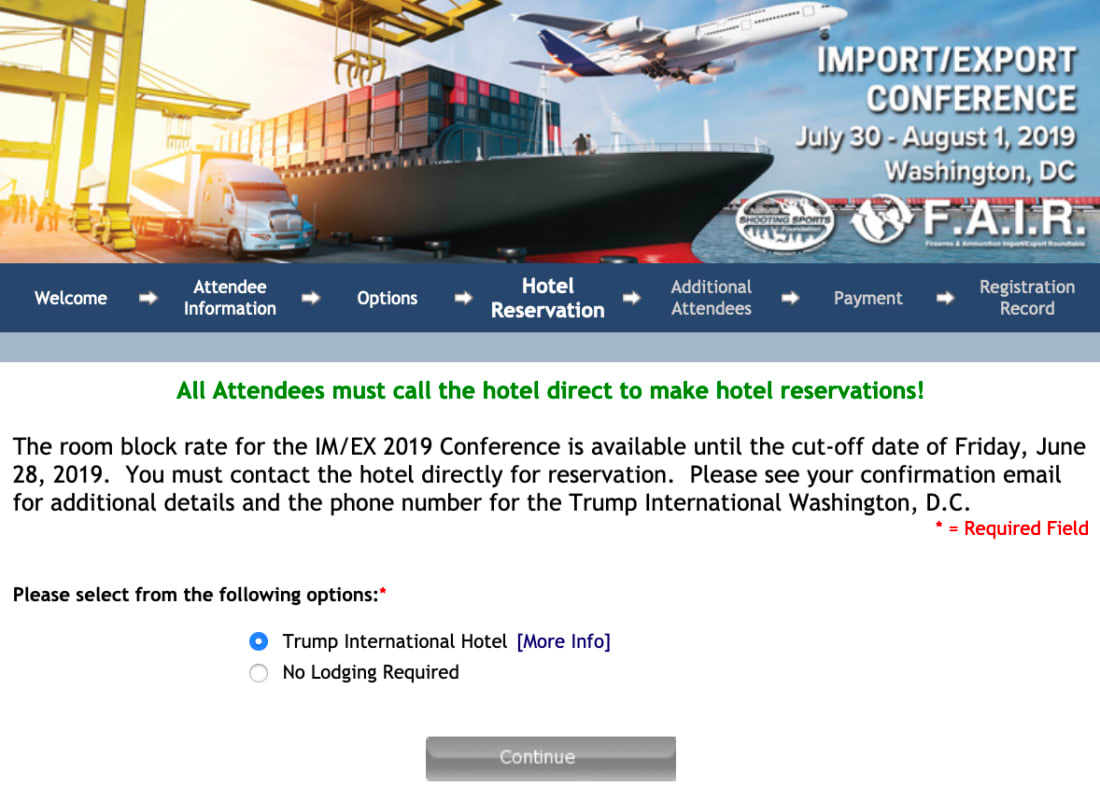 And, as 1100 Pennsylvania reported in May, representatives from at least four U.S. government departments were slated to address customers at the president's hotel. These regulators' insights were a key selling point for the conference: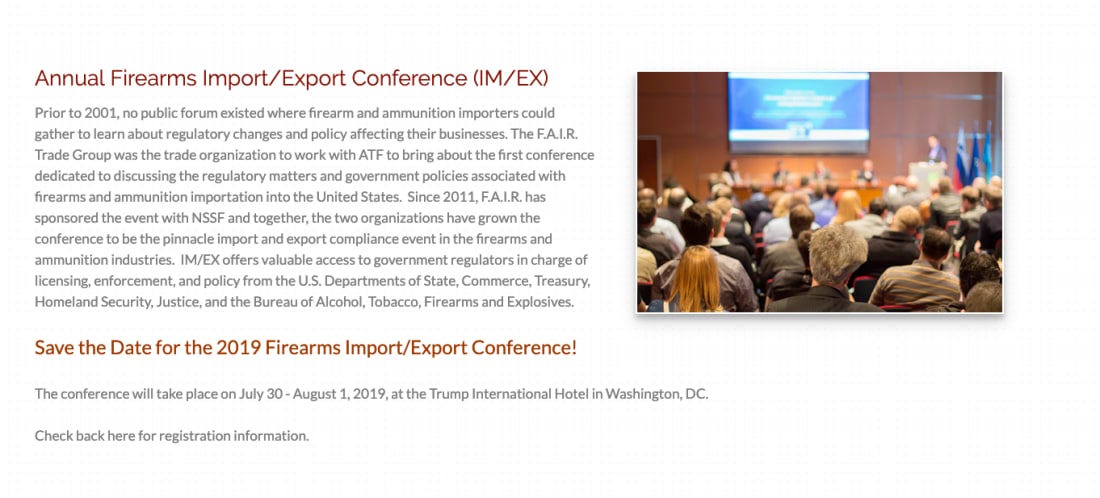 The website reads:
IM/EX offers valuable access to government regulators in charge of licensing, enforcement, and policy from the U.S. Departments of State, Commerce, Treasury, Homeland Security, Justice, and the Bureau of Alcohol, Tobacco, Firearms and Explosives.
Registration fees for the conference ranged from $550 to $900. In addition to the Firearms and Ammunition Import/Export Roundtable, registration info showed that the conference was sponsored by the National Shooting Sports Foundation. It's based in Newtown, Connecticut (home of Sandy Hook Elementary) and markets military-style assault rifles.
---
Trump smiles for photos at Bedminster wedding shortly after terrorist attack in El Paso kills 20
Just hours after a terrorist killed 20 people in El Paso on Saturday, President Trump mingled with high-paying wedding customers at his Bedminster, New Jersey golf club.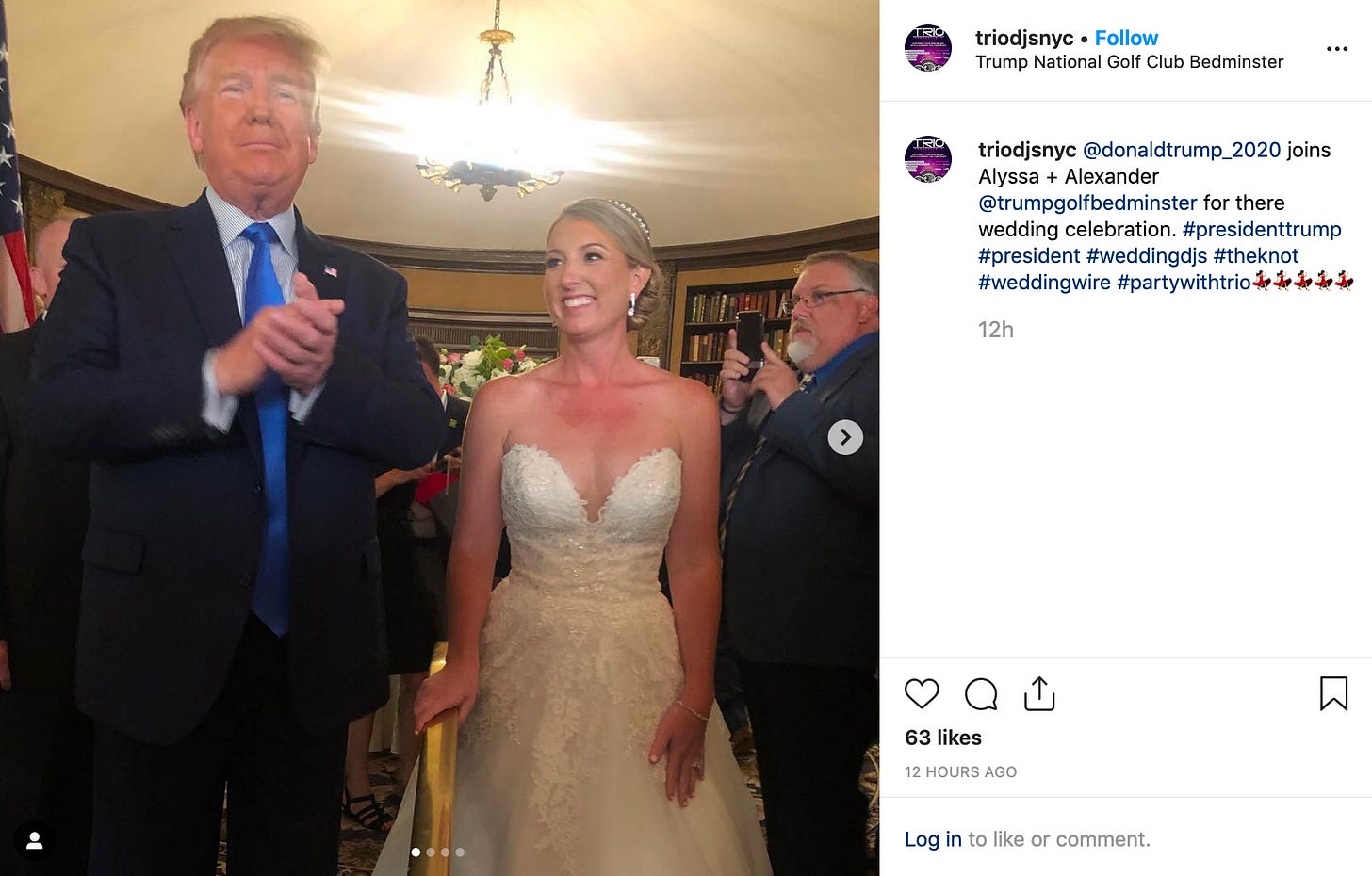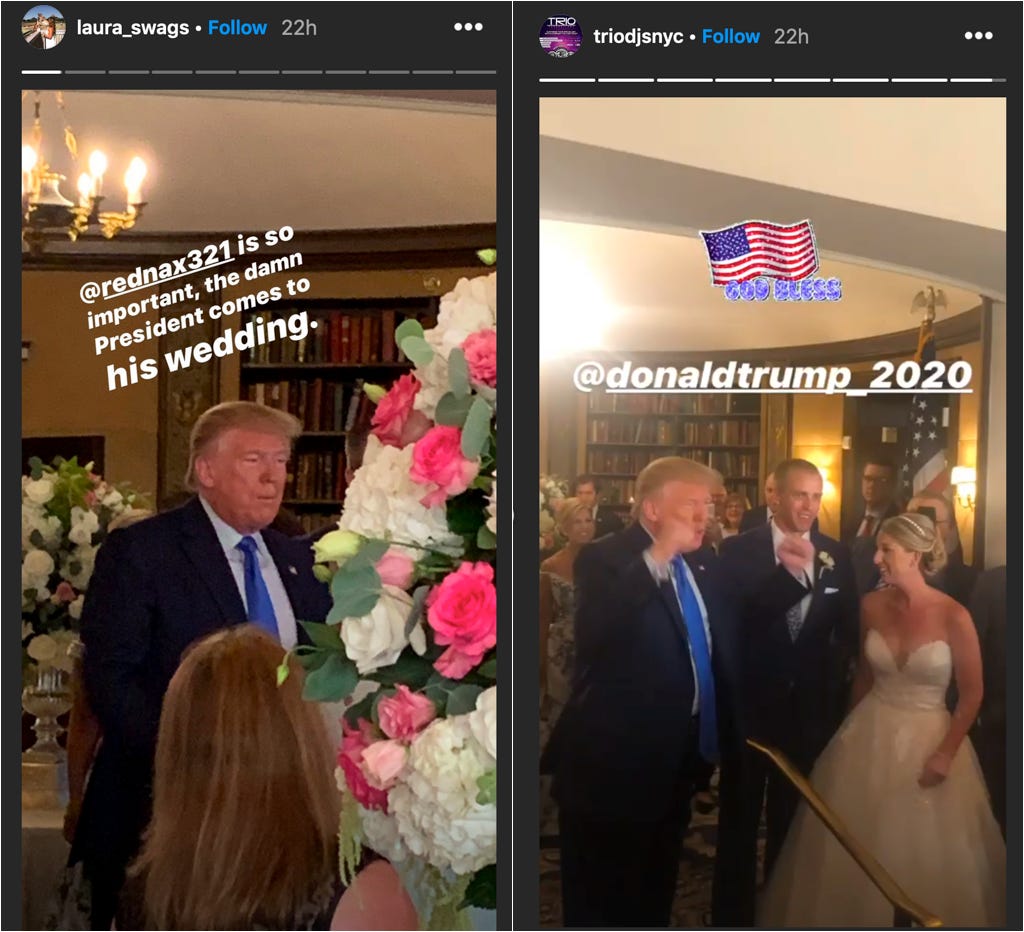 The wedding reception started at 6 p.m. EDT per an Instagram post showing the invite. According to El Paso police chief Greg Allen as reported by CNN, the first call reporting an active shooter went out at 11:39 a.m. EDT.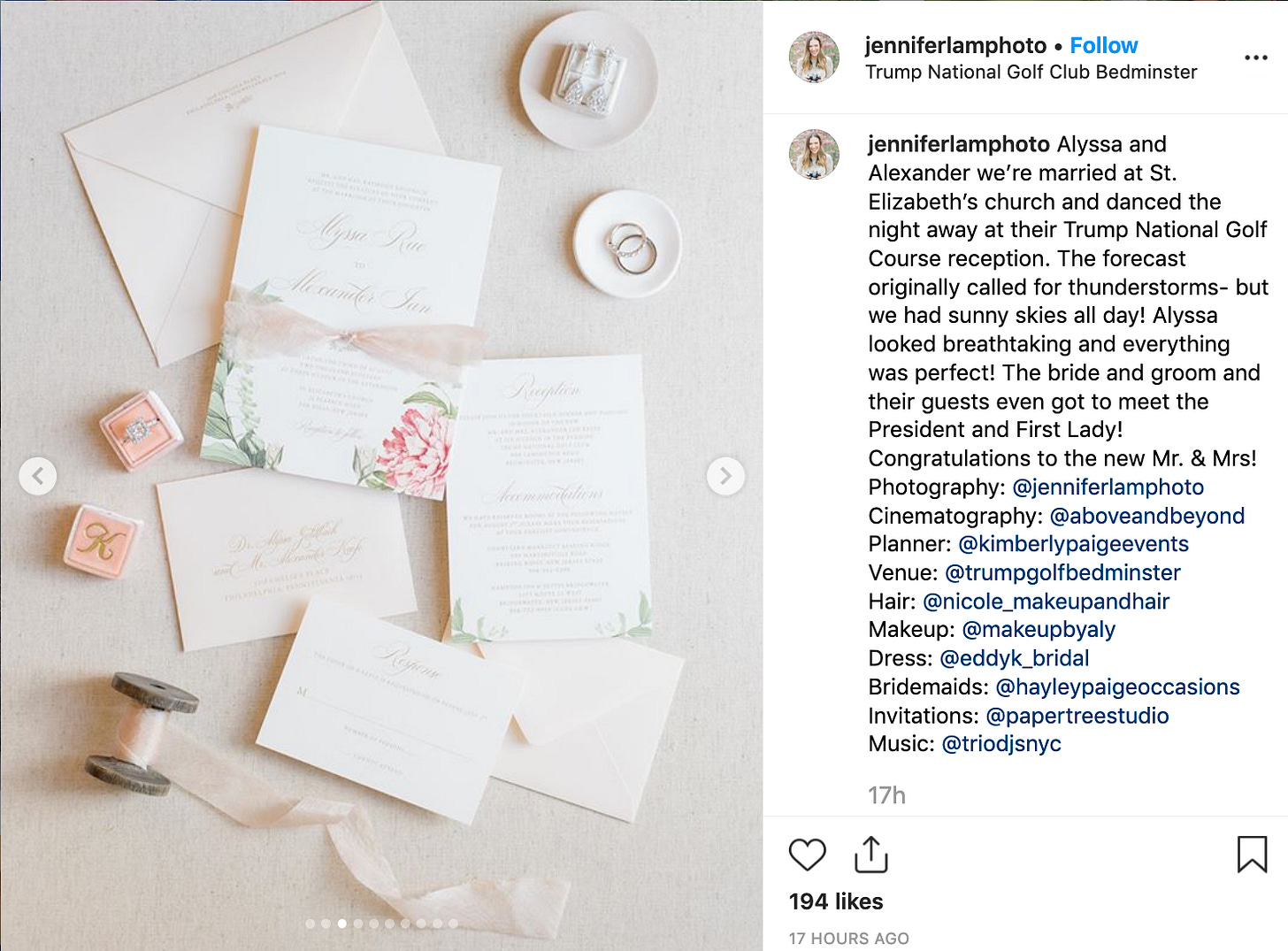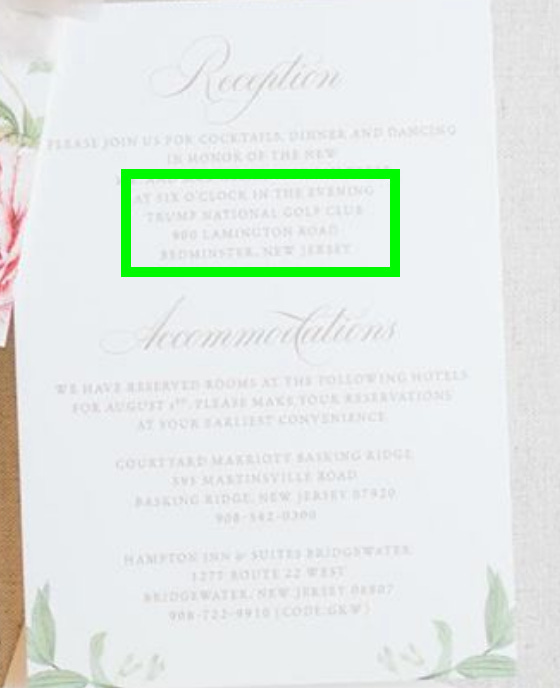 In addition to stopping by the celebration, Trump and Melania posed in the couple's formal wedding photos.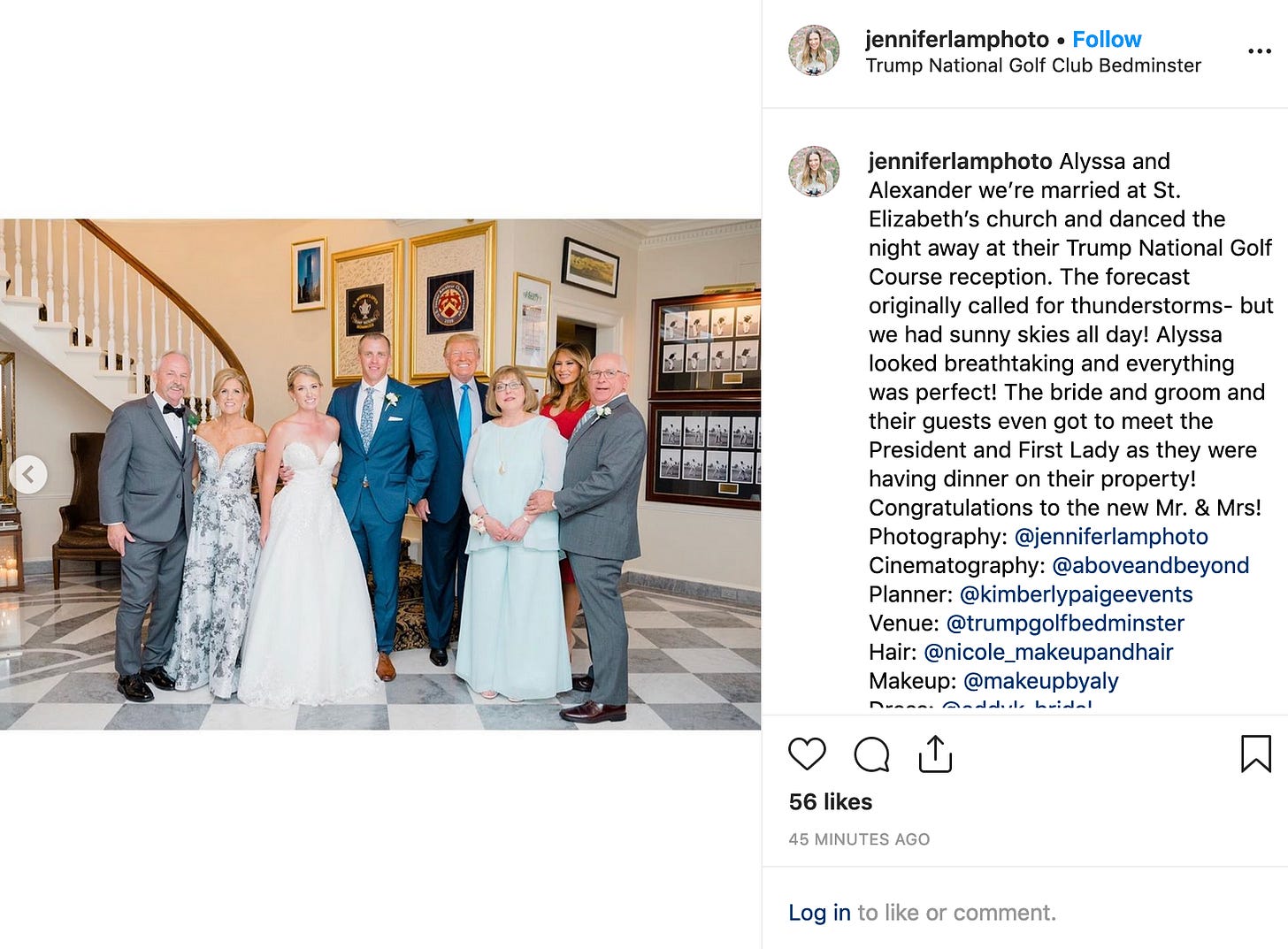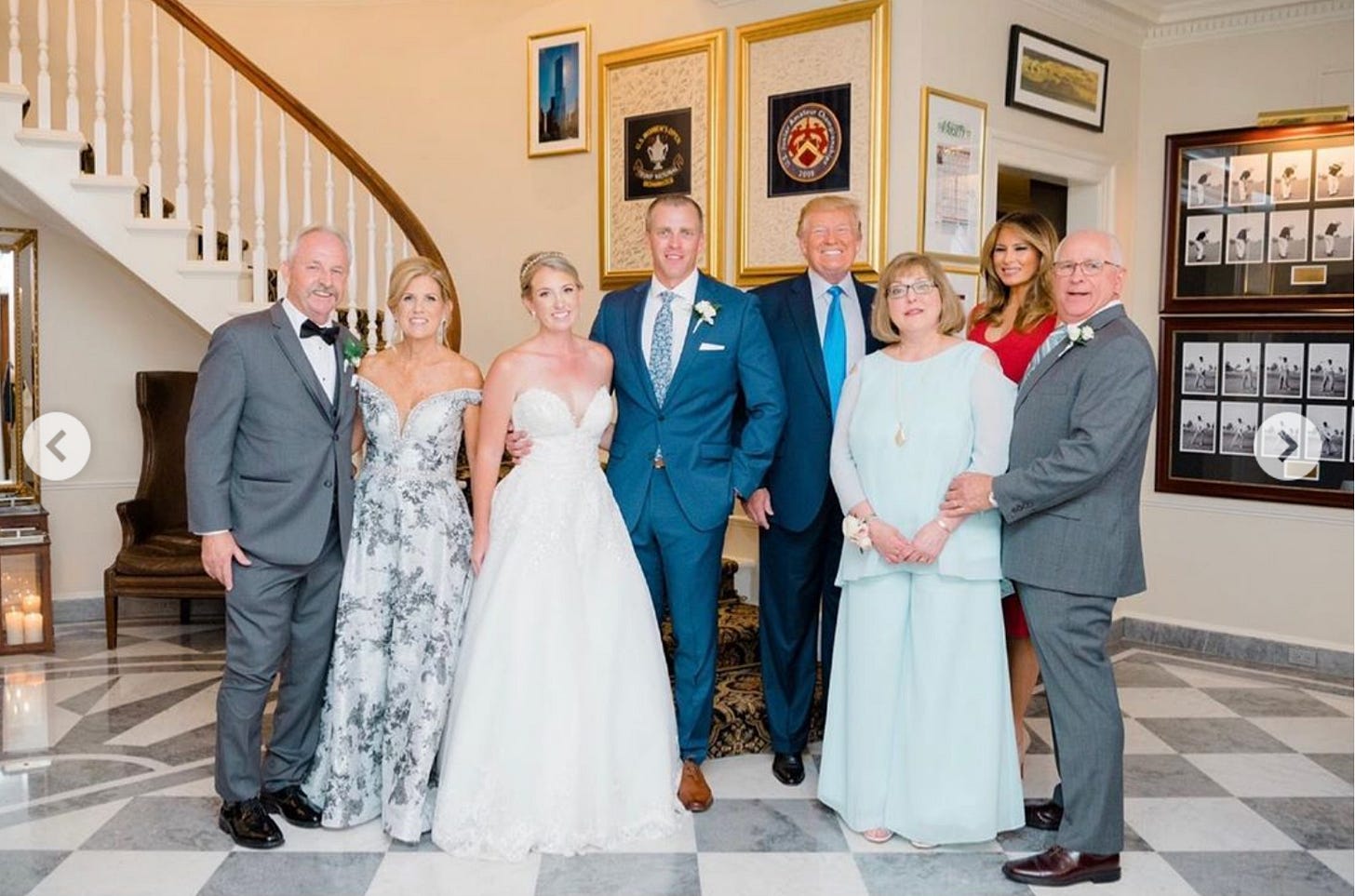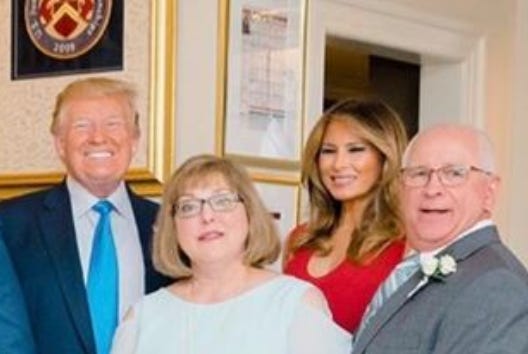 (Trump swinging by wedding celebrations at Bedminster isn't an accident—it's a perk the club has advertised: in 2017, a Trump Bedminster marketing brochure read, "If [President Trump] is on-site for your big day, he will likely stop in & congratulate the happy couple. He may take some photos with you but we ask you and your guests to be respectful of his time & privacy," reported Laura M. Holson for The New York Times. In 2017 a Bedminster spokesperson said that brochure had been discontinued, yet the benefit of a presidential drop by still exists: as 1100 Pennsylvania reported at the time, two weeks ago Trump dropped in on another big-spending happy couple.)
---
Notable sightings of NRA officials, gun industry members
Here's a look back at some people connected with the NRA and gun industry who've patronized the Trump Hotel D.C.
While running for NRA board of directors, candidate Willes Lee used a photo of himself at the Trump Hotel D.C (posing with policy advisor for the pro-Trump nonprofit America First Policies, Martha Boneta). Lee got elected and is currently the NRA's second vice president.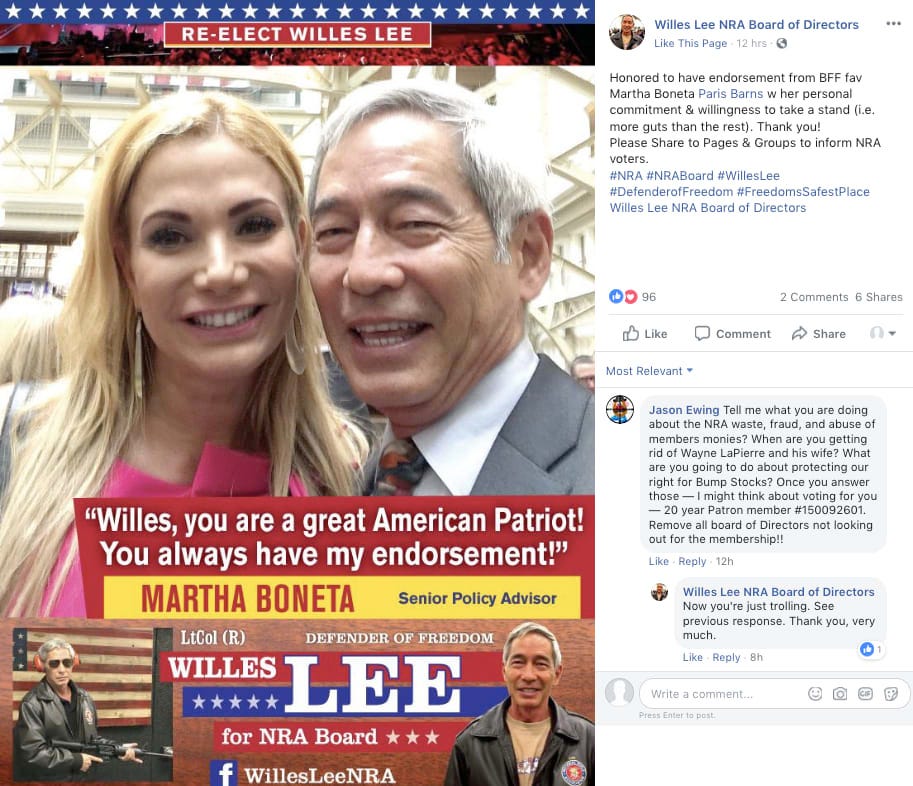 The NRA's managing director of executive operations (Wayne LaPierre's assistant), Millie Hallow, got silly at the hotel in December 2017.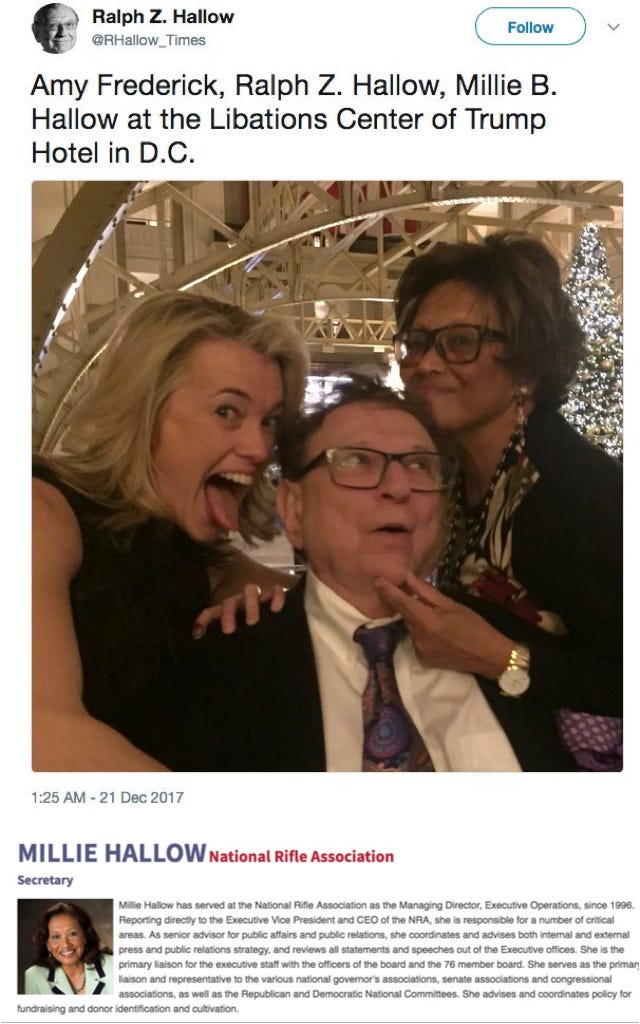 NRA social-media manager Billy McLaughlin stopped by earlier this year to make America great again.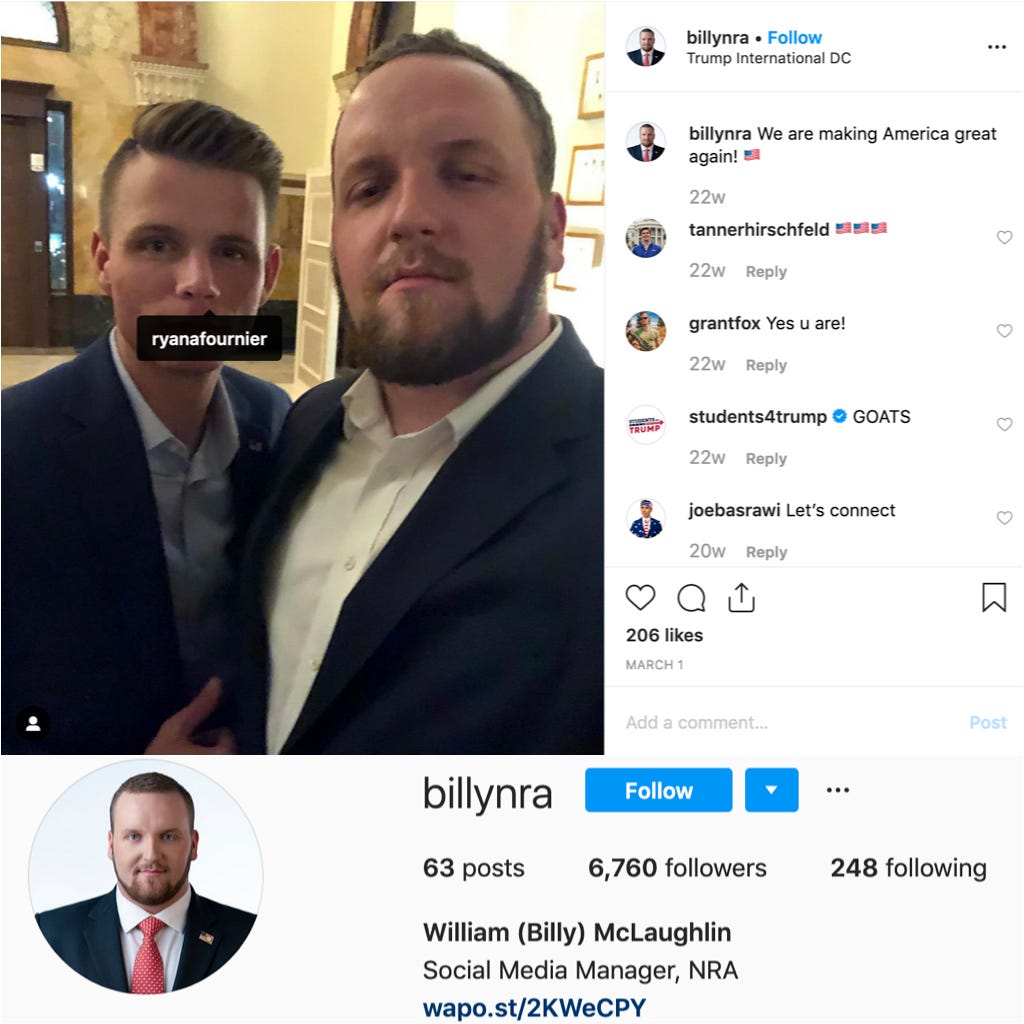 NRA TV staffer Cameron Gray celebrated Thanksgiving at the hotel in November 2017 and grabbed drinks there in June 2018.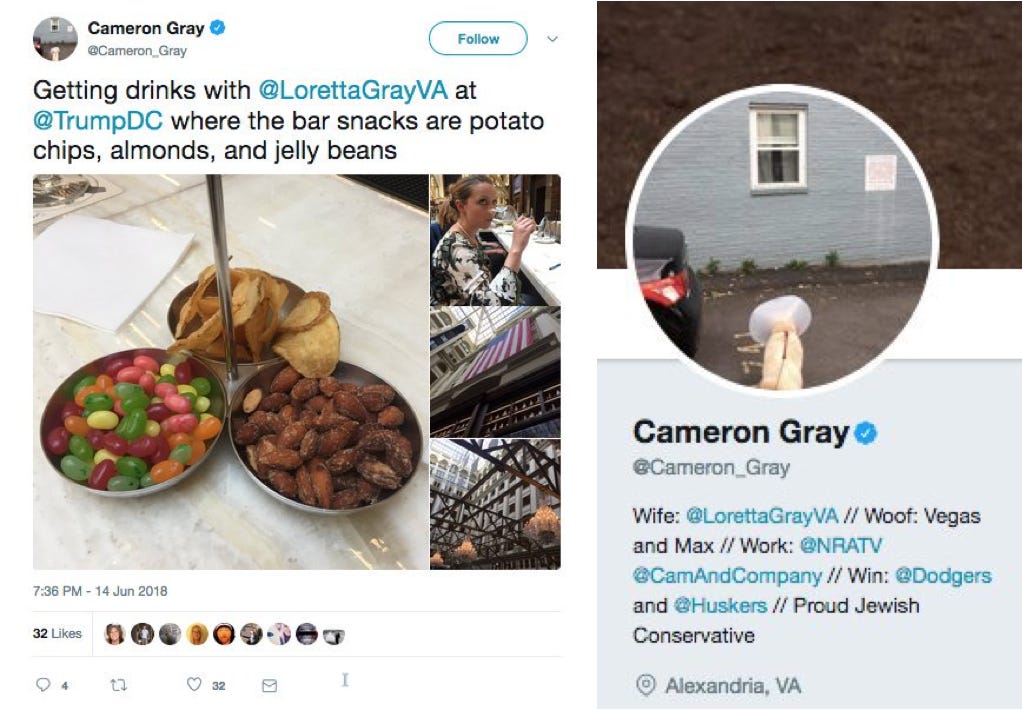 This March, Nicholas J. Petromelis declared, "The candied bacon at @TrumpDC is one of life's greatest treasures!" And he made sure to let the U.S. president and a White House advisor know his thoughts. Petromelis is an associate at The Herald Group, a public affairs firm Cambridge Analytica hired to promote the NRA's voter registration drive.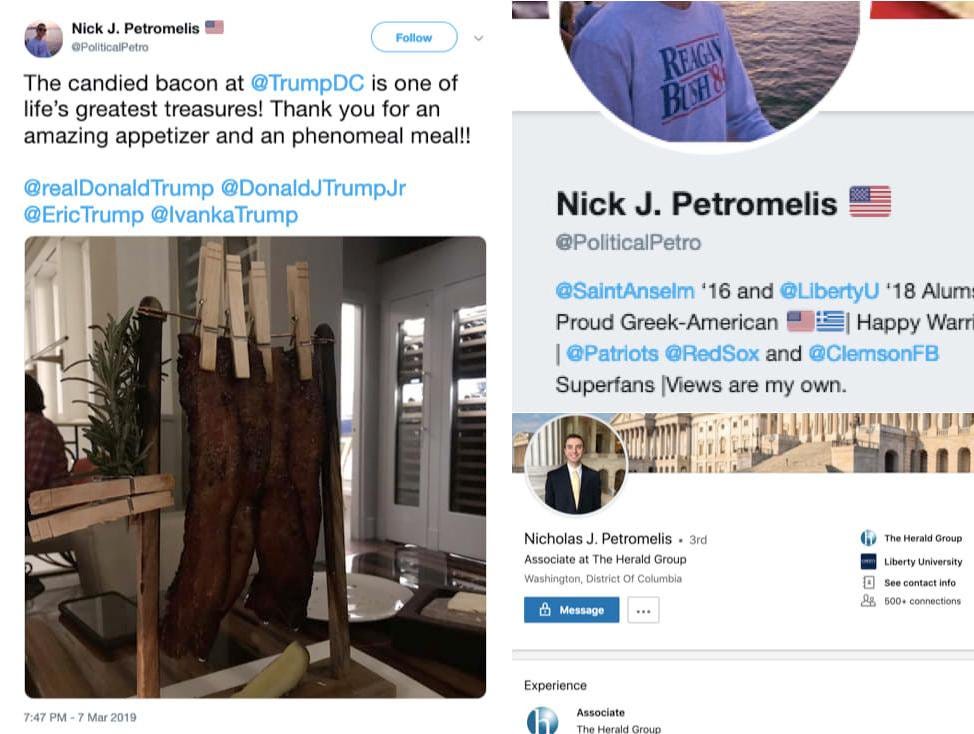 NRA intern Brendan Cassell was at the conservative clubhouse in July 2018.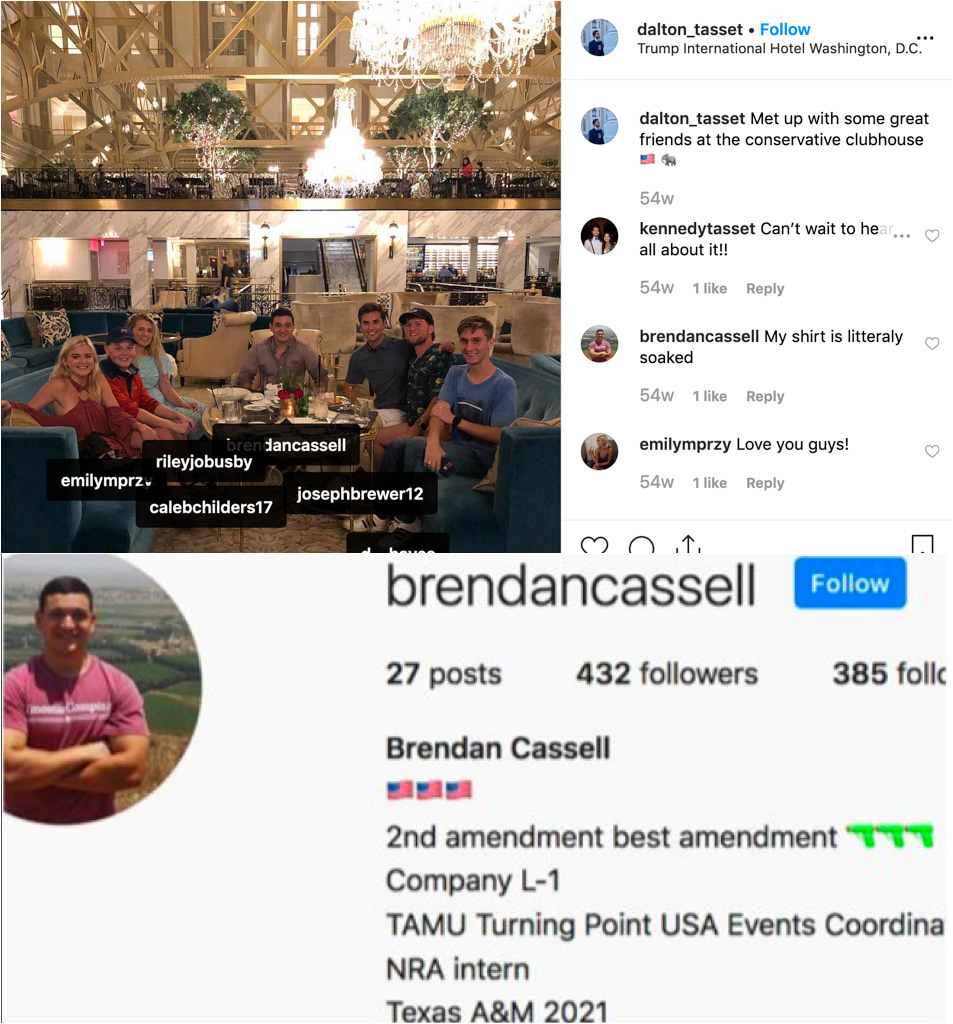 The vice president of U.S. sales for gun manufacturer Armscor, Caloy Tuason, posed with the Philippines's ambassador to to the United States in June 2018.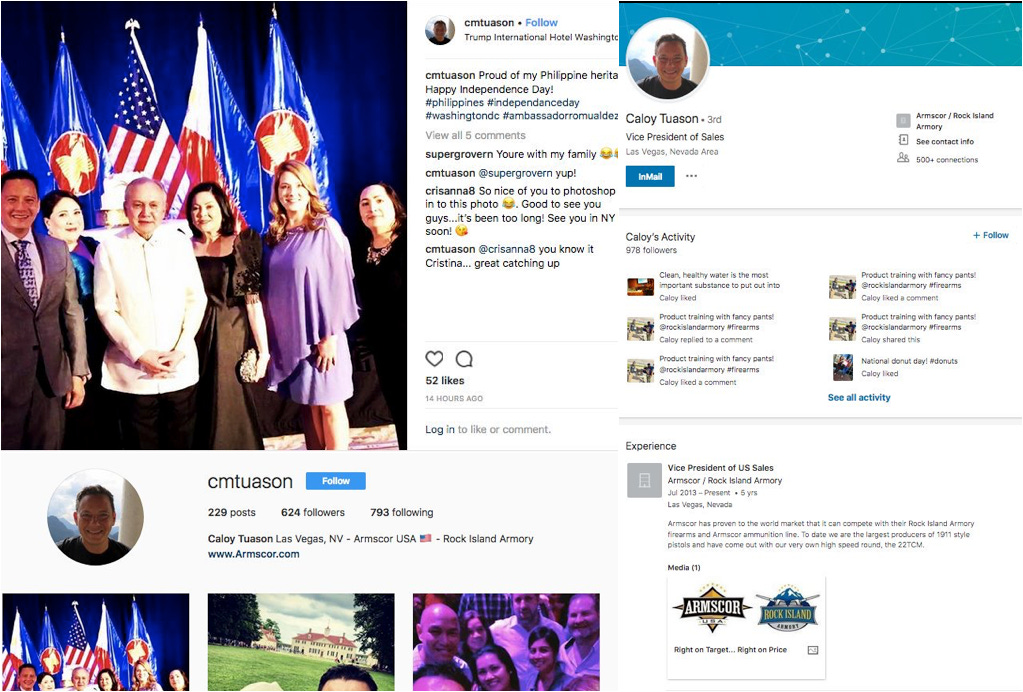 Gun designer Paul Leitner-Wise enjoyed a pre-birthday Sunday brunch in February 2018. (He's a government contractor too.)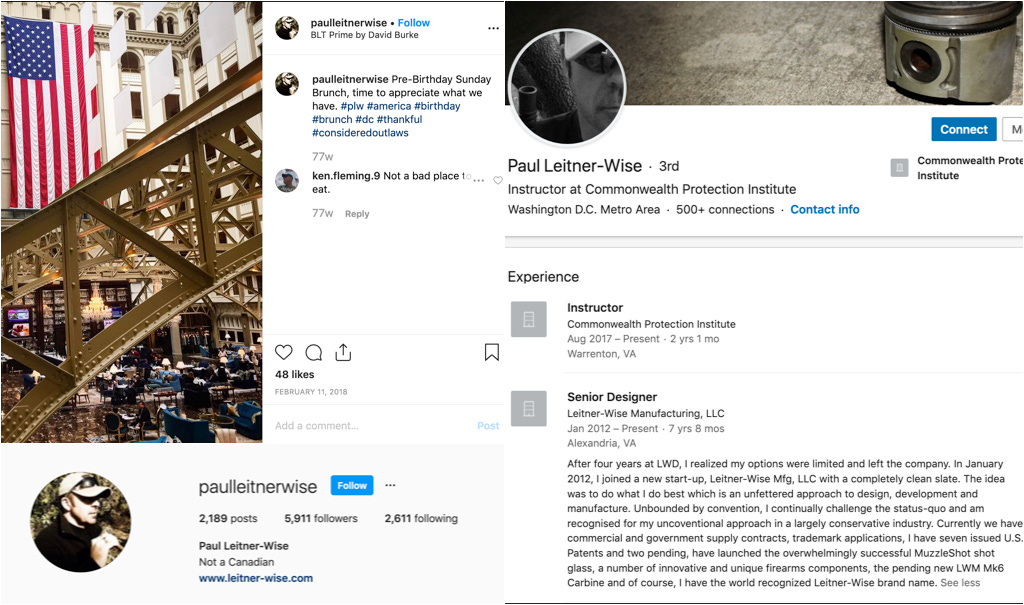 The president of the pro-gun Second Amendment Institute, Tyler Yzaguirre, is a hotel regular. #2a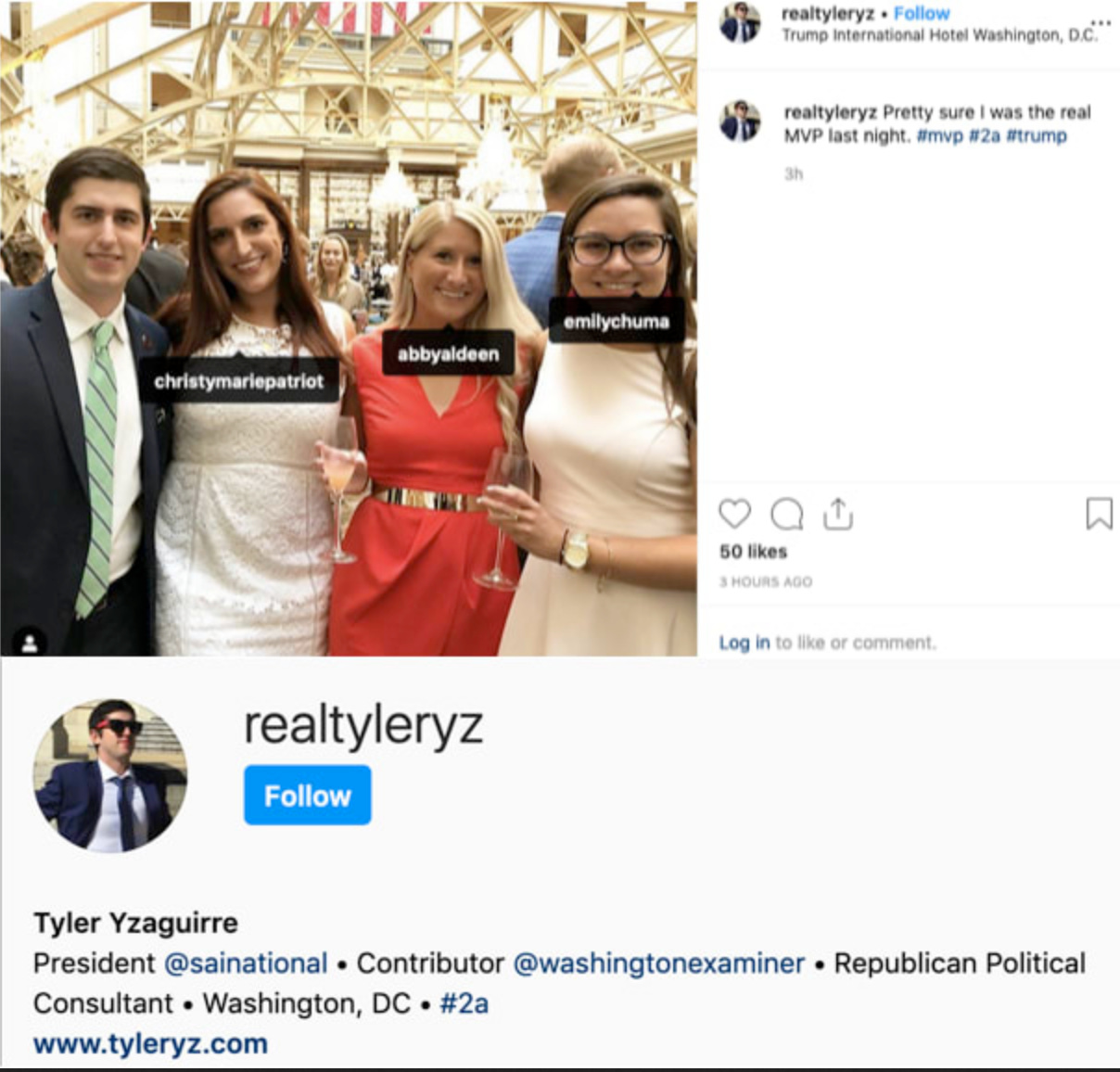 Pro-gun advocate and Parkland survivor Kyle Kashuv posed for photos in the lobby with fans.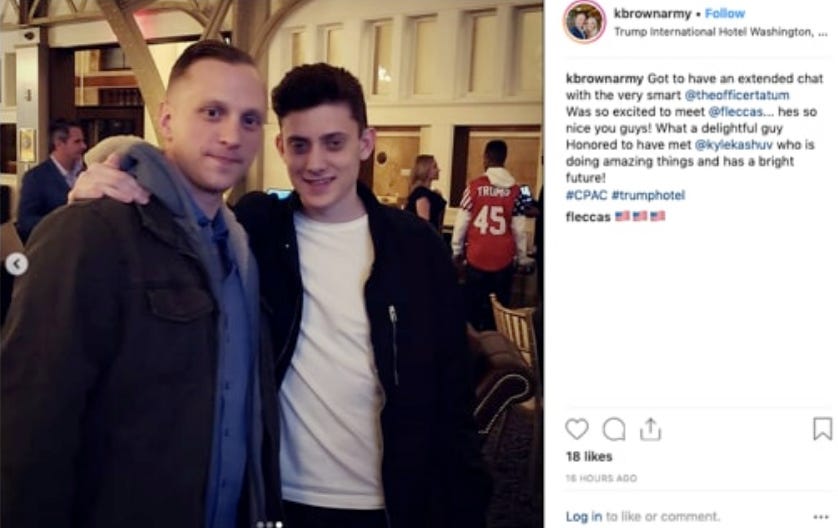 The March for Our Guns kicked off at the hotel in March 2018. The event's keynote speaker was National Rifle Association spokesperson Dana Loesch (reported by Cori Coffin, for FOX 5 D.C.).
---
Other notable sighting
After Saturday's mass shooting by a terrorist in El Paso, Moms Demand Action and Students Demand Action protested in front of the Trump Hotel D.C. (in between stops at the White House and Capitol).
---
Thanks for reading! If you like what you've read, tell someone. If you've been forwarded this newsletter, subscribe at 1100pennsylvania.substack.com. Questions? Read our FAQ. Tips or feedback? Contact Zach Everson securely at 1100Pennsylvania@protonmail.com or via Signal/SMS/mobile at 202.804.2744.