Discover more from 1100 Pennsylvania
"The undisputed expert on the D.C. Trump Hotel" – David Fahrenthold of the Washington Post
Over 3,000 subscribers
Trump Store discontinuing White House merch
Cherry-blossom line sold t-shirts, shot glasses, and mugs showcasing the White House
Yesterday the Trump Store announced "last call" for its cherry-blossom collection, which sells merchandise prominently featuring the White House.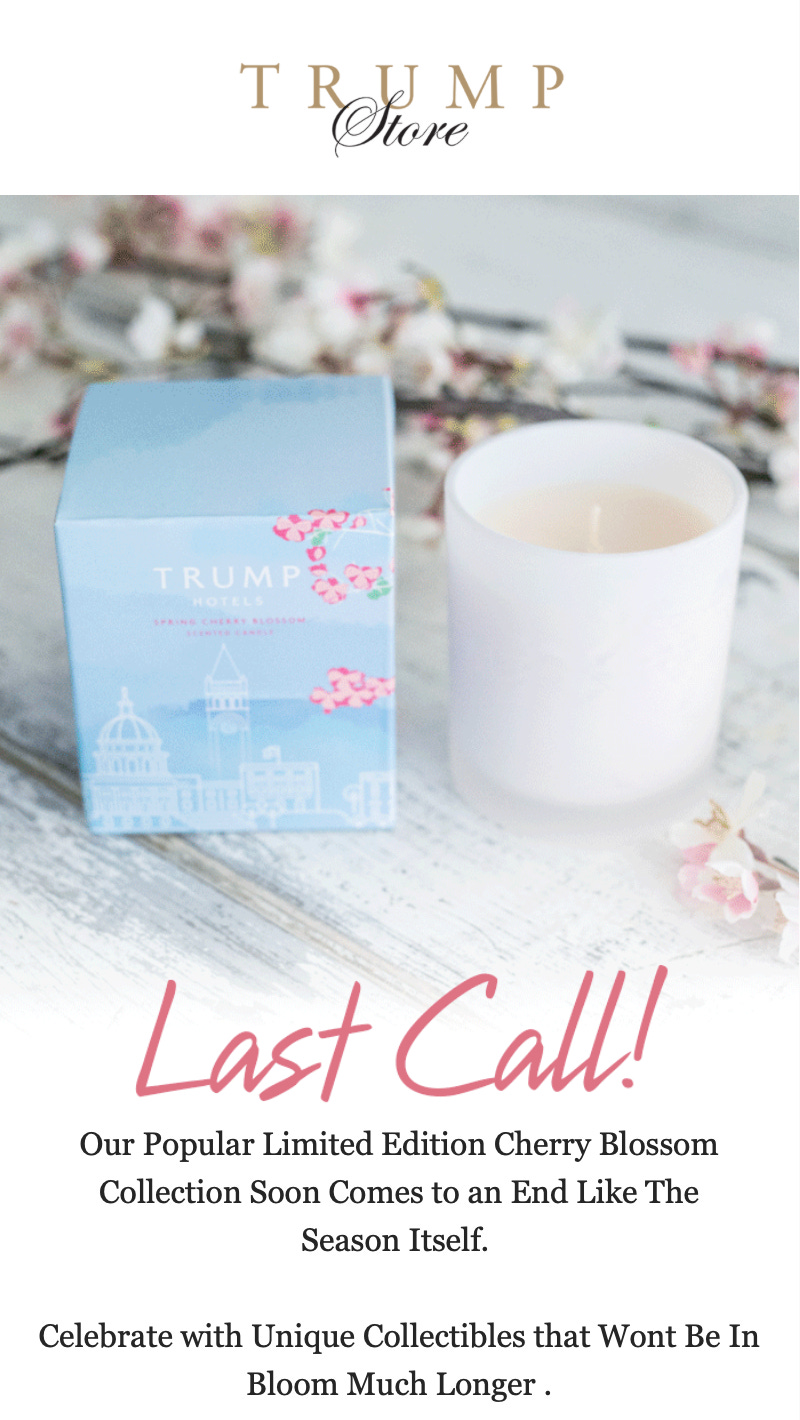 This update came via a Trump Store promotional email sent yesterday. Representatives of the Trump Store have not replied to an email asking if this collection was always planned to have a limited run and, if not, why it decided to stop selling these items. While the Trump Store does not appear to have previously said this line would be limited, the cherry-blossom theme does make it seem likely that always could have been the plan.
Shortly after the collection debuted, the Trump Store appeared to stop selling a bar of soap that depicted a sketch of the White House underneath "Trump Hotels."
In addition to TrumpStore.com, the Trump Hotel D.C.'s gift shop, a half mile down the street from the White House, sold these items. At least two of the products depicting the White House were not made in the United States: a shot glass was made in China and a coffee mug was manufactured in Thailand.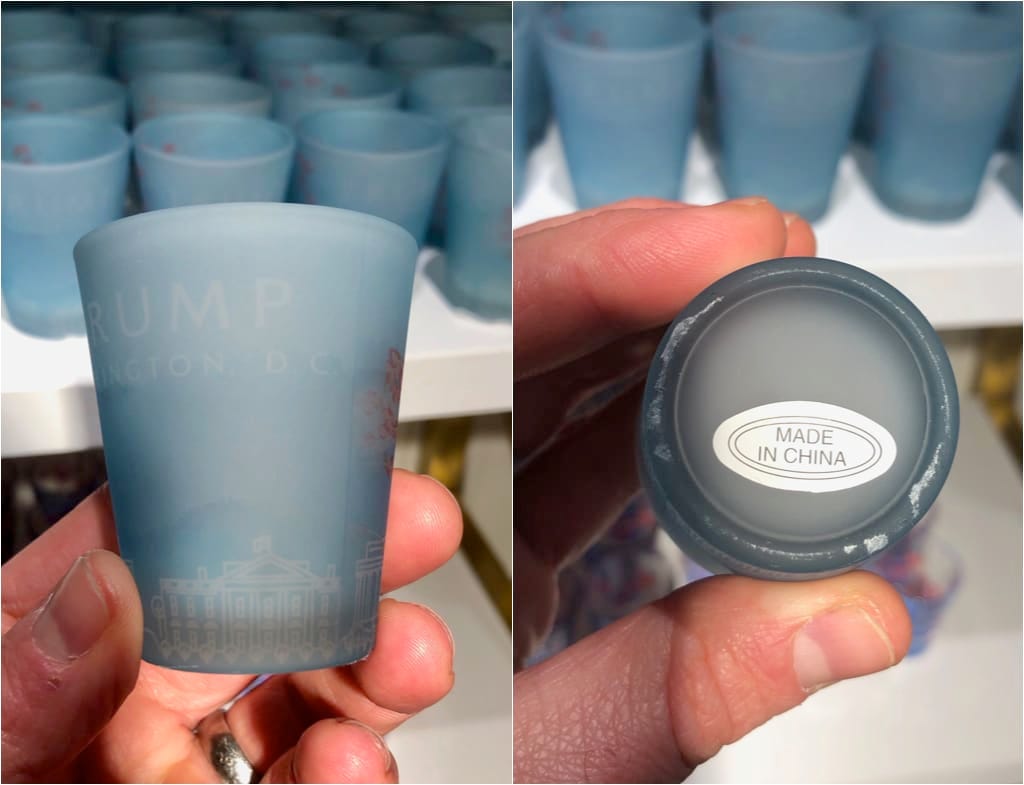 1100 Pennsylvania broke the story that the president's company was profiting off merchandise depicting the White House and other D.C. monuments on March 21.
Additionally, the Trump Org's promotion of those items runs afoul of its promise not to reference the presidency, noted Steve Reilly of USA Today: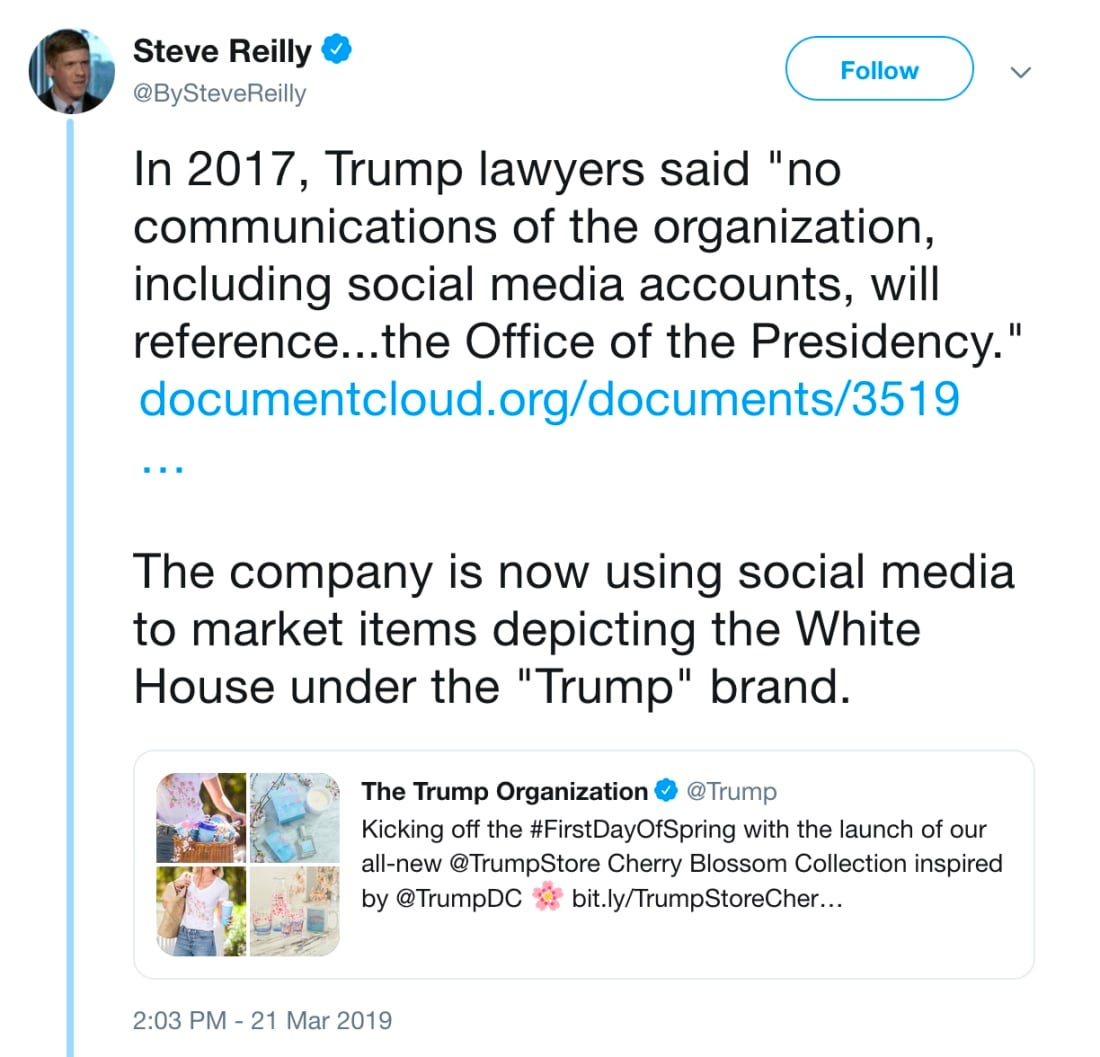 ---
Trump visited his Los Angeles golf course with McCarthy, Murdoch, and Kushner
From "Trump visits his for-profit golf course during California trip for dinner with son, local officials" by David A. Fahrenthold and Jonathan O'Connell:
President Trump visited his for-profit golf course in Rancho Palos Verdes, Calif., on Friday night. He was expected to attend a dinner with his son Eric Trump, the city council and dozens of friends and supporters, according to one person who was told about the gathering…

Trump's dinner—his first visit to the California course as president—comes at a pivotal moment for that club, which is one of the largest new development opportunities for the company since Trump took office and said he handed control of the company to his sons Eric and Donald Jr.
Also joining the president, per a photo: minority leader Kevin McCarthy (R–CA), media mogul Rupert Murdoch, senior advisor to the president Jared Kushner, and someone named Lili. Fox News's chief communications officer and former White House communication director Hope Hicks also reportedly was there, per Fahrenthold. There's video of Trump entering the dining area to a round of applause from his customers too (due to a formatting limitation, select the link to watch the video).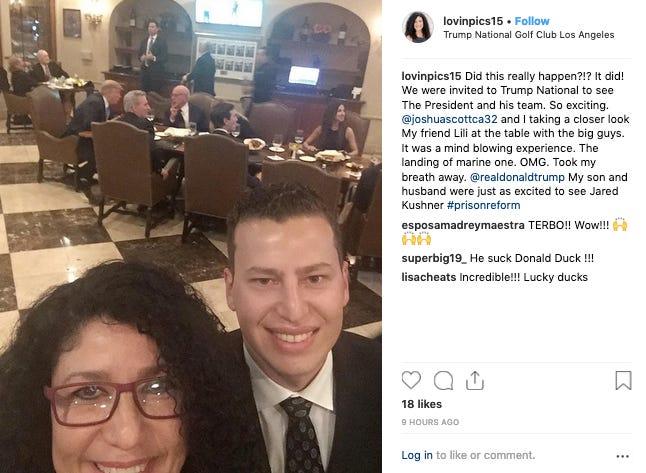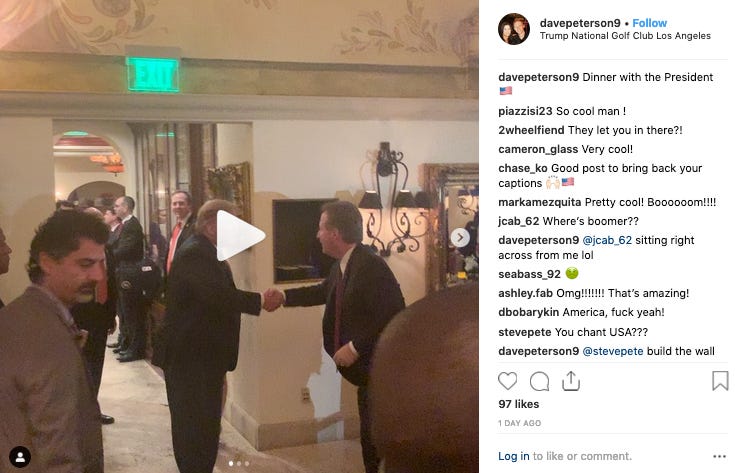 Since Trump was inaugurated, he's now visited at least 12 of properties: D.C., Sterling, Bedminster, Turnberry, Los Angeles, Waikiki, Las Vegas, NYC (Trump Tower), Doral, Palm Beach golf, Mar-a-Lago, and Jupiter.
For McCarthy, it was his second trip to a Trump property in three days, having visited the Trump Hotel D.C. on Thursday.
And on Sunday, the president himself would make it two Trump properties in three days when he went golfing at Bedminster.
---
Support this reporting, become a 1100 Pennsylvania member
Reporting on the Trump Hotel D.C. and the president's other businesses takes time. But it's making an impact—and you can help. If you're not an 1100 Pennsylvania member, please become one and help us continue to report on who's spending money at the president's hotel—and what they might be getting in return. Memberships are this newsletter's sole source of income. Select the red "Subscribe now" button and become a member by paying just $5 a month or $50 a year. Thank you.
---
Trump administration almost doubles guest-visa program that Trump Organization replies upon
From "Trump administration nearly doubles H-2B guest visa program, which brings many Mexican workers" by Heather Long for The Washington Post:
The Homeland Security and Labor departments plan to grant an additional 30,000 H-2B visas this summer on top of the 33,000 they had already planned to give out, the agencies confirmed.

The H-2B visa allows foreign workers to come to the United States legally and work for several months at companies such as landscapers, amusement parks or hotels. About 80 percent of these visas went to people from Mexico and Central America last year, government data shows…

Trump's own hotels have used H-2B workers, and the president's Mar-a-Lago Club in Florida applied for 78 of these visas last year.
In February 2018, the Trump Hotel D.C. gave a sweetheart rate—$245/night—to a group in town to lobby Congress for an increased in the H-2B visa cap (as reported by me for The Daily Beast).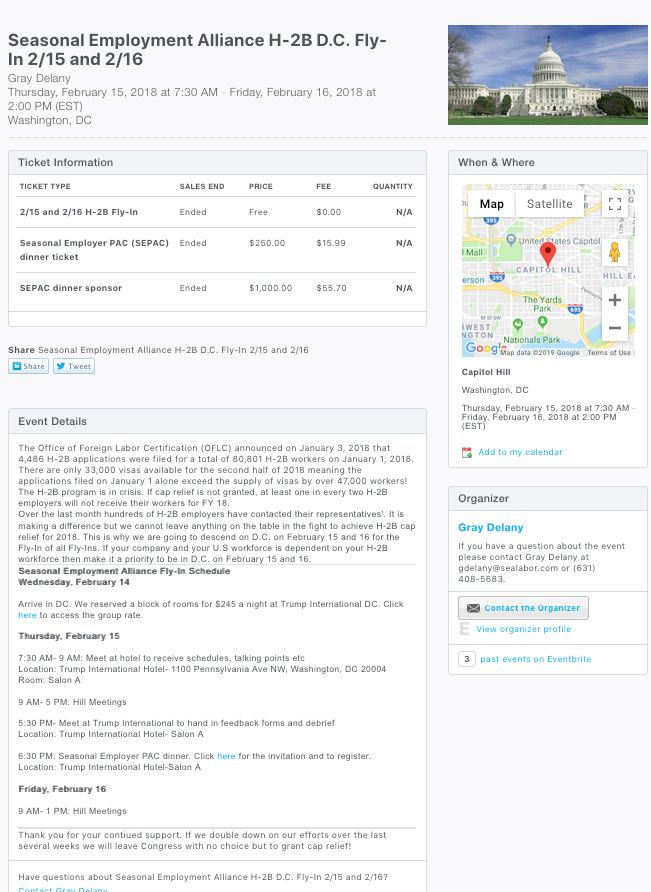 ---
CREW got sassy in joint-status report on its request for GSA's documents about FBI HQ
In a joint-status report filed Friday in its lawsuit seeking documents from the General Services Administration about the FBI's headquarters, Citizens for Responsibility and Ethics in Washington conceded that while it had no proof GSA wasn't entirely forthcoming, what the government turned over was underwhelming for the scope of the project.
At this point, CREW does not have that kind of "hard evidence" demonstrating that the production of 46 documents pertaining to the cancellation of a multi-million dollar procurement contract that was years in the works does not satisfy GSA's obligation under the FOIA to conduct an adequate search
To recap: the FBI's current headquarters is diagonally across Pennsylvania Avenue from the Trump Hotel D.C. Moving it would free up that lot for redevelopment, possibly as a luxury hotel that would compete with the president's business (the Trump Hotel D.C. promotes itself as downtown D.C.'s only five-star hotel). Last year, Democrats on the House Oversight committee alleged the president intervened in the GSA's decision-making process when it reversed course and decided not to relocate FBI headquarters. GSA and FBI leadership have denied that allegation.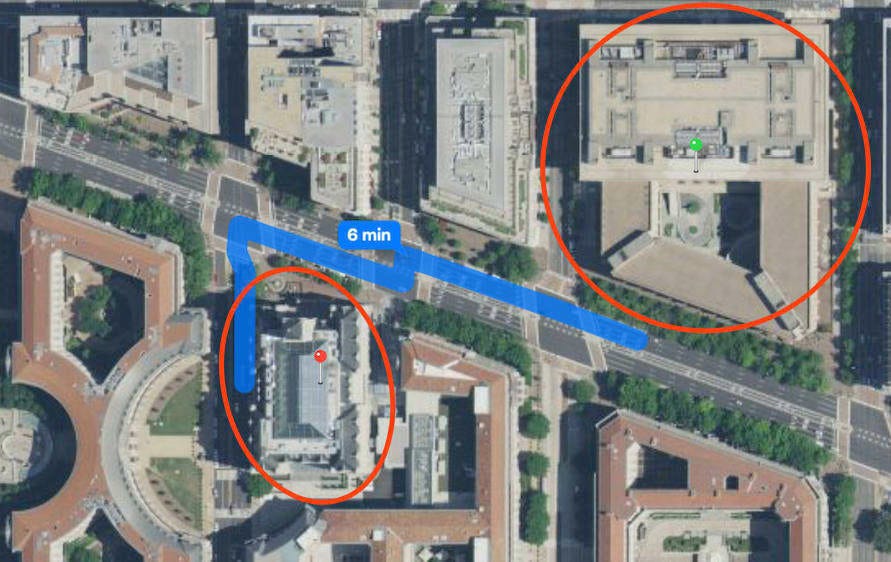 ---
Trump names one-time Trump Hotel D.C. headliner acting DHS secretary
Yesterday President Trump tweeted that Kevin McAleenan, the current U.S. Customs and Border Protection commissioner, will become the acting secretary for the Department of Homeland Security. McAleenan headlined the 10th annual Border Patrol Foundation recognition dinner in October 2018 at the Trump Hotel D.C.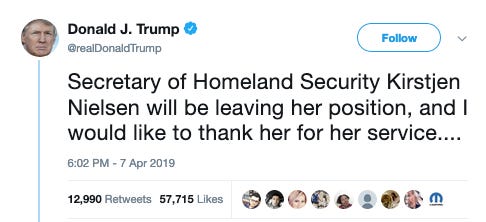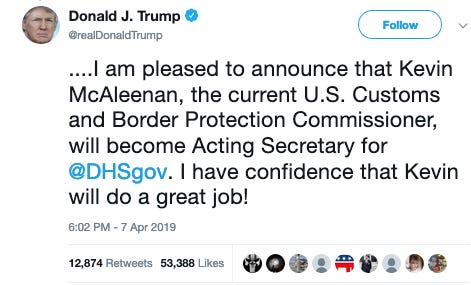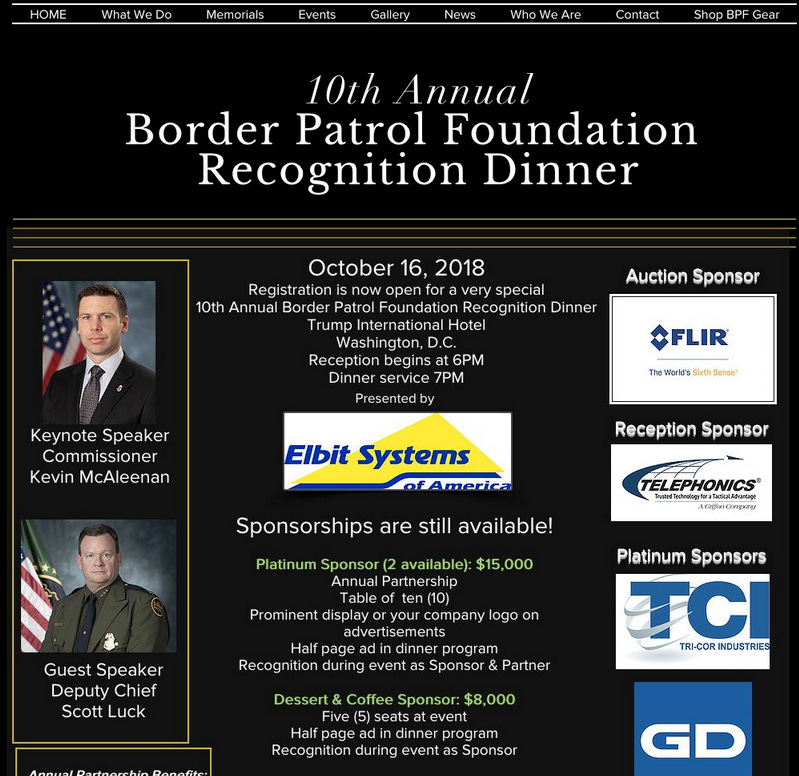 ---
Christians United for Israel conference has seven official hotels, so far only Trump's has sold out
The Christians United for Israel conference in Washington, D.C. this July has lined up seven official hotels to offer discounted rates for attendees. Only the Trump Hotel D.C. has sold out so far ($295). Speakers at the conference include the U.S. ambassador to Israel, David Friedman, whom was nominated by President Trump.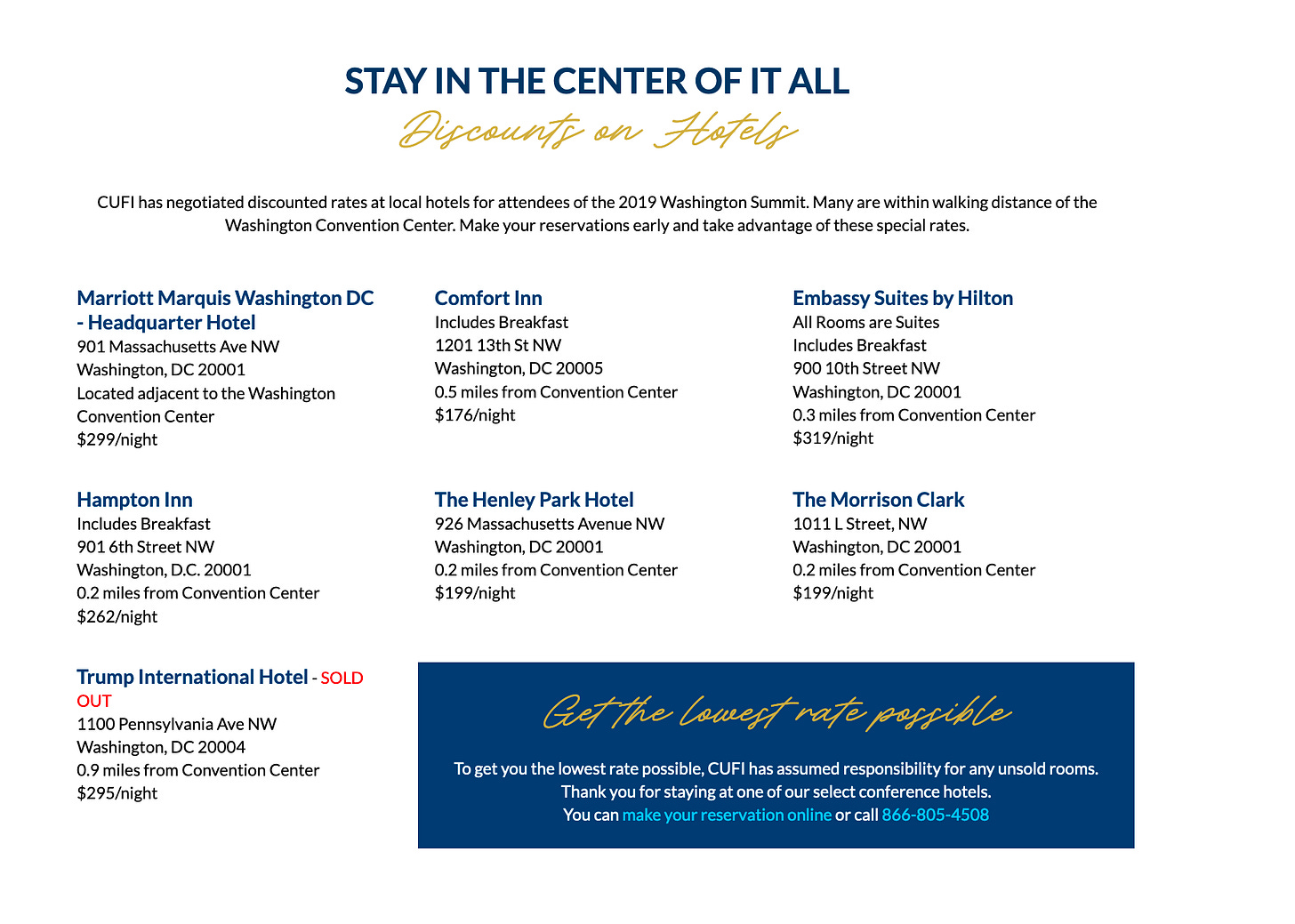 ---
Notable sightings
Rudy Giuliani. Trump Hotel D.C. Again.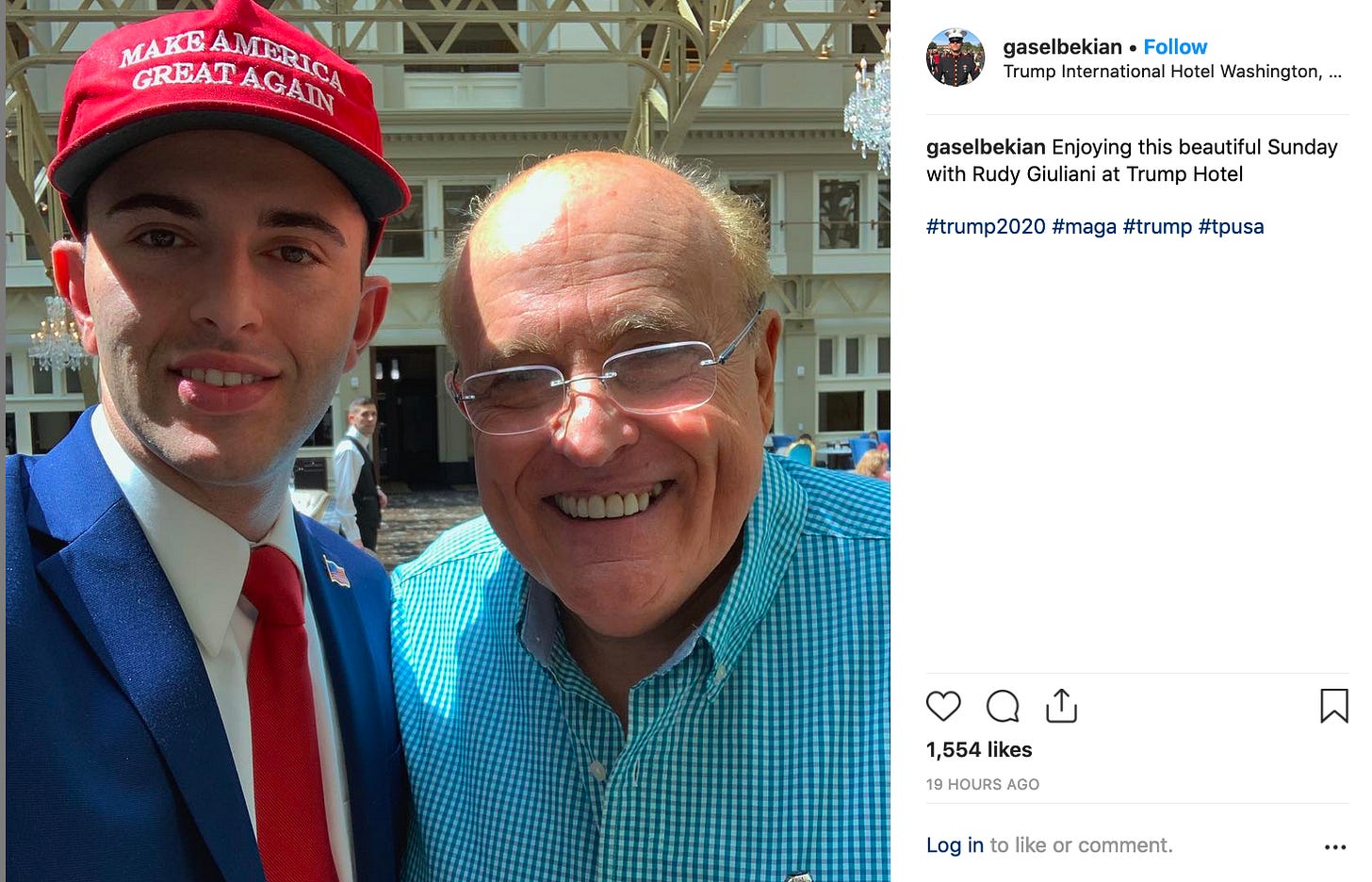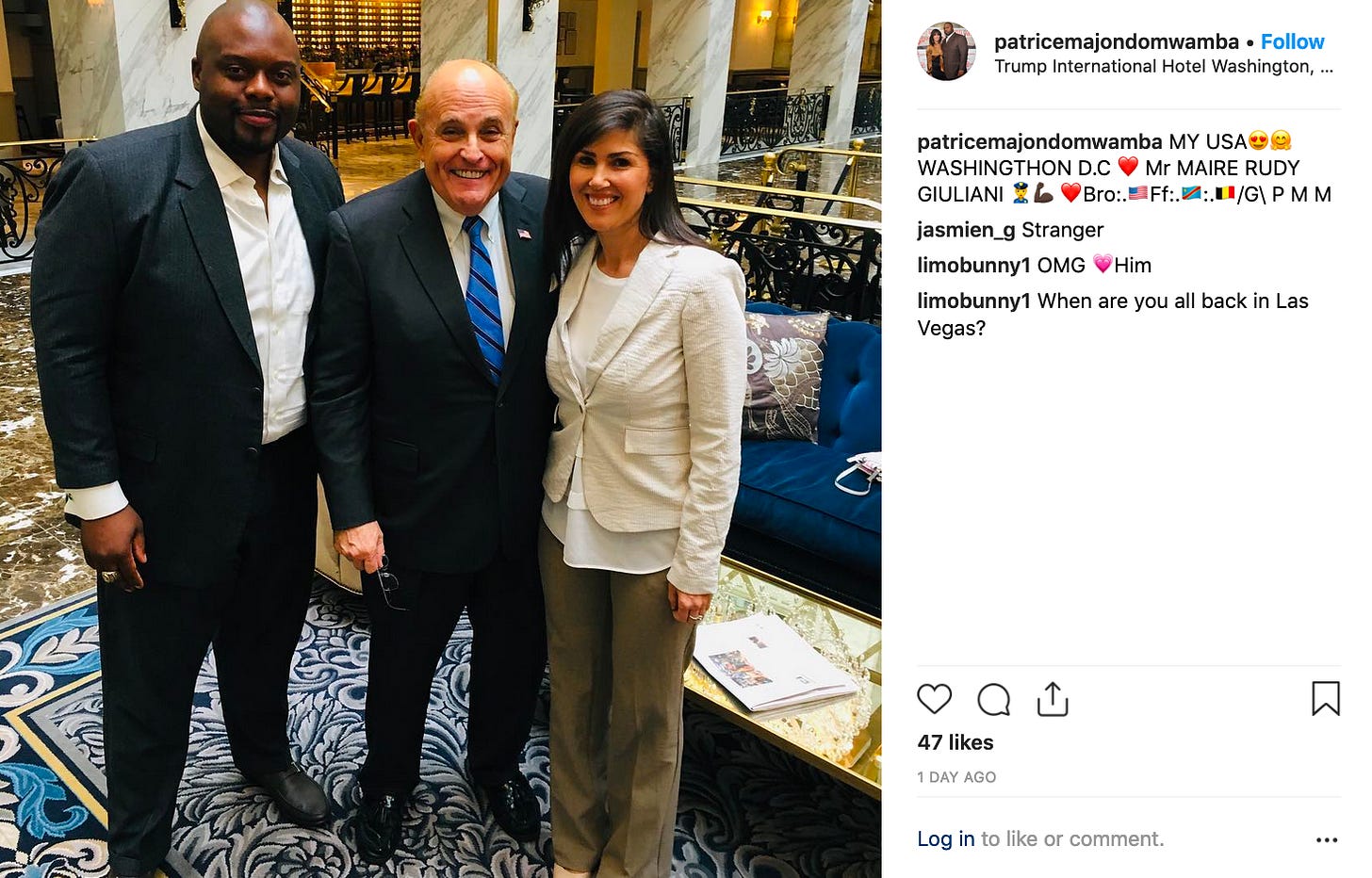 Golfer Gary Player reportedly played a round at Trump's Palm Beach course.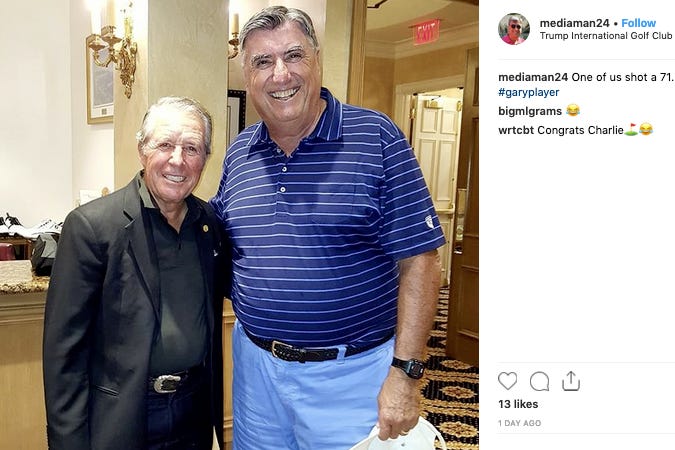 Anthony Cruz, the communications director for Rep. Vern Buchanan (R-FL), wants it known he's often at the Trump Hotel D.C.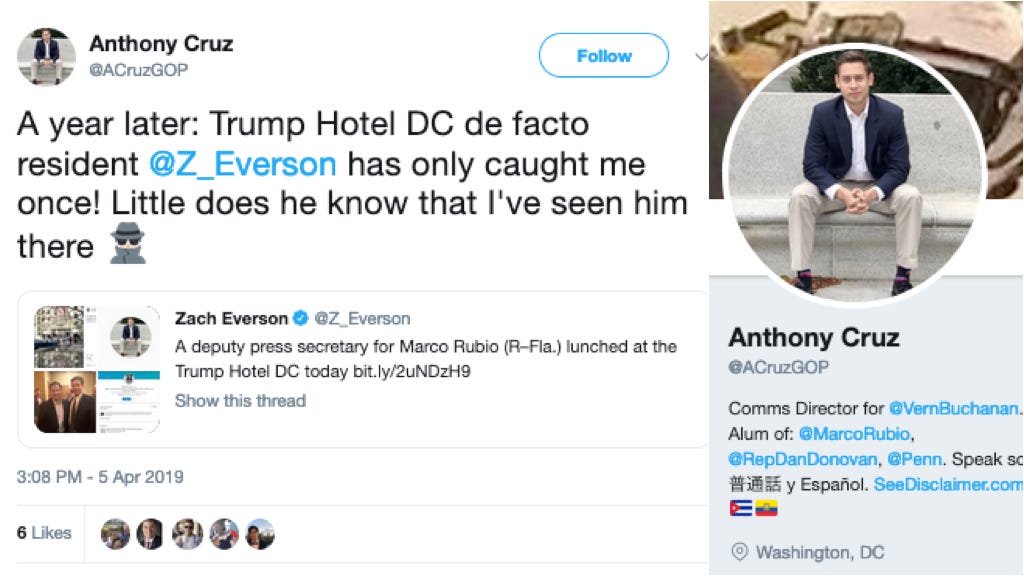 Radio host Larry O'Connor promoted his upcoming meal.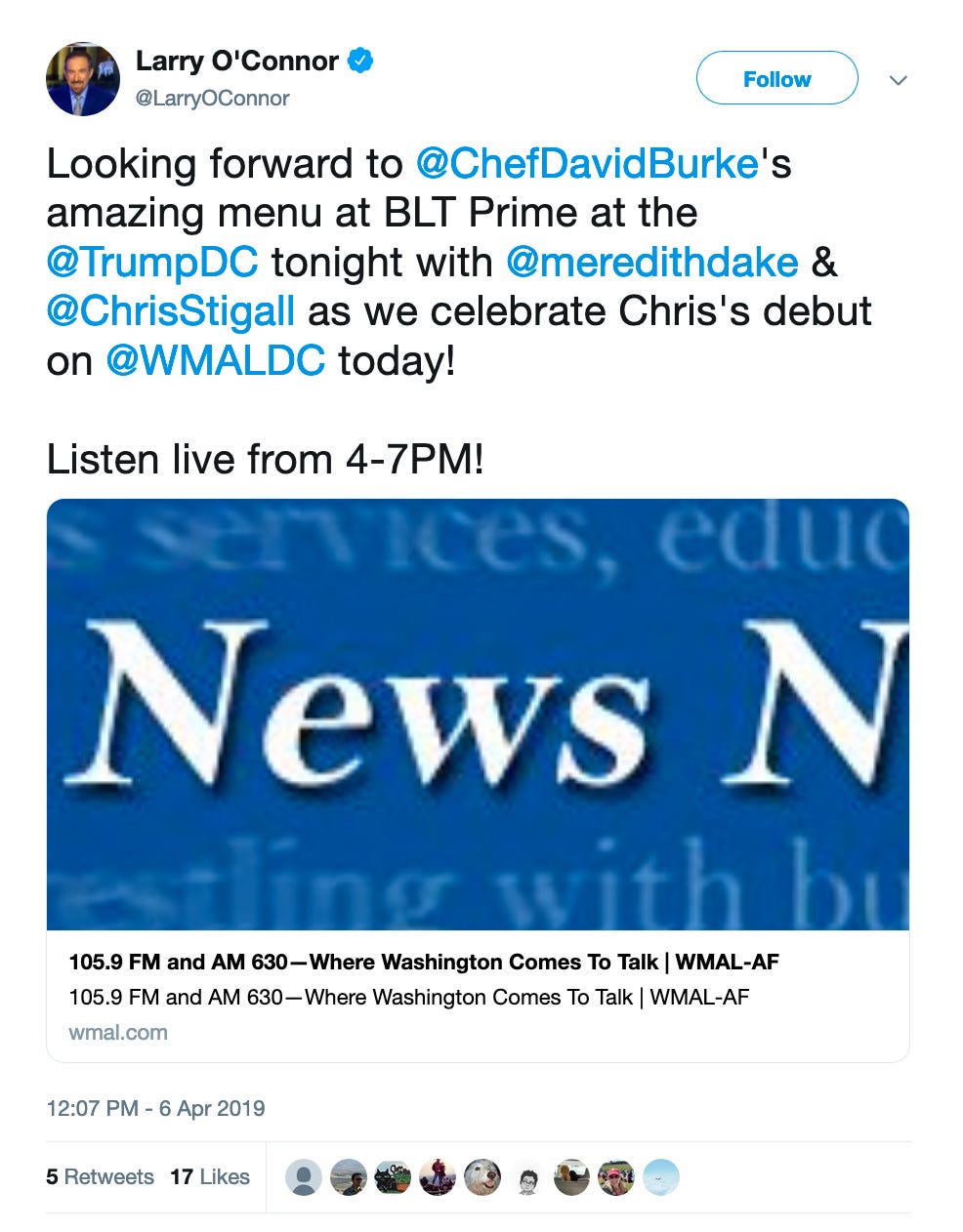 ---
Other Trump Organization news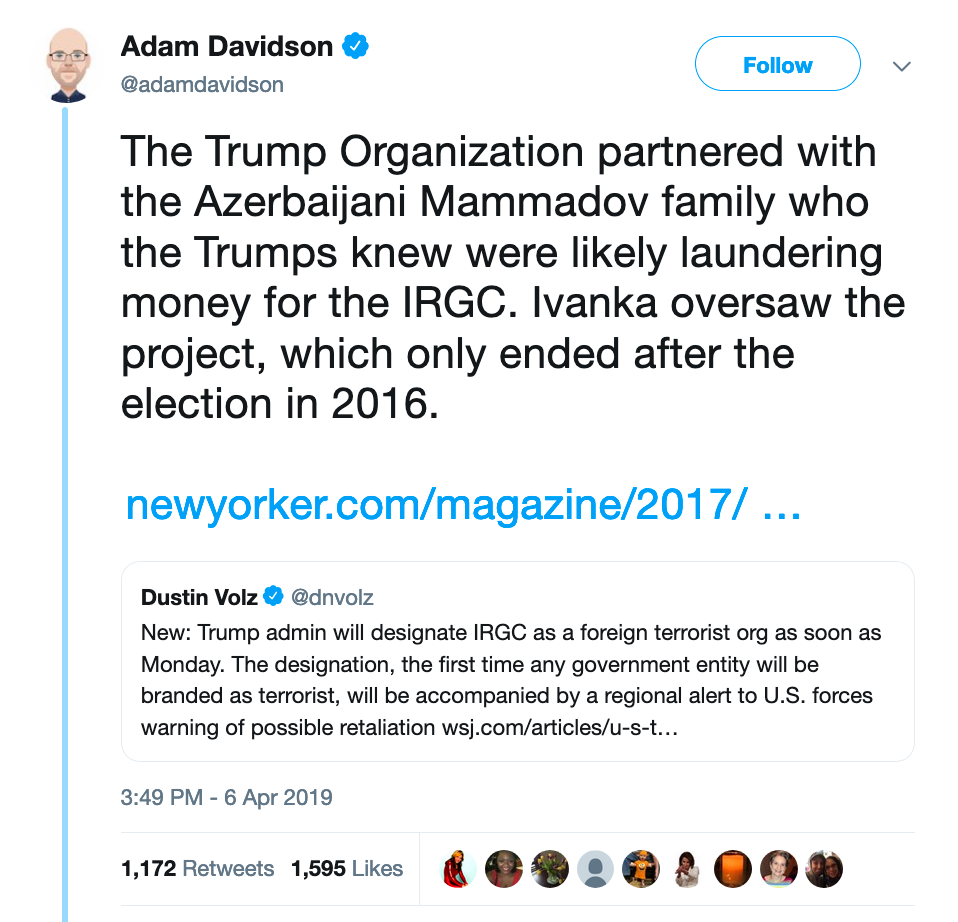 ---
House investigations, current status (latest changes, April 5, 2019)
---
Legal cases, current status (latest change, March 20, 2019)
D.C. and MD attorneys general's emoluments lawsuit (district court docket, appellate court docket)—

Official capacity—On Dec. 20, 2018, the 4th U.S. Circuit Court of Appeals ruled it would hear the president's appeal of district court rulings that allowed the case to proceed to discovery, and the appellate court halted discovery in the case. Discovery had started Dec. 3 and was scheduled to run through Aug. 2, 2019, with the AGs having subpoenaed the Trump Organization, including its Scottish golf courses; the U.S. Departments of Agriculture, Commerce, Defense, and Treasury and the GSA; and the state of Maine. Oral arguments on the appeal occurred on March 19; by all accounts the three-judge panel (all Republican appointees, including one who was a selection of President Trump's) were skeptical of the AGs' case. D.C. AG Karl Racine pledged to take the case to the U.S. Supreme Court if necessary.

Individual capacity—On Dec. 14, Trump's personal attorneys appealed the denial of their motion to dismiss the case, also to the 4th U.S. Circuit Court of Appeals. On Dec. 19, the AGs replied to Trump's motion for a stay pending that appeal by voluntarily dismissing the claims against Trump in his "individual capacity to allow the claims against President Trump in his official capacity to move forward expeditiously." (The AGs only brought suit against Trump in his individual capacity after the judge suggested they do so.) Trump's personal attorneys, on Dec. 21, opposed the motion to dismiss at the district level, saying the appeals court now has jurisdiction and accusing the AGs of "gamesmanship."

Democratic senators and representatives' emoluments lawsuit—On Sept. 28, Judge Emmet G. Sullivan ruled that the legislators have standing to sue. Trump's Justice Department attorneys filed an interlocutory appeal on Oct. 22. On Jan. 30, 2019, the plaintiffs' filed a notice of supplemental authority, notifying the court of the GSA inspector general's report that criticized GSA for failing to consider if the Trump Hotel D.C.'s lease was in compliance with the Constitution after Trump became president. Two days later, the president's attorneys argued that the IG's conclusion was not inconsistent with Trump's argument, but that the judge should ignore that report anyway because the IG has no expertise in interpreting or applying the foreign emoluments clause.

CREW et. al's emoluments lawsuit—In February 2018, CREW appealed its suit being dismissed for lack of standing to the 2nd U.S. Circuit Court of Appeals. Oral arguments on that motion were held on Oct. 30.

Cork's unfair competition lawsuit—Judge Richard J. Leon dismissed the case on Nov. 26, 2018, writing "Cork has failed to state a claim for unfair competition under D.C. law." On Dec. 10, Cork's attorneys filed a notice of appeal and on Jan. 10, 2019 they submitted a statement of issues to be raised. A briefing schedule was set on March 5 with Cork's brief due on April 15, the president's brief due on May 15, and Cork's reply to the president's brief due on June 5.

Employees' class-action suit alleging racial discrimination—Two of the three plaintiffs did not appear at a status hearing on Jan. 25, 2019; their cases were moved to arbitration. Via email, their attorney, A.J. Dhali, said his clients did not appear at the hearing because their case already had been moved to arbitration last year. The next status hearing is scheduled for Oct. 4.
---
Health inspections, current status (latest change, Aug. 10, 2018)
❌Hotel: five violations on May 7, 2018; two were corrected on site

❌BLT Prime and Benjamin Bar: nine violations on Aug. 10, 2018

❌Sushi Nakazawa: two violations on Aug. 10, 2018

✔️Banquet kitchen: no violations on Aug. 10, 2018

❌Pastry kitchen: two violations on Aug. 10, 2018

✔️Gift shop: no violations on May 7, 2018

❌Employee kitchen and in-room dining: five violations on Aug. 10, 2018; two were corrected on site
---
Is the Trump Organization selling merchandise that depicts the White House? (latest change, March 21, 2019)
Yes.
---
One thing that (probably) has nothing to do with Trump's businesses
"The IRS tried to take on the ultrawealthy. It didn't go well. Ten years ago, the tax agency formed a special team to unravel the complex tax-lowering strategies of the nation's wealthiest people. But with big money — and Congress — arrayed against the team, it never had a chance." By Jesse Eisinger and Paul Kiel for ProPublica.
---
Thanks for reading. If you like what you see, tell someone—and support this work by becoming a paying member ($5/month or $50/year). If you've been forwarded this newsletter, subscribe for yourself at zacheverson.substack.com. Questions? Read our FAQ/manifesto. Tips or feedback? Contact me, Zach Everson, securely via email at 1100Pennsylvania@protonmail.com or on Signal at 202.804.2744.