Discover more from 1100 Pennsylvania
"The undisputed expert on the D.C. Trump Hotel" – David Fahrenthold of the Washington Post
Over 3,000 subscribers
Trump Store selling $20 American flag-themed face masks
Programming note: 1100 Pennsylvania will not publish a new issue this week to allow your correspondent to focus on some other (Trump Hotel D.C.-related) reporting. All billing has been paused, so the week will not count towards paid monthly or annual subscriptions.
Trump Store now peddling American flag-themed face masks: 'Look the part this summer'
The online Trump Store has started selling $20 American flag-themed face masks so the president's customers can "look the part this summer." While the Centers for Disease Control and Prevention "recommends wearing cloth face coverings in public settings," Donald J.Trump eschews wearing them.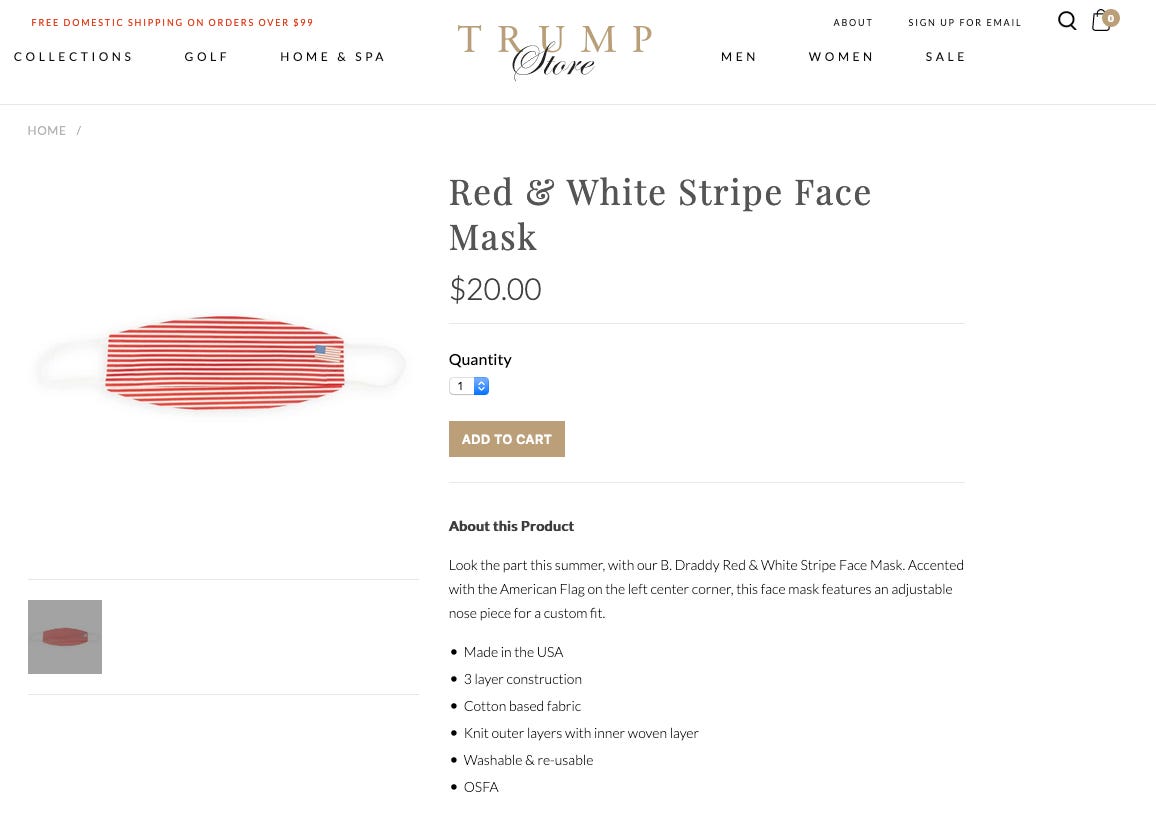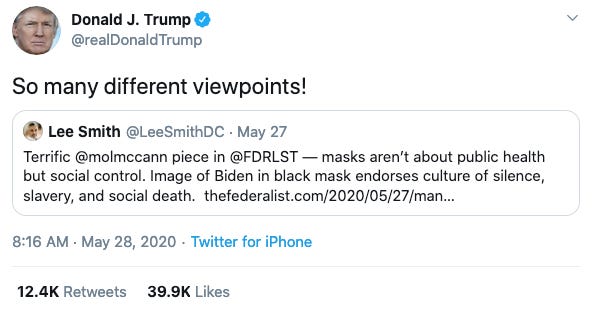 In addition to featuring red and white horizontal stripes, the mask is "accented with the American Flag on the left center corner." While your correspondent is no legal expert, coughing up COVID-19-infested spit into the flag seems like it should fall afoul of the United States flag code.
The president has retained his businesses, of course, and can profit from the purchase of these flag-themed masks.
Trump Store also sells $10 navy-colored face masks bearing the flag in the corner. These cheaper versions are in "popular demand"and not shipping until June 19 per the website. Trump Store claims both products are made in the United States.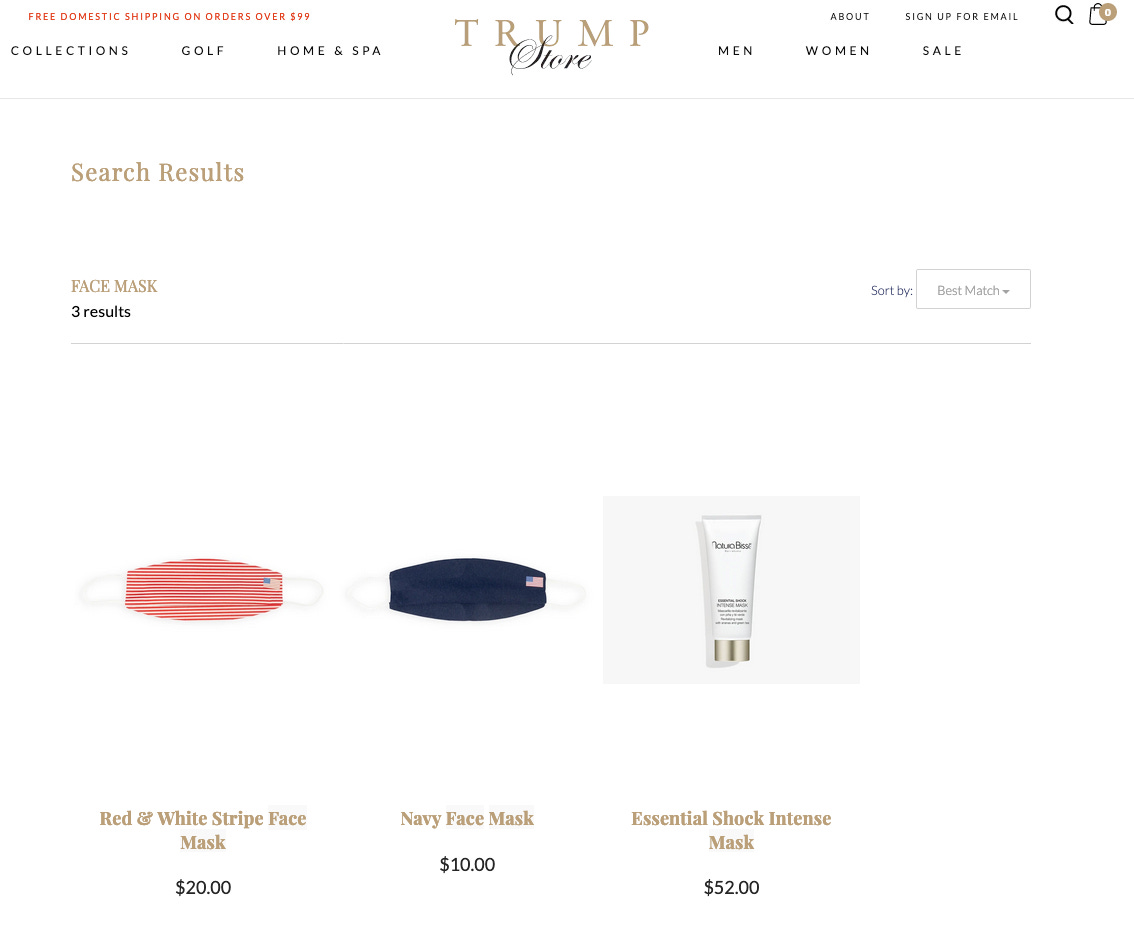 The president's retail store selling face masks does not appear to have been previously reported, although it's not clear when they debuted. In May, Trump campaign manager Brad Parscale debuted two Keep America Great-themed masks.
Last spring, Trump Store began carrying a cherry blossom collection that included four pieces of merch featuring the White House, as 1100 Pennsylvania reported at the time. A few weeks later, the president's company said it would be discontinuing those items. More than a year has passed; they are still available.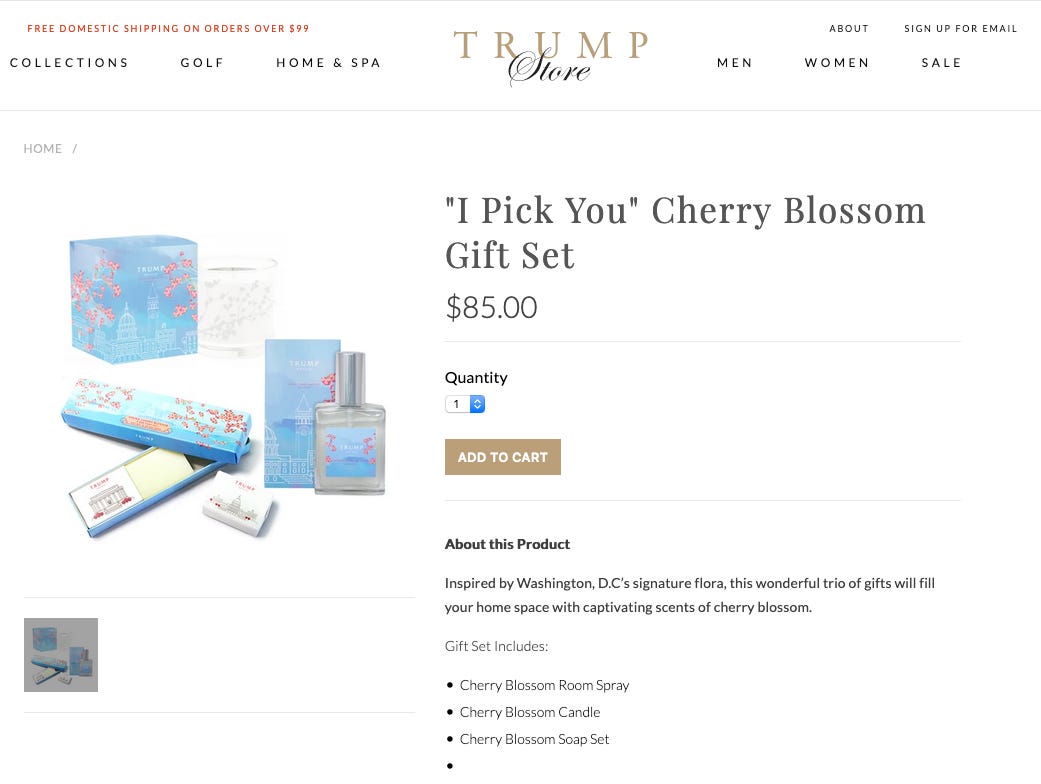 In a January 2017 press conference at Trump Tower, Trump Organization attorney Sheri Dillon said that the president-elect "has also directed that no communications of the Trump Organization, including social media accounts, will reference or be tied to President-elect Trump's role as president of the United States or the office of the presidency."
---
On weekends, 1100 Pennsylvania recaps the week's top stories. Select the day to go to that issue.
Two more White House staffers to exchange vows at president's hotel: Trump Hotel D.C. will have hosted wedding celebrations for at least eight Trump administration staffers

Five Trump businesses announce plans to emerge from COVID-19-related closures
Read Wednesday's 1100 Pennsylvania.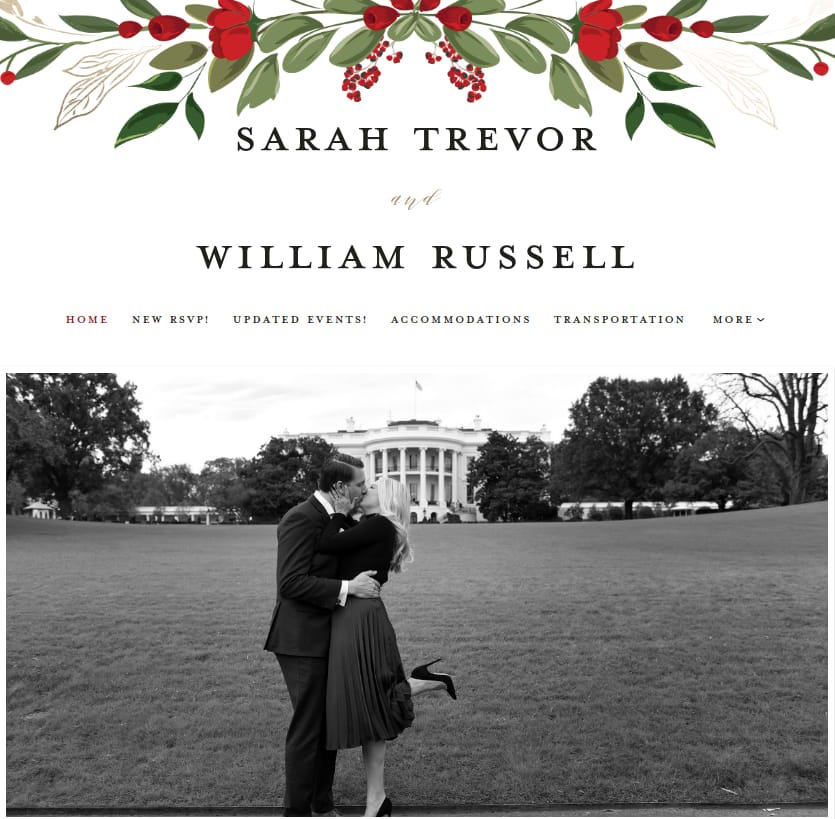 ---
One tweet, 'many' issues: Trump claimed 'many' of his properties did not request bailout funds, but his administration refuses to disclose any recipients

Conway and Carson among invitees to White House staffers' Trump Hotel D.C. wedding

On Thursday, The MyPillow Guy, Mike Lindell—who's a Trump business regular, Trump donor, Fox News advertiser, and government contractor—posted a photo of himself with the president in the Oval Office.
Read Friday's 1100 Pennsylvania.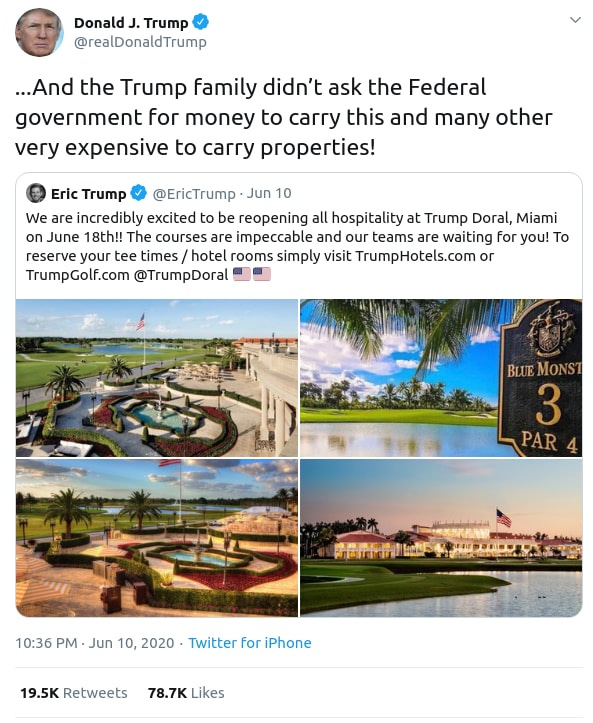 ---
Subscribe to 1100 Pennsylvania: Stay informed, support this reporting, and help restaurant workers in need
During the COVID-19 pandemic, 1100 Pennsylvania is donating 25 percent of all subscription revenue to the Restaurant Workers Relief Program.
The Lee Initiative, founded by James Beard Award winner Edward Lee, and Maker's Mark's Restaurant Workers Relief Program have "turned restaurants across the country into relief centers with local chefs for any restaurant worker who has been laid off or has had a significant reduction in hours and/or pay." It offers help for those in need of food and supplies, packing hundreds of to-go meals a night. Now in 19 cities across the country, the program has served more than 150,000 meals.
You can learn more about The Lee Initiative and donate too at leeinitiative.org.
Paid subscriptions are 1100 Pennsylvania's sole source of revenue—no ads, no grants. Just $5 a month or $50 a year. Support this reporting, ensure it continues, and now help restaurant workers and their families who need your assistance.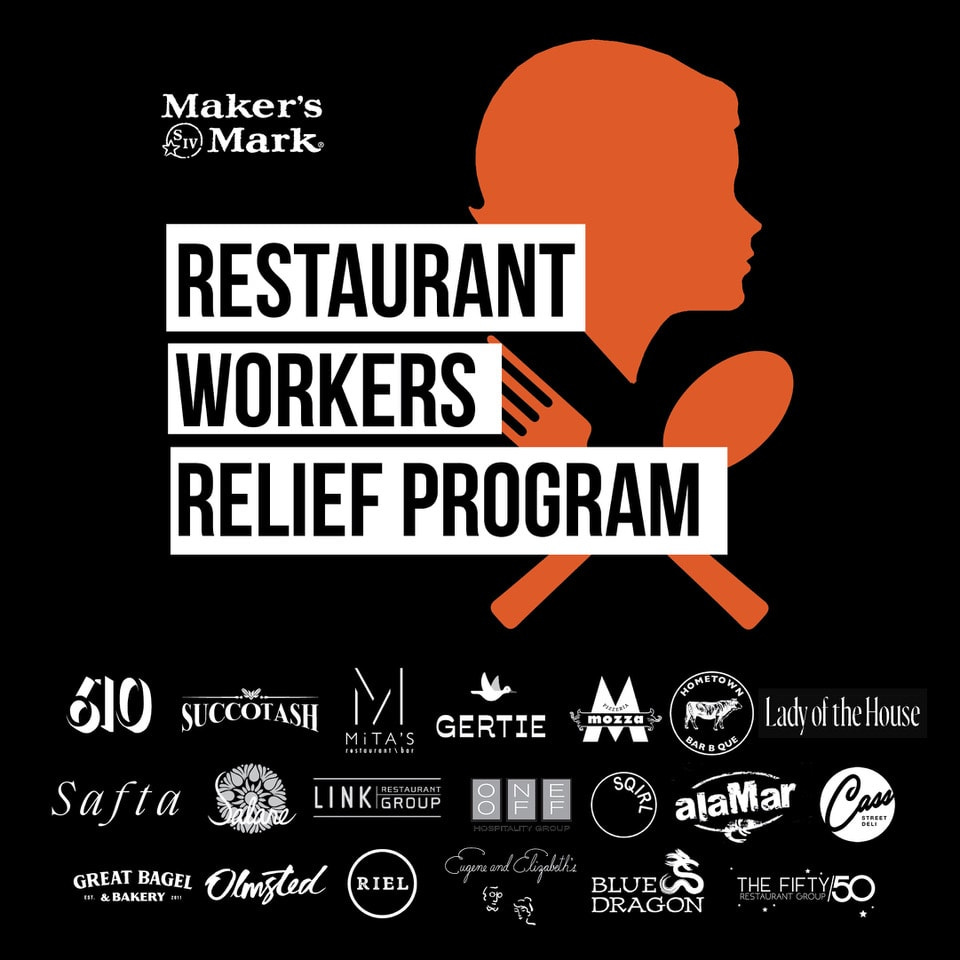 ---
Reference section
Links to rundowns of developments in the House's investigations and lawsuits, reference sheets for some of 1100 Pennsylvania's previous reporting, and articles that provide the background on why all of this matters. The date published or last updated is in parentheses.
Trackers
Notable hotel customers
Summaries
Upcoming key dates
Sept. 23, 2019—House Judiciary Committee hearing "Presidential corruption: Emoluments and profiting off the presidency" (postponed, not yet rescheduled)

June or July 2020—Before postponement of oral arguments due to a coronavirus-related closure, Supreme Court decision due on Trump's appeal of earlier rulings requiring his financial institutions to comply with subpoenas from House Financial Services, Intelligence, and Oversight

July 8, 2020—Deadline for the Departments of State and Homeland Security to respond to The Washington Post's lawsuit alleging the departments have failed to share records responsive to Freedom of Information Act requests seeking information on government spending at Trump properties

Aug. 10, 2020—Scheduling conference before D.C. Superior Court in D.C. attorney general's lawsuit alleging improperly spent nonprofit funds by the Trump Hotel D.C. and Trump's inaugural committee

Oct. 29, 2020—Mediation session in at least a one-time Trump appointee in the Commerce Department's lawsuit against the Trump Hotel D.C., alleging a shard of glass from a sabered bottle of champagne left a gash in her chin
---
Thanks for reading! If you like what you've read, tell someone. If you've been forwarded this newsletter, subscribe at 1100pennsylvania.substack.com. Questions? Read our FAQ. Tips or feedback? Contact Zach Everson at 1100Pennsylvania@protonmail.com (it'll be encrypted if you also use a ProtonMail account, which is free) or via Signal (secure), SMS, or mobile at 202.804.2744.