Discover more from 1100 Pennsylvania
"The undisputed expert on the D.C. Trump Hotel" – David Fahrenthold of the Washington Post
Over 3,000 subscribers
Trump to visit his 14th different Trump property as president
Trump's visit to his Chicago hotel marks the 14th different Trump property he's visited as president
Turns out the Trump Organization putting its D.C. hotel on the market and the president pulling the G7 summit from Doral do not signify a new willingness on the part of President Donald Trump to separate himself from his businesses.
Today Trump will visit his 14th different Trump property as president when he attends a fundraiser for his joint-fundraising committee at the Trump International Hotel & Tower Chicago.
According to the New York Times's "Tracking the president's visits to Trump properties" and Factba.se's record of the president's public schedule, Trump has not previously visited his Chicago property while in office.
At a pre-inauguration press conference in January 2017, Trump Org attorney Sherri Dillon said, "President-elect Trump wants there to be no doubt in the minds of the American public that he is completely isolating himself from his business interests. He instructed us to take all steps realistically possible to make it clear that he is not exploiting the office of the presidency for his personal benefit."
The presidential visit comes upon reports that revenue is down at Trump Chicago.
"At Trump's hotel in Chicago, a document investors saw last week showed a similar drop-off. Bookings fell 8 percent from 2015 to 2016, and this year's figures are still lower than the pace in 2016," reported David A. Fahrenthold, Jonathan O'Connell, and Morgan Krakow for The Washington Post in October 2018. The Trump Org blamed the downswing on "the perceived threat of gun violence."
Additionally, in spring 2018, property brokers for Trump Chicago removed the president's name from a photo of the building in a brochure aimed at attracting commercial tenants, reported Alby Gallun for Crain's Chicago Business. And Sixteen, the building's two-Michelin-starred restaurant, shuttered in April 2018.
On a positive note for the business, the "average sale price of condominiums at Trump International Hotel & Tower hit a new record in 2018"—sparked by the sale of two penthouses to unidentified buyers, reported Denis Rodkin for Crain's Chicago Business.
Notable sightings at the business during Trump's time in office include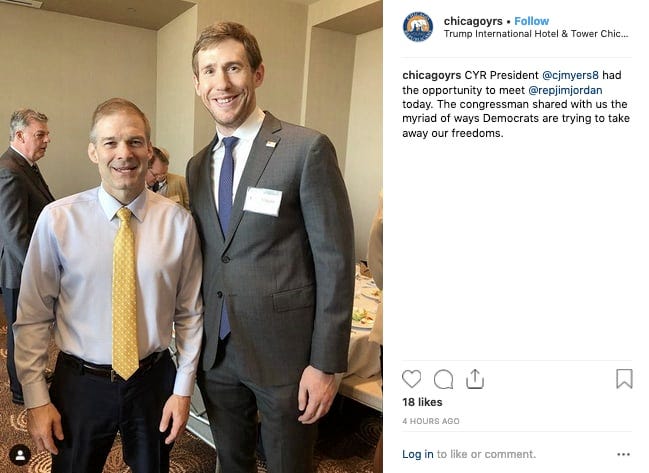 ---
More thoughts on the Trump Org putting its D.C. hotel on the block
Since the story broke on Friday that the Trump Organization was exploring the sale of its D.C. hotel, some additional information has come out:
---
Judiciary still hasn't rescheduled its postponed hearing on 'profiting off the presidency'
Scheduled for Sept. 23, the House Judiciary committee postponed a hearing titled "Presidential corruption: Emoluments and profiting off the presidency" because of the death of a Congressman's wife. At the time a committee spokesperson said the session likely would be rescheduled for mid-October.
On Friday, the committee published its calendar through Nov. 2. The hearing is not on it. The panel's spokesperson has not replied to multiple inquires about when or if the hearing will be held.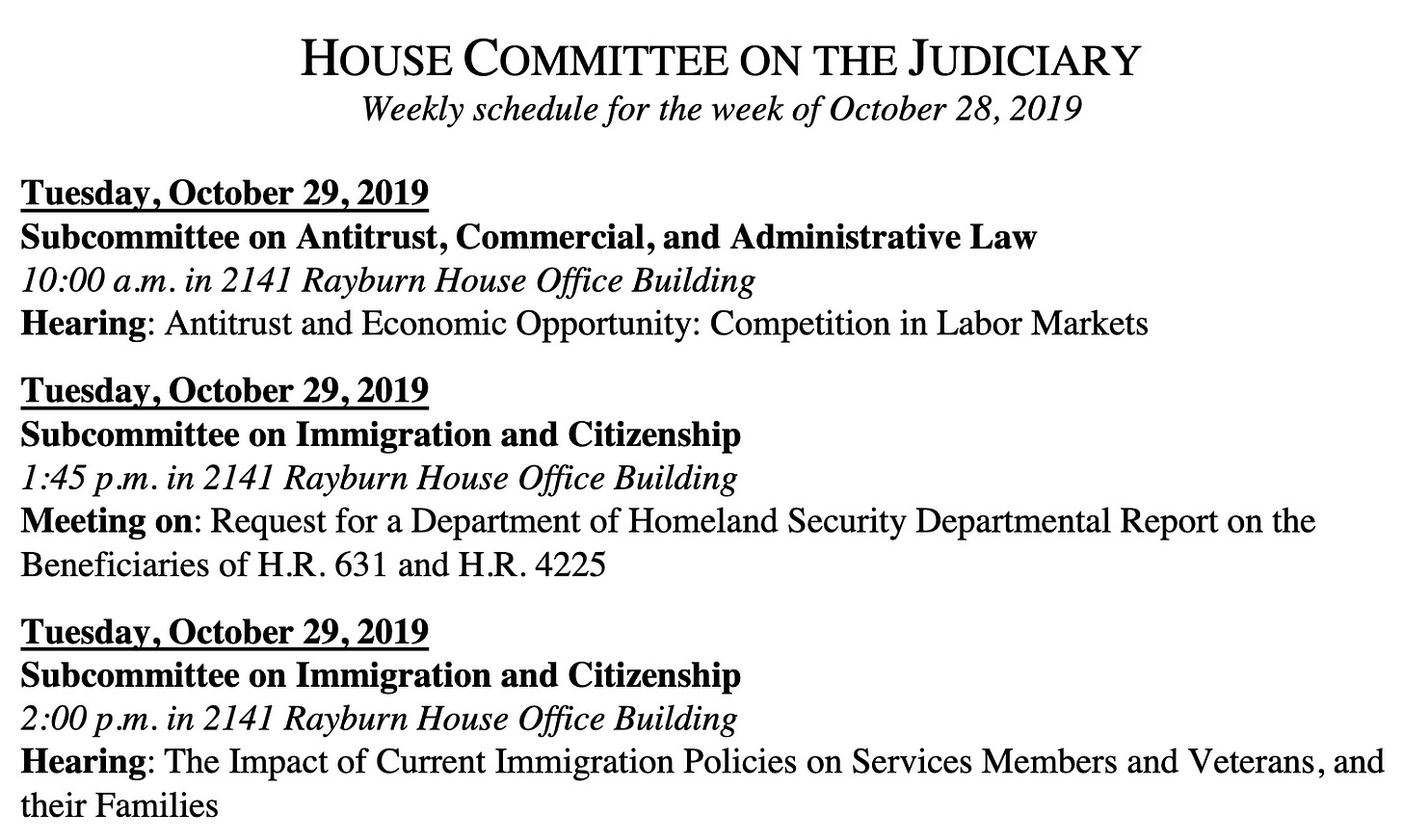 ---
Campaign expenditures
The campaign for Sen. Mike Rounds (R–SD) spent $6,397 for fundraising food and beverage on June 26, 2019 at the D.C. hotel owned by the head of the executive branch. Round's campaign now has spent a total of $6,989 at the Trump Hotel D.C.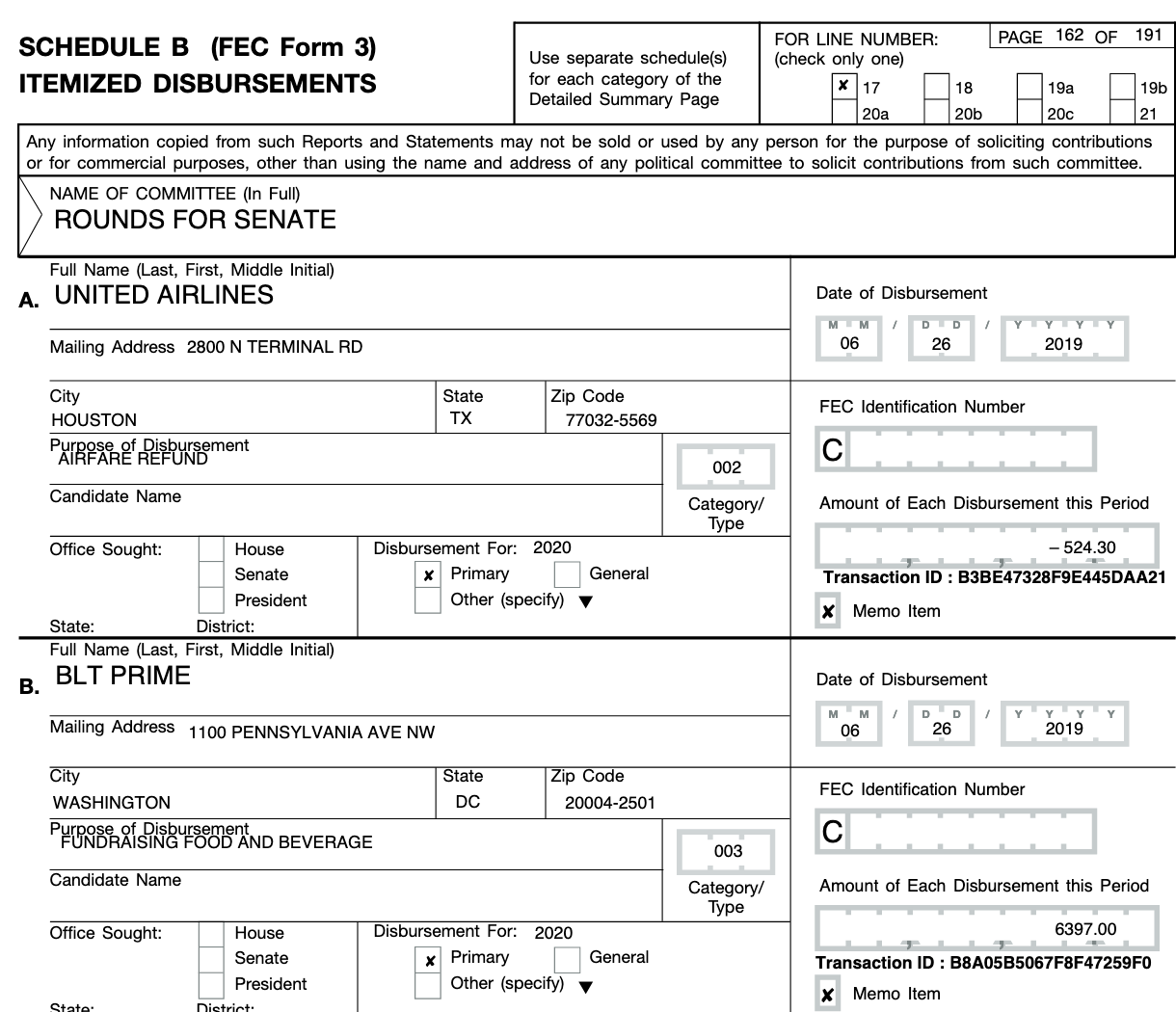 The campaign for Sen. Cory Gardner (R–CO) spent $76.80 for a meeting expense on July 24, 2019 at the D.C. hotel owned by the head of the executive branch. Gardner's campaign now has spent a total of $677.30 at the Trump Hotel D.C.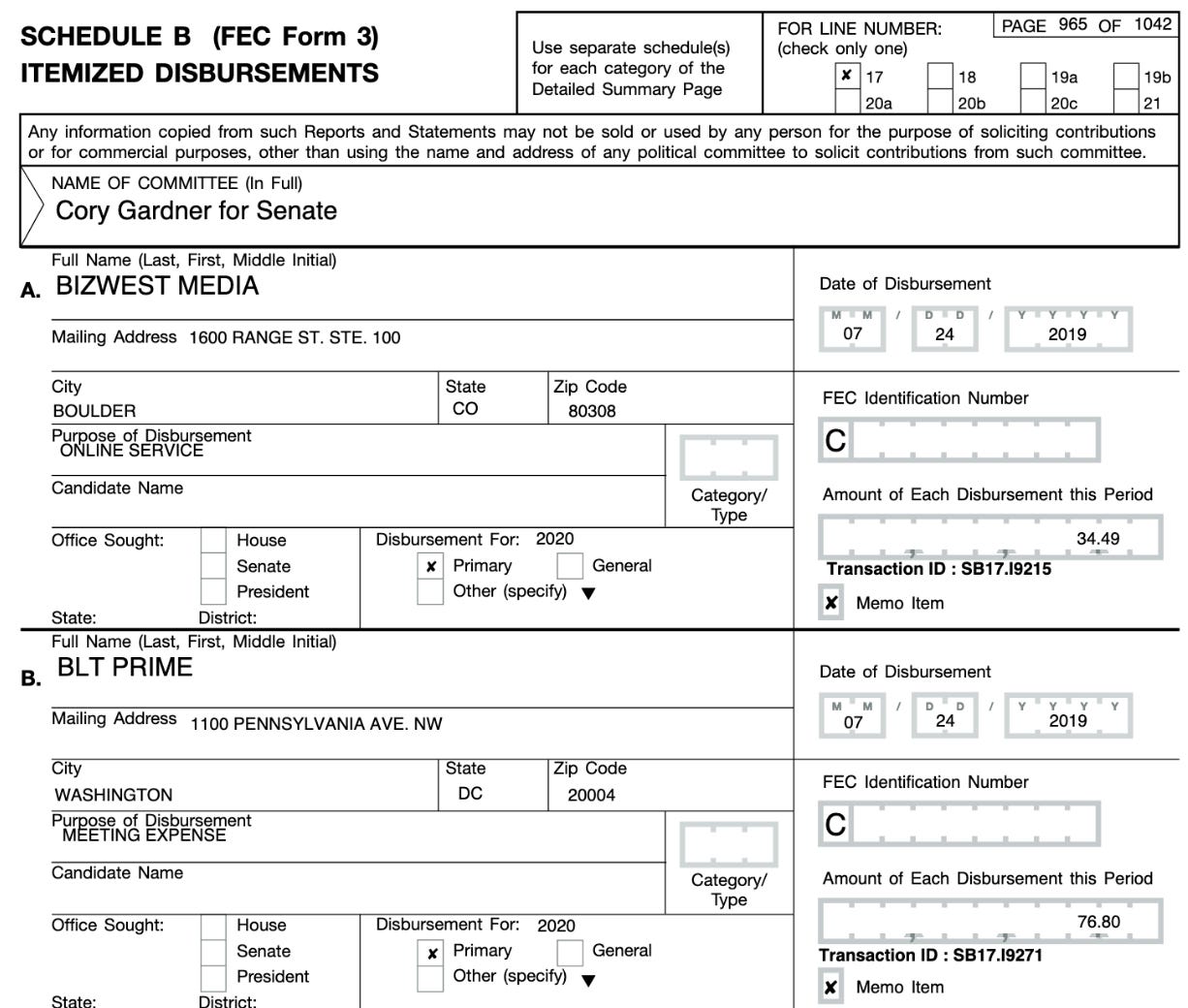 The campaign for former Rep. Sean Duffy (R–WI) spent $17,178.71 for travel on July 2, 2019 at the D.C. hotel owned by the head of the executive branch. President Trump plugged Duffy's wife's book on Twitter two months later. Duffy's campaign now has spent a total of $21,560.91 at the Trump Hotel D.C.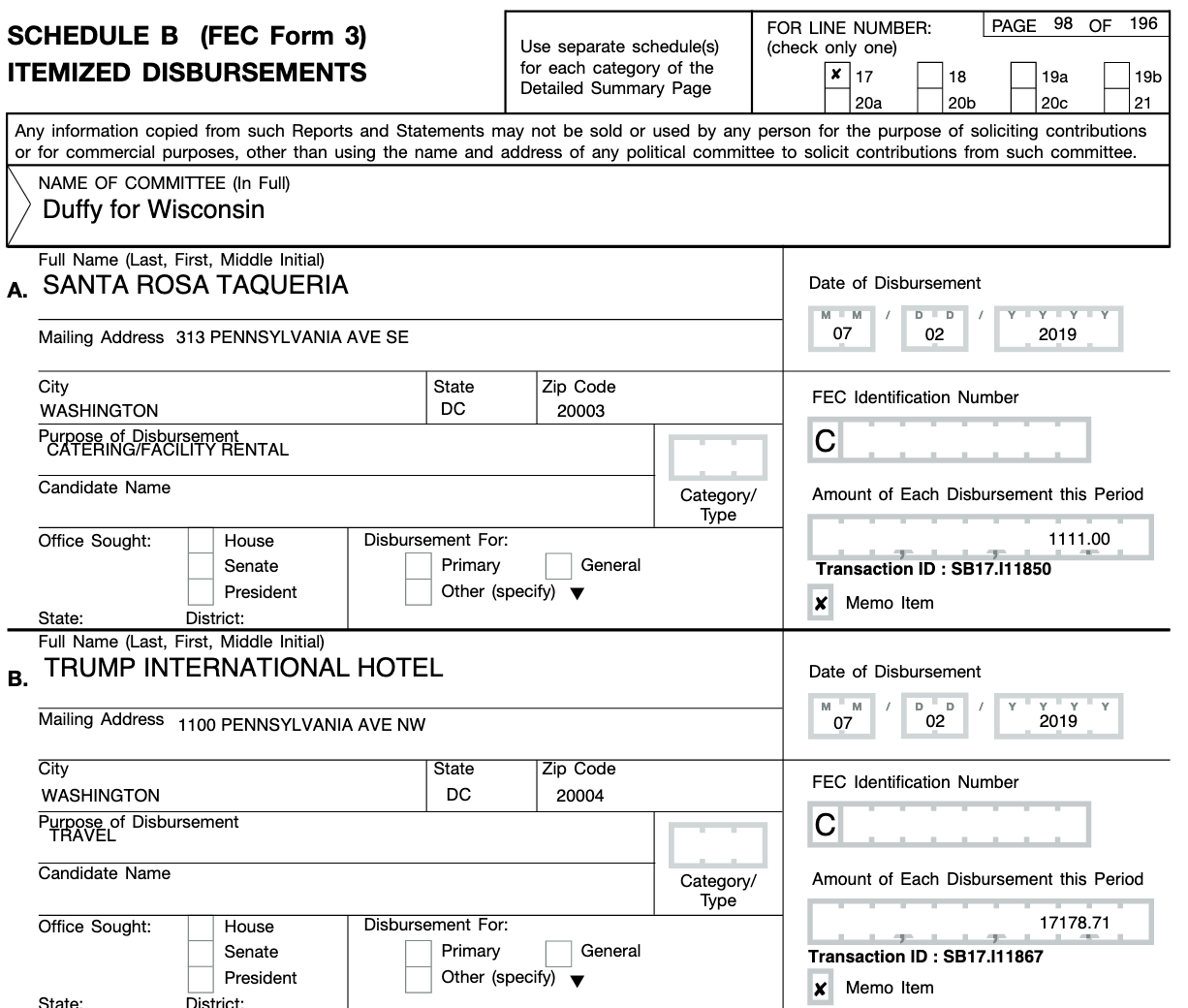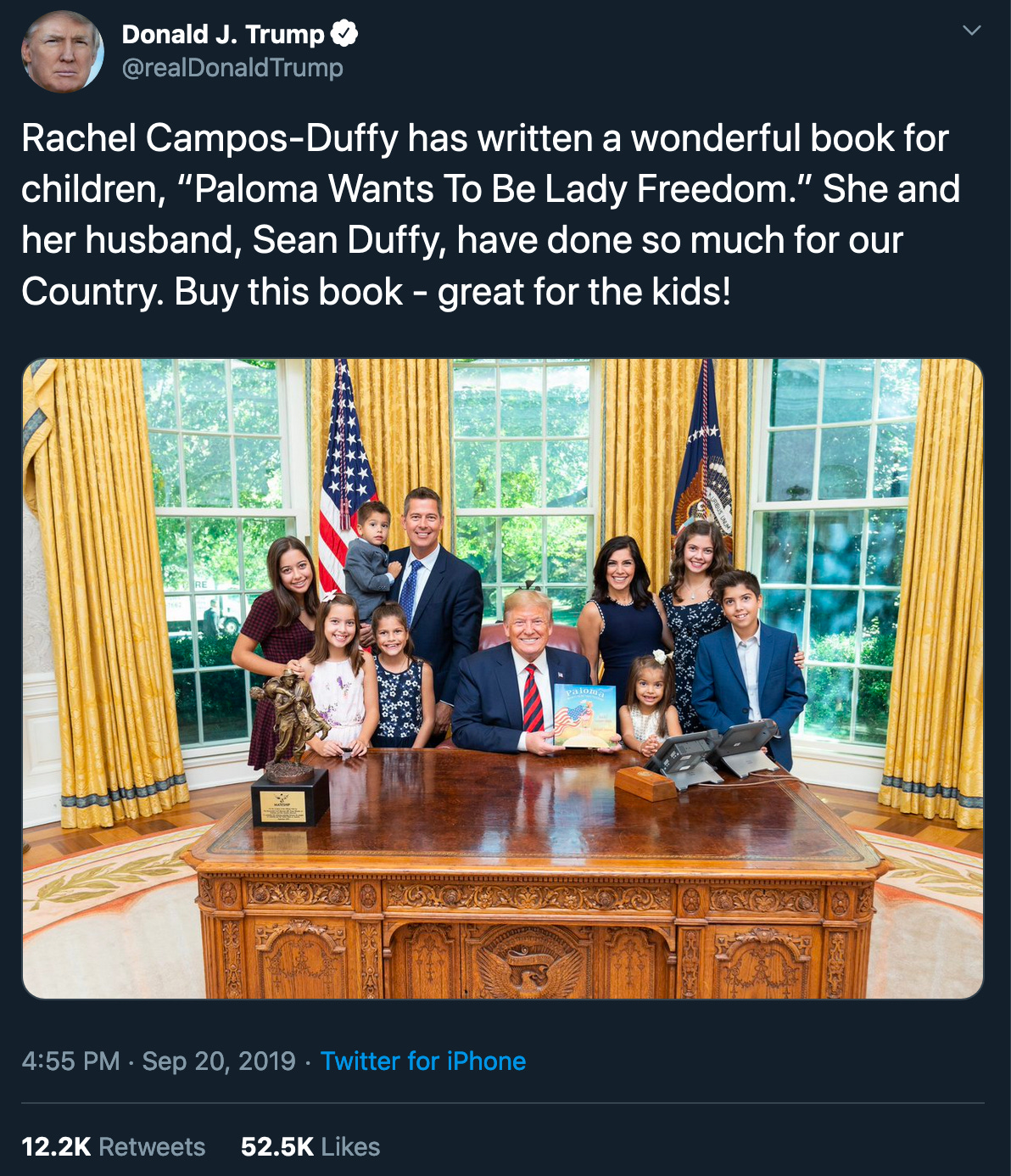 ---
Notable sightings
A glimpse of the foreign officials, government employees, politicians, lobbyists, and the like who patronize or appear at Trump businesses. Most people shown here have reasons to want to influence the Trump administration, rely on its good graces for their livelihoods, or should be providing oversight. Additionally, high-profile guests serve as draws for paying customers.
The president returned to his Sterling, Virginia course for a game of golf on Saturday. According to the White House press pool, he played with Sen. Lindsey Graham (R–SC), Sen. David Perdue (R–GA), and Major League Baseball commissioner Rob Manfred.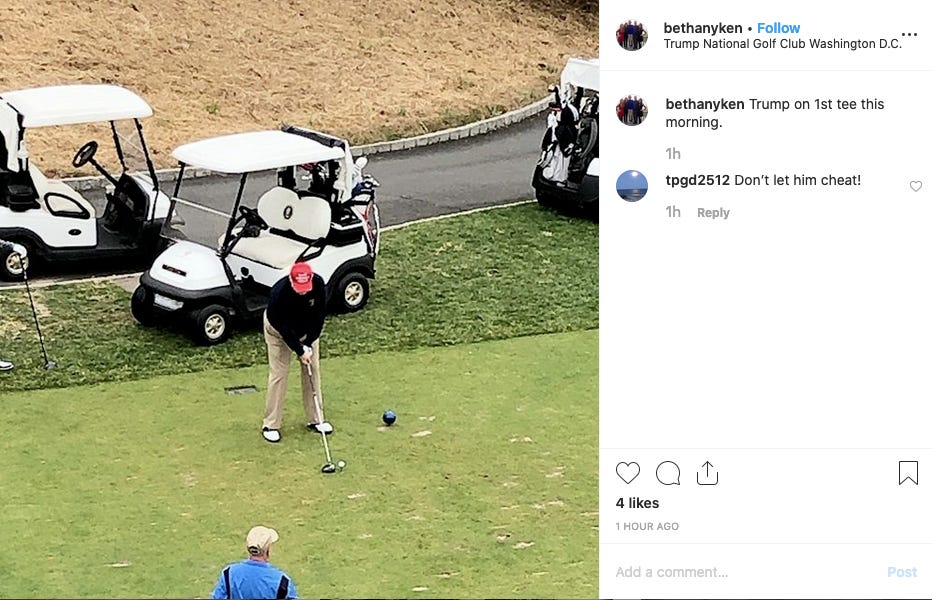 Robert Hyde, a lobbyist running for Congress in Connecticut as a Republican, shared another photo from a Trump business.
Days after Amazon Web Services surprisingly lost out on a $10 billion Department of Defense contract, a principal business development manager for space exploration and satellite solutions at AWS, Daryl Schuck, posted a photo from the commander-in-chief's bar.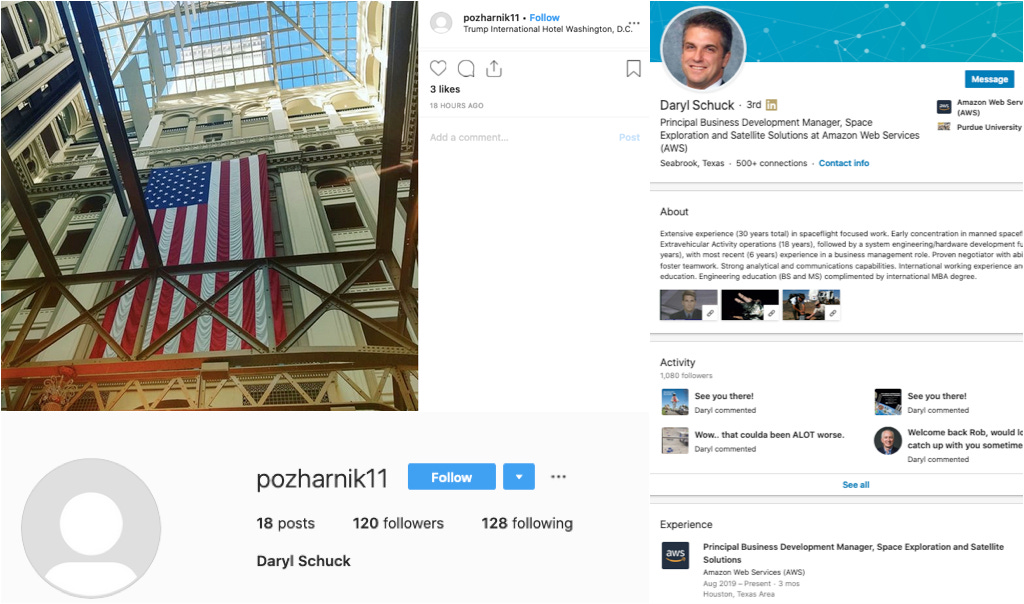 The deputy press secretary for Georgia Gov. Brian Kemp (R), Alexandra Collins Beyer, enjoyed some family time.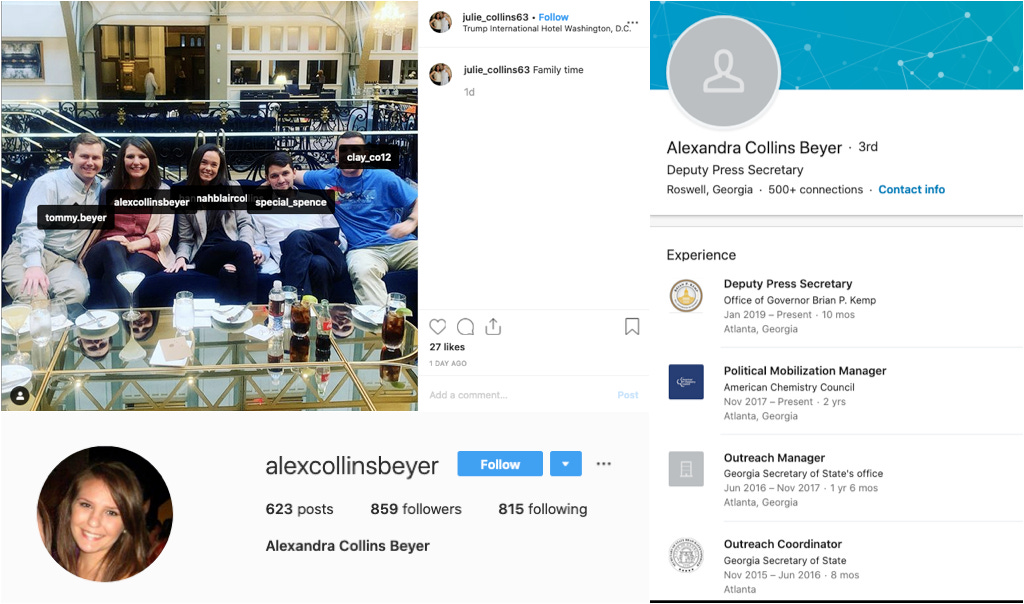 Elizabeth Mayer, an account supervisor and project manager at U.S. government contractor DCG Communications, and Sarah Milligan, a lobbyist for the American Dental Association and director of its PAC, celebrated Milligan's nana's birthday. Also attending was a projects officer at International Monetary Fund, Catherine Timbers.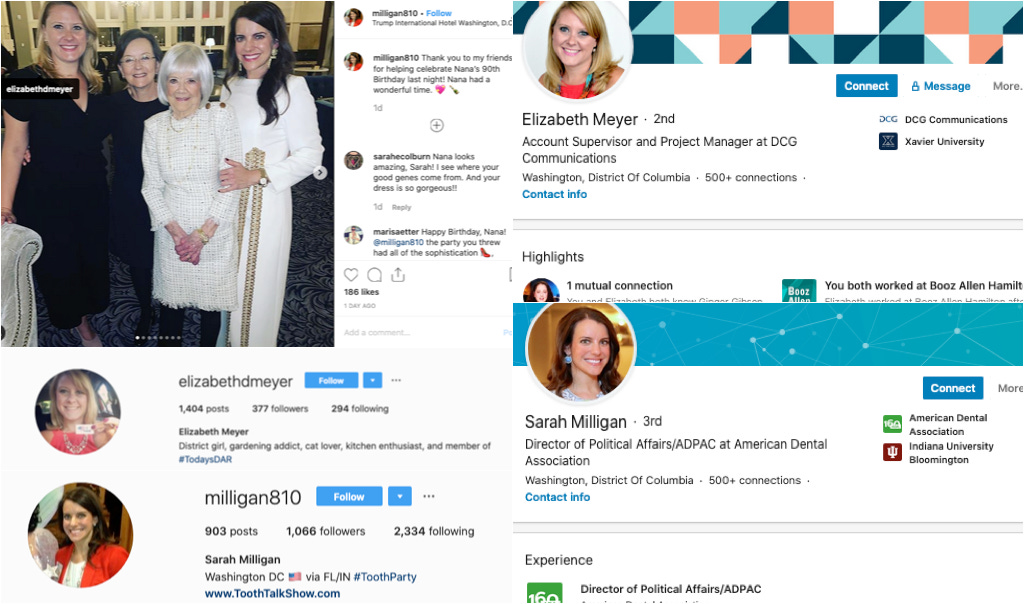 ---
Other Trump Organization news
---
Reference section
Links to rundowns of developments in the House's investigations and lawsuits, reference sheets for some of 1100 Pennsylvania's previous reporting, and articles that provide the background on why all of this matters. The date published or last updated is in parentheses.
Trackers
Notable hotel customers
Summaries
---
Thanks for reading! If you like what you've read, tell someone. If you've been forwarded this newsletter, subscribe at 1100pennsylvania.substack.com. Questions? Read our FAQ. Tips or feedback? Contact Zach Everson at 1100Pennsylvania@protonmail.com (it'll be encrypted if you also use a ProtonMail account, which is free) or via Signal (secure), SMS, or mobile at 202.804.2744.