Discover more from 1100 Pennsylvania
"The undisputed expert on the D.C. Trump Hotel" – David Fahrenthold of the Washington Post
Over 3,000 subscribers
Trump's 2018 Scottish golf outing cost taxpayers more than $1 million
Secret Service spent $953,000 per new audit by Homeland Security inspector general; State Department already reported dropping $230,000
The U.S. Secret Service spent more than $1 million supporting President Donald J. Trump's July 2018 two-day trip to his Turnberry golf course in Scotland, according to a report from the Department of Homeland Security's Inspector General made public Monday evening. Of that total, the U.S. government paid almost $10,000 to the president's business for hotel rooms, golf carts, and logistical support.
The president visited his money-losing resort in between meeting Queen Elizabeth II in London and his infamous summit with Russian President Vladimir Putin in Finland.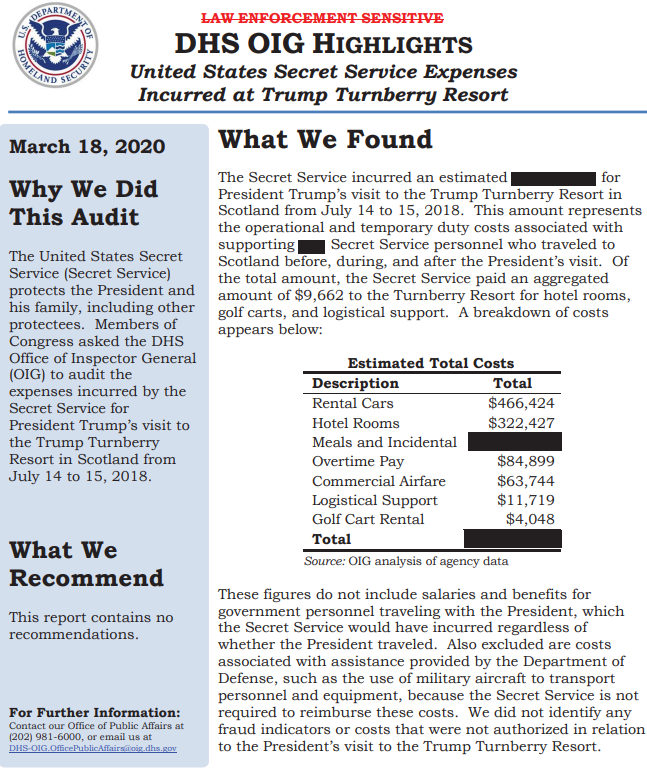 The inspector general did not find any fraudulent costs involving the trip. While Trump Turnberry was paid $9,662 by the Secret Service, the president's two-day visit also provided his resort with plenty of free publicity. Trump promoted his club on Twitter while he was there. And shortly after his trip, the Trump Store featured Turnberry-themed merchandise on its home page.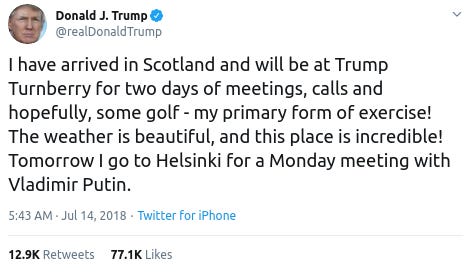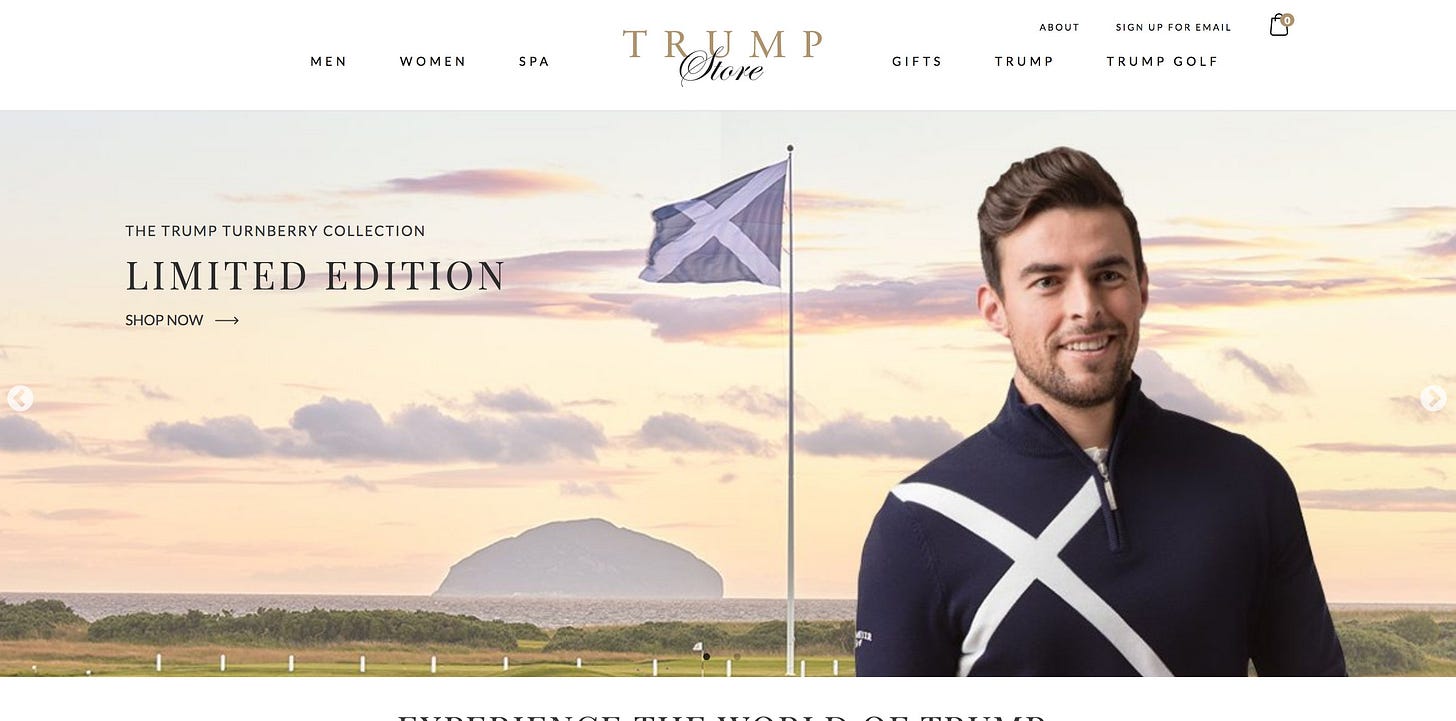 In addition to the Secret Service, the State Department already reported spending more than $230,000 on the trip. And the U.S. government likely incurred additional expenses as the DHS IG report notes, "Excluded are costs associated with assistance provided by the Department of Defense, such as the use of military aircraft to transport personnel and equipment, because the Secret Service is not required to reimburse these costs."
The amount the Secret Service spent on meals and incidentals was redacted, meaning its total spending also was redacted. The rental cars, hotel rooms, overtime pay, commercial airfare, logistical support, and golf cart rentals totaled $953,261 though. As the IG presented the expenses in order from greatest to lowest, it seems likely the meals and incidentals fell beween $85,000 and $320,000.
During the trip, a Secret Service agent had a stroke at Turnberry and later died.
DHS's report came as a result of a July 2018 request from the House Committee on Oversight and Reform Chair Elijah Cummings (D-MD), Sen. Tom Carper (D-DE), and Sen. Elizabeth Warren (D-MA).
In a statement released today, the Oversight panel's new chair Carolyn B. Maloney (D-NY), Carper, and Warren said [bold added],
American taxpayers should not be on the hook for President Trump's golf weekend to a property he owns as a private businessman. The President has consistently abused the levers of government to promote his own personal enrichment, and we are calling on him today to reimburse the American people for the more than $1 million price tag for this unnecessary and wasteful trip. This is their money—not his—and he should return it to them immediately."
Joining the president on the Turnberry visit were First Lady Melania Trump, White House chief of staff John Kelly, spokesperson Sarah Huckabee Sanders, and director of social media Dan Scavino (the original photo s no longer publicly available on Instagram). And one patron of the president's enjoyed a perk unavailable elsewhere: a Trump-autographed MAGA hat.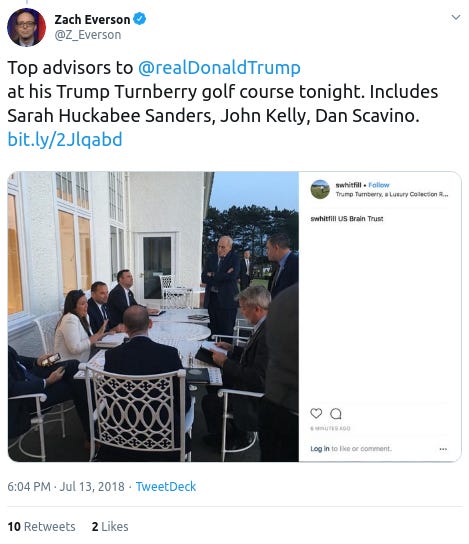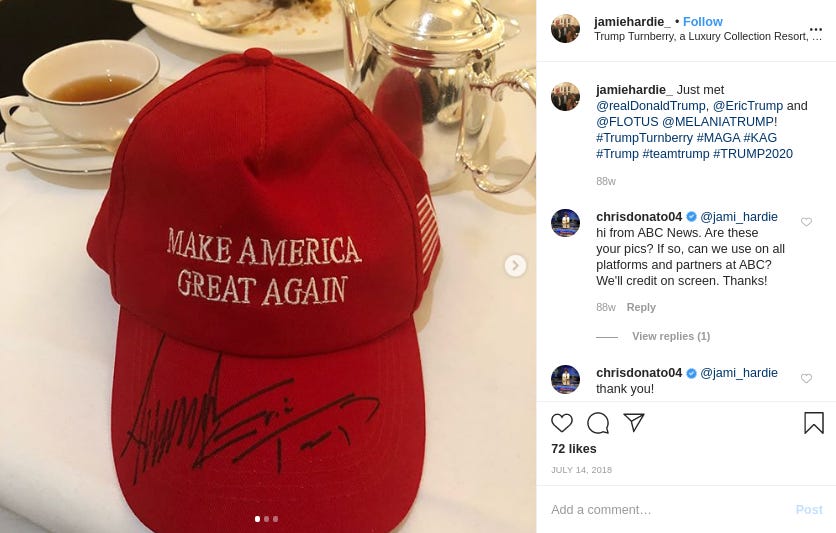 ---
Trump refused to rule out Trump Organization accepting U.S. government bailout money
During a White House press briefing Sunday on the coronavirus, President Trump declined to rule out the Trump Organization accepting government funds released to the hotel industry as part of a stimulus package.
The president's comment came in response to a question from Seung Min Kim of The Washington Post:
Kim: The bill that is being contemplated by the Senate right now has a fund that has hundreds of billions of dollars for the Treasury Department to use to bail out states and localities as well as specific industries such as cruises and hotels. Will you commit publicly that none of that taxpayer money will go towards your own personal property?

Trump: Well every time I do it, like for instance, I committed publicly that I wouldn't take the $450,000 salary. It's a lot of money. Whether you're rich or not, it's a lot of money and I did it. Nobody cared. Nobody said "Thank you." Nobody said "Thank you very much." Now, I didn't commit legal. I just said, I don't want it. I don't want my salary. I work for zero. I don't want my salary. Nobody said, "Oh, thank you very much," but I guarantee you if I ever took it, you would go out after me. You in particular, would go out after me like crazy. So I have no idea what they're talking about with regard to the one element. Everything's changing, just so you understand. It's all changing. But I have no idea.

But every time I commit to do something, I committed to do… Look, I ran and everybody knew I was a rich person. I built a great company and people knew that, but I agreed to do things I didn't have to, I still don't have to. But my company, I told the kids who are running it, I'm not running it. But I told them, "Don't deal with foreign companies. Don't deal." I didn't have to do that. I could've just ran and I didn't have to do that at all. And instead of being thanked for, again not agreeing to do it, but just for not doing it, I get excoriated all the time. So I've learned, let's just see what happens because we have to save some of these great companies that can be great companies literally in a matter of weeks. We have to save them. Yeah, please.
---
1100 Pennsylvania's reporting reaches millions. Subscribe and ensure it continues.
Recently your correspondent appeared again on MSNBC's "The Beat with Ari Melber" to share 1100 Pennsylvania's reporting on the Trump Hotel D.C. Additionally, 1100 Pennsylvania's reporting has been cited by The Associated Press, The Atlanta Journal Constitution, Business Insider, Capital (French), The Daily Beast, The Daily Mail, The Guardian, The Hartford Courant, Inside Edition, Ireland's Newstalk radio, NBC News, The New York Times, The Palm Beach Post, Stern (German), The Wall Street Journal, The Washington Examiner, The Washington Post, Washingtonian, and Yahoo News.
Thanks to 1100 Pennsylvania's paid subscribers who support in-depth reporting on who's paying Donald Trump and what they may want from the president, helping bring this information to a much wider audience. Paid subscriptions are this publication's sole source of revenue—no ads, no grants. Support this reporting and ensure it continues. Just $5 a month or $50 a year.
---
Campaign expenditures
In February 2019, the president's campaign reported spending more than $50,900 at the president's properties, reported Anna Massoglia of the Center for Responsive Politics.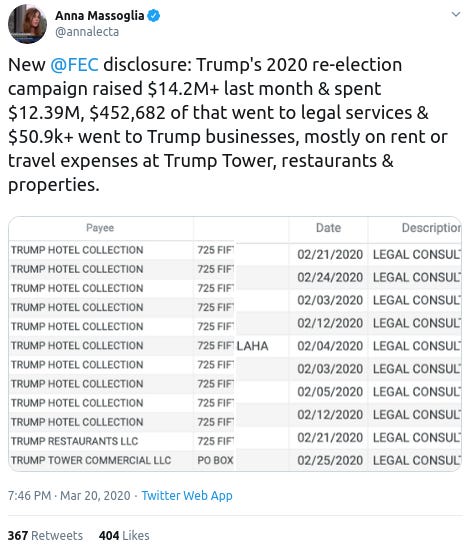 The Building America's Republican Representation political action committee, affiliated with Rep. Andy Barr (R-KY) spent $40 on Feb. 25 for travel expenses at the head of the executive branch's D.C. hotel. The PAC now has spent a total of $332.40 at the Trump Hotel D.C.

---
Notable sightings
A glimpse of the foreign officials, government employees, politicians, lobbyists, and the like who patronize or appear at Trump businesses. Most people shown here have reasons to want to influence the Trump administration, rely on its good graces for their livelihoods, or should be providing oversight. Additionally, high-profile guests serve as draws for paying customers.
The Trump Hotel D.C.'s managing director, Mickael Damelincourt, showed off an empty lobby.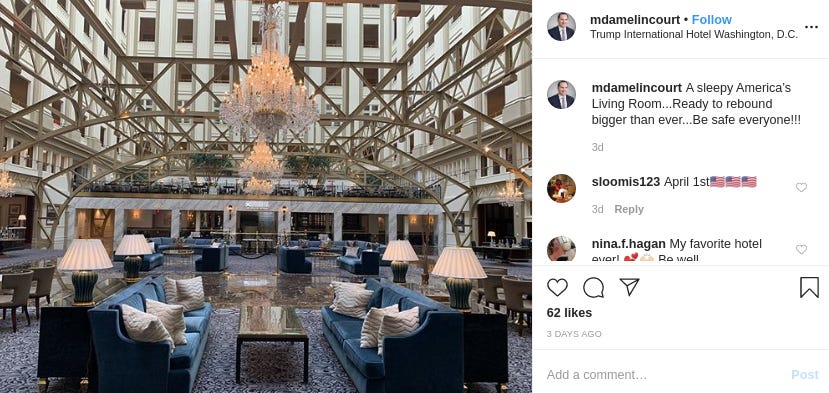 Friday on 12th St. NW, a truck emblazoned with "Where are the tests?" approached the Trump Hotel D.C.'s VIP entrance.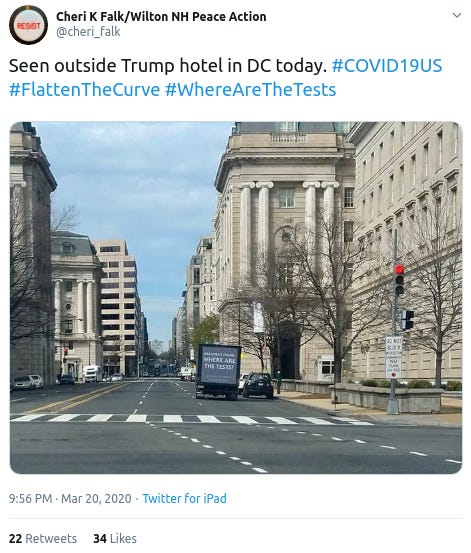 ---
Other Trump Organization coronavirus news
---
Other Trump Organization news
On Monday the Supreme Court granted the solicitor general's motion to participate in oral arguments in Trump's appeal of earlier rulings requiring his financial institutions to comply with subpoenas from the House Financial Services, Intelligence, and Oversight Committees and the New York district attorney's office.

U.S. District Court Judge Trevor N. McFadden (a Trump appointee) put on hold the House Ways and Means Committee's lawsuit against the Internal Revenue Service seeking President Trump's tax returns, pending an appeals court's ruling in a similar case (involving a House subpoena of former White House counsel Don McGahn).
---
Reference section
Links to rundowns of developments in the House's investigations and lawsuits, reference sheets for some of 1100 Pennsylvania's previous reporting, and articles that provide the background on why all of this matters. The date published or last updated is in parentheses.
Trackers
Notable hotel customers
Summaries
25 unimpeachable examples of Trump profiting from his hotel: Foreign governments, Trump administration, GOP lawmakers, industry all have called on the Trump Hotel D.C. since its owner became president (Sept. 27, 2019)

"Power tripping in the swamp: How Trump's D.C. hotel swallowed Washington
The MAGA social scene is a movable feast, but its dark heart resides within the Old Post Office Building, where the Trump Org operates under a mercenary charter" by your correspondent for Vanity Fair (October 2019)

"Inside the world's most controversial hotel: The hotel that was expected to take its place among the crown jewels of D.C.'s travel scene has become a magnet for protestors, a West Wing Annex, and—possibly—the center of a constitutional crisis." by your correspondent for Condé Nast Traveler (May 2018)
Upcoming key dates
Sept. 23, 2019—House Judiciary Committee hearing "Presidential corruption: Emoluments and profiting off the presidency" (postponed, not yet rescheduled)

Jan. 23, 2020—Trump Organization's deadline to bid for the lease rights to its D.C. hotel.

March 20, 2020—Status hearing before D.C. Superior Court in former hotel employees' lawsuit alleging racial discrimination, postpone due to coronavirus-related closure

March 31, 2020—Before postponement due to coronavirus-related closure, the Supreme Court was to hear Trump's appeal of earlier rulings requiring his financial institutions to comply with subpoenas from House Financial Services, Intelligence, and Oversight Committees and the New York district attorney's office

April 6, 2020—Deadline for parties to exchange witness lists in lawsuit alleging a shard of glass from a sabered bottle of champagne left a gash in a customer's chin

June 2020—Before postponement or oral arguments due to a coronavirus-related closure, Supreme Court decision due on Trump's appeal of earlier rulings requiring his financial institutions to comply with subpoenas from House Financial Services, Intelligence, and Oversight
---
Thanks for reading! If you like what you've read, tell someone. If you've been forwarded this newsletter, subscribe at 1100pennsylvania.substack.com. Questions? Read our FAQ. Tips or feedback? Contact Zach Everson at 1100Pennsylvania@protonmail.com (it'll be encrypted if you also use a ProtonMail account, which is free) or via Signal (secure), SMS, or mobile at 202.804.2744.