Discover more from 1100 Pennsylvania
"The undisputed expert on the D.C. Trump Hotel" – David Fahrenthold of the Washington Post
Over 3,000 subscribers
Trump's budget benefits his D.C. hotel, business partner
Trump's budget benefits his D.C. hotel, business partner
Yes, presidential budgets are wish lists rather than actual policy. But it's worth noting the 2020 budget President Trump submitted yesterday would benefit both his D.C. hotel and one of his business partners.
From "Trump budget includes no new money for FBI headquarters" by Morgan Chalfant for The Hill:
The Trump administration is not asking Congress for any funds to build a new FBI headquarters building, despite past funding proposals asking for billions for the construction project.

"There is not new money for the FBI headquarters," Assistant Attorney General Lee Lofthus told reporters Monday during a briefing on the Justice Department's fiscal 2020 budget request.

Lofthus noted that the project is "still under discussion" within the administration but suggested it would not ask for more funds from Congress until a decision is made on the plans for a new or a refurbished headquarters.
As 1100 Pennsylvania has pointed out before (and likely will again), the FBI's current main office is diagonally across Pennsylvania Avenue from the Trump Hotel D.C. Moving it would free up that lot for redevelopment, possibly as a luxury hotel that would compete with the president's business (the Trump Hotel D.C. promotes itself as downtown D.C.'s only five-star hotel). Last year, Democrats on the House Oversight committee alleged the president intervened in the General Services Administration decision-making process, when it reversed course and decided not to relocate FBI headquarters after all.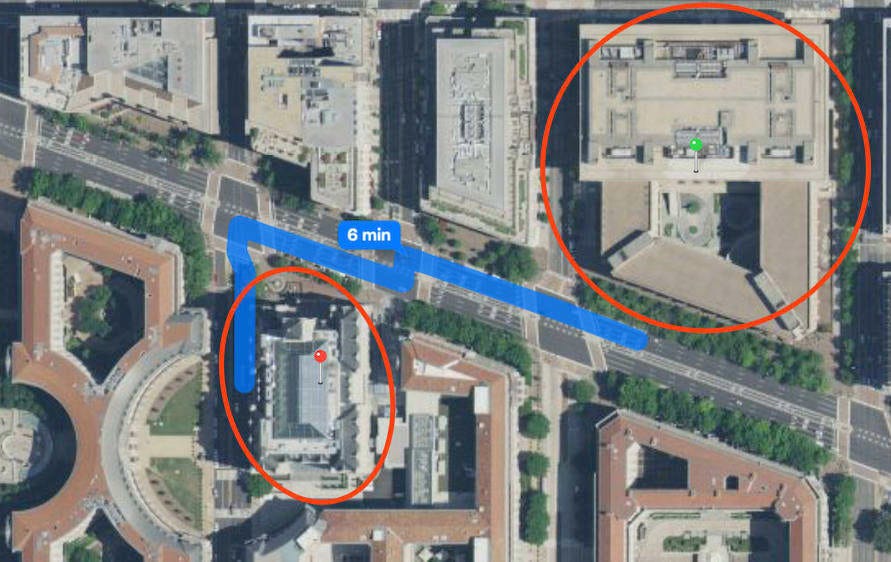 As for how the budget benefits one of the president's business partners, from "Trump's budget would steer $20M to Jack Nicklaus-backed hospital project" by Dan Diamond for Politico:
The White House's proposed budget includes funding for a small children's health program sought by one of President Donald Trump's golfing buddies: Jack Nicklaus.

Under the administration's fiscal 2020 funding plan released Monday, HHS [the Department of Health and Human Services] would steer $20 million toward a mobile children's hospital project at Miami's Nicklaus Children's Hospital, named for the legendary golfer.
Nicklaus isn't just a golf buddy of Trump's, he's also a business partner of the president's having designed Trump's Jupiter, Fla. and Bronx, N.Y. golf courses.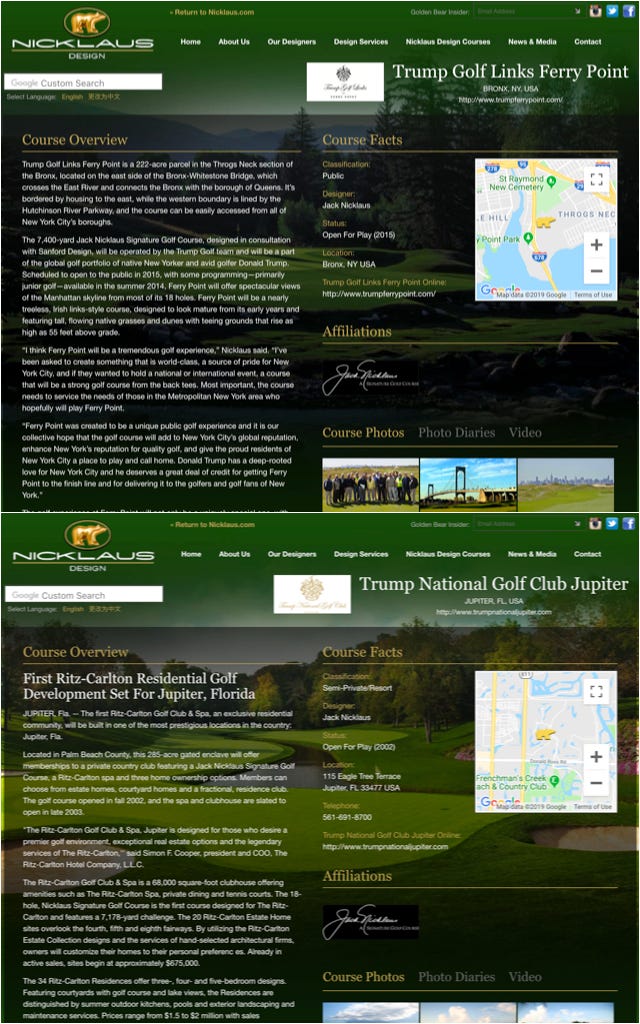 New York attorney general subpoenas Deutsche Bank for Trump Hotel D.C. records
From "New York attorney general opens investigation of Trump projects" by William K. Rashbaum and Danny Hakim for The New York Times:
The New York attorney general's office late on Monday issued subpoenas to Deutsche Bank and Investors Bank for records relating to the financing of four major Trump Organization projects and a failed effort to buy the Buffalo Bills of the National Football League in 2014…

The request to Deutsche Bank sought loan applications, mortgages, lines of credit and other financing transactions in connection with the Trump International Hotel in Washington; the Trump National Doral outside Miami; and the Trump International Hotel and Tower in Chicago.
Deutsche Bank lent Trump $170 million in 2015 to develop the Trump Hotel D.C.
At least two House committees also are investigating Trump's relationship with Deutsche Bank: The House Financial Services and Intelligence committees sent an inquiry to the bank in January. Earlier this month, Financial Services chair Rep. Maxine Waters (D–CA) said that the bank is cooperating with her committee and that staffers from the panel have met with bank employees in New York.
Noteworthy sightings
An economic and business issues advisor for the Trump transition team turned lobbyist, Nick Owens, was with H. Lenwood Brooks V, a vice president at "the leading trade association for the financial industry," the Securities Industry and Financial Markets Association.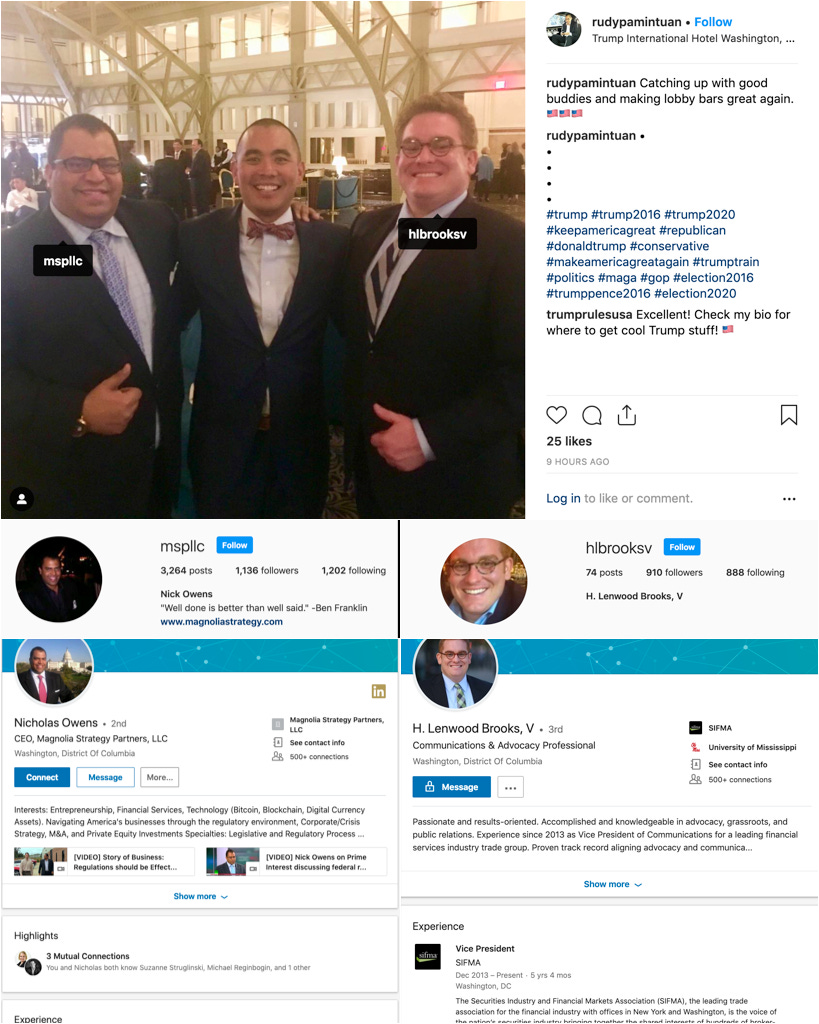 Luigi Damasceno, a consultant at "global professional services firm" Brooks International, attended the special event with the U.S. president at Mar-a-Lago on Sunday.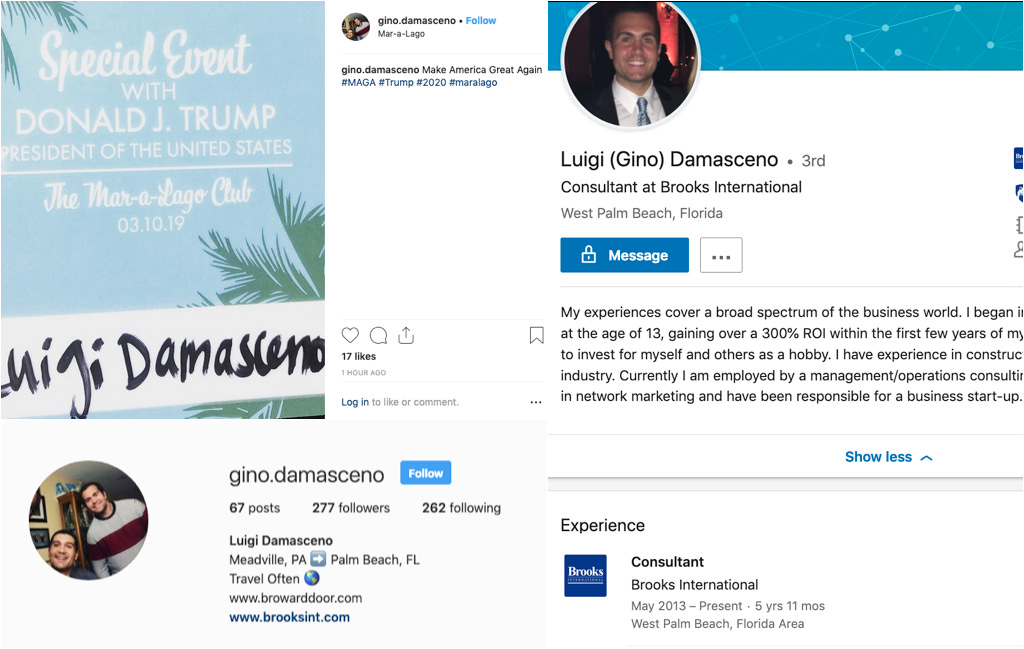 A lobbyist for The Brewer Group and the chair of Florida's Black Republican Caucus, Sean P. Jackson, was excited to eat at the president's hotel.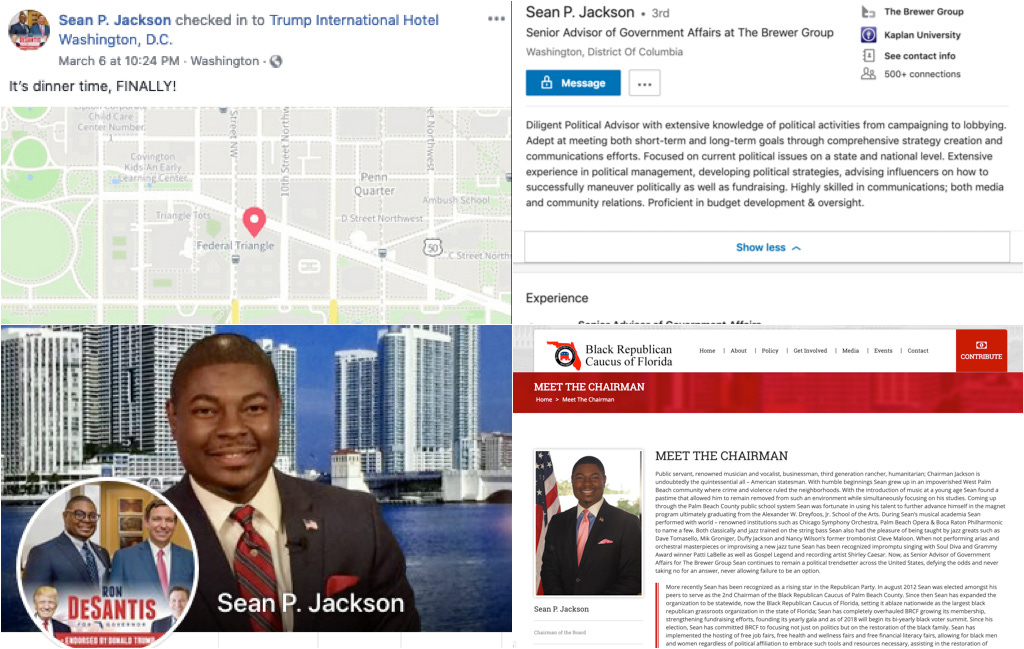 Hanging out together post-CPAC at the president's hotel were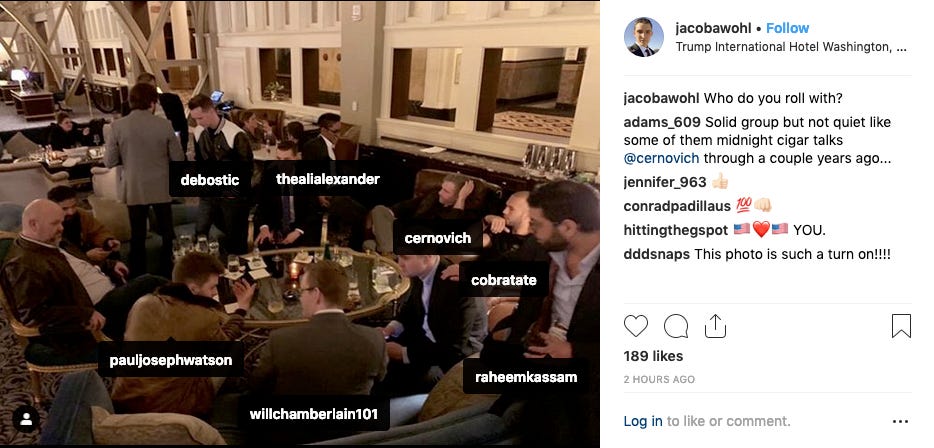 Other Trump Organization news
House investigations, current status (latest changes, March 11, 2019)
Legal cases, current status (latest change, March 6, 2019)
D.C. and MD attorneys general's emoluments lawsuit (district court docket, appellate court docket)—

Official capacity—On Dec. 20, 2018, the 4th U.S. Circuit Court of Appeals ruled it would hear the president's appeal of district court rulings that allowed the case to proceed to discovery, and the appellate court halted discovery in the case. Discovery had started Dec. 3 and was scheduled to run through Aug. 2, 2019, with the AGs having subpoenaed the Trump Organization, including its Scottish golf courses; the U.S. Departments of Agriculture, Commerce, Defense, and Treasury and the GSA; and the state of Maine. Oral arguments on the appeal are scheduled for March 19. The AGs filed their brief opposing the president's appeal on Feb. 6, stating, "The President is not entitled to an order requiring the district court to certify for interlocutory review its denial of his motion to dismiss. No court has ever issued such relief." Trump's DOJ attorneys replied on Feb. 21: "Plaintiffs fundamentally err, substantively and procedurally."

Individual capacity—On Dec. 14, Trump's personal attorneys appealed the denial of their motion to dismiss the case, also to the 4th U.S. Circuit Court of Appeals. On Dec. 19, the AGs replied to Trump's motion for a stay pending that appeal by voluntarily dismissing the claims against Trump in his "individual capacity to allow the claims against President Trump in his official capacity to move forward expeditiously." (The AGs only brought suit against Trump in his individual capacity after the judge suggested they do so.) Trump's personal attorneys, on Dec. 21, opposed the motion to dismiss at the district level, saying the appeals court now has jurisdiction and accusing the AGs of "gamesmanship."

196 Democratic senators and representatives' emoluments lawsuit—On Sept. 28, Judge Emmet G. Sullivan ruled that the legislators have standing to sue. Trump's Justice Department attorneys filed an interlocutory appeal on Oct. 22. On Jan. 30, 2019, the plaintiffs' filed a notice of supplemental authority, notifying the court of the GSA inspector general's report that criticized GSA for failing to consider if the Trump Hotel D.C.'s lease was in compliance with the Constitution after Donald Trump became president. Two days later, the president's attorneys argued that the IG's conclusion was not inconsistent with Trump's argument, but that the judge should ignore that report anyway because the IG has no expertise in interpreting or applying the foreign emoluments clause.

CREW et. al's emoluments lawsuit—In February 2018, CREW appealed its suit being dismissed for lack of standing to the 2nd U.S. Circuit Court of Appeals. Oral arguments on that motion were held on Oct. 30.

Cork's unfair competition lawsuit—Judge Richard J. Leon dismissed the case on Nov. 26, 2018, writing "Cork has failed to state a claim for unfair competition under D.C. law." On Dec. 10, Cork's attorneys filed a notice of appeal and on Jan. 10, 2019 they submitted a statement of issues to be raised. A briefing schedule was set on March 5 with Cork's brief due on April 15, the president's brief due on May 15, and Cork's reply to the president's brief due on June 5.

Employees' class-action suit alleging racial discrimination—Two of the three plaintiffs did not appear at a status hearing on Jan. 25, 2019; their cases were moved to arbitration. Via email, their attorney, A.J. Dhali, said his clients did not appear at the hearing because their case already had been moved to arbitration last year. The next status hearing is scheduled for Oct. 4.
Health inspections, current status (latest change, Aug. 10, 2018)
❌Hotel: five violations on May 7, 2018; two were corrected on site

❌BLT Prime and Benjamin Bar: nine violations on Aug. 10, 2018

❌Sushi Nakazawa: two violations on Aug. 10, 2018

✔️Banquet kitchen: no violations on Aug. 10, 2018

❌Pastry kitchen: two violations on Aug. 10, 2018

✔️Gift shop: no violations on May 7, 2018

❌Employee kitchen and in-room dining: five violations on Aug. 10, 2018; two were corrected on site
One thing that has nothing to do with Trump's businesses (I think, tough to tell sometimes!)
"The Tragedy of Baltimore: Since Freddie Gray's death in 2015, violent crime has spiked to levels unseen for a quarter century. How order collapsed in an American city." By Alec MacGillis for ProPublica and The New York Times Magazine.
Thanks for reading. If you like what you see, tell someone—and support this work by becoming a paying member ($5/month or $50/year). If you've been forwarded this newsletter, subscribe for yourself at zacheverson.substack.com. Questions? Read our FAQ/manifesto. Tips or feedback? Contact me, Zach Everson, securely via email at 1100Pennsylvania@protonmail.com or on Signal at 202.804.2744.