Discover more from 1100 Pennsylvania
"The undisputed expert on the D.C. Trump Hotel" – David Fahrenthold of the Washington Post
Over 3,000 subscribers
Trump's doghouse leads to Trump's hotel
Mulvaney the latest official reported to be out of favor with the president spotted at the Trump Hotel D.C.
It's a familiar path in Donald Trump's Washington—from the president's bad side to the president's hotel.
Last week Acting Chief of Staff Mick Mulvaney became the latest member of the Trump Administration spotted at the boss's hotel as reports circulated that they were on the outs. These are U.S. officials—whose livelihoods and power depend on the president's graces—either kicking back part of their government paychecks at his hotel or serving as a featured attraction for Trump customers.
Mulvaney was at his presidents business last week to attend a fundraiser co-hosted by the American Policyholder Association and Louisiana attorney general Jeff Landry (R).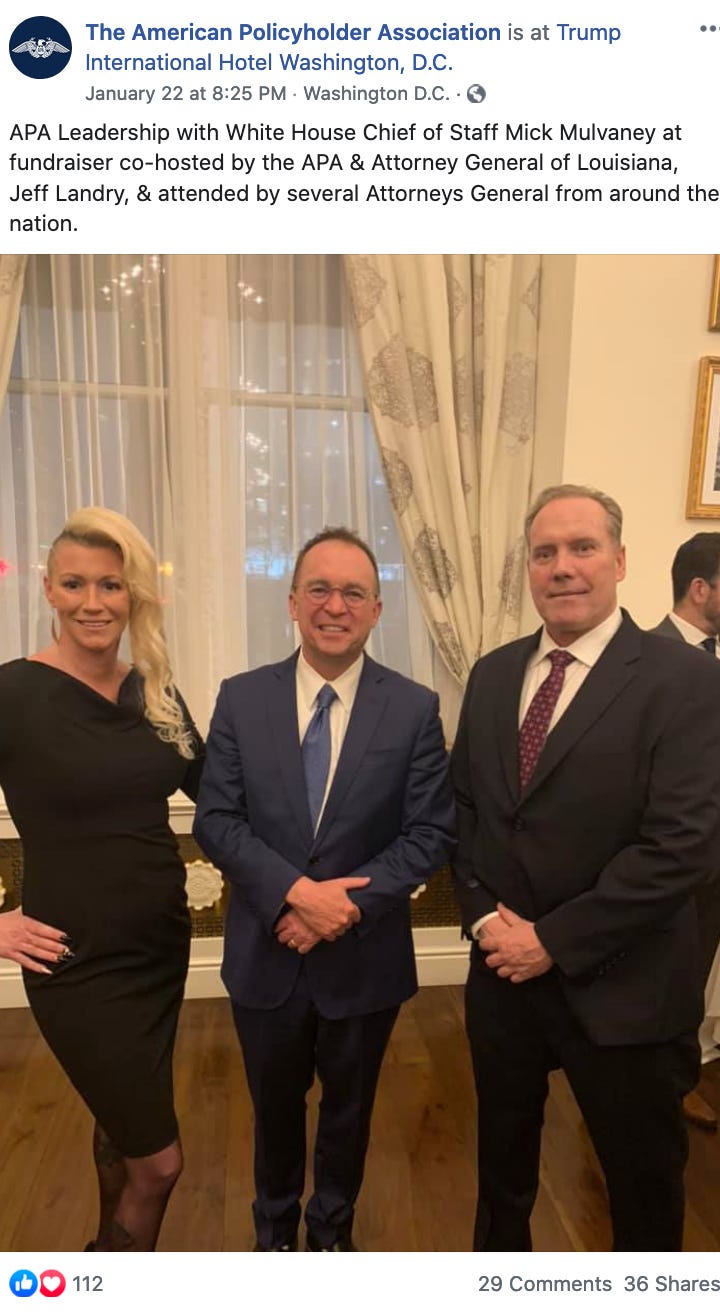 The Doghouse–Hotel Shuffle doesn't necessarily work of course. Just ask former EPA Administrator Scott Pruitt, former National Security Advisor John Bolton, and former Secretary of Homeland Security Kirstjen Nielsen.
Bolton attended a function in his boss's hotel's grand ballroom in May 2019—just as Mark Landler, Maggie Haberman, and Eric Schmitt reported for The New York Times that Trump was frustrated with Bolton's perceived importance. (Don't worry about Bolton's financial well-being though; I think he has a book deal or something.)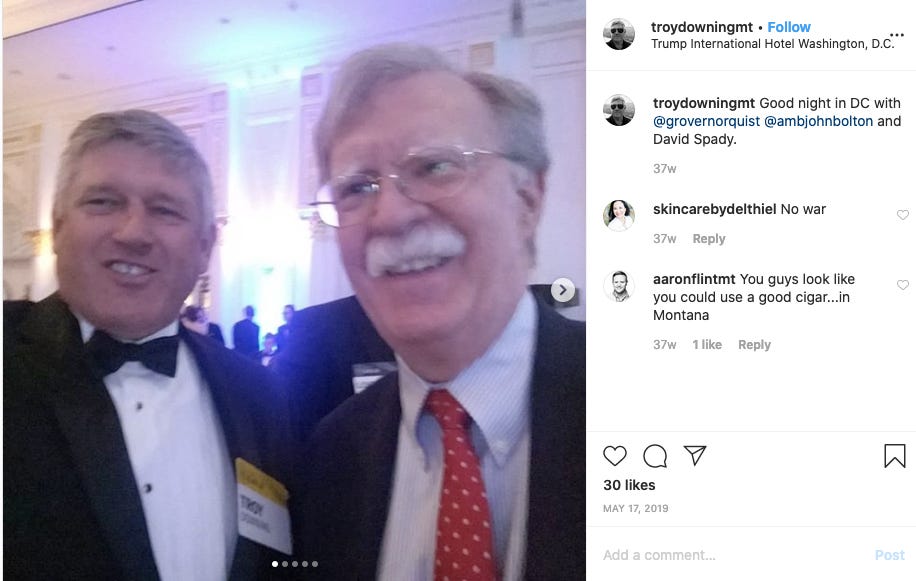 Just days after the president failed to give him a vote of confidence (as Dan Merica reported for CNN), Pruitt celebrated Easter at the Trump Hotel D.C.—perhaps in a move to resurrect his job security (ba-dum-ching).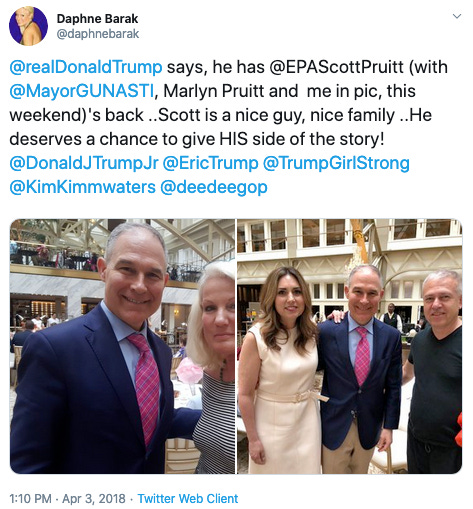 And the New York Times article reporting Nielsen's resignation after an onslaught of criticism from Trump led with, "In recent months, Kirstjen Nielsen, the secretary of homeland security, had become a regular presence eating dinner at the Trump International Hotel" (by Annie Karni and Maggie Haberman).
The Doghouse-Hotel Shuffle craze seems to have reached Capitol Hill too. With Trump reportedly steamed about Rep. Matt Gaetz's (R–FL) recent vote to restrain the president's war powers, even keeping the usual close ally off his impeachment team (as reported Melanie Zanona and Marianne Levine for Politico), Wednesday night Gaetz made a very visible appearance at the Trump Hotel D.C.
Around 9:30 p.m., Gaetz, along with Trump 2016 campaign manager Corey Lewandowski entered and held court at a high-profile table right by the bar, shaking hands and posing for at least a dozen photos. And at one point, Gaetz left the table and worked the lobby, stopping at several other tables for more handshakes and photo ops (your correspondent witnessed these events in person; full disclosure, spending $18 on a 2-ounce pour of Redemption rye to justify his presence).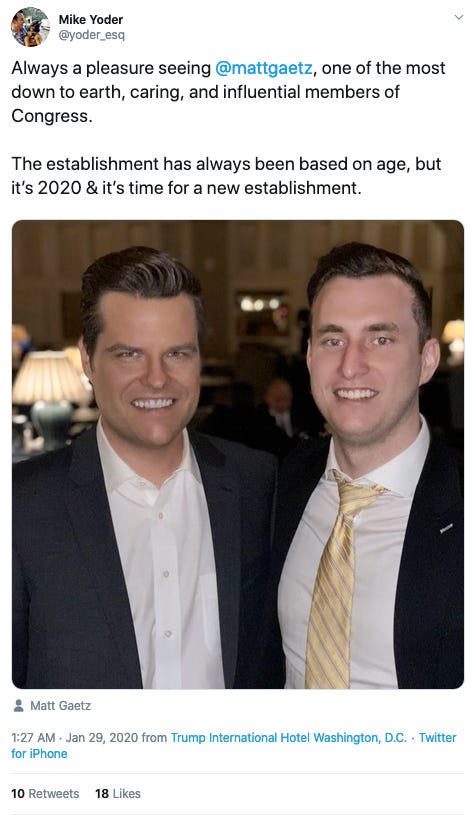 As for the event Mulvaney attended at the Trump Hotel D.C. last week, according to its website APA is "a non profit 501(c)(4) watchdog organization that promotes integrity, honesty and best practices in the property loss adjustment sector of the insurance industry." APA plugged Mulvaney's appearance at the Trump Hotel D.C. on the association's Facebook page.
Landry, the evening's other co-host, is no stranger to throwing fundraisers at the Trump Hotel D.C., having hosted one there in January 2018 (as Nick Surgey reported for Documented). Landry currently chairs the Republican Attorneys General Association. Attorneys generals from other states also attended this event per Doug Quinn, APA's executive director.
---
1100 Pennsylvania's reporting reaches millions. Subscribe and ensure it continues.
Your correspondent recently appeared on MSNBC's "All In with Chris Hayes" to share 1100 Pennsylvania's reporting on the Trump Hotel D.C. with a prime time audience.
Additionally, 1100 Pennsylvania's reporting recently was cited by The Daily Beast, The Hartford Courant, Inside Edition, The Palm Beach Post, The Washington Examiner, The Washington Post, Washingtonian, and Yahoo News.
Thanks to 1100 Pennsylvania's paid subscribers who support in-depth reporting on who's paying Donald Trump and what they may want from the president, and help bring this information to a much wider audience.
Paid subscriptions are this publication's sole source of revenue—no ads, no grants, no payments from George Soros (unless he's a subscriber). Support this reporting and help ensure it continues. Just $5 a month or $50 a year.
---
Notable sightings
A glimpse of the foreign officials, government employees, politicians, lobbyists, and the like who patronize or appear at Trump businesses. Most people shown here have reasons to want to influence the Trump administration, rely on its good graces for their livelihoods, or should be providing oversight. Additionally, high-profile guests serve as draws for paying customers.
In case you were wondering if GOP candidate for Congress in Connecticut Robert Hyde would return to a Trump property after it became public that he claimed to have had the U.S. ambassador to Ukraine under surveillance, the answer is yes! Hyde lunched there today, sporting Trump-branded apparel as well.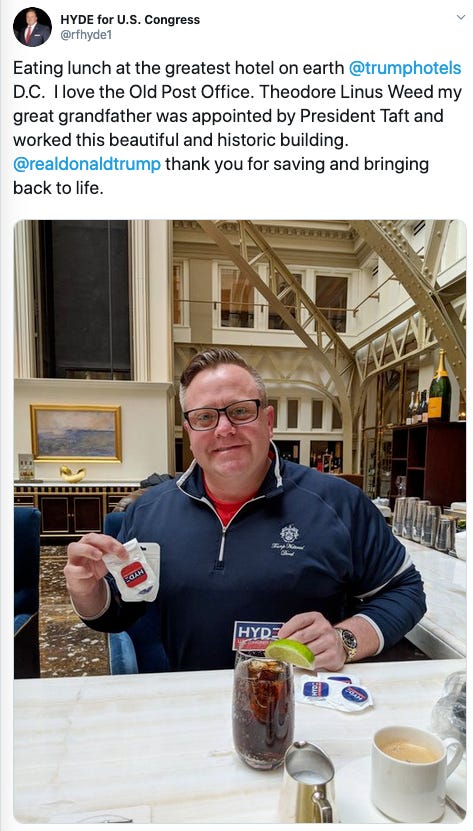 The president's personal attorney and shadow Assistant Secretary of State for European and Eurasian Affairs Rudy Giuliani was at one of his usual spots in the Trump Hotel D.C. Giuliani shook hands with Jonathan Lubecky, who lobbies the Food and Drug Administration to expand access to psychedelic studies (as Nikki Wentling reported for Stars and Stripes). Also present—Rudy's "private office" sign.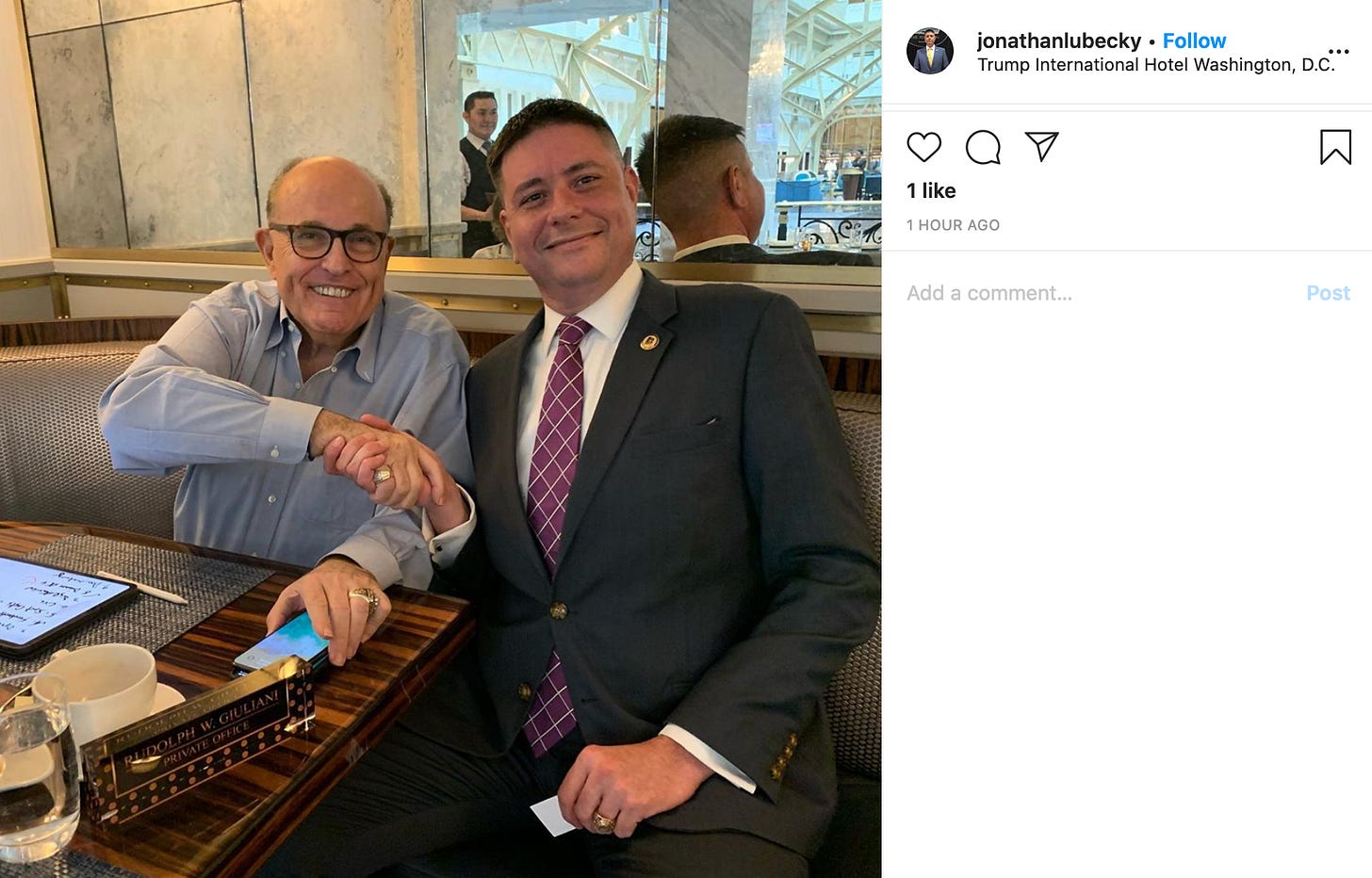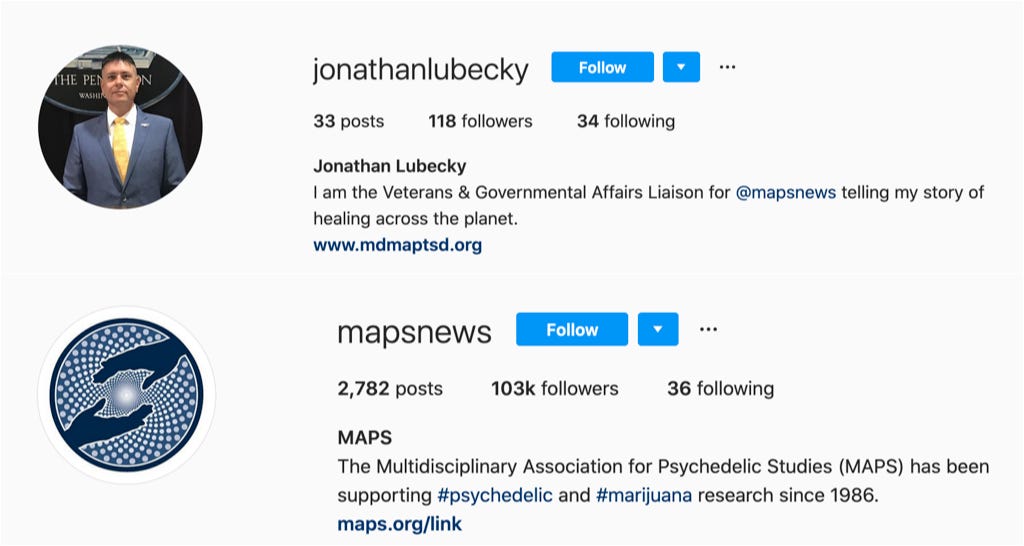 Sen. Rand Paul (R–KY) returned to the Trump Hotel D.C. shortly after defending Trump Org EVPs Donald Trump Jr. and Eric Trump on Fox News, reported David Corn of Mother Jones.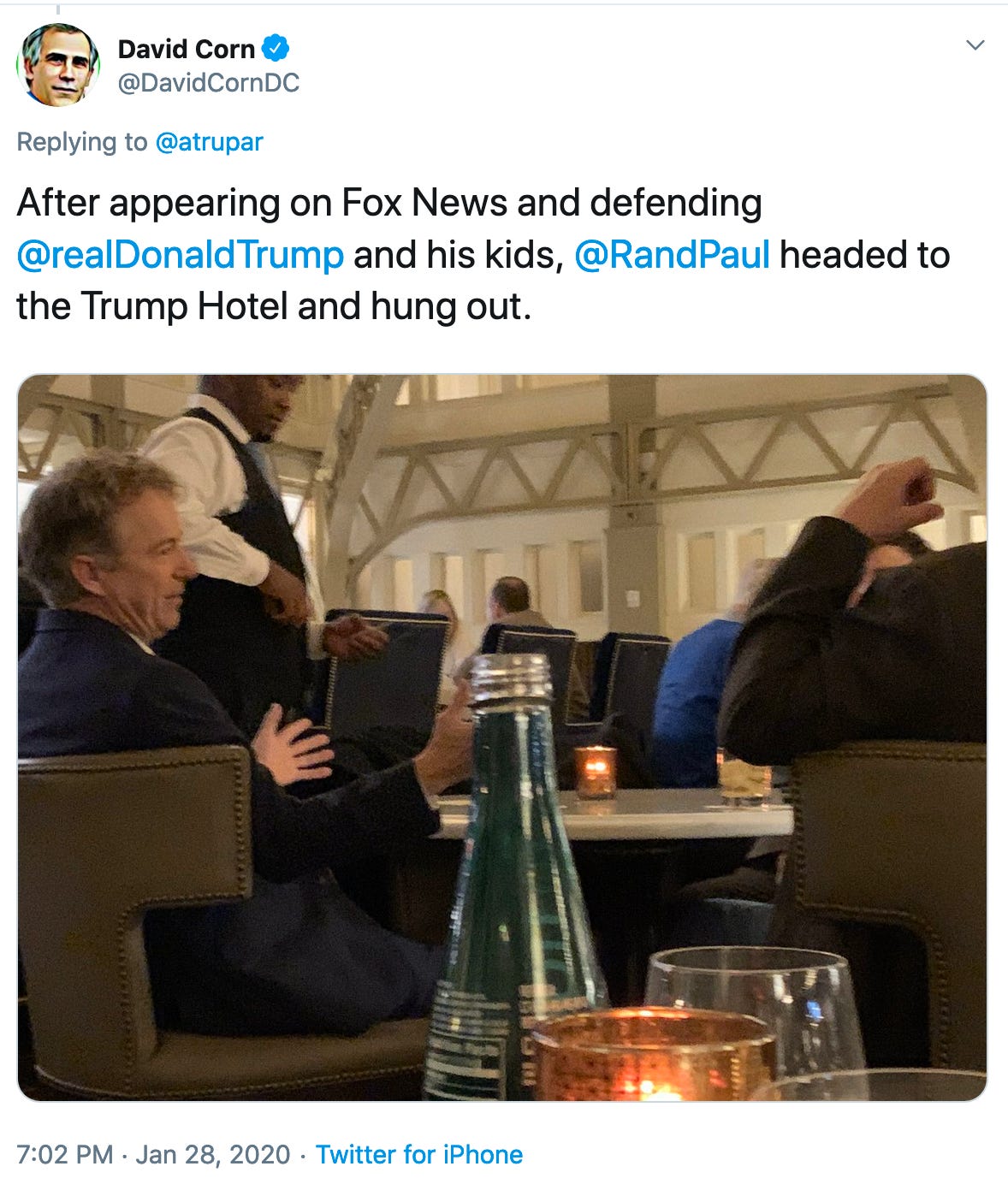 Wednesday night in the Trump Hotel D.C.'s lobby your correspondent saw separately Blaze TV's Eric Bolling; political consultant, Fox News pundit, and Trump campaign advisor Harlan Hill; and the president of lobbying firm the Da Vinci Group, Mark Smith.
Karyn Turk—who's Cindy Yang's spokesperson, a commentator for RT International, Mrs. Florida 2016, and about to spend a month in prison—shared another photo from the Trump Hotel D.C.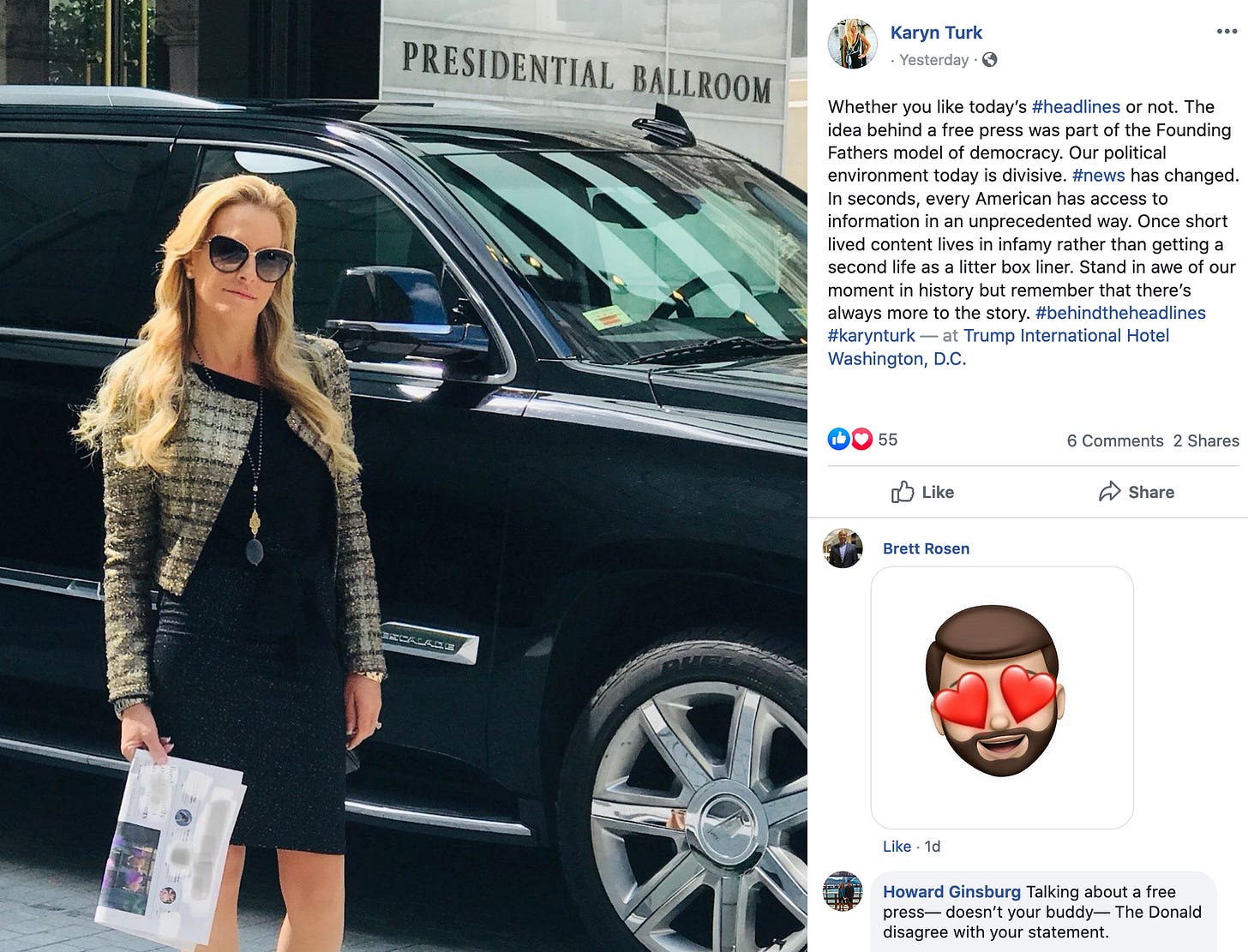 Jason Redmond, a lobbyist with law firm McGlinchey Stafford, was "watching #Impeachment2020 on #CNN at Mos Eisley. #DCMG2020 — at Trump International Hotel."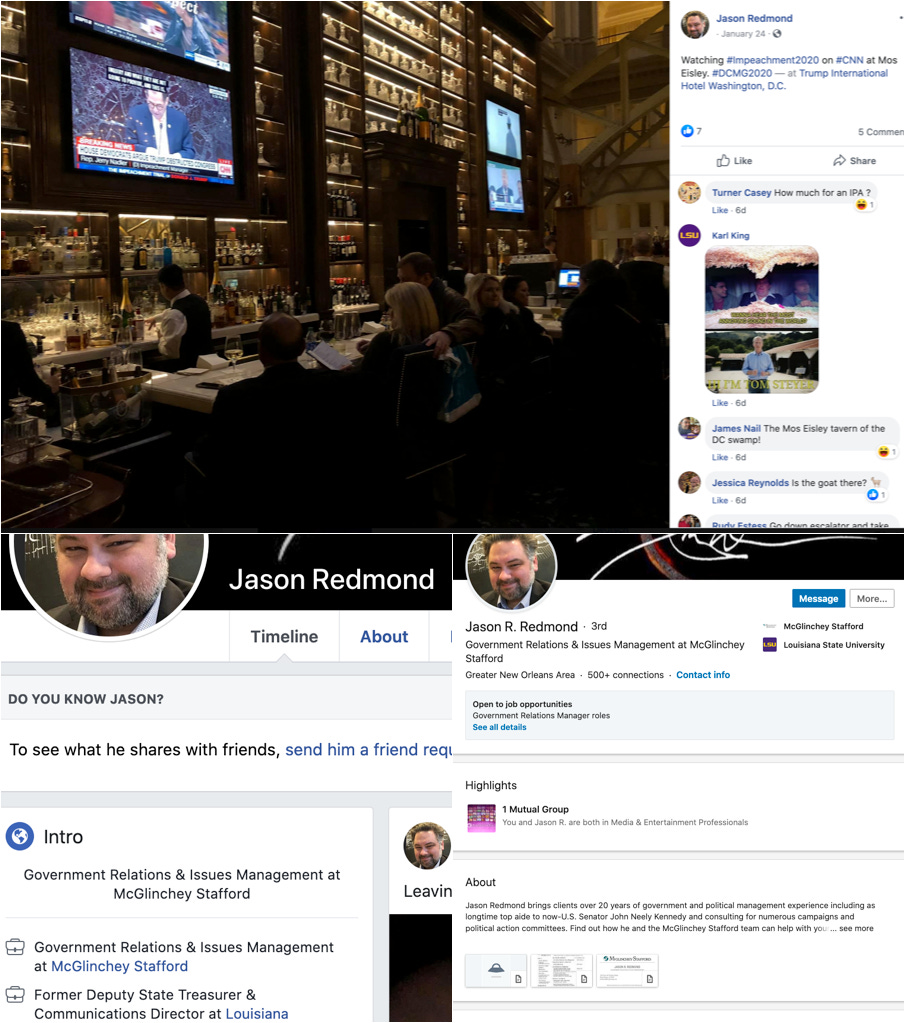 ---
Other Trump Organization news
---
Reference section
Links to rundowns of developments in the House's investigations and lawsuits, reference sheets for some of 1100 Pennsylvania's previous reporting, and articles that provide the background on why all of this matters. The date published or last updated is in parentheses.
Trackers
Notable hotel customers
Summaries
25 unimpeachable examples of Trump profiting from his hotel: Foreign governments, Trump administration, GOP lawmakers, industry all have called on the Trump Hotel D.C. since its owner became president (Sept. 27, 2019)

"Power tripping in the swamp: How Trump's D.C. hotel swallowed Washington
The MAGA social scene is a movable feast, but its dark heart resides within the Old Post Office Building, where the Trump Org operates under a mercenary charter" by your correspondent for Vanity Fair (October 2019)

"Inside the world's most controversial hotel: The hotel that was expected to take its place among the crown jewels of D.C.'s travel scene has become a magnet for protestors, a West Wing Annex, and—possibly—the center of a constitutional crisis." by your correspondent for Condé Nast Traveler (May 2018)
Upcoming key dates
Sept. 23, 2019—House Judiciary Committee hearing "Presidential corruption: Emoluments and profiting off the presidency" (postponed, not yet rescheduled)

Jan. 23, 2020—Trump Organization's deadline to bid for the lease rights to its D.C. hotel.

Feb. 7, 2020—Status hearing with D.C. Superior Court in former hotel employees' lawsuit alleging racial discrimination

March 2020—Supreme Court hears Trump's appeal of earlier rulings requiring his financial institutions to comply with subpoenas from House Financial Services, Intelligence, and Oversight Committees and the New York district attorney's office

June 2020—Supreme Court decision due on Trump's appeal of earlier rulings requiring his financial institutions to comply with subpoenas from House Financial Services, Intelligence, and Oversight
---
Thanks for reading! If you like what you've read, tell someone. If you've been forwarded this newsletter, subscribe at 1100pennsylvania.substack.com. Questions? Read our FAQ. Tips or feedback? Contact Zach Everson at 1100Pennsylvania@protonmail.com (it'll be encrypted if you also use a ProtonMail account, which is free) or via Signal (secure), SMS, or mobile at 202.804.2744.