Discover more from 1100 Pennsylvania
"The undisputed expert on the D.C. Trump Hotel" – David Fahrenthold of the Washington Post
Over 3,000 subscribers
Trump's now visited his properties 48 times since first reports of coronavirus
Bedminster hosted Trump, presidential press conference (yes, you basically read this story last week)
President Donald J. Trump arrived at his Bedminster golf course Friday evening and departed Sunday afternoon, bringing his total up to 48 visits to Trump businesses since Chinese officials reported a cluster of cases of acute respiratory illness on Dec. 31, 2019.
The virus has killed more than 170,000 people in the United States, according to Johns Hopkins University.
President Trump fields questions from reporters at his golf club in New Jersey
The club's website boasts that "Members at Trump National Bedminster enjoy exclusive events and celebrations for adults and families, alike." On Saturday, one of those select experiences for Trump customers was getting to witness the U.S. president hold a press conference.
(Yes, up to this point, this article is basically the same as one 1100 Pennsylvania published last week. Sometimes on the Trump Org beat, time is a flat circle.)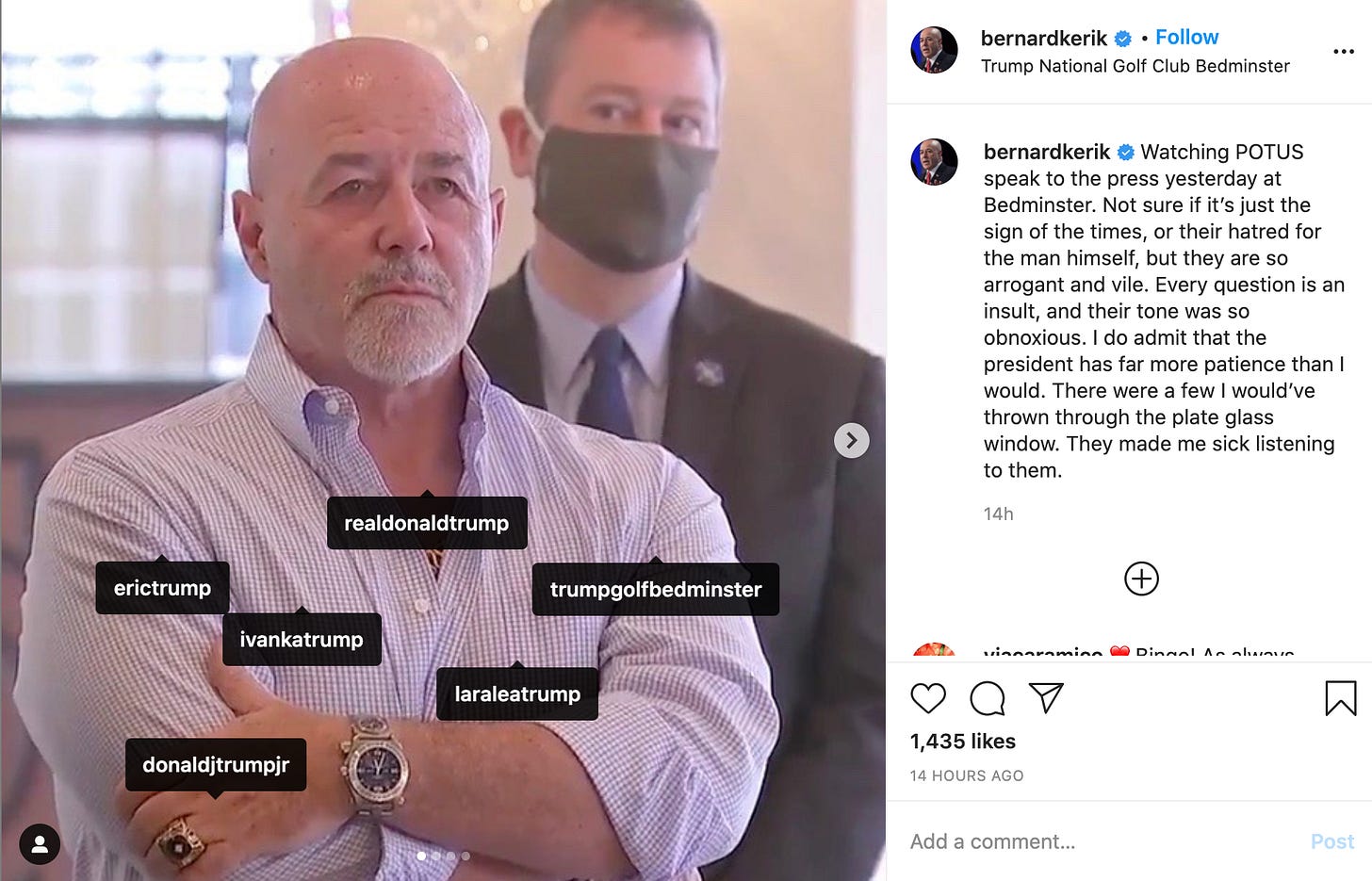 To wit—the customer shown here is former New York Police Department commissioner and presidential pardon recipient Bernard Kerik (he made sure to inform the Trump family of his patronage). Kerik also's been a guest at the Trump Hotel D.C. and Mar-a-Lago.
The president also was at his club to receive an endorsement from the New York City Police Benevolent Association. The union, which claims to represent more than 50,000 active and retired officers, enjoyed remarks from the president.
---
ICYMI—Trump told NY Post that his
D.C. hotel's lease was no longer for sale and he was involved in decision
There's a lot going on, but the president saying he'd yanked his D.C. hotel's lease off the market because it was performing well seems like it should have received more coverage. (Disclosure: Your correspondent publishes a newsletter focused on the Trump Hotel D.C., so he often has that opinion.)
Anyway, read "Trump says he considered selling DC hotel—but will never part with Trump Tower" by Ebony Boden and Steve Nelson for The New York Post on Thursday.
Then read 1100 Pennsylvania's analysis from Friday.
---
Notable sightings
A glimpse of the foreign officials, government employees, politicians, lobbyists, and the like who patronize or appear at Trump businesses. Most people shown here have reasons to want to influence the Trump administration, rely on its good graces for their livelihoods, or should be providing oversight. Additionally, high-profile guests serve as draws for paying customers.
Mask in hand, actor, Trump supporter, National Medal of Arts recipient, and repeat Trump Hotel D.C. guest Jon Voight posed well within six feet of a fellow customer.
Trump White House staffer turned political consultant Hannah Salem reunited the band. Other members include fellow Trump White House alum and current media operations manager for the Republican National Convention Laura Lee Lewis and Trump Commerce alum turned RNC's North Carolina director Bethany Hudson.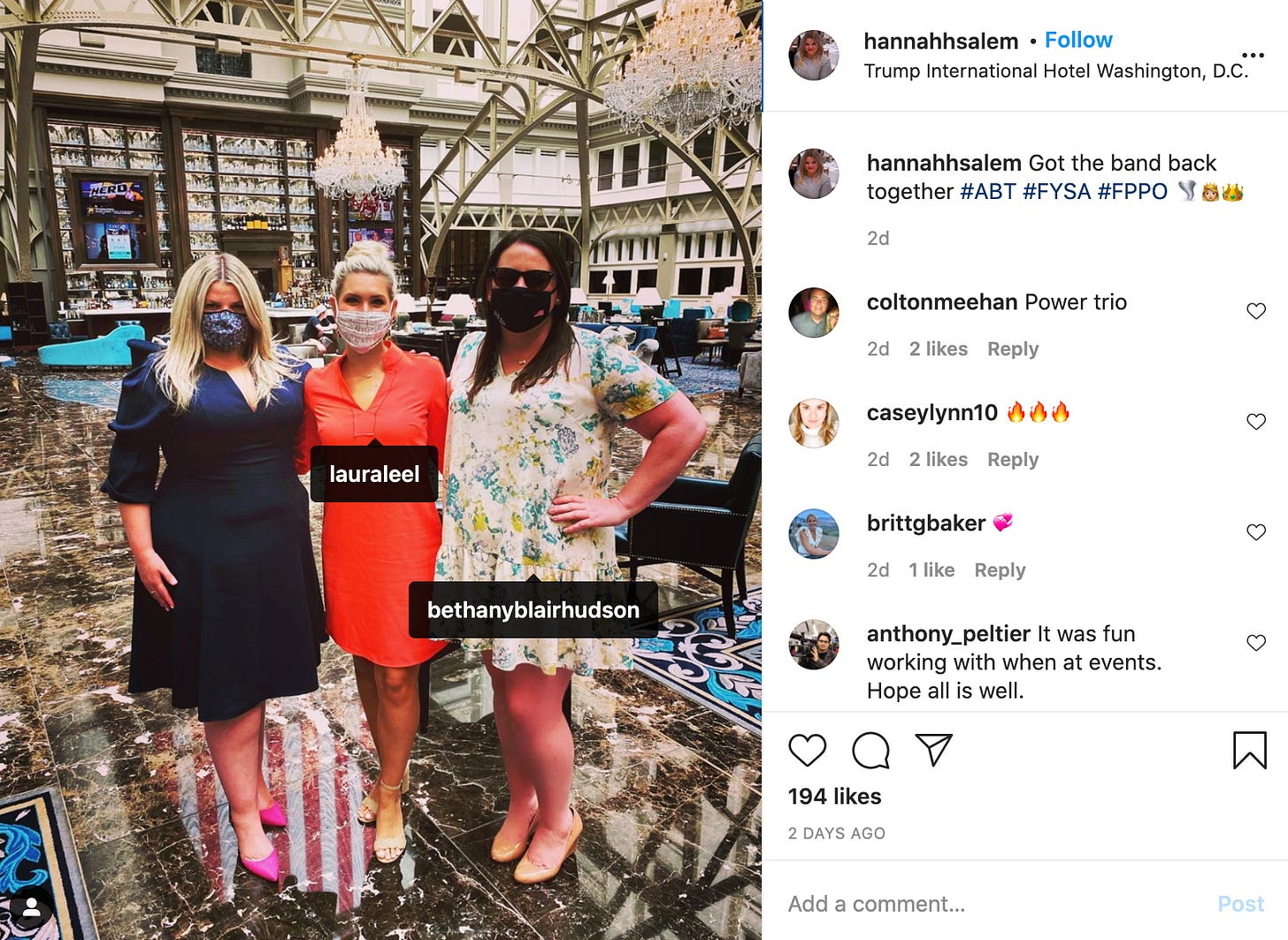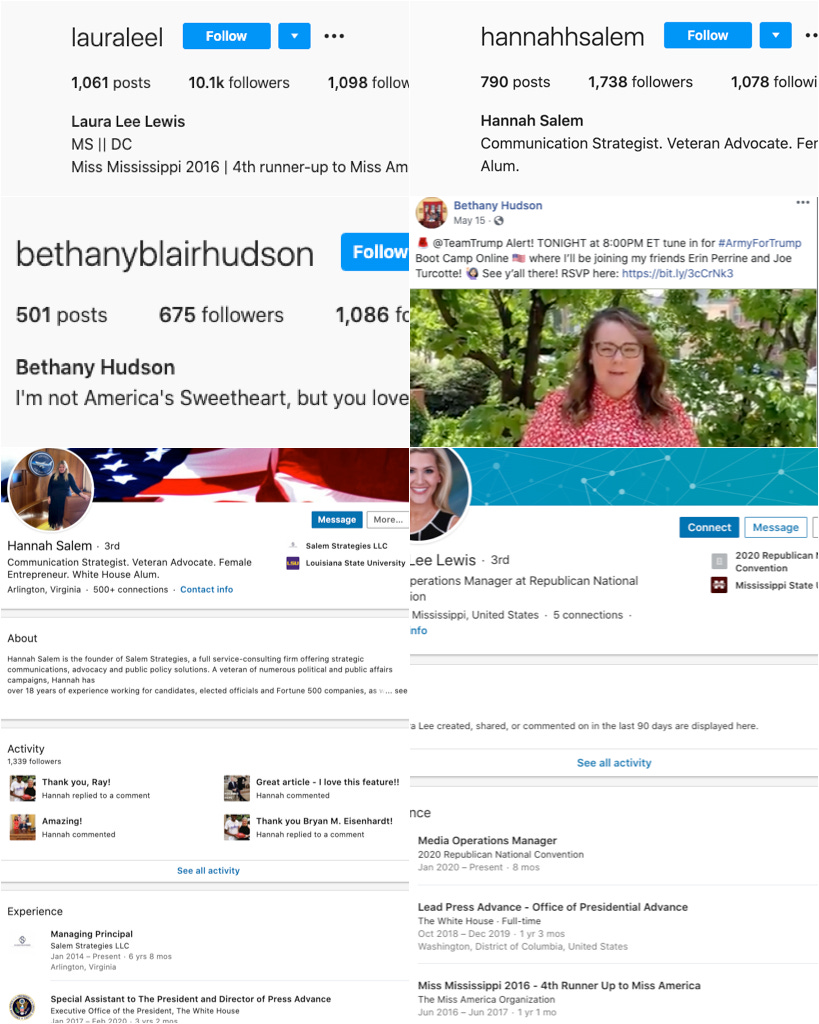 A construction manager for the Architect of the Capitol, Lisa Thompson, hit up the president's D.C. hotel for lunch and also ran into Voight (mask in hand, again).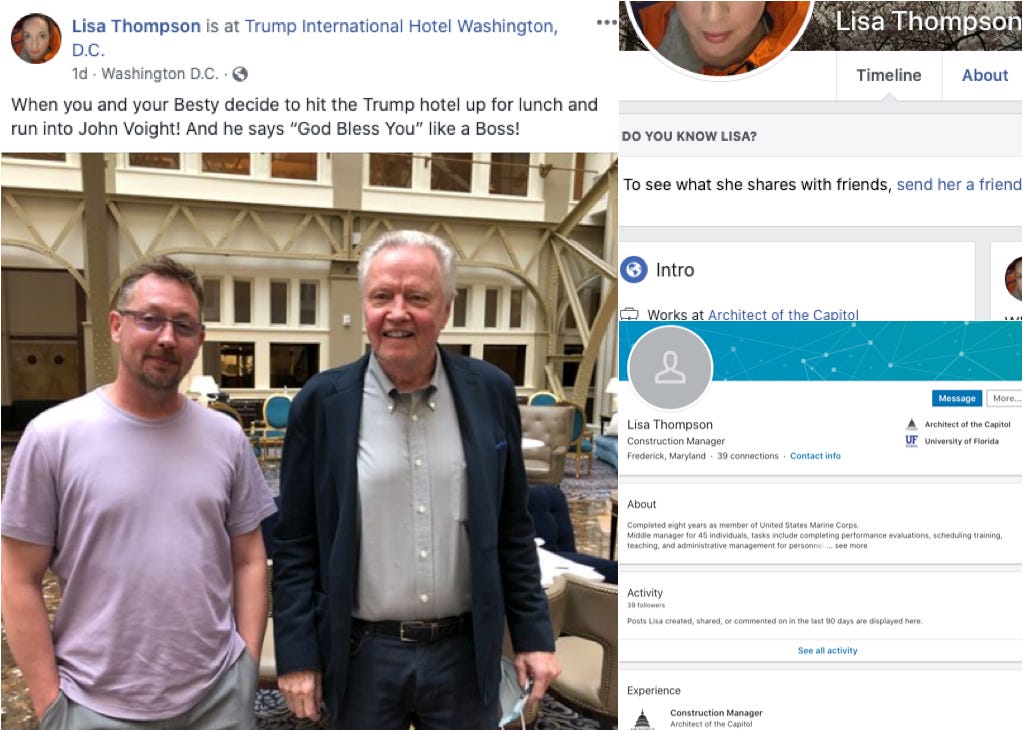 A staffer who's done some on-air work for the Sinclair-owned ABC D.C. affiliate, WJLA, Hailey Zeiler celebrated her birthday with bubbles, cake, and apparently a stay at the Trump Hotel D.C.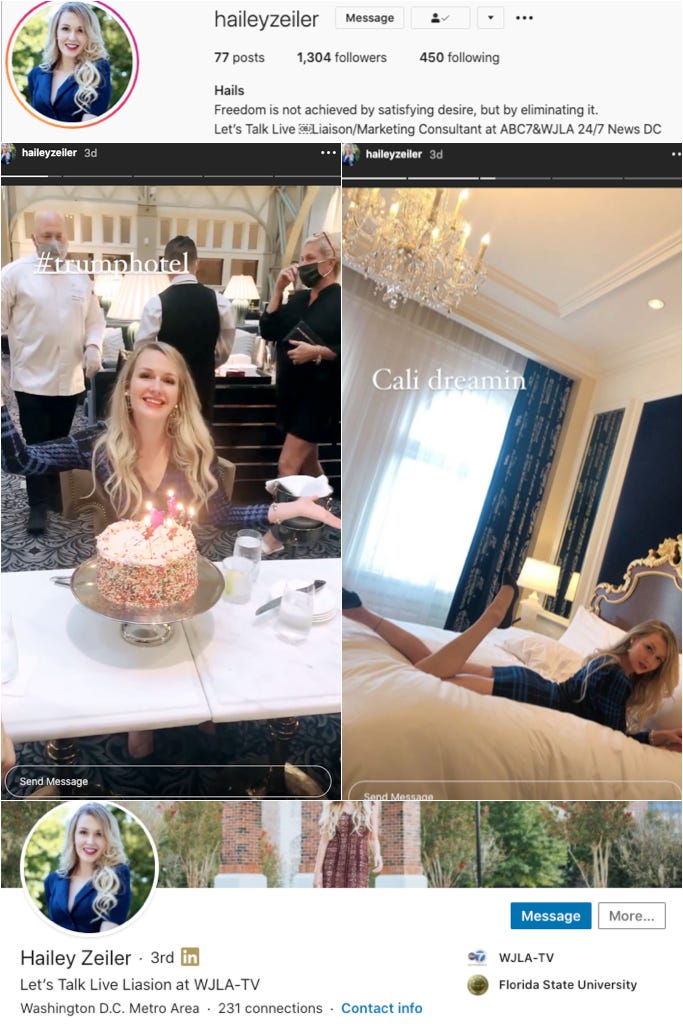 HBO's documentary "The Swamp" premiers Tuesday. It "provides a look behind the curtain of Washington politics by following three renegade Republican Congressmen—Matt Gaetz (R-FL), Thomas Massie (R-KY), and Ken Buck (R-CO)—over the course of a pivotal year in politics as they champion President Trump's call to 'drain the swamp.'" The trailer shows Gaetz enjoying a warm, familiar welcome at the president's D.C. hotel from its managing director, Michael Damelincourt.
---
Other Trump Organization news
---
Reference section
Links to rundowns of developments in the House's investigations and lawsuits, reference sheets for some of 1100 Pennsylvania's previous reporting, and articles that provide the background on why all of this matters. The date published or last updated is in parentheses.
Trackers
Notable hotel customers
Summaries
Upcoming key dates
Sept. 23, 2019—House Judiciary Committee hearing "Presidential corruption: Emoluments and profiting off the presidency" (postponed, not yet rescheduled)

Aug. 21, 2020—In House Ways and Means' lawsuit against the Treasury Department seeking Trump's tax returns, deadline for both sides to file briefings about how an appellate court ruling in a separate case that Congress has standing to enforce subpoenas of White House officials impacts this suit.

Sept. 14, 2020—Discovery ends in a one-time Trump appointee's lawsuit against the Trump Hotel D.C., alleging glass from a sabered bottle of champagne left a gash in her chin.

Sept. 20, 2020—Scheduling conference before D.C. Superior Court in D.C. attorney general's lawsuit alleging improperly spent nonprofit funds by the Trump Hotel D.C. and Trump's inaugural committee.
---
Thanks for reading! If you like what you've read, tell someone. If you've been forwarded this newsletter, subscribe at 1100pennsylvania.substack.com. Questions? Read our FAQ. Tips or feedback? Contact Zach Everson at 1100Pennsylvania@protonmail.com (it'll be encrypted if you also use a ProtonMail account, which is free) or via Signal (secure), SMS, or mobile at 202.804.2744.