Discover more from 1100 Pennsylvania
"The undisputed expert on the D.C. Trump Hotel" – David Fahrenthold of the Washington Post
Over 3,000 subscribers
Trump's revenue from D.C. hotel tops $120 million while in office
2019 was the third straight year Trump's reported revenue of more than $40 million from D.C. hotel
President Donald J. Trump's 2019 revenue from just the Trump Hotel D.C. was $40.5 million according to his financial disclosures released Friday night. Trump's reported a total of more than $121.7 million in revenue from the hotel during his first three years as president.

Meanwhile White House adviser Ivanka Trump's revenue was $3.9 million from her 7.425 percent stake in the hotel. She's now reported $11.7 million in revenue from the hotel in the first three years of her leave of absence from the Trump Organization.
While the revenue the duo reported was down slightly from their disclosures for calendar year 2018, it was up a tad from what they reported in 2017. Over the first three years of his term, the president's reported annual revenue from his D.C. hotel has been consistent, falling between $40.4 million and $40.8 million.
Trump reported revenue rather than profit, so it's not clear if his company made a profit or a loss.
The president owns 76.725 percent of the Trump Hotel D.C. through a trust that is revocable, not blind, and allows for withdrawals whenever Trump wants, as Derek Kravitz and Al Shaw reported for ProPublica in 2017. The president estimated his stake in the hotel is worth more than $50 million, while his daughter values her position between $5 million and $25 million.
Overall, the president's forms showed his company had "at least $446 million in revenue in 2019" reported David A. Fahrenthold and Joshua Partlow of The Washington Post. And according to the Post's analysis, "The forms show that, in 2019, Trump's hotels saw revenue increase by about 2 percent, and his clubs reported about a 5 percent increase over 2018."
TrumpStore.com—which, among many other products, sells merchandise displaying the White House alongside the Trump Hotel D.C.—reported more than $930,000 in income, an increase of 79 percent from 2018.
---
17 GOP lawmakers helped mobilize Christians for battle last week at the Trump Hotel D.C.
With the United States in the midst of a pandemic that's killed 150,000 Americans and left 17 million unemployed, at least 17 GOP Senators and Representatives made it to the Trump Hotel D.C. last Monday and Tuesday for "an action conference to preserve and restore the rule of law, free-market economics, and Judeo-Christian principles."
One current White House adviser, Peter Navarro, also graced the stage at his boss's hotel.
The Freedom Summit was sponsored by The Falkirk Center for Faith and Liberty, a Liberty University-affiliated group with "the purpose of educating, inspiring, and mobilizing Christians in the battle to preserve American liberty." University president Jerry Falwell Jr. and Turning Point USA head Charlie Kirk founded the center in 2019 and named it after themselves.
While Rep. Louie Gohmert (R-TX) was listed on the summit's schedule as a possible guest at a Monday afternoon media event—two days before he was diagnosed with COVID-19—it does not appear he attended the event.
Government officials at the summit largely discussed the threat China poses to the United States, reported Rob Crilly for The Washington Examiner.
Attendance was restricted because of COVID-19. So while the presence of GOP luminaries couldn't have done much to boost ticket sales, these officials still served as the roster for one of the president's paying customers.
And while the stage was set up to accommodate social distancing, best practices weren't followed elsewhere.
Notable participants and attendees included
Sens. Marsha Blackburn (R-TN), Tom Cotton (R-AR) [both shown in last Monday's edition of 1100 Pennsylvania] and Ted Cruz (R–TX)

Reps. Jim Banks (R–IN), Brian Babin (R–TX), Andy Biggs (R-AZ), Ted Budd (R-NC), Michael Cloud (R-TX), Dan Crenshaw (R–TX), Warren Davidson (R-OH), Paul Gosar (R-AZ), Mark Green (R-TN), Jody Hice (R-TX), Ralph Norman (R-SC), Scott Perry (R-PA), Randy Weber (R-TX), and Ted Yoho (R-FL) along with former representatives Dave Bratt and Nan Hayworth

White House advisers emeriti Steve Bannon and Seb Gorka

Trump campaign senior legal adviser Jenna Ellis

George State Rep. Vernon Jones (D), who also visited the hotel owner's office and residence while in town

Prominent Trump supporters Kirk, David Harris Jr., and former NFL player Jack Brewer

Conservative media personalities Eric Bolling of Blaze TV and the Trump Hotel D.C.s bar, anchor of America's Voice News and Mar-a-Lago member Gina Loudon (another Trump property regular), and radio host Joe Piscopo

Former reality show contestants Erin Elmore from The Apprentice and The Bachelor's Jillian Alexis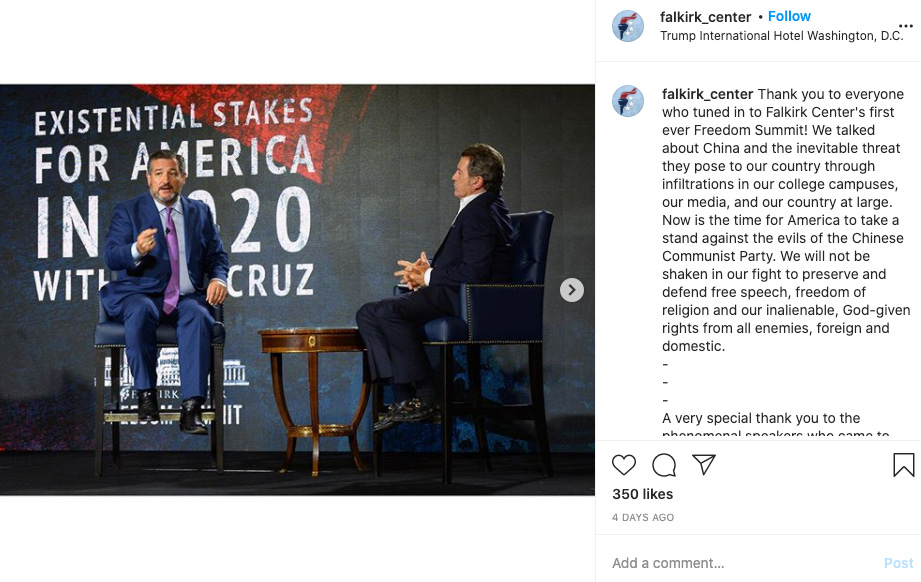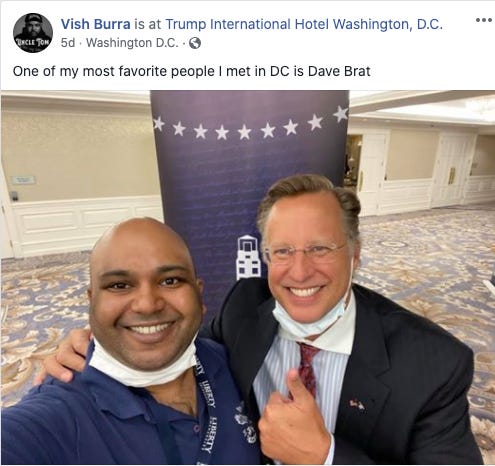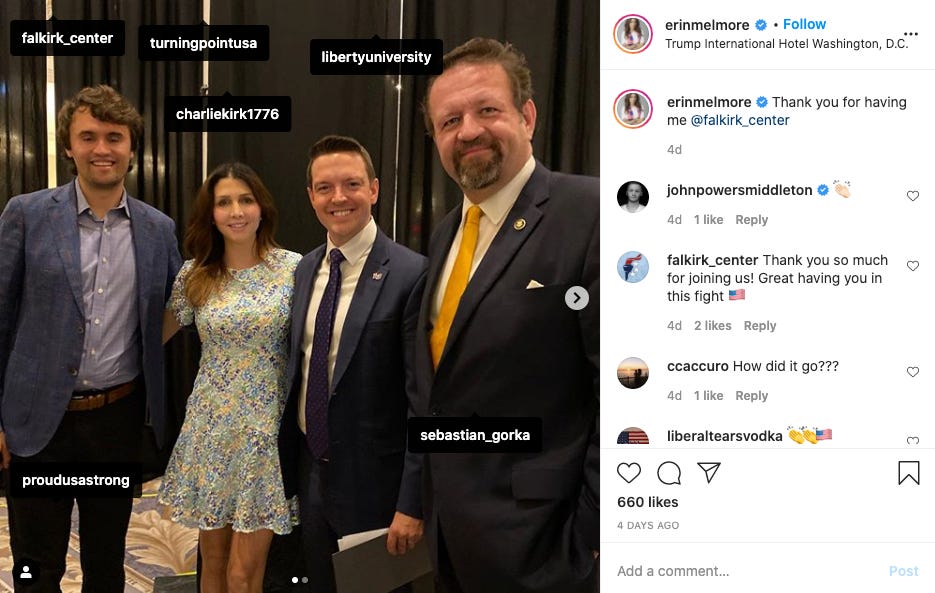 ---
Trump made his 40th and 41st visits to his businesses since China reported what's now known as the coronavirus
Trump golfed at his Sterling, Virginia course on Saturday and Sunday this weekend.
The president now has made 41 visits to Trump businesses since Chinese officials reported a cluster of cases of acute respiratory illness on Dec. 31, 2019.
---
Notable sightings
A glimpse of the foreign officials, government employees, politicians, lobbyists, and the like who patronize or appear at Trump businesses. Most people shown here have reasons to want to influence the Trump administration, rely on its good graces for their livelihoods, or should be providing oversight. Additionally, high-profile guests serve as draws for paying customers.
Rep. Bruce Westerman (R-AR) and GOP candidate for U.S. Senate in Alabama, Tommy Tuberville went maskless. Tuberville, in town to fundraise, was in defiance of D.C.'s quarantine order, reported Colby Itkowitz for The Washington Post.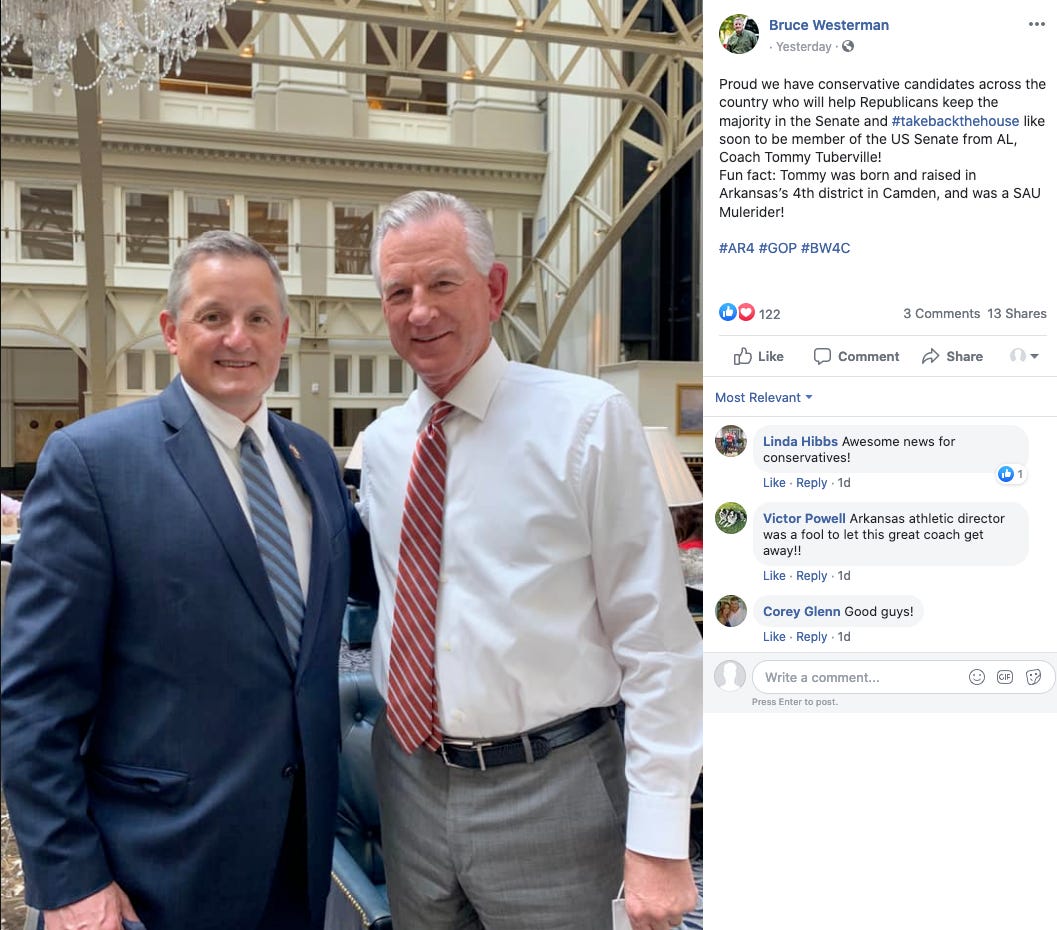 General Services Administration speechwriter David Keltz plugged a burger sold at a hotel that's a tenant of his employer and owned by the head of the executive branch.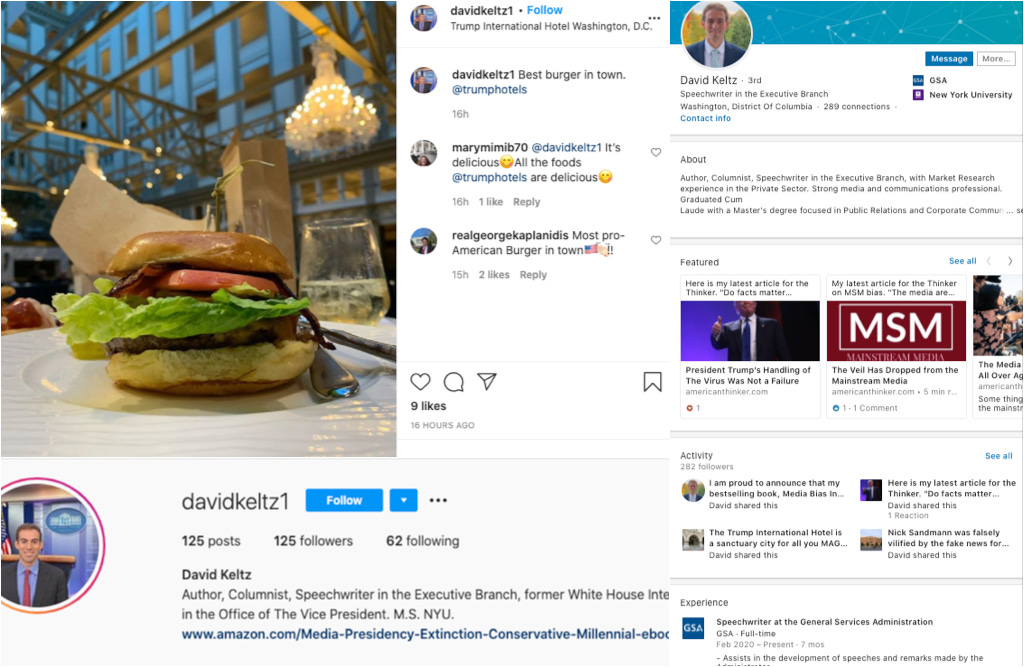 Lobbyist Mark R. Smith of the Da Vinci Group, was back where he belongs.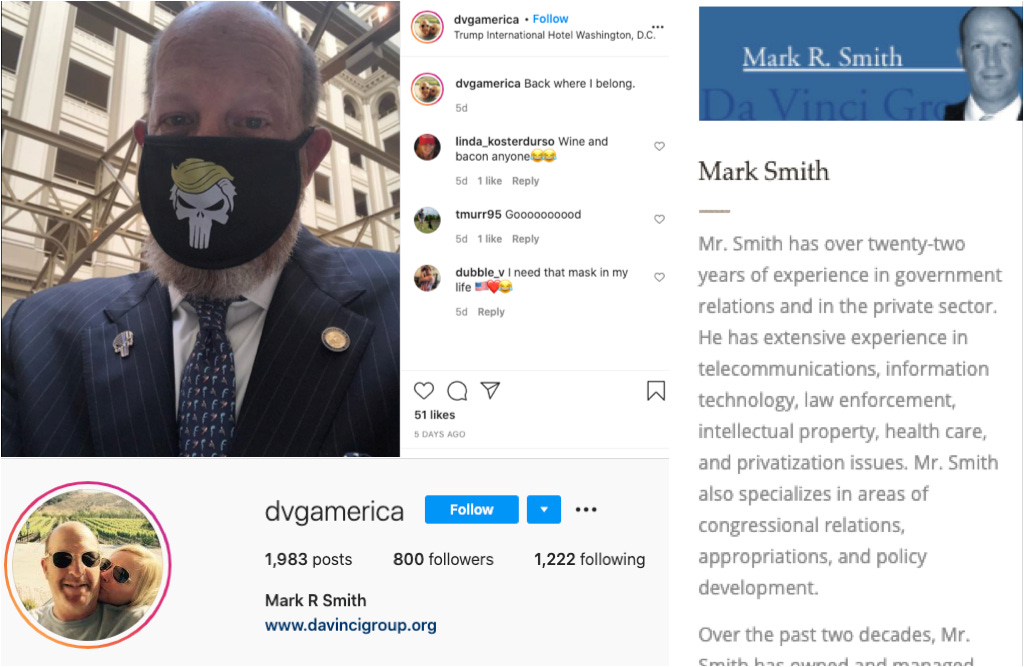 ---
Other Trump Organization news
---
Reference section
Links to rundowns of developments in the House's investigations and lawsuits, reference sheets for some of 1100 Pennsylvania's previous reporting, and articles that provide the background on why all of this matters. The date published or last updated is in parentheses.
Trackers
Notable hotel customers
Summaries
Upcoming key dates
Sept. 23, 2019—House Judiciary Committee hearing "Presidential corruption: Emoluments and profiting off the presidency" (postponed, not yet rescheduled)

Aug. 10, 2020—Scheduling conference before D.C. Superior Court in D.C. attorney general's lawsuit alleging improperly spent nonprofit funds by the Trump Hotel D.C. and Trump's inaugural committee

Aug. 25, 2020—Discovery requests are due in a one-time Trump appointee's lawsuit against the Trump Hotel D.C., alleging a glass from a sabered bottle of champagne left a gash in her chin
---
Thanks for reading! If you like what you've read, tell someone. If you've been forwarded this newsletter, subscribe at 1100pennsylvania.substack.com. Questions? Read our FAQ. Tips or feedback? Contact Zach Everson at 1100Pennsylvania@protonmail.com (it'll be encrypted if you also use a ProtonMail account, which is free) or via Signal (secure), SMS, or mobile at 202.804.2744.