Discover more from 1100 Pennsylvania
"The undisputed expert on the D.C. Trump Hotel" – David Fahrenthold of the Washington Post
Over 3,000 subscribers
Trump's taxes reveal D.C. hotel lost millions
Hotel that often charges more than the president pays in annual income tax lost $55 million through 2018 per Times' review of Trump's taxes
In case 15,000 words on President Donald J. Trump's finances aren't enough for you, here are Trump Hotel D.C.-related snippets from the first two installments of The New York Times's blockbuster investigation along with some hotel-focused context [bold added throughout].
From "Long-concealed records show Trump's chronic loses and years of tax avoidance" by Russ Buettner, Susanne Craig, and Mike McIntire—
Donald J. Trump paid $750 in federal income taxes the year he won the presidency. In his first year in the White House, he paid another $750.
As of Monday morning, $750 would not be enough to pay for a one-night stay that night (with taxes) in the cheapest room at the Trump Hotel D.C.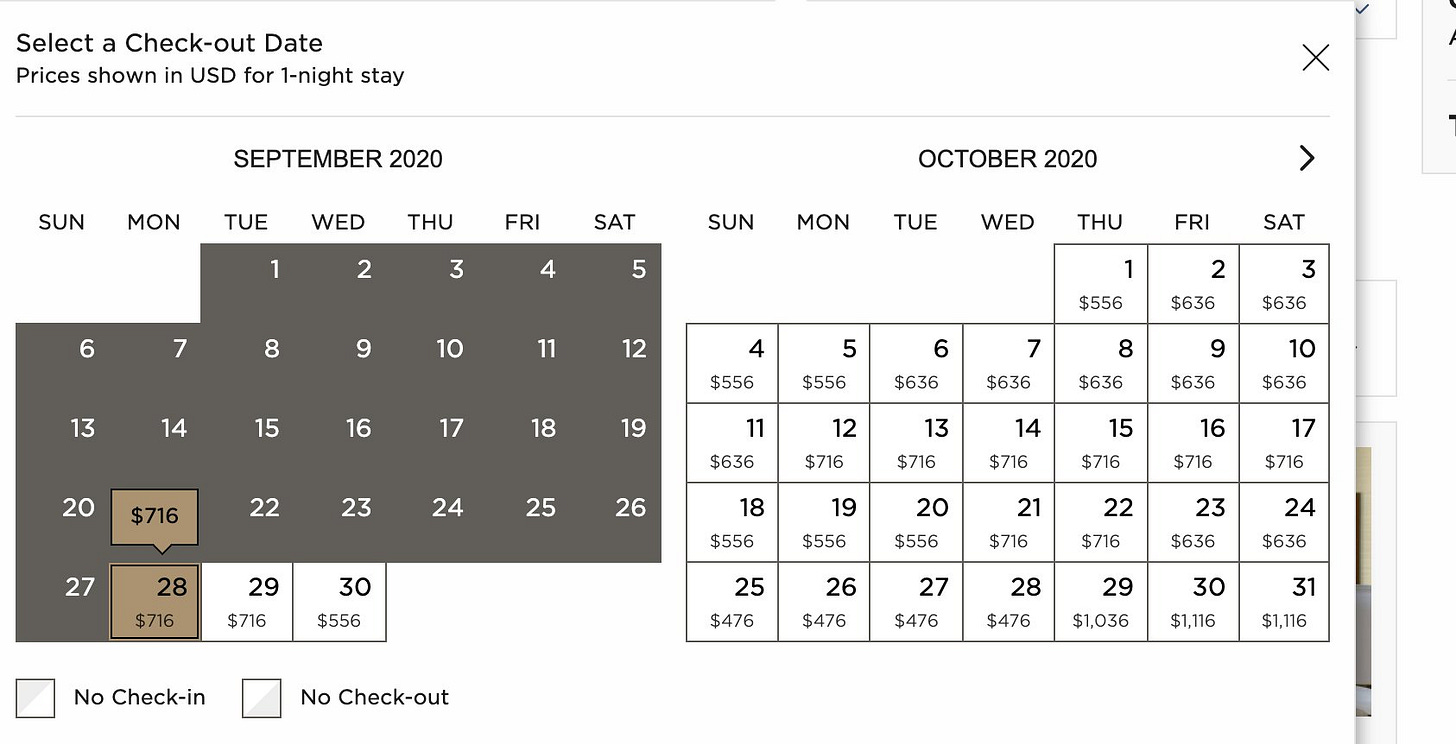 In 2017, the Billy Graham Evangelistic Association paid at least $397,602 to the Washington hotel, where the group held at least one event during its four-day World Summit in Defense of Persecuted Christians.
After Graham died in 2018, he became the first religious leader to lie in honor in the Capitol Rotunda. Meanwhile his family hung out at the Trump Hotel D.C. The Grahams have continued to patronize the Trump Hotel D.C., and continued to enjoy perks from its owner, including just last month when Franklin Graham and Cissie Graham Lynch had prominent speaking slots at the Republican National Convention.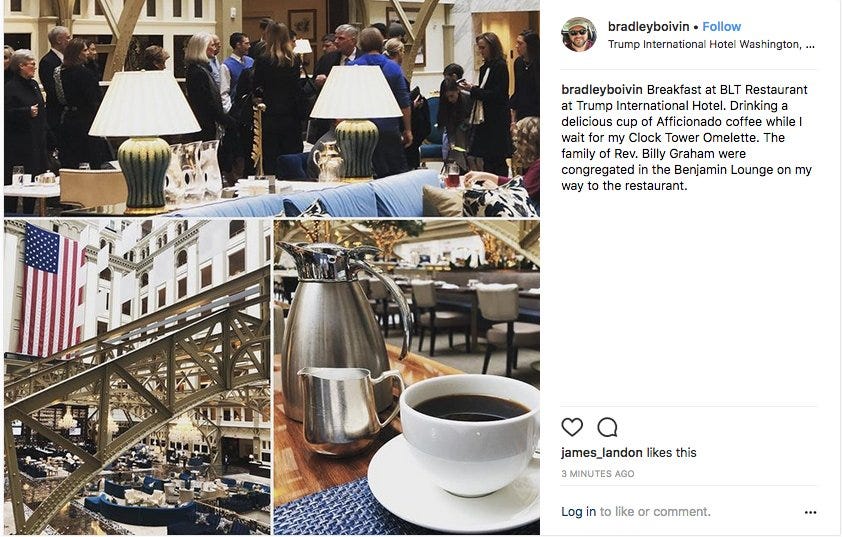 For all of its Trumpworld allure, his Washington hotel, opened in 2016, has not fared much better. Its tax records show losses through 2018 of $55.5 million.
This figure is the biggest new hotel-centered info from the article. And that's $55 million in loses despite
turning a $2 million profit in the first four months of 2017—a period the Trump Organization projected that business actually would lose $2.1 million (reported Jonathan O'Connell for The Washington Post)

the hotel seeing "credit card transactions rise markedly with his [Trump's] political ascent. At the hotel, the monthly receipts grew from $3.7 million in December 2016 shortly after it opened, to $5.4 million in January 2017 and $6 million by May 2018" per the New York Times.

Trump's share of the hotel's revenue being more than $80 million in 2017 and 2018 (he doesn't disclose loses or profit)
Almost sounds like the Trump Hotel D.C.'s business model never made sense.
To cancel out the tax bills, Mr. Trump made use of $9.7 million in business investment credits, at least some of which related to his renovation of the Old Post Office hotel, which qualified for a historic-preservation tax break.
The IRS allows a 20 percent credit for "expenditures for the rehabilitation of qualifying buildings," which is taken over five years. The Trumps spent $200 million renovating the Old Post Office, meaning the organization received a $40 million tax credit (apparently first noted by Sen. James Lankford (R-OK)).
When Turkish-American relations were at a low point, a Turkish business group canceled a conference at Mr. Trump's Washington hotel; six months later, when the two countries were on better terms, the rescheduled event was attended by Turkish government officials.
U.S. officials attended too.
The Annual Conference on U.S.-Turkey Relations was held at the Trump Hotel D.C. in both 2017 and 2019. During the latter, at least four senior or former Trump Administration officials attended events at their boss's D.C. hotel, as 1100 Pennsylvania reported at the time. And at least three ministers in Turkey's government also headlined a conference that President Trump's hotel ostensibly profited from. In addition to being a featured speaker at the Trump Hotel D.C., Turkey's finance minister, Berat Albayrak met with President Trump at the White House while in town.
In 2020, however, the conference was scheduled to return to the Ritz-Carlton D.C., which hosted the event prior to it convening at the Trump Hotel D.C. Due to COVID-19 though, it was held virtually.
And the businesses carrying the bulk of the debt—the Doral golf resort ($125 million) and the Washington hotel ($160 million)—are struggling, which could make it difficult to find a lender willing to refinance it.
For a comprehensive look at Trump's debts and their possible consequences, read "Trump has a half billion in loans coming due. They may be his biggest conflict of interest yet." by Russ Choma for Mother Jones's July/August 2020issue.
Mr. Trump still has assets to sell. But doing so could take its own toll, both financial and to Mr. Trump's desire to always be seen as a winner. The Trump family said last year that it was considering selling the Washington hotel, but not because it was losing money.
In August, Trump said the hotel was off the market and that he'd been involved in the decision, reported Ebony Bowden and Steven Nelson for The New York Post. Both assertions, of course, raised new questions.
And from "How reality-TV fame handed Trump a $427 million lifeline" by Mike McIntire, Russ Buettner, and Susanne Craig—
Unilever, which was looking to promote a new version of its All brand laundry detergent, concocted an entire multiplatform marketing campaign around Mr. Trump. In addition to $850,000 the company paid him directly, tax records reveal, he earned $250,000 more from a public-relations firm Unilever hired to help run an ad campaign coined "Softness fit for a Trump."
Unilever appears to have continued to pay Trump, now through his D.C. hotel. In August 2019, the multinational consumer-goods corporation held a workshop for more than two dozen Brazilian executives in the Trump Hotel D.C.'s presidential ballroom, as 1100 Pennsylvania reported at the time.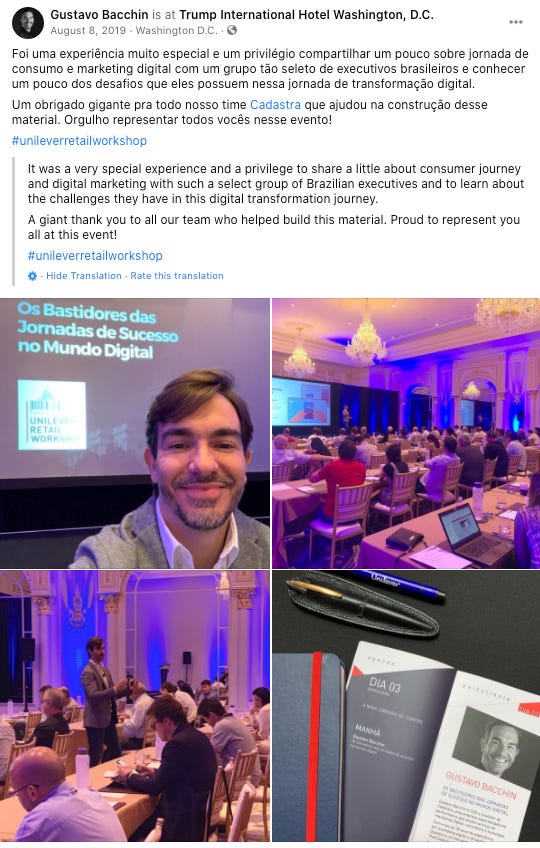 ---
Trump's now visited his properties 62 times since first reports of coronavirus
The president attended a fundraiser at his D.C. hotel on Friday evening and golfed at his Sterling, Virginia course on Sunday. Since Chinese officials first reported a cluster of cases of acute respiratory illness on Dec. 31, 2019, Trump has visited his private businesses 62 times.
According to Johns Hopkins University, COVID-19 has killed 205,547 people in the United States.
---
Support this reporting: Share it
By sharing 1100 Pennsylvania with your readers, social-media followers, co-workers, and friends, you can help this essential reporting reach a larger audience. Thanks!
---
Notable sighting
A glimpse of the foreign officials, government employees, politicians, lobbyists, and the like who patronize or appear at Trump businesses. Most people shown here have reasons to want to influence the Trump administration, rely on its good graces for their livelihoods, or should be providing oversight. Additionally, high-profile guests serve as draws for paying customers.
A recent addition to the White House coronavirus task force whose pushing for an approach centered on herd immunity, "the amazing Dr. Scott Atlas" appeared to enjoy a little bubbly.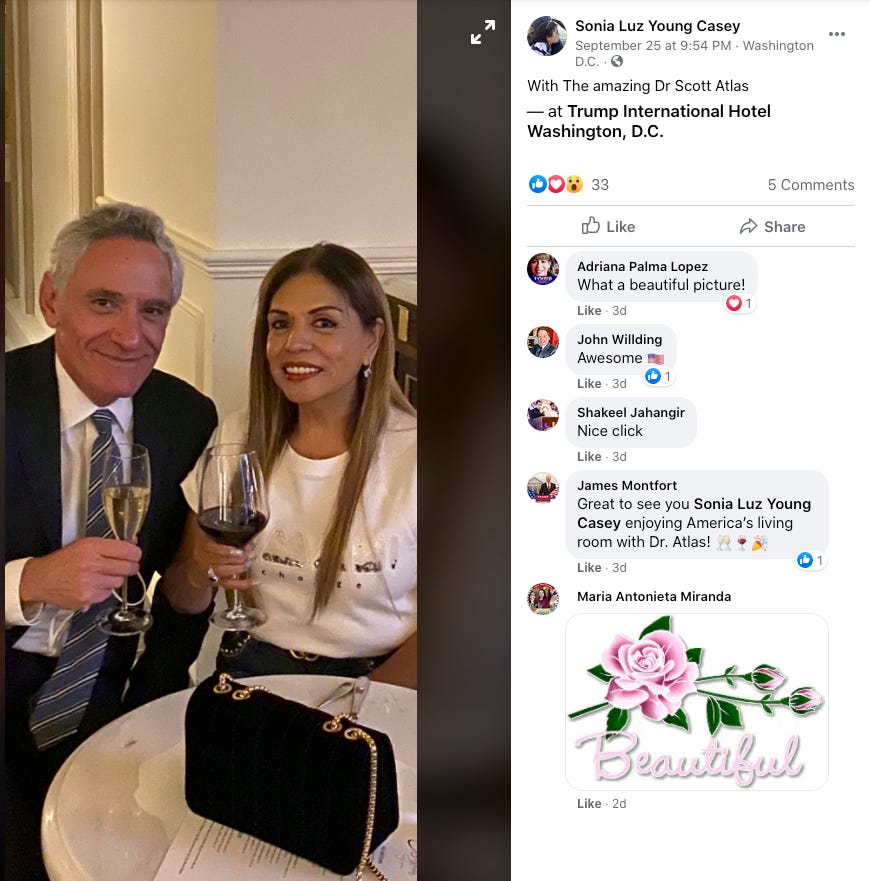 ---
Other takes on the Times's report
---
Reference section
Links to rundowns of developments in the House's investigations and lawsuits, reference sheets for some of 1100 Pennsylvania's previous reporting, and articles that provide the background on why all of this matters. The date published or last updated is in parentheses.
Trackers
Notable hotel customers
Summaries
"Stay to play: Inside the sordid history of Trump's D.C. hotel—And why the president's prized property could be headed for a reckoning" by your correspondent for Mother Jones (September 2020)

"Power tripping in the swamp: How Trump's D.C. hotel swallowed Washington
The MAGA social scene is a movable feast, but its dark heart resides within the Old Post Office Building, where the Trump Org operates under a mercenary charter" by your correspondent for Vanity Fair (October 2019)

"Inside the world's most controversial hotel: The hotel that was expected to take its place among the crown jewels of D.C.'s travel scene has become a magnet for protestors, a West Wing Annex, and—possibly—the center of a constitutional crisis." by your correspondent for Condé Nast Traveler (May 2018)
Upcoming key dates
Sept. 23, 2019—House Judiciary Committee hearing "Presidential corruption: Emoluments and profiting off the presidency" (postponed, not yet rescheduled)

Sept. 14, 2020—Discovery scheduled to end in a one-time Trump appointee's lawsuit against the Trump Hotel D.C., alleging glass from a sabered bottle of champagne left a gash in her chin.

Oct. 15, 2020—Deadline for State Department to start turning over documents related to its spending at Trump properties in response to a lawsuit filed by The Washington Post.

Dec. 9, 2020—Deadline for exchanging witness lists in the D.C. attorney general's lawsuit alleging improperly spent nonprofit funds by the Trump Hotel D.C. and Trump's inaugural committee.
---
Thanks for reading! If you like what you've read, tell someone.
If you've been forwarded this newsletter, subscribe at 1100pennsylvania.substack.com to support independent journalists dedicated to who's paying the president.
If you're a paid subscriber and would like to post a comment—or if you would like to view comments from paid subscribers—click the comment button.
Questions? Read our FAQ. Tips or feedback? Contact Zach Everson at 1100Pennsylvania@protonmail.com (it'll be encrypted if you also use a ProtonMail account, which is free) or via Signal (secure), SMS, or mobile at 202.804.2744.