Discover more from 1100 Pennsylvania
"The undisputed expert on the D.C. Trump Hotel" – David Fahrenthold of the Washington Post
Over 3,000 subscribers
'Ukraine collusion' source pops up in 'America's living room'
Ex Ukrainian diplomat chatted about democracy in his country with Jon Voight at president's hotel
On the day that former National Security Council Fiona Hill asked the House Intelligence Committee not to "promote politically driven falsehoods," the ex Ukrainian diplomat who's been pushing the story that his country interfered in the 2016 U.S. presidential election on behalf of the Clinton campaign turned up at the Trump Hotel D.C.
Shortly after noon yesterday, Andrii Telizhenko posted a photo of himself from the lobby of the U.S. president's D.C. hotel with the actor Jon Voight. If Telizhenko did in fact spend money there, he'd be trying to help the U.S. president financially as well as politically.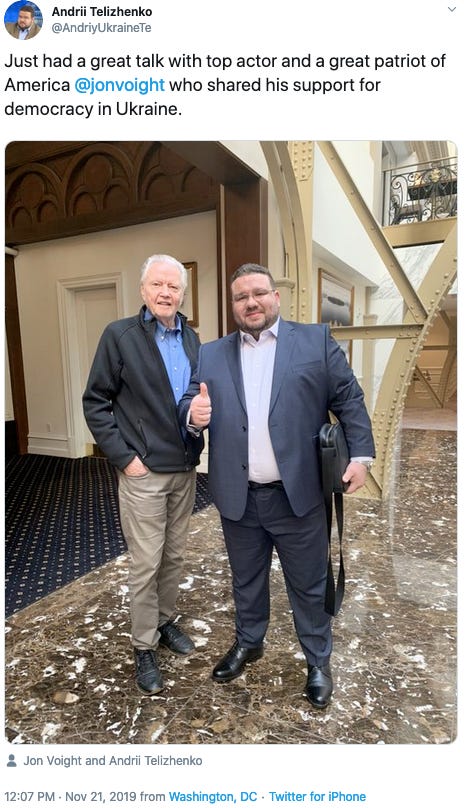 Telizhenko was a political officer for Ukraine's embassy in D.C. from December 2015 through June 2016, per his LinkedIn profile. Telizhenko claimed that in that position he'd been tasked with researching connections between Trump, Paul Manafort, and Russia for the eventual benefit of Hillary Clinton's campaign, reported Kenneth P. Vogel and David Stern for Politico in January 2017.
Earlier this month, Telizhenko was described as "the former Ukrainian diplomat at the center of allegations that Kyiv meddled in the 2016 election" by Betsy Swan for The Daily Beast.
The same day Telizhenko was at the chief executive's hotel, Sens. Ron Johnson (R–WI) and Chuck Grassley (R–IA) cited the former ambassador in a letter to the U.S. National Archives and Records Administration, seeking records about meetings during the Obama administration.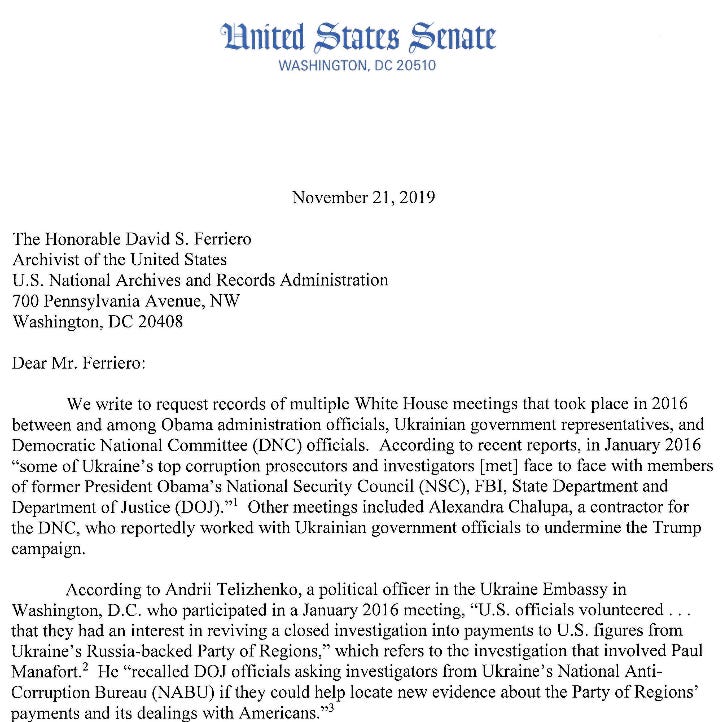 According to various press reports, Telizhenko also has shared his unproven claims in meetings with Rudy Giuliani (of course) and Rep. Devin Nunes (R–CA).
Giuliani was spotted at the Trump Hotel D.C. just 15 hours before Telizhenko's tweet, reported journalist Shimon Prokupecz. Giuliani and Telizhenko were not seen together.

As for Voight, the pro-Trump actor was in town to pick up the National Medal of Arts from the hotel's owner at the White House (Voight's a repeat guest at the Trump Hotel D.C.). Voight later accompanied the president to Dover Air Force Base to receive the remains of two soldiers killed in Afghanistan. Afterwards he appears to have returned to the Trump Hotel D.C. and mingled with the president's other customers.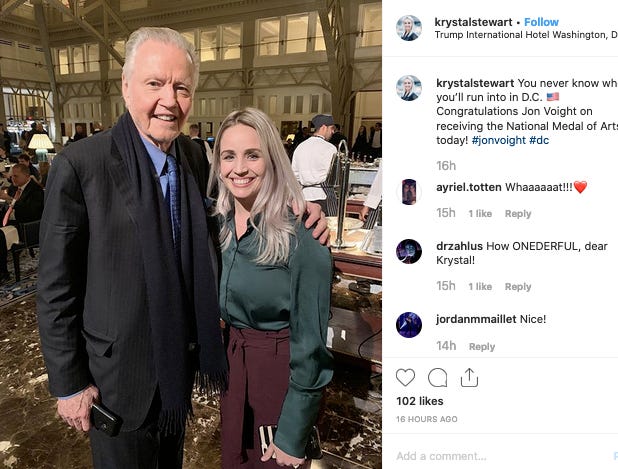 ---
Trump Organization pulled in more than $250,000 from Secret Service in first five months of 2017
The Secret Service spent $254,020.94 at Trump properties between Jan. 27 and June 9, 2017, according to documents obtained via a Freedom of Information Act request by watchdog Property of the People.
The Trump Org's haul was first reported by Natasha Bertrand for Politico.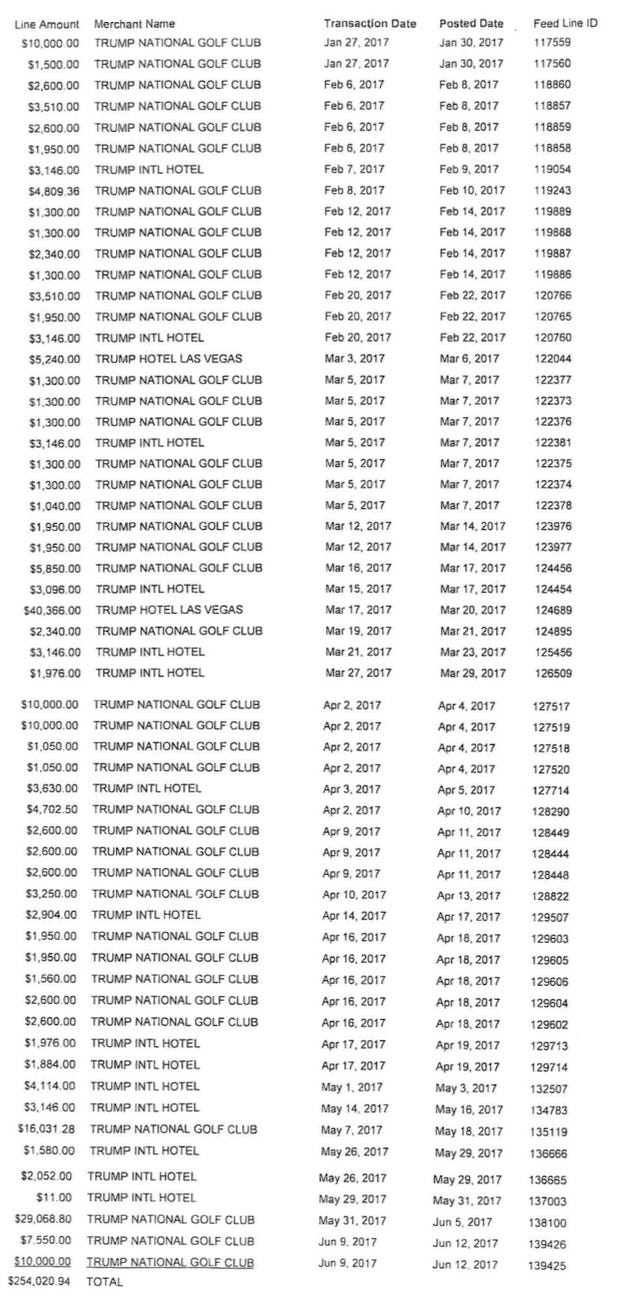 ---
Eric pegged Trump Wine promotion to Sondland's testimony
Trump Org EVP Eric Trump found Ambassador to the European Union Gordon Sondland's testimony at the impeachment hearing Wednesday morning to be the perfect time to promote Trump Winery.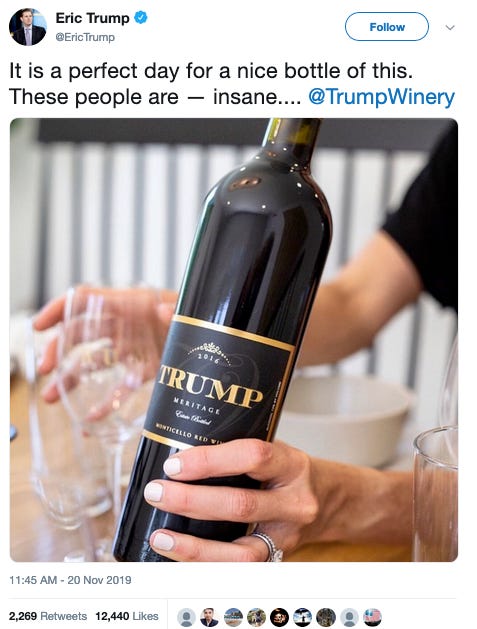 ---
Reminder: Complete access to 1100 Pennsylvania is free for U.S. government employees and military
Full access to 1100 Pennsylvania is free for U.S. government employees and members of the military. Know any government employees or members of the military who may be interested in subscribing? Please let them know about this offer.
---
Notable sightings
A glimpse of the foreign officials, government employees, politicians, lobbyists, and the like who patronize or appear at Trump businesses. Most people shown here have reasons to want to influence the Trump administration, rely on its good graces for their livelihoods, or should be providing oversight. Additionally, high-profile guests serve as draws for paying customers.
The Secretary of Housing and Urban Development Ben Carson stood behind the Trump Hotels lectern Thursday night as he delivered remarks to the president's paying customers.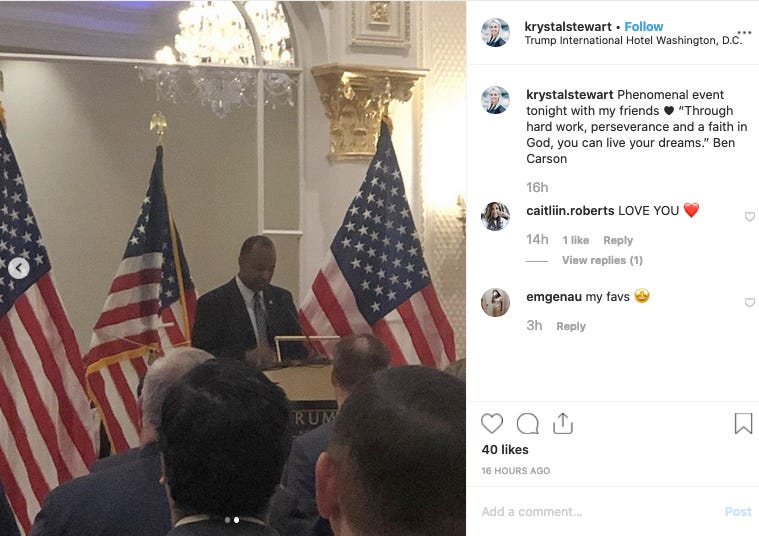 House Minority Whip Steve Scalise (R–LA) smiled with a U.S. Marine in a MAGA hat.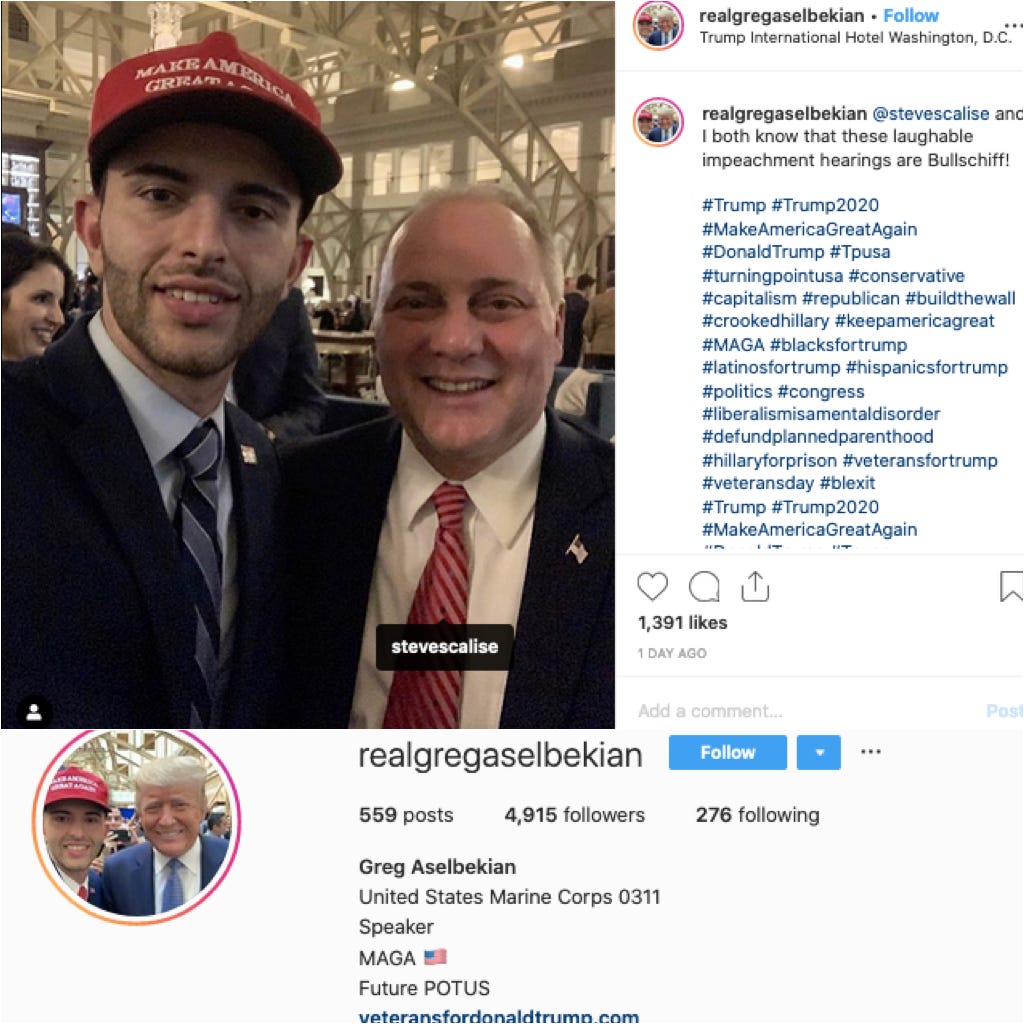 On Wednesday, Fox News's Jeanine Pirro had another book signing at the Trump Hotel D.C. Attendees included Trump Org EVP Eric Trump, who spoke at the event, and the designer of the MAGA dress Andre Soriano.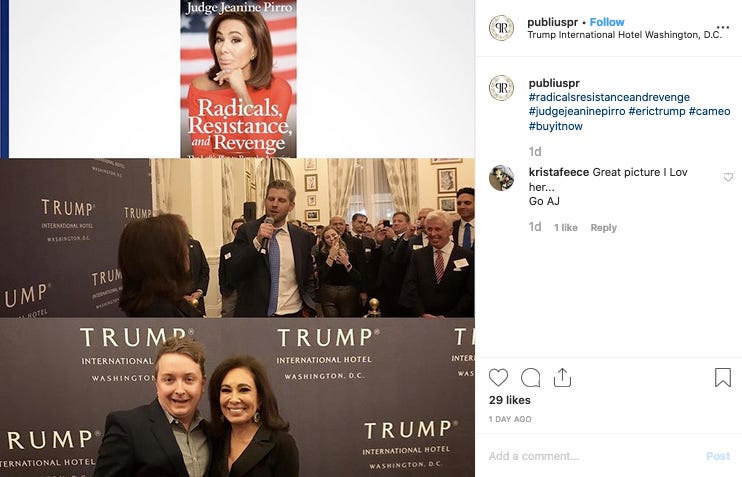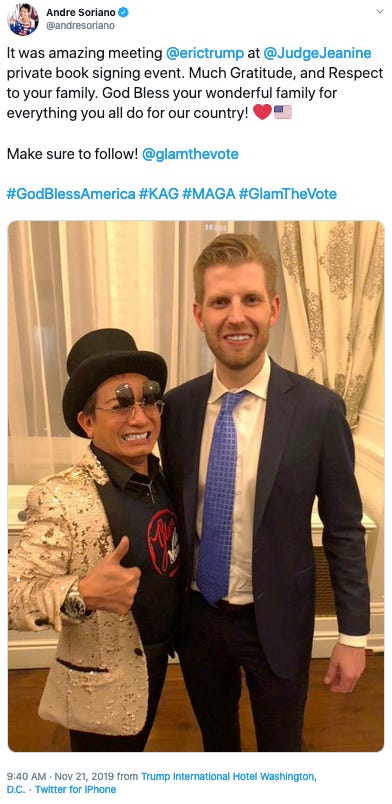 The co-founder of the Japanese cryptocurrency Liberty and the chair of the Japanese Conservative Union, Jikido "Jay" Aeba, met one of the U.S. president's sons at what appears to be Pirro's book signing.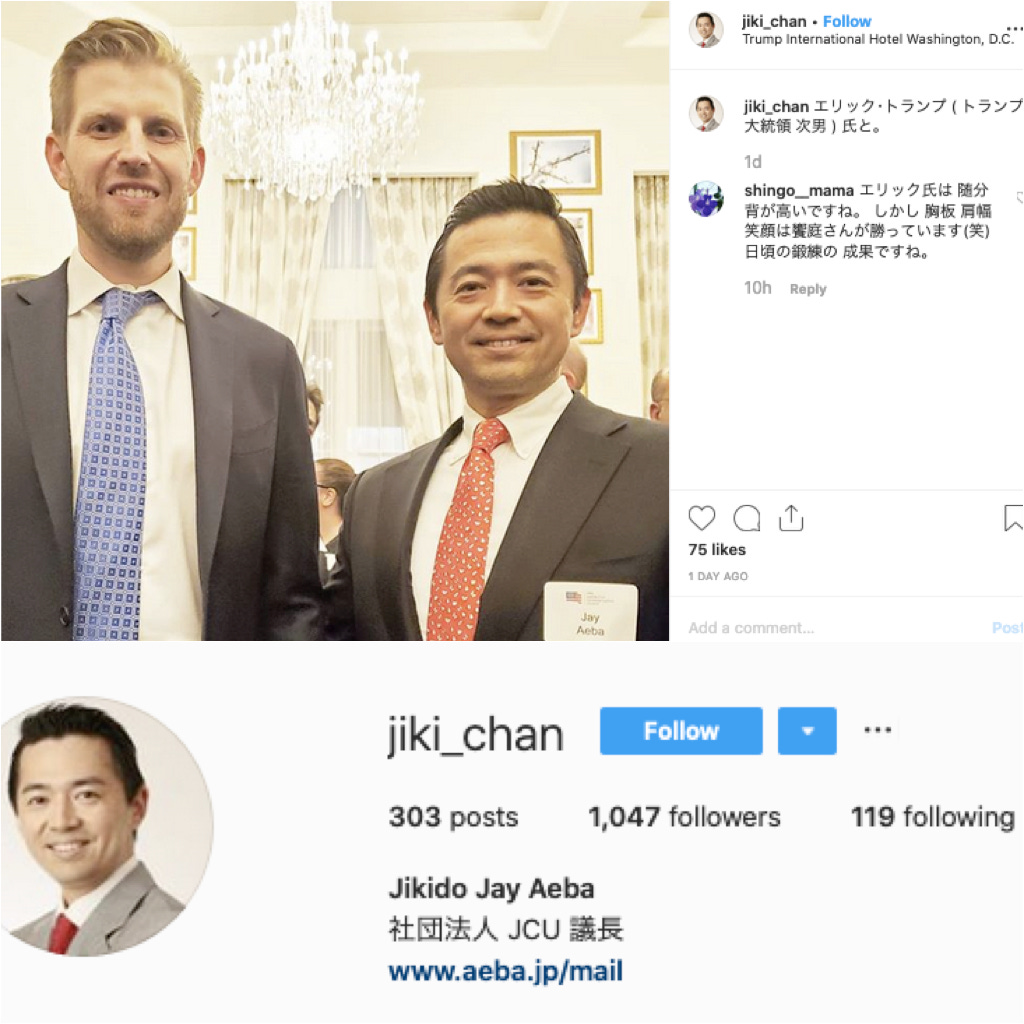 Conservative activist Candace Owens posed at BLT Prime with the vice chair of the Georgia College Republicans.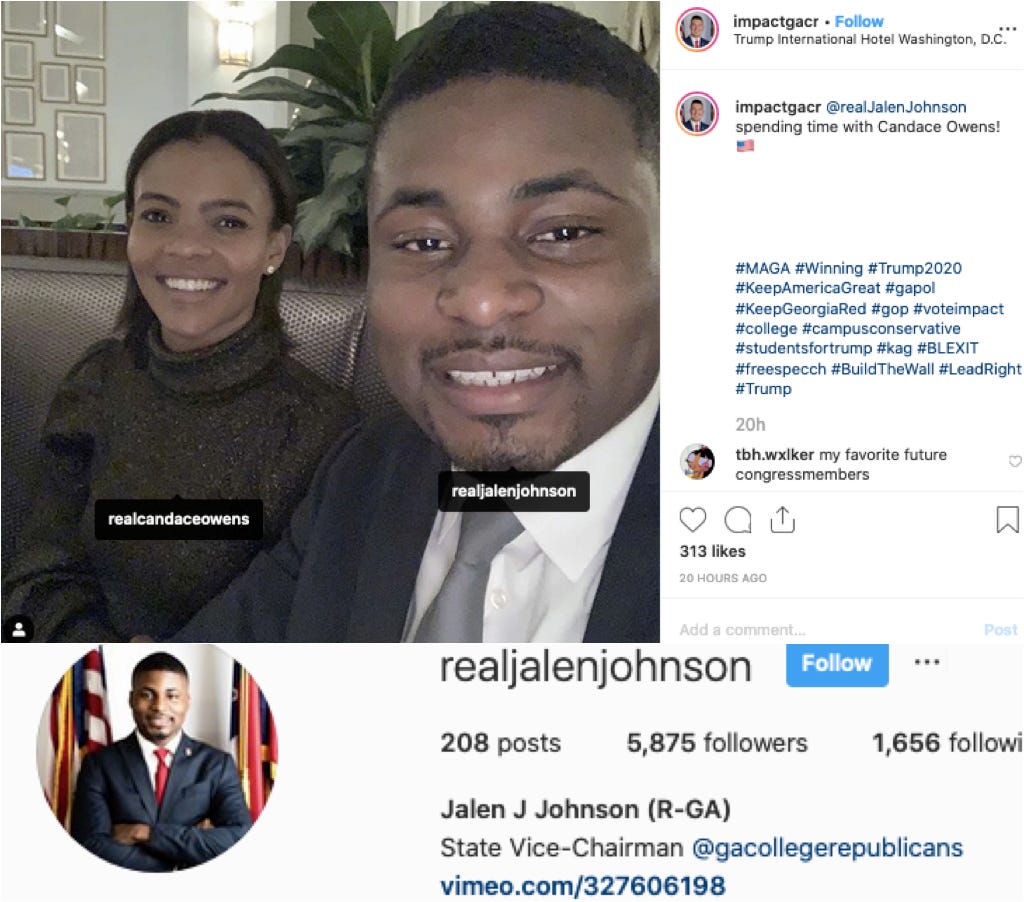 The president of the nonprofit Freedom in Tech Alliance, Keagan Wernicke, brought his Jacob Wohl game to the Trump Hotel D.C.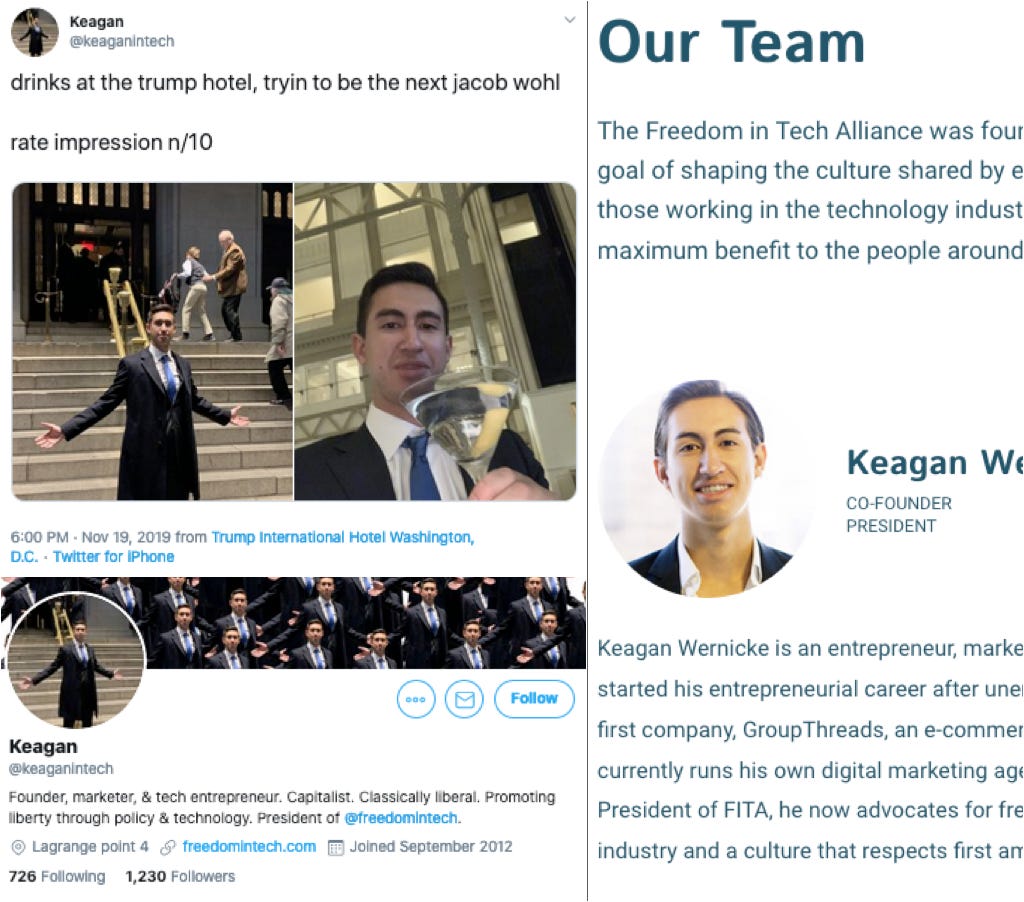 ---
Other Trump Organization news
---
Reference section
Links to rundowns of developments in the House's investigations and lawsuits, reference sheets for some of 1100 Pennsylvania's previous reporting, and articles that provide the background on why all of this matters. The date published or last updated is in parentheses.
Trackers
Notable hotel customers
Summaries
Upcoming key dates
Sept. 23 —House Judiciary Committee hearing "Presidential corruption: Emoluments and profiting off the presidency" (postponed, not yet rescheduled)

Nov. 4—House Transportation Committee chair's subpoena deadline seeking documents related to hotel's lease (response came a week late and was deemed insufficient)

Nov. 22—Oral arguments before D.C. Circuit Court of Appeals in Cork wine bar's unfair competition suit

Dec. 7—D.C. Fraternal Order of Police Lodge #1's holiday party at the Trump Hotel D.C.

Dec. 9—Oral arguments before D.C. Circuit Court of Appeals in Democratic lawmakers emoluments suit

Dec. 12—Oral arguments before full 4th Circuit Court of Appeals in D.C. and Maryland attorneys general's emoluments suit

Jan. 23—Status hearing with D.C. Superior Court in former hotel employees hearing alleging racial discrimination
---
Thanks for reading! If you like what you've read, tell someone. If you've been forwarded this newsletter, subscribe at 1100pennsylvania.substack.com. Questions? Read our FAQ. Tips or feedback? Contact Zach Everson at 1100Pennsylvania@protonmail.com (it'll be encrypted if you also use a ProtonMail account, which is free) or via Signal (secure), SMS, or mobile at 202.804.2744.