Discover more from 1100 Pennsylvania
"The undisputed expert on the D.C. Trump Hotel" – David Fahrenthold of the Washington Post
Over 3,000 subscribers
With Bolsonaro coming to D.C., hotel educates Brazilian travel agents
On the cusp of Bolsonaro's visit, Trump Hotel D.C. taught Brazilian travel agents about its offerings
On Friday, the Trump Hotel D.C. provided a tour, breakfast, and gold-wrapped chocolate bars emblazoned with "Trump" to Brazilian travel agents so they could learn how to better sell the president's hotel in their home country. Their visit comes just days before Washington, D.C. is bound to be in Brazil's news, with its president, Jair Bolsonaro, calling on President Donald Trump at the White House on Tuesday.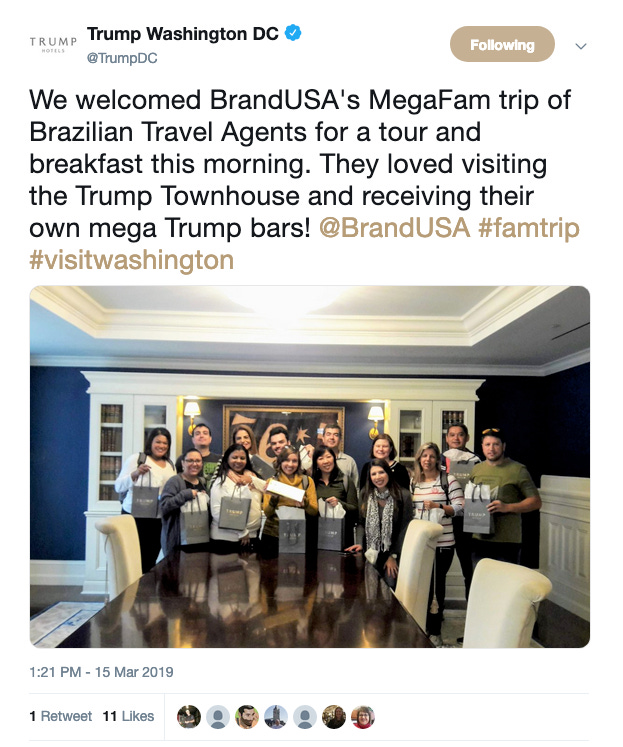 The Trump Organization paid for the travel agents' breakfast, according to Anne Madison, the chief strategy and communications officer of Brand USA, "the destination marketing organization for the United States," which set up the excursion. She estimated the expense cost the hotel about $600.
No one from the U.S. government pressured Brand USA to include the Trump Hotel D.C. on the itinerary, Madison said, and there were no internal concerns about showcasing a hotel owned by the U.S. president. Similarly, Madison said their visit was not timed to coincide with Bolsonaro's.
Regardless of whether or not this synergy was intended, the travel agents' visit is part of a recent jump in Brazilian activity at Trump properties. (See the next segment in today's 1100 Pennsylvania.)
Representatives from the Trump Hotel D.C. and the Trump Organization did not respond to an email asking about the timing and their motives for sponsoring these Brazilian travel agents' breakfast.
Their visit was part of a familiarization tour (usually referred to as a "fam trip"). A common practice in the travel industry, they are junkets for agents, tour operators, or journalists to learn how to better sell or report on a destination. The cities and venues visited usually cover the expenses.
The Brazilians' visit marks only the second time your correspondent has seen the Trump Hotel D.C. host travel-industry types on a Brand USA-organized trip.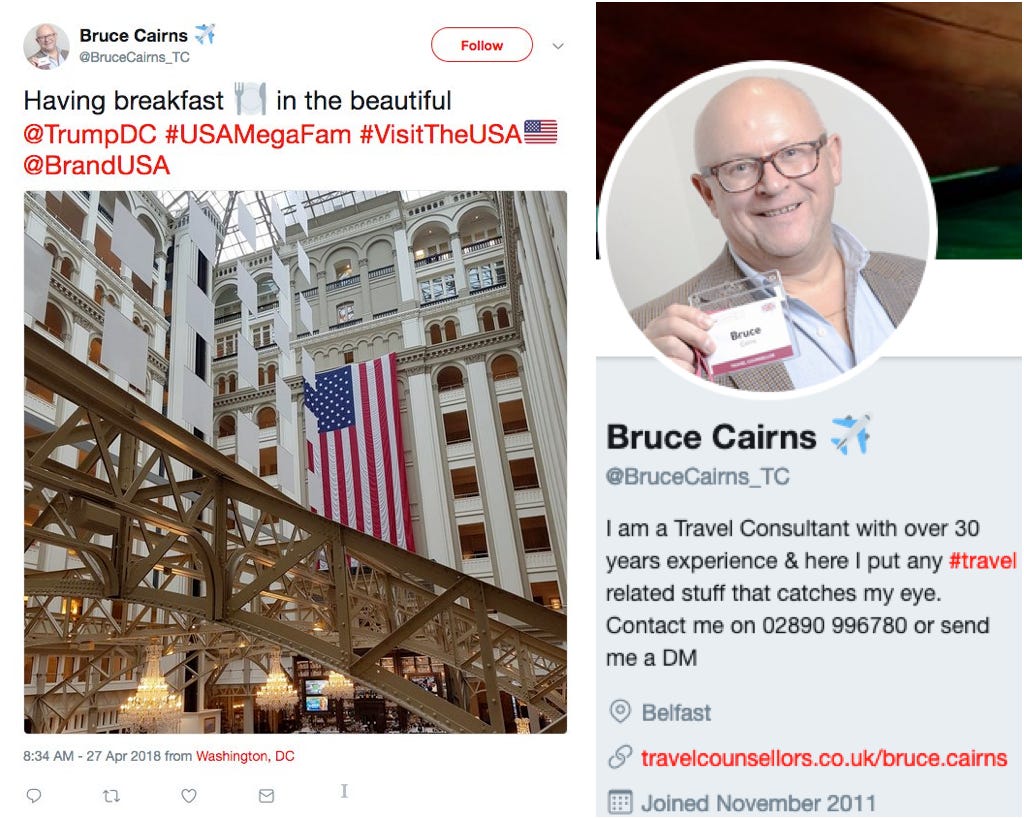 While U.S. taxpayers do not fund Brand USA, it does receive "matching funds collected by the U.S. government from international visitors who visit the United States under the Visa Waiver Program." No funds from that pool were spent at the Trump Hotel D.C., Madison said, but Brand USA will use the value of the donated airlines tickets that brought the agents here to claim matching funds from the U.S. government.
"The only funds from that pool used to pay for the Brazilian travel agents' visit was for the airline tickets for the agents to come to the USA," Madison wrote in an email. "Copa Airlines contributed the airline tickets to Brand USA, and we will submit that contribution for matching funds from the Travel Promotion Fund (which holds the fees paid by international visitors). NOTE: Brand USA must first receive contributions from non-federal sources before we can submit a request for an equivalent amount in matching funds from the federal government."
The travel agents that visited the Trump Hotel D.C. are one of five groups of agents and tour operators from Brazil, totaling 65 people in all, visiting the United States from March 13–22. And it's the sole lot with the nation's capital on its itinerary. The only other D.C. hotel the agents saw was the Capitol Skyline, which is where they stayed.
Bolsonaro's son, a congressman in Brazil, busted out a Make Brasil Great Again hat in hotel lobby
Three weeks after he told a party celebrating President Trump at Mar-a-Lago, "Build that wall! Brazilians are supporting you!," Eduardo Bolsonaro—a member of Brazil's Congress and the son of the country's right-wing president, Jair Bolsonaro—was back at a Trump property. Saturday night, he showed off his take on a Trump campaign slogan in the Trump Hotel D.C.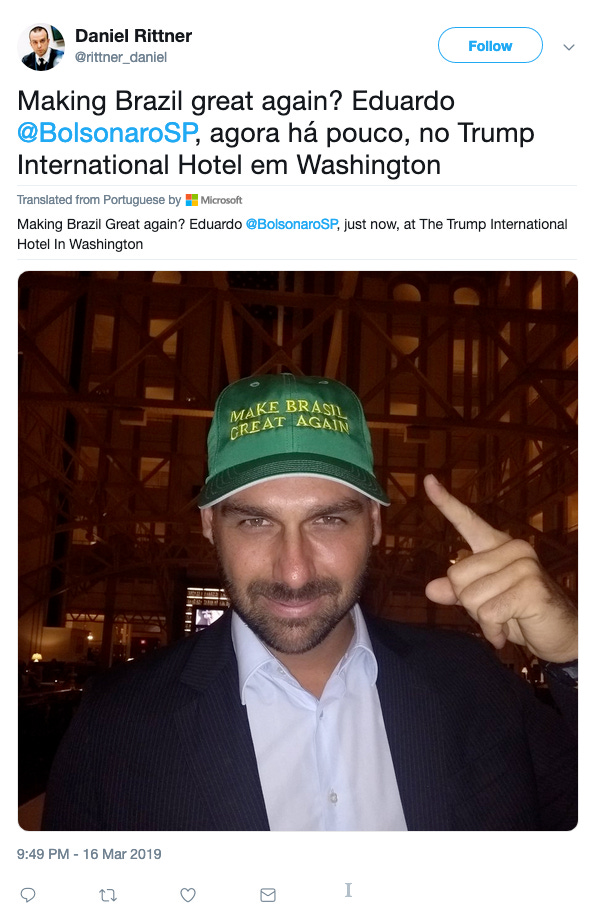 Bolsonaro reportedly was at the Trump Hotel D.C. for Steve Bannon's screening of the film Jardim das Aflições. [via Matias Spektor, H/T Cleuci de Oliveira]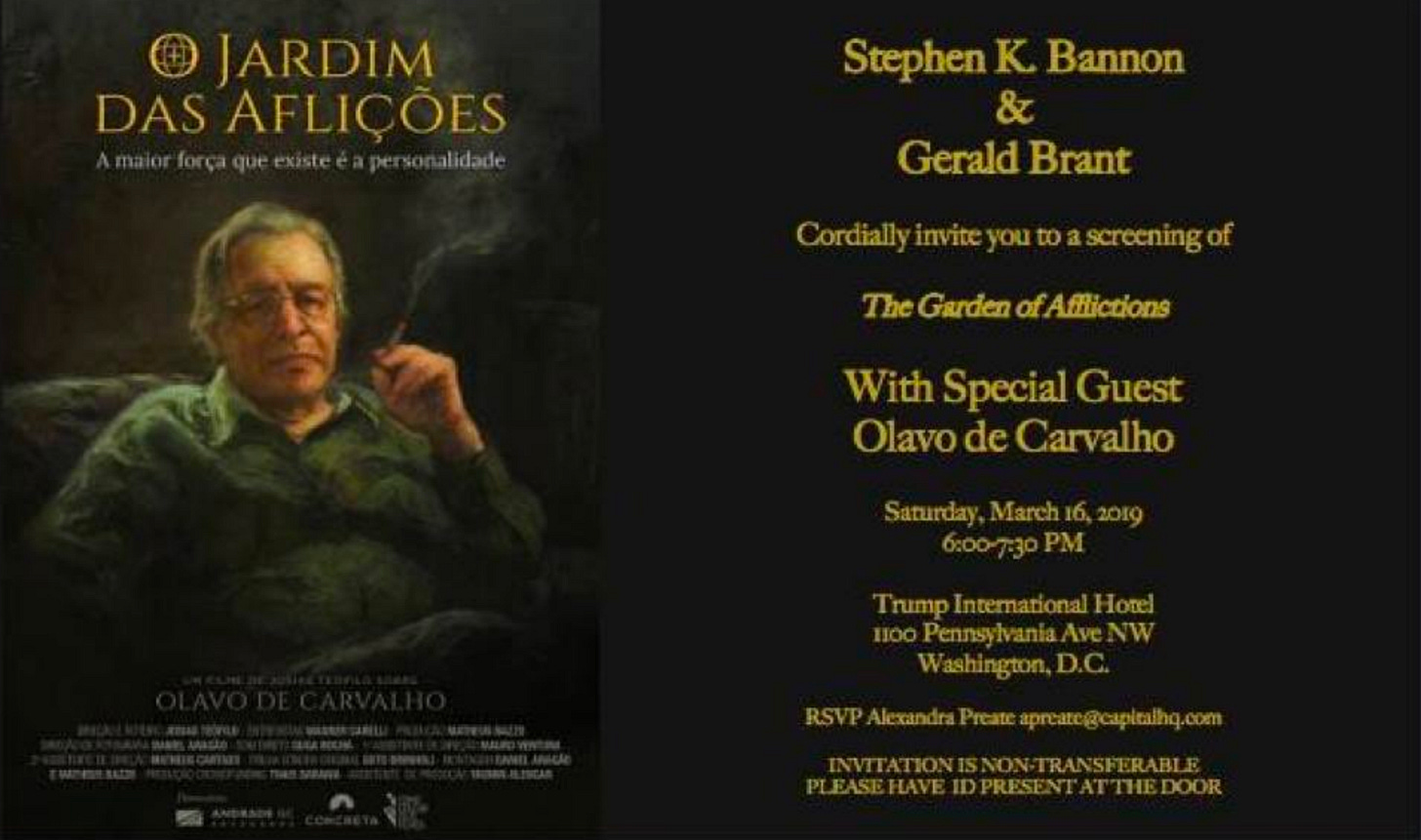 Olavo de Carvalho, described as "Bolsonaro's personal Jordan Peterson" by journalist Cleuci de Oliveira, was the night's special guest. White House and Fox News castoff Sebastian Gorka also attended.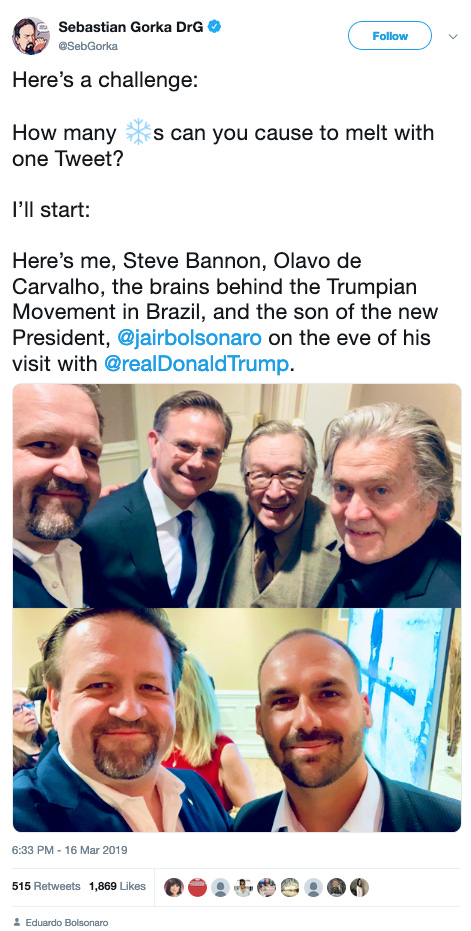 Nicolás Maduro shared Hands Off Venezuela march footage shot in front of Trump's hotel
Venezuelan president Nicolás Maduro tweeted clips of Saturday's Hands Off Venezuela march that were captured in front of the Trump Hotel D.C. (Due to a formatting limitation, select the link to watch the video.)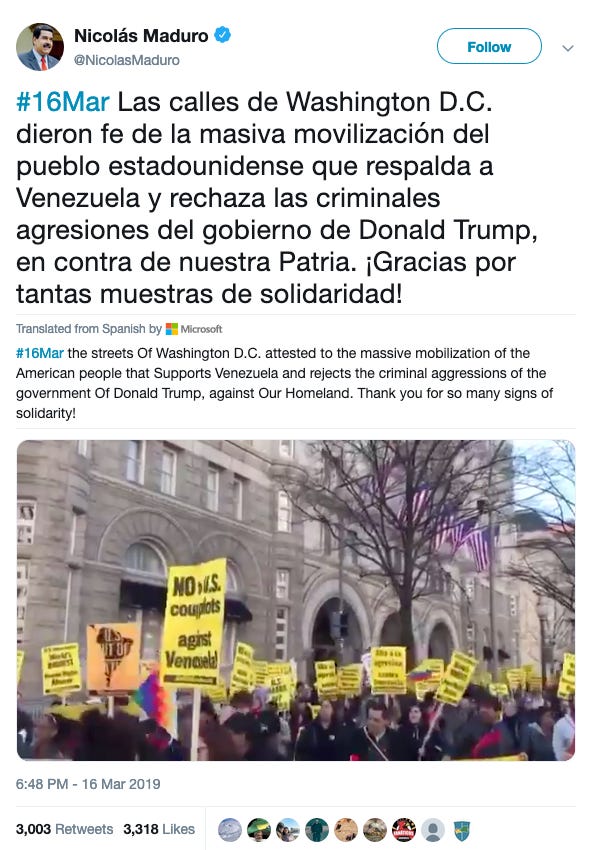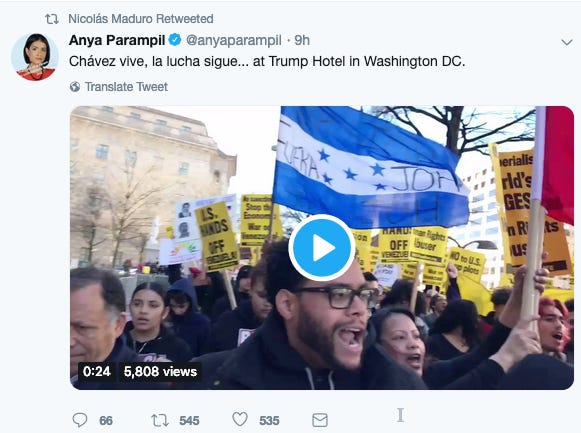 Trump World turns out for pro-Israel super PAC fundraiser at Mar-a-Lago
As 1100 Pennsylvania previewed last Wednesday, the American Pro–Israel PAC held its night of unity and peace to raise funds for itself Saturday at Mar-a-Lago. It's not immediately clear if any of the of the $237,660 it raised last year helped Israel, but $38,871.77 did benefit Mar-a-Lago while another $45,000 helped out three of its board members.
We'll have to wait for the super PAC's next FEC filing to see how much the American Pro–Israel PAC paid the president's private club to hold Saturday's event (unless it responds to an earlier inquiry from 1100 Pennsylvania). But in the meantime, let's see who attended: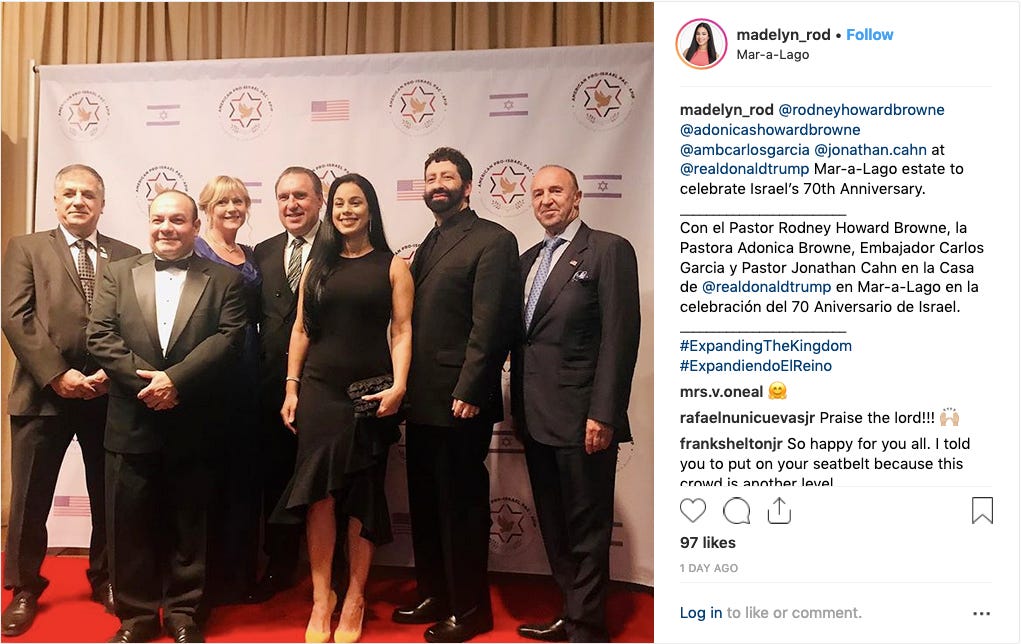 El Salvador's former ambassador to the United Nations Carlos García posed on the red carpet.

Charismatic Christian preacher Rodney Howard-Browne, who was at a Trump business for the second time in two weeks, having met with a group of D.C.-area pastors in the Trump Hotel D.C.'s lobby on March 7. Howard-Browne made an official visit to the White House during that stretch too, to share his thoughts on Israel. (In July 2017, Howard-Browne visited the White House, where he lay hands on President Trump to "avert a 'planned attack' that Luciferian forces were concocting to remove the president from office, which Howard-Browne said he had learned about from a member of Congress" (per Kyle Mantyla of Right Wing Watch). Howard-Browne also has said, "They sacrifice children at the highest levels in Hollywood.")

Jonathan Cahn, whom Sam Kestenbaum wrote about this weekend for The New York Times, in an article titled, "#MAGA church: The doomsday prophet who says the Bible predicted Trump: A charismatic pastor in New Jersey (who also calls himself a rabbi) leads a church fixated on end times. Before the apocalypse, however, he's fitting in a trip to Mar-a-Lago."
Pro-Trump pastor Mark Burns told the crowd, "Listen, we're in Donald Trump's house! Y'all better make some noise for Donald Trump, the 45th president of the United States!" (Due to a formatting limitation, select the link to watch the video.)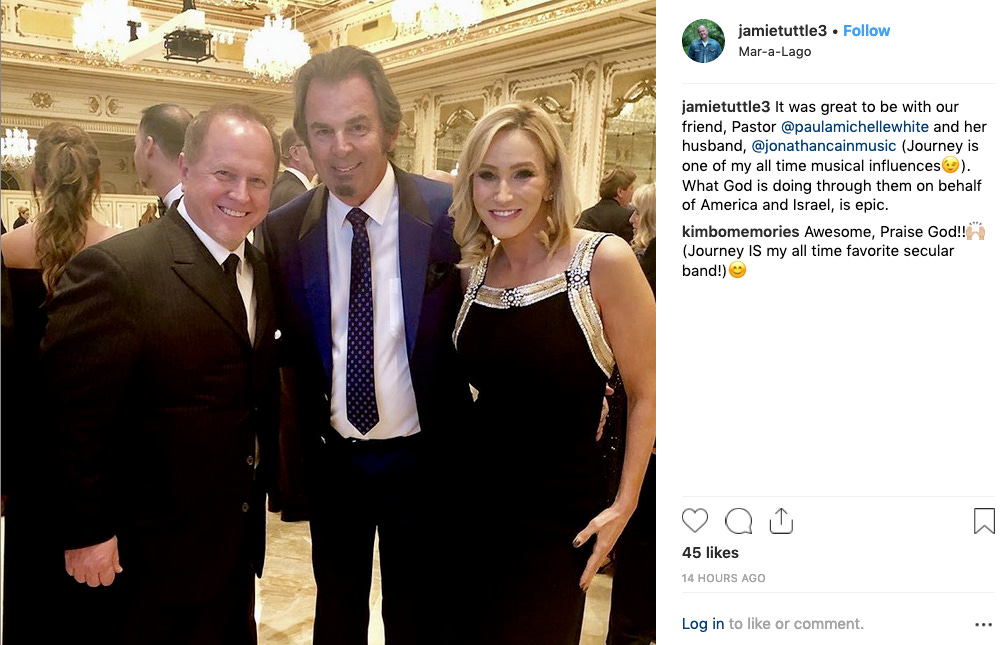 Paula White-Cain co-hosted the event. She's Trump's personal pastor, delivered the invocation at his inauguration, and preaches the prosperity gospel.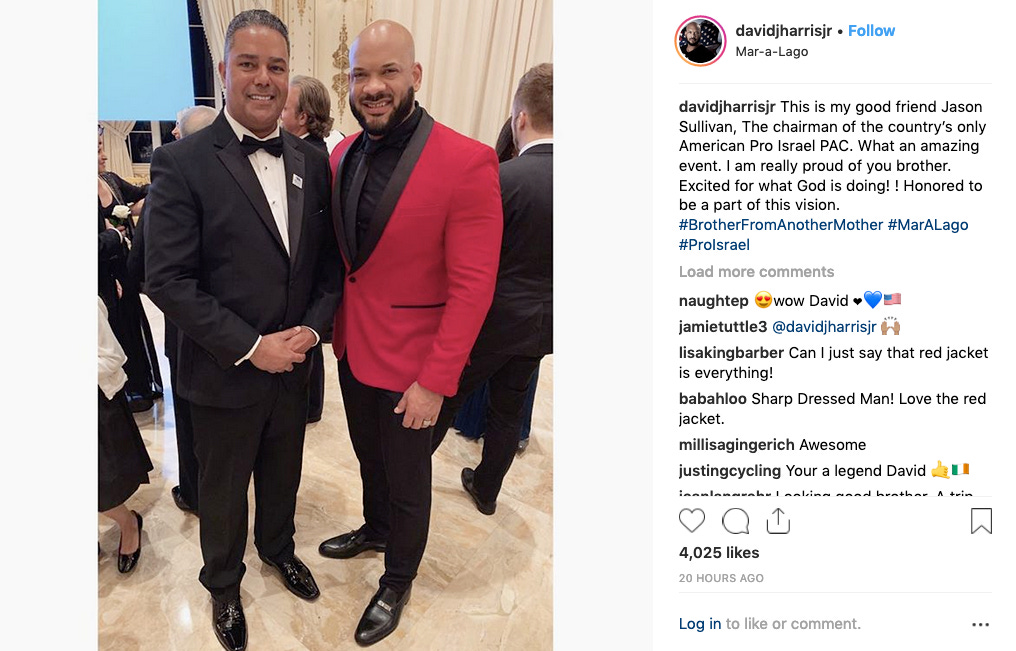 The other co-host was Jason Sullivan. Robert Mueller subpoenaed him in May 2018 related to his work for Roger Stone.
Karyn Turk, a former Mrs. Florida, attended. This weekend, Cliff Zhonggang Li, Cindy Yang's boss at the Asian GOP, told me via email that Turk is now managing his media communications.
The CEO of the National Diversity Coalition for Trump and a member of Trump's transition team, pastor Darrell Scott
Other noteworthy sightings
In addition to the head lobbyist for a pro-Armenian political organization, Thursday night at the Trump Hotel D.C. Vice President Mike Pence spoke with fellow regular Eric Bolling of Blaze TV (per Politico Playbook). And Pence posed with U.S. Marine Greg Aselbekian.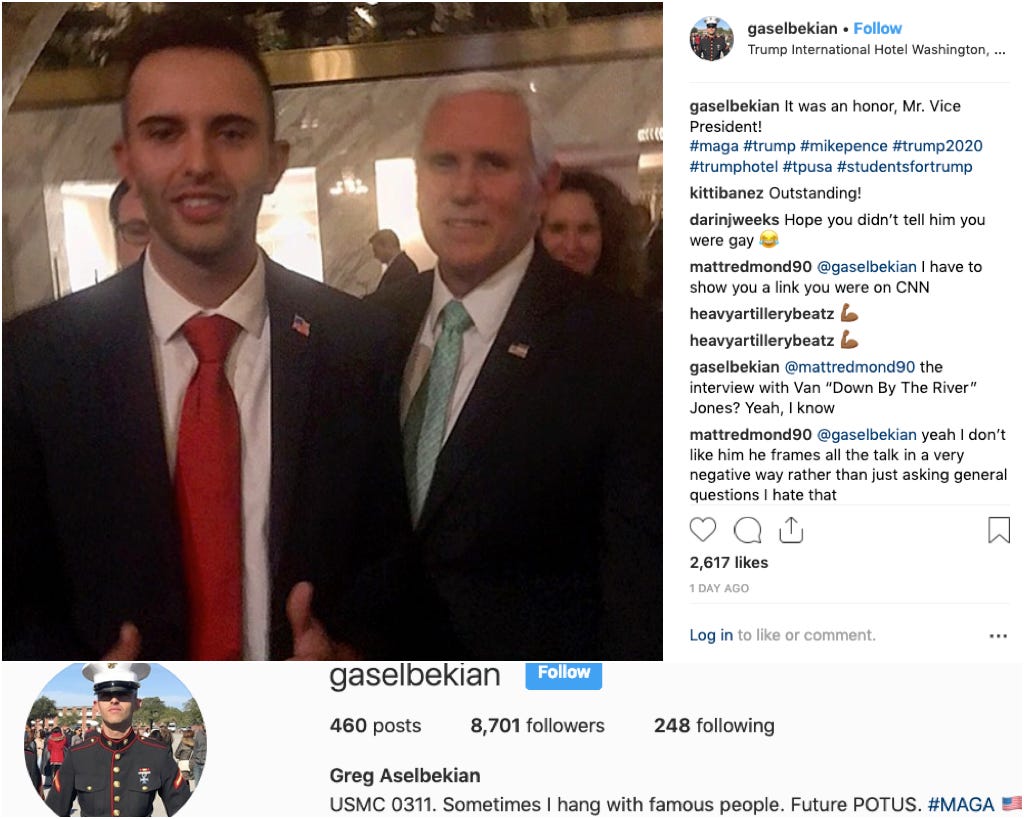 Lebanese TV interviewed Amin Salam, a managing director at the consultancy Ankura, "live from the Trump Hotel."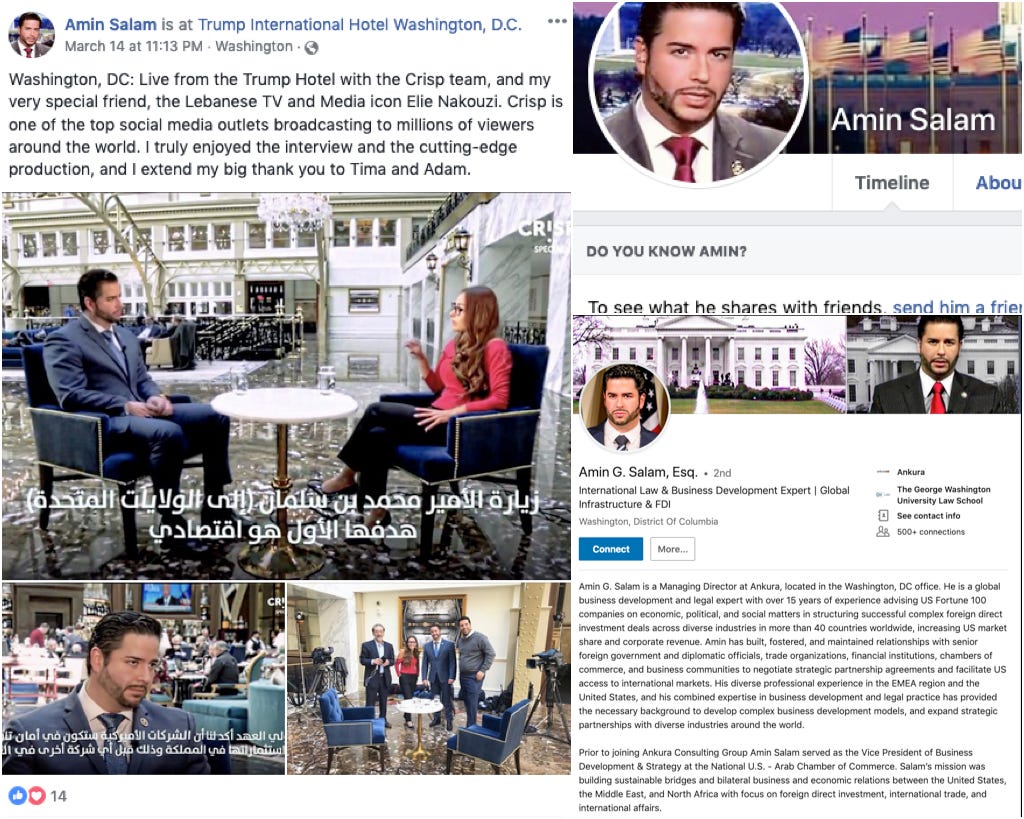 Trump Organization EVP Eric Trump visited the money-losing Trump Turnberry golf course and saw first-hand how it was spending funds.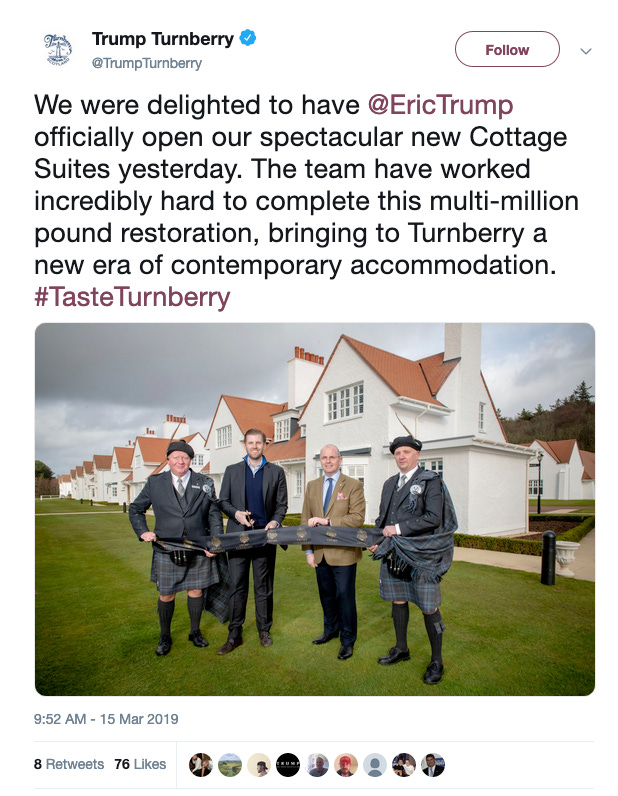 Trump Hotel D.C. regular, Harlan Hill, who's a Fox News pundit and Trump campaign advisor, stood up for fellow Trump Hotel D.C. regular, T-Mobile CEO John Legere.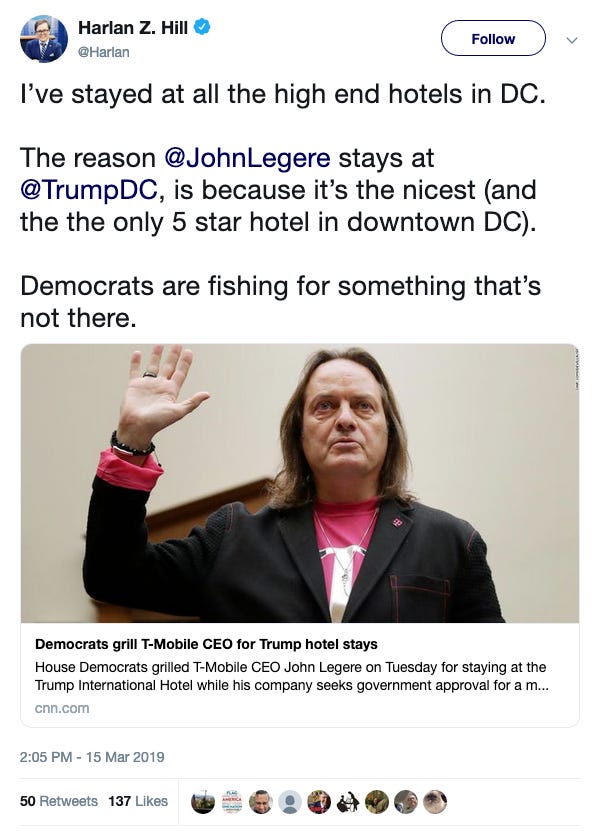 Other Trump Organization news
House investigations, current status (latest changes, March 15, 2019)
Legal cases, current status (latest change, March 6, 2019)
D.C. and MD attorneys general's emoluments lawsuit (district court docket, appellate court docket)—

Official capacity—On Dec. 20, 2018, the 4th U.S. Circuit Court of Appeals ruled it would hear the president's appeal of district court rulings that allowed the case to proceed to discovery, and the appellate court halted discovery in the case. Discovery had started Dec. 3 and was scheduled to run through Aug. 2, 2019, with the AGs having subpoenaed the Trump Organization, including its Scottish golf courses; the U.S. Departments of Agriculture, Commerce, Defense, and Treasury and the GSA; and the state of Maine. Oral arguments on the appeal are scheduled for March 19. The AGs filed their brief opposing the president's appeal on Feb. 6, stating, "The President is not entitled to an order requiring the district court to certify for interlocutory review its denial of his motion to dismiss. No court has ever issued such relief." Trump's DOJ attorneys replied on Feb. 21: "Plaintiffs fundamentally err, substantively and procedurally."

Individual capacity—On Dec. 14, Trump's personal attorneys appealed the denial of their motion to dismiss the case, also to the 4th U.S. Circuit Court of Appeals. On Dec. 19, the AGs replied to Trump's motion for a stay pending that appeal by voluntarily dismissing the claims against Trump in his "individual capacity to allow the claims against President Trump in his official capacity to move forward expeditiously." (The AGs only brought suit against Trump in his individual capacity after the judge suggested they do so.) Trump's personal attorneys, on Dec. 21, opposed the motion to dismiss at the district level, saying the appeals court now has jurisdiction and accusing the AGs of "gamesmanship."

196 Democratic senators and representatives' emoluments lawsuit—On Sept. 28, Judge Emmet G. Sullivan ruled that the legislators have standing to sue. Trump's Justice Department attorneys filed an interlocutory appeal on Oct. 22. On Jan. 30, 2019, the plaintiffs' filed a notice of supplemental authority, notifying the court of the GSA inspector general's report that criticized GSA for failing to consider if the Trump Hotel D.C.'s lease was in compliance with the Constitution after Donald Trump became president. Two days later, the president's attorneys argued that the IG's conclusion was not inconsistent with Trump's argument, but that the judge should ignore that report anyway because the IG has no expertise in interpreting or applying the foreign emoluments clause.

CREW et. al's emoluments lawsuit—In February 2018, CREW appealed its suit being dismissed for lack of standing to the 2nd U.S. Circuit Court of Appeals. Oral arguments on that motion were held on Oct. 30.

Cork's unfair competition lawsuit—Judge Richard J. Leon dismissed the case on Nov. 26, 2018, writing "Cork has failed to state a claim for unfair competition under D.C. law." On Dec. 10, Cork's attorneys filed a notice of appeal and on Jan. 10, 2019 they submitted a statement of issues to be raised. A briefing schedule was set on March 5 with Cork's brief due on April 15, the president's brief due on May 15, and Cork's reply to the president's brief due on June 5.

Employees' class-action suit alleging racial discrimination—Two of the three plaintiffs did not appear at a status hearing on Jan. 25, 2019; their cases were moved to arbitration. Via email, their attorney, A.J. Dhali, said his clients did not appear at the hearing because their case already had been moved to arbitration last year. The next status hearing is scheduled for Oct. 4.
Health inspections, current status (latest change, Aug. 10, 2018)
❌Hotel: five violations on May 7, 2018; two were corrected on site

❌BLT Prime and Benjamin Bar: nine violations on Aug. 10, 2018

❌Sushi Nakazawa: two violations on Aug. 10, 2018

✔️Banquet kitchen: no violations on Aug. 10, 2018

❌Pastry kitchen: two violations on Aug. 10, 2018

✔️Gift shop: no violations on May 7, 2018

❌Employee kitchen and in-room dining: five violations on Aug. 10, 2018; two were corrected on site
One thing that has nothing to do with Trump's businesses (I think, tough to tell sometimes!)
"Former boss sheds light on Cindy Yang's work for Asian GOP, Communist Party ties" by me for Fast Company
Thanks for reading. If you like what you see, tell someone—and support this work by becoming a paying member ($5/month or $50/year). If you've been forwarded this newsletter, subscribe for yourself at zacheverson.substack.com. Questions? Read our FAQ/manifesto. Tips or feedback? Contact me, Zach Everson, securely via email at 1100Pennsylvania@protonmail.com or on Signal at 202.804.2744.