Discover more from 1100 Pennsylvania
"The undisputed expert on the D.C. Trump Hotel" – David Fahrenthold of the Washington Post
Over 3,000 subscribers
Pence patronizes, plugs Doonbeg
At Trump's suggestion, vice president bunks almost as far away from his meeting site as possible while still being in Ireland
Vice President Mike Pence checked into Trump Doonbeg while in Ireland to meet with Prime Minister Leo Varadkar today. Doonbeg is on Ireland's west coast, more than 170 miles from Dublin, which is where Pence's meetings are taking place.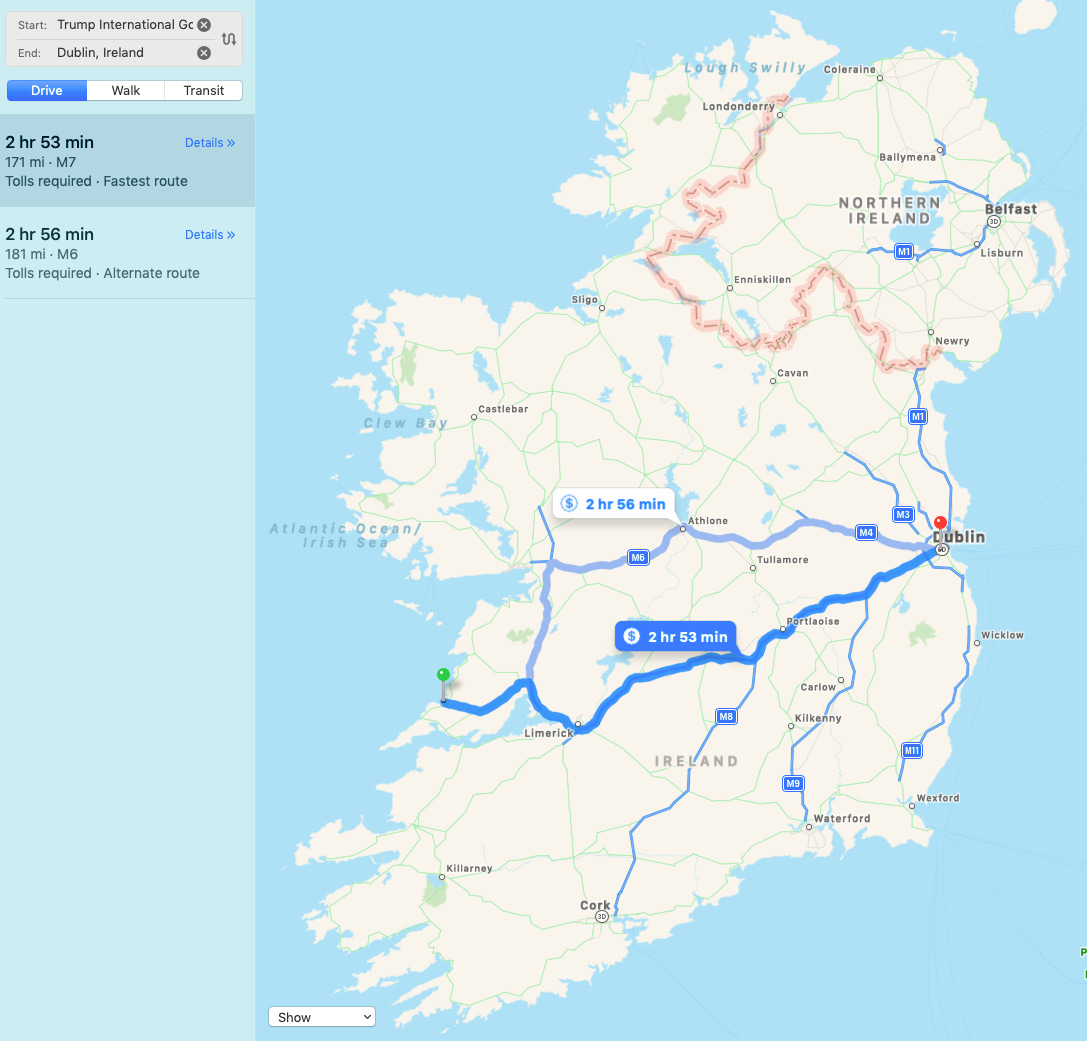 Don't worry about U.S. taxpayers being required to cover the toll roads Apple Maps shows between Doonbeg and Dublin though, Air Force Two will be shuttling the vice president across the country for his meetings, reported Ben Jacobs of Jewish Insider. In 2016, the U.S. Air Force said that plane costs about $30,000 an hour to operate, per Maureen Groppe of USA Today.
According to Maggie Haberman of The New York Times, "It was Mr. Trump who made the 'suggestion' that Mr. Pence, his family and his entourage stay at the Trump International Golf Links & Hotel Doonbeg, Marc Short, an aide to Mr. Pence, said on Tuesday." Haberman reported that Pence was picking up his family's expenses, but it'll be the taxpayers paying the president's club for the vice president's security detail and entourage.
When asked to explain his choice of accommodations, Pence dithered for a minute before plugging his boss's golf course and saying the visit would make the Secret Service's job easier because Trump already had stayed there: "If you have a chance to get to Doonbeg you'll find it's a fairly small place, the opportunity to stay at Trump National in Doonbeg, to accommodate the unique footprint that comes with our security detail and other personnel made it logical."
The Doonbeg stay is a bit of branching out for Pence, who's mostly helped pad the president's bottom line via the Trump Hotel D.C. Pence's Great America Committee PAC has reported spending $225,553.03 at that property.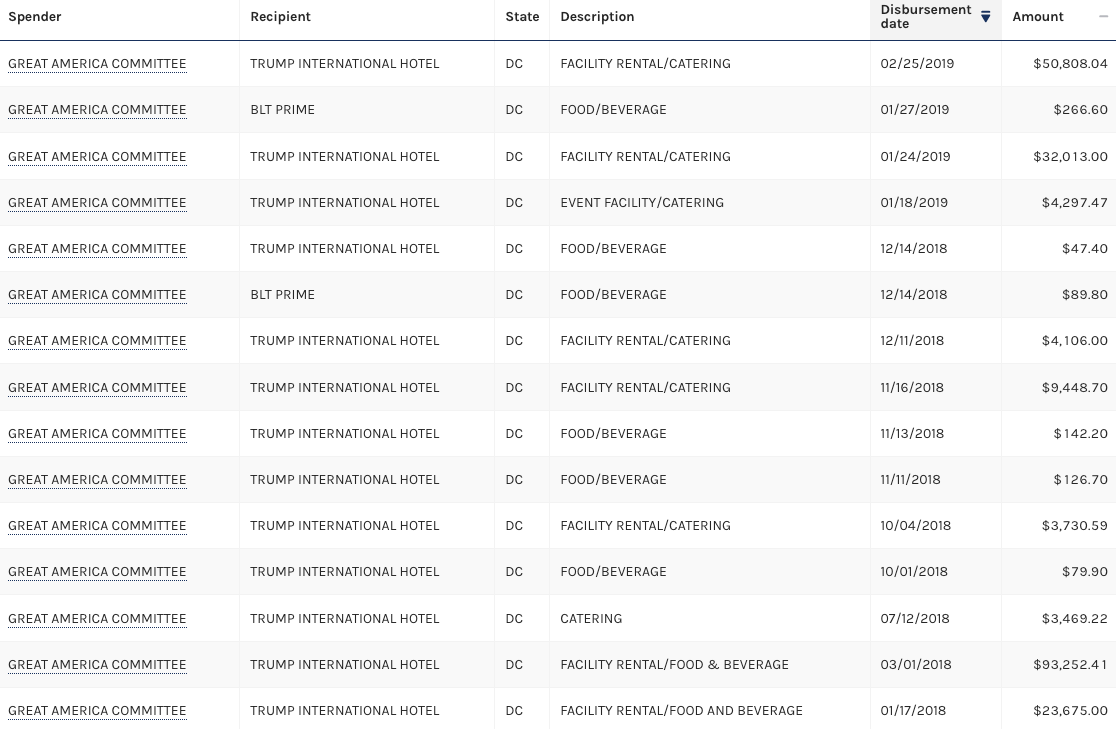 Also at the Trump Hotel D.C., Pence has been lobbied in the lobby, raised funds for Louisiana's attorney general, addressed campaign bundlers, met with Senators and chatted with a lobbyist, posed with a Hill staffer, dined with Trump, shared a laugh with Sen. Lindsey Graham (R–SC), headlined a black-tie pro-life gala, talked with Eric Bolling, and fulfilled a gun advocate's dreams. Pence seems set to return to the Trump Hotel D.C. on Sept. 12, as he's been invited to headline Concerned Women of America's 40th anniversary gala.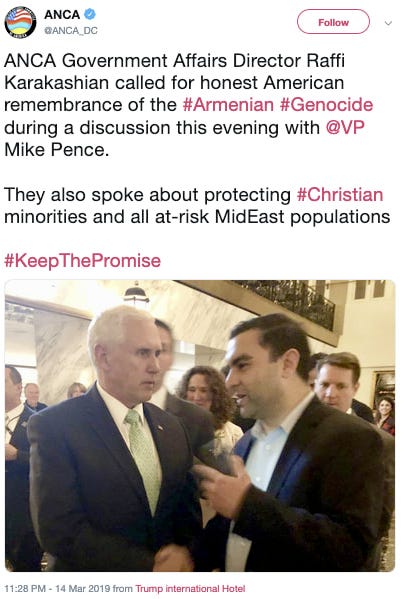 In December 2018, Brian Schwartz of CNBC reported Trump had been telling advisors he wants to keep Pence on the ticket.
---
Eric Trump's rebranded charity booked Mar-a-Lago for dinner dance
Curetivity, the former Eric Trump Foundation, will patronize a Trump property yet again when it throws a dinner dance at Mar-a-Lago on Feb. 6, 2020.
While listings for this year's event in Boca Raton magazine and Blacktie South Florida did not include a ticket price, the 2019 dinner dance cost $750 a person reported Alexandra Clough for the Palm Beach Post at the time.
As 1100 Pennsylvania reported earlier, Curetivity is also hosting a golf tournament and gala at Trump National Westchester on Sept. 16. Despite Eric's 2017 claim that "We get to use our assets 100 percent free of charge," the Trumps have profited from holding the annual golf tournament, reported Dan Alexander for Forbes:
In reviewing filings from the Eric Trump Foundation and other charities, it's clear that the course wasn't free—that the Trump Organization received payments for its use, part of more than $1.2 million that has no documented recipients past the Trump Organization. Golf charity experts say the listed expenses defy any reasonable cost justification for a one-day golf tournament.
Curetivity raises funds for St. Jude Children's Research Hospital in Memphis.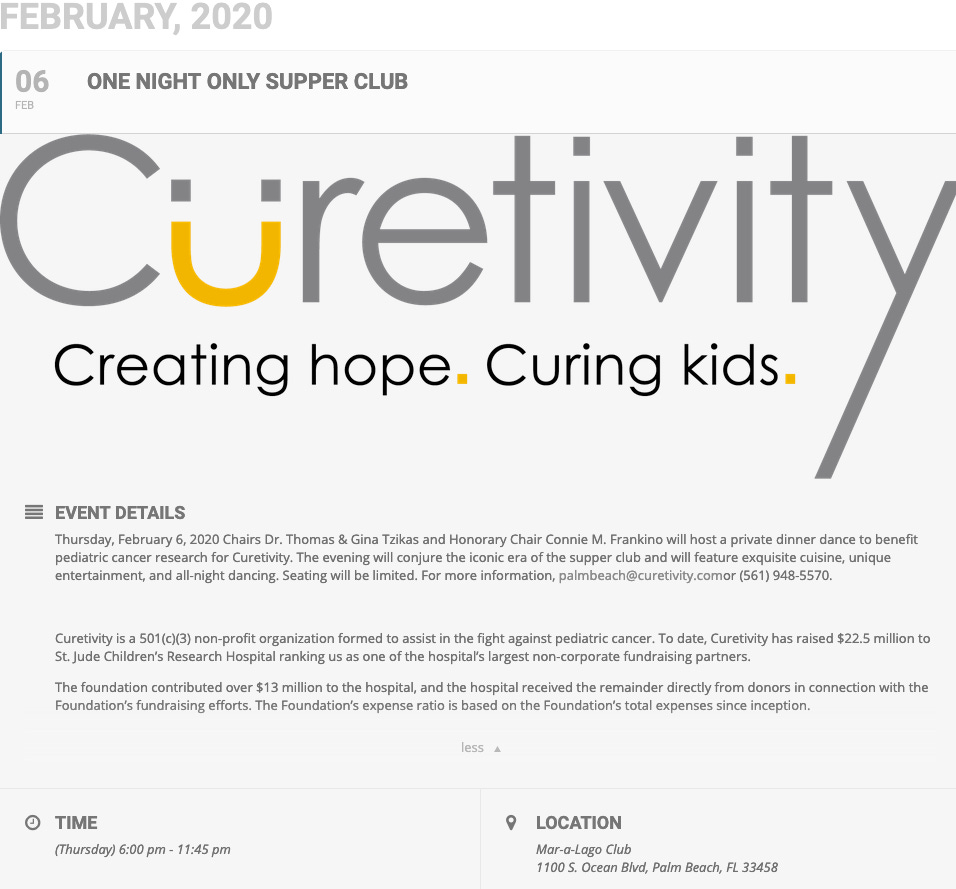 ---
New campaign expenditures
In July 2019, the Republican National Committee spent $10,384.25 at the Trump Hotel D.C. The RNC has reported disbursing a total of $434,414.13 at the D.C. hotel owned by the head of the party.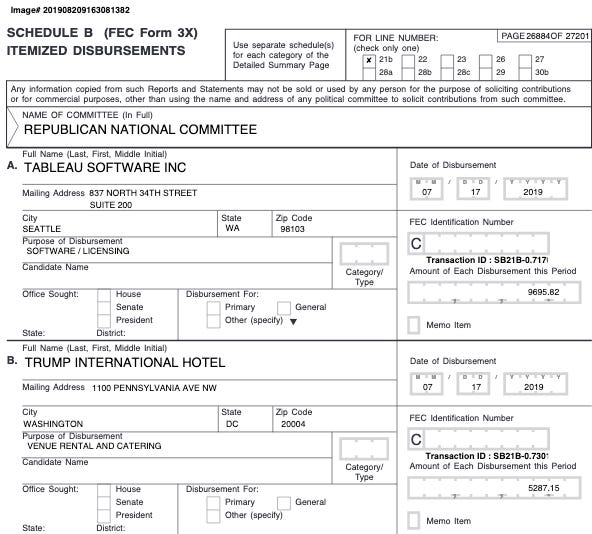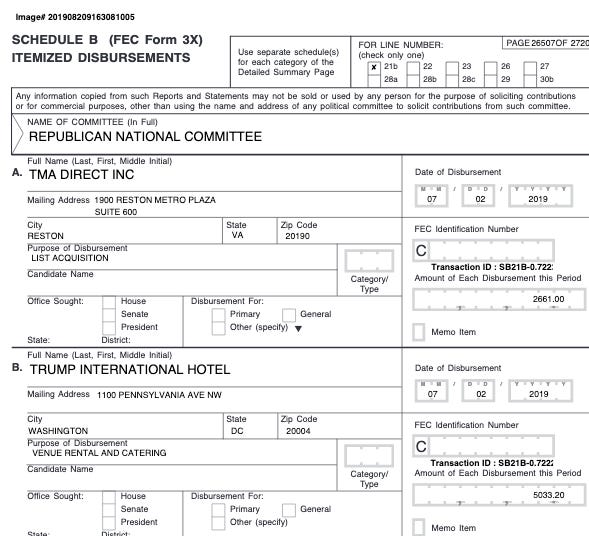 On July 3, 2019, the House Freedom Fund, associated with Rep. Mark Meadows (R–NC), spent $1,058.20 for "PAC food and beverage" at the Trump Hotel D.C. The PAC has now reported disbursing $1,460.00 at the D.C. hotel owned by the head of the executive branch. Meadows' campaign also has reported spending $10,732.49 at the Trump Hotel D.C. A member of the House Oversight committee, Meadows has taken several actions in his official capacity to help President Trump's businesses.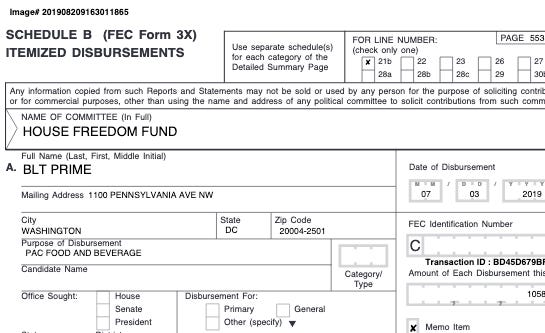 ---
Notable sightings
A glimpse of the foreign officials, government employees, politicians, lobbyists, and the like who patronize or appear at Trump businesses. Most people shown here have reasons to want to influence the Trump administration, rely on its good graces for their livelihoods, or should be providing oversight. Additionally, high-profile guests serve as draws for paying customers.
Attorney General William Barr joined the farewell party for The Hill's Buck Sexton at the Trump Hotel D.C. a couple weeks back. It's not clear if Barr was at the hotel for the celebration or was just checking out the space for his own upcoming $30,000 holiday party (as reported by Jonathan O'Connell and David A. Fahrenthold of The Washington Post).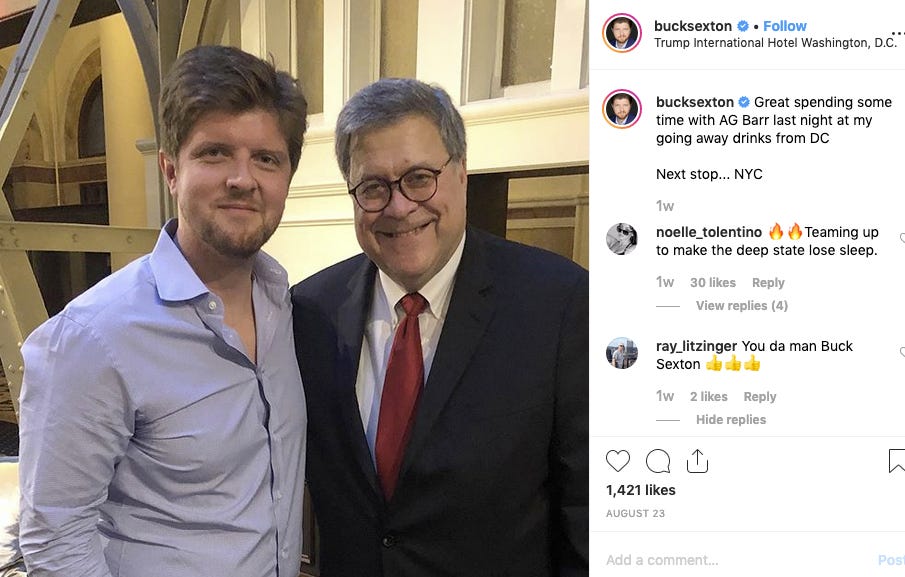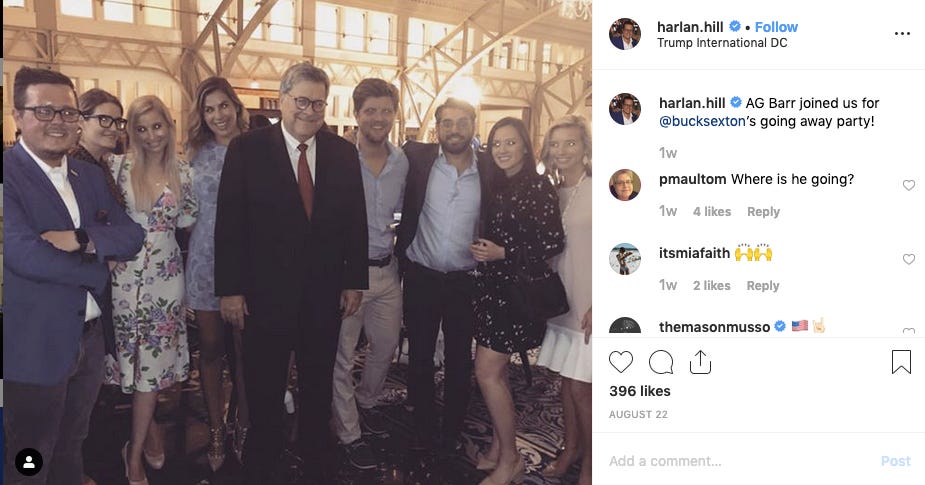 The CEO of a liquefied petroleum gas supplier and member of the Istanbul chamber of commerce, Ferhan Ademhan, dined with Rabia Kazan, president of the pro-Trump Middle Eastern Women's Coalition and a former director of the National Diversity Coalition for Trump, at the Trump Hotel D.C.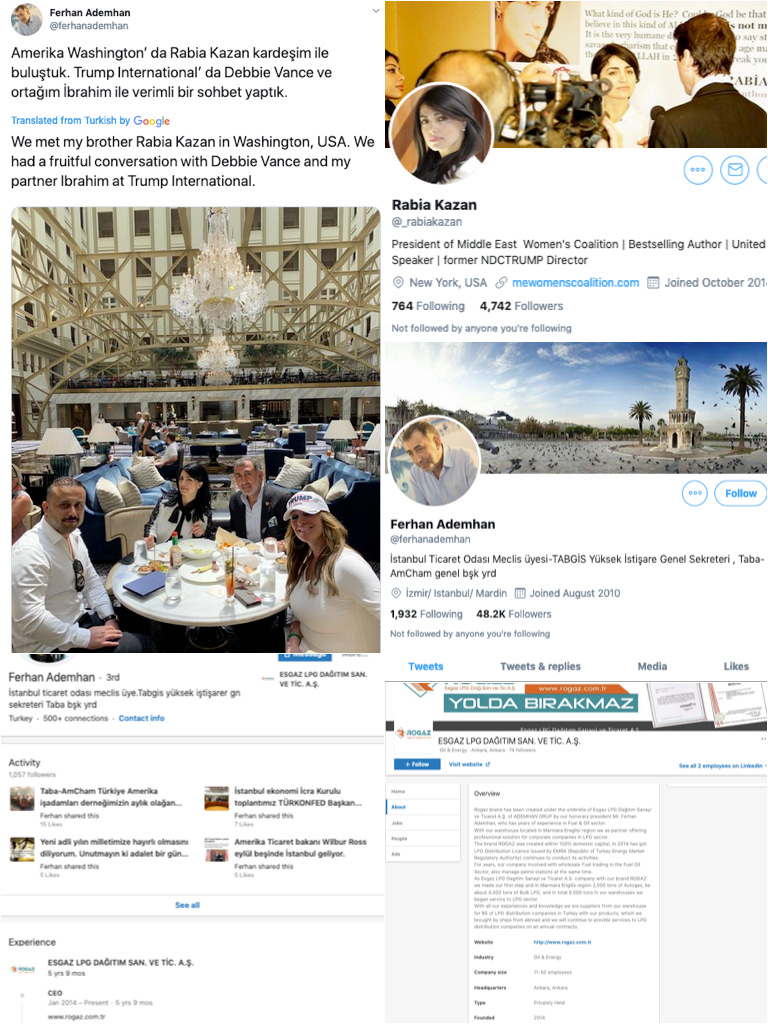 Rudy enjoyed tasty popovers and tech support.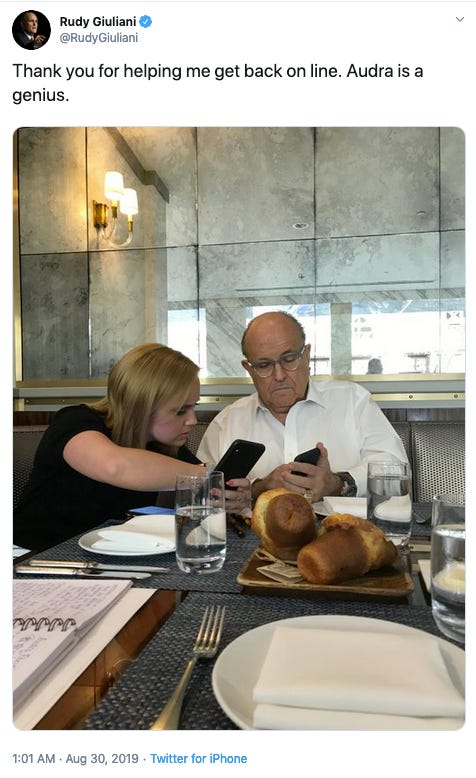 A GOP candidate for Congress in Connecticut, Robert Hyde, participated in the 22 push-up challenge (to raise awareness of veteran suicides) while staying at the Trump Hotel D.C. Hyde also dined with hotel amenity Eric Bolling of Blaze TV.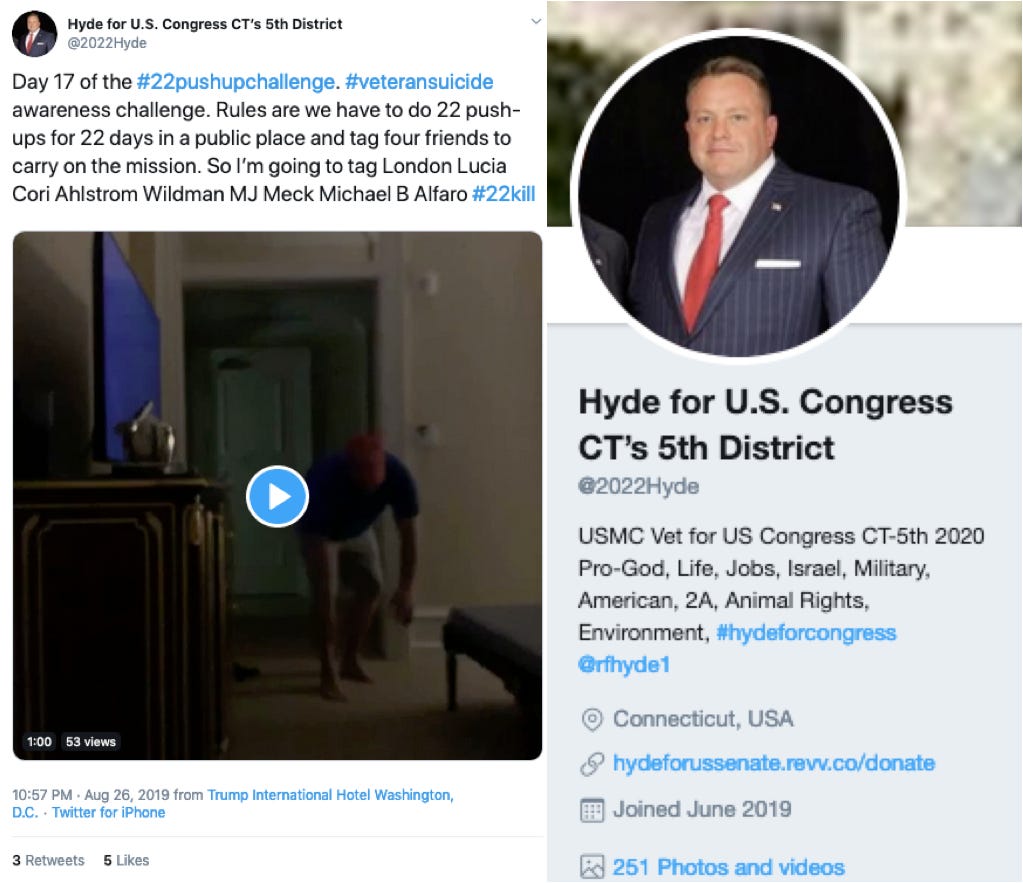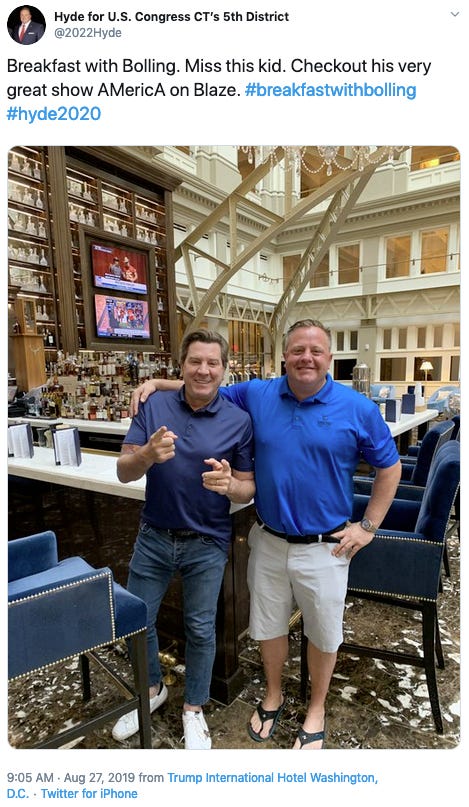 GOP commentator Paris Dennard, whom CNN suspended after The Washington Post reported he'd been fired from a previous job for alleged sexual harassment, promoted the president's business, again.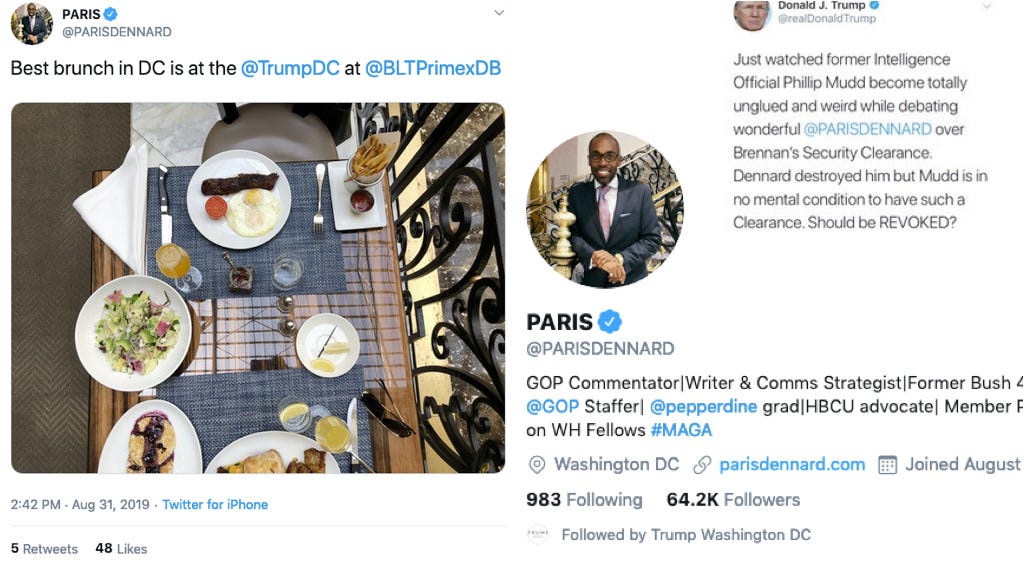 Worshipers at pentecostal minister Lance Wallnau's second annual dream trip at the Trump Hotel D.C. heard from former Rep. Bob McEwan (R–OH) and pundit David J. Harris (a guest at both the White House and other Trump properties).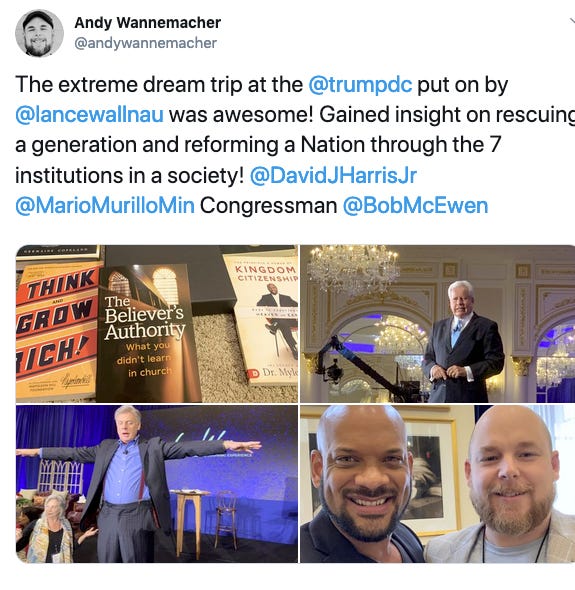 Breitbart's Allum Bokhari; media personality and Julian Assange supporter, Cassandra Fairbanks of Gateway Pundit; Pizzagate peddler Jack Posobiec of One American News; and the publisher of Human Events, Will Chamberlain, posed together at the Trump Hotel D.C.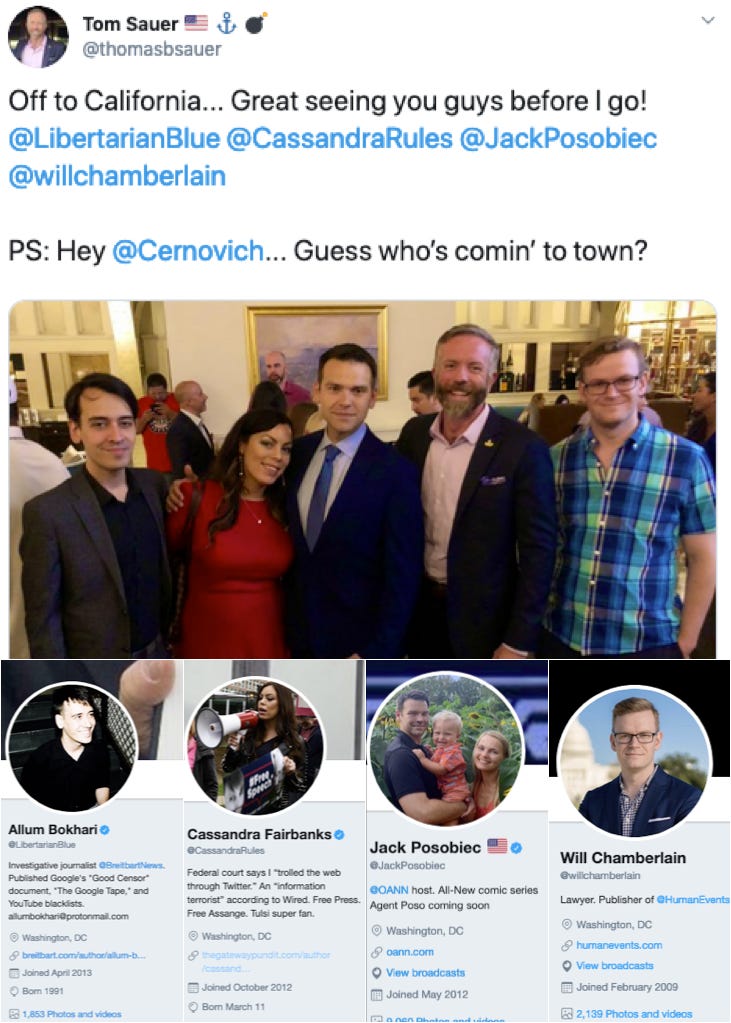 Director of development for the U.S. Navy Memorial, Mandy Hurd, drank at the commander-in-chief's hotel.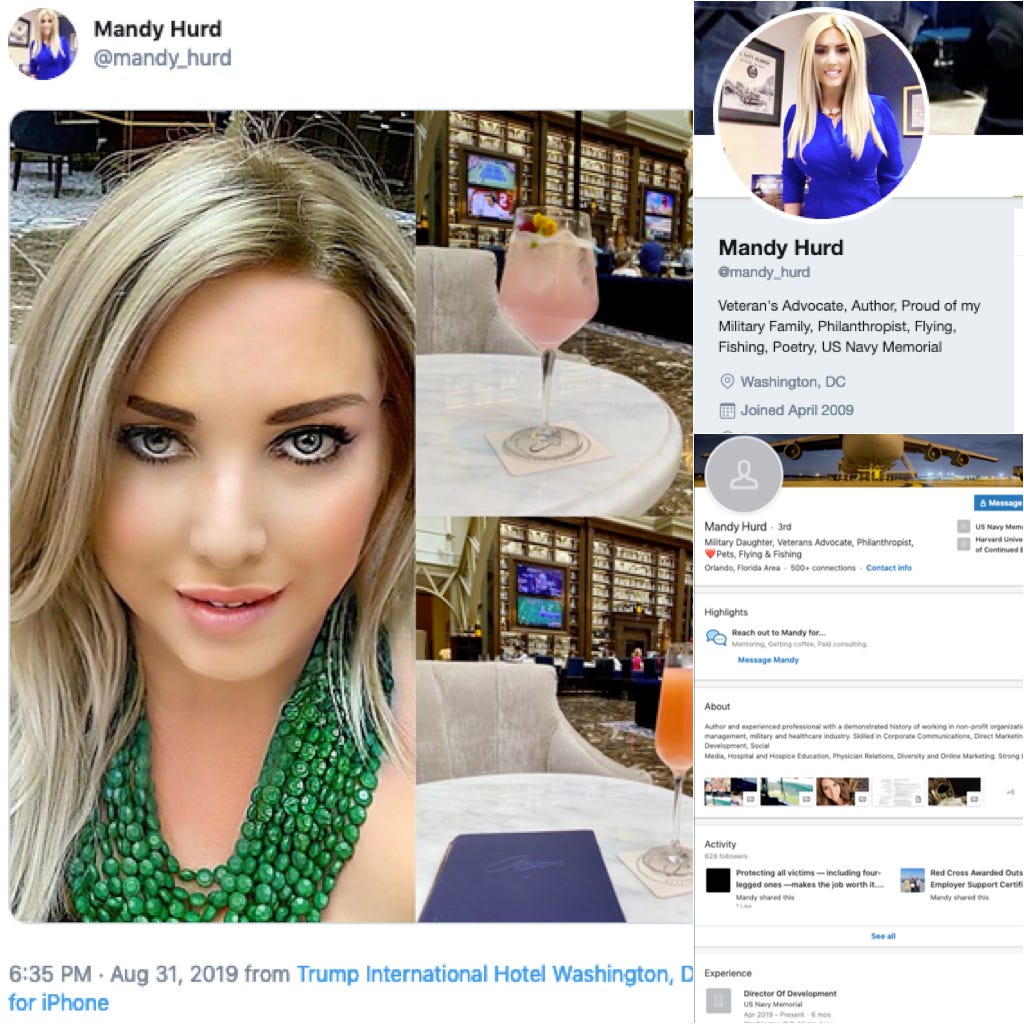 ---
Other Trump Organization news
---
Fact sheets
Each issue of 1100 Pennsylvania will continue to report on new updates in the House investigations, lawsuits, and health inspections regarding the Trump Hotel D.C. For a rundown of the earlier developments in each one, as well as reference sheets for some of 1100 Pennsylvania's previous reporting, please see these paid-subscriber-only fact sheets.
---
Thanks for reading! If you like what you've read, tell someone. If you've been forwarded this newsletter, subscribe at 1100pennsylvania.substack.com. Questions? Read our FAQ. Tips or feedback? Contact Zach Everson at 1100Pennsylvania@protonmail.com (it'll be encrypted if you also use a ProtonMail account, which is free) or via Signal (secure), SMS, or mobile at 202.804.2744.